Auctane Shipping Manager
By ShipStation
(released Aug 14, 2009)
The fastest way to ship with USPS and UPS! Save up to 20% on Priority and Express Mail! Auctane processes your USPS and UPS shipments with just a few clicks. Batch print up to 200 labels at a time including First Class Mail International. Reduce your shipping time by 50% or more!
Categories: Shipping & payments, Research & reporting
If you are subscribed or want to subscribe to this application please
click here
for details.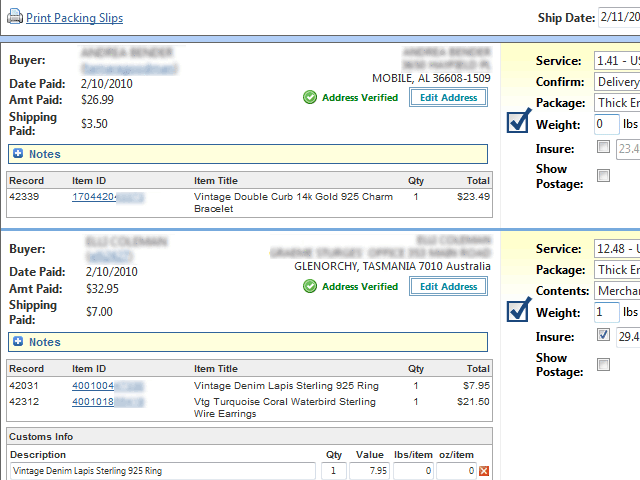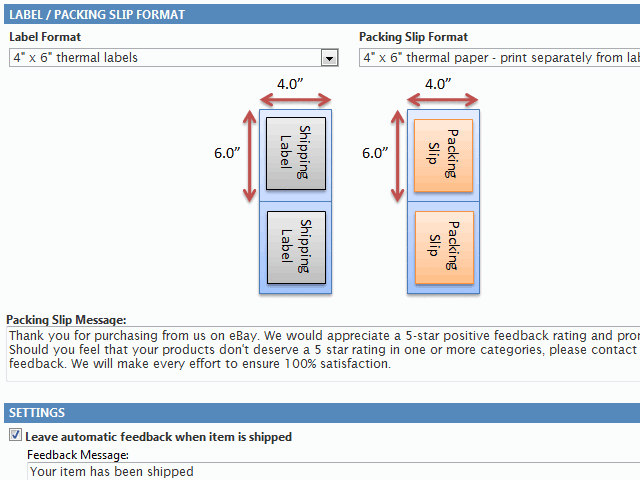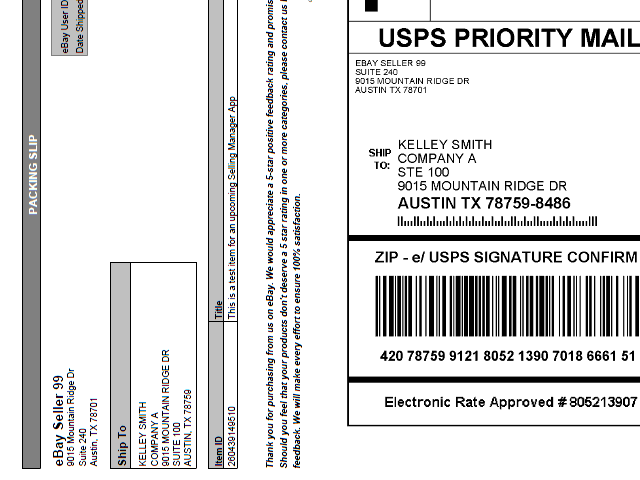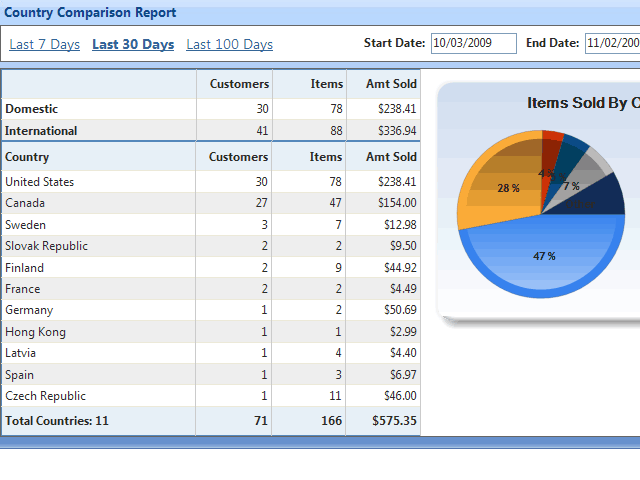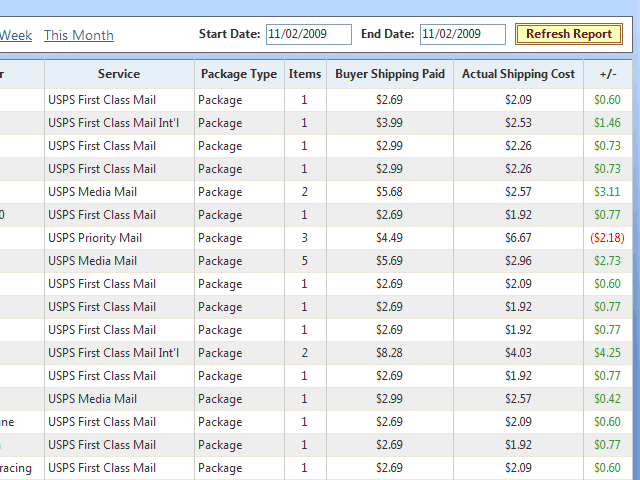 Key features
Now supports UPS as well as USPS!Save up to 20% on USPS Priority and Express Mail!
Completely web-based - print labels right from the eBay.com web site!
Works with PCs or Macs
Imports orders from eBay, Amazon, and PayPal!
Print shipping labels for all UPS and USPS services including First Class Mail International
Print labels in batch - reduce shipping time by 50% or more!
Print packing slips - up to 2 per page
Combine orders into a single shipment
Leave automatic buyer feedback
Purchase discount shipping insurance
Customizable shipping notification email
Memorizes item weights for future shipments
Use multiple eBay accounts with a single subscription!
Description
Auctane, powered by ShipStation is a feature-rich order fulfillment system that was designed from the ground up for mid to high volume eBay sellers. Auctane will cut your order processing time by as much as 50% while also saving you money through special rates on shipping and insurance. With Auctane, you can manage all of your eBay, Amazon, and PayPal orders in one place.
-- Frequently Asked Questions --
Every shipping tool says they offer USPS discounts. How is Auctane different?
Auctane has access to special negotiated rates for Priority Mail packages that are 3 pounds or less, Priority Mail Flat Rate products, and Express Mail packages that are 2 pounds or less. For example, our Medium Flat Rate Box rate is $10.24, a savings of $0.61 over the standard online rate of $10.85. Auctane also has special rates on Priority Mail International and Express Mail International.
Does Auctane automatically select the correct shipping service?
Yes, and it does a lot more than that! Auctane will automatically select the shipping service, package, weight, and dimensions if those values are available from your listings. If these values are unavailable (e.g. you are using generic flat rate shipping services), you can specify default values for virtually every field in Auctane. Also, Auctane can remember item weights, dimensions, service, and package selections so that you only have to enter these values once for each item.
Does Auctane integrate with eBay Selling Manager Pro?
Yes, Auctane works seamlessly with Selling Manager Pro. The SMP Custom Label field is displayed throughout the application and can also be printed on your labels and packing slips. Any notes entered in SMP can also be viewed in Auctane. Auctane will also send the Actual Shipping Cost back to SMP for use in the Profit and Loss report.
Can Auctane help to speed up my international order processing?
Yes, Auctane makes international shipping a breeze! The customs description, quantity, value, and weight will be automatically pre-filled for you. You can also print international labels on 4" x 6" thermal labels which can save both time and money.
Can I ship non-eBay orders through Auctane?
Yes, Auctane can automatically import orders from Amazon as well as non-eBay orders from PayPal. If you have a web site which processes payments via PayPal (e.g. ProStores), you can ship them through Auctane. You can also use the "Add Order" feature to paste in any orders that are not automatically imported through one of our integrations.
Does Auctane automatically send tracking information to eBay and Amazon?
Yes, Auctane will communicate your tracking information to both eBay and Amazon. Auctane can also send you buyers a customizable shipping notification email which includes a tracking link.
I have more than one eBay account. Do I have to pay you for each one?
No, you only need a single subscription to Auctane no matter how many eBay accounts you have! Once you subscribe, go to the "Settings" page, "eBay" tab to add your other accounts.
Can I use Auctane on my Mac?
Yes, Auctane is completely web-based and is 100% compatible with Safari.
I have special negotiated rates with UPS. Can I use them in Auctane?
Yes, Auctane allows you to take advantage of any special pricing offered by UPS. If you have negotiated special rates through your UPS account manager, you will have access to those rates in Auctane.
I am a one-of-a-kind seller, so it is difficult to print labels in batch. Can Auctane help with this?
Yes! Auctane has several features that make it easy to print labels in batch:
You can print a report which contains all of your sold items that are ready to be shipped. This report displays all sale information including an image of each item, so it can be used as a pick list to gather all of your items at once. This report will display your items in the same order in which your labels will be printed, so it will be simple to match the pulled items with each label that is created.
You can print a message at the bottom of each label which can include the item ID, title, custom label, SKU, or several other fields. This helps when you need to match a label to your inventory. For example, if a buyer ordered 2 apples and 5 oranges, the label message could read "Apple (2), Orange (5)"
Auctane has several different printing options which can allow you to keep things organized. For example, you can print a shipping label on 1 half of a page and the corresponding packing slip on the other half. Or if you use a thermal printer, Auctane can print alternating labels and packing slips so that everything is ordered correctly.
Additional resources
Feature List
Application requirements
Supported browsers:
any modern browser
Supported languages:
English
Supported eBay sites:
ebay.com
Required eBay subscriptions:
None
Application support
Please contact support at support@auctane.net
ShipStation
Auctane - Productivity Tools for eBay Sellers
To print the label and to go to the Post office, it is fantastic. However, when I get to the Post Office, they told me that I have to get in line because the label is not correct.
---
I have been a mostly satisfied Auctane user for almost 6 years. The platform is a cinch to use and has been my preferred shipping manager. HOWEVER, the application gets buggy once a year when the authentication token with ebay needs to be renewed, and requires many emails back and forth with Auctane's techs. Up until this year, the problem has been resolved in under 48 hours. This year, I am going on TWO WEEKS with the service being down, and unusable for me. I reach out every few days and receive a canned response that it is being worked on, and a recommendation that I sign up for a 30-day trial of ShipSaver (Only one 30 day trial is allowed, this is their recommendation every year). I have yet to receive an email from Auctane reaching out to me to offer a workaround or solution. I need this service to run my business, and they have let me down with no explanation. Funny though, I received an invoice from them today via e-mail, for services not rendered.
Created By: allegheny_city_vintage
---
Worst app Ebay has to offer
I've used this app for about 3 years and have had it go down several times. There is no support whatsoever. You send a message and never get a return. When it goes out, you cancel the subscription and sign up again and they charge you a dollar to see if your banking info is correct and never reimburse you. This is the worst app I have ever used. If you find something better, please post a reply for all of us.
---
Works Inconsistently /Lousy Support
When the program works, it is great. But it is glitchy and has more down time than I prefer. Customer "support" is minimal: email only, no phone support and they don't tell me much more than I don't already know (i.e. the app is down and they are working on it)
Created By: serendipity*sales
---
Terrible app with even worse customer service.
So frustrating! The subscription stops working every few months and you are required to un-subscribe and resubscribe to get your service working again. Super confusing, and a big waste of time. The customer service is about as amateur as you'll ever experience. Useless.
Created By: siren-disc-music
---
I'm just wanted you to know that I love auctain
I'm glad you are a member of the world
---
---
very good overall experience.
a little glitchy, but im not sure if its the app or if its ebay. but sometimes the full page of orders doesnt load. it just loads whatever you can see on the top of the page.
---
cant print labels no more
i cant print the label no more
---
A nightmare...only thing theyre good at is taking your money.
Try and cancel and they take more money...can?t get a hold of anyone, but they can get a hold of you, when you?re forced to close your account so they can?t keep taking your money. Not sure what they do, but it?s expensive.
---
Hello, I Lake To Cancel My Orden to Auctane, because it was not for me, I do not have a print right now
---
The application is down and all the contact support link are not valid
wasted me many hours trying to use the app but failed, and i'm being charged the fees
Created By: haveagoodday365
---
I ship about 20 items per day with auctane. Today when I went to ship it said my account was suspended. Not sure what that means but you would think that they would send me an email message or something...anything...to tell me what it actually means. Poor customer service once again.
Created By: theabrasivearmory
---
the service is nice, but there are so many MUCH CHEAPER options now. I am about to end my script
the start up was a b. took forever. Setting up Fedex was super simple in comparison but was more expensive. The price was worth it back when they offered cheaper shipping, but now eBay has same prices and no monthly fee! I think people are just failing to notice the price diff. I just caught it last week.
---
Good
Created By: yamahanosparts
---
The Auctane shipping manager (itself), in my opinion is reliable, but uses EXPRESS 1 services for priority shipping. In one occasion, I was shipping priority to Canada, Auctane showed me several options with different prices to choose from, and guess? The system showed Express1 as the most convenient method. When you select it, it will show you the lowest price in the market. However, when you make a payment for the amount showed, it will charge you a HIGHER amount! I tried again thinking that I needed a new set of glasses, and the same thing happened again. BEWARE; they might steal your money!
Created By: knighthood_444
---
Customer Service is no where to be found and the keep your shipping money!
Been a customer for years, had problems with ebay suspending my account for not re-authorizing with Paypal (which I did three times.) No one would email me back after the first email, I got the number and called, no call back. Finally got back on to use up my Express 1 but you can't use it all and they keep any that is left. MIN $25 purchase so there is always money left in account. DO NOT USE THIS SERVICE!
---
I have used Auctane for many years and appreciate the speed and convenience.
Created By: distinctivedeals
---
Horrible, why would anyone pay for this service..
Worthless support, suspended accounts monthly, site down weekly, constantly try to bill you when you've closed the account. Possibly the worst shipping software for ebay, don't even think about it.
---
never works right ...support in nonexistint
always having problems...email support they get back to you with generic answers ...bad experience
---
Application randomly stopped working I messaged support and took days to get a scripted response. I sent another message describing problems in detail and got no response, no phone call and no support. I suggest using a company that actually cares to retain customers and works to resolve problems. This company does not deserve to exist.
Created By: nwcoingallery
---
awesome easy and fast
Created By: watchrecyclers26
---
Extremely Slow Customer Support
95% of the time this application works completely as intended. However, sometimes the application fails to work and it takes customer support multiple days to respond to complaints. When you ship a lot and Auctane goes down once per quarter it's extremely frustrating not being able to get any help.
Created By: synergyfabrication
---
Don't work half the time junk
Don't work half the time junk.
---
VERY Critical bugs can tarnish your standing with ebay.
This app stopped uploading tracking to eBay for a while and seriously hurt my seller status. Also, it failed to take my auto payment fees (but It still was able to take my label payments???) and suspended my account. It's also very common for the app to simply not work due to technical issues for an entire day.
---
---
good service, yearly suspensions are a pain !
auctane needs to notify people before suspending the account , every year we go through this ,please come up with a better way to update your security issues !
---
This is a great product. Only thing missing is a total item count on invoices. Other than that, perfect software.
---
Used only this app for all my shipping on all my channels, as of the past 2 years the app has become unreliable with little to no customer support. High volume sellers can't use this app with confidence any longer. Closing my subscription and moving on to Shipping Easy.
---
Have used this for several years now and have been very satisfied. Twice had to unsubscribe and resub due to a glitch with no loss of data.
Created By: discoverhomestores
---
---
the most glitch ridden program we have ever used , more aggravation than anythin
Created By: uptown-fabric
---
Auctane suspended my account because my paypal authorization expired.
I went through the process of getting it reauthorized and still not working. Zero customer support. emailed them several time they did not reply once.
Created By: modern_design_decor
---
Fine App, Unless You have an Issue, Support Sucks!!!
I used Auctane for over 6 years. Recently they had a massive failure in which I could not print labels for over 24 hours. I had come to depend on Auctane and their lack of support left me holding the bag. I was unable to ship out my packages on time and lost my Top Rated Seller Status. They wouldn't even refund me a lousy 10 bucks and simply ignored my complaints. After 6 years, they have lost my trust and my business.
---
Been using for 4 years - major Technical issues no support
Been using Auctane for Ebay for 4 years... added Amazon last year. We have constant issues with this app and not one point of contact for support.
---
dose not work when you need it to work
---
---
Unable to validate addresses. Technical Details: Unable to initiate Express One session. Reason: System.Web.Services.Protocols.SoapException: Unable to authenticate user. at System.Web.Services.Protocols.SoapHttpClientProtocol.ReadResponse(SoapClientMessage message, WebResponse response, Stream responseStream, Boolean asyncCall) at System.Web.Services.Protocols.SoapHttpClientProtocol.Invoke(String methodName, Object[] parameters)
---
customer service non existant!
I have written to you twice, complaining that when I try to purchase more postage I get an error message but you never respond!!! Now when I try to generate shipping labels they do not load up, the little blue spiral keeps spinning. I have been using your app for a few years, get it sorted out please! I doubt that I will hear back from you if past experience is anything to go by so this is probably a waste of time....
Created By: ericclaptonsales
---
Junk
Created By: simpleairfilters
---
Bag Service No return response Cant do our shipping
ever time the tokens run out your stuck Have fun when you cant ship and they wont return your emails to mfix problems
Created By: tammysvacbags
---
Great app, horrible support
Horrible customer service, every year it goes down for weeks at a time can't do anything. Been down for a week now. Contacted support no replies.
Created By: advert-display-products
---
I used the app for over 5 years and had to battle them at least 3 times a year, the app has being down for 2 Days now with no real solution to the problem I just got an e-mail from them asking to consider using a 30 day free trial of ShipStation to continue to ship. Worst Customer Support, I have just changed to another app!
---
After being fairly happy with Auctane for several years, suddenly it won't work and I've been trying to get help for 5 days. There's no phone number, and they won't answer emails. Finally this morning someone answered, said they'd call me, and then never did. I will remove this review if I get help. I would give the rest of the app 5 stars, but I am so stressed out with not being able to process hundreds of packages, that it is far outweighing the good experiences I had in the past.
Created By: americasgeneralstorect
---
---
CUSTOMER SERVICE IS THE WORST PLEASE DONT USE AUCTANE
I have tried to get a hold of Autane shipping manager for almost two weeks now - with NO reply - which has caused a major inconvenience - account is suspended for some unknown reason - and get any answers!!! advice - just STAY away - It's sad that I have to write a bad review - HEY AUCTANE get better customer service!!!!!!
---
This is a must have app if you sell on eBay! Absolutely the best shipping manager.
---
shipping actually is less flexible, paying more for smaller items under 5lbs or so
shipping actually is less flexible, paying more for smaller items under 5 lbs or so. no response from the company. would like a total refund actually.
---
Works great and easy to use.
---
They don't tell you why your account is suspended or tell you how to fix it quickly so you can get on with your day!.. this is a major problem
---
it has no help center, it makes it very hard to communicate in this time and age, you can't be without customer service. Occasionally it stops working.
---
Zero customer support. App hasn't worked in well over a month, yet I'm still charged despite not being able to access. Please fix, will consider changing rating.
---
Acutane saves me a ton of time and money. Easy to keep track of all your shipments at your fingertips. Can't believe ever I sold on EBay without it... Thanks Acutane.
---
I'm writing a review for every day that its taking for them to respond to my case
Account suspended without notice, explanation or instructions on how to correct it. Ron Stack Cyclefitinc
---
Terrible customer service response time
Still waiting on any answer to simple question...Poor service and they charge too in fees
---
Not working. No service. Have left us stranded in every way.
---
If you like to have issues with shipping then this is for you
Nothing but issues ever since we started using this program. No customer service, have to send email and wait up to 48 hours for a response, while in the meantime you cant use. I would suggest going elsewhere for a shipping app.
Created By: protoolsemporium2010
---
App is not reliable, 0 customer support
We've been using this application for almost 5 years as a company. We've had little issues with it in the meanwhile but it always got fixed within a day without us having to contact customer service. Issues like: loading issues, error messages, etc. It's a really good program when it works. It's easier to work with than eBay's shipping program and also you can choose any service from USPS even different international services which eBay doesn't allow you to do so at their ship station however, the prices aren't too good on international services but at least they exist as an option. So now the program has been down for a week, it doesn't load at all. We've contacted customer support (which is a joke by the way as they can be contacted via email only) immediately and we received an auto reply which stated that we should receive a response within 24 hours. Well, didn't hear back for 48 and we were told that the program works fine...IT DOES NOT! So we're unsubscribing...
Created By: extravaganzaonline
---
We had auctane it was working and then we shut down our store and went back to just selling off ebay since we did not sell enough to off set the cost of a store. Now we can't get auctane to open so we can ship and we contacted support with no help from them or ebay they keep pointing the finger at each other. When I tried to get a refund through paypal for services they charge us every month but have not received they deny it. This whole system is screwed up for sellers!!!
Created By: beararmsshootersupply
---
Love this program!! Highly recommended.
Easy to use and has many features. Highly recommended!
Created By: xtek_accessories
---
easy to use, quick bulk label printing
I like it. only issue is that it is using stamps.com and that has it's own subscription per month charges which is making over all pretty expensive.
---
if you have any problems, support non responsive. every so often auctane goes blank. No support. also the rates with ups have been inaccurate then when you go to print postage you find out you paid more!!!
Created By: escondido-electronics
---
Saves me so much time and time is money! Also, great ability to view some cool reports. Very easy to use.
---
customer service is terrible
wonderful when it works, but if problems, forget getting any help from customer service
Created By: wilsonbrothersjewelry
---
better tha bulk shipping from eBay
10000 % better than the garbage bulk shipping from ebay
---
the app never works
Created By: m.a.d.collectibles
---
Makes my shipping process a breeze.
Fast
---
Does not offer competitive pricing for USPS International shipping
The shipping prices for USPS Priority International and USPS First Class International are cheaper when shipping through Ebay's own shipping program.
Created By: teamlatussalvage
---
---
same problems suspended again
serious problems with incorrect rates after we already thought we paid the shipping. Accounts get auto suspended. Problem app.
Created By: craigsconsignment
---
Wonderful shipping software. Works with my 4x6 thermal printer
This shipping software works great with my 4x6 zebra thermal printer. It's convenient, easy and intuitive to use, and has many customizable features
Created By: retiredattire
---
Makes shipping a breeze! A must have for high volume shipping! A+++++++
---
They suspend your service or dont answer messages
If you have a solid business with a lot of sales and daily orders, then you better stay away from this Auctane. My account is not working for more than a week, they dont answer messages, there was NO previous problem or argue with them, they just simply dont answer. So it can really hurt your business for some days and there is no way to talk to them other than emails but again, they dont answer. I openly challenge the Auctane staff to show here in public why my service has been susppended or why they ignore my emails.
---
Customer service is absolutely useless and never replies to the emails
I have had an error which kept on popping up every time I tried to create shipping labels, it said: Unable to find rate node from XML response: 80040B1AAPI Disabled: RateV3. The RateV3 API is no longer available. Please follow the "RateV3 to RateV4" transition guide in the announcements section at www.usps.com/webtools to migrate to the latest version or contact your software provider or shipping administrator for assistance.USPSCOM::DoAuth I have sent over 10 emails over the period of two months. Never got an email back. Why don't they have a customer service phone number, this is not professional whatsoever! Very disappointed.
Created By: strictlyfashionable
---
it has bugs and they do not fix it, i liked the app but for 6 moths they were not able to charge my PayPal account even I dod all the steps and the software was register as a pre approved for charge they keep disconnecting me and i lost so many hours. If you have a serious business I rather use another reliable company.
---
Horrendous!!! Just like eBay itself!!! DONT GET IT, SCAM ALERT
Horrendous!!! Just like eBay itself!!! DONT GET IT, SCAM ALERT
Created By: firezoneproinc
---
Worst Customer Service in HISTORY!!!
I have been a customer for over a year. Everything went fine until, amazingly, one of my accounts literally dropped off the face of the earth. When I tried to email someone about it. Not only did i not get an email response, I have emailed about another small issue that happened a day later. NOTHING... NOT EVEN A RESPONSE! DO NOT GET THIS APP!
Created By: blackinkonline
---
Fantastic application and seamless integration with ebay
Makes my life so much easier.
Created By: mistyelectronics
---
Makes Shipping so EASY and Tracking past shipments great!
Makes Shipping so EASY and Tracking past shipments great!
---
Loved Auctane for 2 plus years. Then, we have had NO CUSTOMER SERVICE. FOR A WEEK! UNACCEPTABLE!!!
I really don't see how a product that is so inherent to people's businesses as shipping could all of the sudden have NO customer service. We have sent numerous emails, to no avail. We have had SO many issues for not having our usual shipping program for a week. Bummer.
---
We have used Auctane for years and have been very pleased with it. However after a year or so on Amazon it got too hard to juggle two different programs. We shifted to ShipStation (Big Daddy to Auctane) and we are satisfied. Auctane is much simpler to use and is highly recommended for anyone exclusively on eBay.
Created By: profbloodgood
---
Worst program for any ebayer. It will work sometimes, and when you need it most it will not. Not reliable at all
Created By: tread-life-fitness
---
When I click the start button it just loads a blank page with the Auctane logo instead of the program. Nothing but problems with this application!
Created By: trashyvintage
---
it's the easiest shipping program ever
Created By: best-value-coins
---
Excellent Shipping Software
This software is easy to use and has saved me a ton of time. I have been using it for about two years now and love it.
---
thank you guys for such great App ,it Makes shipping so much easier ,my number one app ,
Love it !
---
Doesn't consistently work all the time..
Unfortunately this program has become very unstable. Didn't even mind that you have to pay to have Stamps.com on top of this program due to the ease of using. But day in and out now the program just isn't working. They seem to be ok with charging you for a service they are not providing.
Created By: personal-touch-creations
---
GREAT APP MAKES SHIPPPING A BREEZE
CHECK BOTH PROVIDERS, STAMPS.COM AND EXPRESS ONE, FOR THE VERY BEST PRICE, ALSO USE FLAT RATE AND REGIONAL RATE BOXES FOR HEAVIER ITEMS AT LOWER COSTS!
Created By: chickenfarmer
---
Thw worst customer service ever. Shipstation should be ashamed of this eBay Auctance app.
These people are the absolute worst customer service company I have ever known. I have tried for over two weeks to resolve a problem. They never read my messages because the answers are totally worthless. Shipstation operates this eBay Auctane service and they just leave the customer service hanging. I cannot say enough about their disregard for customer service. I would suggest you find shipping services somewhere else. icky
---
Loved this service at first, but asnot kept up with the times
Will not provide a cost estimate...stamps.com is always down. Will be moving to Endicia
Created By: fadedcharacter
---
The only reason that I am stopping to use this is because I am using shipstation from the same company
---
OK
Created By: bridge_wireless
---
Half the time we try to start the application it will not run.
---
Must have for any seller!!
This was a huge time saver and works like a champ. This is what I have been waiting on. Thanks Jon-
Created By: tacticalopsgear
---
Overall Very satisfied, using it over a year !!!
I found this app more than a year ago, it virtually has anything you need in terms of shipping in bulk, (well it has taken me time to get into this system) I recommended it to a friend and he is also amazed and thanks me for my recommendation ,more than everything whenever I had any misunderstanding I contacted costumer care , and they get back to me very shortly , and help me out , it is even better then shiprush on amazon, (also a shipstation company, no idea why they do not upgrade their amazon version,)
---
Alright, but better stuff out there
It was nice to be able to use UPS and have more options but there were a lot of errors. Just using the stamps.com application was a lot easier and smoother.
Created By: central_valley_computer_parts_inc
---
DO NOT USE, THEY USE OLD TRACKING NUMBER! IF YOU WANT TO AVOID A HEADACHE STAY AWAY FROM AUCTANE SHIPPING MANAGER.
Created By: airsoftsportsgear
---
Best Shipping App Out There!
Don't know how I got by without it. Orders are ready in the app when I go in there to ship them out. Its so easy. Don't understand what everyone is complaining about. This is a fantastic program. I've been using it for over a year without any problems. For those complaining about account suspensions, please note that ebay suspends your auctane account after one year, not auctane. You must then renew your paypal pmt agreement. To do this: Click acct tab, from the acct ID drop down menu, choose auctane app. Click change link in the pmt method. You may need to enter your paypal login info. On paypal signin page enter same email
---
Not always dependable and sporadic support
When it is working Auctane is a good shipping solution. However there have been too many times that it does not work. They blame stamps.com for the problems usually. If that is the case why do they use stamps.com? They suggest upgrading to shipstation which does not use stamps.com. When you press support for help and or answers, they go silent on you. I will be finding another shipping provider shortly.
Created By: betterdeals123
---
eBay shipping costs me $1.69 to ship domestically while this app charged $5.66.
Created By: thepennypinchingshark
---
Fantastic for international shipping
Makes shipping anywhere in the world a snap, and saves money too!
Created By: mixmastermickey2000
---
One of the best value added applications for small businesses!!!
This application literally helped us grow our business by automating shipping processes and updates. It's intelligent, easy to use, and has good reporting. The only reason it didn't get a 5 star from us is because it was sometimes glitchy and had more downtime than what I would expect. The support staff was great throughout. Because we liked it so much, we upgraded to their professional shipping service called ShipStation. If you're sending out more than 2-3 items a day, this is a must have!
Created By: vipproductsonline
---
Right there when I need them..
Created By: auctiondiva65
---
Bad no service no return emails to fix problems cant do mouir shipping
Terrible service,once your token runs out your stuck to do your shipping And their service dont care to get back to you
Created By: caseyskingdomvacuum
---
I absolutely love this program! It makes shipping faster and more efficient for me.
---
Was shipping around 100-150 orders a day on another account. Printing was slower than packing. This made a huge difference. Turned 2 hours printing into 5-10 min.
---
no respond from the support team. the auctane is not working for 2 days for my ebay account.
not working, can't ship anything out.
---
This app really saves time with shipping eBay orders. I like that I can add manual orders as well so that my phone and online business is all in one tidy place. I do all Priority Mail, so the postage discounts are great.
---
Have been trying to contact support all week about a simple issue and not one call or email back. Probably a simple fix but they are ignoring me. Been a twelve year customer of auctane/shipstation. Ashame.
Created By: wholesalecoinandmore
---
These guys know what they are doing. There are countless features and reports that are tremendously helpful. Easy to use and robust and an incredible value. We save enough on postage for the first 3 shipments of each month to pay for the subscription and the rest is gravy.
Created By: thegolfmarket
---
It will save you time and effort. It is highly productive, economical and easy to use.
Created By: universalsales1212
---
It's nearly impossible to print labels on weekly basis, because of technical problems. The issues are all related to the Stamps.com service that Auctane relies on to print labels. The company seemed indifferent to my problems when I repeatedly asked them for help, and instead referred me to another sister service they offer. I am looking to use another company entirely to avoid using their sister service. While the service is great when it works, my experience with this company has been thoroughly disappointing.
Created By: theothersidevaporizers
---
A decent shipping program!
Auctane definitely saves me time when shipping out all of my internet sales for the day. There are a few things I wish that they would address, though. Working with Stamps through Auctane is not the easiest of tasks. More often than I'd like, I can't purchase postage because the requests time out, and this significantly slows down my productivity. This isn't a daily problem, but it does occur pretty regularly. I wish that Auctane would implement a search bar for item title in "shipped items"/auction id # , because a lot of the time I know what I'm trying to look up, but not the buyer's user id or name. Aside from those things, I love being able to print labels out in batches, and I really like the ability to print the Item Title/Auction ID # on the bottom of my labels. Overall, it's a great company! They're really friendly and easy to work with.
---
Doesn't work half the time, no phone to call customer support. Nor do they email you bad. Very frustrating.
Created By: sonytvwatcher
---
dont have a customer service line
tried to contact them, they dont even have a phone line for direct communication
Created By: the-bestdealmarket
---
Free Trial is not FREE, requires an enormous setup time, and $25.00 "DEPOSIT"
eBay needs to invest in applications that actual work for Mac users. We have grown larger than they realize. If payments to eBay were this problematic the problems would be solved within a day. Shipping with Mac on eBay is a headache.
Created By: pumperknickel
---
each time it takes 48 hours to renew the agreement
the account still remain suspended after renewing agreement.
Created By: 7shadesofjane
---
works great with overseas shipping
Created By: tekonecomputers
---
Absolutely love this program, worth every penny if you ship a lot.
I got so frustrated with the eBay shipping that I started to look for a good solution. This program was it for me and my business. You do need to also subscribe to Stamps.com but still worth every penny in saved time and frustration. Thanks!!!!!
---
more work. just use paypal
---
Auctane has made a significant reduction in our shipping time. We don't know how we ever shipped without it now.
---
Best app ever..don't know how i ever shipped without it!
I ship orders from 4 ebay seller accounts, my personal website
Created By: stardustperfumes
---
Your customer service personal is VULGAR
I would like to encourage this support team to jump into the 21st century and treat people with the common dignity and respect due to all people! Shocking Shocking Shocking customer support service..like no one else that FOR SURE! OUCH!
---
good thing
Created By: mediapawnstore
---
Good tool but sometime slow and mistake.
update isn't very quick so that duplicated orders shipped out
---
Customer support always get's back to you quickly but doesn't always fix the problem
We like this app and use it every day. Tech support has fixed all minor easy to fix glitches that we have reported but some more complicated glitches are not understood by their tech team or maybe they just don't want to fix them. Once you know what glitches to look out for then app is very good. The Amazon part works put communication to amazon if you void a label never happens and always shows shipped in amazon. Refereed me to one of there other apps instead of fixing this problem with this app.
Created By: partsparadiseinc
---
TERRIBLE COMMUNICATION!!!
---
This tool is great for bulk sellers. The price is fine because as a bulk seller sitting around printing pack slips and labels for 4 hrs makes no sense. I don't recommend this for a small amount of orders a day. Anything over 30 a day though, should be considered or at least do the free trial. Saves a lot of time.
Created By: phonefixpro-com
---
great, easy to use, do not need install software, stable! 5 star all the way! love it!
great, easy to use, do not need install software, stable! 5 star all the way! love it!
---
Auctane's failure to respond to a problem.
We've been using Auctane for about 6 years. Recently we encountered a problem purchasing insurance through Auctane. We have contacted support numerous times over the past month and have yet to receive a solution form them. The only response we have received from them are emails stating they have submitted the problem to their appropriate department. THIS IS NO WAY TO TREAT A LOYAL CUSTOMER.
---
We use Auctane Shipping Manager for all of our shipping needs. Fast, efficient, and easy.
Created By: runnersbuffet08
---
Long story short you will save a TON of time with this -- especially if you do a lot of international orders and sell on both eBay and Amazon. The customer service is 2nd to none. Instant replies with accurate and friendly information.
---
Must have Stamps.com or Express 1 Account
Auctane does not interface with PayPal's shipping, so you must sign up for Stamps.com or Express 1 to ship anything. To ship USPS First Class, you must pay an additional $15.99/month just to have a Stamps.com account! It might save you time, but for $25.98/month more, I'll stick with paypal shipping.
---
Works Great!
Created By: 24hourauctionmania
---
Save a lot of time, specially for International First Class Mail. Excellent customer service with prompt response.
---
This app has saved me so much time, and I absolutely love it!!
---
Awesome...Best Shipping Program around.
Awesome...Best Shipping Program around. Great Prices, Good Customer Service and Very Fair! You cannot beat the speed of the downloads of your items sold. Very Fair Prices and discounted shipping!
Created By: uniquelyjewellgifts
---
Easy and fast!
Created By: globaloutsidesolutions
---
excellent handling and prompt payment of our claims
only 48 hours between submitting our claim info. and paypal receipt of insurance payment
---
Must be run from some third world country
Created By: work_boot_depot
---
sucks overpriced
Created By: thesunglassgod1
---
Great service with issues
Billing problems make this good service bad
---
Can't say enough about the service and personal attention.
---
A must for a high volume Ebay seller!!!
Sorts and combines all my ebay orders on one packing slip. No more looking through ebay paid orders or paypal to make sure I don't miss any orders. I only wish I had found this app sooner. Saves so much time!!!
---
Makes my shipping time much more manageable
This app works great - uploads all tracking to ebay, can import shipping from other sites such as Amazon.
---
The perfect app for an online e-tailer.
The perfect app for an online e-tailer. Auctane has been the perfect companion to our eBay and Amazon business. We just don't know how we got along without it.
---
Saved me lots of time, can't beat how this program helps you be organized!
Not a single complaint with this service, if you ship allot of items you need to consider this! One of the biggest advantages of this program is it always you to ship first class international and have automated customs forms. Also if you need to look an order Auctane makes it so easy to do this, I personally hate eBay's interface to look up previous orders! If I every go into business again on eBay or another site I would use their services no question at all! A+++++++ 5 Stars***** Can't beat it with a stick:)
---
So awesome! Saves time and money for high volume sellers!
ALMOST perfect! If only there were a remove order feature on the shipping screen. Otherwise, fantastic and time saving, and very professional!!
---
this plug in has made our lives so much easier. i can't say enough in praise. FYI we are a medium size two man operation that does about $500K a year on eBay.
Created By: thebicyclerecyclers
---
requires payment through paypal
they stopped using credit cards unless you use paypal. Another way they take pennys out of our pockets.
---
Perfect Application!!! A++++++
Its is so easy I love this application! Keep up the hard work!
Created By: sellingitall09
---
can not contact customer support
CAN NOT CONTACT DEVELOPER
---
GREAT!!!!!!! DON'T THINK TWICE GET IT!
GREAT!!!!!!! DON'T THINK TWICE GET IT!
---
I only give 4 stars because I believe there is always room for improvement
This is the best app on Ebay. We ship up to 150 order daily, and this has made our life so much easier. Saves us an estimated 20 hours a week versus the way we used to do things. Automated feedback, automated emails with tracking, who could ask for more. My only complaint is it is sometimes slow to load, partly doe to our order volume on some days. Also, our shipping prepay amounts are too low, so we have to work in batches some days. Not sure if that is a stamps.com problem or not ( you will need a stamps.com subscription for this app)
Created By: surplussupply8000
---
Used this for years, until now....
This is a great program when it works. It has not worked for me since the afternoon of 6/20/16. It's not the evening of 6/23/16. The app will not load. I have sent emails to support and got one answer in three days. Clear your cache, etc. blah blah. That's not the problem. The app will not load on two computers at the store, one another at home nor on my phone. Just a white screen on Chrome, a red X error on explorer and spins for ever on my phone. There IS A PROBLEM.
Created By: brad.at.jbc.outfitters
---
This app eliminates several steps required to print postage. Fast and easy!
Created By: newrivervalley
---
Awsome software, just what I needed
This software allows you to receive the benefits from discounted shipping rates and automates the entire process. No more cut and paste, everything is done automaticly.
Created By: bestcostumedeals
---
We use this to ship everything.
Much easier than Paypal and ebay shipping
Created By: eatonvillemom
---
We use it everyday and it saved us thousands of hours already.
---
I have used this program for several years. When I needed support, nonn was forthcoming! What's the story??????????????
Created By: alangoodseller
---
Not Perfect, but saves we HOURS each week
I was looking for a better way to manage my shipments which would let me print items on my labels, intergrate USPS, UPS and compare prices, pull in my corporate UPS rates etc. And this is the best option I have ever found. It lets me print all my labels together from my Zebra 450, this really is ALMOST perfect. The issue I am having is that most of my items are high value, meaning I get a UPS High Value log for each item. Normally I would just print my end of day and have everything on my control log and it would be barcoded, this way I wind up with 20 sheets of paper at the end of the day. It seems ridiculous to complain about but an extra 400 printouts per month is a lot...
Created By: 1080photography
---
International Insurance Claim
Easy to submit and understand process of filing an insurance claim, I was reimbursed quickly which allowed me to forward a refund back to my customer in Japan. Thanks so much!
---
Customer Service is HORRIBLE. They OVERCHARGE!! Sent 6 Emails in 3 Days - NOT 1 SINGLE RESPONSE Since ShipStation took over, SERVICE IS WORST!!
---
It's like having an extra employee
I am sure Auctane helps out with the small guys too, but for high volume sellers it's incredible. We have several stores and a website and ship 500+ orders per week. Auctane integrates it all into one easy to use app. I can't imagine anyone actually learning to properly use Auctane giving it any less than 5 stars.
Created By: the_ins_and_outies
---
LOVE IT!!
Created By: kasketkustoms
---
With the changes eBay made to the way sellers ship their items, I needed to find something different. I subscribed to Auctane and have been absolutely thrilled! There is a slight learning curve (a day or so- and I'm not all that tech advanced), but after that, it is nearly seamless. The questions I've had are answered via email nearly immediately and their reps are knowledgeable and friendly. I can't say enough good things about this app- I wish I'd had it years ago!!
Created By: gear4sportsmen
---
Easy to use. Great customer service. Saves time and money!
Service pays for itself with the savings you get on shipping. Ever since I started using it (6+ months)I actually made money on shipping costs inspite of Auctane's low fees. Insurance is very inexpensive as well.
---
App warns when stock levels show low so quantities can be updated before the listing ends. Solution for ebay sellers to keep up with inventory.
Created By: gordys_gadgets
---
Very easy to set up and use!
Created By: youcantdothatontshirts
---
THE MOST EFFICIENT SHIPPING SYSTEM IN THE WORLD ...WELL AT LEAST FOR MY COMPANY ...6 HOURS WORKS AND 3 PEOPLE , CAN BE DONE BY 1 PERSON IN 2 HOURS THANKS SO MUCH
---
This is a fantastic application that really makes shipping a breeze (especially international shipping - since it will complete all of the customs paperwork for you). The only minor complaint that I have is that if you accidentally close the window when you are revising any of the shipping estimates, you have to start all over, which can be a little frustrating. Still great app!
---
Domestic Labels, Perfect! International Needs Work...
This program is such a time saver for domestic labels! Love the various reports and the easy of generating all my shipping labels at once. My ONLY complaint is that more than 1/2 of the International Addresses end up SO small, (literally illegible) we have to spend time creating another label to paste over it, if they could fix this problem, I would give it 10 stars. Hope it is resolved in the near future.
---
Saved me a lot of time and money!!!
Easy to use, fast and convenient app that has made my shipping a breeze. I love that you can print international and domestic labels at the same time. Filling out and printing labels is much faster than Paypal multiorder, Ebay, Endicia, and traditional Stamps.com programs.
---
I didnt actually go all the way through with signup. They dont tell you until AFTER you have signed up that you also will need to sign up for 2 other services to get full benefit out of it and use the service. total cost will actually be close to $30. So 5% savings mean you need to ship at least $20-25 every shipping day of Priority to even cover that cost.
Created By: dirtcheaptrading
---
I have numerous websites and eBay stores, needless to say shipping could get crazy sometimes. I tried this app and it made life so much easier! I now have all of my eCommerce shipping running through this shipping software. It's almost as if someone listened to the complaints of people trying to ship items, then solved them! What a concept!(sarcastic) :-)
---
There are ways to ship your packages without paying a monthly service fee. I considered leaving Auctane but then I saw how Auctane thinks of things I had not considered. It is a well thought out app and continues to improve. Well Done!
---
absolutely worth every penny
I did not want to sign up for any more paid services, but this application saves me so much time, it's worth it. Here are the benefits: shows the item you are shipping calculates weight based on previous shipments auto completes customs forms bulk processing Not enough time to list all the benefits, but I truly think it's the most efficient application I've used.
Created By: sparklyscarlet
---
Excellent App, a must have. Thank you.
Excellent App, a must have. Thank you.
Created By: gadgetsauthority
---
You'd have to threaten my well being to get me to change back to anything else for shipping. No other software works more elegantly. I sell on eBay (used PayPal's mult-order shipping)and Amazon. I also use Webgility to integrate with QuickBooks. Those and others offer shipping, but Auctane works the best by far. No phone support, but email response and online chat service have solved two minor issues very quickly. A+++ My favorite application by far.
Created By: roadie-wheeler
---
Perfect app for high volume sellers.
Perfect app for high volume sellers.
---
Best application for shipping I have ever used.
Love this application makes everything very easy. Saves me a lot of money because it easily shows me the shipping costs and options. A++++++++ A thousand times over!
Created By: wheredidtheyfindthat
---
If they only supported FEDEX five stars will be my rate
All in all great application, just needs more marketplaces and FEDEX support
---
This is a must have if you print out more than 5 shipping labels a day ...This program saved me an h
I average 15 shipping label a day and I use to print them one at a time , took a while. Now with auctane its one click and 15 labels come out of the printer one after the other..
---
Shipping 1000+ per month is streamlined and huge savings!
We're a medium sized shipping operation and auctane saves time and allows shipping savings that you can't even do directly through stamps.com or USPS - amazing!
Created By: ewirelessgear
---
A good service but to get the best benefit is more than double 9.99 a month
You will save time in shipping and in leaving feedback, but realize that if you sign up for the stamps.com service (the part that allows for first class international) there is an extra $15.99 a month. I like to know things up front and that isn't disclosed until you are deep into the registration process. Also, why they acted like paypal was necessary for stamps.com, I don't know because both services want credit card info and that is what they bill. Paypal would be easier and I really thought I saw that in the hype as well. I am hoping it will be worth the money but have just started and it takes a little bit of getting used to
---
I'VE SEARCHED FOR A SOLUTION LIKE THIS FOR YEARS
I've cut my shipping time by 80% using this system. If you're reading my review like I did prior to trying out this system, continue to, but hurry up and subscribe as you are wasting valuable time. I've searched for a system like this for years. I've tried, Vendio, Shipworks, InkFrog, shiprush, paypal multiorder, nothing compares to the simplicity and speed of this software. It is intuitive, even grandma can ship something. My products has skus and custom labels, these labels can be set to print on the postage label! no more referring to packing slips etc, all I do is look at my mail piece and insert my goods!. It also remembers how much certain items weighs as well so you don't have to fill the information in again or create pathetic templates like multi-order shipping in paypal. 5 shooting stars.
---
I'm not a fan of 3rd party apps in general. They're usually expensive and only slightly improve upon functionality that's available for free if you know a little Excel/VBA programming and can download and upload a .csv file. But this app - I wish I had found it a long time ago. I used it today for the first day and it easily saved me 2+ hours (and I was pretty darned efficient to begin with, if I do say so myself!). Awesome job, Auctane. You've got me as a client for the forseeable future.
Created By: hobby*supplies
---
Would be 5 stars if it would work with stamps.com free eBay accounts!!
---
Very good- saves from using Paypal- integrates with it though. Needs sale reports to be perfect
It doesn't mark items in Paypal that ship with the letter as shipped or items that come through Paypal invoices. It does allow for sending packages with an equivalent of an $0.81 stamp and you can do first class mail international. Customs form is nice and easy. I recommend this and will continue to use it.
---
I use this app for two years, this the best off the shelf app I ever seen and used, it will insure and ship your orders with no hassle, hope they will continue upgrade the app and should be used forever.
---
Does alot of things well but could do a little more
---
I love the application. I just wish communication was better.
My only complaint is the fact that if/when there is a problem it is impossible to get a human being to discuss it with. Auctane has no phone number for support. Just an email. That is terrible service in my book.
---
great app!!! saves me so much time
a must have!
Created By: houseofflykicks21
---
Everything has been smooth
Simple and easy to use, never had a problem.
Created By: phyrexianballer
---
Much better than the other applications I have tried
Auctane Shipping Manager saves me a great deal of time on my shipping. I ship internationally as well and this program has cut my shipping time in half. Great!
Created By: everett_powersports
---
Saves so much time, incredibly fast customer service too! I just wish they supported first class envelopes. 5 Star regardless. Best shipping product out there!
---
Auctane is very easy to use. This App has saved us so much time. Any kind of report about shipping is available. Customer Service/Support is awesome! The Auctane fee is the only monthly fee that feels like we are getting our money's worth.
---
I used to use Vendio and Paypal and I spent an extra hour each day finding orphan labels / invoices. Now, they all print out together. So nice!! Also, the shipping discount saves me at least $100 a month
Created By: all_ways_on_time
---
works great and the customer service is the best I have ever seen
works great and the customer service is the best I have ever seen
---
The best shipping software hands down.
We have been using this software for a few months now. It is the best we have tried so far. It is internet based so there is nothing to install in the computer. The labels are created in PDFs. All computers can open and print PDFs. The software even works on Mac computers! We ship a lot Priority Mail packages and we are saving in average 10% over paypal shipping fees. Thank you.
---
very powerful tool, still improving
My only issue is while you can use more than one eBay user name, you cannot combine them so you have to waste alot of time going back and forth between accounts
Created By: theimportexperts
---
Fast and easy way to ship
Created By: aura_crystals
---
Being Charged and Never Subscribed
I have never used, downloaded, or subscribed to your services.. I clicked on a banner ad... I have been charged for months unknowingly!!
---
Manages all of your USPS shipping easily
Great program, we handle 200-500 sales a day on eBay and this program is fantastic for handling our USPS shipments and updates ebay automatically with tracking once printed. We have to use shiprush for our FedEx shipments but Auctane is ideal for anybody who ships with USPS.
---
Makes shipping so fast and easy!
I love Auctane. Their program makes it so much faster and easier to ship products. And the customer service is fantastic.
---
Rip Off Billed me 17.00 for something I tryed to unsubscribe to weeks ago
I never used this product and unsubscribed when I found out they wanted me to deposit money into an account for shipping to be used a later date. Now I receive a bill for more than 17.00 and a notice that they will take the funds from my PayPal account. I have to contact PayPal to help resolve them take funds from my PayPal account for something I never got. Such a waste of time.
---
Best shipping application......EVER!
You can't do better than auctane. Frequent updates to keep them better than everyone else.
Created By: game_trade_online
---
MADE FOR THE USER IT IS THE EASIEST ANS BEST
I have paid for all the shipping apps and used each and everyone of them and I always come back to Auctane shipping manager because it was designed for the user!
Created By: themshproject
---
Great product, ease of use. Thanks!
Great product, ease of use. Thanks!
---
The best shipping program out there!
The lowest shipping prices!
---
Total Waste of my time. Can't even do first class mail letters. What a Joke!
The following is from their description. Read through everything, set up with stamps.com and some other deal, just to call support and they say it does not support first class letters. I would not have wasted 2 hours setting it up if they were honest in their ads in the first place. How can you trust them after that??????? Hope it works for you. "Print shipping labels for all UPS and USPS services including First Class Mail International" "Supports all classes of USPS domestic and international postage (including First Class Mail International!)".
---
It is very fast. I like it is very compatiable with Ebay
---
Auctane save us time and money!
Great shipping application for medium size sellers. Easily allows you to ship multiple eBay accounts from one place. Save money on postage too! We have been using Auctane for almost a year, and it has shortened our ship time from four hours a day, to about 30-40 mins. Keep up the great work!
---
A great time saving tool for any business
Auctane Shipping Manager saves us so much time every week because all of the information is imported in and all we need to do is review it and hit ship and it's all done. Their tech support is great also. All of our questions and feedback have been answered within moments it seems.
Created By: cyber_space_pens
---
so close to being perfect.. still some buggy stuff. Blew $100 on the wrong shipper today, no refunds
You need more information when purchasing postage: IE WHO Exactly you are buying from. I added $100 to wrong vendor today, and that money will just sit there, because that vendors prices suk usually. aND NO REFUND FOR POSTAGE?! Cmon, it should belike cash
---
Great Application for Shipping!
Took a little to set up and get use to but I can print it all at once. It remembers the weight of similar items sold and I can print the item number / quantity on the actual label itself. I wish there was a setting I can enter whatever I want on the label instead of what the setting has though. Otherwise its great and worth the savings / time.
---
The best, easiest to use shipping program.
I love Auctane, it is so easy to use and marks items shipped in ebay for you. I Love everything about it!!! You can generate all labels at once or do them one by one. It is a time saver for sure!
Created By: elisasa2zshop
---
Great Program as We Really Enjoy
All 5 stars as this program saves time and money. Thanks
Created By: organicspicetraders
---
DON'T WASTER YOU TIME OR MONEY
Doesn't post tracking to paypal so you have to spend hours doing and PAY THEIR full prie when you are doing their job. Support must just be answering emails with reason why they can't fix here's what they told me Joe B. replied: We don?t communicate tracking to PayPal, eBay does. We don?t have anyone else reporting this issue. I would see if you could get in contact with technical support at eBay to see why this is happening with your orders. If your eBay orders are getting updated on eBay then that is all our application can do. It would be on eBay?s side to communicate the tracking to PayPal. Please let me know if there is anything else that I can help you with. Joe B.
Created By: bronzed_goddess
---
Amazing!!!
Created By: davesdiscountautoparts
---
a couple of clicks and youre done!
I can virtually run Auctane in my sleep and still get the job done without fail. Hands down, the best shipping program I've had the pleasure to work with. 'nuff said
---
This app makes life very easy. Perfect for both ebay and amazon orders.
---
Auctane is Awesome!! Saves time and money!!
We love Auctane, it helps us save time and save money and lets us do international shipping 1st class.
---
Excellent, saves a lot of money!Hopefully they add more services in future!
---
A wonderful 3rd Party application that takes care of ALL shipping needs.
I've been using Auctane for over a year...having shipped at least 1500 domestic and international orders without any issues. I believe I began using this app when it had been online for about 6-8 months when it was still being developed. Over the past year I have requested at least 1/2 dozen features to accommodate my shipping needs, and each one has been implemented. Such great personal service. I've also seen at least a dozen other great features that have been added...seems like a new feature is added every month. In conjunction with Shipsurance I can now insure overseas 1st class shipments. Shipsurance even funded a $500.00 claim when the post office probably placed a p.o. locker key in the wrong p.o. box and my client did not get his order. Over the past 13 years i've sold over 250,000 items on ebay and Auctane has made my workload SO MUCH EASIER for such a nominal cost. I think they have a free trial period..Try it-you'll never go back to click 'n ship. Yesterdaygirls
Created By: yesterdaygirls
---
Great customer support, easy use, best shipping program yet.
Created By: theplayerscove
---
After using PayPal MultiOrder Shipping for years, I switched to Auctane, and I LOVE IT and have recommended it to others. ADVANTAGES OVER MULTI-ORDER SHIPPING: 1.You can print UPS labels, international (YES, 1st Class International, too!), and domestic labels at the same time. 2. You can print using Stamps.com, Express1 (both USPS) or UPS. It is very easy and convenient to compare costs between the three as you are printing the labels. 3. Customs forms are automatically filled out for you. No text limitation like the form in MOS. 4. Highly-searchable label information, allows you to find specific transactions or customers to get tracking info or to ship an additional item. 5. Labels in PDF format. You can save them if you want to. Same for the SCAN forms. 6. No need to put in package dimensions, unless one dimension is over 12". 7. Weights can be imported from your listings, but you can also set a default weight too. I am very happy with the this App!
---
Makes shipping a breeze. Great Discounts.
Great how it imports orders from other sources, like paypal and other sites like amazon.
Created By: surface_solutions_11
---
READ what's not covered by their lame insurance - NOTHING's covered basically that you ship... LAME
If you don't care of insurance, it's ok, but if you do - READ before you spend extra, even if it's cheap insurance and you may be lured into using it for false sense of security - afterwards they would not grant it...
---
---
Takes Twice as Long as Endicia but Worth the Extra Savings
I've been a happy customer of Endicia for years, but when I heard about being able to save more on priority pkgs through Auctane than what Endicia was offering, I decided to try it out. It takes 2x as long as printing on Endicia and the Auctane system glitches often enough to be even more time-consuming. But the savings are worth it. And their customer service is excellent. I still use Endicia for 1st class, international, parcel post, and some priority mail packages which Auctane does not support. Auctane does not support the Flat-Rate Padded Envelopes, Regional Boxes, or Express Mail as far as I can tell.
Created By: boomer-skoomer
---
A great program! Ship all your items in under a minute.
This program is a must for all sellers, it is so user friendly, and convenient, print labels for USPS and UPS all at the same time, buy insurance, give feedback, and send shipping confirmations to your buyers all with one click. Can ship packages all over the world using any USPS ship method, including 1st class mail, a wonderful product and well worth the $10 a month.
Created By: nifty4thrifty
---
Absolute best addition to eBay!
This application has made all parts of eBay selling easier for me. shipping, tracking, buyer communication, returns, etc. Thank you!
Created By: paylessauction2010
---