PhiConnect Return Service
By PhiConnect.com
(released Oct 19, 2009)
Reduce buyers' disputes, phone calls, e-mails, negative feedbacks and increase buyer satisfaction. Accept and manage return requests and inquiries online with streamlined returns and integrated customer communications.
Categories: Customer support, Shipping & payments
If you are subscribed or want to subscribe to this application please
click here
for details.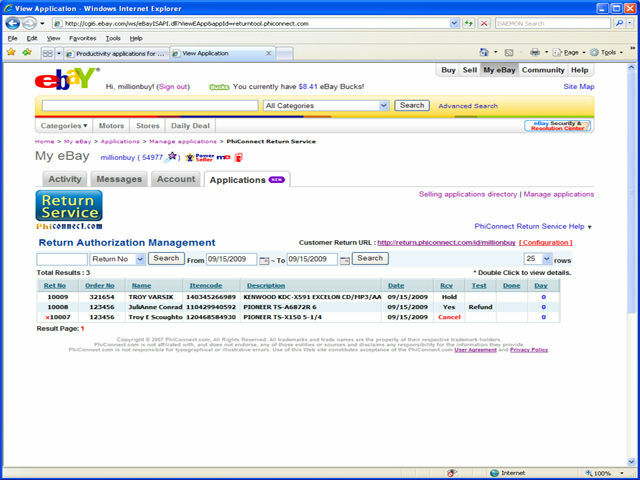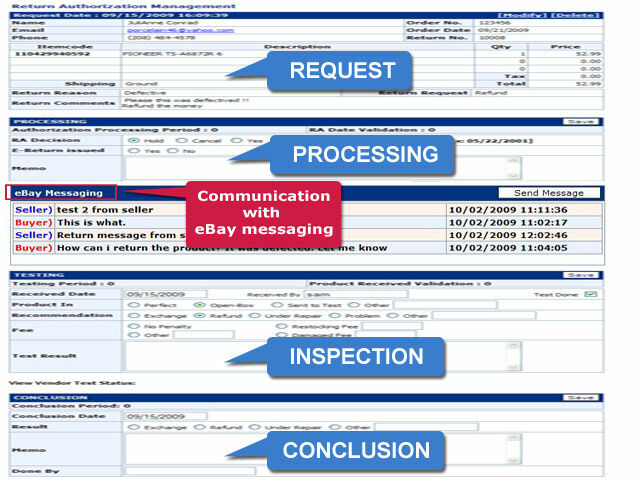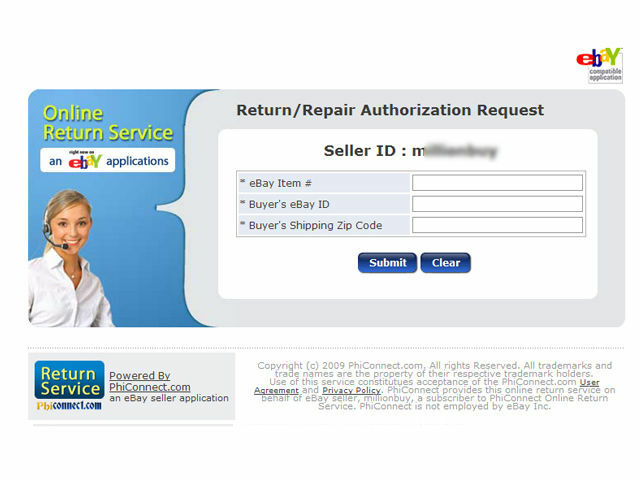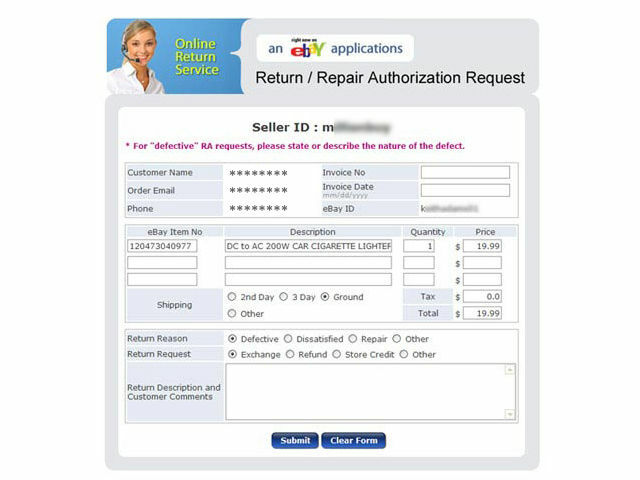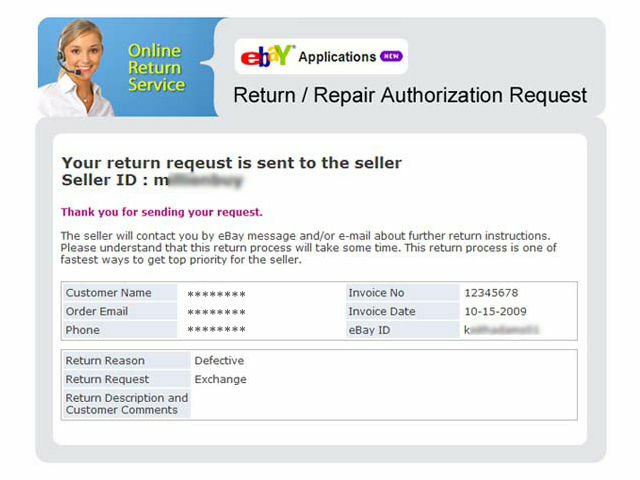 Key features
Key features
Online return form in a customized URL for a seller to attach to the seller's e-mail template and/or listing template (ex: http://return.phiconnect.com/id/your-eBay-id )
Buyers will send their return request after filling out the online return form
RA # auto generation
Send and receive eBay messages and keep track of records automatically
4 step easy management: return request, authorize/deny, inspection, and conclusion
Reduce disputes, phone calls, e-mails, and negative feedbacks
Increase buyers' satisfaction
Description
PhiConnect provides an online return service so that buyers and sellers can manage better return processes with less Paypal disputes, phone calls, e-mails and negative feedbacks. Once you have signed up for this 'Online Return Service', you will receive your own personal link, http://return.phiconnect.com/id/your-eBay-id. You can attach this link to your e-mail template or listing template. Now, buyers will know where to start for their return/repair request. There is a growing number of Paypal disputes and eBay negative feedbacks. This is because buyers don't know how to request for returns and sellers are not there when buyers need their help for a return.
Provide a 24 hour Online Return Service to buyers for better communication
Store all return requests and inquiries in one database
Respond to your buyers at your convenience by using eBay messages
Don't worry about your e-mails being sent to a spam folder
Reduce time and money for return processes
Improve in-house management with notes
Reduce Paypal disputes and negative feedbacks
Increase DSR
Return Processing is one of the problem areas for all e-tailers. Now, you can provide PhiConnect Online Return Service to your buyers at flat rate of $9.95 per month. Buyers can easily fill out the return form online and wait for your response.
Additional resources
Application requirements
Supported browsers:
Internet Explorer 6 and later, Firefox 2 and later
Supported languages:
English
Supported eBay sites:
ebay.com
Required eBay subscriptions:
None
Application support
Application support
E-mail support available at info@phiconnect.com
Tutorial video is available