SSB Item Showcase
By Seller Sourcebook
(released Aug 27, 2012)
Enhance your listings while cross promoting other eBay items.
Categories: Listing, Marketing & merchandising
If you are subscribed or want to subscribe to this application please
click here
for details.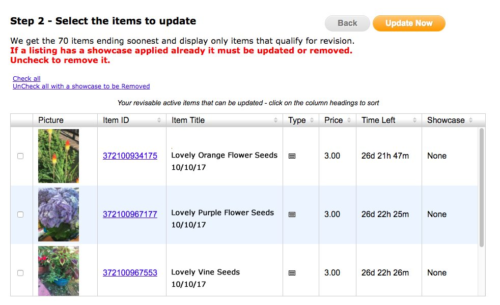 Key features
Active Content Free
Choose the text colors
Select the speed of the scrolling
Coordinate the showcase with your templates
Description
Cross promote your items using our attractive scrolling item showcase.
Potential bidders will see the 20 items ending soonest featured within the showcase, so your items will have a better chance of ending with a sale!
This service is free to all eBay sellers!
Additional resources
Application requirements
Supported browsers:
IE8+, Chrome 31+, Firefox 26+, Safari 5.1+
Supported languages:
English
Supported eBay sites:
ebay.com
Required eBay subscriptions:
None
Application support
Our email-based help desk is available 7 days per week.

support@sellersourcebook.com
Weekdays: 7:00am - 7:00pm Pacific Time
Weekends: 9:00am - 5:00pm Pacific Time


Seller Sourcebook
Since 2003, Seller Sourcebook has been providing affordable auction tools, image hosting and a large selection of attractive templates and showcase designs to meet the needs of both full-time and occasional sellers. Seller Sourcebook (SSB) is a certified eBay provider.
I sell more because my other items catch their eye with this app.
Created By: crimsontide662
---
---
This is the worst application I could use, I lost all my information about my listings and the only option they gave me, has to do them again. I DO NOT RECOMMEND IT.
---
stupid program, misleads the buyer, when clicking on the lot, throws not on the page of the lot, but
stupid program, misleads the buyer, when clicking on the lot, throws not on the page of the lot, but on the page where all the goods, the irritant for the buyers
Created By: stoner-antique
---
items look great just wish I could do all of them
---
I love this on my account...
---
You get the most beautiful Templetes, when you do get it always make sure you see all the pages, for ex. Florals, pg l pg 2, etc. I have used this for years and will always use it because it is fast, never down and 100% reliable. You have to get a Token from ebay after you sign up, make sure you do it, they will walk you thru it very easily. Beautiful service
---
So far so good - no complaints.
Very useful application.
---
Too much trouble to figure out why this app only works on old listings. Confusing!
---
absolutely the best response time on the internet
These people respond. Real live people. And they don't use lame blaming tactics like "ebay is own," or some other blaming technique. You get the facts and you get help with whatever issue you're dealing with. And the tools are great. I didn't have to worry about listings expiring before I had a chance to relist them.
Created By: the_old_lady_with_stuff_in_the_attic
---
Easy to use
Created By: its-just-like-new
---
no easy to use, need to be more flexible to use certain item with certain carosels
need to make I easier to use. be able to use diffrnt skins and diff items to feature on the carosel.
Created By: suncity-sales
---
do not subscribe it is paid
in the application information is written for free, and when registering require payment! False information that the application is free and completely inappropriate for use, there are many similar applications that are free of functionality for this application
Created By: gazizakambaev
---
Easy to set up and looks great.
---
major glitches use froo cross sell
---
Just starting so we will see how it goes! should be great!
Created By: happytrendysales
---
---
Great App. Love the idea.
Very nice, I like the fact that all my products are displayed.
---
It really adds class to the store.
This app has worked perfectly since I started using it.
Created By: mtmineralsandcrystals
---
I guess I have to play with the app a little more to see what it can really do.
---
I can't really recommend this app--it has a ton of potential, but just doesn't really achieve it. The "about, help, support, faq" links are all dead, so no help working around pretty big limitations. Trying to add new listings is far from obvious--and far from intuitive. And there's no one to ask, no tutorial, no help from other users...nothing. Any chance that I might go with the paid version is pretty much lost with the limitations of the free version. I'm going to stick with it for a little while--maybe it will get better.
---
---
Super Easy to use, Excellent Application!
Love it love it. Exactly what I needed to enhance my use of eBay.
---
did not work
Created By: factory-savings
---
SCAMMMMM EBAY BANS ACTIVE CONTENT DO NOT USE
YOU CAN NOT GET RID OF THE ACTIVE CONTENT. NO HELP! DO NOT BUY. WORST HEADACHE I HAVE EVER EXPERIENCED THESE AND ALL OTHER APPS WILL COST YOU $$$$$$$ TO REMOVE. EBAY DOES NOT ALLOW ACTIVE CONTENT BUT WILL ADVERTISE TO USE TO EXTORT MONEY FROM YOU TO REMOVE!
Created By: 1947transistor2012
---
If you choose to, there is a paid version which has many useful tools. I don't so I have a basic scrolling of my items.
---
light using, Easy to install
---
Easy to list, resize photos, etc. Nice templates available. Small amount of gliches with software from time to time that is why I didn't give it 5 star.
Created By: anthonysattic
---
Easy to work with and set up making your items even more attractive to buy.
---
Really, horrible, outdated templates. And not many choices. I uninstalled immediately, will look for something more aesthetically pleasing.
---
This app will make your selling page look like a professional store-level sale page. IMO this is a must have app. Good job developers, and thank you!
---
Easy to get going and works great
Looks great on my page
Created By: stepherayhor-0
---
this thing worked good for a day or so and then it stoped had to start it every time...not good for me maybe for you
---
Not enough choice in templates
Not enough choice in templates
Created By: phoenix7232002
---
---
Checked on other sites and it didn't work right. Sometimes didn't move. Disappointed
I decided to not use this because it didn't work right on other sites. Very disappointed.
Created By: vintagelady2016
---
Works Perfectly and shows all my items
I'm new to this and I had some trouble changing the color, but now that it is done, I am very happy with it.
---
Have used for many years to create attractive listings. Awesome customer service
Created By: 1ohiosisterhusband
---
Use this to increase exposure to products you are selling.
---
great looking display on my listing
i am looking forward to useing this app
Created By: harleysoftail18yahoocom2012
---
Needs to be added again if I revise an item. I like it otherwise
---
---
Why ebay got rid of this stinks. This was an excellent idea and I very much enjoyed using it on my ebay account.
---
I've used it a few times and love the way it looks! So far it's great!
Created By: bnjcollectibles
---
---
---
It does add a nice feature that makes your eBay business page look more attractive.
Can't say that it truly boosts sales or if it just makes your page prettier.
Created By: the_antique_archives
---
Been using this site for years, never let me down and so easy to use!
LOVE this auction site..cheapest yet best one around!
---
bellow expectations!!!!!!!!!!!!
getting "Error" that I don't have any listings! out of 40 active 1s?? Don't c ANY "GOOD" about this app! :( unsubscribing! don't want to keep junk!
Created By: gemstonestreet
---
Great option and it's free.
I recommend this for sure. You certainly can't beat the price=free.
Created By: pearliebeskin_0
---
when I unsubscribed I had to physically remove the scripting because it did not do it automatically with simple unsubscribing.
Created By: idealelements
---
since i've been using this service, i've had several customers comment on how easy it was to see, and buy more parts
Created By: vegaselectronicsllc
---
The Ease of use is why I give it 5 stars. I wish you could upload your own textures or at least have more options, but overall it's great!
Created By: wilsus.ucvreewv
---
you ask to update items, BUT update to WHAT!?? when you allow us to change , deduct, add, etc...... to the item than ask for or have a link to click for update it make sense BUT just select item and click update. MEANS WHAT!!!????? or if in case there is something so explain to member how to work with
---
It is an absolute must for any page on ebay
Created By: ghettofabulousfurnishings
---
Showcaese your inventory at each viewing.
Fairly good advertising at good price.
Created By: scootnotguilty-1
---
I did it several times, it never work; it didn't showcase anything
---
Bad!!!!!!!!!!!!!!!!!!!!!!!!!!!!!
Created By: primediscoveries
---
---
Great free tool for advertising your listings!
Created By: the_real_alchemist
---
LOVE TO SEE MORE DESIGNS SUCH AS SOUTHWESTERN OR FLOWERS, ETC
Created By: lynnettewillis
---
I Love How This Shows Off My Listings!
A breeze to use, awesome backgrounds, works perfectly. Thanks!
Created By: stray_cat_cafe
---
Slow, Doesn't Auto-Scroll, Can't Choose Items
So far I'd say it's pretty weak, I'll leave it up a little while to see if I get any multi-item buyers. Shortcomings: takes a long time to load on the listing page doesn't auto scroll, users has to click the play button can't select which items you want in the carousel. I sell mostly in 3 categories and they don't really make sense to cross promote between them. I'd like to be able to create different carousels for my different product categories where it makes a ton of sense to cross promote. Benefits: It's Free, and works slightly better than a free tool.
---
shows false information that listings updated but they are not, another broken ebay app
Created By: art_vintage_auctions
---
Does exactly what it says it does, and you can format the showcase in several ways. Instantly applies to auctin sales
---
So far i love it, gives my shop a very professional look
Created By: bohopatchworkposse_9
---
Very nice feature if you constantly sell items on Ebay. The only thing missing is an auto setting to automatically kick in when you post something new. Not a big deal to do it manually each time but it would be nice.
---
this could be the best tool available. EXCEPT for one fact. the person viewing your auctions has to click on the grayed out box under your listing. if they do not click it, nothing gets seen. its actually kinda worthless for sellers. works for ssb though im sure. don't waste your time with this one until they change it.
Created By: bradley.lott91
---
Nice App easy to use and makes listing here in Ebay more professional looking.
---
Horrible, hard to figure out couldn't get anything to work at all on it, kept you running in circles, NOTHING WORKS ON THIS - TOTAL WASTE OF TIME!!!!!!!!!!!!!!!!!!!!!
---
It does what it says and more...It will give you extra pictures at end of your listings
Pluse of coarse its free for the taking less you want to pay for some other app...
---
Great product. Great idea. Easy to use.
Great to have your other items scrolling across the bottom of your item listings. Easy to use. It's been around a long time and no flaws that I've found.
Created By: marchinglinks.inc
---
Just got this app, and why not it is free. It is a goodtool to show off your inventory!!
Created By: shadowspawne70
---
I like using this program
I think different backgrounds would be nice
Created By: thepackratters
---
First time to use the app
It really is amazing to connect eBay through this app
Created By: ecbuildware0768
---
Doesn't scroll automatically
I don't like that you have to click on play before it starts to scroll. I don't think too many buyers would actually click on it. I like Foo cross sell where it scrolls automatically.
Created By: designsbycurly
---
---
It's an awesome tool, easy to use. A+
Created By: xxxcarnagexxx
---
---
Number one book source promise.
All events and favorite article choices on line.
---
Good app, would be a five star app if it had more designs.
The app works great. It revises listings within 5 minutes usually. The app increased visibility for my other listings which is nice. I just wish it had more designs. 4 stars!
---
Wow! Really nice,and professional!
I like the look and colors as well. It makes you want to see more! I really like this app guys!
---
Classy Tailored Clean Listings That Stand Out Above The Rest!
IT PAYS FOR ITSELF IN MORE SALES! Put your Business
Created By: echosvintagemichigan
---
Could have more backgrounds
Created By: sportcards_2013
---
Really is Free and Easy to Use.
---
This widget is helpful for buyers!
Created By: amazingdealsbcs
---
AWFUL--- this application ruined all of my listings.
Plus no ability to contact them. Shady. SO NOT GO NEAR
Created By: puppetpandora
---
LOVE THIS TOTALLY FREE, REALLY COOL SELLER'S TOOL!!!
Lots of pretty colors and themes to choose from, seasonals to change if you like, works almost immediately, SUPER easy, no fees, support will help if anything is needed. You do have to update from time to time, but this actually helps you keep it fresh, make changes in color/theme/season, etc., and again, it is really quick, even with hundreds of listings. And actually, I do notice a difference in my sales when I keep it up. And it just really makes your site look swank. Thank you, SSB!
---
cant get it to work anymore
this app used to work great, now it tells me my token is expired, however its not. Ive contacted Customer Service and no one ever got back to me. Very Disappointing.
Created By: jakeandnicksmom
---
I beleive this helps showcase my items
I will giv a honest summary after fully testing
---
It seemed pretty automatic
It used to work great but has quit for some reason
Created By: thecocacolanut
---
---
leaves the item description area full of junk typing
---
Even Better than smart gallery! Makes your listings look so much better and advertises your other listings. Very Quick and easy to us. Highly Recommended!
---
Shows case source book gives me an extra webpage outside eBay; but updating messed up other template
Very pretty looking, easy to use, but if updating regularly, it messes up the templates I used for my original listing.
Created By: craftmentouch
---
Simple, and does what it says it does.
Simple and free and does exactly what is advertised. It would be nice if you could save the settings (color, text, etc) between uses but that is only a minor complaint.
---
It is a great was to show customers what I have
Potential customers can see what else I have to offer them in a different category.
---
A Great Way to Drive Traffic to My Other Offerings
Created By: home1wardrobe2
---
Great appp
Created By: tw24hrshop2udrop
---
---
used for a while now and im very pleased
---
Software is a great timesaver
Application works great in speading up the process of inputting. Even when thir vrc nre live
Created By: kernelbargain
---
The functions of this app can't be added to a listing until it has been activated, which is not practical to do when I schedule my listings to start throughout the day, and if there is a bid on the item before I can manual add to my listings then it cannot be edited. If there was a way to add this to my listings on the scheduled list it would be more useful for me.
---
Comes realy in hand for making your selling page look better.
Created By: unique-car-accessories
---
Excellent App to boost your eBay Sales..!!!
SSB lets customer to see our other items on sale via simple yet powerful scrolling display..!! It automatically updates products to list when new one up for sale..!! Only thing I would like if it had option to save selected setting, so that we don't have to do that again
---
It spruced up my eBay page. Now customers can see other items for sale.
Created By: whippetdude2013
---
It would be nice if I could place it somewhere else, like at the top, instead of the bottom.
Created By: pearlypretties
---
excellent app very easy to use
---
Exposes my items
Created By: supercharaged1
---
I have to keep subscribing through Internet Explorer
Nice when it works. It won't stay activated when using Firefox. I have to keep starting it up in Internet Explorer. If I try to start it with Firefox it tells me the "token" may be outdated.
---
Everything looks good, just waiting for it to appear on my listings!
---
excelente aplicacion
Created By: 50discounts2014
---
Nice. Gives the browsers a good peek at my other items!
This is a nice app. I like it because it not only looks good, it allows my potential buyers to see my other items, and click on the ones that interest them.
Created By: thegripper2015
---
---
IT IS GREAT TO SHOW MY STORE, ALL MY CLOTHING AND OTHER ITEMS!!!
---
Can only update up to 70 items. A good tool for small store.
Created By: charming-gifts
---
---
Successful app which has brought customer to me.
Awesome, successful and perfect
Created By: giftofsimplicity
---
---
It does what its supposed to do but it really needs to be updated for more customization and be a bit more user-friendly.
Created By: caramelqt3683
---
This Is The Best Application Ever!!!
It ShowCases all your other items on Ebay and has gotten me a lot of other sales that I probably would not have gotten if I had not have had this app! Five Stars for this applications it's a WINNER!!!!!
Created By: missmcduffstuff01
---
very helpful that it shows all my for sale items in each listing .
Created By: luckylumastore
---
AWESOME WAY TO MARKET YOUR PRODUCTS
AWESOME EXPERIENCE JUST NOT FOR ME.
Created By: whitala_utu7zqlo
---
Awesome banners to choose from
Created By: connoraubreeandryder*nana*
---
Great Tool! Would Recommend!
Great scrolling gallery and got lots more bids. One of my favorite tools!
---
It shows my oldest items. It seems to be seen by a lot of people
Created By: rmcollectables2015
---
Great cross sell app
Created By: edgewatermarketing_llc
---
Great App. to display multiple items with one listing.
---
---
Expanded Service, Subscription
The free showcase while great, is distracting with all other ebay visual noise. The template subscription is good, but if you have a problem with navigating, or it is not working properly, be prepared to wait a day before you get response. You can't call, only email for customer service. Good, sometimes frustrating, time consuming.
Created By: itsalright2buythis
---
well i do love his app :)
Created By: incrediblehulk1
---
was fairly simple to do this I had a little trouble getting it named.
was very simple and it looks very good in the ads. I had a bit of a problem on the title.
---
Awesome app, this really made my new ebay store bloom!
Created By: smit-svlv768h
---
---
This is an excellent product
I sold more when using this product.
---
Great listing tool, surely improves sells
Great application good listing enhancement, I believe it has improved sells and makes listing look more professional.
Created By: everythinggoes20381
---
It looks awesome, love it!
This helps customers to see more of what i am selling.
---
Once a buyer visit one of your listings, he can see others. Free advertisement and it also decorates your listing. I love it!!! Thank you very much!!!
Created By: odessaforever
---
Great information for seller's
This was a great resource for selling better and is really a must read.
---
It worked and looked good but it would not upload my items. Each time you try to upload new items you have to start the program from scratch. Not much choice of designs
---
I LOVE IT
Created By: chrifrank78milcia
---
Destroys layout of your own web page HTML
Tried to implement this app but it made all of my listings wonky. I cannot get rid of it now.
Created By: lotsofstufflv
---
This is a great Application. It lets all my listing be seen within all me listing. I really like the way it looks
---
Would be great if it worked correctly
I uploaded this to my listings, it took forever to load and I eventually had to quit the app. I tried again early in the day figuring the traffic would be slower and I could get it uploaded. Still took forever and it loaded it twice on at least one of my listings. So...I tried to unsubscribe and remove--didn't work. Only way I could find to remove it was to go into the HTML and remove the code manually. Customer service got back fairly quickly as I marked my request as urgent but was not very helpful because I was not going to scan each listing to find something they could verify problem with.
---
Why I update my SSB I receive more traffic!
---
greatly increases number of views.
---
different formats mean alot
I work off an android, a PC and a tablet and I cant see this showcase on all, nor can my family members and when I got to load what I may need my phone or other devise is not compatible. I don't know if its just me so I am giving it 4 stars. Its is very RARE for me to see animated objects and showcases on peoples listings but when I do I want to jump up and ask,... where did you get that? Also, the only way my showcase comes up is through the description page while others jump out right at you as soon as you click the items pic. Now I drop it to 3. That's my review, gave it a couple of weeks, not from the geek squad so I don't know if Ive done something wrong but from a normal mom and homemaker, its just OK.
Created By: 2live2day2love
---
---
I have tried this app and as a newer E Bay store it is helpful to mu Biz
This app shows a lot of what my store offers
Created By: theurbanarchaeologist777
---
I believe multiple sales from the same viewer are received as a result of this application.
Good experience with this application. I have received a few comments that customers made multiple purchase as a result of the cascading offerings. The only drawback that I note is a few of my listings have lost the detailed description/ HTML format which has caused me to re-list to correct and re-add the details of the item in written form. I made this determination as a result of not experiencing this issue for new listings no yet added to the application. Potentially, this may not occur with the purchased version. I am using the trial version at this point with limited listings capacity. Still, I do believe it is a worth while marketing tool for additional sales. I believe the benefits out weigh the challenges. Thank you for offering this application.
---
tried to unsubscribe, but, the darn thing keeps coming back and attaching itself to my listings! i can't get rid of it!
Created By: whiskykitty71
---
Takes forever to work and there is no way of knowing which listing have been edited.
---
5 minute listing face lift!
SSB provides an easy fast way to cross promote your items.
---
Very happy with this application my ebay store looks much better. Very easy to set up. Thank you
---
---
I like the ease of use, but the fact that it's never in the same place at the bottom (centered) in the auctions is an issue for those that like to keep everything uniform.
Created By: mooresavings4u
---
---
great support applications
aplikasi ini memberi warna pada deskripsi penjualan saya , sehingga yang melihat tidak jenuh . . . terima kasih
---
This app is very useful with promoting all of the items you are selling
Very useful
---
very useful and easy to update my products
easy and very helpful to use
---
This showcase is very easy to use. Exellent customer service. Many thanks.
---
Amazingly simple and powerful
This little free app make huge difference in your listings. A must have to anyone selling on ebay. Thanks to the developers! Amit
---
great app it works great and easy to use
---
great to let others easy access to view your store items
the lookups are more satisfying experience
Created By: serenasmysticalmanor
---
Love this app!! It puts more of your products in view of potential customers.
Does what it says and is customizable. Great app!
---
Give buyer more views of other items you have listed.
---
The best showcase frame program available at the cost, FREE. This program allows you to pick out a frame to highlight your items and give them a more professional look.
Created By: seanfoxbell51
---
I like the exposure if people take a minute they very well could see something they may miss.
It is a very good thing for nothing.Quite easy to set up and it gives your customers or shoppers look at more of your coins what could be wrong with free ads.
---
Easy, but kind of limited.
This is an easy application to use...and the only suggestion I have is maybe offering more of a variety of color choices in the framing, or maybe some other customizable features like adding logo or company name/user id. Other than that...thanks for making it easy to use and helping to cross promote other listings! :) Sincerely, Shopawol
---
---
made very simple to understand
Created By: luckysgold2012
---
Worst app ever on some listings it worked and other it did not and support sucks. You should be able to remove this app with out all the extra steps I had to do removal twice to get it off all my listing. I will never use this again
---
OMG!!!!! THis app ruined all my listings. it off centered all my HTML writing, and totally screwed everything all up. I spent 2 whole days having to relist and rewrite every single one of my listings! This company should be liable for all the wasted time this piece of
Created By: annies-attic2013
---
Thanks make sure to check out my store too thanks again_Cerissa
Created By: cerissaandrew
---
I love using this app for all my listings on ebay. It's easy to use and there a lot of templates to choose from.
Created By: shopaholicsheila
---
---
Easy application to use to help advertise the items you are looking to sell. Highly recommend!
Created By: neffane_neskm
---
would like it better if it would save my settings so that I don't have to pick my colors and name each time
---
I love this. It is easy to use for us newbies!
So far So good!
---
Works great just remember to update after you change any listings, to keep the showcase updated
Very easy to use, Just experiment with the content of the showcase. If you can't get it to work right you have other problems, its not the App
Created By: roscossupplies
---
QUICK EASY STYLISH LOVE IT
SO EASY TO DO AND QUICK. MAKES LISTING LOOK 10 TIMES BETTER. I JUST LOVE IT AND ITS FREE!!!
Created By: googlemyspace
---
After 2 days my sales took off!
---
I am very happy with this application. It gives you the chance to make cross sales on your items for sale, which I think we can all use. I like the way you can change the rate at which the items scroll and the attractiveness of the scroll bar choices.
Created By: blipblizzard24
---
---
GREAT ADDITION TO EBAY LISTINGS!
I AM CONVINCED THAT THIS APP IS WHAT HAS BOOSTED MY SALES ON EBAY IN THE LAST MONTH. NEVER HAVE TO WRITE VIEW MY OTHER AUCTIONS AGAIN! EASY TO USE AND TO MANAGE AND CUSTOMIZED.
Created By: uniqueandvintagetreasures
---
Easy to set up
Created By: nancy-boutique
---
Its a nice idea, for your potential Buyers to see what else you have.
Very easy to apply it.
Created By: philipsinternationalcorp
---
---
Ignores my selection and adds all items
I tried to create a selection for just one category. I created the title, selected the items (12 in all) and waited to update. It gave an error while doing the update, and also, now, when I go to the listing, it shows all of my listings, not just the 12 I selected. Thankfully, it only updated the 12 I selected, not all 70 of the listings. I tried again and still no love. Now to go back and manually remove this from my listings.
---
I found this to be a mess....Their site navigation is very poor, the error messages are endless, it couldn't find my listings, and on and on. I would NOT recommend it. I cancelled the same day and just ate the $8
---
Awesome Blossom Extra Awesome!
Thank you for this terrific Application! Each time that Giuseppe Auctions lists similar items, this is our go to app! Upon first use we saw an immediate increase in views, follows, and sales! Highly recommend this Application.
Created By: giuseppeauctions
---
Can't get my listing to work without an error message. Gave up!
Created By: cooperdogmine
---
I needed help with this app and the SSB app team responded immediately and helped me out with everything I needed. Thank you.
---
i keep getting an error message and will not let me use it
---
the perfect app and very simple to use!
its reasonably priced for the attention your store will get i may drop my store even this little app does it all!
---
I liked this app at first but now i see after you end auctions and re do a new add still shows old listings that are no longer gets annoying then people bother you on old listings that ended
Created By: letyourmomabuyit
---
Looks good! Can't go wrong
I have used the item showcase in my listings. Very easy to apply. Not entirely sure if it actually increases any sales yet, but I love the looks of it and will continue to use it.
Created By: bryancslankster7583
---
Wont remove from listings
Wont remove from listings
---
Very easy to use and many different fonts, colors, and templates. great app.
---
I like how you can customize alot
---
This app is my favorite. It gives life to my listings. There are many different designs to choose from. Worth the monthly fee!! Love it!!!
---
User friendly, increased traffic, professional appearance
This application has increased my traffic and sales tremendously. I recommend it very highly! I really like how you can customize it to your liking as many times as you want for free!
Created By: fuzzyteddibear
---
helps determine what I need to do
really a tool to help better manage your store
Created By: miloiii_tashas
---
Super easy to apply this to my eBay listings
Created By: suzysboutique63
---
Easy and Extremely Useful selling tool
I love how easy this is to set up and how quick it is. I also love how it displays my other items on a product page. It's great. Thank you.
Created By: hobbyintellect
---
Image never loaded up and kept getting error message.
---
Seller Sourcebook is easy to use, and customer support is top notch!
---
Nice look, very practical!
This is a wonderful tool to increase exposure and perhaps let customers see the wealth and depth of your inventory.
Created By: jujusstuff2013
---
My ads were totally messed up. html code shows throughout ad
The html coding was showing on my ad and I can't get rid of it. Ads were totally messed up. Hated it.
---
This is very useful for all the sellers on eBay.
Created By: bestitems2013
---
Works as Describe One of the better apps on here
---
Activating the app results in a blank page
When I start the app I just get a useless blank page
---
This app is awesome! I've never had any tech issues. I'd like to think it's helping my sales!
No tech issues, EVER so far! Simple to use and great looking interface for a free app! Don't go without it if you're a seller of any level!
---
Simple to use, not sure if it helps generate more sales, but it looks nice
---
This app works ok as far as I can tell, however it does sometimes take a while to load on the item page, and I don't think it's helped improved my sales at all, but it was free and doesn't seem to do any harm. Also I have no idea how to reload my items onto an existing banner so I just keep making new ones. And there is little variation to the styles, but now I'm just nitpicking. But it is a neat little way to showcase what your selling and to try to get more exposure to items that are ending soon.
---
It does not work and I cannot get their advertisement off my listings
I have tried to use this app but all I get is their advertisement at the bottom of my listings that leads to their online store. I have tried to contact them but they will not even answer me back. I have tried to unsubscribe but their advertisement will not go away. Do they have rights to my listings that I am unaware of?
---
Very Nice FREE scrolling gallery :)
I really like the gallery and all of the selections for it. Plus it is a FREE app! I just wish the gallery did not show up so far down on the page. I would use it exclusively if I had it inside the template. They are very customizable too :)
Created By: spoiled*material*girlz*blingz
---
easy to use
Created By: goneshopping78
---
Got a lot more hits on my listings within 24 hrs
Awesome!!!
---
attractive, provides visual other items for no-sell on ebay!
Created By: gilligan62tracy
---
it sucks dont waste your time
---
It doesnt work
Created By: drbeverlycrusher
---
Been using this for a little while now and it does exactly what I need it to. My sales and views have increased since installing it. Only reason for 4 stars is that I wish there were multiple layout choices to choose from other than just colors.
---
Love It, Easy to use
Created By: theblackbutterflyorg
---
---
love this app is not distracting and give a good look to your products. Easy to use and can easily be up dated
Created By: amazing_deals530
---
---
Love the way my items look and was extremely easy to use
It was very simple and easy to use and my items loaded immediately. I was able to pick the colors and style I liked and it only took a few seconds to get started :) Thank You I Highly Recommend
Created By: artisticgemstones
---
Unable to subscribe from them
Created By: delphine_boutique
---
quick add to auction with this app makes your auction look great and easy for buyers locate other items you are selling
Created By: xtreme_auto_works
---
i love how it makes the listing look.
its easier for potential buyers to view other items of mine.
---
very easy to use! im sure it wil help.
Created By: celestehurtado09
---
Did not work correctly for me.
The app added a long line of characters to my listing instead of the showcase. Luckily I only applied it to one listing as a test, I recommend any users to do the same if you try this app. There is no undo, so you'll have to manually remove the html code from each listing.
---
A few clicks and I was done! I love that you can customize the skins with any color text, and also change how fast the pics scroll. Awesome for cross-promotion!
Created By: mamas-pajamas
---
Very easy app to use for cross selling your listings
Wow, setup was extremely easy. I was able to add my listing scrolling show case to all my listings in one shot. Great app, I would give it 10 stars if I was allowed too. Thank you
Created By: roblewismoore
---
quick and easy monthly price fair and affordable
yearly subscription is best price for this app, seems like this will make my listings more appealin to buyers and in doing so increase my sales!
---
Looks Great, So Easy To Use, Increases My Sales, Love It!
This is a great app and super easy to use and install. I love all the different themed "skins." I contacted them via their "contact support" link with a question and got a reply in less then 10 mins. Impressive!
---
Just a few clicks and I was done. I added a great looking showcase to all of my active listings. Amazing! I love this app.
---
This is such a great application. So easy to use. I was looking for an easy way to promote other items that I was selling while at the same time make my listings more professional. The app even lets me change the style of my item showcase with the change of the seasons and holidays. What a bonus!
---