123show
By 123Show, Inc.
(released Aug 18, 2009)
Add punch to your listing photos with multiple views including zoom, 360 degree spin, video, and swatching – or an integrated view to include all options!
Categories: Listing, Marketing & merchandising
If you are subscribed or want to subscribe to this application please
click here
for details.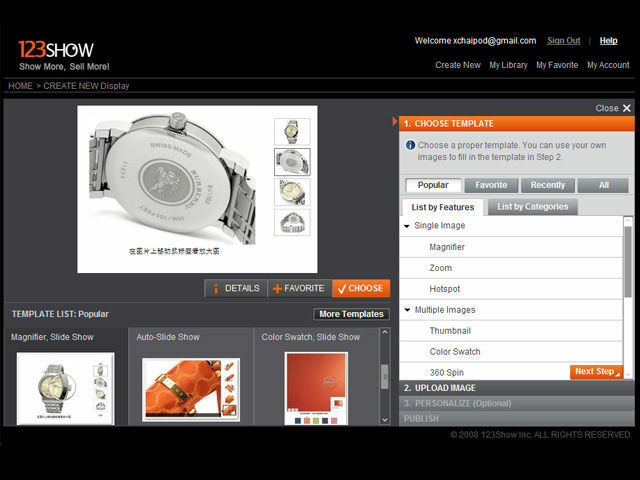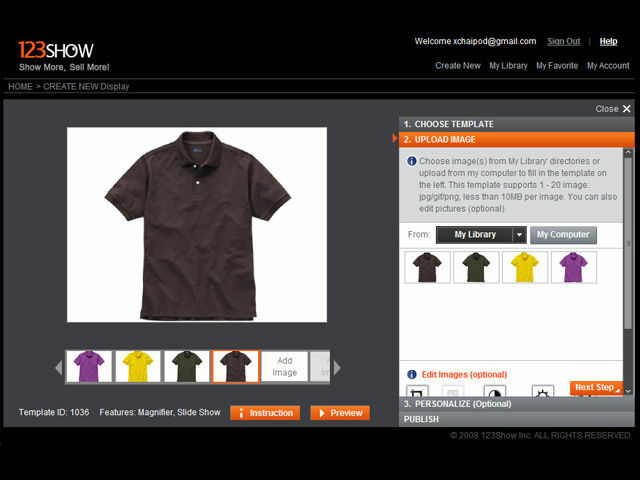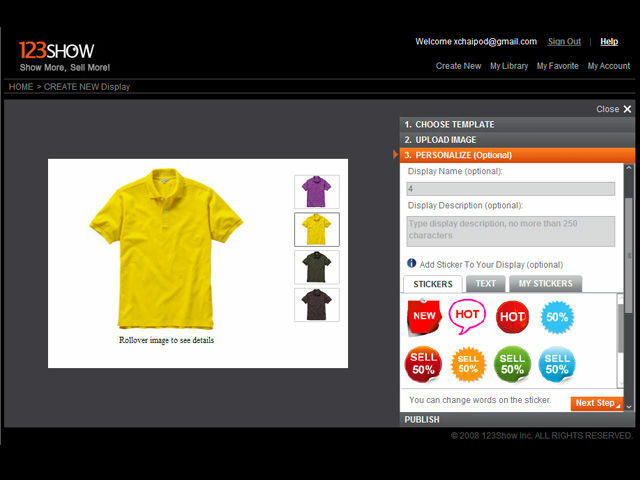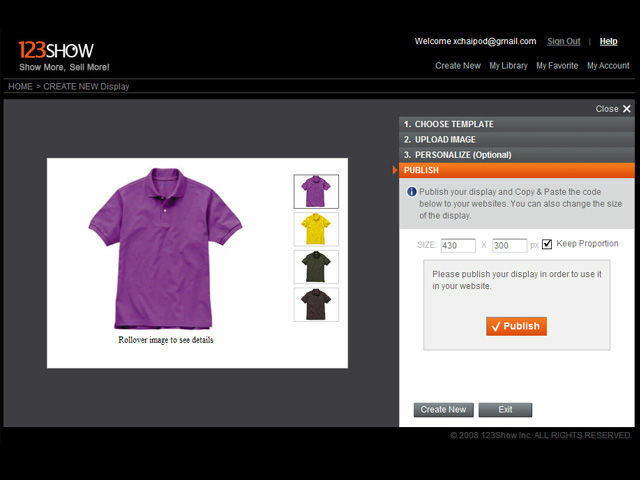 Key features
- Dynamic content sizing, editing, formatting and rich media viewing of content across all Web pages
- Free form and guided zoom and pan on single or multiple images
- Color and Texture swatching to view all options
- 360-degree spin to see all sides
- Video
- Customizable eCatalog, supporting PDF, images, links to your product pages
- Integrated viewing that combines swatching, zoom, alternative views, spin, and more
- Easy workflow-based building of all rich media assets

Description
123Show is a leading provider of an on-demand, rich media content creation platform that enables companies to grow revenue, enhance customer experiences and cut production costs. The company offers a radically simple way to create, manage and publish highly interactive product display online in under five minutes. The service is available as 'on-demand' (hosted) with a full spectrum of supporting creative and technology services.
Zoom, Video, Rotation, Hotspot, Color Swatch, Multiple Views, eCatalog and much more ...
All first time subscribers get a 30 day free trial period!
Additional resources
Please visit 123show Support Page here!
Application requirements
Supported browsers:
Any modern web-browser
Supported languages:
English
Supported eBay sites:
ebay.com
Required eBay subscriptions:
None
Application support
Technical Support: support@123show.com
123Show, Inc.
123Show is a leading provider of an on-demand, rich media content creation platform that enables companies to grow revenue, enhance customer experiences and cut production costs. The company offers a radically simple way to create, manage and publish highly interactive product display online in under five minutes.
this is not working at all
sucks
---
This app does not work. Pending installation forever .
---
would never load , just said pending.
Created By: jameserogers_2000
---
Doesn't work won't even load
Support is unavailable leads to a blank page
---
Not sure if this is the fault of the developer, but I tried to install and it would not. Tried to contact him and it says his domain has expired. If this is just an App that was never removed then shame on Ebay. If the developer isn't keeping up with his App, then shame on him.
Created By: thepinkcontroller
---
app doesn't work it been on pending for weeks can't even contact support. bad app.
---
won't load, doesn't work, support link is broken!
---
crappy app not recommend it
i cant unsubscribe it
Created By: universal_saver
---
---
My account has been pending for a week. Now I cannot even cancel it????
---
I clicked on button, for pending. Still in pending stage. This was over a week ago.
---
---
I try very hard to meet and exceed all retail expectations
The Ebay account and program fits my life style just fine. I'm a 75 year old retiree that enjoys working with the Ebay family to sell few things and enjoy the extra funds. I try to maintain 50 to 100 listings to the public resulting in a few sales per week. Recently medical issues have used so much of my time that my average listing is down a bit. I will be working to increase the listings over next few weeks to my target zone.
---
---
been more than a day since download n still pending!
been more than a day since download n still pending!
Created By: boutiqueudesign_2
---
Not working
Created By: craftmentouchtreasurecollection
---
---
Your app won?t open and it?s all errors. WhTs up guys?
Created By: dawnsdailydeals
---
Very happy with this app, it brings more sells
Very helpful for sellers! Buyers can see your offer listings!
---
Truly never works or updates. Not worth it!
Created By: oemwheelsdirect
---
Has been pending for months...cannot contact their customer service. Poor quality and no functioning. Cannot even delete it, like a bad ulcer u can't get rid of.
Created By: lucky_charm22
---
app not working
Created By: milanojewelry*
---
Does Not Work and No Support
The app never fully loaded onto my account. It still shows as "pending"! I tried to uninstall it but it won't let me. I click on the contact support button and nothing happens, I called EBay and they couldn't help with a 3rd party app. Finally I found 123Show online and sent them an email but I never received a response! I just want it removed now but can't even do that. Do NOT try this app it is useless!
Created By: createdbychell2016
---
Was nice wish it displayed in different area of listing instead middle of description
recommend
Created By: erto-emt-7nv4wbzu
---
can not contact anyone for help
The app does not work, it will not function at all this is very frustrating.
Created By: seans_gemstone_collection
---
Great idea . . . poorly executed
I can't uninstall and I get it out of Pending status.
Created By: margaretscornergarage
---
NO CUSTOMER SERVICE, NEVER RESPONDED, ACCOUNT IS STILL PENDING. UNACCEPTABLE.
---
It is still "pending". It won't load and it won't let me unsubscribe.
---
never worked
Created By: vintage_playmobil_and_collectibles
---
not working, also contact support dean not work. Shame, looks good!
---
not working- try to contact support and it wont load.
---
---
no response to support for days and doesn't work
Created By: hidden_treasures_resale
---
Would give zero stars if possible
status "pending" for weeks. Doesn't work, can't make go away. Truly worthless
---
suck, pending status for a few weeks, cannot get a hold of customer service. Please remove your app.
Created By: great_find_hobby
---
Pending status after several weeks
Still in pending status after several weeks.
Created By: extremedefenseshop
---
application provided the necessary photos I needed to sell my product. Would like to re-apply for 123show.com if possible today. Thank you
---
Will not open and Support refuses to anser my request. Avoid this app.
App will not load, contacted Support and they will not respond to my request for help.
Created By: anchordistusa
---
TERRIBLE, WASTE OF TIME, AND WORTHLESS!
This app is a complete waste of time, it NEVER works, just shows this error message/does not load. The support for this app is an even bigger joke, I have written four or five times, and never heard a word back from anyone even once. The only reason I am writing this review is to save other sellers some time. If you need a good picture app there are plenty in the windows store, or you can just google "photography apps" and plenty will come up. This app deserves zero stars not one but they won't allow you to leave a lower rating than one star.
---
Tried to see it on my web page. Had a lot of error messages, nothing ever showed up
Wish to cancel and not to use it futher.
---
Not Working
Created By: nywatches2009
---
Like other users, I am having issues with the app loading at all. I have tried it from several different computers as well. Awaiting customer service to fix issues!
Created By: virginiararities
---
I'm using Chrome and Explorer and it did not work on neither.
Created By: jay.c.orporation
---
terrible, wont load, no customer service, programming is off, just a mess
after signing up for this service. It wont load. Its frozen. Automated customer service is off kilter and complex not simple dont reccomend waste of time and effort horrible application that doesnt work
Created By: hurbsapplianceparts
---
---
excellent application experiment...
---
won't let you upload images, constantly saying contact support.
Created By: peter_firestick
---
APP WILL NOT OPEN UP
Created By: abundantliving37
---
easy to display my items to sell
Created By: kscompanykorea
---
---
123 show has been very good to use
This service gives me everything I need to sell effectively.....
Created By: dixiebuckeyepanthermarie
---
Easy to use with lots of options.
---
THAY SUCK TOO!!!!!! WORTH MINUS A STAR -0- ZERO!
MOVED OUT NO NOTICE!
Created By: 5557tbirdjohnm
---
I used this service for quite some time just as a trial on different listings. It is amazing how well that it worked. Thanks for such a great, and free service.
---
I like it very much, it's very useful!!!
Created By: odessaforever
---
An explanation of why I like this app
I enjoy the many forms of the showcases or cross-sell individualized actions I can create for each listing. It is enjoyable and creative to use and works great with my eBay widget.
---
DOES NOT WORK WITH EBAY AT ALL
I tried everything to get this app to work and it is not supported by EBay. You can't embed, copy
Created By: morthanclothes_4u
---
Worked for a while then stopped. emailed support, no response.
Created By: work_boot_depot
---
This app sucks it does not work
once you get this app you can't cancel it they just keep billing.
---
Dunno if it's good? Mini iPad !
It's says get Adobe ... After I subscribed .. Do I have to go one the desk top.
---
---
Never worked and emailed support and no answer
I am sure it would be great_ If only it worked. If it does not work and I spend over one hour for a few days each, it is NO GOOD. NO one answered my emails and I signed up for 3 stores. They never checked to see if it worked, but they did take my money.
---
Very simple to upload and arrange according to the convenient pre-set layouts. Good Job!
---
just too confusing and takes too much time
don't understand a thing, takes way too much time and not worth it. deleted my script.
---
I signed up for the free one. now i am being billed for over 33 dollars
I signed up because it was free. At the very most, if an honest mistake had happened, I shouldn't have been charged more than $2.95 based on my feedback of 601. So why are you saying I own over $33 dollars? This is unbelievable. Will not subscribe to any more "ebay free things". Folks, there is always a catch....
---
very good
Created By: chrislaird6ujh
---
not the easiest ap to work with, but gives nice results. with ebay offering 12 free pics with every listing, this ap has become not quite so important, but when listings go back to having 1 free pic, this ap enables greater listings due to the pictures shown.
Created By: sandcastleventures
---
I have have been using it for 2 years and it had been very useful thanks.
---
The application is very easy to use. I love all the different layout options!
---
I used this for 2-3 listings with no problem. When I returned to use it again, I was unable to load more than 2 images for a slideshow that holds up to 80 images. You get what you pay for! In this case, zero customer support (no response to email) and cheap, spotty performance. Don't waste your time with this.
Created By: floridawriter
---
I used it a lot on my items...
---
It does what i need and more. It is a great app and i recommend
Created By: temptress0650
---
Easy to use, boosts sales, all in all a great selling tool.
I like the ease of use and the extra "pizazz" that it can add to your picures. Personally, I like the 360 degree rotate feature. Can be useful in animating picture.
---
Lame. Painfull. Waste of time. Dammit!
Created By: benjaminbuckles
---
PHOTO SIZES SHRUNK AND YOU DON'T RESPOND TO EMAILS!
PHOTO SIZES SHRUNK AND YOU DON'T RESPOND TO EMAILS!
Created By: wojomusicworld
---
IVE USED THIS APPLICATION FOR A WHILE NOW WITH NO PROBLEMS
---
IT IS SO GREAT I LOVE IT EASY TO USE
Created By: valwooldridge
---
I am extremely frustrated with this app! NEVER AGAIN!
Created By: shanesmommy_2010
---
If you want more picture of an item this is the way to go.
---
makes everything look great
It's gives every items a more professional, polished look. Really pumps up a average listing to look professional. Very nice
---
This app has got to be the ABSOLUTE MOST VALUABLE App on eBay. I have not had ANY problems and it's FREE!
---
I love this app, not only can you choose from multiple options on how to display your pictures, you can also choose backgrounds and borders, add text, and animation. This is a great app even if you are not using it on Ebay, you can copy the url and use it any where!
---
---
We decide to encode our own HTML Slideshow. Love the many options of viewers and the fact you can add movies and sound.
---
Lets you add extra photos for FREE and put them in the description area, great for non store owners.
I used the " free " subscription until I needed more photos than the free plan allowed, then I up-graded to the next level for $4.99 per month. Love it !!!
Created By: ilovegrandkids6
---
doesn't work like i wanted it to
---
Great selling tool! It just runs a little slower than I would like. Other than that, its great!
---
It has a mind of its own! OFF! ON ! OFF! ON! When it works its great Hard to chage out pictures
When you cant change the pictures in 123 system you then have to erase each ad one by one I have over 600 ads + running and this became to much of a constant problem to change out the pictures, more than half the time 123 did not run on all the ads at the same time which leaves you with a large blank area at the top of your ad. very disapointing becuse it looks so great on the ads when it works. Pennies from Heaven Collectibles
Created By: bouquets4alifetime
---
I like the product but the pictures of Phones Are very outdated
I cannot use the ones with phones in the display because the technology shown is very outdated. It will make my store look outdated. A lot of them have phones in them. I would recommend updating the display photos.
Created By: propertyimage
---
I use this for every listing. Easy to use, nice zoom to get a good view of each item. It slows the page a little, but not enough to be an inconvenience. I don't know how I listed without this app before!
Created By: blackhillsrosaries
---
---
For a Free Ap. I like this
This is great , but if you are a seller and want to keep it free, you have to keep deleting your pictures you no longer need or you will find that you use up the amount of space that qualifies for "Free" so as soon as you sell something and have received feedback, go in and delete those pictures out of the ap
Created By: smartandreliable4u
---
It is good to show items at the bottom of item I am selling.
I am having a problem deleting items that have sold. Otherwise, I like the application.
Created By: darby2010havanese
---
Excellent integration with eBay listing. Simple to choose templates and insert photos. Very good pricing.
---
---
First of all 123show is very easy and quick to use and place into listings and it works as stated. Very professional looking pictures too! It also has cool features you can add to your picture like a border, text, or animated stickers. I will surely keep using 123show!
---
Really make ads look professional
great
---
Easy to use and I love it!!!
It is very easy to use and it is just like name as 123. The slide show templets are very helpful and this 123 show is my favorite APP. Thank you!!
---
User friendly application with excellent results
I subsribed to the free basic plan last week and found this application extremely useful for embedding zoom-enabled images directly into the description portion of my listings. I will most likely upgrade to a paid plan once my sales volume increases around the holidays; it is well worth the price. My thanks go to the fantastic devs!
Created By: oceanwhisperer
---
Easy to use once you figure how to use the program.
I use this for my ebay sales and i think it gives me a selling edge.
---
Better than paying eBay to post multiple photos
Good way to show exactly what you are selling by showing a slideshow!
---
excellent options, photos look great, easy upload ...
I always like a format where I can control the size of the photo, which order, the style of presentation, so this was a natural for me. Uploading is easy and when my shots are good, they look good. Photos are worth 1000 times what you can ever say -- saying is so true! I only have one tiny complaint. You can't seem to change password or email. I log right into 123 show, sometimes it's a long time in between. I once wanted to change the email, but found no way at all to do so. Not everyone logs in through ebay, and honestly, I would now know how to.
Created By: bohemian_bungalow
---
its easy to use this application
I am usually use others application,but difficult to integration...we must sign in again in others web for picture hosting...this application only use in ebay..so more easy and no need many time to list item for many picture...
Created By: insectsupplier
---
I cancelled and then you keep charging me.
Thank you for finally cancelling my useless 123 Show account.
---
Very easy. So many templates. Makes a big difference when listing an item.
Created By: godzzzila2008
---
when we press start show us a video tutorial on how to use it!
---
I would like to subscribe. Why has it been revoked?
Created By: diana2010-angela29
---
This software is a headache, very clumsy and awkward integration, the pictures do not display large, a pain to remove from the listing and re post..Flash is a real pain..good intentions, bad performance
---
I love this application. It's also easy to understand
---
I love how user friendly this app is.
I have posted in my website as well as on eBay.
Created By: terrahdesignerjeans
---
This has incredible selling assets to use in many different ways. The sky's the limit!
This software has so many options, one can customize it to meet any eBay needs! My new slide show brought new bids and watchers within 5 hours! It is only limited to your imagination of all the ways and things possible with 123Show. I just started yesterday and today and will never go without it now!
---
Easy to use and enhances listings considerably.
The application takes you step by step through creating a template, adding pictures, and then publishing to 123SHOW. After you have completed publishing you are able to upload your pictures with one click to your listing on eBay.
---
---
---
I debated leaving a negative review to keep this app under wraps
I absolutly love this app - period. Super easy to use, quick, and the results are outstanding!
---
Should be easier to utilize.
Created By: tahirasuniquegifts
---