Endicia Int'l Advisor
By Endicia.com
(released Dec 02, 2009)
Take the guess out of international shipping and save money from avoiding shipping mistakes! Know the cost, weight/size restrictions, and delivery standards for the mail class you choose to your destination.
Categories: Shipping & payments
If you are subscribed or want to subscribe to this application please
click here
for details.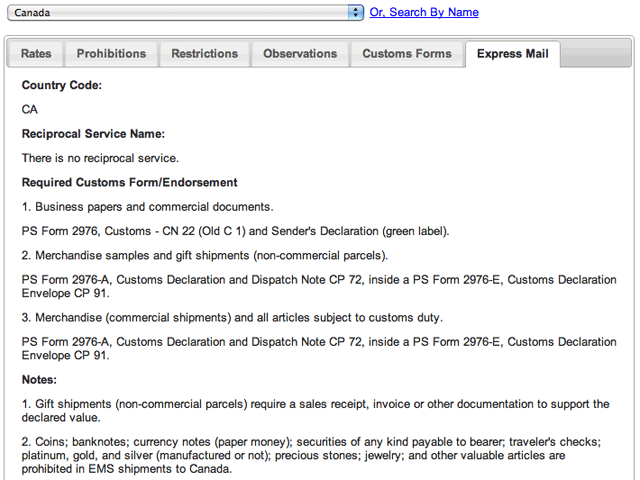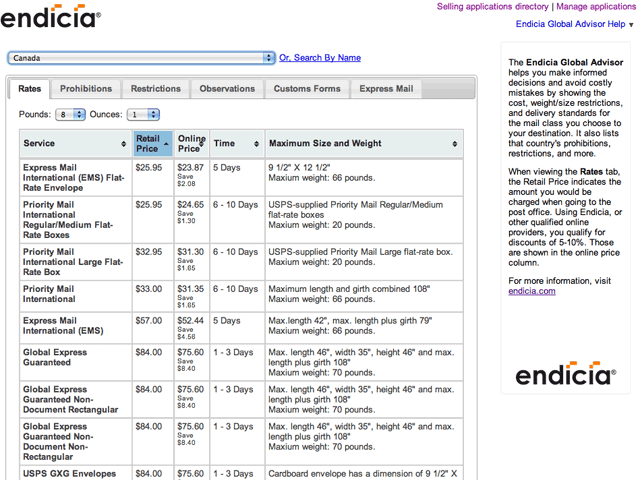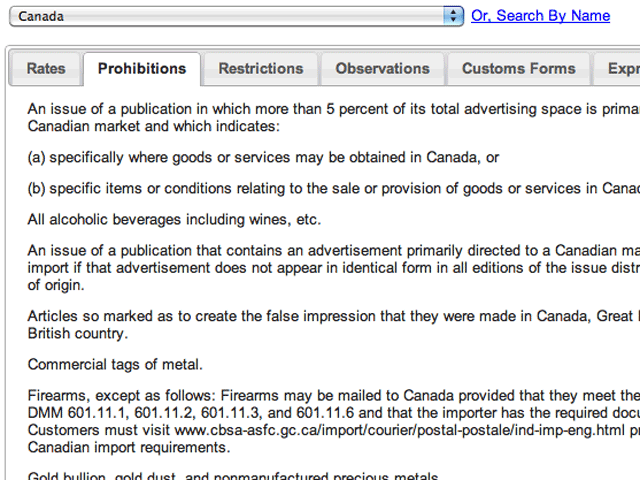 Key features
Using the Endicia International Advisor is easy. Begin by selecting the country you want to ship your package to and the weight of your package. Under rates, you will find the different mail classes and delivery times for the package's destination. You will also find prohibitions, restrictions, observations and customs forms and Express Mail requirements in Endicia International Advisor. The Endicia International Advisor takes the guesswork out of International shipping.
Description
International Mail Has Never Been Easier!
International mail can be confusing, but with a little help from Endicia's FREE International Advisor, you'll be well on your way to fulfilling your products around the globe. Some countries have universal mail service, others only serve certain geographical areas. Some countries have strict prohibitions or restrictions on the contents of your mail, others are more open.
How could you possibly manage this complexity? The answer is right on your computer – if you use Endicia. Our International Advisor takes the guess work out and helps you avoid costly mistakes. It shows you the cost, weight/size restrictions, and delivery standards for the mail class you choose to your destination. It also lists that country's prohibitions, explains its restrictions, notes any useful observations, and shows the areas served in that country for a variety of mail classes. So you can make informed decisions and ship with confidence overseas.
Additional resources
Application requirements
Supported browsers:
Any modern web-browser.
Supported languages:
English
Supported eBay sites:
ebay.com
Required eBay subscriptions:
None
Application support
Contact the Endicia Team
Email: sales@endicia.com
Phone: 1-800-576-3279 x140
Fax: 650-321-0356
Hours: M-F 7am-5pm (Pacific)
Endicia.com
With over 25 years of experience in the postal industry and more than $4 billion of postage printed, Endicia is the leading Internet Postage service provider. Integrated into more than 90 applications, Endicia's PC and Mac applications allow you to print postage and shipping labels for all domestic and International mail classes that can be purchased at the Post Office™. In 2001, Endicia became the first Internet Postage service to support International mail and in 2004 was the first to support automated Customs Forms. Endicia's International Advisor helps avoid costly mistakes by showing the cost, delivery standards, restrictions, prohibitions and other useful information about shipping to the selected country.
---
Do instal this app! It messes your listing up!
After I installed this software, it stocked on "pending" situation, since it took 3 hours (which is more than 15 min)I called Endicia and asked for help. but no one even had idea about that! then I noticed my whole listing is invisible and no one can see them so my sale dropped down from $10'000 to $0 then I tried to get rid of this app by unsubscribing Endicia but there were no way to do that, Then asked eBay for help but they said it's an issue from Endicia end and the problem has to be fixed only by them. I called Endicia again, explain everything finally they admit their software has bugs but they said they have work on that to fix the problem!!! it takes time and they don't have any idea how long it could take!!! and they will call me if they get result with that. so I have to wait for their contact!!! they don't even have any idea time, while i'm loosing customers every day. The prob still exist after a week.....
Created By: skydentalsupply
---
good for a serious buisness
I find that French Love bouitque has to capture every new thing this is new so we are going to try it out. Thanks!
Created By: frenchloveshop
---
Unacceptable "customer service"
My father used Endicia on his ebay account for 15+ years. When he passed away, I didn't realize he was being billed monthly for their service. After discovering this 10 months later, I called to explain. Their CSR advised me that I had "used the service since his death". When I explained that I didn't realize there was a monthly charge, and that he could clearly see that I had only used it a handful of times (compared to the volume my Dad had used it), he told me, "It's like a gym membership. If you don't use it, you still have to pay."
Created By: thewalloffame
---
nt work says pending for over a week
nt work says pending for over a week
Created By: flash-n-the-past
---
---
---
---
Good aplication.......
Created By: wahyriswant_0
---
This is a GREAT APP for any seller who decides to sell internationally. ENDICA app is great for inquiry regarding shipping regulation and pricing for all International Countries. If a seller wants to sell internationally and they need to inquire about the rates and regulations, ENDICIA is a awesome app to utilize!!!
---
Absolutely FANTASTIC service! A MUST for Int'l shipping figuring + Reg's
This is a great service! I've used it a number of times to figure costs from Canada to Australia to France (thus far). While I'm still shocked by shipping costs, this gives BOTH "point-of-service" (i.e. buying at the P.O. counter) AND discounted on-line costs (i.e thru eBay, Stamps.com, etc.), AS WELL AS service options (i.e. envelopes to BIG boxes, normal to expedited). You make the choice, and can pass it along to buyers without fear of being wrong or "undercut". I recommend this app to ANYONE who is - or thinks they will - ever ship overseas. Definitely a time-saving blessing!.
---
---
Thank you for the help!
Created By: ebuchanan1234
---
Excellent Application must for seller for domestic and international selling LOVE IT !!!
Excellent application, takes the guess work out of the shipping costs domestic as well as international. Wish had installed this app earlier.
Created By: catalystpremium
---
Great
Created By: masterofthesea711
---
Nice way to get shipping rates FAST to oversee buyers
Its a nice FREE way to get ALL the shipping rates to whatever country that you want. Very fast and gives you 8, 10, 12 ways to ship to the same country. Very helpful, saves time AND its FREE!! How can you go wrong with that?!
Created By: acollectorsdream14
---
Very glad to have this and even more to have the actual application working with Facebook as I use Endicia for Mac for everything that does not work on a Macitnosh through Ebay (meaning all international shipments) and with other mailing labels from my other sites. Appreciate the insurance though I wish I had a postal choice for ?he times postal insurance is better. Some international possibilities do not show like Large Flat Rate Video boxes also at same rate as small flat rate boxes. That would be a great option to be listed.
---
403 - Forbidden: Access is denied. You do not have permission to view this directory or page using t
I have used this app with absolutely no problems up until today. Now I am getting the error message: 403 - Forbidden: Access is denied. You do not have permission to view this directory or page using the credentials that you supplied. Please fix this as it was a great reference tool and much easier to use than any other apps that I have found out there.
Created By: foryourprincess
---
403 - Forbidden: Access is denied. You do not have permission to view this directory or page using the credentials that you supplied.
---
Very useful. Thanks for providing that.
---
Error message everytime I try to use !!!!
Error message everytime I try to use, click on help, ERROR MESSAGE, click on support, ERROR message, what a waist of time!!!!!!
Created By: ericclaptonsales
---
great app helps a lot very accurate
i use it all the time for my international customers, it even gives you a little bit of room extra which is better for a seller.
---
Takes the guess work out.
Makes it worth shipping where before, it was frustrating. Now everything is right here. No guess work. Thanks.
Created By: hobbyintellect
---
Hard to use, not very user-friendly
Navigation during postage printing is cumbersome
---
won't quit pending and....more
App won't quit pending so I can't try it. Contacting support is an invalid address 404 server error and I can't get rid of it either.
Created By: bigredautoparts
---
Nice App a lot faster than online
Simple,Pick country !!! Hahahaha
---
No Customer Support and No Way to Delete
This app is broken. Do not load this to your eBay account you will be unable to delete it or get any info from the people at Endicia Dymo.
Created By: patricks-boxes
---
Good if it works, this is why I do not do International
---
Quoted me incorrect shipping cost 3 times.
And it was WAY more expensive.
Created By: littlethriftstore9
---
Excellent application. Totally helps me avoid under charging for shipping!
---
If you are thinking of starting to ship internationally, this is the app you need. It tells you about customs and forms you may need. It's GREAT!
---
Always had a problem loading...
---
Intl advisor through ebay stopped working 5 months ago. Poor communication. Still isn't working.
Sucks that I can't use it and when I try to go to the regular site, doesn't recognize ebay sign up.
---
I work off 3 computers and it doesn't work on any of them. I tried various things to get it to work but with no success. There customer service was of no help either.
Created By: hector.collector
---
SDF
Created By: forumsolutions
---
App quit working nearly a year ago. Contacted their customer support twice...received emails both times saying they'd be in touch about resolving the issue (I'm assuming this is generic computer-generated email), but, that's as far as I get. If it opens for you, you couldn't find a better app....if it doesn't, you couldn't find poorer customer support.
---
It was good when it worked. Not anymore!!!
---
first time install work fine. later can't working. re-install it. the same problem.
first time install work fine. later can't working. re-install it. the same problem.
Created By: marketplace518
---
can not load appl - something malfunctioning
---
Show everyday!! - We're experiencing a problem loading the International Advisor.
We're experiencing a problem loading the International Advisor.We're experiencing a problem loading the International Advisor.We're experiencing a problem loading the International Advisor.We're experiencing a problem loading the International Advisor.We're experiencing a problem loading the International Advisor.
---
Screw me twice.. shame on me..
Lost money twice trusting this app.. Never again- My own fault, don't be STUPID LIKE ME. DO NOT SUBSCRIBE TO THIS APP
---
no US advise at all the application does not work, zero
---
A great way to take out the guess work for shipping overseas
Before i was going into 3 to 4 different sites to find shipping prices. This takes out all the guess works and also tells you what forms and what you can and can not ship to each place. Great site
---
Great info in a well designed app. Excellent.
---
Provides the key information which has proven very helpful
Since beginning to ship internationally I have relied on the app quite a bit for key information.
Created By: 2010brilliantbargains
---
I use this application offen.
Service great, don't know how I would make it without Endicia.
---
LOVE IT!! Its PAID OFF SO FAR!!
Easy
Created By: destinyparker40
---
Has proven quite accurate on foreign shipments
---
Really helps! one stop shop for shipping rates!!
Awesome!
---
you have never gave me the right price Your so vague I have no use for you! A waste of mt time!
every application experiance with you has sucked you dont care what city or providence so you can't really do me any good I dont know how the post office done a better job than any one , and wow here come endicia adviser! do me a favor quit advising and find someone who knows how to write a program cause this is the worst application i have ever used. just plain sucks!
---
International Shipping Newbie
I enjoy this app very much. I didnt not know much about international shipping like: restrictions, prohibited items, custom forms. It has what I need to start shipping to international countries I have not in the past. I would def recommend this to anyone, like me, is a newbie and needs that little boost to see how the other side of the world operates... Thanks Endicia... You guys rock...
---
This app is giving me a lot of help when trying to see international fees. Thanks!
---
---
Lots of information on foreign shipping questions and restrictions. Sometimes TMI, but leaves nothing to chance.
Created By: charlottemauve
---
Save money with this app.
Created By: jimms909deals
---
good for the seller
Created By: cowboys207larry
---
This ap takes all the guess work out of international shipping. Everything is easy to find and organized in an easy-to-understand format.
Created By: extraordinarymerchandise941
---
makes it very easy to see what you can and cannot ship internationally, way easier to deal with than the page after page at USPS.
---
I love the simplicity of adding the News Ticker to all of my listings.
Created By: hollyhocksantiques
---
This is great! It saves me a TON of time and hassle from having to go to the post office to find out how much it would cost to mail to other countries. Thank you very much!!!
---
Same information provided by USPS web site. Nothing new here.
Found the same information on USPS.com and just as fast.
---
Great Tool for International Shipping-wonderful
---
great for all international sellers. Easy to estimate pricing when shipping internationally.
Created By: moonfeatherstardesings
---
---
can do international shipping trough ebay
I use this feature for over 1year.. then ebay allow us to print international labels.. I save $14 per month... and you know every little counts :)
---
Sure beats using the redundant USPS site! Thumbs Up!
Created By: brandnamediscounters2011
---
International Buyers Here I Come!
This is exactly what I've been looking for! All info on shipping internationally without researching it myself and it taking hours!
Created By: kaboodlecloset
---
Very nice time saver compared to the USPS site - Good job but not perfect
Very nice time saver compared to the USPS site - Good job but not perfect. Sometimes doesn't display certain countries. Shows hourglass for minutes at a time. Otherwise a nice time saving app.
Created By: righteousone2014
---
Good info and price is right
Very useful app
---
Great! For a free app it's pretty good - it does what it says. It's fast and easy to use.
It's easy to use. It totally takes the stress out of figuring out international shipping. Put's it in your hands fast so that you can turn around and give potential international buyers answers fast.
Created By: hunterextrordinair
---
This app is a must have if you are shipping out of country. It tells you everything you might need in order to ship, what you need, how much it will cost and any other questions you may think of for shipping out of country.
---
Great app for the international shipper!
Plain and simple, international shipping can be tricky... there are so many different requirements and restrictions for each country, and they are constantly changing. It is impossible to remember everything, and I spent hours each month looking up restrictions/regulations for our international packages. The Endicia International app has greatly simplified the process for us. Best of all, it's free! Aside from Endicia's International Adviser, I also use Endicia.com to ship all of our packages. We switched from Pitney Bowes about 6 months ago. It has saved us a small fortune in meter rental, it is so easy to use, and the customer service has been fast and friendly. We love Endicia!
Created By: insomniac_arts
---
TRY TO IMPLEMENT THE INFORMATION
---
It's OK. I don't understand the program
---
Quick assses without calling the post office
Created By: cindystidbitshop
---
This app is priceless with knowledge
The wealth of information this application has for shipping internationally is incredible! A must have for any International Shipper!
---
---
Has not worked since Endicia took it over!
Does not display the rates once country is chosen.
---
I found this very useful for deciding where to sell
---
Recommended the App to all ebay seller's.
Created By: spadesmagictricks
---
---
This is one of my FAVORITE aps on ebay!
Amazing! Accurate! Useful! Use it to sell from Canada to the Russian Federation! Thank you for this ap!!!
Created By: greatlakestennisfan
---
PARROT AND JABRA BEST PRICE LOOKKKKKKKKKKK
---