My.ShipRush Ship Center
By Z-Firm LLC
(released Aug 19, 2009)
The best FedEx and USPS shipping system for eBay. Receive feeds from eBay, PayPal and other ecommerce systems. Fast, easy and free.
Categories: Shipping & payments, Customer support
If you are subscribed or want to subscribe to this application please
click here
for details.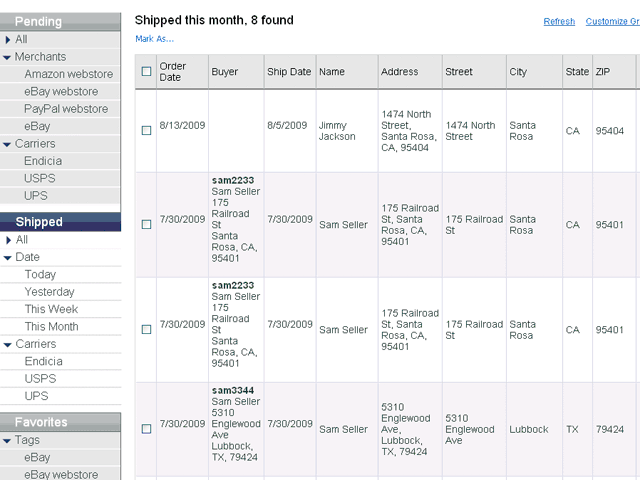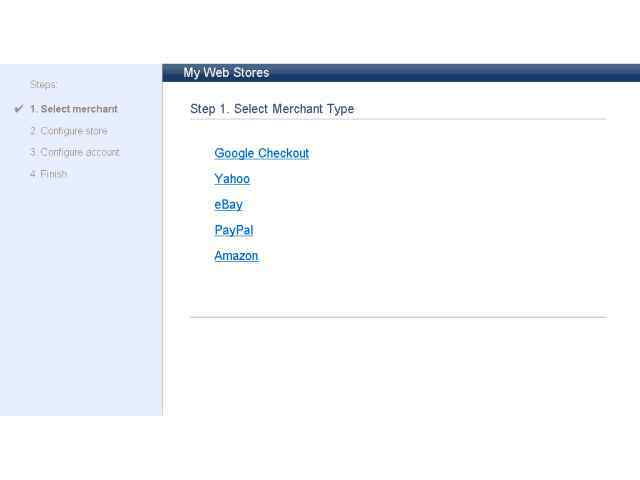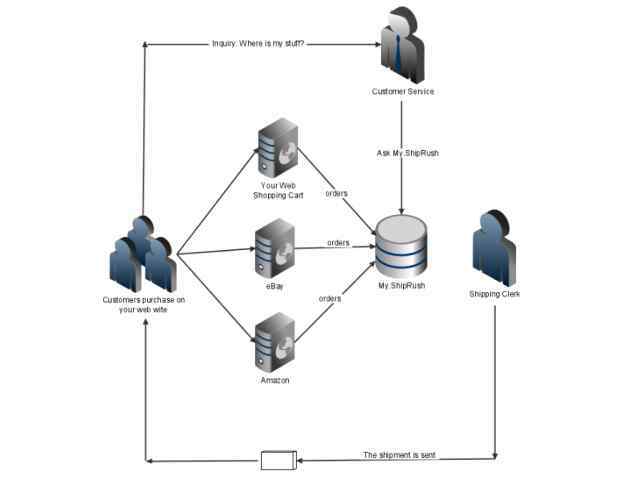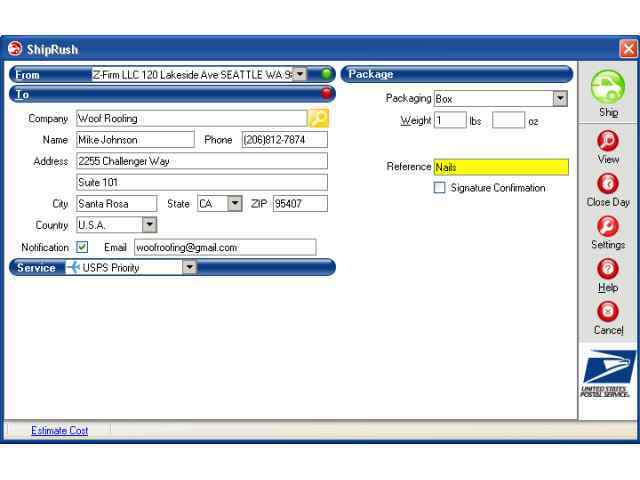 Key features
FedEx shipping system for eBay & PayPal sales
See all ecommerce sales activity across multiple channels in one place
Print FedEx and USPS shipping labels (with FREE shipping plugin)
Customer service staff can look up tracking numbers and shipment status
Easily share shipment history with off site customer service staff
The shipping hub for ecommerce
Free!
Description
FedEx Shipping for eBay & Multi-Channel Ecommerce
Get the %100 FREE bulk FedEx shipping tool for eBay AND get integration to over a dozen ecommerce systems and carts.
eBay sales
PayPal transactions (for on- and off-eBay sales)
Magento
Zen Cart
OsCommerce
Volusion
Google Checkout
Yahoo Stores
Amazon
... and more!
Shipping
Advanced shipping features to save you time and automate your business!
Print shipping labels (with free shipping plugin)
Email notifications
Electronic scale support
Bulk shipping system for FedEx
Print packing lists singly or in bulk
Customer Service
Your Customer Service team can now manage and monitor your ecommerce business from one place.
See sales from all your ecommerce channels
Monitor and manage which have shipped and which have not
Look up sales and shipment information from a single console
Allow Customer Service to work remote from the shipping department
Productivity
No more flipping between multiple merchant consoles
Stay focused by working from a single "to do" list
Easily share access to shipment history with co-workers or outsourced customer service
My.ShipRush is free to try and free to use.
Additional resources
Application requirements
Supported browsers:
Internet Explorer v7 and v8, Firefox 3.x, Chrome
Supported languages:
English
Supported eBay sites:
ebay.com
Required eBay subscriptions:
None
Application support
My.ShipRush support is available online for free. The My.ShipRush forums:
http://forums.zfirm.com
are staffed by My.ShipRush experts and eBay Certified Consultants. Email us at:
info@shiprush.com
Z-Firm LLC
ShipRush is the #1 certified tool for eBay shipping. We an an eBay Certified Provider and have been making tools for the eBay community since 2005. ShipRush received the eBay Star Developer award in 2008 and the Star Developer Runner Up in 2009. In addition to being an eBay Certified Provider, Z-Firm is a Microsoft Gold Certified Partner and QuickBooks Gold Developer.
DITTO
Created By: olympicenergysolutions
---
The Best company you can use you need it!
.I use it and works fast and great service .
Created By: cavtobokan5962
---
---
not free (after two months)
requires credit card to activate
Created By: jeffersonhotspot
---
Thank You so much for helping me...
---
We have tried and tried to set this up so that we could see if it actually did cost less than Stamps.com. The program NEVER set up correctly, the desktop app for Windows did NOT talk to the program and in my Ebay Applications it is still Pending after 2 days. Gave up and deleted everything!! Don't waste your time!! Running Windows 10 64-bit system totally updated so it is not my system.
Created By: everything_place
---
Very Easy to use and great integration with eBay.
The most interesting part of the app. is the seamless integration with eBay and the very best. easy to follow and eBay integration with shipping multiple needs
---
Said this was a free service, NOT TRUE
After you are all signed up the tell you its a 2 month free TRIAL and then its 29.95 a month, typical deceiving practices that many companies use, beware.
Created By: unusual-n-unique
---
my application doesnt work
my application doesnt work and I cannot get any help
---
Keeps pending! Never worked!
Worst company ever used. Talking about you shiprush! Have no idea why ebay is not partnering with much better companies such as Teapplix or Shipstation.
---
Good tool but it's not free.You may get a free trial that's it.
---
never worked
Created By: shalandaralathas
---
I can't get rid of the pending app! But I can write continuous bad reviews!
I'd rather have the app removed but since all i get is standard email replies I can at least vent and write a bad review! Lol!
---
terrible can't get the installation finished
been 30 minutes and still not listed in my applications
---
Not for credit card merchants! Not for eBay without PayPal!
Credit card merchants beware- Shiprush cannot make their software function properly with the eBay recommended payment gateway "Authorize.net." Shiprush imports only address *without item purchased, customer name, email address* - useless! Shiprush lists authorize.net in their "Add Webstore" selection - but it has not worked as noted above. Shiprush employee told me: "Development has reported the issue with Authorize.net is fixed, pending an update to our website." Meaning until then it doesn't work. eBay with a payment gateway for credit cards also will not function because eBay never knows if the payment went through. Shiprush threw up their hands exclaiming: "...the issue needs to either be addressed on eBay's side, or the payment status needs to be changed manually. We cannot do anything with eBay orders outside of what eBay allows us to do via their API." Then why are you charging customers for this software? Will you issue credits? Make a public apology? Show some integrity!
Created By: cactus_kate_trichocereus
---
easy to work with
Created By: turquioselover
---
Oops. the previos poor rating.
The previous poor rating was for EZ labelz, not for My Ship Center. so, so, sorry Guys
---
We have been using Shiprush for years and it is the best application for multiple orders and the customer service is Amazing!!
Created By: grrrreightoutdoors
---
This app is NOT FREE! As soon as I signed up, I got an email saying they would bill me $29.95 in a few months. AVOID!!
---
ShipRush is so easy to use and fast. The tech support is the best on the internet.
---
We used shiprush with our ebay shipments. Its easy and makes shipping a snap. We can process our daily 100 orders very very easily with no errors
---
Been using Ship Rush for many years and swear by it. I have been through the ups and downs through the years and ship rush customer support has been great along the way. I can always speak to a real person usually within just a couple minutes wait at max for any issue I have, which is usually easily fixed with a update. Great service, Great Product. Brings all my ebay orders and orders from my other sites into one shipping platform, then automatically leaves feedback, uploads tracking and marks as shipped. Its like another employee, for way less! Good Job Ship Rush!
Created By: ryse_auctions
---
THE BEST SHIPPING PROGRAM AVAILABLE!!!
We love shiprush. Shiprush is a major time saver. Definately the best program we have implimented in years. If you don't have it, you need it.
---
ShipRush has saved up countless hours and made the shipping process hasslefree, recommend to anyone. We even received a "Tech Award" from Fed-Ex as a large customer that pays for our subscription.
Created By: channelliving
---
Can't go wrong with ShipRush!
I've been using ShipRush for years and it's been great. Makes shipping so much easier. Can't imagine using anything else. Excellent support team also.
Created By: casetopia_media_supply
---
Works great. Integrates with all of our marketplaces
Definitely recommend.
Created By: clr_solutions_llc
---
There is no better company in this world
Simply the best shipping software and company there is. The support is unbelievable and Shiprush application is simply amazing. When other venues fail to send a notification that an item sold you can count on Shiprush to let you know that an item is ready to ship. We could not be in business without shiprush
Created By: houseoffinelinens
---
The easiest, fastest and most efficiant way to ship eBay orders is with ShipRush.
I have been a ShipRush user for 10 years. ShipRush has saved me so much time and energy. The integration with eBay and endicia is seamless with ShipRush. The use of other eCommerce sites (that I will not name on an eBay review) is seamless. There order manager is second to none. Uploading tracking is automatic and instant. Combining multiple orders is a pices of cake. Shopping for the best shipping price is simple and easy. I highly recommend ShipRush to evyone selling on the internet.
---
Great tool for shipping. We use the desktop version to ship out orders. 5/5 stars! Would recommend!
Created By: protier-industries
---
Easy to use, streamlines the shipping process
Great customer support
---
love the app, it works great...
Created By: thegoddessportal
---
Not printer friendly if you own Dymo printer, no USPS postage
Would like for this to integrate seamlessly with my current printer without having to have multiple printers to print shipping labels. Also, would be nice to integrate USPS paid postage without a stamps.com account. Maybe work with ebay and paypal to make it work?
---
IT SOUNDS GOOD
Created By: dgillins-2012
---
---
$30 per month
Created By: brandnameforlessnyc
---
---
wonder eBay tool save a great deal of time
every large seller I know uses this, I'm glad to implement it into eBay myself
---
wont recognize my login info
i have confirmed my log in info but just returns to asking me to log in again with no error code.
Created By: qualityusedmed
---
Love it
Created By: twaantw_zuzvh
---
Just user friendly and in sync with the site!
---
HMAC verification failure
---
Use it to ship your product.
Created By: treasuresandmore1234
---
I didn't subscribe to this app, but it was going to charge me
I never asked to subscribe to this app, but it was going to charge me $29.99 a month
---
Nothing useful free for USPS shipping labels.
You need to go to stamps.com and pay in order to print postage
---
---
---
great app. saves a lot of time and estimates are within a few pennys.
great app. saves a lot of time and estimates are within a few pennys.
---
---
great tool
Created By: lboudreau1954
---
does not work..blank pages
set up webstore and went to look at orders and just blank pages??? tried multiple times to close ebay website and reopen myshiprush but did not work still.
---
USPS should be it's main carrier and you should be able to print USPS postage but they are requiring additional monthly payment to print USPS labels. Not worth your time unless you only ship FEDEX.
Created By: goldenitems247
---
Keep getting that plugin is not installed when selecting from inside eBay Your Apps. The shipping data is present and when you select to ship the Plugin missing message appears and of course there is not a link to when you get the plugin, other than that you need it. Seriously !!! ShipRush web site and forum is terrible for any help. Desktop App. locks up and Task Manager is required to end. I am lucky to print a label successfully.
---
SAVE YOURSELF AND DO NO DOWNLOAD THIS APP
CANT GET RID OF IT ONCE ITS DOWNLOADED. LIKE HAVING BAD COMPANY YOU CANT GET RID OF.
Created By: heartfeltcollectables
---
great service
Created By: hosedragger548
---
I have used ship rush for years, its the only way to manage shipping.
Created By: medical..matt
---
It doesn't work with Mac. Took two days to figure it out.
I activated this app with high hopes that I could simplify all my shipping tasks. Especially Fedex since Ebay has no labeling capability with Fedex. After two days of trying to get the app to work and emailing the tech support people, they finally let me know that they have nothing for Mac users. Go figure, in the 21st century people are still ignoring Mac users.
---
Contacted support, they said they were working on it and I've not heard back. It's been 4 days now.
Created By: bestvideoboards
---
DO NOT APPLY POOOR !
Created By: wendybusiness
---
THIS APP SAVED ME APPROX. 2HRS PER DAY.
I SHIP PRIMARILY FED EX NATIONAL AND UPS INTERNATIONAL. THIS APP IS AMAZING AND TAKES HOURS A DAY OUT OF MY COMPUTER TIME. I WAS JUST ABOUT TO HIRE SOMEONE TO KEEP UP WITH SHIPPING AND THANK YOUS AND TRACKING NUMBERS UNTIL I FOUND THIS.....SOME VERY SMALL GLITCHES HERE AND THERE BUT NON THE LESS WELL WORTH IT...BEATS PAYING ANOTHER EMPLOYEE!
---
can not install with a mac
Created By: nurumassageoil
---
Great Improvement to our shipping dept.
This has significantly improved overall feedback and top rated seller results by limiting the amount of time it had taken to upload our tracking info. Many options available and free to boot! Couldn't ask for much more from an application we're using at no expense and great results for buyers. Keep up the good work :)
Created By: racepartsoutlet
---
Ebay walked me thru the set up..never did work not even with representative
---
Fre to Download, but not freeto create a shippinglabel
Very misleading. Says it ia free to ebay users, But when I went to create a shipping lable, I had to download a plug-in - free for the first month $30 a month after that. NO THANKS!! Plus response time to search for a purchase was S L O W . _ _ . . . . . Auctane is WAY BETTER!!
Created By: serendipity*sales
---
works well imports data quickly
works well for small business
Created By: dunhamselectronics
---
my shiprush program is the best out there does everything needed
shiprush has thaught of everything the user may need and then some. you have to try it to love it ! a major hit for all ebay sellers big or small .
---
Nothing that is not easier to do on eBay yourself. Very complex, no instructions. Definitely NOT worth your time and trouble.
---
Another example of how eBay locked FedEx out of the shipping system; made some deal with UPS
Essential tool that eBay SHOULD have integrated into PayPal/ebay. You have to go outside eBay to find intelligent innovation. No UPS integration with eBay or Paypal because, each has told me, "they are not talking." *UPS will not pay ShipRush to produce a version of ShipRush UPS* - leaving sellers to use the primative PayPal UPS lable making that doesn't print labels on standard 1/2 adhesive laser label stock; even though USPS on eBay does so because Pitney Bowes set that up. PayPal let Asian programmers lay out the UPS label maker on their site and never updated it. It gives examples of first and last name; both Chinese names -then prints in the middle of a page - no alignment to 1/2 adhesive labels. Why is ShipRush incomplete? Sends shipping confirmation to PayPal email address doesn't upload tracking to eBay! PayPal email addresses often have spam filters, or are obsolete. PayPal hides user phone numbers so when FedEx has a delivery problem they can't call the buyer! DUMB!
---
FREE is FEDEX only. USPS, you MUST use stamps.com @ $29.95 per month. NO UPS Option at all.
I ship 200 + packages per month mostly USPS items. It looks like a nice application if you do 2000 orders per month or enough to justify the $30.00 per month that stamps.com charges. I found that FEDEX was more expensive than UPS on the larger packages as well.
---
I'm not sure if my USPS account is doing a lot of it or MyShipRush...if they are kudos to them, if not delete the program.
---
It is in the revolked status not sure why?
Created By: captainjackfan10
---
we have being using this app for over 3 years, works great.
Created By: empire_wireless
---
NOT FREE TO PRINT POSTAGE YOU HAVE TO OPEN AN ACCOUNT WITH ENCIDIA FOR $39.95/MONTH!!!!
---
---
Can not get the app to open :(
:(
---
Free version is worthless
The free version only "prints delivery confirmation labels". and that helps me how? Deleting now.
---
Just what I was looking for - Use this instead of the USPS Shipping assistant
This app works so much better than the USPS Shipping Assistant software. Plus, this uploads the tracking info back to ebay and leaves feedback for you. This also works with the UPS Eltron / Zebra 2844 label printer. I tried for hours to get the USPS software to print a label and it was just impossible configure so no more cutting and taping labels. This app is a huge timesaver for me.
---