eZ labelZ for eBay
By eZ labelZ for eBay
(released Aug 14, 2009)
Quickly create customized inventory and address labels with data from your eBay items and transactions. Translate buyer data into marketing materials including flyers, cards and much more!
Categories: Shipping & payments, Inventory
If you are subscribed or want to subscribe to this application please
click here
for details.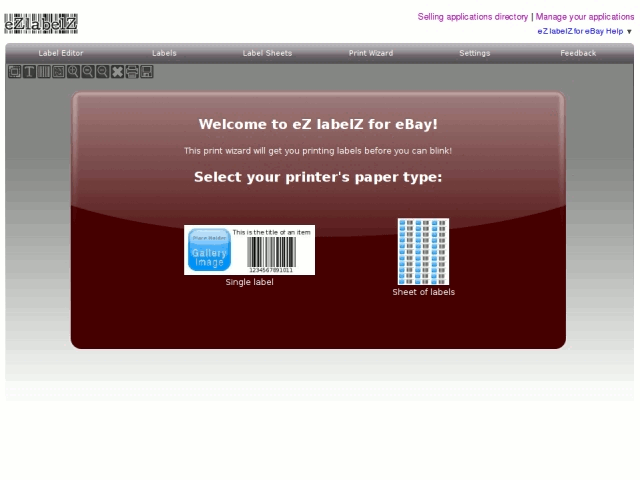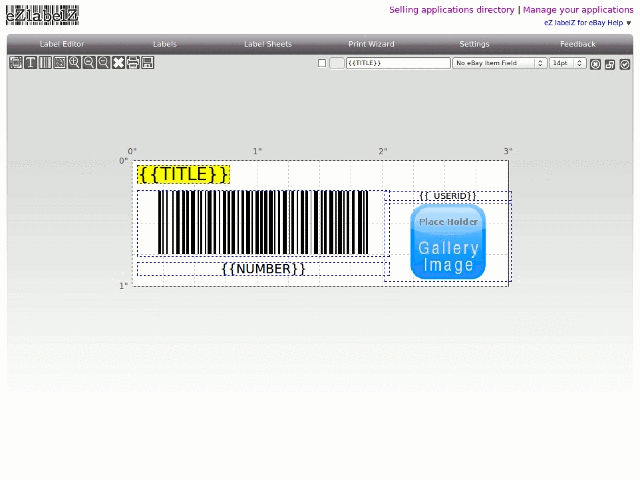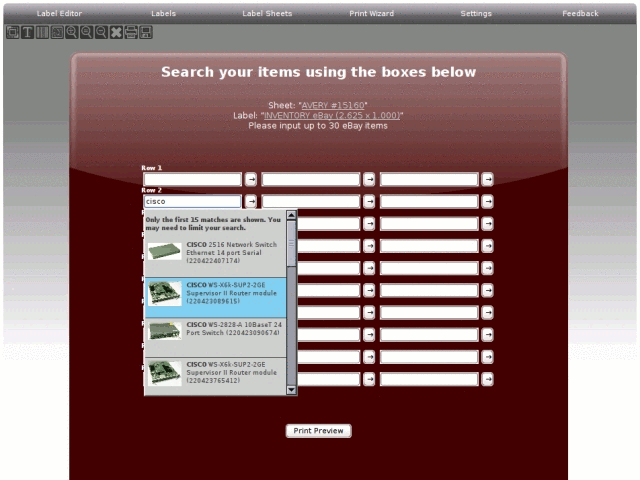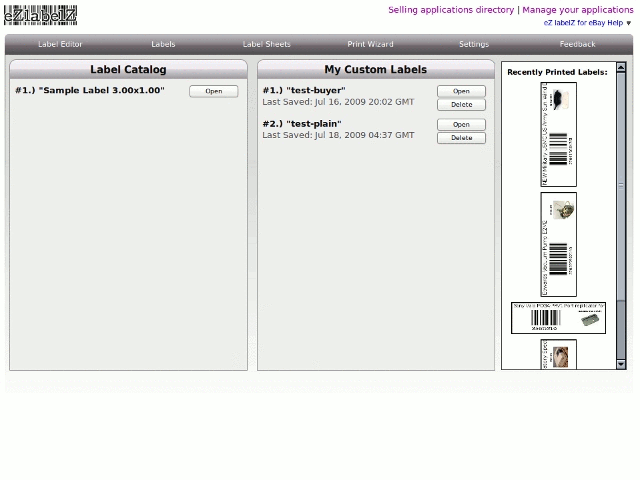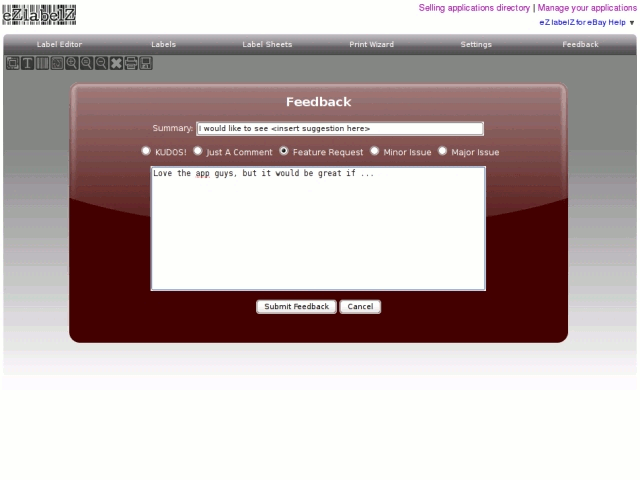 Key features
Quickly print customized inventory labels with instant importing of eBay item data.
Quickly print customized address labels with instant importing of eBay buyer data.
Bulk import hundreds of items/transactions at once using a comma delimited file!
Easy barcoding! Convert any field into a barcode!
Print eBay item gallery images on any label.
Build custom labels and even flyers, printouts, or cards using our WYSIWYG label editor.
There's no requirement to import eBay data if you don't need to. Static text or barcodes and uploaded images are all supported.
Description
As your business grows, so does your inventory, and your need for efficiency sky-rockets. Now you can take your eBay item and buyer data, format it, and print it in whatever way works best for you with the ease of a WYSIWYG label editor and fast print wizard.
eZ labelZ for eBay (pronounced "easy labels for eBay") makes short work of creating labels with data from your eBay items and transactions. You can even barcode your eBay data with a simple click.
We have provided a large selection of label styles and label sheet templates (organized by Avery compatibility). You can also input your own custom label sheets, build your own custom labels, and import your items in a flash.
eZ labelZ makes it easy to put an item title, item number, starting bid, start time, end time, and, yes, even the gallery image onto any label you can imagine and/or design. You can also import buyer contact information, including name, address fields, phone number, user ID, and email!
eZ labelZ for eBay WILL make it easier for you to manage your inventory and your outgoing packages. It will also let you make professional, custom labels to deliver a rich, more focused brand to your buyers.
If that powerful functionality isn't enough, you can also build flyers, printouts, cards and any other printout you can imagine -- just with a few clicks of the mouse. You don't even have to import eBay data! Static text, barcodes, and uploaded images are all supported!
Additional resources
eZ labelZ for eBay Website
Application requirements
Supported browsers:
Latest version of FireFox, Chrome, Safari, Opera, or IE
Supported languages:
English
Supported eBay sites:
ebay.com
Required eBay subscriptions:
None
Application support
Drop us a line at ask@ezlabelzforebay.com, or submit a note via the HELP! tab in the application.
eZ labelZ for eBay
Our goal is simply to build tools to enhance the web!
---
didn't like how the site was laid out
Nothing was organic so I would know from how the website works. Don't like the "terms and conditions" on my information and possibly paypal. Unsubscribing will stop them from selling my info? Don't know. Would like to know
---
App does exactly what I need. Helps keep my inventory organized and looks very professional. The customer service is amazing. Whenever I have had an issue I receive a reply within 30 minutes. I use this app daily and its perfection!
Created By: agentcloseteur
---
in "Pending" status for literally years
support link is useless
Created By: jeffersonhotspot
---
This is exactly what I was looking for. A way to print all the days labels at once.
This app allows you to print custom labels based off ebay's data. Including a barcode!
Created By: shinycomputers
---
Has been in pending status for over a year
Do not bother to use this as you will not be able to
---
been pending on my ebay page for months
its been months since i joined and still shows pending. cant even un join ? horrible
---
Frozen no customer support
Need help
---
Could never get the tool to load, so that I could use it.
Created By: victorysurplussupplies
---
Love the app but it still has a glitch
I love the functionality of this app. It helps me stay organized. However, it fails to update with my latest listings sometimes. It's happened a few times before and again today. Had to unsubscribe and subscribe again. That usually fixes the issue.
Created By: anniesenterprises
---
App has said pending for the last year, no way to contact them. I used to really like this app to bad
Created By: bhamilton7181
---
Tried to import and print and it just would not print anything.
Created By: unicornsarmory-usa
---
I couldn't run my business without EZ Labelz! One of a kind application!
I needed something that would print out basic labels for packages that I ship USPS First Class Envelope and there is NOTHING on the market that does this. EZ Labelz fits the ticket. Not only that, you can customize the label sizes to ANYTHING you need for your label maker making it completely customizable. For me, this application is worth its weight in gold. It saves me HOURS a month of cut and pasting addresses in to label maker applications. If I could give this application 10 stars, I would. Absolutely the most invaluable application for my Ebay business. Way to go!
Created By: vapetankdocusa
---
It is pending. Can't use the app.
Created By: babylon_jewelry
---
---
Stuck on "Pending" please help....
Stuck on "Pending" please help.... (not a good experience)
---
Never Worked From day 1. 3+ months and still says PENDING. W H Y???????????????/
---
Lots of trouble with this app. 1) Won't print all of the labels for my listings. Only does like 30 at a time, which is really a pain when you have 200+ listings 2) Won't print to the size of paper selected. I ruined several sheets of label stock because this thing doesn't recognize and format standard Avery stock 3) Now has some sort of subscription error, and I can't use it at all. Just as well, because it was unusable to begin with.
---
"pending" for weeks; app does not work
"pending" for weeks; app does not work
---
The app stopped working after a while. It just says PENDING and will not allow me to contact customer support. Please help
Created By: bimmersofatlanta
---
App stuck in "Pending" for more than 24 hours in App Center. Should have listened to the experience of previous users.
---
Have a little play with the data and then everything is simple and easy to work, with no cost and very intuitive.
---
BEEN STUCK PENDING ALL NIGHT
CRAP SAYS IF IT STAYS PENDING MORE THAN !5 MIN TO CONTACT SUPPORT, WHEN YOU CLICK SUPPORT INSTEAD OF TAKING TO A FORM OR A TROUBLE TICKET... IT SAYS TO LEAVE WHATEVER U GOTTA SAY AS FEEDBACK
---
Great Free App to manage your listings with listing number, picture and price of listing.
---
Not Working
Created By: atthegettinplace
---
i have no way of contacting you! i have tons of issues with you app. i would appreciate a phone call 304-209-2117
---
still in pending status 2weeks
still in pending status tried to contact customer service no response
---
has been stuck on pending for 12 hours
Created By: gemcitycomputers
---
The status tab within my "Manage Subscriptions" has been stuck on PENDING for months. I can't even remove the app.
---
Can you please unsubscribe me and I will submit another subscription request.
Created By: willsdeals-4u
---
Thanks for going the extra mile for me. Look forward to using the app !!
Created By: pcnetworkguys
---
Waited for months to use this application and still can't get a response. What a shame!
---
good AAAAAAAAAA++
Created By: sri_shopping_center
---
Only says Pending. I can't get it to work or take it off my app page.
Created By: annscollection
---
Great app to easyly identify your merchandise!
I sell clothing on consignment and this app allows me to print labels/stickers that easily identify them. After I began to use this app, I never mixed up orders again. It allows you to even print a picture from your listing in the label.
Created By: kittykatboutiqueus
---
Professional labeling system - love it!
Profesional looking labels. Great inventory tool!!!
Created By: rdmendezservices
---
Print labels (inventory) much better than my expensive (name with-held) inventory management system. It WOULD be sweet if I could import all of my listings at once automatically, but it has the provision to catch the older listings manually, so ... what's to whine about :)
---
couldn't get it sized properly
meh.
---
Great for printing shipping labels on envelopes to ship out
We ship alot of items with envelopes on ebay and this program can print a sheet of labels at one time, saying us time, great app, thanks for creating it
---
Works really well
Created By: themexicanhub
---
Does not import the items from ebay listings.
Created By: acremotecontrol
---
very simple to use
Created By: tootiesgentlyusedclothes04
---
Wroks great and wonderful customer support from the developer!
The app does what it is supposed to and on top of that the customer service is first class. Thank you so much!
---
---
---
Couldn't fiqure how to add my FROM contact to the label, using word was must easier
Wouldn't print from the print button, printed elsewhere and the label was too big
---
easy to use, very effective!!
Is really easy to use. Just need to follow some steps and you are ready. Especially if you are international seller, is helping alot.
---
---
crappy support and program won't even open
after several attempts to load and open the program it won't open - even after restarting computer - can't even contact support. Click contact support link and get smart elleck message that says to use "feedback" in the program...duh the program won't open
Created By: sandies_treasure
---
Easy to use and modify templates. It took a few tries to get the look I wanted but I am very satisfied.
---
Great simple app to do label printing
This ebay app works great for someone who is technically savvy however I would not recommend to someone who isn't. Still has some bugs and awkward limitations such as not being able to print labels for items listed in the last 12 hours or so.
Created By: gold-buyer-resource
---
Very Good service but slow...
This app provides very good service that sellers need. But it's a pity that we have to wait a few HOURS after listing items on eBay be able to print these labels with this app. Unfortunately, this app doesn't have access to listed items quickly. But major idea of this app is wonderful.
Created By: accessiblecache
---
Perfect Label Solution and Great Support
For someone who ships USPS First Class this is an amazing free app. Better custom label tool than Stamps.com or Shipstation etc. I requested a feature and the dev added it a few hours later - awesome.
Created By: hanksminerals
---
Wish would print more than last 14 days.....
Is there anyway that I can print beyond the last 14 days? If it were 30 it would be awesome. I have to remember to print either each time I list or weekly to obtain labels for all items listed. OTHERWISE, I love this!!!
---
Simple, Convenient, Easy... and FREE! Must have for all avid sellers! A+ App!!
Super basic layout, not too many options, which makes it very user friendly. Has exactly everything you need, for identifying and/or organizing any/all of the item(s) you're selling on eBay with labels. Completely cusomizable templates with all the information needed, easily searchable through the listings you've posted and automatically imported into the template fields for you. All this, formated just right to fit any size label paper on the fly, and instantly print right from the app! So easy! So handy! Super Stellar App! :D
---
I unsubscribed per instructions, re subscribed and still not working.. ideas? thanks!
Created By: cmkgorgeousgifts
---
Great for keeping posted inventory straight - best app yet
Prints bar code and pic of all auctions - SUPER
---
So many ways to utilize this app to improve organization, orders and workflow. Not perfect, but perfectly free!
Created By: crimsonsunllc
---
Very useful to stay organized with my business and at no expense. Thank you to the developer for making this wonderful app and offering it for free.
---
Nice but needs to show item prices
Was easy to use, just download your inventory file from ebay. open the app, choose your label sheet size etc. upload your inventory file and hit print. Had no problems with sizing. Wish it had the price listed so I could use them at my brick and mortar store.
Created By: michelecollinsdesigns717
---
You would think people dealing with eBay would learn from eBay and STOP changing things all the time!! Every time there is a change....this app doesn't work....I can't have that...I have enough things that get in the way of my unrealistic eBay ship times...I need labels to be dependable.....it's too bad...there are some good features....if it's because of eBay you had to change things...I feel your pain....sorry....looking elsewhere for another label app....
Created By: collecting42day
---
This is pretty much the coolest app I have ever used on eBay
---
Cool idea, impossible to use
It took me over 2 days to figure out how to put the labels in the printer "just so", then the print was too small to read legibly. Useless for us. Hope someone else has luck with it. Too bad, because we ship 60-100 items per day and wasted $ on blank labels that we can't use. Would have been nice!
---
good application but don't work with many countries like Russia
it's a very helpful application
Created By: mxdav-o0pdfa1z
---
great idea, program very frustrating to use.
The idea is great, the layout is great, it is absolutely not as user friendly as it seems. Good luck trying to contacting someone. Very frustrating program.
Created By: digitalfinds2014
---
Cannot get to work and they won't respond to numerous emails!
Cannot get it to work and they won't respond to numerous emails asking for direction. Would be a great program if someone could figure out or help.
---
Easy, straight-forward and free. I can't ask for much more.
Created By: silvergoldjubilee
---
Excellent tool and a game changer for me. Thank you!
Everything works flawlessly. The only issue I had that made me give up on it a couple of hours ago was that the labels didn't print right. After a lot of exploring with the different features I was still not able to solve the issue. Finally I started looking at the reviews, and wala the developer's response to one of them solved my problem. My printer had a scale to fit page option that was always checked. Once I got rid of that it worked perfect. Thank you!
---
Although the program didn't do what I wanted, at least at my knowledge base, it is a great program
Created By: seller2013a-us
---
I'm registered to eBay USA and I try to open this app from US site but all I see Is YouTube video and some text but not the actual app. I've used this app some years ago but it doesn't open anymore. The app is INSTALLED in my apps but I see Get it free button as I haven't installed it yet. Confusing
---
Amazing our office uses it all of the time great app
Created By: wheelofadeal813
---
---
Great for printing out shipping labels. Gives my store a professional appearance.
Created By: rookiesportsandmore
---
So far it seems great, but I'd like to get to know it better.
Created By: greatlakesseller
---
I think this is a good app it just did'nt fit with my business.
Created By: mcpartsmotorcycles
---
Works just awesome so far
Works just awesome so far
---
Very good application for shipping label.
Easy extracting shipping address and printing. Highly recommanded.
---
Quite good application, save time for non-US sellers. Takes a time to understand how it use correctly, but simple enough when you skilled user and has a lot of sipping lables to be printed out. Very good and friendly support, answer any question fast.
Created By: igorpakhnevich
---
Creative Inventory Management Tool
Great Inventory Management Tool-I am looking for the best way to incorporate this-I have looked a long time for something similar!
---
---
Very easy to use and generates professional inventory labels very quickly.
---
Apparently doesn't support common Avery shipping labels. Why bother?
---
I sent an e-mail to developer to suggest adding a feature, they actually listens and added a feature. Keep it up and best of luck!
Created By: efalconsky-usa
---
Great for Shipping but not for Inventory help.
Would like to see a way to use for inventory management but would be great for shipping.
---
This was exactly what we were looking for!
Created By: tjscrazyclosetconsignment
---
Great product for inventory labels
For an app for creating inventory labels of your currently listed inventory this works very well and you can't beat the price! The only thing holding me back from rating it as 5 stars would be the ability to link more ebay fields to the label and the fact that item titles do not word wrap to create multiple lines if its a very long title, it simply runs off the label. Still a very useful tool if you want to create simple inventory labels and the item picture feature is great. Never used it to print shipping labels but it seems like it would work well for that as well.
Created By: blackmarketbikezllc
---
Good app for others, not useful for me. I was looking for away to make easy inventory labels to put with my items I have. I sell alot of different one of a kind items and wanted to add my own custom number along with pictures or title.
---
I like the ease of importing all the data. But I would like it better if you could edit the imported data. I don't need all the words in my Aucttion titles on my label. That is the only Part I don't like.
Created By: where*the*wild*things*grow
---
good but not chinese SKU. if so. It should be very very very good.
good but not chinese SKU. if so. It should be very very very good.
---
Could not use with my thermal printer correctly.
First it is difficult to rate something that does not work for the use that I wanted it for. Second I tried it because I wanted to use it with a Dymo Turbo 4 Thermal Label Printer and could not find a solution. The idea is great but it would not support the thermal printer with the sample label choices that are included. and designing your own label I could not import the information directly as with the print wizard. If there is a simple way to do this Please inform me. Regards
---
Very useful apps, save me a lot of time
Need to spend some time to know how to start with it, most important part is to find the right size label, if done, everything is as simple as few click...
---
---
---
Good program, however does not suit my needs.
Tried to create mailing labels 5 1/8" X 8 1/2" and could not figure out how, therefore was not simple enough for me to use.
---
Easy as Said and Done! We were looking for a system to help keep track of our inventory and this was FREE, Easy,
Created By: deals-r-us-4-u
---
---
Excellent Way to keep up with inventory and item #'s, personalized labels are very helpful!
I love that you can print your custom label as well as eBays item ID # on label - makes it easy to track inventory. I assisgn my items a custom label # then each time items are re-listed, sold, or pulled I can look at the Item ID as well as custom label to make sure I am shipping, pulling or re-listing the right items. This app has definitely made my life easier as I was writing all this info down prior to app subscription.
Created By: annashairbows2011
---
useful but needs improvements
I found this app overall useful. We use it everyday to process orders. However its interface and data import process needs to be improved. One critical feature that's missing is to automatically import all ebay orders ready for shipping and print out labels in one easy click. It would be a huge time saver. As of now, we have to manually copy and paste sales record numbers or item numbers. Other eBay app has this functionality. Sales records range import and time range import both have limitations.
Created By: rainbowriffic
---
This application seems like it would be nice for a school teacher...But for me I don't have any real use for it beings paypal prints my labels out with ease and kindness :)
Created By: stevenbravo2010
---
need option to print label for selected specific item vs. range of date.
---
Works great for what I need it to do. I mail out 100's of envelopes a week and this cut my processing time down tremendously.
---
THIS APP REALLY HELPS SELLERS OUT.
Created By: geniva_dianes_store
---
Excellent application; easy to use; a real useful tool!
A real time saver for the seller--Excellent Product!
Created By: naturalstate808
---
Great way to print a bunch of labels!
I use these to print out labels twice--one set for shipping and one set for my list of who bought items. Thanks for a great app!!!
---