Outright
By Outright, Inc.
(released Sep 20, 2013)
Join the 50,000+ eBay sellers using Outright-GoDaddy Bookkeeping to organize their finances and prepare for taxes. PayPal is now required to report online sales to the IRS, so it's more important than ever to organize your finances. Everyday, automatically, your PayPal, eBay, bank and credit card accounts are organized. Outright imports up to 2 full years of sales history, listing and final value fees, even shipping and PayPal fees. Sign up and receive the eBay Sellers' Tax Guide FREE
Categories: Finance & accounting, Inventory
If you are subscribed or want to subscribe to this application please
click here
for details.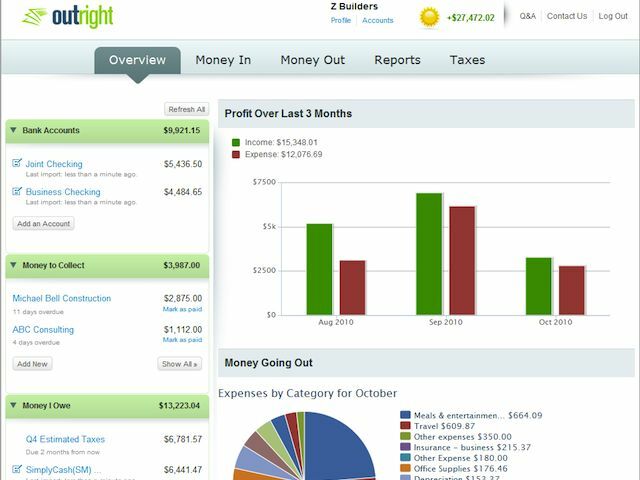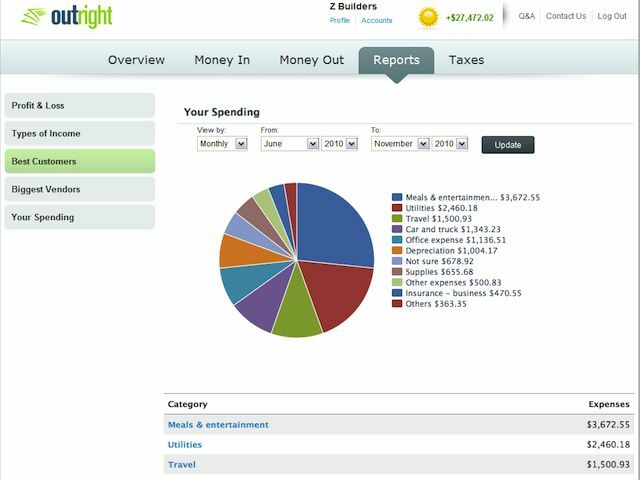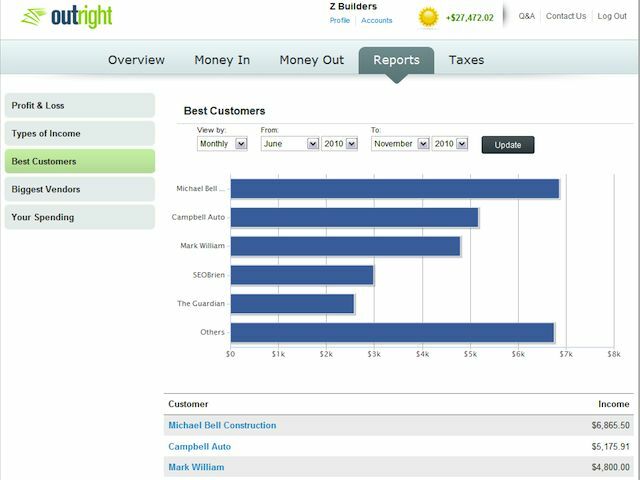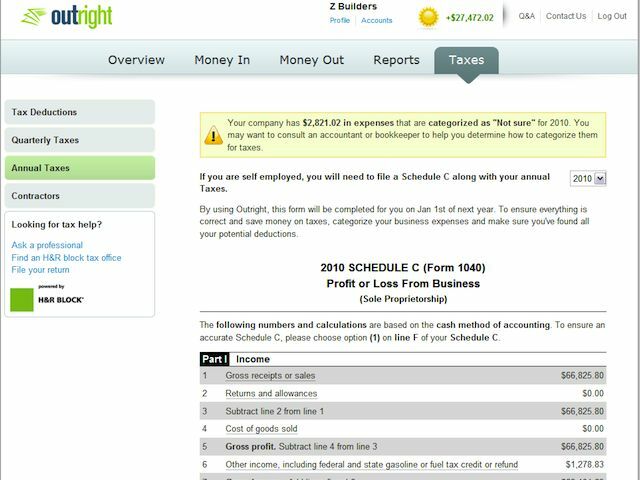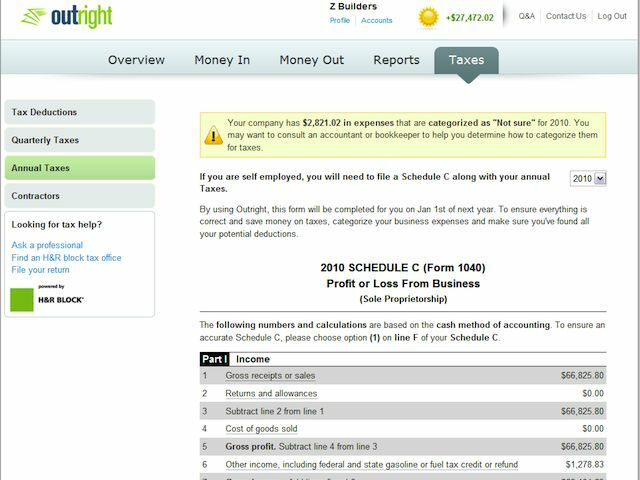 Key features
Automate your bookkeeping tasks in less than five minutes. Outright-GoDaddy Bookkeeping:
Automatically organizes all of your eBay sales and expenses, including all listing, final value and PayPal fees.
By connecting to your PayPal account, Outright can import more than a full year's worth of history the first time you use it, and continuing for as long as you have an Outright account.
Shows you quick snapshots of how much you're making, who your best customers are, sales by state, and where you're spending the most.
Provides accurate quarterly estimates of what you owe in taxes, helps you track sales tax and keep your tax records organized and up to date.
Description
IMAGINE HOW EASY IT COULD BE?
Let Outright organize your online accounts, with support for thousands of banks and credit cards, plus eBay, PayPal, Freshbooks, Harvest and Shoeboxed. Paper receipts from cash purchases? Enter them manually? It's that simple.
ARE YOU GUESSING, WORRYING, OR TEARING YOUR HAIR OUT TO FIGURE OUT WHAT'S GOING ON IN YOUR BUSINESS?
With Outright, there's no more deciphering confusing reports or weeding through data. In seconds, you can see your sales and expenses with easy to read charts and graphs.
YOU'RE ALWAYS ON TOP OF TAXES
Because Outright automatically categorizes transactions in a way the IRS expects, your tax records are always accurate and up to date. Plus, you can see estimates of what you owe at any time, and get notified of upcoming tax deadlines.
MAXIMUM SECURITY 24/7
Outright uses 256-bit SSL security, the same as most major US banks. Your data is securely stored with us.
Outright is made to be easy. You don't need to know anything about accounting or bookkeeping to use it and setting up takes just a few minutes.
Additional resources
Application requirements
Supported browsers:
Internet Explorer 7,8 & 9 and Firefox, Safari & Chrome
Supported languages:
English
Supported eBay sites:
ebay.com
Required eBay subscriptions:
None
Application support
support@outright.com
Outright, Inc.
Outright is the leading provider of automatic accounting for the self employed with over 120,000 customers. Outright is located in Mountain View CA
Sucks, double counts all my transactions
---
Awsome.
Created By: beverlyhillsdesigneroutlet
---
Helps you see where your money went for the business
Great help with the book keeping when selling online between listing fees and selling fees...
Created By: whimzicalsocks
---
I like the reports and data that I get through go daddy, but i find them difficult to access. Right now, I am getting a message that my subscription has expired (it shouldn't have), and when I try to reach customer support, the screen is blank. It is very frustrating.
---
Will not leave me alone after I canceled them
Have been harassing me monthly since I canceled them
---
Not sure they know what Accounting is. I just wish Ebay would break all costs for us seller. They sub it out to Godaddy who does an awful job. Why is it my accountant asks me questions about their breakdown form.
---
good at first then unable to cancel keep getting billed
good at first then unable to cancel keep getting billed, cancelled 3 times and sill getting billed
Created By: windycity_alan
---
100% B.S.!!!! TROUBLES ALL THE TIME. YET NOWHERE TO RESOLVE ISSUED. TOTAL CRAP!! FFFFFFFFFFFFFFFFFFF
STINKS. USELESS. GARBAGE. HASSLES ALL THE TIME.
---
worst customer care in my life.
Your request (#138346) has been updated. Good application but worst customer care I meet in my life.
---
I was not able to import data from amazon, and contacted the customer support for help and they never contacted me to resolve the issue.
---
---
Considering all the different applications available for online business, this one is a must-have for my needs.
---
advertised $9.99 monthly charged me $16.25
Dont advertise the wrong price!
---
We could NOT live without this app!
We couldn't do our taxes or budget without this app! It would take us all day every day without it.
Created By: b.harveyatvsales
---
Charging me and showing that I have had weekly sales when I haven't sold anything in 5or 6 years
Cannot get any support when there is a problem....just overcharged and cannot get it cancelled
Created By: sugarcreekcollections
---
Awful completely void of any representation I basically signed up to a blank screen and the abyss that is go daddy and their support staff. POS!!
---
No way to make account updates
I have a problem to make account updates bcz I opened my account via e-bay. Outright tells me to use ebay system for the update (I have received warnings and emails (when I complained there is no way for me to do so via ebay)) and e-bay (I make a call to the Customer service 7/8/18) tells me to call Outright. Fix your systems and communicate with each other more clearly. People depend on that.
---
Nothing ever adds up it is a more work than figuring it out on your own
If I would have went off outright's shipping numbers last year I would have lost $800 of shipping cost on my tax returns. I had $1,700 of actual shipping cost for the year and outright came up $800 shy of that number. It has tons of $0 transactions that mean nothing to me and it takes forever to delete them all individually one at a time. I could never get into my account something was always going wrong. I had payments set up through pay pal and all of a sudden it gets screwed up and says I need to address an issue and my payment is overdue which for months it took out of my pay pal with no issues. Ebay sales reports is all that is needed to figure out your taxes. Not worth it causes more headaches than it cures.
---
can't get help on customer support.
Can't get help. Frustrated
Created By: dmlgolf-trains
---
Cant get in touch with anyone about issues
can't get in touch with anyone. can't log in but paid for a year
Created By: reefspecialty
---
Been trying to cancel for months and no one will help me....
After months of trying to cancel this service, I now have an overdue amount. No one at Customer service will call me, and they just keep saying that I have an overdue balance!
---
I have used the account very little over the last year. I received no notice that it was renewing when it automatically re-upped. I attempted to contact customer support and it took multiple hours on the phone before I could get a hold of anyone who knew how to answer my questions, and in the end I have to eat the whole cost of an annual subscription because I missed the deadline. A courtesy note about the renewal would've been really helpful in knowing that I didn't want to be locked into the next year. I would have been fine paying a pro-rated amount for the time that I had already had after the renewal, but there is no such policy. That's a pretty crappy policy for customers.
---
I could not do without my godaddy accounting! Everything is just a click away. Excellent product.
---
Good App if you are Tech savvy
No support offered although promised in agreement.
Created By: blessingsandthings
---
cancelled my sub and they refused to stop the billing EBAY was no help had to dispute it in paypal
Theft of 9.95 per month from my account. I called outright then Godaddy then ebay. All said they couldnt help me...Ebay said contact GoDaddy and Godaddy said contact ebay. Contacted Paypal in the end and filed a fraudulent claim against OUTRIGHT INC to stop the billing. Its June 15 2018 now and my outright account has been "PENDING CANCELLATION" since DEC 31 2017 9.95 Mo all along! DONT DO IT!!!!
---
they start charging me $99 every month
---
No Bill No Contact, Just pay them money Avoid!!!!
No itemised bill, like what does it cost per month? Let me see the Bill! Not just when I first sign up, then you Pick my pockets, Users pay Attention, I WANT A ITEMIZED BILL!!!! Get with the program or keep it.
---
I never used it but still got charged after cancelling account.
Was charged for 6 months and was very difficult to cancel account, I thought I did 5 months ago.
---
Excelent service, very useful
This is a must for managing and classifying expenses. this application will manage every aspect of your books.
---
Makes my life so much easier!
Easy to use and helps in more ways than I can think of. Just makes my life so much easier. I'm very forgetful so I'd be lost without this program. Well worth my money!!
Created By: luikartslovelythings
---
---
Has not updated in two days
I have renewed my link to Paypal three times in the past two days and GoDaddy does not update my account. I have tried to Contact Support at Go Daddy and only get a blank page with no link to anything. Very Frustrating!
---
works great so far pretty simple
Created By: robertsonsrelics
---
Canceled outright but keep getting threats for non payment
This is the worst customer support. I canceled outright I no longer sell on ebay and they still send me threatening emails that my ebay account will be closed if I don't pay for something I canceled. Yet I can't seem to find any customer support numbers to try and resolve. I don't use it and will never recommend to anyone.
---
NO COMMUNICATION, WILL NOT RESPOND TO INQUIRYS, NO HELP,MESSED UP BILLING
Im getting threats that my ebay business will be shut down becuase I owe Outright $19.00. Messages from you insist Im not paying my bill. I have not changed any payment options since subscribing. I cannot get a link for support. Send me a contact number
---
Fine while it works...but these idiots can't seem to figure out how to charge your account to keep your account going. It's a nightmare.
Created By: seafordtradingco
---
Cancelled my subscription and they are still charging my account. I cant get a hold of any customer service. Horrible business model!!!
---
Easily imports information!
Great tool for creating your schedule C needed for taxes. You can easily import your other accounts and sorts your income and expenses.
---
Impossible to cancel your subscription--intentional so they can keep billing you!
I cancelled my subscription in October with an Ebay CSR because I didn't use their app. A few months later, I was still getting billed. I spoke with another Ebay CSR, who walked me through step by step on Ebay the process of cancelling my subscription---which we did again. Outright continued to bill me in spite of this. Numerous phone calls to Ebay and GoDaddy---both of whom keep referring me back to the other entity because supposedly no one there can do anything about it---after getting transferred numerous times because so few people in either company know anything about it. Then Outright supposedly cancelled my account 10 days for none payment (the Ebay CSR told me specifically not to pay it)---and in spite of this my account details still shows my account as ACTIVE! Undoubtedly so they can attempt to bill me again...RIDICULOUS!!!!!!!!!!
Created By: crystalflyshop
---
I have tried to cancel Outright numerous times. They continue to bill me. Site makes it very complicated to cancel. Intentionaly??!! I finally had to Google it to get instructions on canceling.
Created By: maryjfett2009
---
NEVER RECEIVED PRODUCT and THEY BILLED ME AFTER I CALLED TO CANCEL
NEVER RECEIVED PRODUCT and THEY BILLED ME AFTER I CALLED TO CANCEL . USELESS TRASH THIEVES. NO WAY TO GET PRODUCT OR FIND OUT WHERE TO GO. WORST GODADDY THEFT .
Created By: internationalcomptec
---
Simplifies record keeping for taxes, Organizes expenses, Generates profit and Loss reports. Tracks sales tax. Love it!
Created By: musclecarsanhandlebars
---
impossible to cancl subscription
ebay does NOT provide the godaddy account number on any invoice that is used to look up the account and does not provide anyway to cancel via ebay.
Created By: bentleylampeberger
---
Does not sync w my bank and customer service is a joke
Does not sync w my bank and customer service is a joke
---
frustrating because you can not balance out line items No Place for Cost of Goods
better off to print off PayPal account and Manually adjust each item for Cost of Goods Sold. When I tried to search the help function for this, the response from the Developer (going back over 5 years) was that they are making it a priority. If its important to the customer, its important to them. Seems a big piece of the puzzle is missing. I'm not an accountant and don't want to be one,that is why I subscribed to this program. And yes I know all about the "work around" I'm supposed to do to make-up for what they did not, but it does not make for a clear report. Save your $ and frustration.
Created By: auntiekeewaydin
---
---
Very difficult to figure out.
---
keep on charging me fees after i cancelled the subscription
keep on charging me fees after i cancelled the subscription
Created By: eunitedoutlet
---
I cant get on to the app.
The day i wanted to try go daddy the start button went to pending and after several attempts to get them to help me with it i gave up and its still on pending. would have probably like it if i could use.
---
Am subscribed through eBay. Cannot access profit and loss report. Paid for this each month.
Cannot access profit and loss for this year. Printed it out in 2016. I have been paying $9.99 per month for this outright service and now it's worth nothing. If I cannot access the information I paid for I expect a refund for 2017. There is no functioning link for help. Totally disgusted. Ebay was no help here.
Created By: where-did-u-get-that
---
cannot access app. says suspended to non-payment when set up for paypal auto
cannot get any support. The contact support link does not work.
Created By: tvtreasures0370
---
This program does not work
this program does not work, except for sending invoices. I have not seen any accounting info.
Created By: world-locality
---
I love it..keeps everything organized
Provides me with Schedule C at the end of the year
Created By: tigerkitty232323
---
Service is good but ebay intergration is terrible
Since you go thru ebay for app and then have to log into godaddys website for Outright you lose your account and history there of if you missed the switch when they were bought out(no more free acct) and missed a payment, BE CAREFUL.
Created By: computekandmore
---
Fraud One should avoid at all times
Hi Everybody, If you have the "outright" -app learn that the GoDaddy parent company and its' software will put your account in such a solid gridlock, it cannot be solved. I tried to release the lock on my site. Failed. The help center at eBay was very friendly and gave me the tel nr to GoDaddy help center. They gave me instructions that took me into a spin. I tried to pay the one month fee, which was past due. I have been out of the country, only to fall ill after my return. The "automated" -system does NOT accept my form of payment. It is denying my PayPal. I am not as fool as to give ANYTHING else to these fraudsters, evermore. This has inhibited me to continue any business w/eBay at this writing. Looks like the end of my dealings on this site? If someone at eBay's help center is reading this, take this as warning and share to everybody else in your partner base. Thank you.
Created By: fourhundred1parts
---
Denies access to our reports
While accepting my monthly payment without interruption, the app indicates revoked permission and denies access to our business reports. After re-instating permission, it indicates that it will be several hours before information may be available, during which time permission is again revoked.
---
I need help getting my tax information for 1017 and have yet to find the how to pull reports from GoDaddy Outright. Very difficult for a non-tech person.
Created By: duffycutlery41
---
SUCKS! Can't even call and cancel either.
Doesn't even have a number to talk with anyone live. Its a waste and a nuisance.
---
This app had ALL of the information that I needed for my taxes.
---
Numbers are not accurate at all.
The ap does not configure the numbers correctly so I would never use the numbers for tax purposes. The whole reason last year why I started to use this program was help with the numbers as ebay was deleting this information too early for the use of tax reporting. Very suspicious from ebay. DO not recommend this, easy to gather all numbers yourself and save yourself $120/year!
Created By: worldcollection2013
---
Never Try Please, they charged me during trial days
Do not trust this company, they remove the other actions menu to remove the service if you want to cancell after the 7 trial days, suddenly after you pay the firts bill, they will activate it!
---
Service has been excellent over the years. Thanks
Great application. I have and will recommend your services. Keep up the good service.
Created By: whippoorwillvalley
---
FOR 2 MONTHS I HAVE TRIED TO FIND OUT WHERE MY $69 WENT. WITH PHONE CALLS AND EMAILS BUT NOBODY SEEMS TO KNOW ANYTHING. I WANT MY $69 PUT BACK IN MY PAYPAL ACCOUNT. I DONT KNOW HOW YOU CAN RUN A BUSINESS WHEN NOBODY KNOWS WHATS GOING ON. PLEASE PUT MY $69 BACK IN MY ACCOUNT. THANKS
---
HORRIBLE! Status 'pending' for months--can't log in or contact them, but I get charged monthly!
Signed up for free trial, but status has always been "pending." You can't login via Ebay
---
takes your money, but doesn't work anymore
horrible experience. over charge and app does not work.
Created By: closet.by.burgess
---
---
Great Help for bookkeeping
You don't have to sort through all your bank accounts and etc to figure out where you are at financially
Created By: whimzicalappeal
---
Cant even get into and there is no support
USed this once before it was great........now it just doesnt work
Created By: gavel-will-travel
---
Love this product makes tax time so easy
This is such an easy product to use and most of the information is automatically added being connected to your Ebay sales account.
---
I subscribed but never started it, 3 weeks later i get a bill for $17.65. They refuse to respond to emails. Had i checked all their bad reviews first, I would have never EVER used them. Its too bad, they use to be a good app, before GoDaddy got their hands on them. Now they are a DISASTER. DONT USE THEM, they will just charge you an outrageous fee and wont care if you cancel or not.
Created By: bostonsales2017
---
only quarterly options with no backlog data. pretty pointless
Created By: dj_e-bay_mixtapes
---
Awesome software for a retailer
Bookkeeping for retailers made simple
Created By: woodrosetradingllc
---
my attempt to get godaddy has been pending for almost a year; not an easy app to get into to say the least
---
This program is allowing me to get rid of three other programs that I was using to track this information and do it in one place. What a time saver!
Created By: mimi-organized123
---
I have canceled this several times but keeps charging me
The worst ever!!!! I have cenceled this hundfreds of dollARS AGO BUT STILL BEING CHARGED.
Created By: treasuresanddeals
---
I paid 2 years and could not login through ebay or godaddy. Basically I paid but did not use it because I could never login. Ebay does not help me because godaddy owns it.
---
Very helpful way to organize my business information.
The information is easy to navigate. It uses common place language with categories that say what they mean. It has more functions than what I use. It is very cost effective. I have had problems keeping the billing straight at the end of each year, even lost access to the site at tax time because my payment was not recorded. Customer support site does not work the couple times I tried to contact them. I won't tolerate a "tool" in my business that undermines the USA or has compromised values.
---
no customor service cancel 2 months ago still charginf me
2 months ago an accounts ago could not get on my account. Was told I did not have been have an account Once I ask them why they are charging me for years. Finnally I closed my account and they still are charging me. No Phone number to call all emails that never get answers from them I have used this system for years no trouble but once you have trouble you get no help
Created By: sirwilliam440
---
---
---
This bookeeping software works OK, when it works. Often have problems logging in- it either works fine or nothing. Not exactly what i am looking for in an accounting program. Kind of another scam from ebay.
---
Excellent service highly recommend
Hello, for some reason, paypal did not pay DEC 2017, please rebill, I did not make any changes, and been using this service for some time, need your help to fix the problem with my account, please contact me ASAP, and need to fix the service, please contact mew 772 353 2293...urgent Thanks you Frank
---
very professional site easy to use
PROVIDES EVERYTHING YOU NEED FOR RECORD KEEPING VERY WELL DONE LOW COST
---
Won't respond to emails. Charged me numerous times for my annual fee. Numbers coming in days and weeks late. I feel stuck as I can't find another service that works with eBay. eBay offered it and now wants nothing to do with it.
---
Accurate and dependable!! Takes the stress out of keeping our books in order!!!!
---
Best app to keep track of your business finances
Best app to keep track of your business finances
---
Worked well until there was a problem and just couldnt get through to get help
---
NO ANSWER GET REJECTION OVER AND OVER
NO ANSWER GET REJECTION OVER AND OVER
Created By: productbuyingsolutions
---
BAD CUSTOMER SERVICE AVOID USING !!
The app suspended me for non-payment, and would not accept my payment directed me to contact customer support. The customer support link is "dead page". Proceeded to contact eBay customer support that could only give me a phone number. I called the phone number and cust serv rep states he know nothing about eBay apps that I should contect eBay for help. Are you kidding me?? what a joke app
---
Im saddened that this program has changed and doesnt deliver anymore
I used to love this program in the beginning and there are still some parts of it that are fantastic but it has gone downhill since hooking up with Go Daddy. Log ins are always sporadic and function intermittently. Customer service is lacking in a big way. No call in number, all done through emails and frustrating unless you are a programmer. Help button rarely works. :( saddened - I really used to like Outright
Created By: robinsnestonline
---
Must Have BookKeeping tool
Absolutely changed the way I record my sales. From Excel to GoDaddy BookKeeping. Way better than paying huge prices with the bigger places such as Quicken or Quickbooks.
Created By: katiekatesstore
---
easy to sign-in, but try to close your account, you will be impressed, how long they will suck on!
many times cancelled their service on eBay, where I have used them. still charge me.
---
Worst Customer Service Ever!!
I tried calling because my account is locked out. Everytime I started to talk, the person disconnected my call! OMG! What kind of a company is this?!
---
Tryan is very professional!!! Fast help!!!
Tryan solved my problem immediately! Thank you!
---
No help with customer service
Dont download of this piece junk app i email them for cancellation they dont help asked me to contact ebay.
Created By: wildfashionstore
---
I cancel my subscription next day (they offer 7-days free) and they charge my account any way.
Created By: d.a.n.autoparts
---
Great App to track Income Statement related items. Very easy to use!
---
I tried to cancel, kept getting invoices, "contact us" did not work
---
I would be lost without this application. Thank you so much!
---
Outright has became more and more difficult just to use the app. I've decided I no longer need it, anyway. It's nice to see your sales charted, etc., but what I really need I can get from eBay account. No more wasting $9.95 a month.
---
CUSTOMER SERVICE/SUPPORT IS NOT USER FRIENDLY
I've love to make a payment but you have not means of doing this and continuing to do is costing me valuable time that I do not have. Need to access my records, file state tax tomorrow and can't make a payment to be able to access my account. Absolutely HORRIBLE SITE WHEN IT COMES TO ASSISTING THE CUSTOMER!!!!!!!!!! FOR ME IT'S A NECESSARY EVIL!!!
---
This application was awesome to use as an ebay seller!
The data output was comprehensive and easy to understand.
---
works on all main credit cards and online selling platforms ebay amazon etsy paypal amex wells fargo etc
Created By: everythingmustgoco
---
Customer service, product knowledge and relationship between eBay and Outright
Poorly managed relationship between eBay and outright
---
this is a wonderful help with bookkeeping
---
EVERYTHING I NEED IN 1 SPOT!! THANK YOU
I have just started using this application, but it appears to have all of my financial reports ready at a moments notice! It is very organized
Created By: theclosetconnection
---
I left a poor review but have chaged it after getting a support email. I think the problem is with ebay - not outright.ebay has no problem getting auto payments for their fees - don't seem as diligent about other fees they bill me for but refuse to provide any answers or support.
---
Easy and very detailed. It saves me a lot of time! I was able to give my accountant a schedule c with no headaches.
---
Won't reactivate my subscription
I have tried several times to reactivate my subscription but to no avail. All it says is wait a few hours. I have waited more than 72 hours. I don't know why my subscription was canceled in the first place. Your customer service sucks big time.
---
Get notices account suspended for failure to pay. Have not had problem paying other eBay fees, says payment failure through pay pal when try to manually pay, for over a month. Click on "contact support", goes to blank screen with only ebay logo.
Created By: plethoraporium
---
Tried to contact customer service and they were no help! Phone support for GoDaddy couldn't even find me. Emailed Outright and they emailed back that they do not offer phone support. Finally canceled service.
---
Can't say enough good about it.
This app has saved me countless hours of tedious financial record keeping. It truly changed my life and allowed me to focus more on my business. Plus, I know exactly where I am on a real-time basis. Thanks so much!
Created By: duffeys.fine.things
---
You won't find an easier and cost effective bookkeeping system for the money.
Created By: faithfuldrummer
---
Outright Won't Let You Cancel
I cancelled over a month ago and I'm still being billed. It even shows up in my eBay that I cancelled. This is rediculous!
---
APPLICATION CANCELLED AND THEY KEEP SENDING EMAILS
PAYPAL GIVES THE ALL INFO FOR FREE!!
Created By: bowstringthings
---
GoDaddy no longer supports outright
Like other reviewers my godaddy account suddenly couldn't charge my paypal and sent me a past due invoice. I wasn't concerned since I haven't used the software in over a year so I was fine if they cancelled it. Then I received an email from eBay saying if I didn't pay the outstanding balance that it "may" restrict my buying and selling privileges on eBay. I called ebay and they gave me the number to contact GD. GD reset my password so I could access my account, but there was nothing in my account. Called GoDaddy back and they told me that they do not support outright anymore, they have their own software. They said I needed to contact eBay if they were threatening my account status. Called eBay back and they said no I needed to work it out with GoDaddy, but there is nothing to work out with them. GoDaddy also told me that eBay wouldn't really restrict my account, they just threaten that. When I advised eBay of that, they tentatively agreed. I think everyone is slightly confused.
---
Terrible Accounting program! Don't use this program!
Last year I attempted to use the numbers provided by this service. None of it made sense, did not add up to my books and I will never recommend this service. I have not opened it this year, and I refuse to pay for it.
---
I love this software but the outright billing is terrible
No explanation of how to renew billing. Will not reconnect to automatic billing through eBay. Paid in full manually five days ago and still getting eBay emails that they will close account if I don't pay. Already paid in full. I need accounting service and the red tape is awful. Right in the middle of tax season. This is supposed to make my life more manageable, not give me problems and anxiety. The service is great, administration of this service does not seem to be at this point in time. Frustrating.
---
No Customer Support, Pressures into Changing payment by Paypal after every 1 yr expiration to a CC
I have used this app for 3 years +, and every year I have to update my Paypal payment, and receive a derogatory statement saying I am seriously late on payment within the month of Anniversary, and you cannot use the account you have currently set up. This is bull, and is unnecessary since the Paypal account is the current account for payment. There is no reason to have to use a charge card or something else just because the authorization for payment was declined since I have nothing to do with it when I authorized the payment in the get go. Therefore, I do not need the headache of this system each year, when I can do accounting with a much better program for free through the wavesapp system. For those who need a better program and it does not cost a cent, then Wavesapp is the way to go. Been using it for years as well. So, cancel your use of this app since they like to mess with you after you have paid them for a year every year. When you try to contact support, nothing works.
---
I tried downloading this app, however, it is stuck at the pending screen for the last 30 minutes. When I click on contact support it takes me to a blank page, with no way to contact anyone.
Created By: xcuriousheartsx
---
Unable to reach to cancel 2017 to 2018 renewal.
Talked to two eBay customer service representatives in reference to cancelling this subscription as we closed our store. Even with messages sent we were suspended. No contact available.
Created By: our-ships-bounties
---
I had this for a year and found it to be no use. After the first of the year when I wanted to check some things the app never loaded. I tried several times. I got another tool that is well known, starts with a "Q", and connects to everything I need.
Created By: jeltecholsters
---
Took my money even though I cancelled within 7 day free trial. READ MORE
It shows cancellation pending with the date of 30 day from when I started the free trail but I cancelled on day 3. Click on Contact Support and to my surprise the window comes up blank on different browsers and machines. Even the totally free apps on here at least give you a support email address. GoDaddy gives you nothing? The saddest part is I have been using GoDaddy Bookkeeping for my other offline business since before for they owned it when it was called Outright.com. I guess you needed my $11 so badly you are willing to steal it.
Created By: felloffatruckdealscom
---
thankyou
Created By: livindalife14
---
I pay monthy and can not even get in to use the app.!!!!
Dont waste your money for some reason I can not get in and use and they get my money monthly time to complain!!!!
---
Does not work SCAMMMMMM. Discontuined software
Does not work. Is outdated software that they do not use anymore but theyll still let you subscribe and charge you even though its not operational
---
---
I can create Profit and Loss reports in minutes!
Creating a Profit and Loss report for your business is a sinch with this application. The option to categorize expenses from the same vendor makes for a great time saver.
Created By: lovelycreations2008
---
The passwords never work and it takes me a hour of trying 10 different of your passwords to sign on.
password sucks
Created By: savealotthriftshop
---
---
They Never Follow Through!
Paid for services and have never received what was promised. When I have tried contact through contact support button the answer has been NO RESPONSE!I did not hit the renew option and still have been billed thank goodness PayPal followed through and did not pay them. All things considered a waste of $9.95 per month for 12 months!
---
Great Software for Tax Prep
Really is a great tool for keeping track of detailed expenses for good old tax purposes. One of the better software of this kind and the price is right!!
Created By: imaamazingcody
---
Didn't use it and they are still trying to charge me!
Didn't use it and they are still trying to charge me!
Created By: the_rockwell_exchange
---
always an issue with billing
it seems every year they suspend my account, I pay it, then I have to contact customer service in and endless loop of ridiculousness to get it reinstated.
Created By: squaredealguy
---
Please credit my account the 16.95 you charged me
I only had this FREE TRIAL FOR LESS THEN ONE DAY AND you continued to charge me through march. Please credit my account. I am unable to contact you through your contact option because the screen is blank. I do not appreciate being taking advantaged of. This is very sneaky
Created By: eye*of*the*moon
---
GoDaddy has ruined Outright completely
I have been using this app for about 3 years now. It mostly kinda works for allowing me to type in expenses and such. However, in 2017 I got a message saying my PayPal payment option no longer works. Really? I have been using PayPal for 17 years, annual revenue is around $400,000 through eBay exclusively. I tried Outright customer support, it is non-existant. I clicked every support link available, and I end up back at step one again. No way to pay these idiots their $99 to renew my subscription. Tried the Pay Now option, still wouldn't work. I have been dealing with this problem for a week now, and I am getting nowhere. So, I am CANCELLING my STOPDaddy Outright subscription, because Outright has STOPPED being what it used to be before these worthless "Daddy"s bought them out. Save your money, save your time. Ditch Outright and find something better. Trust me. I am a 17 year eBayer and PayPal user, and a 3 year frustrated Outright subscriber. Buh Bye Outright!
---
Useless app that I unsubscribed from months ago and am still getting charged for
Ebay says that I subscribed last year on January 26, it was a free app, the next thing I know is that they are hitting my credit card for $100 and although I get notifications, they are useless to me.
Created By: toystrainsandotheroldstuff_l.l.c
---
Terrible app. Downloaded it never worked now sending me a bill. No number to call.
Terrible app never worked. Canceled the same day now there sending me a bill for services never rendered. No number to call can't get ahold of nobody. . Stay away from this app.
---
Great and easy application. Takes out of the work for bookkeeping.
Created By: diamondsmiles14
---
crashes every time useless!
Can't log in the screen goes blank. Customer service directs me to other domain accounts and has no idea of how to address the bookkeeping app. A years worth of bookkeeping down the drain and it's tax time. Nice product guys!
Created By: world-city-distro-and-more
---
---
Simple to use.......Highly recommend
Thanks once again!
---
I initially signed up allowing you to automatically deduct what I owe. Last year you unnecessary sent me several dunning notices via eBay ordering payment, which you were supposed to automatically deduct. I finally found a link to click to help you get paid. NOW, I just went through the same nonsense, and even after I paid, you're still sending dunning notices. KNOCK IT OFF and clean up your programs.
Created By: handmade-rosaries
---
Can't change sub, got auto charged. support links did't work
Can't change sub, got auto charged. support links did't work
---
even their customer support window doesn't open!! POOR!!!
Created By: estatejewelryandpawn
---
horrible, has been 2 weeks and go daddy still has not helped or responded to me
horrible, has been 2 weeks and go daddy still has not helped or responded to me. I have used them several years for my ebay account, but this year, they billed me, I paid one time like I have all years past and for some reason they can't find my account. Never got back to me, no communication back to me, no help and get this...NO refund either, I am basically paying for nothing
Created By: divas-n-dudes
---
Not ready for prime time.
Data is lost and seller is to blame. No real support other than it's YOUR FAULT. Your data can easily be lost when ebay informs you to change your password and you dont do it on outright....should outright on have this fool proof or notify customer before data can get lost....just simply doe not do what it is supposed to do without constantly needing fixing and Outright does not care.
---
scam useless do not subscribe
this is a scam they do nothing for you. when you need help and call you contact Go Daddy and they are unable to help you. the reports provide no helpful information at tax time. total waste of money and they will continue to bill you even after you cancel.
---
Company doesn't exist anymore. The billed me for a full year I did not use. Its now bought out by GoDaddy bookeeping which I use and really like.
---
There appears to be no customer support for this app.
This app rejected my payment and suspended my account when theres plenty of money in my PayPal which is linked to it. Now theres no one to contact regarding the problem.
Created By: marciadobbins
---
Like Program but UNABLE to Contact Support Using Tab
put in request to cancel on jan 14, did not cancel, just looked at account assuming it was done, still active. again put in request to cancel and it just says pending cancellation. i try to contact godaddy with the contact support link and there is no way to do it, the screen is just blank. please cancel this subscription. it shouldnt be so difficult to cancel or get in touch when you try to. love the program, but need support, and cant get any :(
---
Very Easy To Use Straight to the point
---
charging me when i cancel what the
i cancel your service and yet i am still getting charged why is that
Created By: rgreatdeals16
---
fancy presentation of incomplete info already found on eBay for free!
Warning! Do not pay for this unless you're certain it's going to work for you... they let you cancel but will not refund for unused portion of subscription. So if you pay for a year and cancel after a month you're stuck with paying for the entire year! Definitely a fine print scam... sleazy!
Created By: partsgaloreca
---
basically useless. no support. don't waste your time or money.
basically useless. no support. don't waste your time or money.
---
everything updates perfectly and smoothly
Created By: roseysrevived
---
Terrible. Waste of Time. You couldn't pay me to use this.
Terrible! Missing two weeks of fees for sales from November. Ebay fees don't match the amount I paid on my ebay account page. Data is totally unreliable.
---
I never can access the program
I pay for the program and it wont open it asked for user name and password and I don't have one.
Created By: baronehappy2016
---
Horrible! Cannot use the app! Have to give 1 star to review!
The status of the application has been pending and unavailable to access since subscribing to it months ago. Plus, when you click on the "contact support", tahere is no contact. Yet they have found a way to charge me each month. I may be wrong, but I expected more from GoDaddy! I do not actually give this any stars.
Created By: knh_collectibles99
---
I have written outright about 10 times and the application is still unavalable! NO CUSTOMER SERVICE PHONES, nobody answer emails and if they do they don't have an answer they said to reset the password. I have done that 200 times and still doen't work. I hate this application and their customer service. I need to answer IRS and I do not have the information, NOT RELIABLE!, SUCKS!
Created By: juniorseller24
---
App in unavailable, but they still charge every month
App is not working, but they still charge every month...
Created By: yellowvirtualsales
---
Somehow my account does not stay active?
Created By: bellinghamairport
---
I put all of the data in to the program and then when I left the program and came back into it. There wasn't any updates. I will have to put everything again?
---
billing practices horrible!
go ahead press the help button on this app????? nothing!!!!!!!
---
My accountant really like that I use this!
---
Saves me a lot of Time at Tax Season
My tax preparer loves it also.
---
Poor app even worse customer service.
App has no cancel subscription option and keeps trying to Bill for services not wanted. This shouldn't be legal. Go Daddy ruined a very good app.
Created By: dougsstore401
---
Good set up and easy understanding of report. Thanks
---
cant even get to pay for the thing ANYWHERE!!!!!! really bad interface with ebay
cant even get to pay for the thing ANYWHERE!!!!!! really bad interface with ebay
Created By: oldcamerastore
---
Really liked the format of the first version...this one is not as user friendly in my opinion.
Not a user friendly as first one that appeared on Ebay..
Created By: deskjockey2005
---
Hard to understand and harder to contact customer support. Have 1 day and Have not received response from there and need to do the taxes.
---
Beautiful! Seamless, easy to understand and navigate! Highly Recommend!
This app is a time saver, Perfect for small businesses, keeps track of all incoming revenue, makes tax time a little easier to navigate. I highly recommend this app to ALL small businesses. What a life saver it is for accounting.
Created By: onesweetcottageway
---
No activities have been recorded for SEPT or OCT most of AUG seems missing Try to contact support, good luck. Outright, Inc. Outright is the leading provider of automatic accounting for the self employed with over 120,000 customers. Outright is located in Mountain View CA Contact Phone: 650-440-6352 Email: support@outright.com Website: http://outright.com
Created By: sonshinegifts
---
There is no way to contact support
Good information, but horrible support.
---
Can't cancel. Can't get support. Can't Login.
Frustrating
Created By: rattownrules12
---
all it does it take your money - app does not work
Support link does not even work, they stole $12 from me, not alot but still.. don't get taken by this go daddy scam app.
---
I have tried to cancel several times with no success, and now am being billed again. Contact support feature is also not working for me. Please contact me.
Created By: satchandbucky
---
Great app and easy to use.
It offers everything needed for basic bookkeeping.
---
Make our job easy ! Great Apps.
We don't need to keep track with the sales tax. It automatically records for you.
---
they dont have a phone number .I have been dealing with an issue for almost 2 months and cant get an answer as to why....Terrible !!!!
Created By: lavenderluxuries
---
Don't waste your time--this app won't take payment!
Created By: shellheadcomicsandmore
---
Help keep my business in order
---
---
i wish i could give this zero stars
shame on ebay for not providing sales tax data. shame on outright for not giving me the service I paid for. each company will point you to the other with no resolution. stay away
Created By: islandoutdoor
---
Every time you need this asap to change something in your expenses or so, it will not work and you always will see "GoDaddy Bookkeeping took too long to respond". Looking for a better service.
Created By: auction4u2012
---
Product is great, customer service is great - but I think ebay having their hand in it has ruined it
I'v used the program for more than 3 years but just unsubscribed because I have not been able to access it for a couple of months. Calls to godaddy could not locate my account and ebay was about as unhelpful as always. I would recommend unsubscribing here (manage applications, other actions) and go to their website to purchase directly from them.
Created By: theglassslipper05
---
Was working fine then started asking for logon. would not take my uder name or password
There is no support or contact for help brings up popup of a blank screen. then just set there. So this product is useless to me
---
you can no longer log in through Ebay you have to log in through Bookeeping.godaddy.com there you will be able to see all your info and update/ change passwords as needed
---
3 charges in oct,nov,dec $99 ea
COntact suppport page doesn't work. Statement shows 3 charges in oct,nov,dec $99 ea would you explain it?
---
Most of the time I could not access my account
Every time I tried to access my account through Ebay, I couldn't. So I would try to contact Support through ebay, and got nothing but a blank page. Tired of trying to make it work.
---
Either fix this crap or refund me
No customer service either from ebay or blow daddy.
Created By: procutsignsupply
---
I used this for 6 weeks and more days than I can count it was not available. That is not what I was contracting for. I need a reliable service available on my time schedule. I have cancelled
---
Can't log into my account
Monthly I get charge $ 9.95 by Outright from my Pay Pal account and I can't log into my account !!! So why or what I'm paying for ???
---
Beware!!!!! this is a SCAM!!!!!!! CHARGE YOU FOR THE YEAR, BUT NO ACCESS TO ACCOUNT!!!!!
In the beginning it was free, than this year paid $69 for the whole year, without notice they now want 9.99 / mo = $120/year I'm denied access until I " upgrade " to $120 / year!!!!!!!!! NO, I WANT MY MONEY BACK AND CANCEL THE ACCOUNT RIGHT NOW!!!!
---
Out of nowhere, I can't log in!
Created By: hotspotfabbillet
---
Please someone tell me how to cancel this application...I went through Go Daddy and they told me I had to cancel through EBAY??? I have tried to call Ebay they have NO IDEA what Outright is or how to cancel my subscription....NUTTY... Please contact me and let me know how to cancel....ASAP
---
Great accounting program, easy to use. Makes tax time faster to get though
---
Difficult to log into or not at all
Can't access thru eBay, only thru explorer, sometimes. Waste of time and money
---
Support service is absolutely terrible
when there is a problem you can go back and forth between eBay and go daddy numerous times and NOBODY seems to help. Frustrating!!
---
the system crashes. I try to get in touch with technical support and also have problems NOT RECOMMENDED
---
Always having updating problems
Always having updating issues
Created By: stonevelocity
---
This service was apparently "updated" and it is now broken! Asking for separate log-in. No access!
Asking for separate log-in within eBay. No access to your accounting information. A nightmare!!!
---
Use for xpenses for tex time
Love this so easy to do taxes
---
failure in connecting. failure in help page (blank screen)
---
good app if not for the constant bug and "404 page not found" support links
---
Constant troubles with any help
This used to be a free service called Outright, then became Godaddybookkeping.com. I own several domain names with godaddy.com, yet they are not linked. Long story short, the efforts with godaddy and ebay, is a real problem. There is no help section, and now, it asks for your name and password each time with ebay, and godaddy cant seem to help. Same scenario, ebay cant help, and neither can godaddy. It was a good program, now all of my bookkeeping is gone! Thanks again ebay!
Created By: highplainsales
---
GoDaddy is so easy to keep track of everything. The reports help me pay my taxes every month and at the end of the year. All my expenses are in one place and automatically come in from etsy, ebay, and paypal. I love it!
---
If you get a 1099 from eBay - This app is an absolute must have.
Works great. Very simple-you don't have to know anything about taxes or preparing taxes. Take me about 10 minutes to get my taxes ready for my tax preparer.
---
Payment error all the time i try to pay, now i am cancelled,no way to contact ourtright, tried ebay
I keep getting payment error for 3 months, cant get contact to customer service for help, have tried to contact through ebay without success. Please help me with contact or how to make my payment
---
Love the ease of adding items and printing reports.
---
i need to get all my documents off but can't this is cheap and not compatible with other platforms get quick books this is junk
Created By: azchemist1309
---
Love it!!
Created By: silversurf1975
---
This app works great, but it keeps forcing me to re-authorize it on ebay.
---
always a problem. I paid for this and always a problem with the communications
constantly a hasel to log in and acquire my information; which I paid for, I might add!!!!!
---
DO NOT PURCHASE THRU EBAY
I love that application its awesome. It really does make everything easier just purchase directly thru GoDaddy because eBay does not offer support and I can not gain access. Great idea eBay you just failed horribly implementing it.
Created By: mikestellhorn
---
dead links, no help, suspended my account for non-payment even though I was set up for auto-pay. Contact support does not work.
---
Not a company I would deal with again
---
Its like having your on personal accountant.. its a great product for a small price..
Created By: retro-favorites
---
I can never log in!!!
Created By: collegefund4b
---
Try to figure out how to renew, Invoices me 99.00 a month no one to talk to.
I have had this service for years, now I get a message in eBay saying PayPal rejected my payment and it is now suspended. between eBay messing with the shipping, Canceling my adds for no NPM # and this I might just pull the plug on the whole mess!.
---
WORKS WELL
Created By: jeffcomowerparts
---
Don't buy this, they charge you forever and no one at godaddy know about it.
I made the mistake of activating this for half a day, now 6 months later of trying to shut it down they are still billing me and ebay keeps getting me credits but godaddy does not know how to shut it done.
---
I cancelled this months ago. They are still billing me for it. Ebay is biggest rip off ever don't use them
---
I had posted a review before and stated that I would follow up once I have filed taxes. I have never used another bookkeeping service other than Outright therefore I can't compare to others. I have used Outright for 1 year now, it is simple and effective. It made our tax process quick as can be. I will continue to use this Application to simplify our small business. Would recommend it to everyone.
Created By: mb.thrift2016
---
does not give back up support
passes the buck.. I need to cancel this program and for the love of g-d no on wants to assist me.
Created By: whentimegoesby
---
very difficult...can't log in and can't get assistance
I have been having problems trying to log in and can't get any assistance from anyone with Go Daddy
---
Somehow got Subscribed and $40 into it before i seen it. No email no nuthing.Thanks for robbing me:(
Got robbed
---
Vary useful app for serious EBay business seller. It saved me lots of time generating report and to have clear idea where my business is standing. Must have app.
---
LOVE THIS PROGRAM
Created By: lazy_dog_tools
---
Unable to gain acccess for months. Was still paying, but then payment was suspended by eBay. Nowj
Did enjoy using the application when it was working. However, there is no point in cointinuing when you cannot obtain the data you are paying for. Nor do they make it easy to contact them about any issues. Feed up and just discontinuing service. .
Created By: hensleesheartlandshop
---
Just realized they have been billing me since I cancelled 8 months ago, will not stop.
Just realized they have been billing me since I cancelled 8 months ago, will not stop...
---
Pretty useless and keeps billing after cancellation
I have been billed during a period when I did not sell anything for 6 months
Created By: avalondouglas
---
Worthless. Unsubscribed two MONTHS ago. Billed my credit card 143.90 which I disputed. They showed "proof" that I used to have this service and somehow got that reversal reversed. THEY ARE STILL CHARGING MY PAYPAL ACCOUNT EVERY MONTH FOR A SERVICE I DO NOT HAVE!!
---
Didn't use, unsubscribe, still charged
be wary of "try for free" you will be charged either way. Didn't use, unsubscribe, still was charged
---
outright makes things easier
Easy to use and abuse.
---
I guess I didnt read the fine print! eaak beware of this ripoff
Created By: into*unlimted
---
Worst Customer Service EVER - NO CANCEL BUTTON!!
All of a sudden they say that they are not getting paid by my PayPal account. I go and pay, and then try to cancel the subscription, and after 3 times trying to pay and thinking it's paid, I keep getting suspension notices. I try to email support, no access to it. I WANT OUT!!!
---
Love the app but you have no way to pay and your account gets suspended
We love outright for our recordkeeping and tax prep. Getting support to fix an app created issue is virtually impossible. Last year we worked around the no way to pay issue by paying through godaddy outright. This year its not an option, we cant get to the screen. In a nutshell, when you attempt to pay and continue service you get an error message and no way around it. If you attempt the contact button for help, you get sent to a blank screen. We really wish Outright and Ebay would fix this. From the other reviews it looks like this has fallen on deaf ears. Hopefully there will be a fix that allows payment for outrights services. We love the app for recordkeeping but are at an impasse due to their technical issues. The outright/paypal/ebay payment api is very broken. It seemed to have happened when paypal and ebay split. hope you don't end up with the same issues or better that paypal/ebay/outright would fix. thanks
---
Every month I am denied access. I am setting here now with a paid reciept from paypal, but my bill
is not paid and there is no one to talk to. Contact support is not working. No phone to call. no way to contact anyone that I can get to work. So you tell me why this is even on ebay? Can't they get someone that actually cares.
---
GREAT I LOVE IT
Created By: dragonballall7
---
POOR. NO CUSTOMER SERVICE, NO WAY TO PAY. A REAL PIECE OF
i KEEP GETTING BILLS TO PAY BUT SAYS PAYMENT DECLINED WHEN i HAVE SUFFICIENT MONEY IN MY ACCOUNT. i CLICKED CUSTOMER SUPPORT AND JUST GOT A BLANK PAGE. HAVE NO WAY OF CONTACTING ANYBODY. WHAT A JOKE.
Created By: bandwagonfanz
---
I have wanted to cancel this app. and find there is no way to contact anyone and find no support!!!
---
A Great Help With Inventory
A Great Help With Inventory
---
Keeps everything all in one place with little effort and set up
As a one-person business I have to have everything flow in with ease and without complicated setup. GoDaddy Bookkeeping is absolutely amazing!! eBay, Amazon, PayPal and my bank account are all tied together in one program making it possible for me to focus on selling items instead of trying to manage all the paperwork.
Created By: thereliquaryoftreasures
---
don't use havn't really used. Unable to cancel and being charged =[
Created By: swedish_home_decor
---
Subscription Cancellation Nightmare
I requested the cancellation of this app and they still sending me invoices month by month. Last year I even paid the full year in advance but now they did not cancel the subscription to charge me more and more. NEVER will get their service again!
---
Good, but needs lots of work
It categorizes every transfer from my own bank into my paypal account as income. blah.
Created By: tender_branson
---
TERRIBLE CUSTOMER SERVICE
THEY NEVER RETURN PHONE CALLS
---
Good Basic Accounting tool
Wish it had a few more features. More on cost of good sold.
Created By: going*going*gone
---
Go Daddy Bookkeeping Application
Life Saver at Tax Time. All itemized, printable reports ready to go. Easy, user friendly and saves me hours of searching through receipts and notes. Its all there. 5-Stars for sure.
---
It doesn't work/load on my computer and ive tried all browsers. Waste of money.
---
Worst customer service ever
I started free trial of outright. I was not satisfied the service and tried to cancel my subscription. they are orphan app. Ebay will through me to godaddy and godaddy will say contact outright directly. The worst this is outright doesn't have any direct call line to reach them. Just email to support, they will send you instructions, you followed, but to my surprise they keep sending me invoices and deducting money from paypal. STAY AWAY from OUTWRONG
---
We really appreciate this tool... especially at tax time
We really appreciate this tool... especially at tax time
---
---
charging different prices from stated invoice and tons of errors in bookkeeping
the charges on invoice states 69 then it charges $99. there are tons of bookkeeping errors in the profit loss statements showing loans as profit when it is a loan adding thousands and thousands in extra taxes
---
takes the ebay and paypal hassle away!
Created By: what-a-great-life!!
---
wasn't accurate in reconciling costs through the year, no customer support.
NO CUSTOMER SUPPORT, great feeling to not be able to contact anyone... I guess this is their business model?
Created By: estate_liquidate
---
Support is only a link to a blank page
No support whatsoever. My bill is overdue but there is no link with which to pay it. "Support" lands me on a blank screen. HELP
Created By: santacruzdreambyari
---
AWFUL! DO NOT WASTE YOUR MONEY!
NOT A GOOD APP DO NOT WASTE YOUR MONEY!
---
Very poor customer service
This app does the job fine but you cannot contact support when you need help. Every time I click on the contact support button, it just shows me a blank page and I have no way of contacting them. I made a payment on my account,account says suspended even after I made a payment. I've been trying to contact them and have no way to contact them. Customer service is sucks
---
Can't get it to work. called Go Daddy and Ebay and both blame the other one. So do not need ap.
I did app through ebay. I called go daddy to see how to get my info up. They said it was ebay issue, called ebay they said it is go Daddy. So am in limbo on 7 day trial that I will be automatically billed for and can't use it. Would LOVE if someone could help me...as ebay says NOT ME and Go Daddy says NOT ME! HELP Phone is 704-685-7739. THanks
---
Does not go back far enough into Paypal transaction history!
CSV to QFX reformatting would be totally time consuming if not impossible. There has to be an easier way to upload Paypal past history going back over 2 years.
---
This app is total garbage
---
Still getting threatening email after unsubscribing in December. Speaking directly to them in Feb.
Canceled subscription in December 2015. Spoke to them directly and was assured of cancellation. But still recieve monthly bills and threats that Ebay may restrict activity if not paid. Spoke to Ebay and they said its a Application issue not theirs. However they were helpful.
---
Don't do it! It's like a virus!
There's no easy way to contact them and you can't cancel the service. I was told my subscription was cancelled and four days later they sent another invoice. SCAM
Created By: picturefixer1
---
Great product but no support
Go to the GD Outright web page showing a phone number for 24/7 support of this product. Every time I call that number the techs don't anything about the product. Surprising GD does not fix this problem even though they continue to advertise how to reach support for one of their product, Outright or GD Bookeeping. Pathetic.
---
---
Not sure it is worth the money
Figures are not matching with reports from ebay. No customer service support at all - tried several times. Having issues right now and cannot reach anyone. Not sure if the money is worth the trouble. This could be a good service but they are lacking.
Created By: gentlesole101
---
Not what I wanted or needed and no way to get support or out of it.
Have paid for this for a year+, do not want it, it is useless. Just needed a sales tax report and ebay told me I had to have this. Cancel this permanently!!!!
Created By: onlinesellersassistant
---
Thanks a lot
Created By: alwaystyle4you
---
Let me tell you why I rated this below average!
Have been with (Outright) GoDaddy for many years. They have discontinued the ability to enter from anywhere other than EBay as of 27 Mar 2016. Now today I am unable to get into my account. This is tax season and I can't get to my accounting information! Support only works 9-5pm M-F and by email only. This is not affiliated with the Go Daddy site and they are unable to help you since this is a eBay app. It is only of only a couple of online accounting software sites that is intergrated with eBay and Amazon. I am ready to make the switch to Xero if I can ever get to my accounting information on GoDaddy. Very sad. Outright was a great company and when they sold it to GoDaddy it has not been the same. For only 9.99 a month is is a good buy but if you can't get to it...it is worthless. My recommendation is if you like it go now to GoDaddy and open an account with them so you don't have to go through eBay to use the app.
Created By: clothing-essentials
---
Half the time I try to logon it is unsuccessful. Now it kicks me off in the middle of entering information at which time all the information is lost. This is a disgrace.
---
I have an alert that my account is past due and is suspended. My payment details have NOT changed and there are sufficient funds to cover the payment. When I click on Contact Support I get a blank screen and there is no way to update my payment details. Can't pay and can't contact support. Well done GoDaddy and eBay. What a mess!!!
---
I loved this app. Until a glitch caused my payment not to go through and account was suspended
I can not even contact customer support. It just shows a blank screen I love using this application but I have paid my balance and it still isnt working. I am frustrated and upset.
Created By: tildysboutique
---
I was billed even though i cancel the service.
---
Almost impossible to unsubscribe. Cancelled in Feb and still getting invoices in late April.
Almost impossible to unsubscribe. Cancelled in Feb and still getting invoices in late April.
Created By: kevinsbestdressed
---
makes bookkeeping easy monthly and at tax time..
---
I love it! So much easier, everything right there
I love this accounting application. And even though there is no phone number you can call, the representatives answer you e-mail very quickly and they are very friendly and professional. I'm very happy. Thanks, Kevin and Verona Talcott
Created By: prime-select-boutique
---
Unable to cancel my subscription
I have received many emails telling me that my subscription is past due, but when I try to cancel it that option is not available. How can I cancel? You have not made that option available. I think that is pretty rude.
---
This is a very good tool to maintain your business.
---
Don't know what I would do with out it,,,
Enables me to do what makes me money and not spend time calculating and figuring it does it all for me. Would be back logged with out it
Created By: wildhorse20042j9g
---
ebay and godaddy extortion to force subscriptions
unable to cancel subscription through ebay or go daddy and was threatened with the cancellation of any ebay privileges if i didn't renew, I know it sounds crazyk, I thought so too but it happened to me
Created By: silvershark81
---
---
WORST CUSTOMER SERVICE I HAVE EVER ENCOUNTERED
I SUBSCRIBED TO THIS SERVICE ON 2/23/2016. I FOUND THAT I DID NOT LIKE THE APP SO DECIDED TO CANCEL. I HAVE CALLED SEVERAL TIMES DIRECTLY TO GODADDY AND HAVE BEEN INFORMED THAT UNLESS I HAVE MY DOMAIN NAME (DO NOT HAVE ONE), ACCOUNT NUMBER (THEY INFORMED ME THAT THE ACCOUNT NUMBER WOULD BE IN WELCOME EMAIL AND IT IS NOT THERE) THEY CANNOT CANCEL THE ACCOUNT. THEY CANNOT IDENTIFY ME BY MY NAME, ADDRESS, PHONE OR EMAIL. I HAVE NEVER HEARD OF SUCH A THING! I CAN SIGN INTO MY BOOKKEEPING ACCOUNT BUT NOT INTO THE GODADDY.COM ACCOUNT PAGE WHICH WOULD HAVE IDENTIFYING INFORMATION. DO NOT BUY!!!!!!!!!!!!!!
---
Bait and Switch - I will never sell on ebay or use GoDaddy products!
I was lead to believe that there was no fee to use the aps. Well, I got a bill and now GoDaddy customer service refuses to rectify the situation. My only recourse will be to contact the FTC and the attorney general of Arizona and California. Companies can not get away with misleading their clients.
---
app dot update no support
---
---
Please cancel this subscription immediately 3-4-16
No need for this program. I can create a spreadsheet that will work BETTER for me and my needs.
Created By: ssgfinejewelry
---
If you're using this app for taxes beware you'll lose everything
---
Never had this on my account
Try to contact them they did not have an account on me and did not even know who I was. They billed my account under go daddy I never had Upright or go daddy. If there paper work is messed up you can well think what is yours looks like. I never had them why am I going to pay them.
---
this application is a ripoff and they won't cancel
they revoked my accss with no explanation and continue taking money from my account. I requested they cancel my subscription but the reply ignored my request.
---
Absolute scam. The application wasn't even activated and I was charged DOUBLE... and charged AGAIN
Absolute scam. The application wasn't even activated and I was charged DOUBLE... and charged AGAIN. And the body of this review was also edited. F You eBay
---
According to Go Daddy Tech Support - Not Affiliated With Go Daddy
offer 30 days free, first bill less than two weeks into "free 30 days" - no way to contact, no way to get off of Ebay applications list - Ebay says it's not their problem - apparently a scam
---
Wonderful Saves me Tons of Time
Saves me tons of time keeping track of financial transactions and preparing for tax time.
Created By: thatgreatshop
---
Cancelled but still being billed
My subscription was cancelled and two months later they are still billing me
Created By: cindyloussweetstuff
---
A Nightmare they lost my data
I pay 9.99 month and the only service I use is thier schedule C feature and they lost data from my credit card downloads . I deserve a refund
---
Been trying to cancel this account sense November 2015. No way to do that, Now ebay is threating me with limited Service to sell and buy. Get your act together Nodaddy. outright.
---
Profit/Loss Tracking, Reporting
App pulls all transactions from eBay, PayPal
---
Very poor communications - terrible payment software.
Account was suspended. There was no working link to pay the invoice. Could log onto support. The make a payment link went right to my Ebay invoice. Finally after a week, the emailpast due warning worked. Previously it did note. Terrible billing software and customer service. All links went back to ebay invoice with no option to pay the application.
---
---
Cancelling the app is impossible
Unless you plan to pay the $10 a month for the rest of your life, don't subscribe. Contact support buttons don't work, cancellation has been pending forever, still being charged the $10 a month, I could still use the app if I wanted to look at bar graphs...
---
tried to run it from ebay, for two weeks application is in "pending" status.
very poor service!
---
Do not work. If you buy you will lose your money and have no way to contact them.
I can not contact outright. The app do not work. For over a month all it says is pending. And they provide no way to contact them. This is the worst online experience I ever had.
---
Will Charge you even after you cancel!
I did the free trial. Decided within the free trial I didn't need this service. I cancelled the service. My account has since sat in pending cancellation status for weeks. Now they have charged me $91.47 when I cancelled this weeks ago. There is also no way to call customer service. You can only email them. When I hit contact support here on eBay it takes me to a blank page, no matter what browser I use. This is VERY BAD! Don't use them!
---
no contact support blank page-everybody's trying to cancel you but can't
this was a one time thing. not a lifetime thing. i talked to ebay
---
Interesting and easy to use
Excellent customer service. I am now using a my own site. Highly recommended to those who want to start a new website.
---
Extremeley difficult to cancel this app membership
Called Ebay, canceled the application about 3 times and still get charged. Unbelievable! Terrible system!!!!!!
---
This is an outstanding bookkeeping service for your ebay store.
The provide you with everything you need to keep track of your store. Plus you can add any data that you need great for tax time.
Created By: projerseylove
---
Great app for Bookkeeping
Easy to use, well priced. Makes bookkeeping much esier for the small business person
---
cannot access my account that i upgraded to at 9.99 month. I try to log in and says wrong log in password, so i get new password, then it says doesn't recognize log in. i call customer support and they say Go Daddy cannot help, that they are not affiliated with outright so i should contact them. you look for Outright and every number and website refers you back to Go Daddy. So, I subscribed to something I cannot access, and no one can help with, yet they are charging me 9.99 month! I even tried to cancel this account and open a new one online through the Go Daddy bookkeeping and it will not allow me. Says I am already subscribed, yet the Go Daddy rep Thomas Steinback said my old account is inactive and he cannot find me anywhere in the system and cannot help me. He said to contact Outright, which I cannot find any contact info anywhere for them. I don't know what is going on, but it isn't right. I just want to download all of my info to one application to help file my taxes
---
Have used for 2 years with no issues!
I have used this for two years now and I haven't had any issues with it. In fact, my tax lady loves me because I use outright and it sorts everything out for her!
---
Great start! So far so good!
The startup and import was so easy. I am not very tech savvy. Within an hour of getting the app, the past 12 months plus of all my Ebay and Paypal activity was imported saving me tons of data entry. It automatically learns as new vendors are paid classifying expenses and it is so easy to classify the unclassified entries. Love it so far. Highly recommend this app! Money very well spent.
---
Worked for a day, now wont let me even log in!
Wont let me log in or cancel my free trial!! worked for ONE DAY.
---
Very easy to read for a complete novice
GoDaddy bookkeeping keeps track of all you accounting data and provides great reports and a year-end summary that makes you Schedule C a breeze to file. Easy to customize using your own categories.
Created By: shanghaikelly-half
---
---
account pending after 15 minutes
After I subscribed to the application my account was still "pending". The instructions were to click the "Outright" button if account was still pending longer than 15 minutes. I waited 45 minutes and clicked the "Outright" button and a blank page comes up. I just don't need the aggravation
---
I would give this 5 stars but
My account was suspended because they didn't accept my paypal payment. Nothing has changed in my paypal account. Which would be fine but there is no way to contact anyone to fix this issue.I can not find a number. It tells me I do not have the money in paypal to pay my account which I do. I was able to pay successfully for over a year and then it stopped working. Now I cannot get into my account at all. I would be happy to pay but it declines it every time and does not give me any options on how to fix it. Great product but horrible customer service which in the end is why I can't review it any better. Worked great until I was kicked out for not paying even though my paypal account had the money to pay and I had changed nothing.
Created By: orangepanther15
---
Does not work and as for free trial. no such luck. I cancelled after 1 day and they are still billing my paypal account!
---
Fabulous program, easy to interact with and has a wealth of easy to access information.
My first year on ebay as an LLC was a nightmare doing the books, but no longer after using the Outright program. No need for an accountant as I can easily access all the information I need in multiple formats. Love it!
---
no customer support through outright!! ebay has given me the run around for 2 hours!! no one knows how to access my outright account.
Created By: 911militarysurplus
---
GoDaddy is no help with this App when you cannot log in
Ebay did something and I cannot log into my App even when logged into ebay. This has been going on for 4 days now and Ebay says contact GoDaddy and Godaddy says we have no record of the App in your Godaddy account (Duh it is sold by ebay thru ebay) but uyet tells me to log in thru Godaddy book keeping who tells me there is no record.Then it prompts me to log in with ebay name and password but yet does not accept it. Godaddy support is no help at all neither is ebay.
---
I'm Grouchy That There's NO CUSTOMER SERVICE PHONE LINE
I'm obviously new to this APP, and it came very highly recommended by a friend whom has an eBay store. I have fundamental questions, such as, how do I calculate my expected taxes to be paid? What category do I categorize some of my transactions? How do I make sure all my fees from eBay and Paypal get imported from my AMEX ?(which is my linked method of payment), and finally, what goes under the "time" section? Nobody seems to know the mystery number to reach anyone related to customer service regarding this area of the APP. I will say, that so far, as of this month (since I signed up at the end of December last year) everything is automatically getting calculated, regarding expected taxes for this quarter. I still have to go in and categorize other transactions, however, now that I know that, I won't have to sit at my computer for hours taking care of the entire year's worth. That's a plus.
Created By: texas_baroness_of_bling
---
I cancelled this subscription, but they didn´t accept it, and then I was charged again the next mont
It is a crazy app that won´t allow you to cancel. It says "pendant of cancellation", and then they will never cancel your subscription. Be aware!
---
---
Simple. Intuitive. Features You Need, But It May Be A Bit Outdated
Simple. Intuitive. Features You Need, But It May Be A Bit Outdated
Created By: retaildirectproducts
---
Not sure what I would do without it!!
Created By: amazingstuffllc
---
Excellent value for the money! Makes basic accounting a breeze! Thank you
This has helped us become more productive by freeing up time we would have spent sorting through receipts and invoices. This has truly been a blessing at tax time! Go Daddy bookkeeping even compiles printable, pre-filled tax forms and documents! Worth every penny!
Created By: rayscarparts71
---
Need it, but awful customer support.
There is no customer support to talk you through a problem. It requires multiple emails over week long periods to get problems solved. Also, I was charged multiple times for the service. it's a necessity, but with too many glitches.
---
Fantastic record keeping. Only thing I need!
---
I am unable to access my GoDaddy account for a couple months now. What happened. I call Ebay they don't know they refer me to Outright. Outright refers me to Ebay. Then ebay refers me to outright, than outright refers me to Ebay. What is the answer?? I want access to my taxes!!!!
Created By: dkautowholesalers2
---
Horrible. Does not work when I need it the most at tax time
I am trying to gather sales tax information and it is not working. What is the point of having a paid app that is not working when I need it the most? Ridiculous
---
BEST CUSTOMER SERVICE/AWESOME APP/HIGHLY RECOMMENDED
The customer service team is extremely helpful and efficient. The app is exactly what I have been looking for love all the designs. I estatic about this app and will be a long term customer they gained my business quick. Highly recommended
Created By: jenp2012-2012
---
I signed up for the 7 day trial; They redirected me to paypal to sign in and comfirm, which I did. Then I was redirected to the app and there was a start button, I pressed it and the page was blank, I tried several different times/ways and it still doesn't work.
---
Very easy to use and great customer support.
Keeps track of everything you need keeping track of. Highly recommend.
Created By: traditional_hunter
---
Worst App Ever - dont waste your tmie or money
Does not load Ebay sales - only Paypal sales. Useless. Also, no phone support whatsoever. Useless.
Created By: andorrichards
---
So easy! Even the Numerically Dyslexic can use it!
I see numbers backwards and bookkeeping is very hard for me. This makes everything so easy! It does the work FOR ME. I am BLESSED to have this resource. I COULD NOT keep track of my business finances without it.
Created By: fugitivekatcreations
---
I have been using the bookkeeping app and it has really helped me.
Created By: allbarginsarhere
---
Charge you for service when you don't want it!!!!!
Each year you have to re up your subscription. So I did not do it this year because I do not want the service any more. Then when I try to unsubscribe it will not let me. So they are charging me each month for a service that they do not have permission to charge me for!!!!! Very Bad Business practice.
Created By: themintjulepstore
---
Pretty sad operation now. I can't even do something as simple as paying their bill...
Banks are thieves of the middle class.. no more banks or credit cards.
---
not working easy, once i want there is no support, and now asking again payment
good but
---
second time cancelling outright
I cancelled Outright in October. it stated that I was pending. I assumed that outright was pending to adjust their records. I've since just got billed again! This is the second or third time I've cancelled. This is not fair. I am not doing ebay and cancelled everything two months ago. Please quit charging me.
Created By: cleaningfriendsclosets
---
thank You
Created By: centralautopartsofchicago
---
This is so unhelpful!! What is the point??
Created By: mtsiskiyouharbor
---
Ebay fees are wrong for every month but one!! A waste of money if you have to calculate all anyway!
All but April's ebay fees are incorrect. I have tried to reach Outright/GoDaddy but hit a dead-end with every turn. Phone 480-505-8877: was told they had never offered any service through ebay. Phone 888-518-3339: wrong number; given this number by ebay but is a private individuals housing business number $65.98 wasted
---
All month UNABLE TO ACCESS even though I was billed for the service
I have been UNABLE to open my account through EBAY even though I PAID my monthly fee for this service .Call me 714-292-7468 so I can get this working ASAP !
---
---
I requested a new password, entering my email. They did not send it to me and and I can't access the program. I can't even access the support. I tried three times.
---
showed no sales only expenses
change to more frinly
Created By: coloradowindowparts
---
Mark and Jason at GoDaddy
The absolute worst service ever. Simply trying to confirm that I do not owe them money and cancel any possible subscription and/or service. Most absurd nonsensical and evasive people I've ever had the misfortune to speak with. Turns out that having their bookkeeping service on Ebay is the biggest mistake anyone could ever make. Ebay has everything you need without it. Total waste of money, it will get your account damaged if your auto billing credit card ever expires or changed. Worst customer service I've ever experienced! Stay away from outright.com and godaddy, utterly worthless!
Created By: texasbrasswinds
---
Cancelled Months ago and still being billed...
I cancelled this service MONTHS ago, and they continue to bill me...pretty bad accounting on their part...
---
No good customer service, or help line goes to error. Very bad service. Waste of money.
---
NEVER WORKS! Do not waste your time or money! Customer support doesn't work either!
This app NEVER works! Especially when you need it most, at tax time! Can't contact customer support either so it is completely USELESS!!
Created By: wholesaletansforu
---
IF YOU HAVE A PROBLEM YOU GET AN EMAIL 24 HOUS LATER. NO LIVE HELP PERIOD. SO AS LONG AS YOU NEVER HAVE A PROBLEM OKAY, BUT KIND OF LIMITED IN WHAT YOU CAN OR CANNOT DO WOITH THE PROGRAM. IT WAS BETTER AS A FREE SERVICE. NOT WORTH THE 99.00 I PAID.
---
combined 2 ebay account and messed everytghing up
i have 2 ebay accounts. Different info from both accounts was showing up on this one account. It messed everything up
---
keep telling me my account is overdue
Account over due but don't allow me any way to pay it. I finally make out a new account and you accept that with a payment. You said everything is o.k. but when I try to access outrite I'm not allowed. When I click on to contact you it tells me I can't. I am through triing to rectoify this account.
Created By: greeniekenneth
---
It will not let me log in, When I click contact support, It goes to blank page. When I reset password it sends me a new temporary password...that still does not work. Biggest waste of money!!!
Created By: imperial_trendz
---
Application is great for filing income tax.
This application is all I need to copy for my accountant at the end of the year, so no need for a spreadsheet on my ebay account.
Created By: knotjustfishing-n-jigging
---
Have tried to pay them many times but wont accept my payment
Created By: susiewoosie46
---
Lack of Inventory Management
The GoDaddy accounting software for EBAY businesses lacks inventory therefore it cannot provide the accurate end of year statements for the IRS. I'm not real happy and I am looking for another option.
---
Just what i was looking for, works great !
Keeps my Ebay, Paypal, and my banking info all in one organized spot,plus breaks everything down so you can see what your doing on multiple levels.
---
why can't i see my info ???
why can't i see my info ??
---
Amazing product -- saves hours of entry and analysis. Don't know what I would do without it.
---
link to support is not working... I try to paid but is no way to do it... bad services..
Created By: androidflashing
---
the numbers are not correct
I asked for explanation for the difference in the numbers and got 0 response
---
Easy to Use Bookkeeping that makes tax season less of a headache!
I have to say, bookkeeping is not my favorite task and I put it off as much as I can. But when I have to enter the data, this program is easy to use and just the info that's needed for tax season. The service is reliable and easy, well as easy as bookkeeping gets!
---
I have been using this program for several years and loved it. Now it quit working through ebay and has no links available to contact support.
Created By: acperformance
---
Even after I cancel the service , steel sending to me invoice each month...
Even after I cancel the service , steel sending to me invoice each month...
---
Thank you so much for team
Created By: fourseasonart
---
I canceled this service during the trial and they continue to take money out my paypal account. I believe this is a scam..
---
Even though I unsubscribed from this application, I am still being billed for it and can not find a way to stop it.
---
Really simple! The only thing that could make it better is if some way it could track the "cost of good sold" without having to enter manually. Can add multiple ebay acct. on the same yearly subscription. Tax time is a breeze! Been using for 2+ years and I have 3 ebay accts. Well worth the money =)
Created By: gingerbenmartin
---
Needs to be a free service
This product use to be free, but now they charge. I don't use any extra features that I did not use before they started charging. I wish they would go back and offer the free version again for the people that do not need them to make invoices and figure up the taxes for them.
---
Need more detailed information in a spreadsheet format. Waste of space on screen.
needed spreadsheets with all selling and refund information. Not easy to use.
---
Just what I was looking for!
This is exactly what I was hoping to find to keep track of income and expenses while incorporating my Ebay and my Paypal transactions. I don't have to key everything in myself. Even better than I hoped for yet simple for me to understand and follow. The price is outstanding! Thank you
Created By: horse_of_spots
---
Price Doubled from original subscription, but still worth the cost.
Price Doubled from original subscription, but still worth the cost.
---
Called eBay, called go daddy, they say they are not affliated with out right. eBay, nor go-daddy can find my accounting program. taxes on extension. havespent hours on the phone. no account found that I have had for 4 years.
Created By: favoritefinds4you
---
I asked them to cancel this service, they said ok no problem and they are not charging me anymore for that but every month i get their reports about my business is going with profit and expenses meaning that they are still seeing all my information. Illegal !!!
---
The program it self is great but if you need to cancel you can't they just keep billing 0 Customer Service
---
CAN NOT UNSUBSCRIBE WHATEVER YOU DO.....BE AWARE
---
Great App Can't Afford Apologies
Please Cancel ASAP
Created By: tdmllc5thedestinymanifestollc
---
There is no phone number.Even urgent can not contact directly suckssssss
There is no phone number.Even urgent can not contact directly suckssssss
---
having difficulty opening my page on godaddy.....no reports are showing
nothing is happening on my godaddy page, no reports or anything is coming up, when I try to open it from applications on ebay. This has been going on now for over 2 weeks.
---
A must for any serious seller!
Easy bookkeeping for the clueless!!! Money well spent to track sales across multiple platforms,keep track of expenses, record mileage, track sales tax owed. I even use it to track my time. If you need to send invoices, this ap does that too. And best of all, you can print your Schedule C at year end! Great reports including a P
---
No Customer Service and Fraut With Problems
There is no phone number anywhere, and you will have problems that needs a person to help you address. You're going to love it when all of your data is tied up or lost at tax time! If this sounds like something you would enjoy, sign up today!
Created By: spectresupply1
---
Easiest ever for online business
After trying quickbooks for a year based on my accountants advise, I tried go daddy and what a difference in the amount of time I spend bookkeeping!
Created By: brglassworks_3033
---
I canceled this account three times and you are still taking my money. Get it canceled NOW!
---
AWSOME EVERYONE NEEDS TO GET THIS IF EBAY SELLER
5 STARS FOR THIS GREAT EASY TO USE BOOKEEPING
Created By: bmiller06_07_1984
---
Excellent record keeping and notifications
I always know what I owe, if anything, on my taxes.
---
The Worst of the very Worst
Zero customer service. You are on your own sucker.
---
tried to pay my subscription but cant. suspended. what ever. not good for business
---
Started up service without my consent. This is fraud. Charged me $9.95 I want my refund!!!!!
Started up service without my consent. This is Fraud. Charged my bank account $9.95. This is fraud. I want my refund!!!! Lisa Quinn
---
Takes FOREVER to load. The information is often duplicated. There are ALWAYS Billing issues because of their insistence that you use Paypal. Thumbs Down!!!!
Created By: realnewyorksportscollectibles
---
Very bad. Cancelled subscription and still kept on charging.
Very bad. Cancelled subscription and still kept on charging.
Created By: bapabajarangdas
---
cant get to take my payment
cant get to take my payment
Created By: hobbyoutlet2000
---
Poor service in conection with Ebay.
I have tried to pay my GoDaddy bookkeeping service fee for over 2 months with little success. I have had three phone conversations with Ebay about the problem. My GoDaddy bookkeeping account is now suspended, and i am still unable to make the payment. If i get audited because i am not able to pull up my business expenses and income information, i am going to refer all IRS inquiries to EBAY.
Created By: scottstreasuremart
---
I love using this bookkeeping service. It imports all of my sales and expenses automatically, allowing me to focus on other aspects of my business. It is very reliable and I rarely have to correct errors. It is worth the money in time and effort!
---
Outright was easy to use and came in handy during tax season.
Great and easy to use.
Created By: sierra22christine
---
Mistake click rong buton keep charge fee after cancellation
I cancel few times and keep charge subscription !
---
Shows reality of where the money goes, an eye opener.
After some tweeking of categories, you have to manually move expenses like UPS shipments individually. Before money just came and went and did not know really how much I spend. Now you can easily see how many expenses for business or personal you have. It tracks your debit and credit cards, Paypal etc. So you know at all times your profit or loss for the month or year.
---
Overall Great!But you have competition.
When i say competition i mean (terapeak on ebay ) I had to buy there product to help forecast my business better i wish you had that example, average daily selling price, turn over rate, profit margins, items sold, etc etc i would pay slightly more if yall decided to have it and im sure others would as well.
Created By: xclusive-deals-com
---
Great app to save time with tracking all the ebay transations
Saves a ton of time at tax season
Created By: stormie_sarge
---
Helps me with my small business, keeps me updated and on track to hit goals
Helps me with my small business, keeps me updated and on track to hit goals. Keeps me organized and I like that it works with both eBay and PayPal. It also is a good price for accounting.
Created By: aphroditesjewel
---
Excellent expense tracking and Tax Accounting
This application is an excellent way to track all of your expenses for the end of year Taxes. It syncs to pull in all of your shipping, paypal, and Ebay fees in order to easily format at the end of the year to determine bottom line profits. The ability of Outright to sync to all of these expenses is enormously efficient and I recommend this tool to high volume sellers doing all their volume through Ebay.
Created By: perceptive-eye
---
It's a dream come true, The simplicity of cyber world businesses to the real world.
I could only say this, My experience feels like a miracle to me because I've been waiting for this moment in my life. The obstacles I endore during this learning stage is phenomenom and I have prevaile an Thanks to all off you guys for making internet business so simple to learn and the most important factor of all is great communication teamwork that this reality world needs to have, with this great bond i'm sure the economy will turn to a better phase. Thankyou, from the bottom of my heart Bee vue.
---
This application works great, and makes keeping track of expenses, etc. way easier for accounting and tax purposes. I use the mobile app also, so entering and editing expenses and income is very convenient.
---
Must have for online sellers!
THE BEST for tracking financial information for online sales. I use it for ebay/amazon and it just makes everything so much easier.
---
Be careful with this app. It charged more than mentioned
I signed up for the $9.95 per month plan cause I figured it would be nice to organize my finances. I was being charged $14 per month and found their program to be of no use for me
---
this is NOT bookkeeping at all, what a joke, and just try to cancel, misleading deceptive unethical
have been trying for over 6 weeks to cancel this farce, with both ebay and go daddy, to no avail, forced me to pay the entire year price for adding and subtracting my pay pal funds, their idea of bookkeeping is laughable, so anyhow, 9 $96 and some odd cents down the tube for nothing in return but a big headache
Created By: bargaindaykay
---
I don't understand the reports
I don't understan it
---
Absolutely no support for this application
We have a recurring payment issue ($6.95/mo) that requires us to re-activate auto-pay through PayPal. We can find no way to resolve this and there is no support.
---
I have had no trouble with it at all.
---
It keeps me updated on my finances on eBay
Created By: cooperscollectionsstore
---
Perfect app for businesses!
Created By: nadascreativedesigns2014
---
Does what it says it will do. All you need for a small "sole proprietorship".
I have been very pleased with GoDaddy Bookkeeping. Simple
Created By: thetimefinder
---
Love this bookeeping app!
I use go daddy bookkeeping for my ebay, amazon, etsy, and in person sales. It works well for preparing my tax's and for keeping track of miles I drive and expenses! Do not know what I would do with out this app_
---
This never loaded transactions and always failed out. Worst application ever.
Created By: pickypickerton
---
Very helpful app. Really lets you know where your money is going and coming.
I like the app a lot. Helps me really stay on top of where money is coming and going!
---
App works but God help you if you need to contact someone
There was a problem in auto pay of this app,I had received an email from Go Daddy saying my subscription was suspended for non payment and to contact Paypal. I spent an hour on the phone with Paypal who could not even find the transaction that was reversed. Ebay reps didn't know why either. I manually paid and redid the whole pay this automatically from Paypal on my own not knowing why the payment had been reversed. The email was from a do not reply mailbox so I went to apps under ebay and did a support ticket, the reply from GoDaddy was they hadnt sent the email, Ebay had and it was Paypals fault. I still cant reply to that email either, so I give you one star for an app that works, for more stars GoDaddy you need to up your game and have a decent way for customers to reach you, also don't blame ebay and paypal for your lack of communication skills. All your original email had to say was "each year please re sign up for auto pay of this app", problem solved.
---
Can't say enough about how happy I am with this
I am so glad to have found this app. It has already made my bookkeeping so much quicker and efficient.
---
---
Easy bookkeeping for an ebay business
Love this application! It makes bookkeeping quite easy for an ebay business. And even better, taxes are so much easier too! This app breaks everything down for tax filing. I highly recommend!
---
Why can't I have the old way?
---
Excellent during tax season! Thank for making this easy!
Dito!
Created By: parkavecellar
---
Thanks GoDaddy for ruining a good product
---
Its tax day and computer glitch is causing me to be unable to access...no customer service available to help me today - right now. Bad!
Created By: kawaii-bambini
---
Idiot proof awesome! well worth the money.
---
Keeps track of everything, along with what is selling and your repeat customers. But it made tax time a breeze the last 2 years. I just print out the schedule C and hand it over to my account.
---
I didn't need the detailed system as QuickBooks, just something that makes it easy to keep track of monthly expenses like utilities, bank account, eBay and PayPal fees. This system made my tax time SO MUCH EASIER! I actually don't hate April anymore! The only thing I would like to see added is a way to enter inventory and link it with my online sales. Thanks for a great app!
---
Issues between Go Daddy and Paypal
have not gotten to use free trial as according to CS there is a problem with PayPal. Now I have spent 2 days trying to cancel this program before I am automatically charged for a program that is not usable.
Created By: feedinghandsfeedinghearts
---
Designed Perfectly for our Ebay, Paypal
Tried using Quick Books and other Applications to try and capture our Ebay, Paypal
---
SOOOO Happy I found this program....Makes life SOOOO Much easier!!
I thought i would try it since there was a free trial...boy am I glad I did....I had no idea it would be so easy!! :)
Created By: smalltreasures-bottlecapsnbows
---
Easy to use bookkeeping program
This is the first bookkeeping program I've suscribed to. It makes tax time a little easier.
Created By: dreamweaver47
---
My bookeeping is done with this program
This program is a must have for every seller. It keeps track of all your expenses and income and is absolutely needed in the tax season. You tax preparer will be amazed too.
Created By: 303electronics
---
Not worth the money, use paper and pencile.
Relatively easy to use but the cost is no worth it. Can not delete CSV import accounts. Making payments to Outright is impossible. No way to make single payments to them.
---
I can't access my account to get my tax information!
This is the only way to get a hold of someone to fix the problem. Someone help, can't access my tax info.
---
Terrible. Pulls wrong info. Can't calculate math.
If you want to pull you hair out after you realize that your entire year of bookkeeping is totally wrong when using this application, then go for it. I want a refund!
---
Go Daddy is a RIPOFF!!! don't go with GODADDY!@!!!!
I had go daddy for a year. Nothing but one thing after another for more money to help get sales and nothing worked other than ME sending out business cards to customers I have had from ebay. GODADDY did not help me one bit. I spent over $2,000 and didn't get one sale with their help. Every time I called them they wanted more money for something that would help me. WRONG!!! I sell about $50,000 from my ebay site so it wasn't that I didn't have a good product to sell. GoDaddy is awful to deal with. I would not recommend them to anybody.
---
---
It's fine when it works but most of the time it doesn't.
---
GoDaddy has made my business easy to operate and control. I am thrilled with the purchase of this application and really could not live without it!!!!!!
---
Great break down of sales
Created By: greenfordhonda
---
Outright INC does offer free subscriptions to get you to subscribe,then charges you.
I accepted the subscription that was offered to me for free,then my Pypal account was charged more than 35.00 for there services,Not happy at all.
Created By: boutiquelasandra
---
Highly recomended. Very easy to use
The one thing that I wish it would do is import my cost of goods sold from my ebay inventory. But other than that very good product very satisfied and well worth the 99.00 per year.
---
Go Daddy Book Keeping - Outright - Accounting Review
I never write reviews...Worth every penny! Easily categorize expenses, automatically calculates all Ebay sales and seller fees, postage and Paypal fees as well as your entire life thru your debit cards and banking. It takes minutes to reconcile end of month. Up to date projection for taxes owed and recalculates as you enter business expenses like shipping supplies, mileage or cost of goods sold. Links all your accounts quickly and securely. If you itemize for personal taxes you can use it to track medical costs, co pays, groceries, insurance premiums, gifts, etc or create new categories to manage your expenses. It could only be more perfect if it had a feature to line item add inventory by sku, date of purchase and cost to track selling costs and establish end of year inventory. No online or phone support is a big miss but they used email very effectively to help me thru my one problem linking one stubborn account. Your only regret will be not having gotten this sooner.
---
This Application has made my work load so much easier. It has made doing taxes a snap.
Love this program! It has made keeping up with our progress so easy. I get quarterly tax reports done in just a few minuets.
---
Overcharged me for first month - cannot find a contact at this place
Signed up for free month and then $9.99 per month thereafter, they charged me over $18.00 the first month and I cannot find a phone number to reach anyone for help? I tried sending an email - but did not go through
Created By: njvintageboutique
---
Great bookkeeping for taxes
Excellent detail--wonderful
Created By: cainscreek41124
---
THANK YOU FOR MAKING MY LIFE EASIER!!!! This app is the best way to reconcile, PayPal, eBay, Sales, Tax.... EVERYTHING!!!! From super easy reporting to diving down quickly on eBay fees shipping etc... This app has it all! Thank you GODADDY!!!!
Created By: www-sweetheartdeals-com
---
RIP OFFF DO NOT DO IT
Created By: the-printer-man
---
easy and user friendly made days of taxes into hours.
my tax lady loved me last year ! so easy to use, you don't have to be computer wiz. or learn a whole new language. I'd recommend to anyone.
Created By: flirtshopjulie
---
HORRIBLE SERVICE NO DETAILS
---
---
Numbers are not accurate. Should Provide a Phone # for HELP!
Really should provide a phone number for assistance.
---
Good program, just not quite enuf detail
Works quite well. However I need to list more than one e-bay store. From what you tell me it combines total into one lump sum. I need my store accounts listed seperately.
---
Did not calculate accurately
I constantly had to edit transactions because it counted bank withdrawals as income. Once I spent hours deleting these transactions, the information was right.
---
Helpful, Reliable Sservice
Very useful information that I count on as a seller
---
Since Go Daddy took this over it has been nothing but trouble and now they suddenly are holding my information hostage so I will pay them $9.99. These people are nothing but scam artists and eBay should rid themselves of the headache.
Created By: find_it_here_at_nationwide
---
Easy to use and very useful. Works great compared to other bookkeeping tools/software I have used in the past. And definitely better than doing it by hand.
---
This makes bookkeeping easy, even for math-challenged people like myself
I have numeric dyslexia and so far, i have not had that hinder my abilities whatsoever. All of the transactions are already in there - no chance for transposing the numbers! I love this
Created By: fugitiveprices
---
the major problem was trying to print the results it was not formatted to fit in a a4 page and was not easy to use
---
not satisfied not accurate
not accurate
Created By: thesouthernyankeegirl
---
Outstanding ECommerce Accounting
This application made my accounting so much easier this year!
Created By: wheelzcustomcarts
---
Glitchy but better than nothing?
My experience has been a mixed bag. It's been extremely glitchy. My credit card receipts since April 2014 either do not come in at all, or come in in duplicate, which is a nightmare to deal with, and makes a lot of extra work. When I contacted customer service, they were rude and didn't seem to know how to fix anything. When it worked it was great, but not sure I'll keep on with these guys now.
---
It does everything I need and more. Couldn't be happier!
Created By: buffalonickelapparel
---
Makes taxes so very much easier!
With the combination of Outright, eBay and PayPal linking to each other - it couldn't get much easier. And, as you shop for supplies in area stores, you can manually add them. Keep track of home office expenses too with Outright. And, at tax season, the reports are done for you. What else could you ask for???? Love it!!
---
they have no customer service what so ever
they are crappy ......
Created By: goldeneracollector
---
Difficult to use app with minimal benefit, and Im a CPA
It took a while to link accounts on the free trial, and then I only had data for two months. There was no indication that if I paid the fee I would get access to all 2014 data. I looked at the two months data, the charts, the info, etc. Very rudimentary and not that helpful. I will stick with my Excel spreadsheet and TurboTax. This application should not be offered by ebay, just look at all the one star reviews. By the way, Im a CPA, and this type of data is intuitive to me. Until I tried to use this app. Stay away, Im just praying they don't charge me even though I cancelled here on eBay AND IN PAYPAL.
Created By: quasar-comics
---
terrible service and support
signed up for the app while it was free , it failed to add properly to my account , after hanging in limbo for many weeks , they revoked it and i was told to get the now paid for version as free is no longer available.
---
awsome app,gives me lot of help to prepare my taxes's and reports
awsome app,gives me lot of help to prepare my taxes's and reports
---
really great app for tracking all your expenses and income
great for new businesses or individuals who sell on ebay, can link your credit cards, banks, paypal, very convenient and easy to use. send invoices etc great!
---
Says free but first pop up is.....time to upgrade $9.99 per month to continue?!?!
Good app when not scamming
Created By: thecutestclosetstore
---
No response from tech support about issues.
Had issues with getting the ebay token to work and received an error message. Emailed tech support but did not receive any answer so I cancelled my service.
---
not intuitively easy to use but handy when it was free. NOT WORTH the 9.99 a MONTH. For that much they should be doing my taxes for me. Oh and btw, the exporting your monthly transactions is IMPOSSIBLY complex as GoDaddy has now broken up your transactions into two categories of expenses and two income. Exporting and printing was so much easier before GoDaddy "Organized" it.
---
NO PHONE SUPPORT FOR EBAY SOLD APPLICATION
DON'T BUY THIS VIA EBAY, THERE IS NO PHONE SUPPORT, you have a question, you write to them, they answer in 24 to 36 hours. WHAT KIND OF SERVICE IS THAT?
---
INACCURATE. NOTHING WORKS. VERY FRUSTRATING. RUNAROUND ON PHONE BY EBAY AND GODADDY. LINKS GO NOWHERE. INSTRUCTIONS ALL WRONG AND DON'T WORK.. NO SERVICE AND SCAM. BUT THEY KEEP ON BILLING!! EBAY NEEDS TO TRASH THESE SCAMMERS!!!
Created By: bargain-buy-texas
---
Application accounts for all action in ebay and paypal. Easy to adjust. Split transaction are no problem.
Created By: hamiltonfamilythrift
---
---
I use to love this until you started to charge for this service. Really?
It's a wonderful application but not worth paying money.
---
No Response. Pending for a year....
No Response. Pending for a year....
---
This tool has saved me hours of time sorting through receipts. It makes my life so much easier during tax time I can highly recommend_
---
Excellent bookkeeping software!
This is an excellent bookkeeping software! Convenient. Both automatic and customize-able
Created By: retiredattire
---
billing leaves much to be desired.
resuming the automatic billing has been a real pain. you guys need to make it easier. I've been trying to get it restarted for two months now. Other subscriptions were much easier.
Created By: historyswhispers
---
GoDaddy bookkeeping is a great way to easily keep track of your sales and expenses which helps for end of the year tax time too.
Created By: miabellafashion2012
---
$9.99 a month???? To get my own info?
I used this "app" for my tax purposes. Now they want me to pay $10 a month to access my own info so I can pay taxes? Do I not pay enough for ebay and paypal fees already?
Created By: californiastickerchick
---
Trying to get 2014 totals with detail. When I click on your email it takes me to your main site. Cannot get info. Called support a couple weeks ago and got it resolved I thought. Not so. Same thing happens when I in my ebay account. When try to go to my seller account it takes me to your main site?????????? Not happy!!!!
---
This app is a life saver. I've used it for 3 years now. Makes taxes so easy. It pulls all the info from paypal and ebay shipping services. I was in a total panic in Sept. when I first signed up for the app, because I was 9 months behind on inputting all my shipping fees, monthly ebay fees, paypal etc, and once I linked the accounts, the app went back and literally pulled all the info month by month that needed to be added. I was in awe! Total tax time saver! I really love that it has the "repeat customers" display, and how it will congratulate you on various milestones like 1000th sale, etc. Definitely Recommended! :)
Created By: afairytaleevening
---
I cannot believe that they expect me to pay for such a poor service. It was OK as part of eBay benefits for a store owner, but I would never pay for.
Created By: margiescuties
---
I use GoDaddy and it is very helpful.
---
it gives me true data for my accounting book keeping.
I really like it help me to track my sales tax collection from online transactions as well as my profit summary.
---
it is very good and enjoyed using it.
Created By: kanchan05_rajendra123
---
I really tried hard to like it. Not good for eBay.
I gave it my best. Tech support is very slow and not very helpful. I had tons of $0.00 eBay transactions that I could only get rid of if I disconnected by eBay account and entered my eBay fees manually (advice from tech support to fix my issue). Which means I would be doing the work I am supposed to be paying to have done. eBay's .CSV files are NOT compatible with this app, which I found ridiculous. I noticed that some of my eBay FedEx expenses were showing duplicates, which is a clear indicator that my numbers could not be true and accurate, which is not acceptable especially as far as the IRS is concerned. Like I said, I gave it my best, I planned to be a life member. Support is too slow, I had to cancel my subscription before I got stuck in a one year payment agreement for a service that is not acceptable. It's good practice but with inaccurate information is completely useless to me. McGavin - nwtradepost
---
I could not pull up the service through my ebay. In addition to that I contacted go daddy customer service. I had to wait two days to get an answer that was not even related to my question.
---
I have used this service for 2 years and don't know how I could have managed without it. I don't have to do anything for taxes, it's all right here. I knew nothing about bookkeeping when we started our full-time ebay store and still don't I just rely on GoDaddy Bookkeeping to walk me through. It' worth much more than I pay per year....but please don't raise our price because of that.
Created By: nickelsndiamonds1013
---
app doesn't work and can't cancel. they are making theats to effect my ebay if I don't pay but I told them to cancel. this is such a scam.
Created By: squeakersgames
---
It works great until it fails
It works great , but suddenly my subscription got suspended. I click on customer support and nothing happens , call GoDaddy and they sent me to ebay to get the issue fixed. I call ebay and they say it is a GoDaddy issue. Now all my accounting is on this app and I have no way to get it out.
Created By: williamtellarcherysupplies
---
Easy app to use Try it you won't be disappointed
Created By: golfsnowh2ogear
---
Not accurate enough to use for taxes
Tried this program out while it was free. Found the information was not 100% accurate. I spent more time trying to fix the program's errors than it would have taken me to just prepare my taxes the hard way. Wouldn't recommend spending $10 a month for this.
---
Never use this app. I couldn't registered at their site. Crazy...
Created By: okiprintingdoki
---
This makes it so easy to back up and take a good look on how sales are really doing.
Created By: rockyourworldaz
---
Never used it. Not worth it. Not necessary.
Created By: taurusbrandsvirgodeals2013
---
Excellent way to track your eBay and Paypal activity.
Since I use my paypal account for business and personal use, it is an excellent way for me to track my business and personal income and expenses on eBay and Paypal.
---
Very user friendly - love how it captures everything!
.
Created By: southernfashionistas
---
---
I TRIED THE TRIAL PERIOD BUT IT DIDNT DO ANYTHING SPECIAL THAT I COULDNT DO MYSELF I CANCELLED THE SUBSCRIPTION AND WAS STILL BILLED FOT THE NEXT MONTH VERY UNHAPPY
Created By: claytonsonlinedeals14
---
This application is easy to use. Love the different reports such as Profit
Created By: countrychic*2010
---
This is a great program which simplifies all my expenses and gives me detailed reports to see how my business is doing. I do wish there was more options for the tracking of cost on sold vs unsold inventory though, at the current state you can only add in cost of goods already sold.
Created By: stevensconsignment
---
This should be a no-brainer. Easy,excellent and keeps you organized.
Created By: vintageadsandprints
---
could not setup username and password for mobile apps
I can only sign in through Ebay only. Couldnot sign in through website or mobile apps. Called godady customer service , they never heard about outright .They asking for pin no or customer no. I never have to used any pin no or customer no to login through ebay.
Created By: jujuhimalayanhandicraft
---
Life saver time saver thanks computers and GOOOOOdaddy
Just at its besst
---
What little there is doesn't even work correctly
This app is a waste of time. Not a lot of useful features and some they do claim often do not work. It limits the data that you can access to 13 months so is useless for any real analysis. Their reports are simplistic; no real use in business. They have big colorful graphs but with useless/inaccurate/incomplete info. LOL There is no way to set up an automatic download at EOM or EOY so useless for record-keeping (that's just silly). This program will not keep track of your expenses well unless you jump through hoops to get the info into the program; no automation. I tried to link 4 or 5 accounts but only 2 of them worked, eBay and PayPal. My bank accounts didn't work even though my bank was in their list. The program seems like an afterthought or gimmick. Handy, easy to add, features don't exit and there is little ability to customize. I don't see its target purpose. There are better programs out there for free. eBay's free built in stuff is easier, quicker, and way more relevant.
---
Tech support not so great. Problem after update getting "Bill Me Later" to work.
Many messages and no fix. Bill me later changed to Paypal credit, now I am unable to link either to my account which is really bad since I use Paypal credit for all my Wholesale purchases of Bulk jewelry. This problem makes this app less than average.
Created By: paulsbodyjewelry
---
It was ok until they said they would start charging in 2015
It provided moderately useful information, but it was a case of buy a decent product from one company, keep it free for a year and then charge $120 per year for the service. I'll go back to using my own spreadsheets for free.
Created By: jjnonlinesales
---
This is a life saver for anyone selling on ebay. The reports are all you need when tax time comes. You have a clear and concise report every month.
Created By: geraldsspouse
---
Very helpful program when it is available! Tracks eBay and PayPal costs very well, a time saver.
Quite often eBay "unauthorizes" the program for no reason and it often takes quite a bit of work, emails to support and time to get it back. It works for a bit then becomes "unauthorized" yet again. Love the program when it works but wish GoDaddy and eBay would work together to get this little issue fixed.
Created By: triplenickelranch
---
I signed up for this software and all I get is a black screen.
Need a phone number for support but no number anywhere to be found.
Created By: gk-wholesaleparts
---
A useful little app....but about to go away as it's no longer free.
---
Perfect system except the price is to high over 100 per year
Easy to use
Created By: costumejewelrycollector
---
Love it! Makes my life much easier.
Love it! Makes my life much easier. very friendly and functional! Thanks!!!
---
Does well, I wish I could track profit by item sold, but the price is right!
---
When it works, it's a good tool - but there is no support
I've used this app for several years now, and it is great for tracking income / expenses and in particular - how it links directly to eBay and PayPal. However when something goes wrong, you are completely out of luck. No help. No customer support. As I type this, I can not log in (would appear to be a system down issue) yet clicking on "contact support" is a waste of time. This is happening on 2 computers with different operating systems so it is not computer related. I am running a business, to not access the data and have no support is unacceptable.
Created By: aboitetraders
---
This app will soon no longer be free. greedy corporations....
---
You so complete my business!
This wonderful working app goes the distance with helping me to keep track of my items sold, income, taxes, mileage and so much more! Very easy to use, set it up with your eBay seller account and PayPal and let the app do most of your work. I enter mileage and sometimes cash inventory purchases, and household expenses and GoDaddy does most of the rest for a very reasonable price, which is a tax deduction!
---
FANTASTIC!!! THIS USER FRIENDLY APP IS MY LIL NUMBERS NERD 4 ME!
I DON'T HAVE TO WORRY ABOUT THE NUMBERS ANYMORE! ALL OF MY INCOME
---
Does not give me my previous years sales. Start only a few months before starting.
I feel that this program/app is useless unless you art tracking current expense and tax information. The program was extremely vague in pointing this out. I wouldn't doubt that Ebay has a financial stake in this company. Totally useless
---
Great product love it!
Created By: haldanecreations
---
Signed up for the Free Forever option, and guess what, it is not free forever, completely disappeared from ebay, and now they want to charge me. What a scam! No way to call Outright to find out what is going on, worse customer service I have ever seen from any company.
---
The app dispalys a blank white area where it should appear when I start it.
The app dispalys a blank white area where it should appear when I start it. Are you expecting me to pay for this..What a joke.
---
I have terrible time to link my paypal account and i still i can't. i don't recommand it at all
It is very bad
Created By: gold_seller_12
---
Have problem sign in and no body can help me!
Created By: yesitreasures12
---
---
works, rarely, it's good. No customer Service.
not reachable for customer service.
Created By: www.dizneyvape
---
I find this easy to find the things I need.
Very useful.
---
If you get anything for your business, get this app! Come tax time it is my life saver and all i have to do is print a few forms and give it to my accountant.
Created By: watrskiergurl
---
I'm very happy with GoDaddy. It took me awhile to figure out how to separate my expenses but it was my fault not theirs. I'm older and it takes me longer to see things that are right there. At tax time it is wonderful. It eliminates a lot of work on my part. Thank you
---
It got the job done very easy to use
Created By: silvieaudi20010
---
Great product to keep track of your income, expenses and taxes owed.
You can add your ebay account, paypal account and bank account information into the application system to keep track of all your transactions. From there, you can edit which transactions you used for your ebay business.
Created By: enjoy_your_day
---
Helps us on track and our tax man loves the way it organizes our expenses. Makes it very easy to itemize and file. Recommended
Created By: anestateofmind
---
Keeps me informed as to progress
I can include mileage exp. for "treasure hunting sales", various "non ebay" expenses can be plugged in. Automatically updates sales
---
This is a GREAT way to keep track of your sales and expenses.
the down side to this program is that sometimes Paypal transactions show up on the web side as a split transaction involving more than one thing in the transaction, and if you export the spreadsheet to your computer, the splits do not show up, and you have to refer back to the web view to see the breakdown. However, this bookkeeping program keeps track of your sales and expenses beautifully! It keeps track of your ebay listing fees, your ebay final sales fees, your ebay shipping fees and your paypal expenses. It has taxes and everything you would legitimately need to file your final end of year taxes as well as sales tax filings. This is pretty complete, except where it comes to the split transactions as listed above.
Created By: talmoonauctions
---
This is the best way to stay organized and keep track of your finances.
Created By: juliescardsandgifts
---
I love how easy it automatically inserts information from my sales. But, it could still be improved on. For example, I wish that there were options for exporting your customer list with all the relevant information, including purchase history.
Created By: hoopergunworks
---
I did near to nothing doing my 2013 schedule C at tax time! It was all laid out for me in a report, all I did was match receipts. I ran brick
Created By: wlcenterprises
---
I should not be charged for a full month of service after I have already cancelled the service.
Created By: ocalacellparts14
---
I had to call to have the plan canceled after I was charged for 2 months after I had already cancelled through ebay. No refund provided.
Created By: ocalaselltech
---
I love this service - makes accounting so much easier on me
Very easy to use - very easy to read and track your sales - When I go to do my taxes at the end of the year I spend a fraction of the time... LOVE IT
Created By: jroseboutique
---
This makes it so easy for me to keep track of my sales and expenses! My accountant will love me and I think it is great that I can calculate or expect what my taxes will be for each quarter. I wish I found it sooner! Totally worth it!
---
Outright (GoDaddy) just makes life easier
Love using Outright - now GoDaddy Bookkeeping. Everything is in one place, lets me know at a glance just where I stand and makes taxes a breeze. I used Quick Books for many years and while a great program, for an online business GoDaddy is faster and easier to use. Can't imagine running the store without it.
---
Well, except for the App being inaccessible from eBay...
...this is a great tool for me as a seller. Now if they'd just fix the bug that keeps me from using it inline with eBay apps, then I'd be completely happy!
Created By: semaphorian-book-store
---
---
GoDaddy makes keeping track of sales
Created By: thecharityguild
---
Saves hours of DIY bookkeeping
This app literally saves me hours each month on bookkeeping. A used to spend hours at the end of each month going over my profit/loss. This app has all my info in a click. It even will include all my credit card expenses and allocate the expenses to the appropriate categories. I highly recommend this app to everyone, especially if you want to make this more than a hobby.
Created By: texastoolstore
---
used this product for 2 years. works perfectly
---
love go daddy outright, so much information right at your fingertips!
---
if this can't be fixed I am out
---
subscription got cancelled, wont accept my paypal payment....whatever
love the app. but cant pay the fees, wont accept paypal, paypal cant find any record of trying, payed may 30 and was reversed for unknown reason.
Created By: my1996tracker
---
Never used it and now their wanting money
I never used Outright, tried to close it, and now their wanting money, I would not recommend this program its a scam!
---
Best solution for sole proprietors
Works immediately, no learning needed, good interface. Better than Quickbooks for beginners and middle-level sellers. Totally satisfied.
Created By: united_parts_of_chicago
---
Worked but not what I needed.
I was looking for something to track spending and selling amounts. This product had several unknown account activities, I did not want to go in and change it every time I logged in.
---
Makes my life so much easier!
I'm not an accountant and would be totally lost if I tried to set up any sort of income/expense. I'm SO GLAD that with Go Daddy Bookkeeping, I don't have to! One less thing to worry about--and that's important to me. Another thing that's important to me, since I sell across multiple platforms, is having ONE place for the bookkeeping. So thanks, Go Daddy, for making my life so much easier!
---
Best Program for Dummies!
This is by far the best accounting program I have found that fits my knowledge base of accounting techniques. My knowledge base of accounting is.....oh, I'd say sub-par and leave it at that. I have looked at the other big name programs that say you don't have to have any accounting background to use there software, and after spending several hundred dollars on their software, has realized they are full of it. I have been using this program for years, well before Go Daddy bought it, and it has always provided me with the information I need when I need it. I cannot imagine a program easier to use than this one. The only reason I was looking into the other programs was to get more detailed information organized from my transactions. But purely for my own information, as far as info needed for taxes
Created By: starlight.studio
---
would not work, was told "plz wait" 5 months later still waiting
never worked. I sent an email and all they said was wait, they were working on it. I HAVE WAITED 5 MONTHS, I WANT THEM TO REMOVE IT OR FIX IT !!!
---
---
It is very useful for my bookkeeping needs. I like the individual monthly detailed sales records.
There is a disruption in service once every year.
---
No income information will show.
Despite repeated emails about no income showing, problem unresolved.
---
lacked good phone support - did not locate all of my information - did not live up to the promise made before i signed up
---
Starting billing me for an account that has always been FREE and which I have not changed. Now they are threatening my eBay account for supposed non-payment of this so-called upgraded pay account which is no upgrade at all from the free account I've been using for years. Customer Service is worse than useless. Keeps repeating same nonsensical garbage over and over even though it is Outright lies.
---
This app has been invaluable in helping to keep track of things. Having trouble getting in it today, but I'm sure it's just a fluke and will be fixed soon. I HOPE anyways lol. Can't sell on ebay anxiety free without it.
---
I am finally able to accurately determine my profit quickly
Created By: notnoplellechim
---
Go Daddy is a useful tool
Not sure what to do with information provided, but document it so I'll have it when necessary
---
If you haven't tried this application yet, you are missing out on a fantastic free tool. Give it a try, you'll be happy that you did.
---
do not use waste of money
---
does not accurately calculate fees. there is no phone support only email
Created By: wheelofadeal813
---
Great! It tells how much loss and profit you have made every week!
I love it!
---
Charged me for free trial even though I canceled it
Required a lot more work to set up than anticipated, so canceled it... still got charged.
---
crappy service,demmanding croroks
Created By: craftmantoolzs
---
I found the information to be redundant with other process I use. My biggest complaint is the lack of CS response. I cancelled this app in FEB before the new billing cycle hit and I am still receiving "warnings" that my bill is past due... I have tried to address this multiple times, but have yet to receive a response and it is now June. This one app is making me rethink my entire relationship with Go Daddy - this includes ALL of my urls and email addresses. If the customer service is this bad - I would rather pay more somewhere else and GET customer service.
---
Love it - very easy to work with and handy as all get out.
Easy to keep track of income and expenses. Run report and just keep track of it all. Good job you guys!
---
helped me a lot with filing my taxes. love it
---
They do a great job keeping track of your P
I get a P
Created By: morganarjustice
---
Great app!! Really simplifies bookkeeping.
Any one that sells over multi-channels will appreciate this app..makes me organized!
---
Horrible, Most of my Bank downloads do not work, support offer nothing to resolve the problem
Save your money... It's a "No Go" with this GoDaddy product. The rate above is fictitious. Here's the true facts: minus ******************************************************
---
Would give 5 stars but because you can't talk to a live person with customer support, I just can't.
Would give 5 stars but because you can't talk to a live person with customer support, I just can't.
---
customer service is the pits
I repeatedly email with a problem that hasn't been resolved, and there is no way to contact them by phone.
Created By: countyroadbooks600
---
Love IT! (Free Version) Just watch for the restriction of how far you can go back for tax info.Save it quarterly and no issue!
---
Did not request service but billed me $99.00!
Did not request service but billed me $99.00!
---
After trying for months to cancel my subscription the frustration just mounted. I paid $38 for time I didn't use it because they could not get it together to cancel as I asked over and over. Customer Support is poor to say the least.
Created By: scarletmonkeyclothing
---
This program collects the data I need and provides helpful information.
My Tax Lady loves the Schedule C report! I really like that I can look up my repeat customers so I can acknowledge them.
Created By: legacymemories
---
An App no one should do without for online selling.
This app stores valuable information for sales and expenses etc. An amazing APP!
---
Very helpful app!!
Created By: tyler_and_valerie
---
hard to use
Created By: esales.california
---
i can not get outright to accept my paypal payments,,,
i have tried for two months and then they cancelled me,,,it all happened after the purchase of outright by GODADDY..HELP ME PLEASE
---
Plan is not free it takes you through all this set up and then wants 9.95 a month or your out!
Plan is not free it takes you through all this set up and then wants 9.95 a month or your out!
---
Stay away! Worst App ever!! Missing data,inaccurate.
---
Wonderful!!! Bookeeping made simple!!!
Without "Go Daddy" My bookeping chores would be so much more difficult and ttime consuming! I love, love, love "Go Daddy!!!!
Created By: fancyflea0925
---
Application did not provide information as described. This is 4th time I've tried to cancel and the 3rd cancellation pending notice. Promise a lot, provide little or nothing. You can get this information from your monthly ebay statement and a little spreadsheet.
---
Its a good program. I used it for a while and I was happy with the outcome
I would purchase this program. I was pleased with the trial version.
Created By: luxuryreaders
---
This is NOT a turn key solution
It takes as much time or more to learn how to set this up and to actually do it as it does to just do your bookkeeping manually. Unless you are doing more than a million a year in business this app is a waste of time and money. Better to just pay a good local CPA a couple hundred a year.
---
Do not subscribe to this service. They have no phone number to contact. They use E-Bay to threaten you. If there is a problem, E-Bay will suspend your account, then tell you to e-mail Outright who does not even respond. Very poor of E-Bay to let a company like this abuse it's customers.
Created By: a1collectiblecurrencysales11
---
Information is never correct and yiou cannot cancel. they just keep charging you and refuse to cancel. This is a scam
Created By: rippedboards09
---
Looks good - not useful info
Got this app to organize paypal transactions for taxes. But the app either could not figure out my history or I could not figure out how to configure. The numbers provided did not match my records and I did taxes by spreadsheet instead. I would use it if the price were very low but not worth 99/yr for me.
Created By: we_sell_bayou_treasures
---
Excellent product, but too expensive!!! Drop the price!!!
---
i never siged up or used this ap yet im charged 99.00 for it
rip off!
---
GoDaddy kills everything it touches.
So it used to be $49 a year. Then GoDaddy took over and now it's $99 a year. Get my bill, price has gone up, whatever. Problem is that I cannot pay the bill and I keep getting emails from eBay telling me to pay. Customer service for this app is non existent. Avoid.
Created By: pandatradingpost
---
I am supposed to be on the "Outright Plus Monthly" plan that has a recurring monthly fee of $9.95 which is not prorated. I am receiving e-mails stating I owe $99.00 and an attempt was made to withdraw $99.00 from my PayPal account. I am disgusted with the inability to make contact with anyone from Outright. There is no way to e-mail and talk to someone. I am not supposed to be billed $99.00, I am supposed to be billed $9.95 monthly. I do not know what Outright/GoDaddy is attempting to do, but it is clearly not honest. I would appreciate it if someone from Outright would make it possible for me to communicate with them.
Created By: lafayette1942
---
why cant a company have phone customer support instead of messaging service only.thats pretty bad for a program we pay over 100.00 a year
Created By: media-mania-plus2
---
---
I love this app! It keeps track of all my income and expenses. It save so much work!
---
This is easily the best app for ebay sellers. This app tracks all financial transactions automatically and categorizes the items it knows and gives you the option to categorize the ones it doesn't. Simple to use and awesome at tax time.
---
---
Senseless, I never got the free trial, app. is still pending since 2 weeks ago!!!!
I needed this application but never worked so never got the free trial and it's been 2 weeks since I requested it and it's still [pending].
---
boo
Created By: luvmy2girls10
---
Lost all data in a blink- No back up plans
No back up plan- they lost all my hard work I tried the free version and liked it, so I subscribed to the monthly account and it helped me with my taxes, off course I had to put weeks, days and hours into it, adding my expenses and cost of goods, I loved it so I decided to do the annual subscription, but when I found out there is no money saving I asked to o back to the monthly, and they did changed it and accidentally deleted my 2013, 2014 data all of it gone, frustrating situation but it was more frustrating hen I leaned that a big online based company such as godaddy has no backup and the best they can do for me was "Sorry". I would never sign again to avoid a similar disaster. Buy your own software so you don't have to share your ebay
---
Weak (almost useless) reporting. Failed to cancel renewal as requested. Threat to eBay account.
THREATENED TO INTERFERE WITH MY EBAY ACCOUNT WHEN I CANCELLED INSTEAD OF RENEWED. CONTINUED TO BILL PAST CANCELLATION. NO PHONE# OR CSR EMAIL CONTACT AVAILABLE. EBAY CSR COULD NOT RESOLVE AND GAVE ME A Google/Voice number to call (no answer). DO NOT USE THIS APP. REALLY NOT WORTH THE TROUBLE. Used for one year subscription, cancelled on renewal notice when price increased more than double. Reported is information compiled from freely obtained data, which I had to take into xcel to get proper totals anyway. JUST DON'T DO IT.
---
not happy with it overcharge
---
Comprehensive and easy to use!
This application seems very helpful in categorizing business, personal, ebay, and pay pal expenses to make it easier to estimate quarterly taxes. So far it looks helpful, but I have always been a Intuit Quick Books user for years, so I'll have to use this application longer and see how accurately it estimate taxes compared to Quick Books. Nonetheless, the ease of tracking expenses dealing with you ebay and pay pal account, I cannot complain there.
---
Glitches, omissions, and outrageous price increases!
First it was free, then $49 a year, now it's $99. Was missing months of data for a while.
---
No Customer Support. Software Glitches. Operation Problems.
Unable to reach anyone in real time to resolve issues when there are problems and glitches ---- AND THERE ARE PROBLEMS AND GLITCHES. Not what Outright provided before being taken over by GoDaddy. Not the level of service or software expected.
Created By: great-misc-stuff
---
As is nearly always the case with GoDaddy, they've managed to ruin what WAS a great application. If there's a problem they take forever to address it. After giving up on the app completely, I decided to cancel my subscription. That was more than 30 days ago and it still shows "Pending Cancellation" and I get increasingly threatening notices to pay up. Perhaps GoDaddy should stop spending all the $$$ to have supermodels and NASCAR drivers on camera and focus on customer service and infrastructure. Just a suggestion.
---
terrible problem paying for Outright fees
Again, I am getting msgs from Ebay that I not paid my Outright fees. However, I went through this a week or two ago with eBay, Paypal, Outright. I normally pay via credit card, and updated. eBay is not reflecting the update, so just redid it. tried to do a one time payment with Paypal, and Paypal declined although I have sufficient funds. there is something terribly wrong with the programs if they are not updating or acting. at this point I am totally frustrated as to how to pay, who to pay, etc.
---
FAILED TO COLLECT DATA FOR 6 MONTHS! !!!!
For no good reason, GoDaddy Outright simply failed to collect any of my data from June to December 2013. How am I supposed to do my taxes now? I depended on Outright and it abysmally failed me. AND! There is NO WAY TO CONTACT THEM! No Phone #, NO Email address and "Submit Request" Fails NOT Recommended!
Created By: clickit2mebaby
---
I think this app is worse than even ObamaCare's failed websites
Numbers reported and reality are light years apart. Quicker and easier to download premier history through paypal and then format it. I cannot accurately describe how much of a waste of time I believe this "app" is!
---
App never loaded, stuck as pending. Support had no fix to offer.
No ETA on fix. Really wanted to try it but that was not an option.
---
The must-have app for Ebay seller!
Created By: soundcontrolproducts
---
UPDATE-2 weeks still pending GO DADDY IS AWESOME SO WHAT IS UP WITH THIS PRODUCT?
---
can't communicate with anybody for a question so $100 a year but you are not even sure if is any good
---
My account was pending since I signed up. its hard to contact to cancel account because very little contact info is available.
---
None of the links work not even the customer support page. No phone listed to try to call for assistance. link for pay invoice does not work. Cancel link will not work. Again HORRIBLE!!!
Created By: sakayla012012
---
SUCKS since GO Daddy took over
I used this last year and literally it was a once click type of app. It imported EVERYTHING in literally one step. I tried it thru go daddy and it was soooo complicated I cancelled it. I tried again thru ebay apps and it doesn't work AT ALL. Don't believe the lies, this app started out great but totally sucks now
Created By: glamshoetique
---
---
Completely broken, won't even load up, Customer Support at a loss
Maybe this is a great application, but it needs first needs to overcome a few obstacles, namely the fact that it's utterly broken for an overwhelming number of new users. I haven't been able to access this application, period -- one week later and still stuck in "PENDING" limbo. Customer Support, to their credit, responds to my questions in a timely manner, but always with some variation of "we have no idea when the problem will be resolved, please check back later." Unacceptable to me, and certainly unacceptable to the tax man. Bit the bullet and paid for QuickBooks, GoDaddy will need to offer some major incentives to give them another shot. I really don't like the idea of sensitive financial information being passed to a company that can't be bothered to get to the bottom of a crippling usability issue. Very disappointed.
Created By: disgracedmillionaire
---
---
this is something Ebay should provided for free
Ebay should provide this for free for sellers and not partner with godaddy to make money especially with majority of seller that need to provide ebay as income to the irs. shame on ebay to outsource this
---
NO good, does not work at all.
No good does not work at all, keep pending.
---
Not good can't get it upload
no one help
---
Essential information at your figure tips. Especially at tax time. I would be in hot water if Outright stopped providing their service.
Created By: aloha_auto_parts
---
Contacted customer support this is frozen in my ebay app cannot download or unsubscribe they have a lot more work to do
Created By: nadiascouture
---
Hard to use and highly inacurate
This app is super confusing, as you have really no idea what you are looking at. Most reports return no info, other reports show conflicting info dependent on the report you are viewing. For example, my sales sales shows as X amount. When I click on the sales tax report to see the transactions associated with the tax, it now shows as Y amount. Same goes with the sales report. I dont get it. Each reports shows you something different, if it shows you anything at all?
Created By: nerdragetoyscom
---
Its stuck on Pending page. Ebay kick GoDaddy out.
---
Stuck on pending. Very poor, doesn't belong on EBAY site.
Stuck on pending. Very poor, doesn't belong on EBAY site
---
20 hrs later still pending download
20 hrs. later and I'm still locked up in pending. Useless eBay app. I need this for taxes . And this is what I get. Pitiful Poor planning on eBay supports end. And a shame this is their solution. eBay is dead to me in 2014 / April 15th .
---
What is going on, how do we download this?
Created By: step_to_the_side
---
Going around in circles trying to get this app and going around in circles trying to get help
App has been in pending mode all day and trying to contact someone has been very difficult.
---
Shows you what going on. Great
---
tried to download app and after 24 hors still pending
unable to contact Outright for help. Poor experience.
---
Bookkeeping is an ok product
I love the product but cannot ever get a hold of CS with a question.
Created By: thorssunglasshut
---
stuck in pending.. no easy way to get help... no unsubscribe chocie!
help
Created By: haikuinspring
---
Link to customer service, or ANY HELP OF ANY KIND doesn't work. Buyer beware - it's crap. Going on 2 days now, still not working. Just says Pending.
---
---
Never started working - forever in Pending status
None of the support links work either, including the chat and the submit a ticket request
---
its not working. Please cancel my order and do not apply a charge
---
Enables me to see all my expenses and income convienently.
Created By: lovelyladii707
---
Double Ebay entries for over 40 + days now
On going issue, No resolution NO CUSTOMER contact. DO not trust this application. DOUBLE check all numbers before you file taxes!
---
Apparently some problem prevents use of what might be a good program
I signed up for the OUTRIGHT free version - for a trial - but several days later it still shows to be PENDING and says CONTACT SUPPORT. Attempts to contact OUTRIGHT using the link bring a page up with Twitter and FACEBOOK links, and a Knowledge Base, a chat. I tried the chat, the knowledge base, and the facebook link - but nothing comes up. Perhaps a site error or something here. I was using Chrome in Windows 7 and am able to work normally on other sites. - Would have liked to try this program. Hope if others have similar problems someone will care to look into it - or remove it from ebay if it does not work. Will try again later - leaving this "review" as I see no other way to contact OUTRIGHT that works.
Created By: programmer1971
---
Great! Let's me know how I am doing.
I can see how I did weekly
Created By: issacs-treasures
---
the app has been in pending mode for almost a year know
when i went to use it the pending button came on and has stuck that way for over a year. ive tried everything to get them to fix it but they have ignored me also for over a year. good customer service lol
---
Just in time to do my taxes in a flash! Links your Etsy store too!!
Created By: titusdesigncompany
---
OUTTA HERE, JUST LIKE YOUR DUMB 2 BUCK WEBSITES
Created By: retroindulgence
---
Great to keep track of how you're doing!
---
This absolutely does not work. It says my browser shoud be updated and still it does not work
I got this a long time ago and then it stopped working. I was pleased with it when it did work and now it does nothing but tell me to upgrade browser and get chrome and all that crap which I have and still nothing. If I happen to get help online it does no good after hours of trying and trying. Just a sorry application and a rip off!
---
Can't believe I waited this long
This App is excellent. Amazing data for the right price. If you are selling on Ebay as a business this App WILL help without a doubt.
---
It's not free like the ebay asswipes told me.I have to pay 120 to retrieve the info.
It's not free like the ebay asswipes told me.I have to pay 120 to retrieve the info from the past year.
Created By: pokemontcgtournamentcenter
---
I love the app. It gets a little confusing sometimes to someone without alot of business accounting background, but the help section does a decent job of getting you through.
Created By: mdusathefinickyflea
---
Not able to differentiate eBay orders from other orders. Useless.
Since eBay doesn't have a method to calculate sales tax collected the way that Amazon Seller Central does, I was in the market for a system that would allow me to add up total sales tax due for eBay sales. GoDaddy Bookkeeping requires that PayPal and other payment accounts be added into its system, BUT IT DOES NOT DIFFERENTIATE between eBay sales and other sales that may use the same payment methods. This service was a total waste of time and money.
Created By: detroitathletic
---
Great Accounting For A Small Business!
GoDaddy Booking has made it easy to keep all my finances available and accurate. Before GoDaddy, I was using a spreadsheet and manually inputing every sale, tax, and purchase. With GoDaddy I no longer have to worry about manual inputs. This is a great APP for the small business.
---
---
I hit the more info link or something like that and when it go to billing I canceled with the X button. then I got a bill for $190 WTF. Now I can't get in contact with anyone to reverse the charge. Do not hit link.
Created By: the_harness_shop
---
VERY HARD TO CONTACT ON PHONE. NO PHONE NUMBER MENTIONED???
very hard to change or even find "change automatic payment method" in my ebay. received email from ebay saying they would deduct a certain sum from my payment method. received messasge that payment to them declined. then saw same email having a different sum??? too many headaches rather do bookkeeping myself.
Created By: sangster-road
---
GoDaddy Bookkeeping makes keeping track of my eBay profit and loss easy! The end of the year tax reports are excellent and super easy to generate.
---
Nice product to keep track of my spending and income.
Works really well have had no problems at all. Recommend to all who sell items here on E bay.
---
Absolutely nessasary if you don't have quickbooks
A very wonderful full function apt to keep track of your business without all of the learning required with bookkeeping software. I bought the upgrade for 9.99 mo where can you find an Honest accountant for $10 a month? I am almost looking forward to next years taxes.
---
Very patient customer service!
I had lots of questions and they were all answered in a very polite, thorough and patient manner!
Created By: designsbydaval
---
Very easy to use and has great information!
---
charged me $13.80 feb 15 and then $18.62 March 2
charged me $13.80 feb 15 and then $18.62 March 2. after canceling they still charged me. There is no contact info. not one phone number to be found. why pay these guys so much each month to give you silly stats. also payments were 2 weeks apart. How does that work. Outright used to be good as a free service. Go Daddy screwed it up
Created By: designincluded
---
great for keeping track of what goes where.
Like having an accountant on the payroll.
---
Very easy to operate and saves a whole lot of time doing your taxes.
---