ShipSaver Shipping App
By SellerJam, LLC
(released Nov 03, 2009)
Save money on USPS labels & insurance. Bulk Print and insure - auto sync of tracking #&#39s back to eBay.
Categories: Shipping & payments, Checkout
If you are subscribed or want to subscribe to this application please
click here
for details.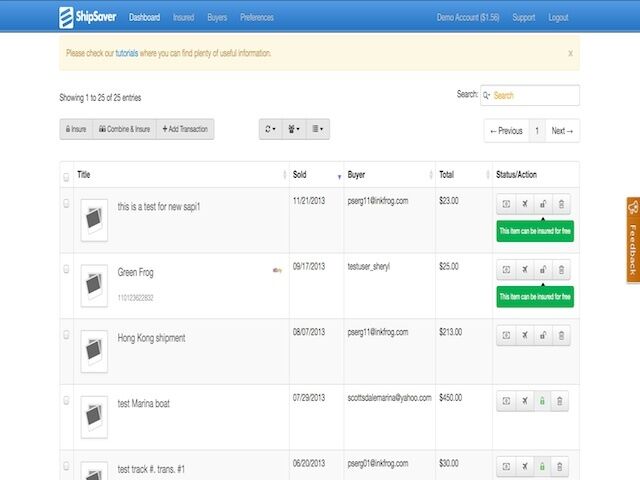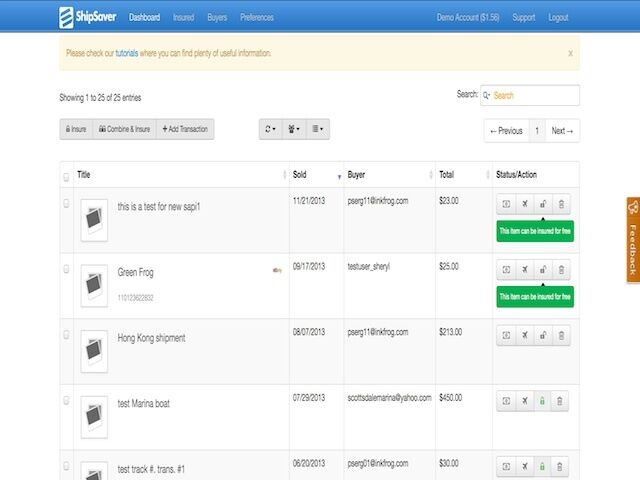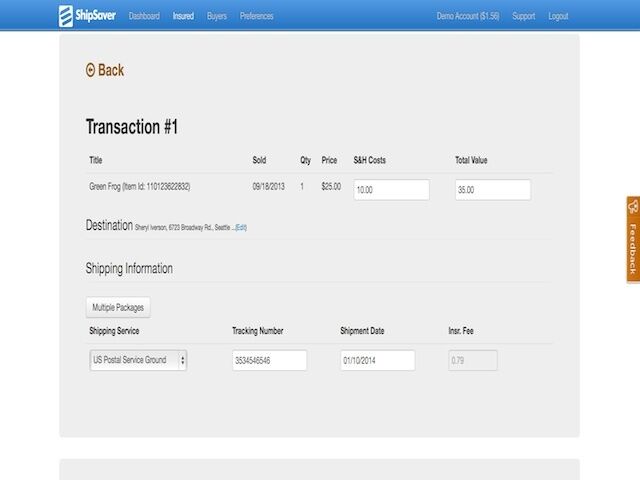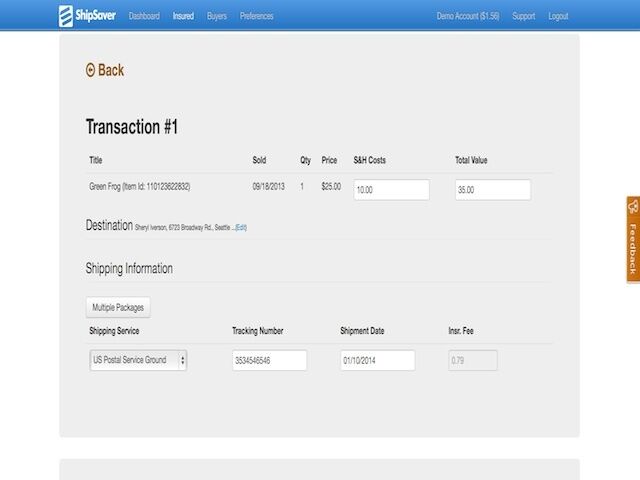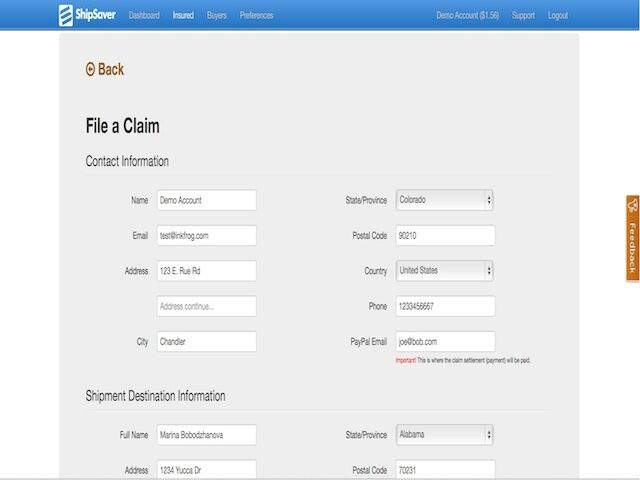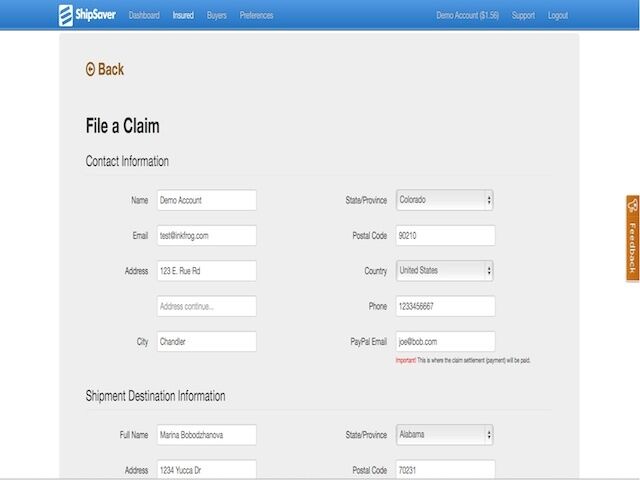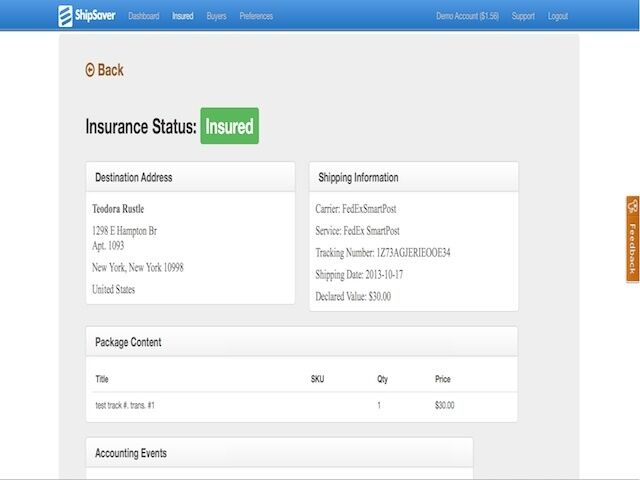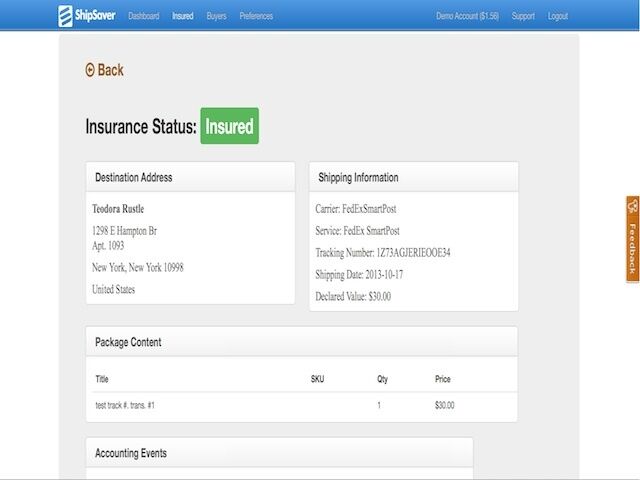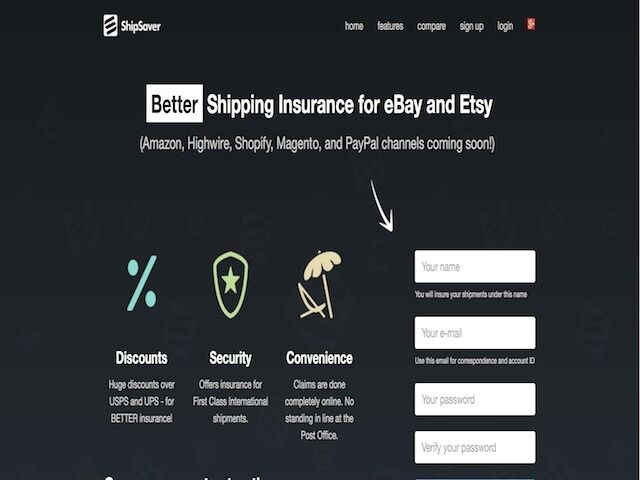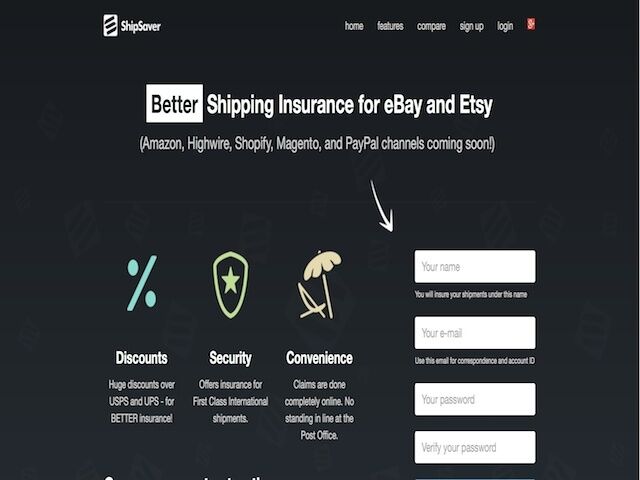 Key features
Huge discounts over USPS on labels and insurance
Commercial Plus pricing on USPS labels
Print USPS labels in bulk
USPS insurance starting at just $0.79 per $100 domestic
UPS and FedEx insurance (labels coming soon) - starting at just $0.60 per $100
Insurance for USPS First Class International shipments
Insure in bulk
Claims are done completely online
Track everything from a single, central location
Description
ShipSaver Shipping app is a great way to purchase shipping labels and shipping insurance at a huge discount. Get commercial plus pricing on USPS labels (the best you can get), print in bulk, and get the best insurance available at huge savings.
Additional resources
Application requirements
Supported browsers:
Internet Explorer 8 or later, Firefox 3 or later, Safari 5 or later
Supported languages:
English
Supported eBay sites:
ebay.com
Required eBay subscriptions:
None
Application support
Support is available 24/7 through email and our ticketing system.
SellerJam, LLC
SellerJam, LLC, the parent company of ShipSaver, and Its founders have been providing tools for eBay sellers since 1999. Owned and founded by the same people who founded inkFrog, we pride ourselvers on providing the highest level of service available. Visit us at shipsaver.com
Also from this developer:
By Inkfrog
(released Apr 17, 2014)
List to eBay and manage your eBay business faster and easier than ever before. The best app in eBay!
Categories: Listing, Marketing & merchandising
better
Created By: olympicenergysolutions
---
It is no longer user friendly.
I have used for almost 5 years. In the last year it has changed and it is almost impossible to get customer service or a claim paid,
Created By: extraordinary_boutique
---
Company took my money for 7 years and then told me they cut me off 7 years ago
This company stinks.
Created By: itssoldherestore
---
The site is never up to date.
The site is never up to date when I need to insure an item. Also, trying to communicate with ShipSaver is a joke.
Created By: theprincessmargie
---
Customer service is lacking
Trying to update setting. Very Important and application not working!
---
Easy to use and saves you money!
Insure your items for pennies instead of dollars with the post office. When you need to use them for a claim, it's no hassle web based claim system is a breeze. Custom forms print in any size you need. The program handles 4x6 thermal labels perfectly. (I use them) I can't say enough about this app. If you ever need support because something isn't working right for you, the support staff is very responsive and will have the problem resolved quickly. Give it a shot, you won't be sorry yoy did!
Created By: fjscommodities
---
Definitely saves a lot of money for me!
---
AWESOME saves money with priority
allows you more options than any other shipping website I have seen and gets you bigger discounts on priority and insured packages!
---
Love the app. Would give it 5 stars if it could print Click n Ship labels
If the label options included click n ship labels where both shipping label and peel off receipt label could be printed on same page it would be perfect.
---
I can get better discounts just by buying the shipping label with my regular seller account
---
is an excelent app, wao Iam happy to have it.
hily recomended, helpful and trustworthy, thanks so much for providing such an outstanding service.
Created By: soniasfashion
---
So far I have not been able to get this to work.
---
constant problems getting the software to work
Good value when it works. Have constant problems with the software and so do other users I know. They need to get it fixed.
Created By: bargainsaboundjohn
---
Everything ended in errors that I tried to overcome one at a time. Cant log in, cant add paypal info, cant add ebay info, cant add money to account, etc. Gave up, not worth the hassle. If its that hard to get signed up and use the program, I have no faith in the ease of making a claim
Created By: factoryworksrc
---
horrible experience trying to get into my account to insure an item.. ShipSaver now has my money and I have no access to insure or retrieve money..
Created By: spottedcattman
---
service is great
Created By: tiggitywiggity4208
---
Awesome! I save on Shipping, easy to delete, void and get a refund on labels!!!
Awesome! I save on Shipping, easy to delete, void and get a refund on labels!!!
Created By: big_island_deals
---
Used to work seamlessly now it doesn't work at all. Thanks
app just cyckles aimlessly
---
Pending, Pending, Pending...
The app has been pending for a day, now, and it should've only been pending for at most 15 minutes. Are applications on eBay just dead? Because I'm only able to use 1 out of 5 apps.
Created By: jayjay555552013
---
Cant access my page sice they changed the format.
They have always been prompt to pay whenever I filed a claim, but since they changed the page format, I can rarely get to my account. If things don't change I will have to cancel my account, and self insure my packages.
---
Used to love the company, before upgrade
Typical Corporate America, take something functional and profitable, and trash it! Before the recent upgrade, it was simple to insure and ship packages. Rarely ever had an issue, besides combining large orders beyond the 20 per page view. Now, you have to print the postage, import the shipped list, sync the system, wait for 10 min, and then select the package you want, and hope it's there. It went from a 3 click process, to a 10 minute ordeal to insure each package. NO OPTION to return to the old system. Sometimes guys, you have to admit you made a mistake, and go back to the useful program. When you make it a gigantic pain, and nearly impossible to insure a package, you lose customers. I, in particular, and going to bail. No hard feelings, it was once a great program, now it takes up an extra hour of my morning to ship. And if you think my time is not my most valuable commodity, then you need to go back to business school. Your about to go belly up if you don't fix it.
Created By: american_lithics
---
3 hours - 2 emails and account status still pending
Not sure what the problem is, but it's more hassle than it's worth.
---
worst service ever. Will never recommend to anyone ever! Not even my enemies
customer service doesnt exist what so ever. Phone number just connects you with an automated message that doesnt even give you a chance to talk to any one or anything. It just barks orders telling you to email them. When you email them you never get a response. Ive emailed them 5 seperate times and not a single one got a response. Plus their shipments never arrive on time. Arrival of packages is usually 2-3 weeks late on average. My seller rating has dropped to below standard becuase of this wonderful app provided by ebay and God only knows how much money I lost because of them. My recommendation is to stay well away from shipsaver insurance. Its a waste of time, money, and patience. Down right horrible
Created By: joeballard0311
---
Why fix what isn't broken????
This NEW shipsaver is AWFUL! My emails do not get answered. Everything is a problem. The system should have been left alone. I am EXTREMELY disappointed with his new system.....
---
Easy and saves me from disaster when Postal Clerks are less than easy with packages.
Created By: friendofliberty101
---
New update deserves ZERO STARS
This app was awesome yesterday, today they have totally screwed it up - 100% GARBAGE NOW.
Created By: modelrrsupply-com
---
I am amazed how bad their IT service was. The program crashed, they could not fix a problem for a week! Would not recommend using it
---
VERY GOOD AT REFUNDING DAMAGED PACKAGES WHEN IT WARRANTS
VERY EASY TO DO NO PROBLEMS WITH THIS COMPANY
---
This used to be a good app but, now it has not customer service call in number to resolve issues.
ShipSaver used to be a must app to save you money on shipping insurance. Now they can't get it right. I get messages about my account needing a different funding sources. They changed their customer service and now you cannot talk to anyone live. Their customer service responds via email and provides no resolution to issues. Does not pay for claims and makes it hard to work with.
---
Insurance at a fair price
It's not often that things get lost by USPS but it's worth having protection for the times it does and the rates charged by Shipsaver are worth shipping every order with insurance. Hands down there is nothing better and i recommend it to all ebay sellers.
---
The service has been excellent, claims resolved quickly and questions are answered! 5 STARS*****!
They promptly respond to questions and making a claim was pretty simple and fast with no hassles. The coverage costs less and and they even offer insurance on many 1st class mail International packages! I've been a customer for many years and have been very pleased with the service.
---
What more can I say? With ShipSaver I can save a lot of money.
Created By: wasatchwarehouse
---
---
Seemed a little confusing
coordination with paypal was a problem, finally did get it to work.
---
Easy to use and saves $$$
Directly links and lists your eBay transactions. Easy to pick out a transaction to insure or add your own transaction. Insurance prices are very reasonable. Also allows/provides insurance on first class international shipments. Excellent app!
---
This app has saved me so many times. Small fee and guarntee coverage
---
---
I have been using this service as "insurance" just in case, hoping to never need to file a claim, but it finally happened. Someone stole an international item which was delivered as an empty box. I filed a claim and was covered within 2 weeks. Fabulous service. I will continue insuring all my packages here. Thank you so much.
---
I have used this service for 8 years and recommend it!
This service saves you money on Priority Mail if your item is valued more than the free $50 coverage from USPS. It is even more valuable if you are sending items via First Class Mail Package since no free insurance is provided by USPS on those. I have only made one claim for a lost package, and the process was very simple. The package turned up before we actually needed to be reimbursed, but I was glad to have the insurance on it when we thought it was lost.
---
Very Dishonest Insurance company.
This company is very dishonest and makes the claim process way to difficult, they "insure" your packages very cheap, but that's because they know that you will never be able to get a refund on any claim. The reason is very simple, they ask you to send all proof of damage and item value etc, but on top of that, they want the buyer to go to a specific URL address, and fill out the information as well. I've been selling on eBay for years, and i can hardly get costumers to send a picture of the broken item through eBay's message system, let alone make them go to a specific website, and do you the favor of filling out any form. That job should be performed by the Insurance company, they are provided with all the buyer's contact information, if they want to clarify the veracity of the claim, a simple phone call to the buyer should suffice. But like everything else in this world, it's much easier to just entice people to use your services and then scam them. Shame on eBay for allowing this.
---
Saves money on postage and insurance. It looks like they have a process for easy claims. Processing a claim through USPS was a nightmare.
---
Works if you don't need it
I've used this service since like 2011 with only two requests for insurance to be honored. Each time was difficult. The most recent item was not even honored. I've gone to Auctiva. It costs more but since my coverage is being denied, I might as well pay more. I gave them ample opportunity to do the right thing for a long term profitable client and they chose poorly!
Created By: legendsbrass2010
---
Much easier and faster to file a claim. Super fast on giving your money back.
Never use USPS Insurance when Ship Saver is so much easier and cheaper.
---
This insurance actually pays claims
Originally I only used Ship Saver for multiple boxes and First Class items that could not be insured. I am now a convert, since in one of my boxes insured through Ship Saver a decoy had a beak broken off. Photos were sent, and the claim was paid in 3 days. Unfortunately, at this same customer's insistence, his next purchase was sent and insured through UPS. This time, a decoy was decapitated, (a fatal injury) and we are on the second week of even trying to file a claim. All my future sales will be insured through Ship Saver no matter what the customer wants.
Created By: verdeantiquesandrarebooks
---
Had an issue on my end and they got back to me same day and fixed it. Prices beat etsy and ebay for priority.
Created By: shopvintagedelirium
---
Excellent service- saves money, easy as pie to use
I've been using shipsavr for several years
---
cheaper than carrier insurance
It is cheaper than buying insurance from UPS or Fedex
---
Love the protection and the savings to insure shipments
I have not had to file a claim on a shipment but I love the protection my customers shipments are provided by using Sip Saver to insure parcels. Not only do they provide great protection, they save me money.
---
I ship fragile mineral specimens, and I will say this: not one specimen goes out the door without a policy from this company covering it. They are about as hassle-free as it comes to dealing with an insurance company. Worth their weight in gold.
---
Love this service. Safe
Created By: goldtrading212
---
Peace of Mind............................
Have been using this app for several months, I went in on my account and set to auto insure for anything over $100. This has been a great peace of mind for my me, I just go in and print the label, and don't worry about adding insurance, as this app automatically adds insurance on their site, and the pricing is better than adding usps insurance when printing label. If you ship a lot, and ship over certain amounts you need to insure, I highly recommend taking a look at this and using for your business. I have had no claims yet (knock on wood), so I cant speak to that, but im betting they handle claims fast and efficient as well.
---
accurate and fast, never a problem!
accurate and fast, never a problem!
---
Helps me to feel that all my customers are covered and so am I.
---
I have been a great customer of Ship Insurance after 4 years of paying out I put in a claim no results. Claim closed one person put you to a dead line. People of Ebay do not purchase this is a rippoff!
---
Now instead of charging your paypal account for the amount of actual insurance. Now they want to debit your paypal account for an incremental amount as a "Balance" in your shipsaver account...oh and they want you to pay the paypal fee too....YOU SUCK not going to use any further!!!
---
Dishonest business practices!.
I recently signed up for ShipSaver insurance services thru Ebay and after a few months we needed to make a claim. One of our products was damaged in shipping. After several phone conversations stating they would take care of this and sending them the paper work they asked for, they denied the claim of $575 because the buyer returned the item to us before we could open the claim. As a seller on Ebay you can't always get buyers to do what is required by this insurance company. Sometimes buyers get angry when they receive damaged items that they really needed. In this case they immediately returned the item for a full refund. ShipSaver stated that was the reason for the denial of the claim was that the damaged item had already been returned to us. HOW DISHONEST! Thanks
---
Bad service. They let you pay for insurance for items they wont cover.
Bad service. They let you pay for insurance for items they wont cover. Avoid.
Created By: midwestcoin_dot_com
---
A Tremendously Helpful Service
The service this application offers saves time, money, and resources when it comes to shipping and insuring our eBay items.
Created By: expensivesh1t
---
I use this insurance on many of my items, they have great customer service. I am so glad that they are available to us.
---
Excellent claims service from Shipsaver with a very difficult buyer
My buyer received an item that was damaged in transit and because it was insured I initiated the claims process. My buyer absolutely refused to assist me in filing a claim for the damaged item. According to my buyer since I bought the insurance she didn't feel the need to do anything and wouldn't complete the documents to verify the claim. I don't know why because the claims process with Shipsaver is so simple. Once they verify the claim the insured is reimbursed. It's nothing like other carriers where you wait weeks to get a response. When you contact Shipsaver you get an immediate email response to your inquiries. Shipsaver did process the claim without my buyer because I had the documentation that the item was damaged. What's really impressive is their turn around time. Other companies don't provide such speedy claims service. It is easy to reach someone by phone if you need help. I love Shipsaver and will use them for all my insured packages.
---
A valuable tool for many online sellers
I've been using Shipsaver for three years and it was only a matter of time before filing a claim became necessary. There weren't many steps on my (the seller's) part, and it was simple for my buyer as well. Turnaround on the claim was quick - just a week or so from claim to resolution! At one point I needed to contact customer service with a question and the the rep was friendly and answered my question satisfactorily. Insurance is one of those products that you infrequently see any benefit from but when you need it, it well might end up paying for itself.
Created By: burroblancoaz
---
New auto refill and paypal fees added to Insurance Cost
I've been using ShipSaver and promoting it on YouTube for several years and though I've never needed a claim, always felt it was the best offer for third party shipping service. However, now that ShipSaver is adding the PayPal fees 30 Cents plus 2.9% for the shipping insurance to the Insurance costs that pretty much brings it only a little under eBay's shipping insurance for USPS. Unfortunately, the new transaction fees that ShipSaver (as all vendors) have paid on their PayPal transactions are being put onto the ebay seller, I think this was a bad decision. That's like me telling the person who buys from me on eBay that they have to pay the seller's transaction fees. You would of been wiser to just raised your prices and embed the fees. I also do not like having to leave a balance on account with ShipSaver which auto refills from PayPal funds. You should have made this a manual balance instead of auto Transfer. Sorry, I won't ba able to use or recommend this service now.
---
My experience was great. I filed the claim and aside from a little hiccup from the person at the other end, it was quick and painless. IE I did not have to devote extra time to solving issues, your people handled it. MANY THANKS
---
less hassle and less cost. insuring all packages is now affordable. Will be even better once Amazon is added!
---
Use to be a Great App NOW THEY SUCK!!!
Before use could pay as you need it, Now they just keep taking money out of paypal...... No customer service.....Back to buying ins from USPS
Created By: bonnieandclydesboutique
---
I have a claim and they are horrible
I sent photos of Fed Ex damaged box and broken ceramic canisters. No response from company. I?m getting frustrated and am going to cancel the insurance. I?ve had this company for 3 years now so they have collected more than enough from me in oremiums and yet will not cover one broken package.
---
No customer service available
Used good but since they changed the platform, nobody available for help. The platform has a lot of system issue taking long time to see the correct payment. Time to contact PayPal and dispute the double charge.
---
Top notch and very quick!!
Way better than the USPS or UPS insurance. I would highly recommend them to anyone who is selling online. Cheaper and much faster than the others!
---
Have insured many packages... waiting on final review.
We have insured our packages with Shipsaver for a couple years and they have saved us lots of money. We do have some pending claims for lost packages, final review to come.
Created By: medicalequipmentesi
---
The think I like most about this ShipSaver is how easy it is to use! The fact that I can add insurance even after I have printed the postage is also a big plus.
Created By: amazing_deals530
---
I've been using ShipSaver now for several years
I find ShipSaver to be a user friendly experience; easy to find my Buyers
---
---
Charged me Shipping Insurance for furniture that was never shipped !
I sold a Cabinet, that was clearly stated PICK UP ONLY. It was never shipped; could not be shipped. Yet they charged me SHIPPING INSURANCE for it !
---
Good Affordable Insurance
Insurance is affordable and my client only needs to fill out form and add photos for most claims. Only issue is dealing with support for problems. Everything is online and you cannot speak directly to anyone so it takes very long to get questions resolved or problems fixed.
Created By: myantiquestore
---
I am very happy with their services and will definitely be using them for all my future insured items. I have shipped hundreds of items and thankfully, only twice before have I had to put a damaged item claim in (since I spend a fortune on bubble wrap) and ShipSaver was by far the least amount of hassle out of the other companies and taken care of 95% faster. They got back to me immediately after I emailed with a question and so much more personable. Truly feel like I found a company that cares about their customers and not just put on hold, forgotten about or told I have to fill out 15 forms and hope for a check in the mail. They cover the cost of the shipping fee and the refund goes right back into your Paypal.
---
Great Service but method of charging first and then using the money is not right, I like when they charge as I go.
---
We have used Shipsaver and find it to be a great value, much better than USPS rates. Had to make a claim and it couldn't have been simpler, fast and courtesy service. Highly recommend this application to anyone, in fact we have recommended it to people who now use it. Thanks, Shipsaver
---
Easy to add insurance at a good price after shipping from application. Depend on Buyer cooperation to provide repair estimate less then value of item. When the estimate was too high, Shipsurance wanted item destroyed. Claim settled at Retention Value, paid out quickly. Everybody was happy.
---
They really should tell you upfront that you have to pay $5.00 Upfront
I tried this app after not using it for quite some time. I insured a package for $100, which was less than a dollar, HOWEVER, you have to pay $5.00 upfront, and then they deduct the amount each time you use it. I won't have to use it again, as I typically only sell clothing that's less than an dollar... so basically I just paid $5.00 to insure a $100 package. They should tell you that upfront. I would have just purchased insurance through USPS!
Created By: the_pretty_little_princess_shoppe
---
Problems with renewing Paypal subscription every time.
Problems with renewing Paypal subscription every time.
---
I HAVE SENT ALL, DOCUMENTS NEEDED FOR PAYMENT OF CLAIM. PERSON THAT BOUGHT ITEM WILL NOT SIGN DOCUMENTS.
---
was very good in the years I was using you guys up till now
cannot activate my account. Don't know why it was discontinued in the first place. I was very happy when I used it for a few years up till now!
Created By: golfbasilthecat
---
great app recommended to me by an ebay operator.
I love this app, it easily insures all my shipments. I have not filed a claim yet, however, the operator who recommended this app to me assured me it is a stress free process
Created By: acdcmarineinc
---
BEST INSURANCE PROVIDER!!
I stumbled across this company after another insurance company dropped me for too many claims, which is wrong on every level! I ship 1000's of packages a week and ship Internationally, so insurance is so important. When I found out this company insures 1st class mail I was thrilled! I can offer lower shipping prices to my International customers now and have peace of mind that if something is damaged or lost, neither my customer or myself will be out any money. I have had to file a few claims and I have never had an issue. The process is easy and they process the claims very quickly. To top it off!! The prices are fantastic!! Thank you for offering such good service. I will remain faithful to your company and have recommended your company to many people. May your business continue to prosper. Kathy Cozens Cozee Clothing katcoz1209@gmail.com
Created By: cozee*clothing
---
Saving over carries insurance. Easy claim process
Well integrated buying in Ebay. Timely and easy process of claim. A+
---
We have used the insurance for over 5 years and they are continually improving their service and efficiency.
Created By: 123choicecoins
---
They don't pay out claims
I insured hundreds of packages. I had the need twice to file a claim. Both times, I was expected to jump through hoops and ultimately was not paid on either claim. Although one buyer filled out the necessary forms, they still found a way to deny it.
Created By: goodfindscompany
---
---
Beware---They want money in advance!
I had already selected to insure a shipment. It showed all good and insured. I have since received repeated (spam) from them telling me my acct has been suspended and asking for a minimum of $5 for a 79 cent payment! They did this without any prior notice, I can't insure the pkg with anyone else now and have NO access to my other prior insured packages since the application won't open unless I pay them this minimum amount. It's basically extortion! This means I can't file any claims on previously insured packages if necessary. Meaning they took my monies under false pretense. They are using MY EMAIL ADDRESS as the Reply To address within their constant harassing emails, which is illegal! When I insured my package it stated the amount was for 79 cents, NOT $5 or MORE. This is the only amount they have the right to collect. Horrible experience from a company who doesn't care.
---
Reliable and trustworthy!
---
I have used them for over a year now and they have been awesome. Less money and they cover everything. If you have a claim they deal with it professionally. If you are not using them then you are costing yourself money!
Created By: lostfairysales
---
Great Service and Quick Payment on an Insurance Claim
Shipsaver Made the process of filing a claim easy and quick. I had my insurance money within a few days of opening the claim. I greatly appreciate the service this company has provided me.
Created By: goodealsellers
---
Excellent insurance company!
ShipSaver insurance is affordable and user friendly. You can insure packages with a couple of clicks. I use it every time I ship a First Class package in the US or international.
---
Excellent service, excellent communications were prompt and easy.
---
I would not use this service again, beware the fineprint and loopholes, use USPS or UPS insurance.
My customers item was damaged during transit but because the item description was on the outside of the box my insurance was void (I don't know how that would prevent my item from getting dropped)...did I get a refund? NO. I then discovered about a dozen items I had already shipped were never insured...did I get refunded for all that? NO....thank goodness only one arrived damaged. So just go with USPS or UPS insurance. From my experiences with those carriers they only ask for an image of the damaged item and they pay within a week. Shipsaver asks for 20 documents (which frustrated my customer because I had to keep going back asking him for stuff) and then tells you "sorry, you are not covered". Very disappointed, wish I had never stumbled upon this horrible app. Ebay take note!!!
Created By: jr1collectibles
---
Deceptive insurance practice.
They don't tell you clock parts inside the clock case aren't covered. Only the case is covered in case of damage.
---
Always nice to have assistance and an automatic reminder to speed things up
This can make your shipping time go smoother and faster. I used the service in the past and hope it works for you also.
---
This app have helped big time with my international sales
I was excited when ebay's Global Shipping Program came out and signed up right away because of many lost international packages and no tracking. After starting GSP my International sales all but stoped because my customers didn't want to pay the heavy fees asociated with GSP. The ShipSaver app allows me to send international with insurance and now my international sales have sky-rocketed. I have had a couple of claims that ShipSaver has taken care of in a very timely manner with great customer care. This gives great piece of mind for me and my customers. Thank you ShipSaver Insurance. walt2680 / Elderly Electronics.
---
Working just fine for months. But when Paypal preauthorized payment expires, and it does automatically every so often, it can screw you if you are shipping high ticket items. I have had so much trouble trying to get it back on line that if I could put a 45 hole through it without damaging my monitor, I would KILL IT.
---
Better than Priority Mails free insurance by far
Very fast and professional totally worth paying for, buyers don't have to wait long so your feedback isn't effected I'd much rather pay for insurance then to try to get it from USPS, too much weighs in the balance that way. Great service well worth paying for in my book.
Created By: crazycatladylove4vintage
---
Don't waste your money on this insurance co.! They don't cover Precious Metals
This is the worst insurance company that I ever dealt with! You take my hard earn money and don't make the effort to let us know that our items won't be insured due your regulations. I will not recommend your service to anybody!
---
A+++ app, exceptional customer service, immeasurably better than USPS. Try it out
I can't recommend Ship Saver highly enough to any
Created By: magnolia**dreams
---
Normally I would have given this app a four or five star rating as it is one of the most cost effective insurance options. However, recently my "payment authorization" expired on my account and quite a few items were not auto insured - shipsaver never sent me any kind of e-mail alerting me of this so now about a months worth of packages have no insurance and they refuse to help me. They are cheap, but DON'T COUNT ON YOUR ITEMS TO BE AUTO INSURED!
---
I've been using ShipSaver for select shipped items. I recently shipped to China and the package was lost in transit. I opened a claim with ShipSaver. I found it to be easy, straight forward and speedy. My claim was approved and paid within a few days after requested information was provided. Impressive!
---
Best insurance experience I've ever used! Only had one claim, and it was painless, paid out quick!
I set my preferences to automatically insure all sales over a certain dollar amount. Set it and forget it, it takes care of it all for HALF of what you'd pay with Postal Insurance rates! It saves me money, saves me time, and best of all, when the one incident occurred, they paid the claim with little work on my part! Five Stars!
---
Good but too many exclusions
It is a shame that cell phones/tablets/laptops are excluded. You should renegotiate this with your insurer.
---
Very smooth claim process!
Claim was paid promptly
---
I can't say enough good stuff about Shipsaver. I've had to file claims twice and both transactions were flawless. I had both transactions paid in full in less than 1 week. I also use it for Priority mail, because for the price, its not worth the headache
Created By: click-on-my-red-door
---
Buggy app and website, won't pay claims
The website and app are buggy, to say the least. There are issues with submitting forms, buttons don't always validate form entries properly, UI has some significant problems. The biggest problem, however, is that the company will resist paying claims at all costs. Even the smallest claim will require an affidavit from your buyer, plus photos of the interior and exterior of the package (if it wasn't lost). Also, the seller is responsible for everything, so get ready to receive negative feedback even if you make good with your buyer because of the hassle you'll put them through. Even then, don't expect to get a settlement from ShipSaver (aka Shipsurance).
---
I have used Shipsaver for over a year. However, it was only last week that my first shipment was lost. I must say that Shipsaver came through for me in great time. Faster than UPS or USPS. I am going to continue using them.
Created By: lucy-and-ethel
---
Pay for the insurance service and if you need to file a few claims you will be dropped. Just like all other insurance services. Have a claim, file it, and if you get paid you will be dropped by the company. Whole business a fraud!! They have no real obligations to you once you have paid premiums!!
Created By: procyclingdiscount
---
User friendly and good price.
My suggestions: -Receipt takes a little too long to receive by email. Faster 'd be great. -After purchasing the insurance, it's hard to find out how much you paid for. Will need to wait for the email receipt.I 'd be great if that is available on the activity page. Thanks!
---
the best I've found...love it!
I use Shipsaver for both Etsy
Created By: gingertopvintage
---
S
Created By: gr-rorus-sars7qyb9o
---
Great Insurance, huge savings
Great insurance and really did get great, easy assistance the one and only time I needed it. Fortunately the other international party had good photos and was cooperative and very nice too. The people at Shipsurance could not have been more helpful. Sometimes this can be awkward to use though if people pay for things one by one and don't combine shipments or put different shipping methods. It is more Ebay forms make a problem for it and me. I try to tell folks they have 2 days to pay for things and let me combine them, but they simply don't do it.
---
Had problem with app, upper level management contacted me and fixed issues
Had long term problems with app, Greg, an upper level support person, found and and worked through my problem. Am now happy with this service. Very easy to use in coordination with Ebay!
---
Great price for peace of mind.
Great price for peace of mind. Never had to file so no comment on this area.
Created By: cybergrannie99
---
I am amazed at how quickly, courteously, efficiently and painlessly ShipSaver brings resolution to a claim! I contacted them in the morning about a breakage claim and it was paid by that evening! Once the claim was filed they followed up continuously that day via email to let me know the status of the claim as it progressed! Tell me where else you are going to find that type of prompt and caring service service? They also follow up once the claim is paid to see if you were satisfied with the way they handled the claim and themselves during the transaction. They truly care about customer satisfaction! I don't use anyone else to insure my packages and won't as long as ShipSaver is around! Thanks for everything ShipSaver
---
Affordable Insurance with First Class Service
ShipSaver does business the simple way. They charge a fee for insuring a package, and you get paid if there's an issue. Their app is very easy to use, from insuring a package to filing a claim. Best of all, you only pay for the items you choose to insure. Don't be fooled by the brags of other insurances. Give them a try. You'll be happy you did.
---
ShipSaver is very easy to use. Insuring an item just takes a few seconds. I have used this service for years, and on the few occasions when I needed to file a claim, the process has always been quick and easy, and settlement made quickly. Much much easier than filing a claim with USPS.
Created By: trinketsandtreasures
---
Friendly and personable folks. No canned messages here but people you can actually email and talk to. Always an easy transaction.
---
shipsaver helps you keep your customers happy!
excellent customer service! they work with you 1:1 on resolving problems. from domestic to international claims they are the best for price and service. people that leave bad reviews either have something to hide or they do not communicate with shipsaver in a reasonable time. 5 stars in my book!
---
THEY DO NOT PAY!! THEY ARE CROOKS!!
Created By: summitpointauto
---
Great servivce with a few limitations
Easy to use and automate but does not handle multiple package shipping unless you first cancel the auto insurance and the re insure with the multiple packages, this causes you to lose the discounts for automatic insurance.
Created By: sailfishmarine
---
I was wrong in leaving a bad review
Shipsaver did pay my claim and I was wrong in the bad review left. The time to pay the claim was outside what I thought it should have been but they DID pay the claim.
Created By: bournestreasures
---
I had to file a claim recently, and I was able to keep my customer happy without wasting hours of time thanks to the ease of completing a claim and the help of their representative. I am so glad there is an application available that makes it possible to not have to worry about shipments getting lost or damaged.
Created By: dollies*n*dinosaurs
---
Shipsaver came through for me in the end.
I recently had to file my first claim for an item which, according to my buyer, was damaged in transit. Initially I had some problems due to the buyer not providing complete evidence of damages (packaging was thrown away) but eventually this was ironed out and I received payment in full. I would definitely recommend this insurer, just make sure buyers keep the original shipment packaging for a smoother claims process.
Created By: bullion_collector_xi
---
Excellent, reliable, easy to understand and great cust svc!
The best insurer i've found yet. You can count on them. Recently had to file two claims for 2 items lost in the mail to France. Wasnt a lot of work to file, and they refunded in full, promptly, right to my paypal account. Awesome, for peace of mind at a reasonable price.
---
This company is great to work with. Everything is done online with seller
---
ShipSaver Insurance provides quality coverage and is an excellent value.
I have been using ShipSaver Insurance for a little over a year now (about 500 shipments) and I am quite pleased with their service and competitive rates. I thankfully have not had many claims, but when I have, the forms are clear and simple, the review is objective, fair, reasonable, and substantially faster than USPS, UPS and FedEx. They have excellent customer service and are timely and responsive. What a great value! Insurance is never fun, but they do make it as painless as I have ever experienced it. I am a proven loyal customer, and I actually never write reviews, but they are worth the time for me to do it. They are a great shipping insurance company!
Created By: modelenginegarage
---
Very fast processing time. Pleasure to do business with. Use Ship Saver whenever possible.
---
my cases are handled with the utmost respect and promptness. complete customer confidence!
shipsaver offers me peace of mind during any complications. everything works out so satisfactorily. and dealing with shipsaver has really opened up my business to international customers. i used to fling packages across the sea and cross my fingers that it'd arrive safely. it was very stressful. now about one-third of my business is overseas! shipsavers support gives me the ability to fix sticky situations quickly! i work hard to keep a good business reputation and shipsaver helps make that possible.
---
They were happy to keep on taking money for their premiums but when I had to actually file a claim, they backed away and started demanding all sorts of documents and didn't pay the claim, which is outrageous. Their app is also crap. Don't waste your money on them.
---
Excellent Service and Communications
I've used the service for over three years. Finally had the need to file a claim until recently. Good service, communications, and the end result was all you could expect. I'll continue using ShipSaver for each and every shipment!
---
just trying to use the insurance. reactivated account . reactivated pay pal. account cancelled. Now trying to take money out front in case I use it in the future? What? I tried to use it. I thought my package was insured. Bad to find out it was not.I reactivated everything yet I am suspended and now have to pay a deposit out front? No thank y
---
Review on shipsavers claim process
I have been using using Shipsavers Insurance for a long time. Their claim process is very quick and easy. Once Your customer submits their paperwork,the turnaround time to settle your claim is within days.Their customer service has always been quick and polite. If you are looking to Insure your orders this is the app to go to. Ken
---
ADD TRANSACTION FEATURE DOES NOT WORK FOR THE LAST FEW WEEKS
THIS FAILURE OF ADDING A TRANSACTION SEEMS TO BE A TOTAL FAILURE. MIGHT CONSIDER SCRAPPING THE ENTIRE PROCESS.
---
ShipSaver provides cost effective insurance coverage and great customer service!
Shipsaver insurance is affordable, easy to use and accessible entirely online from eBay. Their staff is wonderful and it is our store's experience after using them for the past year to insure our outgoing packages, that they provide excellent assistance when needed. But isn't the true test of an insurance provider what happens when a claim is filed? No problem with ShipSaver. The completion of a simple online form accessed directly from eBay gets the ball rolling and it has been our experience on the few claims we have had to file that in less than a week the claim was resolved and paid into our PayPal account. We could not be more pleased with the timely, efficient and professional service we have received from ShipSaver! We highly recommend them to others.
Created By: newbeginningslakewales
---
Definitely use Shipsaver for your eBay Insurance!
ShipSaver has been a huge help for my ebay business. Besides saving tons of money, they work on and finish your claims very quickly with no hassle.
---
Wouldn't approve my claim and made it so difficult that I would give up
Instead of approving insurance for the items that were damaged in transit, they told me I had to have my CUSTOMER get a repair estimate. These were about four or five $15 knives. I had pictures to show the damage, but instead they hedged and threw out so many obstacles that it made it worth it just to eat the loss. My customer was already unhappy at the damaged items arriving that way. If I had asked him to go out of his way to get a "repair estimate" this would have really pushed him over the top! I will never use ShipSaver again.
Created By: whole_earth_supply
---
Yes you will save money, but just try to file a claim! The worst customer service, and they will use every excuse in the book to get out of paying for a claim. What they are good is taking your money! This company not only is bad, but they also give ebay a black eye for allowing them to continue!
Created By: atozwholesaleautoparts
---
HIGHLY RECOMMEND APP * NECESSARY TO ONLINE SELLERS * i LIKE "ADD TRANSACTION" FEATURE
I've used ShipSaver for years and when I didn't use it, thinking I could get along without it, I regretted it. Fast and easy way to insure your online sales, whether through eBay or your private sales in which you are shipping the products. Claim service is FANTASTIC - ShipSaver responds when others won't. SUPERB customer service, personal and timely. It's one app an online seller shouldn't be without. Saves me many worries and concerns. Thank you for offering it. faotoys on eBay
---
I choose to insure through Shipaver to avoid any hassles from USPS insurance, and that's free!
I have been using ShipSaver to insure many if my packages and have hassle free claims completed without one dispute or headache. I've been selling for 15 years and I'm quite picky when it comes to saving time and avoiding complications. ShipSaver is the way to insure for me.
Created By: storageunitauction
---
trustworthy reliable company
have been using for quite some time, when i finally had a claim, it was professionally, and efficiently taken care of the representative was excellent and the claim appropriately settled thank you shipsaver 5 stars
---
If you file a claim they will drop you, They only want to get your money no insure. Sorry service beware of this crap. PISS POOR BEWARE!!!!!!!!!!!!
Created By: karatemartialartsbarbie
---
Horrible app and even worse customer service
Worst customer service ever
Created By: nine_beauty_supply
---
Excellent seller tool and service
App works great and saves money on shipping insurance. Claims are fair and pretty easy if you ever have one.
---
I only use this insurance! Great prices!!
Give this one a try they are very reasonable priced and you only insurance what you want.
---
ShipSaver has great customer support and they appear to be cheaper than both USPS or ShipCover.
---
Useless, Should be Removed.
To be covered for Insurance. (1) File a Claim (2) Sellers are responsible to send a Link to the buyer (3) Buyer "HAS TO REPLY" to the link. 9/10 buyers will [ NOT ] reply to the link to confirm the insurance claim. If the claim is not confirmed by the buyer, SHIPSAVER is useless. No one can make an International buyer confirm an insurance claim. They are already mad because the package is lost/stolen. SHIPSAVER WASTE OF MONEY - BEWARE - KNOW THAT THE BUYER HAS TO CONFIRM THE CLAIM IN ORDER TO GET A CLAIM GOING. BEWARE, BEWARE
---
best prices on insurance!
haven't had a claim yet but can't beat the prices!
---
Used this until I filed a claim
Instantly rejected the claim without details. $170 item was damaged in shipping and the Manufacturer would fix it for 32 dollars. They instantly closed my claim and told me to file a claim with no information. Upon emailing them, I was told to fedex. Why am I paying them for insurance so that I have to deal with fedex?
---
Easy to use and quick to pay claims!
I love Shipsaver. The app is very easy to use. Insuring items is a breeze. When I had to file a claim, I was very happy with the process and how quickly I was paid. That makes my customer happy when I can reimburse them quickly. Thanks for the great service!
Created By: chicvintagegoods
---
Save time with easy to set up automatic insuring. Very easy claim process for both seller and buyer
Claim process simple; seller
Created By: scottsbricabrac
---
Claim for a broken Cookie Jar
I put in a claim for a broken cookie jar and it was simple and super quick for refunding my buyers money! Thank you!
---
AMAZING Customer Service!
I had an unfortunate shipping incident in which an item broke. My customer was an elderly man who did not have much computer knowledge, and had a difficult time navigating the internet. My Shipcover service agent called my customer for me, and walked them through the claim process! Fantastic! I've never been treated so well, with such a simple straight forward process of filing a claim! Thank you Sheryl, and Shipcover Insurance! _Keith
Created By: wwwstoneculturenet
---
Terrible Service! Very Bad Behavior and Very Rude Employees!
Had Very Bad experience with them, very bad customer service.
Created By: ju.ju.luxury_fashion
---
would not use anything else_
great customer service and very competitive pricing
---
an error messages, not able to log in
not able to insure package when I want: system is giving error message
---
Great claim service- no problems ever!
We have had a couple of claims over the last several months we have been using shipsaver. Everyone has been handled and paid. Very pleased with this application. Would recommend too others.
Created By: rorytotherescue
---
I have been using ShipSaver since it began. I am always satisfied with this application and grateful to have the ease of insuring my items. ShipSaver is simply one of the best insurance programs around. The ease of using it from start to finish is a bonus. In any contact I have ever had with the team at ShipSaver, they have always replied immediately and are always helpful and professional. In the instances where I have had to file claims, ShipSaver walked me through any issues I had and all I had to do was contact them through email. I feel that ShipSaver is the best insurance program around. The price cannot be beat as well. I feel it is well worth insuring items through ShipSaver without having to charge my customers more money to cover insurance. The ease of use and the contact should you need help being by far the biggest help. I am 100% satisfied with ShipSaver and hope to continue doing business with them.
Created By: prettythingsforyouandme*123
---
Always provides excellent service, promptly answers emails and pays claims out quickly.
Created By: bigpigdog*com
---
Terrible customer service, difficult and unfair claim process
Poorly written application. Terrible, inept, and the most unprofessional customer "service". Claim hassles... I cannot recommend...
Created By: shoecitychampions
---
Claim difficult to cancel
I tried to cancel a claim since the buyer gave me false information. It's too much hassle to cancel, I just let it expire. The "Cancel Claim" button on the notification does not appear to work.
---
I've been using ShipSaver to insure my packages for over two years. It's a big savings over insuring through USPS plus I can cover packages that go by first class mail. I've had only one claim in all this time. The claims process was very efficient and easy to complete. I am very glad I used ShipSaver and will continue to do so.
---
I have benefited from ShipSaver for years and have had many claims paid.
Created By: universalnailsupplies21
---
Used for a couple years with no problems,loved it, then for last year had continual problems with paypal authorization and with app working. Now they have changed from just buying insurance when you occasionally need it to holding a balance with them all the time whether you are using it or not. That is not feasible for small sellers who only use insurance occasionally and don't want a set dollar amount in a holding account for shipsaver to collect interest off of.
Created By: archwayvariety
---
Used to be great before automatically pulling funds out of PayPal.
I don't understand the need to draw money automatically out of my PayPal account. all of a sudden This move is clearly catered towards large sellers who can afford to keep a balance vested strictly towards insurance. By doing this, you're also cutting out small businesses who don't insure all of their packages, such as myself. This is a foolish move on your part. I will now be insuring directly through my carrier.
---
Just had to submit my first claim-it was easy and fast. Very happy!
---
constant issues trying to access account
unable to access shipping info, so cannot add the insurance. Ongoing compatibility issues with windows7/Google Chrome.
---
$.75 on a $5.00 item! I'll take my chances Disabled it
---
I love ShipSaver! I love Emma too, she is very helpful, kind and patient! She has helped me and my husband a few times over the years of using shipsaver!
Created By: santaslittlehelper32
---
Great Customer Service/Low Cost/Fast Response
This is by far the easiest and fastest way to file an insurance claim, get response, investigated and refunded. The fast settlements make the customers much happier than waiting 3 to 4 months for other insurance adjusters. It is so easy to file a claim. Email photos of damage and damage verification from customer. TADA it gets investigated and refunded quickly. The support on the other end is great also. They do everything they can to work with and help you out. Great low cost package insurance service.
Created By: abbysbargainbarn1
---
Excellent service at an affordable price, a great seller service to have available!
In several hundred eBay transactions I have had 3 times to file a claim now with ShipSaver, the latest claim was due to damage during shipping while the other 2 claims were lost shipments overseas. Simple process to file a claim as it can all be started from the eBay Applications site, electronics communications are exchanged between you, your customer and ShipSaver then it is reviewed for payment by ShipSaver. The whole process for me took 7-10 days as it is depending upon the timely response from the customer to ShipSaver. It's all done with emails via your computer, no paperwork to mail, it's a very simple process. This package insurance program is well worth the cost involved to have a piece of mind on your customers items, all of my claims have been handled professional and paid in a timely manner. Thank you ShipSaver!
---
Easy to use insurance process
ShipSaver Insurance is great! Easy to use, easy to file a claim if a package is lost or damaged and great customers service. The ability to auto-insure and customize exactly how and what you what insured is awesome. When it comes to the claims process it is very easy to initiate a claim and everything is done online. Send the claim to the recipient and get paid a few days later. Keep up the good work!
Created By: auctionstopcentral
---
Excellent customer service, very good communication. Quick
Very easy to use, received quick and informative emails with instructions regarding my claim. They paid it very quickly. I highly recommend and will continue to use this service.
---
An easy reasonable way to insure packages
With the click of a button your packages are insured. Love the fact that you actually have up to 24 hours to add insurance to a package. Filing a claim couldn't be any easier. Payments on claims are done really quick too!
---
if you use it they will kick you off
if you use it they will kick you off
---
Great Product _ Easy To Use_ Reasonable Pricing. Recommended
Been using since 2010/2011. Glad it's offered.
Created By: sportcardjunkie99
---
Reasonably Priced, Fast Claim Service, No Runaround. This is Fantastic Insurance and a Great Deal!!
Postal delivery has always been risky, but seems to be getting worse lately. The USPS $100 free insurance sounds good, but the runaround required to get a refund is ridiculous. ShipSaver Insurance is an alternative insurance that is very reasonable and determines claims in days instead of weeks. This is great for eBay sellers that have demanding buyers wanting refunds instantly for items that were damaged in transit. They have treated me fairly on several occasions. Nel
---
Worst Service Ever _ Useless
It may sound like a deal compared to other insurance options, but as far as I'm concerned, it's worse than useless. I had my first ever report of damage from a customer. To file a claim on a $139 item, my buyer would have had to not only fill out a form and take photos, but find a 3rd party expert to get an official repair estimate. Seriously? Can you imagine asking a buyer to do this? Buyers aren't even required to cooperate with insurance claims on eBay in the first place. When I complained and called ShipSaver, the representative was rude and treated me as if I was incapable of reading their claim instructions. They're poorly worded. Intentionally?--in hopes a certain percentage will give up without trying? She had her spiel ready, so I suspect I'm not the first to question them. Worse, I had convinced the company I work for to use the service. Having to eat humble pie with my boss was almost as bad as taking a complete loss on the $139 item I shipped out
---
Useless if you ship items of value
Note while they compare their rates to USPS, they DO NOT cover many of the items USPS do (cell phones, computers, electronics, many things of value). While they happily offer to insure your items and take your money in their application, no coverage is actually provided, as you will find out if you try to file a claim. Also, they WILL NOT provide a refund when no coverage is provided, so basically you get to pay them while they provide no service in return.
---
Excellent, 1000 times better than USPS
Created By: k-monlinesales
---
It has been great using ShipSaver! Thank you!
---
We have been very satisfied with Shipsaver services and used Shipsaver extensively for both domestic and international shipments for several years. Shipsaver insurance has been very cost effective for us and easy to use. We have had several claims and Shipsaver has processed our claims without problem or question, in an expedient manner. They have an excellent customer service team, good communication and helpful employees. We would recommend Shipsaver.
Created By: vintagecrownjewels
---
Overall I am pleased with the way my claim was handled. I was also pleasantly surprised how easy it was to navigate the process. Of course it also helps if you have cooperation from the buyer to submit the affidavit.
---
Very reliable, quick and easy service.
---
ShipSaver:like a good attorney;
ShipSaver: is like a good attorney; When you need them a real mental sweat saver. The Best.
---
Way to much trouble to file a claim, USPS is better
---
Great way to insure ebay items inexpensively
---
Insurance is capped at 1k and not bonded/licensed for California. Just go through sups direct thru their website. They allow insurance for up to 5k.
Created By: couturecollector
---
It works great! And it is cheaper than insuring with USPS
It works great! And it is cheaper than insuring with USPS
Created By: thehumidormall
---
Application is easy to use; great customer service!
The application is easy to use when purchasing insurance. Claims are handled quickly, and customer service is excellent!
---
this is one of the best apps I've ever used. They give excellent customer service.
turnaround time in my experience is usually about foUr business days and I get the money back to my customer. Love it love it love it.
---
ShipSaver is such an easy app to use
ShipSaver is such an easy app to use. All your sales are uploaded to the dashboard page of shipsaver and all you need to do is find your transaction and click on it to insure. In case of a claim, they will even cover the cost of shipping. The claim process is simple and they are fast to pay. I would highly recommend using this app for your insurance purposes. They even cover International shipments for a low cost.
Created By: gotothetoyboxandbeyond
---
Never had a problem with a claim, Always very helpful and claims were paid in a timely manner.
---
Simple and fast claims process--insuring packages doesn't get much easier.
I have been insuring with Shipsaver (by inkfrog) for well over a year. The claims process is now simpler and easier than when I first started insuring with them--just one short claim form to be filled out by the buyer. Funds from verified claims are sent directly to your PayPal accounts Automated insuring also makes it a breeze to safeguard my ebay earnings. International packages are especially problematic, so the money spent on insurance is absolutely worth it. I highly recommend this app. I regularly use just a handful of ebay apps, and this is the one that I have found most useful for my ebay selling.
---
First time I had a damage. Good communication and fast payment.
Have been using ShipSaver for close to a year. Had no losses or damages until now. Was apprehensive about collecting on a damage, but had no problem at all. Makes me more confident about the decision to use ShipSaver.
---
Prompt attention to and settlement of claims, reasonable premium cost
Prompt attention and settlement of claims usually in a week for shipping damage, reasonable premium cost, and unlike USPS First Class overseas mail is covered as well. Even though the USPS insures Priority Mail at no cost, I add Ship Saver Insurance. Just try to file a claim at the post office and see why--4-6 weeks for a domestic claim--overseas claim? 50/50 chance that the foreign post office will even cooperate. And when insuring domestic first class Ship Saver is considerably cheaper than USPS.
---
I am very happy with shipsaver service . Excellent ! I am still keep using it for my ebay biz .
Created By: us_fashion_boutique
---
Easy to use, great service and affordable peace of mind - what more can you ask?
I have been using Shipsaver for all of my EBay insurance needs for more than 2 years and I have nothing but compliments. The employees are quick to respond to any questions and have gone above and beyond for me to solve any problems. The price of insurance is affordable and, most importantly, also covers the shipping cost (unlike USPS insurance). The claims process is quick and easy and fast. In short, Perfect! Of course, because it is so good and reasonable, I probably insure more than I would normally do so Shipsaver is earning my business.
---
I am very happy to do business with this insurance provider. I never had any problems. Fast payments for claims and hassle free. I highly recommend this company.
---
Shipsaver is easy to use for both the buyer and seller.
In the unlikely event that you have to make a claim, it is nice to know that your insurer is there to help make the process easy. Easy for not only you, but the BUYER as well. Would recommend without reservation!!! A+++
Created By: arizonacanyon1
---
It went smoothly and we are so glad we have shipsaver to insure our international orders!
It went just as smoothly as we had hoped! All we had to do was tell them what happened and they took care of it.
Created By: kramer_the_cat
---
Hassle free refund for a lost item!
It was easy to file and claim, which was processed in a timely manner, resulting in a full refund of price + shipping Thank you!
---
I didn't have any trouble with ShipSaver until I had a claim for $300, then their underwriter Shipsurance denied my claim saying I (the seller) was to blame because I didn't pack the item well enough, however it was USPS that obviously threw the box and busted the item inside. I filed a dispute. After a month of emails, and a buyer left hanging with a broken item, I was finally refunded, however they immediately sent me a warning letter that I was in danger of being denied future service due to "too many claims"!??? I had only 1 other claim 6 months prior to this one?? AND I had given them over 100 items to insure. I am looking for another way to insure. Shipsaver/Shipsurance gets a big fat 1 star from me!!
---
A++ Insurance service for your ebay business!
Best rates around, easy to access through eBay, user friendly pages, easy claims process, great customer support. Been using Shipsaver for several years on eBay and am completely satisfied with it!
---
I have had a couple of claims, they were handled fast with little effort
The link provided for my buyers is an easy process, I just send the buyer the link and they click on it and answer a couple of questions and within a couple of days the claim is paid.
---
I insure many of my eBay orders with ShipSaver, and recently had to file a claim after a buyer opened a case with eBay?s resolution center for an ?item not received?. Needless to say, I opened a claim with ShipSaver, which was very easy with their eBay app, and almost immediately I received a link by e-mail for the buyer to complete the claim form online. Right after the buyer completed the form, I got a confirmation and was able to refund the buyer without delays. The claim was later paid to me within the next few days via PayPal. The buyer regardless of the bad experience with the lost package, was happy in the end since the ShipSaver claim process and refund was fast and easy, which also helped to avoid a negative feedback.
---
mma wEasy to work with, and very understanding and fair. Representative Emma was great! great.
ShipSaver saves me lots of money, for I think they have the cheapest rates in the business. Their site is easy to use and they offer professional support if you have a problem.
---
SUPER Easy and works like it should!
I am very happy with my Shipsaver app!
Created By: autigermania2001
---
ShipSaver is a "must-have" for my business
We get great feedback on our packing....but from time to time a buyer experiences the disappointment of breakage. ShipSaver is indispensable. I can tell a buyer that the refund will be in his/her PayPal account in 7-10 days and ShipSaver never fails. It is not like the black hole of USPS. I always know where I stand with a claim...responses are prompt. ShipSaver's great customer service helps me provide better service to my customers.
---
Love this app. They pay very quickly without much hassle!
What more can I say. I highly recommend it. Been using it for years and wouldn't use anyone else! Very professional.
---
This service is very reliable and handles claims quickly. I have had no problems and will continue to use this service.
---
Insuring packages is a one click operation. Filing a claim is handle professionally and quickly. File the claim, customer fills out affidavit and claim is settled. Quicker and more professional and easier to use than USPS. :)
---
Fine print to deny claims...DO NOT USE!
---
all the sudden my payments arent going thru and I am getting all sorts of erros
Created By: my*sew*called*life
---
No Stars. A total waste of time after changing over their system. I really liked the old way.
I have spent over 3 hours over at least 10 days trying to get my account in order. I've taken ever step possible as a user to make your software work. I don't know why this fix has not be dealt with yet. It's still saying cannot identify user. Why not?
Created By: soundsgoodinn
---
Great job!
Created By: davidtreasurefinds
---
Economic way to buy Insurance. Good customer service.
Shipsaver is a very easy and cost effective way to buy insurance for both domestic and international shipments. Customer service is good and claim process is decent. For International shipments there could be some challenges with meeting the requirement around Buyer affidavit in case of lost packages. For international shipments claims can only be filed after 45 days but eBay and/or Paypal will refund the money to the buyer in less than 30 days. Sellers are left at the mercy of the buyer to fill the affidavit for claim to be processed. I think this requirement from Shipsaver is important to reduce fraud and keep our cost low. I had one similar case but ultimately my claim was paid once i provided proof of shipment and chargeback from Paypal.
---
Best Insurance Application Out there!
I have used this application for a couple of years now. The response is Excellent from Buyers...They get an email, showing insured (you mean business). They hinsurace came through on a package lost overseas. Really Great Service!!
Created By: odetoyesteryear1900
---
Long time customer - I Cancelled ! Terrible need $$ fund an acct.
I used them for shipment by shipment. They charged me per shipment. Paid per shipment. Nice clean and they got paid every time. Never a claim. Now they want you to put cash from paypal into a holding account and it sits there til you use it. Pain in the neck accounting wide to with an accrual. You think they would grandfather us in being long time customers. Emailed support several times. Took about 4 to NOT receive a "form" answer. Support shouldn't sent copy pasted answers. And the last ones were not much better. And they are not that much cheaper than Auctiva Ins. Bye Bye from a long time user !!! Sucks!!
Created By: rhcbankerauctions
---
Everyone should have this app
Can't beat the savings! Love it!
Created By: elmn8_n_likwid8
---
Excellent customer service!
ShipSaver contacted me about an issue and resolved it within a few hours. Very impressive! This is one of the best customer service experiences I ever had! The interface is easy to use and the shipping insurance rates very competitive. So far I have not encountered any problems at all.
Created By: pola-pixs.photo
---
HORRIBLE!! bad, slow customer service. And they DONT pay eBay
Buyer makes "loss" claim or "nonreceipt" claim, but neither eBay, payPal NOR Shipsaver will process it. Buyer must sign the claim, but nobody can make buyer sign. payPal issues refund and closes case in Buyer favor. Sellers are screwed!! they lose money and product and strike on seller ID. All three shrugg their shoulders of "non responsible." IF you pay insure Internationally shipments, you are screwed. No one processes the claim because buyer doesnt sign.
---
This is a truly affordable option to insure your packages. It is super easy to use, can be set to automatically insure packages. I have mine set to insure any package over 15$. Twice I have submitted a claim and the process was very easy. It shocked me how fast my claim was settled and they paid for the full price of damaged item including shipping cost. You can't go wrong with this service. AWESOME!!
Created By: katydid-gifts
---
Useless Application for a Useful Service.
In order to get this application to function, you're required to accept all cookies, including third party. Even doing that usually doesn't work, nor does using a browser such as Chrome Incognito set to accept all cookies. And even if it did work, I'm just not willing to surrender all semblance of internet privacy in order to insure an occasional international package.
---
Paid the claim in 5 days. I recommend this company.
---
easy to use, easy to get a claim paid
---
They handled my claim promptly and professionally. Thank you
I was really impressed with the service I received from ShipSaver, I would highly recommend them.
Created By: thewildpetunia520
---
This Service is by far the easiest to manage. They always respond to emails fairly quickly. Never failed to pay a claim. Their insurance fees are far less than the USPS fees. They are by far my preferred way to insure my shipments. I want to thank them for making everything so easy and stress free.
Created By: beautyrockzzz
---
I've used this application and service since they started. It's easy, they have and continue to improve their claims submission process. Being able to insure first class international mail is a real plus. I've also found their customer service very efficient and helpful...I have recommended them to several sellers and will continue to do so..Great Service.
---
they take your money and when it comes to paying out ship saver will NOT pay out. the fine print on what they will not cover is extensive. I looked at the 10 ten searches on ebay and they will not cover 7 of the top 10. they do NOT cover over 1 billion addresses world wide. they do NOT cover anything with a led light or lcd screen and many other lame reasons not to pay.
---
Difficult to get your money back
Ink frog makes it so difficult to make a claim and they rule against you most of the time. Not worth it.
Created By: christopherstonejeans
---
Easy to use and so much cheaper then carrier insurance
Love this! Can't beat $.79 insurance. It does go up passed I believe it's $100 but its still reasonable insurance. Will continue to use this until they get cocky and raise their prices. Thanks for providing a good service at a cheap price!
Created By: bidorbuy4cheap
---
Excellent and Very Easy To Use!!
I really like the option of not having to go to the post office to wait and pay for this.
Created By: blueflame0772003
---
I think this is very horrible no live support ive been going back and forth for days through emails and not happy yet.
---
Awesome .... you need to try if you sell interntiotional
This application is Awesome .. everything is so ease and the price rate is by far the most affordable, if need to file a claim is very very ease.. i do recommend
Created By: ronaldo-valentin
---
They cut you off if you try to collect!
Everything is fine with Shipsaver until you try to collect more than a few times. Then they ban you from ever using their service again. Don't waste your time on this worthless application. They don't deserve anyone's business.
---
Customer Service is helpful!
Kudos to Greg! I had a problem that seemed impossible to fix, but he got it corrected.
---
Technical Problems: Numerous failures to load and to accept international addresses.
---
I just placed my first claim with ShipSaver and was truly surprised at how easy it was to submit. In less than a week I had a refund sent to my Paypal account for over $300. There were no issues or hesitation on their part. I HIGHLY recommend ShipSaver to anyone who needs their packages insured. I will faithfully remain a subscriber due to this experience with them. Thank you!
---
I have been using Shipsaver for about a year now and it has been great. I use it for all my overseas shipments especially on first class and have been able to file claims quickly and easily. I would recommend this to anyone.
Created By: christina926s
---
Excellent and speedy service!
I had the claim filed and refund received before in less than a week. Simple and fast! Couldn't ask for better!
Created By: vintagepickerspost
---
I filed 1 claim after buying thousands of policies and the crooks dropped me from coverage
I filed 1 claim after buying thousands of policies and the crooks dropped me from coverage
Created By: estatejewelrystore
---
I had an ipad stolen according to my customer and I am told by SS it is NOT covered? What a rip off!
I am VERY VERY unhappy with SHIP SAVER! - I was led to believe that everything I insured - as SS is certainly taking my money - is insured and covered against loss or damage (just like the USPS) Now I find out that a $400 ipad was stolen and it is NOT COVERED by SS and I have NO IDEA WHY and also I have NO IDEA now what IS or is NOT covered. I feel I was "led on" by both SS and eBay Seller Outreach who HIGHLY RECOMMENDED SS to me! I am going to unsubscribe next week. So is my dtr in law. Thank you, Pam
---
POSITIVE EXPERIENCE WITH CLAIM
To add the insurance is easy and convenient, however each insurance will show its true value when a claim has to be filed. With shipsurance the start of the claim is easy and the response is quick (next day). Then you have to forward the affidavit via email to your buyer and it depends on his/her cooperation. It took about a week to have everything taken care of which is faster than ups or the p.o. I had two claims so far (damaged in transit) and each claim was resolved to my fullest satisfaction. Also, the option to insure the international First Class Mail is a great-so far I had not yet an experience with international claims, so I cannot judge. Anyway, I highly recommend shipsurance, my sons use it, too on their accounts. Can't beat the price!
---
I have been using this app to insure all of my breakable or expensive packages and have saved a lot of money by not having to reimburse customers for the fault of the post office/Carriers. I would recommend this sight to anybody shipping breakable items or things going overseas also.
---
works well and gives me piece of mind
It is cost effective
Created By: swayingbirchgoods
---
I find this to be a good service
Never had a problem with them on hundreds of shipments over the years.
---
Excellent App - A Must Have !
I have been a long time user of this app. Very easy to use. Cheap insurance. Allows for the insuring of USPS First Class as well. Simple to file a claim on a lost or damaged package. Quick response from the insurance company. If you ship a lot of expensive and or breakables or just want to offer something special to your customers then this is it!
---
I don't care how well you pack something, when you drop it off at the post office or UPS Store, you have no idea what they are going to do to it. I get a lump in my throat every time I leave the post office, say a prayer and hope everything arrives safely. I have been using Shipsaver insurance for over a year and I have been very pleased with them. It gives me peace of mind. The process is very easy and quick. I was able to get a refund in a matter of days recently - even over the July 4th holiday. Just need your buyer to work with you a little to help with a quick documentation and photos. It integrates with your listings easily enough, and lets people know that things are insured. The automatic settings are nice as well. I don't have to think about it. I don't get a bill at the end of the month either. Each piece that gets insured it is automatically paid for daily. Thanks guys! Keep up the good work!
---
Was a 5 Star APP until the update ruined it. PLEASE FIX!!!!!
This was the best APP going - Spectacular service, Ease of use, great rates. Then the update came....Hard to use, fields that used to be filled in after a refresh still don't have info, causing you to go back and look things up, takes twice as long to do anything...But hey, it looks better, but really who cares, I need it to just work. I'll give you 5 Stars when you revert to the old or fix these issues.
Created By: modelrrsupply
---
not working this week july 4-9. Have emailed customer service 3x no response
---
Worst service! Complete waste of money!
Worst service! Complete waste of money!
Created By: la-boutique-la
---
Been using it for about6 months now. It is even easier since they changed the screen layout. It looks like you can do non-ebay packages. Great!
Created By: the_roamin_roman
---
Cheaper on insurance and easy to use.
I'VE COMPARE PRICES AND IT HAS BEEN CHEAPER ON FEES, VERY EASY TO USE.
---
Very prompt to respond when correct info is submitted.
---
100 % Satisfied with my experience. Will continue to use Ship Saver Insurance.
This is the first claim I have had to file. The card was lost in shipping and was not delivered by the post office. I asked the buyer to fill out the form but he did not cooperate. I called the phone number provided and I was walked through the steps necessary to be reimbursed for my claim. I found the process to be easy and had my refund within a shorter time period than expected.
---
ShipSaver is the best insurance company on EBAY, hands down.
Quick customer service, very easy to use application, best rates available, quick claim processing.... What more can you ask for? I just started using ShipSaver and my experience has been nothing less than perfect. I am so glad I found them and what a treat to save on package cost at only .79 per 100!
Created By: truereligiondealer
---
I shipped an item to Germany and it was lost. I'm so glad I insured it with Ink Frog, I was able to get the amount for the garment and the shipping costs returned to me. And it costs less than USPS insurance. Thanks Ink Frog !
---
Fantastic experience and fast payout by ShiSaver
FANTASTIC!!! I knew sooner or later it would come in handy and it did. Fast payout and easy to work out with buyer and ShipSaver. I'll keep insuring my items as long as you keep covering them.... Joey D
---
sucks app won't load sent message to support was ignored left out there hanging
won't work sucks
---
Sellers BEWARE!!! The worst APP on ebay Terrible Customer Service Rip Off Sellers Beware!!
After I put insurance on dozens of shipments this year,My first claim for a watch damaged beyond repair is submitted last week,the customer wants a fast return and 100 % refund,No Problem right wrong Emma in claims tells me I must force the customer to get repair estimates at their cost and if the customer sends it back for a refund before the customer signs an affidavit(which they did) and get these estimates they will not pay or even refund the cost of the insurance. Want negative feedback and low DSR's go ahead and tell the customer they can not send back the item that showed up crushed and say I will not give a refund until the insurance company I placed on the parcel says so and tell the customer thats how I do business. WHAT!!!! BEWARE SELLERS BEWARE this is a trap this company is well aware of. They are the worst app we have ever dealt with over the last 6 years as a Top Rated Seller
---
Unless you are willing to change browsers DO NOT GO TO SHIPSAVER!!! They are requiring users to change browsers to either GOOGLE or FIREFOX. ROTTEN...
---
---
No insurance for Russia, Brazil, and some countries I depend on most. :,(
More of 2.5 out of 5 stars. I use this to insure big packages. There's a problem: if a customer buys, paid 1 item that's under $100 USD value, then decides to buy and pay a 2nd item that's also under $100 USD value, seller has to insure for each invoice. Can't combine to 1 invoice even if its from the same buyer. 2nd thing that's terrible is they won't insure Russia and Brazil. Besides Canada, those 2 countries have lots of eBay customers. :(
---
takes the worry out of sipping
dont have to worry anymore
Created By: tommyscoincorner978
---
I have been using Shipsaver to insure my International packages for about 8 months now. The customer service is outstanding!! I get responses very quickly from helpful and skilled staff. When a buyer made a claim and was uncooperative in filing the requested documention Shipsaver STILL guided me through the process to get an insurance refund. And I got it FAST!! I now ship with great confidence. I have even started to add insurance to my domestic packages because sometimes they get lost too. Thank you Shipsaver for a FANTASTIC service!!
---
It takes 5-15 tries to insure a single item (multiple items work fine). Very time consuming and frustrating. Support just keeps saying "our new version will be out very soon". It has been over 6 months. Pricing is good but the time wasted is not worth the savings in my opinion.
---
make communication easier!
by not having shipsaver claims contact buyer direct for photos and ebay not allowing e-mail addresses to be exchanged getting the photos from the buyer to the seller and then to shipsurance is almost impossible....why cant shipsurance contact buyer directly for photos?????
Created By: gardenkittikat
---
Excellent program and company! Highly recommended!
I have been using Ship Saver by Ink Frog to insure my ebay sales for about a year now and I have had super results! The application is very easy to use, saves money, and in the event something is lost or damaged they take care of it in short order! If you sell online get the Ship Saver App....you won't regret it!
---
It is cheaper than the U.S.P.O. insurance and I had no problem with a claim
---
It's good that they refund you all INCLUDING shipping price. However, it takes at least 45 days!!
I liked this service. The process of reimbursement is EASY!. However, it takes at least 45 days for an international item, and it does not provide insurance for Brazil.
Created By: surfincalifornia
---
Excellent insurance, easy to use, fast results. A++
I have used this insurance for the past year and I am very happy. Very nice customer service, great price and quick results on claims.
---
Bans you from using if you file claims
I have been using shipsaver Insurance for some time now. Last year, I had a few claims and moved to block Argentina as it was where 3 of the claims were. This whole year, Shipsaver has not had to pay out for a single claim. A case I currently have with them is the very 1st one they will have to pay out for this year and totals just over $60. Well, I received a letter from them stating that due to adverse shipping claims, they will no longer allow me to purchase insurance from them. Absolutely ridiculous! I have been very proactive in trying to screen out countries that are problematic. I guess this only works out if you keep them happy by not filing any claims. Shame on them!
---
REFUSED COVERAGE AFTER A FEW CLAIMS
This company just wants your money after a couple of claims they refused service. Just Thanks anyway Ship Shaver
Created By: posterstoreusa
---
This was suggested to me by an Ebay rep who used it. I've been using it over 6 months. It's awesome
Created By: tokersexchick
---
Would not use eBay without ShipSaver
Awesome service! Save on your insurance fees, I include the insurance with any extra fees for the buyers. Has really been a life saver on international shipping as well as breakage of product. 5 STARS ALL THE WAY!!!!
---
Shipsaver is user friendly, integrates very well with eBay, easy claim process, 5 Stars from us.
We appreciate the ease in using Shipsaver. They cover USPS and UPS which we use most frequently. We are happy with their service and plan to continue with them.
---
The Absolute BEST Insurance Service Out There!
We have been using ShipSaver for over a year and it is a no hassle excellent service for providing insurance for our eBay
Created By: diverseblend2
---
ShipSaver is great! It is easy to use and their claims process is extremely fast.
The most important parts of shipping insurance for me are reliability and processing time. ShipSaver is very efficient and does not give you the run around when submitting a claim. Their review process has never taken more than 48 hours for me and it is often processed in the same day. The whole process is night and day when compared to going through a claim with the shipping provider.
---
Great company, handles claims quickly and efficiently!
I've been using Shipsaver for a few years and have never had any problems with them. Filing claims is a simple process and they are quick to process the claims. I highly recommend them.
---
The service is always helpful, responsive, courteous, and fast.
I have been very pleased with my experience. I have referred several other Ebay sellers to this application because of my favorable experience. Shipsaver is fast and easy to work with, and I haven't had any complaints from my customers who had to work with me to submit claims.
---
I have insured quite a number of items with you and made 2 claims one of which you denied.
I will not insure with SS anymore. I sell motors and @ 1 out of 100 are damaged by the USPS. To be safe I always insure them. I had a claim or 2 previously with the other insurance company and received quick reimbursement for the buyer.
---
bad customer service , takes forever to get a refund
any time you file a claim , they want tons of information that they already have , just to delay your claim , use the carriers insurance much much better
Created By: dkbeansnthings
---
Be careful! That is all I will say.
Created By: bid_buy_or_logoff
---
Settling claims require Buyer input and affidavits and estimates to repair. A problem for internatio
The application works fine it is in the coverage that's a problem. Affidavits from recipients are difficult to get and impact your ebay feedback. Also, the insurance company told me I had to get an estimate to repair the piece. Customers who purchase new porcelain do not want repairs. It was a real problem on my end to get a repair estimate for a piece shipped to another state or country. I have cut back enormously on my use of this insurer.
Created By: les_chats_sommeillants
---
impossible to get paid the right amount
had a package 1 of 2 damaged and refused to pay the correct value for it. rep was rude and terribly lacking professionalism .
---
Great you save ebay sellers a lot of money?
---
Dont pay out on full insurance coverage
watch this company .If u buy insurance to cover the buyer you might end up paying the customer moor than u made on the sale . Does Ebay care No .Why because this insurance company is a out side app at your own risk . If u encounter fraudulent activities with infrog and this company contact your state Insurance Commissioner and they will help u file a complaint with the federal consumer protection agency to help shut them down
---
This insurance service has been extremely easy to use. It is affordable. In the one instance where one of my shipments went missing, I filled out the necessary form, made sure the buyer did the same, and my claim was paid in full in about a week. Extremely efficient. I would recommend this service to anyone who sells on e-Bay. Alan Hicks
---
This insurance makes me feel protected. It is ver easy to use. I had 1 claim it was easy and speedy.
---
Stress free insurance. This company knows how to do it the RIGHT way. I would say and have told
everyone I know use them and you will be nothing but THRILLED if and when something gets damaged in shipping. FAR less expensive then the Post Office and much easier. I would never use anyone else.
---
Paid claims but cancelled coverage because of it.
The service was ok until I had a couple claims. I ship glass and have a great track record of getting my packages to their destinations safely but I have no control of how USPS mishandles the packages from time to time. ShipSaver had NO problem accepting my money on the packages I insured but when there was a 10 day period where I had to make three claims they decided they would no longer cover our packages. They weren't interested in the fact that they had collected more money than they had paid out. GREEDY company.
Created By: devinyldecalsandglass
---
Excellent customer service - fast claim process - Buyers are happy - I am happy!
You always know where you stand with shipsaver. The claim process is clear and easy to follow, both for the buyer and seller. Highly recommended
---
Those of you insuring fine art or collectibles. They will only pay for REPAIR despite whatever the invoice price or the amount of insurance purchased was. So your fine art or collectible is as good as new once repaired - NOT! They actually said of fine porcelain - its just broken a little. Buyer Beware!
Created By: boutiquefrancais
---
Super fast claim review with refund in one day after buyer submitted documents
No one wants to need to file a damage/loss claim, but I was amazed that Shipsaver processed the claim for damage to my item in one day after my buyer submitted her documents. I am still waiting for the post office to resolve a claim from six weeks ago. The ease of adding insurance to a package is so simple. I also realized that Shipsaver can help with covering additional amounts over $100 on Fedex and UPS.
---
Nice.. so long as you keep paying premiums and do NOT file a claim..
If however, like me, you end up with a lost REGISTERED parcel and make the mistake of filing a claim then they may drop you like a hot potato! Nice concept but RUTHLESS underwriters.. Caution: Each claim counts against you even if you later cancel it yourself. Enjoy the peace-of-mind until your first claim...
---
Good Pricing, but you have to depend on the buyer to submit the claim or you get nothing!
Very good pricing. But you have to depend on the buyer to submit the claim affidavit and you have to wait 21 days for US and 45 days for international to submit the affidavit. How can you depend on the buyer to do that! So far I have had no claims paid out of 3 submitted from 100's mailed. Conclusion, take the chance and mail without or insure with the post office. Fed EX, UPS if it's that expensive.
Created By: alamoorganics
---
The claim process is difficult to follow. They need to provide better links for updates. But they pay out in a timely manner
---
Easy to use with a fairly fast claim process but.......
Unfortunately this service, which works very well, is quick to drop sellers who have too many claims. I don't believe I had too many claims, maybe one or two a month, but they saw otherwise and canceled my subscription. Based on that I cannot recommend it to anyone who ships a lot internationaly where most claims come from.
---
Super low price shipping insurance! Disappointing claims system!
I have used inkFrog and have realized an awesome savings insuring my International packages. Really looks good to the bottom line. Really a wonderful app for saving however, different story when you file a claim. Very bothersome, time consuming, repeat issues, much waiting, much communicating, lots of paperwork. Seller does all the work!!! All other sites easy to insure but more expensive however, much easier to file claim (snap to complete claim) with quick reimbursement, most within 3 days.
---
Saves me and pays claims well - I like it.
I Like it, saves
---
Polite, courteous and quick to respond and honor insurance claim.
If you do not have ship saver as your insurance provider, then I highly recommend you do. Thank you for a pleasant experience ship saver!
Created By: southernscavengers
---
This is a great app. lets us set limits and automatically cover our shipments with insurance thanks
Created By: faithfully-be-dazzled-treasures
---
Bad service hard to open a clain lost 4 claim so far.
The biggest problem with Ship Saver is that you need a buyer affidavit. n Ebay and this company claims to cover overseas packages INCLUDING first class international and Priority Mail Small Flat Rate Boxes. They really don't cover anything because once you try and make a claim you will be dismayed by the paperwork that you will have to file and then refile and then resubmit and then on and on and on......then wait and get denied; they just use attrition to battle against people making claims. First, a buyer affidavit is difficult to obtain from an International buyer, because (a) they can make a Paypal claim against you, so they don't care about the insurance (b) sometimes attachments, such as PDFs will get blocked by ISPs when sent in email to the US. (c) a BUYER affidavit is ridiculous anyway since the app is embedded on Ebay and they have all the information already (eg. where is it going). Ship Saver (the eBay embedded app) also requires the
---
VERY DEPENDABLE WHEN AN ITEM IS LOST. THEY REIMBURSE QUICKLY. HIGHLY RECOMMEND THEM
Created By: chris*charlotte
---
Always helpful and prompt with claims. Easy to use.
---
Very easy to work with..Has always paid prompt with claim
Out of the 2 claims filed SHIPSAVER has been very understanding and easy to work with. I highly recommend SHIPSAVER INSURANCE for your shipping protection. Thanks again
Created By: namebrand-clothes
---
Insurance Claims waste of $$$$
Service was good until a customers opened a claim with ebay for non-receipt of goods. The insurance was a waste of $100's of dollars we invested into it over a period of months. Because if the customer didn't respond to the affidavit "insurance claim" from ink frog. We NEVER got our money back or our goods back AND the customer ALWAYS got their money back from us thru ebay. We NEVER received money back from paying for Ink Frog Insurance. I am the customer, I paid the insurance, I should just be refunded when a customer puts in a claim. Thank you for wasting my time. I was forced to find Stamps.com which is EXACTLY the right type of company to ship/insure with.
Created By: beaconsportsquincy
---
Very Good even covers postage costs
Easy to use, even has phone support. By far better then the others
Created By: e_baywholesale
---
Problems with payment method
I go to update payment method and still can't get in to insure my items. I am hoping that this gets fixed soon. If I were a new customer I would seriously rethink this service.
---
Excellent app enameling me to sell internationally with confidence. Superb customer service!
Created By: jewelsntreasures
---
HOWEVER SOMETIMES DOES NOT UPLODE ON TIME AND MY SHIPPING SHOWS AS LATE!
Created By: 702bestestore
---
Excellent Customer Support. Good Prices, too.
I had to make a claim once. The process was smooth
---
I haven't had to use it yet but the cost, benefit ratio is hard to beat.
Easy to apply
Created By: ereevesgreat4deals
---
---
I've been insuring items with SS for a while now.. and finally had to make a claim. The ease and speed of processing my claim was excellent. Not only am I pleased, but even my customer was impressed I could issue a refund so quickly and easily!! THANK YOU!
---
I just found out I have not had automatice coverage and need to renew tokan? NO easy way to do??
It should be easy to renew a token and sent a notice when the token is renewable. I have spent at least 30 minutes trying to get to the page the customer service sent me when I email them and can not find it?? Could not find the application page either, keeps coming up with ebay page. As you can tell I am frustrated.
---
Been using ShipSaver for over a year. Had 4 claims - all reconciled quickly and clearly. Very pleased with all aspects of their service. A major asset to the eBay community!
Created By: highendwarehouse
---
Great rates until you have to file a claim! Then comes the roadblocks.
I had always seen the negative ratings of this products but kept using it since I was saving a few bucks verses using the Post Office. My son also used this product for his sales. Then he had a claim which was cut and dry as the buyer did not receive the item. Then came the mountain of paperwork, faxes and email requirements. They did everything to wear him down. He would supply them with somethings, then they would want more. This went on for months. I just had a claim with the USPS. I was able to file online and got a check within 2 weeks in the mails. We only use USPS insurance now because for the few pennies saved, this product is not worth it. Trust me!
---
They do pay their claims in timely fashion
I've been using this service for a couple of months, mostly on my international packages. I also use it on some domestic items as well. I had to file a claim since a customer received the box crushed and damaged the item inside. The customer was very cooperative and filled out the form required of them. It's very simple and easy for them. It's about 4 questions with drop down menu box with answers to choose. It literally takes 30 seconds to fill out. The entire process took 8 days from start to finish with me getting my $$ back. I highly recommend this service. They are for real.
---
Worst customer service ever!!
Been using it for about 6 wks, signed up for the auto insure option, thinking awesome! One less thing to worry about, yea me for being so smart! Haven't had to file a claim yet, thankfully, but I'll be damned if you'll get your money back if they charge you insurance for a transaction that was cancelled and never shipped! Apparently you have to micro manage the billing, which is odd because if they can auto bill you when something ships, shouldn't they know when something doesn't ship and not bill you???? Oh and if you don't catch it in 1 day then you lose your fee they charged you by accident?? Really?? FOr an item that didn't ship?? Why don't I just give you my Paypal log in info and you can just take what you need, you obviously need the 79 cents more! I mean it's not like we don't pay enough in fees to Ebay and Paypal already. I wonder if I had filed a lost package claim how long it would have taken them to figure out it didn't ship? Did I mention it never shipped???
---
I think this set up won't let you make mistake. Very user friendly. A++++++++++++++++++++++++++
---
It's great and affordable
I find it easy to use and so far I am very happy that it is being offered. I have not had a claim, to date.
---
Received my claim 2 days after sending in paperwork. No hassles, extremely pleased. Thought about giving up on First Class international sales but now I don't have to!!!!!! THANK YOU SOOOOO MUCH!
Created By: baileysvictorianna
---
taken over 1 month to hear reponse for a claim.
Created By: uselessjunque
---
SUPER STAR INSURANCE FOR EBAY SELLERS MAKES NO SENSE NOT TO USE THEM
Just went through a very complicated claims process with a very uncooperative buyer of a very expensive camera. The claims representative @ ShipSaver insurance was extremely helpful in completing this claim and getting me the cost of damage repair to the shipped item. This is the second time we?ve actually had to file a claim with ShipSaver and both were settled quickly without any additional problems from the insurer. Try to get this type of service or satisfaction through a USPS or FEDEX insurance claim! We now insure every item we sell with Ship Saver; this is a very easy process that takes less than a minute to complete. Gives us complete peace of mind over the shipping side of our Ebay business; that part over which we have no real control, other than choosing which shipper to use! Because ShipSaver will cover parcels shipped through any of the major carriers, it?s a no brainer to use them for coverage on all of our shipments!
---
Great savings and easy!
Created By: treasuresatcheles
---
It works well most of the time. It has locked up a few times but will work again once I refresh the page. Overall I'm happy with this App. Plus insurance rates are cheaper than USPS.
---
Easy to Insure. Great pricing. Too much billing. SMP integration lacking.
I am writing this without any claims, therefore I cannot yet speak to the steps and their customer service, and any success with making a domestic or international claim. Pros: Pricing is competitive, and they have delivered a value by maintaining attractive pricing even with the post office increases. And it is two-click easy! Editable insurance value. If you have a $101 package, you are not forced to insure it for the $101 price it sold for on ebay; you can choose to declare an insured value less than transaction amount, such as $100. Cons: eBay apps have not fully integrated shipsaver tags into the transaction page whereby after you buy the coverage you then get a note that item has been insured on SMP. You cannot combine two separately paid for ebay transactions into one package. I have not attempted to override the declared value over the value of insuring one package by including two items together. I assume I cannot. Too much billing, not aggregated in to one payment.
Created By: cut_coin_store
---
Twice I try to collect and one person gave up and this time the customer isn't getting the notice she is supposed to get. It is all pretty unclear who does what.
Created By: myonehitwonders
---
Good Pricing and covers claims well
---
Excellent service. Less expensive with better and faster service. Esp with Claims.
Insuring process simple, clear and user friendly. Claim Service: Astounding. Tim of settle = 1 week or less. This too is user friendly. Wish I could let everyone on eBay know of what a great deal ShipSaver is. Bruce
---
Saves you a few bucks, until you need them...
I started using Shipsaver a month or two ago because it did save good money on shipping costs which added up quickly. Until last week, a $150 lens was broken and I needed to file a claim. Their claims process is SO complicated, it's pretty much designed to be a roadblock from getting money out of them. You need repair estimates from a repair shop, well there really aren't that many repair shops (especially overseas) for vintage camera lenses (as well as many other items of certain kinds that get sold on ebay). Also, they send me, the seller, all the required documents and instructions, but the buyer has to fill out and sign the forms and can't send the item back until the claim is done. Comparatively, I needed to file a claim on ebay's "ShipCover" (NOT "ShipSaver") for a projector and the claims process was SO easy. I made the claim, the buyer was notified and verified what I said and they gave us the money in 3 days. For a little more money I'll take SHIPCOVER and actually be covered!
---
So amazing , thank so much.
---
comparing savings over value
this insurance is only cheap because it dont cover most items. you pay the postoffice the normal cost and it covers everything. it may show you how much you saved but really you threw away more then you saved. get your insurance from somewhere that covers everything
---
This is one of my favorite apps. Ship Saver allows us to insure most of our items because of their low cost. It is also very easy to use.
---
I wish my customers could see that insurance was in fact purchased on the lable.
It bothers me when I use this type of insurance and pay for it it does not show up on the lable. My customers wonder if they really got insurance or just say that. I've charged them for insurance and that amt. is not shown anywhere on lable. I would use this more if this was included on the lable.
---
I HAD 7 ITEMS LOST IN THE MAIL AND EVERY TIME THEY FOUND A WAY TO NOT COVER WITH TERRIBLE EXCUSES
DO NOT WASTE YOUR TIME OR MONEY ON THIS APP, THOUGH I FOLLOWED ALL OF THEIR GUIDELINES, RULES, RESTRICTIONS, I HAD 7 PACKAGES LOST IN THE MAIL AND DID NOT GET A SINGLE PENNY FOR ANY OF THE PACKAGES. THIS IS A COMPLETE FRAUD AND IT DOES NOT WORK. SOMEHOW WHENEVER THERE IS SOMETHING WRONG THEY FIND A WAY NOT TO HONOR THE INSURANCE. WORST COMPANY EVER, WORST EXPERIENCE EVER.
---
Helped me lower shipping. Does have draw backs on what's not covered!
A little hard to navigate to. Once there easy to use/
Created By: gizmosandgadgets2012
---
They been responsive the few times I needed to open a case.
---
The true test of any Insurance Company is what happens when you need to make a claim. I recently needed to so with Shipsaver on an order that went lost to a customer in China. Even though the USPS tracking information was incomplete, as is normal for international shipments, I was able to provide the required documentation, including an affidavit from the customer, and Shipsaver paid the claim promptly, with no hassles.
---
Good insurance rates, but some flaws with ease of use
When it works, this is a great alternative to the USPS insurance. The problem for me and my sales is the difficulty of getting it to register via this website link. Some days it works and I can add insurance quickly and easily. Sometimes it simply does not register and is extremely frustating. Somedays I can get some of my items insured whole others (same type of item) stubbornly will not get insured. Calls to ShipSaver are frustrating and unhelpful. 'Clearing my cookies' is not a good answer.
---
CLAIM PROCESS IS RIDICULOUS - WAY TO TIME CONSUMING - WOULD BE CHEAPER TO BE UNISURED
Way to time consuming and depends on Buyer to respond to emails you must send
---
Very Happy Long Time Customer
I have used ShipSaver for several years without one issue. Customer service is fast and professional. Claims are processed quickly. I wouldn't sell online without ShipSaver.
---
HORRIBLE - HORRIBLE - HORRIBLE . IF YOU WANT INSURANCE GO SOMEWHERE ELSE !!! DO NOT SIGN UP HERE!!!
Filed a few claims and MORE THAN 60 DAYS LATER, company tells us they can't pay us for anything. LOST CASE ON PAYPAL AND EBAY RESOLUTION, but company won't pay us a dime!!!And Tells us its policy, bla,bla,bla... no payment. The agent even told me it would be better if i used ebay's insurance instead of their service. What a joke. I WILL NEVER USE THIS SERVICE AGAIN. I RATE THIS AS HORRIBLE and a RIP OFF !!!
---
Great job protecting my foreign mail
Excellent experiences. Some overseas purchasers claiming non receipt, got the documentation to fill out, and miraculously the items appeared. Great security feature to a "forgetful" world
---
Good application to lower cost of insurance and easily keep track, Claims take longer
PROS: EASY TO USE, CAN ADD INSURANCE AFTER MAILING THE PACKAGE COVERS COST OF SHIPPING FOR CLAIMS THE BUYER COMPLETES AN ONLINE AFFIDAVIT, CLAIMS PROCESS IS SIMPLE IF YOU HAVE QUESTIONS THEY WILL RESPOND FAIRLY QUICK CAN AUTOMATICALLY INSURE CERTAIN PACKAGES SENDS AN EMAIL TO BUYER IF YOU CHOOSE WHEN INSURANCE IS ADDED CONS: THE ONLY CON I HAVE FOUND IS THE THERE WAS A COUPLE OF WEEK WAIT BETWEEN THE FILING OF A CLAIM AND WHEN PAYMENT OF CLAIM RECEIVED AND THE BUYER. I ENDED UP REFUNDING THE BUYER PRIOR TO THE CLAIM BEING FULLY APPROVED BECAUSE IT WAS GETTING CLOSE TO 45 DAYS AND THE BUYER WAS GETTING ANTSY.
---
A Perfect Way to save on insurance and very easy folks to deal with! Honest coverage of all S
Just outstanding service! Highly Recommend to all!
Created By: 2feline_fancy
---
I filed a claim on a lost package to Austraila and it was completed in a WEEK. They kept me informed thru each step and refunded thru PayPal. I am very impressed!!!!!!!!
---
Very quick handling of claims.....cost is reasonable too!
Created By: charliestreasureshop
---
Great application to have for all sellers!
Highly recommended. Fairly easy to use. Primitive interface and requires refreshing occasionally, but the best value for the money (in terms of insurance) by far.
---
YOU ARE BY FAR, THE BEST OUT THERE.
I couldn't be happier with Shipsurance. They quickly respond to and pay my claims. I trust your company so much that once you tell me that my client submitted the form, I immediately pay them. I don't feel the need to wait to hear from your review team. You consistently, fairly and quickly pay, and shipping as well! I tell all I can about your company. My son had to deal with another company on ETSY. His claim involved broken glass. They expected his elderly customer to SEND the glass to them for verification. It was settled, but it took a great amount of time and hassle. I have never had a problem with Shipsurance like that. I also filed a claim with USPS Priority mail.... It never was paid.
---
Better than other insurance
This service is better than USPS insurance, It's faster, easier and not much of a waiting time. The only complaint is what $ amount you insure is not always what you get.
---
Horrible process for making a claim. If I could give 0 stars I would have!
Sellers bewares, this company has great insurance prices but that comes with a great cost when wanting to have a insurance claim taken care of. The amount of paperwork that both the seller and the buyer needs to fill out and sign and the other information needed is overwhelming. I have used other insurance carriers, and will immediately be switching back to them as soon as the claim I have in with these crooks is finalized. For a claims adjuster to tell me to "Take a hammer to the item and completely destroy it" is ludicrous. The part was damaged in shipment, and the buyer provided pictures proving it, but that was not enough. SERIOUSLY!?!?!?!? I will also be putting in a complaint with the Better Business Bureau, and our local Consumer Protection Agency. Once again, seller beware...this is a SCAM and you save some in the beginning but the damage and frustration they will cause when making a claim between you and your customers is not worth it.
Created By: americancycleparts1
---
Sguosaver us very responsive in managing claims, and in a timely manner.
All of my dealings with Shipsaver have been very positive. They are easy to work with in handling claims and they are very quick to settle a claim. They make it easy for the shipper and the receiver. I highly recommend them.
---
Provides a vital service, reasonably priced. Never had to file a claim, so...
Easy to use, ESSENTIAL service for sellers who use Media Mail or other shipping services that don't offer insurance even as an option and for those who do a lot of selling overseas. Of course, I never had to file a claim so I cannot speak to how easily or completely they deliver on their promises, but I'll give 'em the benefit of the doubt. FIVE STARS!!!
---
Simple to use and saves you $$$$
All you do is click on the app and all your sales are there and you just click on the ones you want tpo insure.About half the price of USPS
Created By: baymountaintrading
---
The app is easy to use but they do not cover computers or lcds.
We sell lots of laptops and thought it would be a good way to insure and keep track. But they do not cover our products and it was not clear at 1st try. JHad to remove after installing and setting up payments
---
This insurance does not cover a LOT of things...be sure to read the fine print or else you will be very surprised when they deny your claim within a few minutes of receiving it....A word to the wise...
---
Nice app - Beats the h*%* out of USPS's rates.
Easy to use - Nice app
Created By: righteousone2014
---
thanks!!
Created By: wvdistributors
---
This app has been easy to use and the customer service is excellent. If you are shipping products you need to have this service.
---
Good coverage, but claims are cumbersome
ShipSaver has paid every one of my claims, however the relationship between eBay and Shipsaver is odd. eBay will decide in the buyer's favor before and up to 45 days, however Shipsaver requires a 45-day waiting period on submitting a claim for international shipments. Also, Shipsaver requires the buyer to complete a one-page form, which after eBay refunds the buyer, getting cooperation is difficult. Shipsaver has the buyer's information. If I'm paying 3%-8% of the purchase price to insure, I just want to click "claim" and be done with it. You as a buyer also have to gather up the PayPal documentation, etc., which can be tedious. WHY ISN'T EBAY AND SHIPSAVER ON THE SAME PAGE????!!! A big downer is now they have either suspended or cancelled insurance to Brazil, because of a high percentage of claims. Too bad it afects all of S. America because I must charge more to ship now to Brazil, and I CAN'T ISOLATE just Brazil, so that ALL of S. America must pay higher shipping costs!!
---
Three weeks is too long to keep my customer waiting...Also, label doesn't include ins. paid for.
I insured with this company, but find they do not cover the shipping. If an item is damaged, the customer expects they paid for the item and shipping. That means the seller/shipper refunds the customer, and the seller also loses the original shipping.//Another thing I do not like is that theg customer's shipping label shows the shipping not including the amount paid for insurance, so the customer thinks we overcharged them. The reason this shows less is that the shipping $ goes to the actual carrier and the insurance money goes to this company and more than likely eBay. Thus the insurance money paid can't be included on the label because the shipping money goes to the USPS,UPS,or whomever is used for shipping.Sounds confusing,doesn't it.Once I saw this a few times,I knew I had to email my buyer that they did not overpay on shipping,how the $ was distributed, and that there was not an overage refund. I refund any overestimated shipping paid of 1.00 or more,so they were expecting that.
Created By: shabbyattic*usa
---
HORRIBLE FOR INTERNATIONAL SHIPMENTS!
Review:1. You have to wait 45 days before filing a claim, which contradicts eBay's and PayPal's policy, that says that the buyer only has 45 days to claim that they didn't receive their item. So, the buyer will obviously open a case against you and you will have to refund him/her before the 45 day period. Then that brings us to #2... 2. Once the buyer receives their refund, they have no incentive to help you file the claim. You have to have the BUYER sign an affidavit and send it back to you. Yeah, good luck getting someone from Russia or somewhere similar, to do that, especially when they no longer have an incentive. This insurance company is a JOKE. All they do is provide a false sense of security. Don't waste your money on their service.
Created By: exceptional_deals_fl
---
Superior Customer Service. Best insurance price around!
Well we always looking way to cut your expenses - this is normal! Few weeks ago i realized this is the best price for insurance and I start using ShipSaver app. ONCE AGAIN: Best insurance price - in my opinion for my particular level of sales. no doubt!!! CUSTOMER SUPPORT: Fast... Extremly nice... Very helpful! I had temporary problem with PayPal and they (ShipSaver support team) was extremly nice to me! They are answered all my message in 30-45 min timeframe!!! And reactivate my account in the 30 min! Tim - thank you very much - really appreciate your time and your work! BOTTOM LINE: if you not a ShipSaver (inkFrog) customer - you are missing alot! buy_sell_game Top-Rated Seller eBay Power Seller 10+ years eBay experience
Created By: buy_sell_game
---
Excellent service. Great customer care. Fast claim help.
This is the best insurance companyI have ever used. They make it so simple to file for a claim with an extremely shorter wait time the USPS. I wouldnot use anything else. I hope eBay doesn't mess with this.
---
I was using this app for a while but when it came time to put in a claim they said I have to reach the buyer and have them fill out paperwork then I had to fill out a form and send pictures then they wanted an opinion of an expert to see if the item could be repaired! Really?? The customer did not want to be bothered as they knew Ebay would give them their money back anyway so I lost out. Also they take months to make a decision. Just not worth it. I will use the regular USPS insurance, less hassles.
---
My first claim has been paid without any trouble just usual paperwork
I highly recommend never sending anything over $10 USPS without shipsurance. I had only recently found out there was shipsurance. Somehow I thought I could only buy insurance from USPS
---
Major discount to USPS and other providers
They pay their claims extreamly fast and it's ungodly easy to use.
---
The list is growing as to where the insurance will cover. Does not take care of my insurance needs any longer. Too sad!! Was nice for the short time I had it.
Created By: gymboreejackpot
---
This app is not good. required alot a documentation to fill a claim
Do not use this app
---
The only Insurance for my business!
This is easy to use and makes insuring merchandise very affordable. I have recently filed a loss claim and did not have to promise my first born to get a speedy reimbursement. I had just gone through the Post Office insurance process and it was complicated and took a long time to collect. SHIP SAVER is the only insurance I use now!
---
Can't Insure Muti-Purchase
If the buyer makes separate purchases, and you combined them for shipping, unless you have combined the whole purchase in Ebay, you can't buy insurance for the shipment. Since I had to buy insurance elsewhere, I don't need this service!
---
Love it, never a problem, makes things SO easy. Good job, guys
Created By: unknown-shopper
---
ShipSaver insurance is very easy to use, and has saved me a lot of money.
Created By: envision_emotion
---
I have been using this app for 2 years now. I have tried many others. This app is the best priced insurance around. I recommend it for anyone who likes to spend a little to gain solid piece of mind. Thank Goodness it is so affordable :)
Created By: spoiled*material*girlz*blingz
---
Fast and easy and has saved me a lot of money this year.
---
got screwed by ShipSaver Insurance
USPS First Class International Mail has absolutely no tracking. With grudge or grievance against you (for example, buyer expect you to write ?gifts? or a fake low value on Custom Form so they can skip their countries custom tariff ? especially for countries like UK that has a very low threshold for no import tax - but you do not want to do such unlawful things), some might just open a case with ebay to get them compensated. There were a few such mysterious ?non-receiving? cases filed against me by a few UK buyers last year, and consequently ShipSaver has paid them all. 'mysterious' because none of these 'un-delivered' package got returned to me. I started to think if I should use trackable (and costly) shipping method to some countries. Then came the bombshell ? Shipsaver Insurance notified me, ?due to adverse shipping claims?, they will not accept my insurance coverage any more. I would be willing to accept penalty for my lack of hindsight, but not cutoff.
Created By: davidmathgreen
---
I had one photograph arrived damaged, and ShipSaver paid the claim promptly. The process is simple. It is also less expensive than the US Postal Service insurance, and they provide international insurance. What's not to like?
---
it's the best app on ebay and I use it all the time. The best thing about it is that it really works. I've had to file insurance claims because of loss in the mail quite a few times. I'm impressed how fast and hassle free the claims are processed and paid, for both domestic and overseas shipments lost. And the premiums are very reasonable, too.
---
Sporatic application...works sometime really well and other times slow and unresponsive
Created By: empty.nest.farms
---
the insurance is HALF the price of the USPS plus you can insure packages to international customers without having to send registered mail(I use first class international);even the claim process is easy to use, and they even email your customers to tell them you added insurance on their orders(which gives customers peace of mind). Best of all, the money you spend on the insurance automatically gets deducted from PAYPAL, so the entire app is compatible with Ebay. I wish this app had been available years ago!!
---
The prices are great and it's easy to use. I haven't had to file a claim yet and that will be the real test!
---
Easy to use. Great customer support
---
I have used this for years, and I highly recommend it.
It is cheaper than any other insurances. It is very easy to use. And claims are very easy to complete. Money is returned in a few days. I really like this application!
---
Make a claim easily and get your money fast!
Making a claim is much easier than the P.O. and much faster getting your money back. The only insurance I use.
Created By: a_princesshousehold
---
Peace of mind for customers and seller
In the past 3 years that I have been involved with my Ebay store business, I have had occasion to use my 'ShipSaver' Insurance twice. Both times, the claim was paid within just few days. But that is only part of the story. Having the ShipSaver logo on my store pages helps give the customer a peace of mind feeling that comes from their knowing that, if their package is lost in the mail, they will get their money returned in full. I think ShipSaver has been a great tool in the growth of my business. I provide the insurance at no additional cost to the buyer and feel that it definitely pays off in the number of return customers I have. Thank you Ship Saver!
---
i filed!i got paid! thanks
No problem! filed a claime! got paid! that easy!
Created By: sexysparkles1
---
So Easy to Use and Set Up! Nice having Shipping Insurance Available for USPS First Class Intl !
I love being able to choose the exact items I want to insure, whether Domestic (U.S.) or International. But the absolutely BEST thing is being able to insure when I ship by USPS First Class International--this is NOT available thru the Post Office, and FC INTL is So MUCH Cheaper for the Buyer! I like to give them a choice, as USPS Priority has tracking, but is SO Expensive! Now I worry less. I have not yet had to make a claim yet for Ship Saver (cross my fingers), so that's the only reason I didn't give it 5 stars. Thanks, eBay, for having it available as an App!
---
I am super pleased with ship saver!
Very easy to use. Rates better than the PO. Insurance on 1st class shipments. And...they paid 2 international claims on lost/stolen packages! I will be using them with great confidence in the days ahead.
---
I used this insurance company alot,and when it came time to file a claim they gave me the runaround,the person handling my claim is never there.(We all learn from our mistakes)
---
This program has saved me money on my insurance needs for my items at a very low price.
I like that it will insure overseas packages on all items through eBay as well as my other packages not sold thorugh eBay and that says a lot! It's no brainer using it over the USPS insurance and if a package is lost or stolen doesn't take 3 months to get the claim paid. A very rock solid insurance platform to say the least about it.
---
The automatic insurance doen'st always work. I've paid many dollars of good money for insurance on my packages, and trusted the automatic insurance to cover all international packages and all domestic packages over a certain amount. But the past few times I;ve needed to file claims the automatic insurance failed to apply. When I write to Shipsaver about this all they can say is it's a beta applicatoin and I should have checked. What a racket. I wish I could collect money for offering a service, then not provide the service when it's needed and say it's a beta application and you should have been more careful before trusting me to tell the truth. But I believe in being truthful with my customers, even when it costs me. I believe that good will is important. Apparently shipsaver doesn't. I wish there was some other insurance application out there. But for now I'm stuck with it and all i can say is, buyer beware.
---
Shipsaver is much better than usps insurance
Not only does this service save you money, the claims are easier and are paid faster than with traditional insurance. I highly recommend using shipsaver !
---
Does not work. No customer service
Tried using service. Freezes and does not work. Contact customer support. No reply.
---
ShipSaver is a must for any seller. It is so easy to do and I have always received positive feedback from buyers who have the unfortunate experience of a loss or damage in shipment. Claims are paid quickly, customers receive there refund quickly with no hassle of returning items or trips to the Post Office. Hands down the best business tool for any seller!
---
Wonderful and reliable, always there for me!
I love having this, as it gives me more confidence in shipping worldwide. The insurance claims are handled quickly and professionally. Excellent service! I have already gotten several more people to sign up for it.
---
Shipsaver is the most cost effective insurance available,filing a clim is very uncomplicated.
The claims department staff is extremely helpful in filing a claim.The last claim I submitted was handled by Kimberly.She did all the work for me and did it in record time.The claim was paid in a few days.I could not sk for better customer service
Created By: flyingbrandeis
---
Auto Purchase does not support "Priority Mail Int'l Padded Flat Rate Envelope"
Recently I had 2 lost claims from international buyers totaling around $600. I thought no big deal I'm covered by ShipSaver.. WRONG... Since I shipped using "Priority Mail Int'l Padded Flat Rate Envelope", ShipSaver system does not recognize it so it did not Auto-Purchase the insurance. It was not mentioned anywhere under the term/policy that Auto-Purchase doesn't support the Padded version of the Priority Mail Int'l envelope. I now loss $600 because of that. I wish they can support it soon, or at least warn sellers about it.
---
Had a hard time with my non-english speaking international buyers.
It is not easy to explain the in
---
This is possibly my best experisnce ever dealing with an Insurance Company. Fast, Responsive -AAA+++
I was extraordinarily impressed with the fast response to the claim I filed for the package lost by USPS. What impressed me was the fact that [Kimberley] personally encouraged me to work with the buyer prior to the claim being settled. The buyer was pleased and so was I. Your advice also saved me from a possible negative feedback from the buyer. I appreciate your advice, your prompt response and your speedy reimbursement. I will have my review reflect my deep appreciation. Once again, thanks. vistahill72
---
GREAT!!! Free insurance is promotional offer ONLY-not permanent! EASY AND INEXPENSIVE!!!
GREAT!!!!!!!!
Created By: nancysnails4u2
---
Regarding bad review-I think the free for $25 or less was for one time-introductory offer.?
I was under the impression the free insurance for $25 was either for one-time use or introductory offer-does the reviewer want a lifetime of free insurance?
---
Took away the free coverage for shipments $25 or less on 07 December 2011. Going to nickel and dime us like their master.
---
Excellent Insurance and EASY to use!!
So far my experience has been great, it is easy to add insurance to my orders and gives me peace of mind that I won't have to pay if something gets lost and the price can't be beat!!
---
i hate this new way of charging me for insure
i liked the old way better
---
Makes selling and shipping so much easier!!
Love the ease with whioh I can quickly insure my packages and not even leave my chair!
---
STAY AWAY FROM THIS SHADY COMPANY!!! Will find any loophole NOT to pay out claims
Their description is correct in only one thing. The process to take out insurance on an item you've sold is quite easy. The process to make a clam on those items, however, is tedious and puts sellers in a situation where they are highly likely to receive negative feedback from the buyer. Then they require an affidavit I had to have buyer sign that is actually threatening in its language and basically accuses them of lying about any damage they claim was on items they received. As if that wasn't bad enough, the first time I had to make a claim because of damage to an item by USPS, it was denied based on a technicality that had nothing to do with how/why the damage occured but was simply a loophole written into their policy to be able to get out of fulfilling the services I had previously paid for. When I questioned this policy, the response I received was rude to say the least. I cancelled my account immediately; told them I don't do business with companies who operate so shady.
Created By: cands_gadgets
---
awesome
Created By: dollshobbiesnmore
---
I love how easy it is to use, very simple step and package on it's way!
Created By: christysfabulousfinds
---
Have not had to make a claim yet so can not comment on that.
---
Very pleased that they won't charge you for something that they can't insure. Most insurance companies (USPS included) will take your money and it's your fault if you shipped something they didn't cover. Very good rates also.
Created By: roystongoldrefinery
---
Great until you have to file a claim
Internal packaging? you send in pictures of the box, broken item and signed affidavit, no there needs to be internal pictures of the packaging. Only 2 weeks later, who has a 5 ft box of packaging sitting around? Sorry sorry service.
---
Easy and quick to use. Saves money!
---
So far I have been using this app for the past month and am happy to let my out of US clients know that all shipping is insured. I have had no issues so far, hoping to have none, It is easy to use.
Created By: sunnyblue2008410
---
Absolutely best insurance provider for sellers out there!
Easy to use, fast, reliable, unbeatable!
---
Simply Flabbergasted! So happy with their service.
After insuring packages for well over a year now with Ship Saver, I just this week had to file a claim over a lost package to South America. I expected perhaps a hassle but in no way did that happen. Both my customer and I completed our paperwork, faxed them out and within the next couple of days the claim was paid much to my relief and happiness. Anytime in the past if I had a question....bam.. they answered immediately. I can honestly highly recommend them for excellent customer service with lightning speed. You won't be disappointed trusting them with your business. Thank you Ship Saver! Connie A.
Created By: dreamjewels4u
---
Top notch Responsive Service and Reasonable Fees
I have been a Shipsaver customer for 1 year and never regretted it. The cost is low for insurance. The customer service is 5 Star. Always respond to my emails within an hour. Pays claims promptly and has a very simple claims process. I probably buy insurance more often than I would have in the past but it gives me piece of mind for a reasonable price. (Post office insurance is so high priced I rarely bought it.) A very satisfied customer!
---
nearly NOTHING covered. laptops, tablets, cellphones are NOT covered. What else is there to insure?
nearly NOTHING covered. laptops, tablets, cellphones are NOT covered. What else is there to insure? No one is interested in insuring your accepted items. Who would want to insure dry food, or any non-electronic items? ShipSaver is a useless insurance service. Only insures items that do not need insurance coverage.
Created By: um_communications
---
Easy to use, but dont try to file a claim
These people do everything they can to avoid paying claims. Even after Paypal has refunded buyers payment, Shipsaver creates ridiculous hurdles to keep from paying seller.
---
Convenient and economical shipping insurance. Claim process easy, efficient and quick. Great app!!
Convenient and economical shipping insurance. Claim process easy, efficient and quick. Great app!!
---
The most cost effective insurance offered.
Created By: spoiledmaterialgirlzblingz
---
ShipSaver Insurance: Cheaper and Better than USPS or Many Other 3rd Party Insurers!
ShipSaver Insurance is an excellent way to insure your most valuable packages. Their rates are much lower than those of USPS and many other 3rd-party insurers (including eBay); their coverage is better; and their claims process is much quicker as well as less arduous. You can even insure USPS First Class International packages -- something USPS won't do! The best part is, you can set ShipSaver to automatically insure packages whose value exceeds the dollar amount of your choice...or just set it to insure all of your packages. It's quick and super simple! To sum it all up, ShipSaver Insurance is as easy and intuitive as it is useful. Try it ? you'll be glad you did!
---
Integrates well with Ebay and Paypal so far not bad
---
A welcome protection with great service
---
The best Insurance Processors .. Hands down
I have used a couple more another insurance companies and this ShipSaver by Shipsurance is the BEST! Their processing time for a Claim is just amazing. I can't thank them enough!!! KEEP IT UP!!!!
Created By: electrostation
---
Great customer service, response time, and payment on claim.
---
A great bargain and good coverage!
Great coverage and at a fantastic price!
Created By: the*pink*martini
---
They don't insure very many items
They don't tell you what they don't cover until after you sign up
---
There is no way to get money back from this kind so called shipping insurance. Waste of money waste of time.
---
They do not insure what I sell
I wasted my time with this. They don't cover cellphones.
Created By: starkeys-electronics
---
GREAT INSURANCE CARRIER I HAVE USED FOR MANY YEARS!!
EXCELLENT ALL THE WAY AROUND!!
Created By: saylesville2003
---
had one claim, they paid very quickly
---
By far the best insurance app I've ever used. The simplicity is perfect and I could not ask for better prices.
Created By: brianna_tyler
---
Not Helpfull For Our Electric Items
Sounded like just what we were looking for...Then the fine print said no MP3 players or items with LCD Type screens, theses would be excluded. So in the end we wasted a dollar O well maybe it will work if your sending a damage proof item like a safe LOL????
Created By: craftworldgifts
---
BEWARE THIS IS A RIP OFF, THEY DONT COVER MOST OF ELECTRONICS AND COUNTRIES
THEY AUTOMATICALLY SUCK MONEY FROM YOUR ACCOUNT EVEN IF THEY DON'T COVER.
---
Just wish there were some way to enter non-ebay stuff
---
wonderful, quick, easy to use and saves you money!!
---
Shipping Insurance - US and International
Even with the savings, I was a little leery about giving up the USPS insurance but I wanted to go International and the USPS would not insure First Class International...I am a "Top Rated" "Power Seller" and didn't want anything to tarnish my reputation or cost me money...fortunately I have only had one claim but what an easy experience...especially compared to the USPS...I can't say enough good things about ShipSaver...thank you and thank you and God Bless You...what a great service for all sellers...especially if you want to go international. Tom Harrison "tomcat0110"
---
no idea why everyone doesn't use this service
Created By: taylorsdreams99
---
Unlike many businesses on-line it is easy to reach a real person either via e-mail or phone. They are knowledgeable, helpful and competent. I made a suggestion and the e-mail recipient immediately implemented it....did not "pass it along to management." I also had two situations being new to insurance claims that Shipsaver could have given me a hard time about and instead went out of the way to assist. I cannot praise enough!
Created By: auctionshopper55
---
I was having problems with insuring international first class packages but now I can get insurance at a very low price. USPS will not insure 1st class intn'l packages but with this app you can get it. My international sales have already increased because now I can ship to my customers at a much more reasonable price.
Created By: crazygambler!
---
Claims system requires redundant and ridiculous information/forms
The claims system is not easy and it looks like they won't pay anyway. I have to get a signed affidavit from the buyer, need to provide proof of value (which they already have since they are embedded). They also require another form for shipping cost (which again, they already have). Furthermore, they need a proof of mailing (which again, they ALREADY HAVE ACCESS TO). I wrote a negative review about 8 months ago, because I had a bad experience, JUST like this (except it was for a broken item---which they required pictures, the original packaging back, etc......UPS does this, but they come and pick up the parcel and do the inspection), but they erased my review. I didn't learn from the first claim gone wrong and now I am learning it on a lost package to Australia---45 days lost via Priority Mail International. Don't do business with this company. They collect and never pay.
---
Best Value for Selling Fragile Items
I've been using this ShipSaver for nearly a year. Fortunately, none of my buyers nor I have had to file a claim, but the piece of mind and affordability of ShipSaver is well-worth it. It is cheaper than other shipping insurance and the "paper work" is far less intensive. Also, the customer support provided by the ShipSaver team is far more quicker and helpful than any of their competitors. Although I do find myself insuring shipments more often than I would with other shipping insurance companies and, as I mentioned, the lower costs are definitely worth the piece of mind provided by ShipSaver.
Created By: freddiefredrico
---
Filed a claim using the on-line application. Item was assigned two tracking numbers (original number was voided due to printer error and second number assigned to item). Ebay does not allow deletion of original tracking number. Original tracking number follows with the item and the claim. Explanation and documentation was provided to ShipSaver regarding the tracking numbers. Claim was denied stating item was not covered due to wrong tracking number. Ebay does not allow deletion of the tracking numbers and the original number is assigned to that item even if its a voided number. Customer service rep upon denying claim also stated "I should have asked to cancel the claim". This was totally rude and very poor customer service.
---
Great customer service, but they have a list of things they dont cover and they dont cover TV's or monitors... if they did this would be great.
---
BAD EXPERIENCE NOT USEFUL
THEY DONT HAVE A PHONE TO CALL,...I DID A CLAIM, AND THEY NEVER DO ANYTHING FOR MY CLAIM
Created By: exotic_rings_wow
---
---
SLASHED MY COSTS, MADE INSURING INTERNATIONAL SHIPMENTS POSSIBLE
WOW! Of all of the third party eBay approved applications SHIPSAVER has been the most cost effective, profit improving and customer satisfying one I've ever used. It is super easy to use - they are very responsive and my costs are significantly lower when insuring domestic and international shipments. Before I could only afford to insure higher value items with the post office when shipping international - so I self-insured the international first class mail items. I worried every time I shipped a first class international package with no postal insurance. No more, I am now fully insured and worry free! Why isn't everyone using SHIPSAVER? Thanks again SHIPSAVER.
---
I love this application! I can insure all my items for buyers at a low cost fee! I Pay for this myself! I do not want problems for item(s) damaged in transit! I offer it FREE to help ease their minds! Great fast easy
Created By: spoiledmaterialgirl2011
---
Easy to use excellent response from agents
The application is fast and accurate. Payments for damages are fast and fair.
---
BEST ever...wish I knew about this sooner for International Insurance!
Easy to use.. One click and I'm insured!
---
We've been using them for the past year or so. They have fair pricing and they offer insurance for First Class International. Whenever we have had to place a claim, the process has gone smoothly without problems. Great shipping insurance! Highly recommended.
---
Ship Saver Insurance is great!!
Much cheaper than Post Office. Easy and Fast. Information is pre-loaded so saves lots of time and eliminates errors Also keeps easy to access record. Best Ap on ebay.
---
Easy To Use But try To Supply The proper Paperwork to collect, impossible??? Yeah right!
International breakage, wanted two professional appraisal reports, pictures,along with the normal paperwork associated with the tracking and such whih they should have already... and a report if it is able to be fixed and more, my customer didn't even speak english, is it me or should they be inspecting the package right at the source like all the other companies, I wont use them anymore????
---
Best insurance premium rate offered for shipping.
Very easy to use and buy insurance. Just wish it was available on eBay's shipping insurance drop list when purchasing the label on eBay's so that it would not have to be done as a separate application.
---
THE ABSOLUTE WORST APP ON EBAY
these people do not pay when a loss occurs. These people have set up rules that are in direct conflict with Ebay rules. Follow their rules Ebay will remove you. They do not allow you to settle with client for about 2 months after loss.. at that point your account will be closed by ebay. ruse nasty staff that do not pay losses.
---
LOVE SHIPSAVER! Have been using for about 2 months now and was worried on how a claim would work in the event that I ever had to file one. Had a Domestic parcel that got lost and it was very easy to start the claim
Created By: thepatchboutique
---
I had to file about 6 claims in late 2010, ShipSaver made it so easy to do. Claims are processed quickly and professionally. Highly recommend this application to all. I've tried others, this company is the best.
Created By: chirpychicagochick
---
Great like that its user friendly. But not today. Help Thanks
Hello I like But for some reason i can't sign on. When i try to connect just says page not availible? Please help. Thank you Rick
---
I sell a lot of fragile vintage items so insurance is a must - Shipsaver is a great money saving tool for frequent sellers. Quick and easy to use - hassle free. Can see a profile of all my insured sales at a glance and notifies my customers that their package has been insured automatically. Five Stars Plus !!
---
THE INSURANCE DOES NOT INSURE: Bears a descriptive label or packaging which tends to describe nature of contents EXCEPT if shipped via Parcel Post and required by Postal Law and Regulations. What???? So if there is a retail item sellers need to repack it in a brown or any other box. They dont realize that the cost of repacking ends up making it the most expensive insurance product out there.
---
Great Discounts - I Save a Lot on Insured Shipments
I've used Shipsaver off-and-on over the past couple of years, even before they were an eBay app and I've never had any problems. The money I save on shipping insurance really adds up. Shipsaver/Inkfrog's customer service has always been prompt in responding to questions. The only thing I don't like is the delay of a day or so before the charges are deducted from my PayPal account. I wish they would deduct it right away, because sometimes I forget about it and then I get a surprise a day or two later. But I know Shipsaver does that as a courtesy in case you have to cancel the insurance for some reason. UPS does the same thing. So just remember to pencil those charges into your PayPal account balance so that you don't forget about them. Other than the delay, I think it's Shipsaver is a great service.
---
I have been using ShipSaver for higher-priced auction items. Customer Servuce is GREAT! A+ company!
I have found that ShipSaver's personal attention to their customer's needs is SUPERIOR. The APPLICATION is generally very easy to use, and to understand. I use it for items not requiring USPS Registered Mail. It saves a lot of money over USPS' basic insurance rates. I would recommend ShipSaver to sellers as a great alternative; the underwriting seems very sound! Thanks, ShipSaver.
---
I was so rulectent and now am I glad, I just look at me saving over the last several months $658.00
I sell almost everything my wife buys, edish-replacements on eBay. I could not be happier with Ship Saver. hw
Created By: edish-replacements
---
Total Rip-Off ! - STAY AWAY FROM THIS ONE !!!
I wanted to have the option of adding insurance to my more expensive items or to add it at customers request. After firing up the program add-on it has a check box at the end that says "Add Insurance Automatically" with a drop down to choose "YES" or "NO". I Choose "NO" and it still added insurance automatically. Now granted the 9 transactions only totaled around $10, but I would be even more MAD if this had been done on any of my more expensive items with my choosing. After all that is why a person would say "NO" to auto-insuring purchases. My advice is to stay away from this insurance until they can get their crap together and not rip-off people. USE AT YOUR OWN RISK !
Created By: glaserscompany7777
---
This is an awesome Addition
I use this insurance when I sell more expensive items, and love the simplicity of their program. thank you ShipSaver!
Created By: shirls.things
---
If you deal internationally and the person you sent it to doesn't speak English well enough to understand that they have to sign the claim form, you are screwed. Terrible support. I've discontinued using them. This company distrusts their customers. Your word that an item was lost isn't good enough. Good-bye. Stamps.com is preferable as my new insurance agent.
---
These guys do a great job
Never had a shipping claim before with this company so I was expecting surprises when I submitted my first claim. First I noticed they answer their phone fast and don?t have stupid phone trees to bog you down.. YAAAAA! 5 STARS for humans on the phone. Second the claims form was straight forward, no ridiculous run-a-arounds to wear you down. YAAA! 5 MORE STARS. And they paid through PayPal in a reasonable amount of time YAAAAA! 5 STARS all the way round. Ebay Name = BusyBearz
---
Claims process is quick/easy
I have been using ShipSaver for about a year, but never had to file a claim, so I really didn't know how reliable they were. I just filed my first claim, which was for a little over $100. It took only a week or 2 for them to review, and I had the full amount of money in my PayPal account, and there weren't even any PayPal fees. I would highly recommend this service!
Created By: lessthanthreerecords
---