inkFrog: Lister & Manager
By Inkfrog
(released Apr 17, 2014)
List to eBay and manage your eBay business faster and easier than ever before. The best app in eBay!
Categories: Listing, Marketing & merchandising
If you are subscribed or want to subscribe to this application please
click here
for details.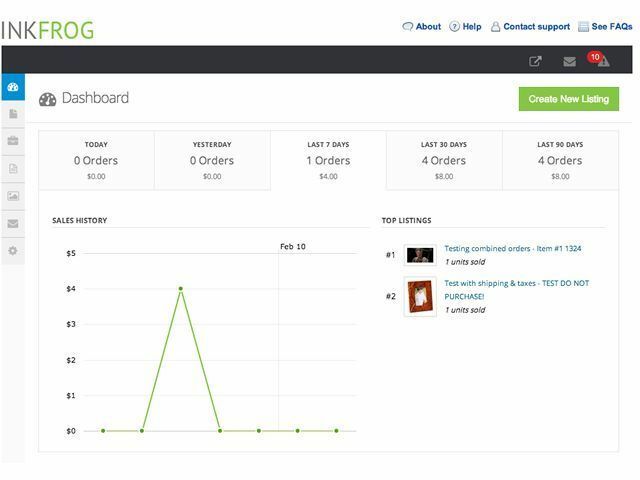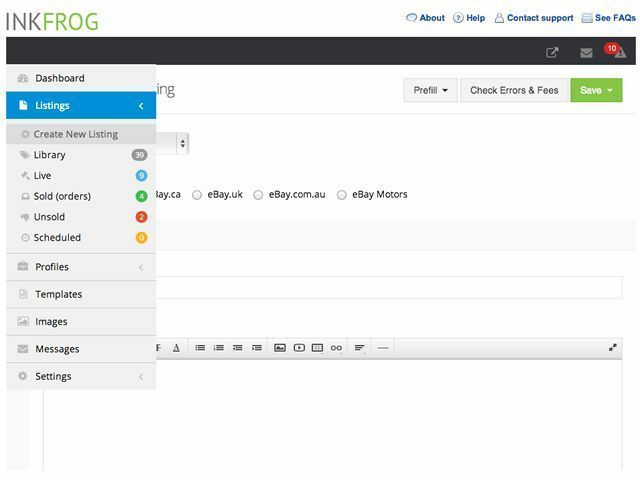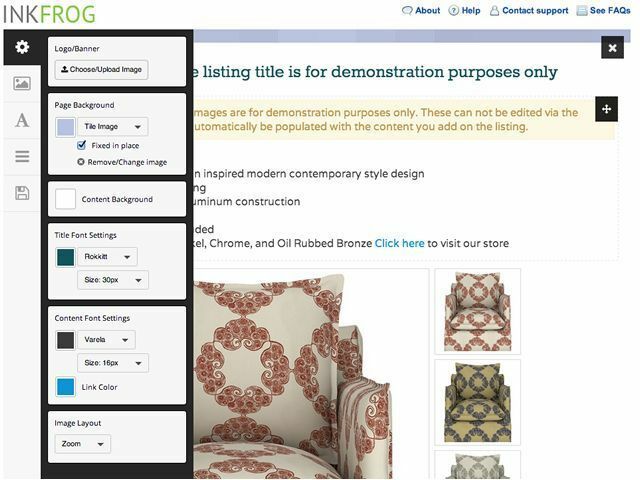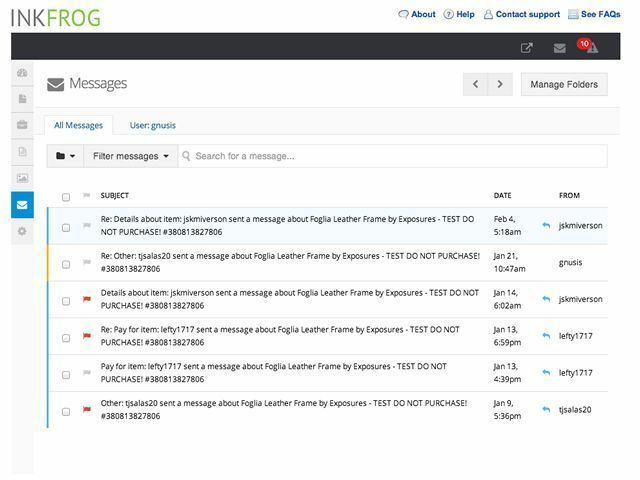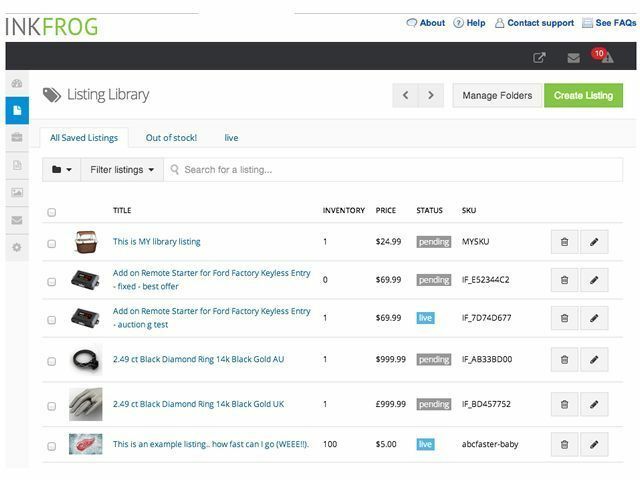 Key features
Extremely fast one step lister
Lister Pre-fills
Listing manager
Auto listing & other rules
Template builder with logo support
Order manager
Print Templates
Free eBay scheduling
Threaded eBay messages
Multiple eBay ID support
So much more!
Description
inkFrog is simply the best app in eBay. inkFrog allows you to list and manage your listings, orders, and messages in a better way with features like; A unique one step lister, lister pre-fills, free eBay scheduling, an incredible template builder, order manager and so much more. We even offer store connectors (connect & sync your Shopify and Bigcommerce inventory and listings). It's an incredible system designed to save you time, money, and allow you to create perfect listings.
Additional resources
Application requirements
Supported browsers:
Firefox, Google Chrome, IE 10+
Supported languages:
English
Supported eBay sites:
ebay.com
Required eBay subscriptions:
None
Application support
24/7 online support
Inkfrog
inkFrog is an eBay certified solutions provider. We have been building tools for eBay since 1999 and service over a billion dollars of transactions per year for eBay sellers.
Also from this developer:
By SellerJam, LLC
(released Nov 03, 2009)
Save money on USPS labels & insurance. Bulk Print and insure - auto sync of tracking #'s back to eBay.
Categories: Checkout, Shipping & payments
---
Would not cancel and charged me for months
Still shows pending and not canceled. Beware of charges!
Created By: real.life.intimates
---
Will charge you for duplicate
Be careful software setup to take advantage of your wallet. Will not refund without a fight. Also cannot export product to your main store.
---
I could never get this to work satisfactorily, whenever there was an issue it was always EBay's issue. I ended up doing everything manually anyway.
---
Destroyed my eBay store and ratings
We were a top rate seller and power seller. Started to use inkfrog to sync inventory from our shopify store. It was good in the beginning, now it will not sync between inkforg and eBay. So we were selling items that we actually didn't have. And because we had to cancel so many transactions we ended up in eBay probation. Contacted customer support they offered a bulk syncing where we would have to manually sync in bulk, they work once and a while.
---
---
---
---
did not comply with ebay mobile
This application totally destroyed my descriptions and I had to Fix hundreds in order for the to be mobile friendly.
---
---
easy to use, very handy
Created By: thedisplaydeal
---
---
App got stuck on 'pending', can't get help
Ahhhhhhhhhhhhh. Expensive to use on eBay!
---
It is not working and there is no support
The installation did not work, stacked in pending. We sent an email to them - NO ANSWER for days!
Created By: uniquedesign.uzb
---
Great app, indispensible tool for linking Shopify and eBay. Highly recommended for all eBay/Shopify owners
---
---
Save time lists, simple, fast and easy to use
---
very friendly and professional.
---
---
Wonderful templates, allowing creativity!
I love to design my own templates for eBay with ink frog. Easy to use, and update. Fabulous!
Created By: rockrollballerina
---
Only if you want to upgrade
I rate their service as poor due to their limitation of listings without upgrading and paying, which they constantly badger you to do. There has to be a better service.
---
app decided to use all caps and the typing is jerky on the description. Just don't like it.
Created By: e_antique_shoppe
---
very convenient way to import and export eBay listings
Created By: sanare.shopping-sanare.go
---
Cannot add accounts, paypal links are not operating, only adding credit cards,
customer service is basically a bot: please submit ticket. please submit ticket. Seriously not a good start here, very disappointing.
Created By: selling.at.9.87
---
It Was everything i expected
---
When I had it I liked it. It was easy to list and kept a log of my ads. I have not been able to use
It has not been available to me for an extremely long time. It was free at the time I did use it. But that changed. There are so many fees and they just rise higher all the time. Now I am now even having any success at selling. That has changed from a few years ago also.
Created By: suscreations2010
---
I love this app. It is my favorite app to use on ebay. It is simple and makes your listing look professional.
---
Zero Stars, if that was option.
This app is full of glitches and will continually block access to your eBay listings, preventing you from making money. I've submitted requests for the to be resolved, but the InkFrog issues persist. I DO NOT RECOMMEND InkFrog. HUGE WASTE OF TIME AND MONEY.
Created By: rocket-broker
---
excellent!
Created By: japanpremiumshop
---
works as described It is an excellent way to automate - just one less thing to do
---
I Would Not Run Ebay Without Inkfrog!!
Inkfrog templates have made my listings look AMAZING and totally professional. Sales have increased by more than double. Their support team is the best I have ever experienced in my business! I highly recommend Inkfrog!
Created By: wirewrappedcrystals
---
---
confusing and time-consuming
Unclear instructions, too many 'bits' instead of enabling one simple template on one page, redundant and a time-waster...turbolister was much better.
---
Takes to much time and effort to figure out this application compared to other apps that are easy to use with better templates. Don't waste your time with this one!
---
Still pending...many hours later
Installation is still pending hours later. I just want to remove this "app" from my list. Can't even do that. Thanks.
Created By: big_papa*s_deals
---
---
so good
Created By: tamndtnguyen0
---
Clicked start and got, "Not Found HTTP Error 404. The requested resource is not found."
---
---
Not working properly, no response to support email.
This app was unable to connect to my website. I try to contact Support Team many times about encountered issues but get no response. Now I try to re-install to see if issues corrected yet, but unable. Can Ebay give this app team a push?
Created By: shopusatexas_0
---
This app works as described.
---
good
Created By: minhhnmhoang1
---
Works great with my items..
---
Wouldn't download - Pending for Days
I tried to download this app 5 days ago and it has remained pending ever since. Never downloaded. Now I can't find a button to continue the download or cancel the download. I only see a pending button.
---
---
---
---
STAY AWAY!!! Misses orders constantly!!! Customer Service WILL NOT address issues. Kills business
I have written in to their "Customer Service" on four separate occasions pointing out missed orders. After three days they completely blow you off and act as if your concerns don't exist. Once they explained to me that "occasional delays are normal". To be clear these are not delays. There system simply misses the orders. The only way to be 100% sure of your order accuracy is to go back and forth between them and ebay and manually check. If I'm doing that what is the point in paying for their service??? Also, when you have a customer pay on an accepted best offer, sometimes inkfrog won't update the order as paid for two days. You have to manually input the address info to be on time. I explained to customer service in a written e-mail that I could not go on with all these missed orders. They responded that my orders had been updated. That's it. A one sentence reply. Two days later, the system missed another order. If you value your business stay away from this software!
Created By: electricfurnaceoutlet_1
---
I just started using the application and I've had great success linking my Amazon Catalog over to eBay with this app!
---
Been using for a couple of months and love the app. Simple to list Shopify product to ebay. Easy to use.
Created By: mysouthernboutique
---
Free features are "clunky", but once you figure out what they doo, and how they work, they do get the job done.
Created By: victorysurplussupplies
---
---
---
I use this to link my Shopify store, it takes forever, Lots of manual listing despite supposedly being able to link one to the other. I wish there was a better way :(
---
I used to LOOOVE inkfrog. After years of using the they released "open" but its incomplete. Why release an incomplete program??? Meaning you cant ship, cant edit templates easily.. ALSO ... the customer service is horrible.. I have had a problem launching my listings for OVER a month and they have no updates as to why or when the issue will be fixed AND when i asked for a partial refund because i cant even fully use the service. after asking MANY MANY times.. they also couldnt give me an answer. I write them several times a week asking for updates and get NONE. I HIGHLY recommend using another program. I plan on switching
---
I use ink frog for all my listings. I sell bike parts, so being able to pre-fill most the data from self created master profiles saves tons of time. The small fee is worth the hours i save using the app
Created By: bhamilton7181
---
Anything to save time while not sacrificing quality gets a high five from me, this one does!
---
Cannot get into it from ebay google chrome sends notifications it is unsafe cant sign in?
Is ingFrog and inkFrog open different apps from ONE ANOTHER or what activated subscribed cant start???? Help!!!!
Created By: golfprocollectors1
---
---
Goodbye StinkFrog! they Have serious issues with Open that they can't or won't fix
If you have hundreds, thousands of listings like me you were expecting them to have everything in place to strip their old templates and add the new. I just found out I have to do that manually. If you used Classic and switched to Open you have to manually remove the Classic tokens from eBay or it refreshes your listing to the old one. Between Inkfrog and eBay over 4000 of my listing now have contradicting information because it put my the old template from classic into the new one from open and large photos that don't fit any size screen let alone an i-phone or android. My sales have dropped off to 25% of what they were before the change. It is going to months of 40 hour workweeks for me to manually fix everything. Open is so different from Classic I can't get my employees to use it. It is too awkward to use because the took away the easy filing system for pictures and users folders and now no one can keep track of where their listings are and what profile or template they should use.
---
Program runs at a snails pace
Good luck have a problem? They never respond to anything, They want your money nothing else.
---
Was trying to find a way to use custom options within listings
---
Horrible, not for beginners...
Created By: midnightjadecnc
---
THEY CAN'T DO WHAT THEY'RE SUPPOSE TO DO. YOU HAVE TO DO IT YOURSELF!
---
---
InkFrog open has helped me from scratch and their service was extremely friendly, helpful and they definitely went the extra mile to help me with exactly what I wanted. Highly recommended
Created By: lovebellabaci
---
Difficult to navigate, offers no time savings, repeated "error messages", mouse freezes
I found this app to be maddening. Honestly I am uncertain what advantage it purports to offer, it injects an additional step into the photo upload process as you now have to upload to the app first and it does not provide instant notification of unusable images, the app does not provide the listing category guidance that e-bay does, and at least in my experience automates nothing. I have attempted to post the same listing three times now each time returning an error message about the title ( which I had edited and contained only the name and model number of the product, and now I am unable to locate the listing anywhere in the interface which means I will have to start again from scratch. The whole thing is an exercise in futility
---
Says it listed my products, but it didn't list anything
This app doesn't work. It claims that it listed my products, and puts the Launch Time (Date?) as Immediate for all of them. But NOTHING is actually launched at all....
---
COMPLETE CRAP, CONTINUES TO BILL YOU AFTER CANCELLATION
First off, the software sucks and the templates look about as basic as you can get. Second, cancelled a month ago a low and behold, they billed me again! Will be filling a dispute with PP since you can't actually get a hold of anybody here, there are much better options out there.
---
Love the simplicity and nice templates
Created By: beavercreektraders
---
perfect for my ebay store
Created By: businessfreakt
---
This is the most time consuming software I have ever used. It froze on me several times, had to do the same listing three times because of crashing my browser, paid 29.99 for unlimited listings but on their website the price says 19.99, figuring that I am paying the extra 10 for their advertising on eBay. I cancelled my account because I could have listed 10 items through my seller account by the time I listed just one through InkFrogs "Software".
Created By: midwayaftermarket-64120
---
I was introduced by a friend of ebay seller. For example, just by pasting the URL of the catalog of your shop to the mail sent to the buyer, the sales are different. This is a wonderful effect.
Created By: seabouz0701-1
---
Great listing app for small volume sellers! Easy to use and great listing capabilities!
Created By: its_not_a_chew_toy
---
problems for the last 2 months
Support is via email and takes forever to resolve problems. used to be great but now, listing aren't syncing properly. It takes days and multiple emails to get unsold to show about 3 times a week and listings are getting mixed up. Was penalized from ebay for 3 days because of a mix up caused by Inkfrog. Looking for new software to try and dumping them shortly.
---
awesome!
Created By: great_find_hobby
---
Works well but not Mobile Friendly
I've been using Inkfrog for several weeks now and I like it a lot for the inventory management. I've been searching for an app that would tie by ebay store with my online store and this does the trick. Import was easy and although there are a few minor things I wish it did, I am happy overall. However, my biggest complaint is that their templates are not mobile friendly. This is a problem for me because 43% of my Ebay sales come from mobile devices. I use the Tabbed Sections on the Listing Template for my information and policies such as Returns, About Us, Shipping, etc. Works well on a regular PC. On a mobile device these fields are un-clickable and un-viewable. Inkfrog needs to get their technology caught up as mobile usage increases.
Created By: hilltopsurvivalequipment
---
I really usenjoyed the application because it gives you options and ways to coustomize your listing.
I love how it has the option to research the item you are going to list and begin to sell. I think that is very Important to the success of your listing it is also very important for the buyers to be informed about each and every product that they try to purchase. I also like the options they give you to find the listing your going to be selling.
---
This app is said to be free, but once you start the app and create an account you will see that unless you pay a monthly subscription your items will have adds for the app unless you pay a monthly subscription at $11/mth min. You should state this when listing your app in the 3rd party app store.
---
It say that I use my eBay password to sign in, buy takes me to an inkfrog page to enter my password again, and then it says my password is wrong.
Created By: retro_deals23
---
Great App. Provides excellent cross promotion displays without actually looking like an advertisement, so it doesn't make your site appear cluttered or gaudy.
Created By: namebranddiscounterbrian
---
Better than using Ebays own..
I like the platform for this, it makes selling simple and is very little in cost. I just wish they would make it update a little quicker and also allow for feedback to be left... Then i would never have to login to ebay !
---
Good software except "You can't see the forest from the trees!!"
I've been using Inkfrog Open for a year or so. The software has generally been glitch-free for me and when I have had a problem, support has responded very fast. I like their concept of listing profiles. I load a master profile and then I'll load a shipping profile(for example). After my ad is created, I generally like to give a quick scan of all of my data right before I upload to ebay. THIS IS WHERE TIME GETS WASTED!! I have to scroll up and down through the listing because I can't see the whole picture in front of me. For example: Turbo Lister has a main screen where you can see the majority of your data. I welcome feedback on this issue!!
---
This service is worth every penny!!! If you schedule auctions (as I do), this site will pay for itself in no time w/ the free scheduling. And should you ever have any issues, the service is outstanding w/ quick response times from their tech support. Let me be the first to say that I have paid more from a monthly service and received much less in return, and I'm pointing directly at you eBay!!!
---
Love it, thanks!
Created By: rosieranchnevada
---
first time use .very good for me
Created By: beautybite2016
---
what you get for "free" isn't enough resources to go very far. very deceptive practice
---
not good can not evern install
I have been trying for two days to get setup I have emailed back and forth 6 times to support and they say try a different browser, I have tried 3 different browsers on 6 different computers and can not even get the products even installed. I got Auctiva to work in less than 5 min.
Created By: jrksalesllc2014
---
---
I tried 3 times today to open up a new account with "inkFrog open" and was not able to.
---
nice product outstanding service 5 stars ebay seller
that' s all folk !
Created By: thegrachristian
---
But would be great if you will add more listing backgrounds! Thanks
---
I already have experience great
Great. A+++
Created By: lawrencechte_0
---
Do Not bother with this app
1. This app can be rated only as OK if it were free. But for $9.99, do not even bother! 2. Do not bother to expect ANY tech support fixing anything besides of promises to fix it 3. Dp not bother to expect ANY adjustments within the app if Ebay changes policy requirements, adding descriptions to the policies and other restrictions. This app will NOT bother to let you sync any modifications you will HAVE to make in your Ebay policies. SO, if you have 500 listings ready to launch from this app to ebay, just do not BOTHER because it won't! You will get a message "payment, shipping, return policy required". 3.Do not bother to extract any of your listings from this app-not possible. My list of "do not bother" can go on and on. The bottom line is I have 500 listings in the Inkfrog and because of the policy sync issue they won't be listed with this app. GOOG JOB, Inkfrog. read more reviews http://www.webretailer.com/profiles/inkfrog.asp
Created By: holidaydecore
---
Big improvement over what we were doing before.
My favorite feature of inkFrog is that it automatically relists your product listings. Trying to keep up with all those that expired is not efficient or scalable, so having this process automated is a big plus. The customer service is great, too!
---
So, I'm hoping to improve my listing and this is too difficult to use! I have to get an HTML template! Seriously! Its not 1999, they want something easier than that for $9 a month! RIP OFF!
Created By: prisan.zef1qx2
---
BAIT AND SWITCH! SAYS IT'S FREE BUT AFTER YOU GET IN THERE, YOU ONLY GET 5 LISTINGS FOR FREE.
WHO NEEDS AN APP FOR 5 LISTINGS? BAIT AND SWITCH! NOT FREE, BUT APPARENTLY THE ONLY WAY TO GET CUSTOMERS IS TO TRICK THEM INTO DOWNLOADING.
---
LOTS OF TEMPLATES TO CHOOSE FROM FOR YOUR LISTINGS.
HAVE BEEN WITH INK FROG FOR MANY YEARS AND ENJOYED THEIR SERVICES. PLAN ON GETTING BACK AGAIN SOON. LOW MONTHLY RATE.
---
---
Tried to use this app and it's trying to tell me that items that were sold over a month ago are active right now. Don't bother with this one
---
---
this is by far the best account decision i ever made for my ebay business. i was having a bit of trouble and about to give up but the inkfrog rep went above and beyond and helped me out tramendiusly. i cantr thank him enough and now i am on cloud nine with this inkfrog account.also want to metion ebay was a great help too because inkfrog and ebay worked togethewr to resolve my account issues. so thanmk you! if you have tried in the past give it another try as it has improved drastically since i used it before. love it!
---
VERY EASY TO USE
Created By: 2guysshopservices
---
Had High Hopes This Would Be GREAT -- But Very Buggy
This looked liked the software to finally end some of our headaches with listing eBay items. Unfortunately, you cannot create variations needed for clothing, such as multiple size and color. You can only create one variation, such as color or size. You cannot do both. You will wind up in your eBay account doing this manually. Also, the software is extremely buggy. Sometimes the columns will switch places when creating a listing -- example, switching the price column with the quantity column. After 30 minutes or so, it will sometimes clear out but other times, it is just a pure headache. Support response is slow and often I just give up and delete the listing, then head over to manually input it through my ebay account. I don't think there is a better option available out there that does what Inkfrog does (or is supposed to do) I like the ability to allow staff members to have an account, which is one of the ONLY reasons that I continue as a subscriber. Hoping it improves soon!
Created By: texas_direct_liquidators
---
---
inkFrog (paid version) Makes it convenient for a novice eBay seller to get into selling quickly
If you had previous inkFrog issues, it's worth trying again. The service has become much more dependable. If you have not, they have easy to use and nice looking templates, and profiles that can be set to make selling similar items easier and faster to post. You don't need to be an Ebay expert to use inkFrog either. The only downside I see for new users is that the free version does not allow enough posts to get an effective trial.
Created By: liquidatemylife.0001
---
Great app for adding listings, only problem is it only allows 5 at once.
Love the options and the fact that it is free. Wish you could have more listings on at once though.
Created By: warren_peopleschoice
---
As a free app it was ok. You have to double check all the data transferred from Shopify to ebay and fix what was imported incorrect. But once you fix the errors it keeps you inventory balance between the two. I may try the paid app later on if all the errors are fixed. But to pay for something you have to recheck everything its easier to do it yourself
Created By: hawkinsfootwear
---
Great Service - the Paid Option is Well Worth it. Helpful
We signed up for inkfrog a few months ago, switching over from SixBit. We've used the paid version on inkfrog's website and the service has been worth every penny. Our team of listers can easily coordinate their work and share fires. The listing library is much more intuitive than eBay's interface. Also, we really needed a feature (the ability to stagger start rolling auctions) and they added that within a day. All-in-all, I've been incredibly impressed by the team's service and help and this app has been very valuable to me and our company. Thanks inkfrog! John
---
Asks for email to link account and just loads and loads and loads never stops. Now I know y its Free
Asks for email to link account and just loads and loads and loads never stops. Now I know y its Free
---
It has a few little things for free, everything else is a pyramid scheme. spend this much get this, spend more get more little options open. I was restricted from doing practically everything for the free version, only good i got out of it was the cross sell, which theres apps out there that are better. Maybe paying is worth it for some, not for me.
---
Deceptive Not free Looked interesting bit cannot even test it
I downloaded this because it said "Get if Free" not "Try if Free". Most Apps that say the former give you basic functionality and then you can usually upgrade to bells and whistles if you need to, usually once you start making money. Not with this App. I could not even get into edit listing mode as apparently I had too many listings already (13, I am just getting started) and you can only have 5 to even try the app out. False advertising is bad marketing, don't pretend something is free when it is not, you alienate potential users. I guess I will be deleting. Too bad. I was interested in the Shopify linking option. I downloaded several other apps today all with the same "Get if free" claim. All of them except InkFrog actually work as promised (free) and are also useful to me. Grateful for that. Sorry InkFrog you look interesting but I cannot afford you at this moment nor do I trust you now when you won't even let me try you out after promising me a freebie.
---
The listings look a little better than using the stock ebay. However, I spent more time trying to update tokens than I did listing things. I tried it to improve speed and this wasn't the option for me. It's also not free as advertised. Not worth the money in my opinion.
---
inkFrog is awesome for my cross selling!!!
Thank you for your service! I look forward to hopefully upgrade soon to use your other services!
---
A few bugs with speed ... Worthy of a 5 Star
I think there should be more attention paid to compatibility with other apps. Smoooth for the most part, but if I update through ink from, it throws of my business policies. All my Maps were removed... Overall I'm very please.
Created By: electricsportsplus
---
уровень1 The desired start level 1!!!!
Make an initial level with 50 listings and price 2$.
---
Timesaver, but no longer really "free!"
I started with InkFrog when they were free for unlimited use several years ago. It really stinks to continue to pay to have a benefit from the application I once had free. As someone whose items qualify in the microtransaction category, it is just another middleman cutting down my already small profit margins. Nickel and dimed to death these days. So much for user loyalty after helping the developers identify bugs and errors from the start. Don't get me wrong, the app is powerful and saves time - I just wish it were easier to edit prices in bulk, and track inventory. It would be great to have an inventory library where skus could be linked to listings in the library, and I could update quantities related to that sku - as well as a minor accounting capability of inputting/tracking inventory cost. If I'm going to pay a price for an app, may as well offer more for the money. My items are complicated to list and this does save time, but currently looking for cheaper/free replacement app.
---
Hard to use and its not free
Would not recommend unless willing to commit to $27.00 poor month. Not easy to navigate.
---
no
Created By: petsuppliesandmore316
---
This is perfect if you only have 5 freaking listings! But for everyone else it ain't free! AVOID!
Created By: andrewsjunkforsale
---
free, right! How bout 9 bucks a month
If you list more than 5 items a window pops up to tell you that you have to upgrade and pay 9 bucks a month. Not for me!
---
---
Good but be aware of the up-sell
This is free but it only allows you to do 5 listings at a time. I like the application but I am not sure yet if it is worth $10 per month. I will experiment a little more with it first.
---
This application allows me to manage better on eBay.
Created By: robocchipinti4
---
I have a shopify store and this app wont import my products to save my life. Its kinda useful but simply doesnt work well from my perspective. bottom line,I dont see myself using this much, if ever
---
After several problems with Inkfrog Open, Greg reached out to me and was able to help resolve those issues. Thanks Greg!
---
Great little add on for ebay..
---
EZ to use app to create eye catching listingd
ink Frog is a user-friendly app even if you have no experience w/ graphics. Helps track analytics as well as manage listings.
---
---
Sad that I'll no longer use it once it goes from $0/month to $9.99
As a low $ seller, every penny I earn counts. My sales are an avg of $2.75 per transaction with less than 50/month. Btwn ebay, postage, Paypal and inventory there's not much profit. For me, it doesn't matter how good this was, it just priced itself off my needs. It is a very nice addition to my listings, but for a low $ seller just makes no cents.
Created By: lilyrosengoldie
---
Worth the $9.00 a month. Keep up the good work. You have improved a lot over time.
Created By: offtheshelfsales
---
I am using the free version, it takes a little while to learn but is a great tool. I like seeing the activity on my listings and knowing how many are watching items.
---
Wonderful Muti-Tasking Tool
Fairly new to eBay and was looking for a better way to market and advertise my items. InkFrog was my first and will be my only! Very easy to use and straightforward! They have a great support team as well. I was having major problems with applying my template to all my listings, but they diagnosed and fixed my problem immediately! I HIGHLY recommend INKFROG to beginner and advanced eBay users! #1BillionStars
Created By: framesaver_boutique
---
Fantastic-Works as good as paid applications! Must at least give it a try! You're sure to love it!
I was looking for an application to fix my problems with the stock tracking. I simply did not want to track inventory as it was not appropriate for my services and listing I submit to eBay. I found this app and cringed giving it a try as it was the first app I was trying and figured I had a long night ahead of me... but that philosophy was quickly reversed! This app does far more than just giving me unlimited quantity control, but it gave me very specific restocking controls as well as properties and events of what to do in certain listing status changes. I am still learning and playing around with all the other greatly useful and unique services. I am so grateful this app is free and would highly recommend it to anyone. It is well worth the sixty seconds of linking to your account and within 120 seconds, you will be using it like a pro... and of course-thoroughly enjoying it!
---
Couldn't be more pleased....
InkFrog really is an incredible resource that saves a lot of time for anyone planning on listing a lot of eBay items.
Created By: jackstoolsandparts
---
Not trustworthy software if your livelihood depends on eBay. Keep looking for something better.
After hours and weeks trying to navigate profiles, templates, and yet still having inkFrog automatically change my listings and delay postings far beyond what has ever been experienced, I've taken a big loss this weekend dealing with inkFrog - I need to find a better listing tool or I won't make it. InkFrog works against a user and not with them, and I thought I was pc literate! Everywhere but inkFrog it seems. Support staff is very friendly but the software just isn't, I can't afford this quantity of posting issues every week. If I reported each error I would never leave their tech support section. Bummed.
Created By: buds_corner_collectibles
---
Was fairly satified with service. Constantly got messages that my re-posted items failed, not so.
Every-time I had an item that was re-listed,I got a message from Ink-frog that said my re-listing failed. I would have stop what I was doing and go check my sight, and sure enough, my listing was there. This happened ALL OF THE TIME and it was a pain in the neck. I also did not care at all for the font they used for the description of my items. It was way to fancy and hard to read. I tried to figure out how to change it, sent a message with no reply, so I just dealt with it. Their store front looks wonderful and they really have a great display considering the package I had was free. It was pretty impressive. I never tried to use any of the other services because I started with this one and it was easy and looked good. Besides the 2 glitches I mentioned above, I was really fairly pleased - it looked 1000% x better than just a plain display on eBay. I suppose if I had had the $ to invest in the store - it could have looked so much better. Thanks Ink-frog for your services!
---
Great, Does exactly what it says it will do !!
Linked with my ebay account and now i just ship and it's there. All I have to do is pull up app and see where my shipment is. A++
---
Been tinkering with this app Since Last April, and still not impressed went back to TL
I've been using this App now since The release of FREE usage last April. So far, I'm sorry to say I'm not impressed. Its not easy to set up and and use. I find its just as difficult, if not more difficult to navigate to setup your templates and html than Turbo Lister (TL). I have a custom Template, so when I have to change something, I find it difficult it takes about a week for the customer support to get back to me to find out how set up and work my custom template into their system. When I finally, create my template, I notice that my items are auto sync'd for no reason. So, my hard work of writing my descriptions and listings just disappear off ebay?? There seems to be glitches that sync between the ebay site and this software. Whenever I update ONE item, to run a simple TEST, it seems to update other items without my permission. Thanks goodness, I have my work backed up on TL, but otherwise I cannot use this LISTING TOOL. I went back to TL.
---
This app will instantly improve the look of your EBay listings, I love it!!!
It took a while to set up and understand all of it's features but with a little patience and trial and error you will figure it out and oh yes, there is YouTube to help. InkFrog will enhance the look of your listings and give them a professional identity. You can develop all of your listings directly using the inkFrog app or transfer your live listings from EBay and simply add your inkFrog template and viola, saved and uploaded a professional looking listing. I will admit I first gave up on this app but I came back to it because of the potential and finally stuck with it long enough to see my first listing on EBay and I was convinced I wanted all of my listings to look this good. I now LOVE!!! inkFrog, it's free unless you need the fully developed version for commercial accounts. Give it a try, stick with it, ask questions, try and try again, you will get it with basic computer skills. I guarantee you will not go back to the old black and white EBay listings.
---
I was used to turbo lister then tried this one I went back to turbo lister
I was used to turbo lister then tried this one I went back to turbo lister, I entered a bunch of stuff all day and it all disapeard
---
---
Love Inkfrog but it needs a mobile ap
Let me say first that this company provides the best customer service I have ever received from a software related entity. Personal e-mails and even a go to meeting to get me started. One of its best features is that it allows you to save all your listings -- with pictures -- indefinitely. I find it much easier to use for bulk listings than E-Bay. It is easy to copy one listing to another get a lot done in no time. Now for the things I don't like: 1. They do not have a mobile ap so adding pictures that you take with your phone is a pain. This keeps me from using it a lot of the time if I have just a single item to list. If you still use a camera and your desktop it would work like a charm and really enhance your experience, but I like to use my phone for pictures. 2. The templates may appeal to some, but I think they just clutter up the listing repeating pictures and text that is in the e-bay template already. ADD THE MOBILE AP AND MY RATING IS 5 STARS.
---
Exactly what i needed to make my listings look more professional
I needed my listings to be clean and simple. Much more professional. I like that you can save master templates.
Created By: normansjewelry
---
This is hands down the very best listing management app for eBay! And it's FREE! Great templates
I could go on and on singing the praises of InkFrog's new app Inkfrog Open. I have subscribed to almost all of the others including InkFrog's paid app and hated them. The learning curve on the new IF is very easy! Save tons of time by having a library of every listing you have ever created saved with pictures! There are utube tutorials explaining just about everything. I did have some problems getting started simply because I am new to this business and not a computer expert. THE CEO HIMSELF RESPONDED TO MY QUESTIONS SEVERAL TIMES! Thanks Greg! I was offered to sign up for a "Go to meeting" where a IF customer service person was going to walk me through getting all set up and creating my profiles ect. Unfortunately, I must have not set up the application correctly because I could not log into the live meeting. I have since figured most everything out on my own pretty much. If you have a paid subscription to Terapeak you can link it to IF Open and use the research feature! Thanks IFO!!
Created By: 24hourestatesale
---
I am very happy with their services and will definitely be using them for all my future insured items. I have shipped hundreds of items and thankfully, only twice before have I had to put a damaged item claim in (since I spend a fortune on bubble wrap) and ShipSaver was by far the least amount of hassle out of the other companies and taken care of 95% faster. They got back to me immediately after I emailed with a question and so much more personable. Truly feel like I found a company that cares about their customers and not just put on hold, forgotten about or told I have to fill out 15 forms and hope for a check in the mail. They cover the cost of the shipping fee and the refund goes right back into your Paypal.
---
attemped 4 listings..no results for any they claim. However, when i search ebay myself, many!?! WTF
I feel i could have been more productive chasing my dogs tail in circle through out the house,
Created By: hookedbytronix
---
Love Ink Frog Makes ebay selling easy
customize listings and create templates for faster listings. Store photos in categories you create. Analytics, shipping, insurance for less and better than PO. and more
---
Highly recommended! Superb customer service!
The first thing what impressed me the most is the customer service of this company. As soon as I signed up I was asked by Greg Sisung via e-mail, if I need any help with the App. I said yes, please. Within seconds I was scheduled the gotomeeting with one of their specialists, in my case in was Marie, who explained everything in details how to utilize the app to the highest potential. Marie answered all my questions patiently. I have learned that the App is indeed FREE, you can create multiple user accounts and limit their access (which option is lucking on eBay), you can store all the pictures indefinitely, you can archive listings ( and they won?t disappear in 60 days as they do on eBay), you can create listings based on their free templates and you can sync eBay listings through InkFrog to Shopify or BigCommerce Ecommerce platforms. I am very impressed with the App and people that work there! Hurry up and subscribe!
Created By: goodenergyforlife
---
very helpful with listings, but closes for no reason sometimes
It helps me list perfectly, but when I add my charity it closes out and I lose everything I had worked on.
---
The very best app on ebay ever
this app is by far the very best app on ebay ever! it's very is to use and comes with a ton load of well designed, useful features that work. my sales have increased since using this app. thanks inkfrog!
Created By: buttoncraftersusa
---
Makes professional looking listings easy.
Easily create professional looking listings
---
Gives the buyer good access to examine the detail of an item
Created By: sellsimplestuff
---
Excellent. Built in Account management.
One feature missing from the app is limiting domestic shipping to not ship to Alaska, Hawaii or Military Bases. Please include that feature.
---
WORKS GRATE LITTLE GLITCHEY BY IT WORKS
---
Excellent Support. Easy to use. A real time saver.
Was an Inkfrog user many years ago so I was aware of their excellent reputation and decided to try out this new app. Very happy I did. Watched all the youtube videos to get up and running quickly. Have started using this and feel it is a real time saver and will take my business to a new level. Thank you InkFrog!!
---
Took the owner up for training. The support and help was very good indeed, For me i will save many hours of work... See for yourself visit www.pandaboyenterprises.com to see listing that require details, this is handled by InkFrog app!
---
CONSTANTLY LOCKING UP SYSTEM TONS ERROR MESSAGES NO SUPPORT
Created By: harleysoftailazman
---
---
Great for putting up quick, nice looking listings.
I like the library functions for listings, daily charts, and other listing niceties.
---
nothing ever saves. I have to redo listings constantly. VERY TERRIBLE SERVICE!
nothing ever saves. I have to redo listings constantly. VERY TERRIBLE SERVICE! This is the most frustrating thing I ever dealt with. CONSTANTLY FREEZES. Nothing works smoothly. Has a pretty interface, but works like CRAP.
---
This app works great but, the free version is kinda slow.
Created By: steelersfan4ever78
---
---
I think I am going to love this App.
Great experience.
---
had nothing but trouble, not worth the time.
---
Awesome Customer Service. Saves Listing Time. Good interaction with eBay
I've gotten confused a few times and they respond very quickly and clearly. Basically follows eBay setup to make it easier to use.
---
---
Definitely a "must have" for an Ebay Business account
This application has user friendly environment and provides easier account management!In my opinion every eBay seller must try it!
---
---
Love InkFrog Open! Easy to use. Excellent Customer Support. Use it daily for my ebay Business.
Been using InkFrog for years for my ebay business. Love the flexibility creating my own template and the ability to save different profiles for the different items I sell. Saves so much time. If there is a problem, customer service responds promptly and stick with you until the issue is resolved. Spoke many times with Greg, the top boss. I highly recommend InkFrog. They have many features I have not yet used. Great for the beginner as well as the more experienced ebay seller. Thank you InkFrog for making my business easier for me.
Created By: bienleindesign
---
some bugs here and there but overall it is exceptional
Created By: solidgoldllc2015
---
Love the look and feel of this app
I love how this app presents my products to potential buyers. Very easy to use, effective and smart. Will always use it in my store to display my items.
---
Worked well
Created By: thriftofgrace2015
---
Amazing product! Increases productivity tenfold, and it's free! Listing is a breeze with this app!
It amazes me that this product is free. I've used subscription software in the past that does half of what this does and it cost me $20 a month. The staff have been amazing, answering questions and offering advice quickly. There is a small learning curve to getting started, but the staff is there to help and once you understand how it works everything is a breeze, not to mention youtube has a ton of videos to help as well. Do yourself a favor and get this program now, you will not be disappointed one bit.
---
Decent with room for improvement
It gets the job done though it can be a little cumbersome at times. An auto-save function or at least a reminder to save before leaving the page would be nice considering the users inability to navigate the functions of the app without having to remember to manually save your listing creation progress. If you don't save it, you lose everything.
---
Constantly making listing errors. Having pictures of another item. No thanks
Created By: tonysimplistic
---
---
One of the Best Apps Yet -
Thanks ebay for providing such helpful and easy to use applications!! Way To Go!!
---
I've been working with this app for months and everything its percfect
Simple and Perfect
---
help me do more listing on eBay , easy to use , best think you can add as much photo as you want , it is a must for sellers on ebay
Created By: theheadlightdepot
---
---
easy to use
Created By: humblebeginning2014
---
i use this inkfrog app for all my listings. so easy and streamlines every listing to make it much easier than using the ebay listing.
---
InkFrog has made eBaying so much faster...and easier!! It's a must-have app if you're on eBay! Great customer service too!:)
---
inkfrog is a great tool for beginners like myself, easy to learn and customize to my specifications
Just starting out on eBay, I need to watch my pennies but make great listings that will draw customers to my store. Using inkFrog was the solution I was looking for. It's a tool that is easy to learn and customize to my specifications. When I need to expand, inkFrog has upgrades that will help me grow and expand into the business that I have been dreaming about. Thanks inkFrog!
Created By: trinkets99350
---
Overall Pleasant Help!!! THANKS to you for not giving up on me! I Appreciate the Individual Tutorial
Sheryl was so Helpful
---
It's a must have for any seller! This app does it all!
Wow, this app is incredible! I?m not sure why there are some bad reviews, this is by far the best app I've used for eBay. Listing is extremely simple, I can create multiple profiles and attach them to my listings and manage my orders. I've only had one support question and a REAL person contacted me back with a REAL answer within the hour. WOW! I LOVE this app! It's a must have for any eBay seller!
---
Great Customer Support - Issue resolved within 24 hours!!!
The issue that I had was quickly resolved by customer service the very next day. Because of their lightning fast response and willingness to resolve any issues I plan to use Inkfrog for all of my listings. Thanks Greg.
Created By: *worldwidesales
---
---
Pretty good, but keeps "active" listings after ending time and I have to go in and delete. Still trying to figure out a way to change quantities on items that I have more than one.
---
---
Simple professional looking templates , makes foo template look childish.
Great app gives you professional looking templates combined with terapeek keyword title builder works awesome. nothing else comes even close to competing with this , and trust me i have tried all of them. hands down the best by far. Blows foo template away
Created By: slimmagnum413
---
Free and all feature for listing
---
I tried to use it and it DESTROYED ALL MY DESCRIPTIONS AND SHIPPING POLICIES EVEN WHEN I UNSUBSCRIBE AND REMOVE MY ACCOUNT, STILL ALL MY ADS ARE DESTROYED. I have to now change one by one back to normal....I contact them and they said that they will look what is wrong and now already one week nobody is answering me!!!
Created By: original_oe_parts
---
Amzing App. Very EASY to use. Highly Recommended. Easy and Free. Nothing can be better than that.
Very easy to use, manage and publish your listings. Save unlimited ads. Option to publish as many or all your ads at once.
Created By: yourbusinessman1
---
TAKES SOME TIME GETTING USED TO, BUT ONCE I STARTED GETTING THE HANG OF IT MAN IT'S AWESOME LOVE IT. STILL TRYING TO FIGURE SOME STUFF OUT, LIKE THERE IS NO CREATE SIMILAR LISTING SO I SUGGEST MAKE A MASTER PROFILE AND USE THAT.
Created By: carpenter_comic_books
---
Handles my 400+ items well, imported from my Shopify website easily, helps manage inventory!
I sell primarily through our Shopify-based website, but also list items to eBay to drive traffic to our site. Inkfrog open has proven to be an exciting tool to make managing items listed on eBay easy. It took an hour or two to set up our listing templates (probably because I'm picky about details) and then I emailed support to ask how to connect our website's inventory to it. I got not one, but two personal responses within an hour! Both were friendly and wrote in English naturally. The first gave me links to video tutorials and asked the second to contact me for further assistance. The second then offered to set up a GoTo Meeting to help me through it if I wanted a walk-through. I was quite impressed. The online tutorials turned out to be perfect, and I had my site connected within minutes. Now if I list an item from my site onto eBay, and it sells on eBay, it reduces the inventory at our site by one automatically! I have over 400 items linked now and it works great!
Created By: triplemountain
---
I recommend this app for other non computer savvy sellers like me. Really helps and increases productivity and promotes sales increase.
Created By: homedirectbuys
---
Nice App to create variation items
This is the app to use to create your variation items.
---
This is by far the best listing app we've used pair or free. very easy to use and amazing customer service, very helpful and quick to respond. I love that you can customize the templates with ease. Very user friendly. 5 Stars hands down!
Created By: 1stclassconnection
---
i rally like it it brings alot of attention to my items
I really like that its not hard to understand like some of the apps are
---
AWESOME, EASY eBay LISTER
I have been using Inkfrog for almost a year now and it is an AWESOME program. Did I mention it's FREE?
---
TurboLister is bad, INKFROG is impossible
There is only one choice of fonts for the text. If you hit "backspace" to correct a typo it wipes out the entire paragraph. Some of the options menus do not work. Save yourself a lot of time and and frustration and use something else!!!
---
Kinda Works Sometimes.... Makes mistakes often and constantly gets stuck. This could be a lot more.
I have to say that 80% of the time it does work. But when your running a business and you depend on your software that other 20% can really be a problem. It locks up all the time. I have data accuracy problems at least once a week. Sometimes it just misses sales altogether. Oh, and the tool for creating listings is real hard to use. It used to be highwire and that worked fine. Then they forced us into inkfrog and it's just one problem after another. It's O.K. for just starting out but if you're going to use this watch it real, real close.
---
The best free app for listings PERIOD!
I recommend this app 100%. Easy and well design. Improving every day!.
---
wonderful.. but needs to work with ebay mobile app
listing show up as reaaly deformed on the ebail mobile app... need to figure that out then it would be 10 stars
Created By: vintage_dynasty
---
This provides some good information for me however, I have noticed a few bugs. They need to check it from start to finish.
---
Seriously Great Job! Easy to use interface and very effective.
---
Amazing! I love this app. Makes it so easy to add/update listings. I can add photos in one fell swoop and then create listings later. No more one at a time photo uploads. Everything I sell is unique, so photos take much of my time. I also LOVE the simple one-page listing tool! And all for FREE! What's not to love?
---
Helps listings go from good to great.
---
Though I don't currently have a store. I really like, that I can have old listing and much other items. So far very pleased.
---
Difficult to learn how to use.
Not very user friendly. Poor guidance. No help on step-by-step details.
---
great software. wish if you could edit quantity and price inline.
---
I can list from one place all 3 accounts....Sweet
Able to re arrange my accounts and keep them in order...No more random Ebay ADds
---
Very easy to use. Great app.
This is a great app. Simplifies listing process and templates are great.
---
Great Listing Tool - Get Professional Results
This tool requires a small learning curve, but once you understand how to use it, it saves you an enormous amount of time to list an item. The templates are very professional looking and you can have different templates for different item types. It also has multiple reusable profiles, you can have a profile for each of your different needs. Store your images in the image library and they are available whenever you need them. Your product images can be used in your listing with a magnifier if desired. It also has a listing library where you can store and recall any stored listing and reuse it. This app is free, why not try it? I highly recommend this app.
---
Quite often I get three emails in my inbox I dont like that
I dont like getting 3 emails in my inbox for the same delivery. I hope that doesn't happen with the customers
---
Revised my thinking after a training session
I uninstalled inkFrog quite soon after the first installation because I found it was changing my listings in a way that I didn't like. However, the developers contacted me and after a brief training session I realized how powerful and helpful the app will be as I grow my business. I recommend using inkFrog to manage your listings, and make use of the support to ask questions - they respond very quickly.
Created By: silvercosmos2014
---
very help full template design
Created By: better4sale.c0m
---
great job
Created By: modloft_auctions
---
This app allows me to share inventory between eBay and my Website without worrying about inventory conflicts or running out of stock. Simple to use and keeps listings up-to-date with automatic synching. Give it a try!
Created By: thebeanhousestore
---
Waste of time - cannot list in certain categories
Wasted about 2 hours setting up this terrible application, only come to find out it doesn't list in certain categories. Glitchy, temperamental and just a huge waste of time. Thanks INKFROG for a terrible product.
---
easy to upload pics and list
way better than the standard ebay listing way
Created By: lunlung-vo3swx
---
headaches and glitches not worth the fee
after being a long user of this program i stayed with it even when they started charging the fee, i overlooked issues back then because it was free but now I noticed many issues with the program, your template is supppose to have a main photo in the description area with a gallery of clickable photos but using many browsers to test this the only photos that show up are the small thumbnail no main large photo using chrome, firefox but IE did allow me to see the main photo it looked nothing like the template I created that was my I left because all I got from support was "what browser are you using"? when they state in their own ap to download it is compatible with all browsers. Many other issues but i dont think i have enough space to write them, i contacted support numerous times and they were very "unsupportive" Not worth a $9 monthly fee for so many glitches. Somebody is obviously not testing their features in different browsers so for that reasons IM OUT!
Created By: treasurequeen916
---
Page cannot be displayed. Does not work.
---
Really great. I could not do all of the things I need or want to do with out it. It is a little glitchy. But all and all just great.
---
VERY EASE TO USE AND SYNC ALL YOUR PRODUCTS BETWEEN YOUR WEBSITE AND YOUR EBAY STORE
Created By: befitsupplements
---
Love the ability to personalize my listings
Occasionally run into issues with app updating live listings so I can edit them through the app which has been occurring more frequently lately.
---
---
This app is just terrific! A simpler way to list items with attractive templates!
I don't understand some of the low ratings. This app is a dream come true for easy listings with customized templates, logos, and banners. The cross-selling option in the settings section is just icing on the cake.
Created By: littlemonsterbox
---
best apps for shipping management
Created By: better4sale14
---
How does this save time? Pretty much the same process as eBay except that after writing my description for 10 minutes, it froze and shut down while I tried to upload pictures and didn't save anything. I only gave it 2 stars because unlike eBay, at least they have templates and it's free.
Created By: augusthillsales
---
Templates are great, especially for a free app. Better UI than turbo lister Just remember to save your work or you have to start over.
---
its too difficult to understand and impoosible to use on a tablet
there is no explainations on how to use this needs simple step by step and the example is no help because you cant change it again i was using tablet where my pictures are so I will be canceling this app and not using it.
---
you can do everything so easily then other
Created By: bullet-shield
---
Very helpful if you have lots of tracking numbers. Good app
---
VEry helpoful and easy apllication. To rewise or add new listing is much smoller time than using eBay or somthing else. Have statictics and much more! I recomend!
---
I love using inkfrog. It's easy and manages everything I need to keep track of listings. Support has been super responsive too!
---
When you try to create a new template, I can add text and a photo but I can't get rid of yours
I've been on this for hours, I am not a total neophyte! I am totally frustrated trying to put an item on. This is no way as easy Blackthorne.
---
The templates alone are awesome. The Templates allow you to customize your listing and provide a more professional look. The fact that you can change the template and it will change the look on all of your listings is great! Really cuts down on time and you can also keep track of your item numbers.
---
awesome app
Created By: mysuperwholesale
---
Big fan!!
Created By: wheretheendsmeet
---
Bigger, better, faster! Easier than listing on eBay, saves our company a lot of money!!
Great software that saves our company a ton of time and labor. Listing to ebay is not easy for business owners but this makes it so. We can teach newbies how to use it in a short time. The other reviews about ebay policies not able to link is because ebay hasn't made that available to everyone so you can't put it in an app yet. Someone said it was slow? That's your PC and internet connection because this is the fastest uploader I've seen. There is set up with any app you use but after it's super fast. We run Linux on all our computers and it runs flawless!
Created By: saharasurplus1
---
I couldn't link my default eBay policies...
---
Application stopped uploading pics for listings, Application will not open properly
The only way I could open the application is reset the password and use the link in email that was sent. I had to reset the password each time I logged in. Now the application stopped uploading pics while placing listings.
---
Customer services beyond my imagine
what made me change my mind? right after I post a negative review, Greg from inkfrog email me in no time . he explained the reason what slow inkfrog services down, and I buy that.
---
A+ to inkFrog! Goodbye to my old listing service!
As a long time eBay seller, I can appreciate some unique features on inkFrog! It's easy to use, and much more flexible in allowing me to build my own brand! They are also quite helpful if you have questions :) Thumbs Up!
Created By: brendasgoodies
---
Inkfrog saved me! I'm so glad to have found an easier and much faster way to list my items on ebay.
I ran across Inkfrog by accident and so glad I did. It didn't take long for me to learn how to use their system - very simple. Their customer service department has been prompt in answering my questions, which is a huge plus. I'm very happy with Inkfrog and their level of service. I've tried and tested numerous ebay listing tools and haven't found one that compares to Inkfrog. Finally found the answer to my listing woes.
Created By: vintagemodernfinder
---
Application's makes changes to live listing's on its own free will... as it changed a good portion of my listing shipping option from Free Priority Mail to Free Express Shipping, which caused a major issue for all buyer's that made a person from me.
---
This is the one you've been looking for!
Have tried about every possible listing tool/software/webapp/iphone app in existence. After being let down over and over I honestly did not have much hope for this one. After spending some time getting this all setup I was pleasantly surprised I was creating twice as many listings in the same amount of time as before. The photo editor is amazing and every support ticket I opened was addressed within hours. I finally found the app I will be sticking with. Thanks!
---
Excellent app, and even better customer service. 5+++ stars
Amazingly simple and elegant design. Great customer service. Can't say enough about how great InkFrog has been.
Created By: exinvestmentbanker22
---
Extremely slow. Took 15min to upload 3 pictures. Kept telling me that I needed to refresh my eBay token doing it multiple times, finally wouldn't allow to revise a listing without a huge error message appearing after I clicked submit. Thanks for draining that 2 hours from my day InkFrog.
Created By: reasonableman23
---
Bit confusing but gets easier.
It took me a while to figure out, then it was nice to use.
Created By: treasuresandmore1234
---
This app has increased my sales in a week of using their templates. I love you guys $$$. Icy Palace
---
sorry this review came late-- loving this app although a kink with the chromebook os uploading pict
(again this review is late and have already shared it with Greg, and I am no longer having this problem) -- I loved this app as soon as I started to use it but noticed a little snag when trying to upload pictures to me listings while on my Chromebook. It required you to upload with a link which is a little time consuming having to switch devices to upload a picture and then come back to my listing. Also I am not sure if it is operator error but i have to relaunch the app most every time I log back into ebay. now that those glitches that have been worked out its Awesome!I love how you can see all of the activity of your listing on one page, ei; views, watches, bids all in order, its like a little command center for me and it is very east to understand and navigate for the some what challenged computer operator. :) I still have not explored all of the options of your app just doodled but i am very happy about it and would recommend it. thank you Greg for your help.
---
This app has cut my listing time by 90%! So easy to use...the templates are very visual and you can customize these giving you 100's of options! You can make profiles for shipping, returns etc. no more recreating everything. I was ready to give up on Ebay..too time consuming to list...not with Inkfrog! If you have a question...GREG will answer you quickly. Thank you for making this app!!!!
---
Great tool for online sellers
Ink Frogs listing tools are a great tool for online sellers, allowing the seller to create listings with nice customizable templates, view past sales information, collect customer data for e-mail marketing and monitor shipping and sales status. Easy to learn, easy to use and at the time of this review, there are no monthly charges. It can be used directly through eBay or through their independent website.
---
I've tried many of the eBay listing tools available none of them are as good as Ink Frog. It is absolutely the best! It is packed with features that make listing your items on eBay much easier and more attractive. If you haven't tried Ink Frog, you should!
Created By: juliescardsandgifts
---
Only downfall is that you cannot use this feature while posting from someone else's listing by clicking the "sell one like this" button. You have to start a fresh listing from within the app. Other than that, FANTASTIC!!!
Created By: watson_kelley1
---
Promising but too limited at this point-Wastes too much time trying to get it to work properly
Templates are okay, but very limited. General Settings Search SUCKS. Not one category that I normally use to sell on ebay was recognized. On the regular Ebay listing where it says to "type in keyword", you type in a description of your item and a choice of listing categories comes up. Type the EXACT same keyword into Inkfrog and I get a Error-No suggestions Found message. Maybe I'll try when they have the descriptions synced with Ebay's categories, but at this point is it far too limited and a waste of my time. Maybe by frustrating you to death, this is their way of getting you to pay for the full edition. Keep working on it and I'll try again when you get the bugs out.
---
Amazing customer service!! Thank you Greg!
I love how professional my listings look now. The large pictures, the tabs features and the templates, the different profiles etc. Love them!! Most of all, I love the great customer service when I had some minor issues learning the ins and out of the app. Thank you again!
---
This app has everything. It syncs your current listings into inventory and clearly marks which listings are active. There are templates for making your listings look very professional and for returns/shipping etc. There is a library of photos and stats about your sales. I am absolutely in love! THE PERFECT SOLUTION for what I needed.
Created By: 3sillylittlepickles
---
Would not go past the Continue Button
I Tried Unsubscribing and Subscribing several times and would not go past the Link to Existing Account/Create New Account Button. Does nothing.
---
thanks
Created By: moneyhoney4twenty
---
Very recomended tool for eBay seller
Very help me to list items on eBay, very easy tool... every seller must try it..
---
TtHIS IS BY FAR THE BEST APP. ON E-BAY
This app inkFrog is the best app on e-bay. It is very to use and you'll find that your sales will go up. My only regret is I did not have it sooner. This is a highly trusted app. it is every bit of 5 STARS, A+ Raymond Herron Sales e-bay ID. 200905chevy
---
Excellent app! Easy to use and very intuitive. Support is top-notch! Highly recommended.
---
---
Don't bother with this app! Turbo Lister 2 is better for the Newbie Ebayer!
Turbo Lister 2 has its bugs but is far more user friendly and allows you to see more info on all of your sales. Much more detailed. This system doesn't even show you the correct layout for ebay listings.
---
Very new, very promising.
InkFrog is a very new app, but it has great potential. At the moment there are a few bugs, but the staff is super friendly and will check in on you to make sure everything is going alright. Templates: The templates are clean. There's only a few features for customization, but it really helps your auctions stand out. They are compatible with most other apps that insert code into your listings. Profiles: Customizable profiles for Listing, Shipping, Refunds, and Payment that you can pre-load into a listing, meaning you only have to give a title, pictures, and a description if you set the profiles up right. As someone who sells collectibles from a wide variety of ebay categories, this has really reduced my time to list an item. InkFrog has definitely let me take the time away from listing and put it into marketing and customer service. I look forward to seeing how this application develops over time.
---
This app is amazingly fast and is so easy to use. I can manage my listings all in one place. Read
---
all my auctions were double listed
after an auction item ended. I got an e-mail saying that my rules failed. Which they did not, So inkfrog list the same auction twice
---
Best lister i've ever used!
This app is amazing. Listing is fast, templates are great, cross sell is awesome.
---
The templates work, but the app charges fees for listing even when they are free to list through eBay. You don't get the free 3 relist as you do with eBay. It will auto default to free shipping even if you select local pickup only. If you save a template to use for new listings, all pictures from the previously listing will be inserted in the new listing without you knowing it did it, AND you will be charged for going over the 12 pics even though you don't see them until after the listing is live.
---
the most useful listing app I have seen
inkFrog has a ton of features that save me time. I love bulk list and bulk edit and master profiles. I've never been able to manage my listings so quickly and easily before!
---
It's a must have for any seller! This app does it all!
Wow, this app is incredible! I'm not really sure why there are some bad reviews, this is by far the best app I've used for eBay and the support is amazing. Listing is extremely simple, I can create multiple profiles and attach them to my listings and manage my orders. I've only had one support question and a REAL person contacted me back with a REAL answer within the hour. WOW! I LOVE this app! It's a must have for any eBay seller!!
---