Marketplace Analyzer
By MarketplaceAnalyzer.com
(released Dec 15, 2012)
Get classified marketplace intelligence of how much cash your Top Competitors and other PowerSellers are minting off eBay right now. Access the info with either lower clearance for Free or highest clearance with our Paid upgrade. This constantly changing information is automatically updated many times a day for you, making you part of an exclusive eBay selling club.
Categories: Research & reporting, Sourcing
If you are subscribed or want to subscribe to this application please
click here
for details.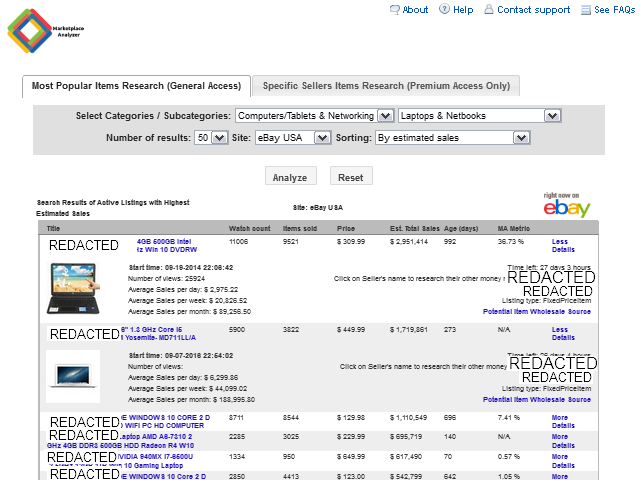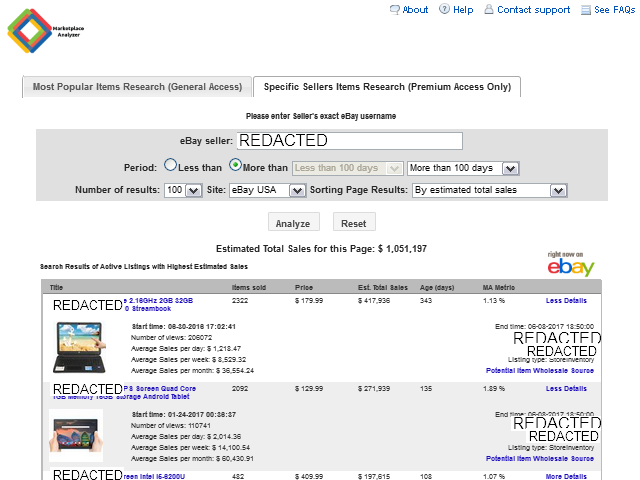 Key features
Are you having trouble knowing those secret and special items that are raking in huge profits consistently?
If a successful multi-million dollar eBay seller showed you their best selling product, would you start selling it? Or would you move on looking for the next product idea?
With this app, you'll learn precisely how to determine what products make the top sellers a ton of money so you can achieve similar success or even more.
Monitor daily where and how much your top competitors and other PowerSellers make most of their money on eBay to stay on top of the game.
Do not waste time reinventing the wheel, all you need is access to insiders sales data.
It's simply hard NOT TO succeed with this secret app!
This app is rapidly gaining both rave reviews and controversy at the same time, depending on whether the reviewer knows how to use the vital info or is simply clueless!
Description
The Marketplace Analyzer Application's will retrieve the Most Popular items as determined by eBay in Real Time, and also helps you monitor your competition.
The Marketplace Analyzer application itself does NOT determine the popular items or the specific sample active listings, this is done by eBay.
It just retrieves this data from eBay and then displays or sorts it as the case may be.
The most popular items ranking is done by eBay, and uses a metric based on their own sophisticated algorithm that determines them. The algorithm may use very many diverse weighted factors. This is explained in our FAQ section.
Our application then reorganizes this information and sorts it for your review.
You get Instant and Detailed Insight to the most popular items based on either;
1. Category
2. Category + Sub Category

The app will then display tabulated results showing;
- Item Title and Image
- Watch Count
- Items Sold
- Estimated Total Sales of listing
- Current Bid/Price
- Age of listing
- Time Left/Remaining
- Average Sales per month, week and day
And so much more including our very own Marketplace Analyzer Metric.
eBay sellers need to consistently use this cleverly designed app to keep tabs on the competition every day as one of the many ways to constantly monitor the market trends. Know what will be the next hot cake before the others do.

Having trouble finding buyers? Tired of registering zero sales?
Want to start selling briskly on eBay, but don't know what to sell?
Then this is the solution you have been looking for!
Additional resources
Sign up for more resources
Application requirements
Supported browsers:
Newer versions of Internet Explorer, Mozilla Firefox, Chrome, and other popular browsers
Supported languages:
English
Supported eBay sites:
ebay.com
Required eBay subscriptions:
None
Application support
Just Submit a Support Ticket to support@MarketplaceAnalyzer.com and we'll promptly attend to the issue.