WWW Domain 4 My Store
By HighVolumeSeller.com
(released Jul 05, 2011)
Get a WWW .COM pointed at your eBay Store or items! Free to search - $17.95 per year for a domain - cancel anytime. Now you can pass around an easy to remember WWW link and lead customers directly to all your items! Establish branding and trust with your customers. What a wonderful way for them to remember to come back to buy more! WWW Domain 4 My Store makes it easy to search for domains and point them at your eBay store or items. Now you can get all your items on Faceb
Categories: Marketing & merchandising, Checkout
If you are subscribed or want to subscribe to this application please
click here
for details.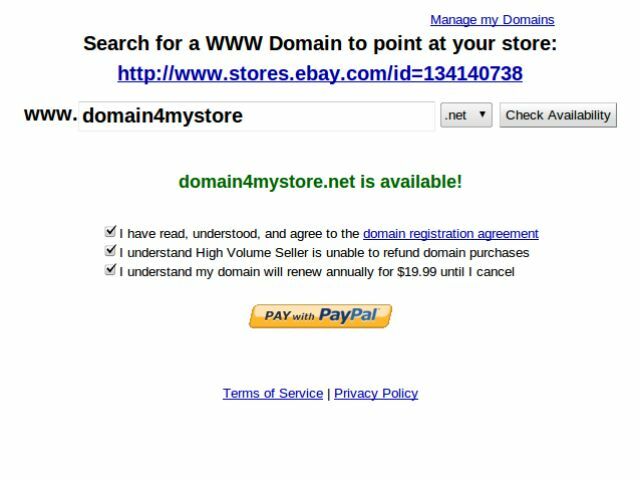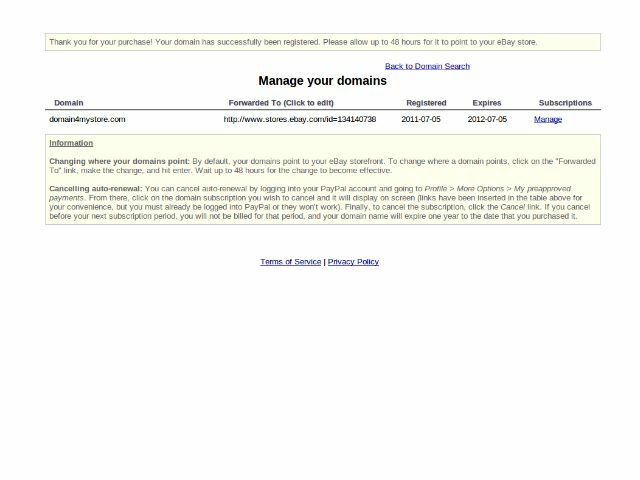 Key features
--- $17.95 per year per domain when you buy. Cancel any time ---
Search for as many domains as you want. No CAPTCHAs to block you.
Domains renew annually, cancel renewal anytime
Automatically creates necessary domain customer accounts using your eBay profile information
Automatically creates technical, administrative, and billing contacts using your eBay profile information
Register your domain and activates domain forwarding
Automatically forwards the domain to your eBay store or eBay search results page if you don't have a store
Change where you point domains to--anytime--anywhere
Description
How it works: You log in and search for as many domain names as you want. When you're ready to buy one, just pay through PayPal. No need to fill out long forms or go through anything technical--we'll use your eBay information on file. Once you pay, we point the domain name at your eBay storefront or eBay search results page. We let you click on that link to see what that looks like inside the application before you buy the domain name. Finally, your domain renews every year for the price you paid for it.
Have you ever tried to register a domain name with a big registrar? First off, just searching for a domain name is slow. Results are usually not instantaneous on the same page, but a webpage away. Also, our competitors have advertisements and junk littering your screen, and once you finally agree to buy a domain name from them, they try to nickel and dime you all the way to checkout. It's a totally painful experience.
We realize searching for domains is a creative process. After all, you're establishing branding, and what's more important? We've cut out the clutter and let you search for domains as fast as you can think and type. Fire away! Best of all, paying, registering, and pointing the domain is automated through one click and PayPal. If you want to cancel anytime, no hassles there either. We want to be the easiest and friendliest domain registrar on the Internet! Contact us anytime for customer support and we'll get back to you ASAP!
*** This product does not make your domain automatically show up on Google or do search engine promotions or any promotions for you. Please read the product description and understand what you buy before you buy. Search engine marketing is expensive and requires a lot of energy just like any marketing endeavor.
Thanks for using WWW Domain 4 My Store!
Additional resources
Please like us on Facebook for updates about our company
Application requirements
Supported browsers:
Any modern web browser
Supported languages:
English
Supported eBay sites:
ebay.com
Required eBay subscriptions:
None
Application support
Please allow 2 business days
HighVolumeSeller.com
highvolumeseller
Also from this developer:
By High Volume Seller
(released Mar 24, 2011)
Improved feedback results in more sales! Increase your feedback score with powerful eBay feedback tools! Feedback Pro reminds customers to leave feedback and alerts you when they do. You can also automatically ...
Categories: Checkout, Customer support
---
Works without any hitches ever. Love this app.
Created By: charljohnso-30
---
As everyone one questions, it would be nice if one could get them answered. No information when signing up, no support when you have that question. No customer service what so ever!
---
Great Service
Created By: commonmerchant
---
its the best 18$ I ever spent....great for sharing your site
Created By: maxmusicstore
---
Needed a Domain and they took care of it.
If you don't want to do it yourself, they take care of it efficiently
---
i just kept getting a message saying "an embeddd page is causing an error" it doesnt work
Created By: mneville4avon
---
---
Could not set up my domain and I got a ZILLION marketing calls because my phone number was sold to God knows who. I am so annoyed.
Created By: nevertoomanyjools
---
Works great set up is only a minute worked immediately
Created By: 1022racerifle
---
Another vender charging me every year after canceling
Buyer beware, I cancelled but the $17.95 charge was added to my card indefinetely. Buyer Beware
Created By: patriciaquiltsandmore
---
Billing Practices BEWARE! BEWARE! BEWARE! ... ! Billing Practices
I contacted this company and asked them to cancel my account they said they could not cancel it I was in shock to say the least to find tht they have been billing me every month
---
EASY
Created By: lovelydaisy88
---
Awsome works perfect for business
Easy to use easy to understand straight a to b awsome
Created By: syrensentertainment
---
alright that's good
Created By: natthawatzeon
---
---
has been working keep getting error.
---
Best app ever.... love it!!!!!!
Works and makes it so easy to give out a link instead of the mile long ebay links
---
website connects directly to my store plushgamesandmore.com love it I will continue to use your service.
Created By: plushgamesandmore
---
don't do it it's misleading... To be a store on e-bay you still have to pay an additional fees.
Created By: extreme66sales
---
Don't want the hassle of having to build a website or use some strange name this app allowed a small business like myself the ability to have my own domain name and website and look professional on my business cards and makes me a real business not just and Ebay store or some strange website. I own my own website now for such an affordable price and the support is great I was up in running in less than a day.
Created By: hidden_treasures_resale
---
I wanted my own domain and it worked. Easily searchable online and people find my listings.
Worked as expected domain is easily searchable online and I can simply publish my domain and folks find my website, Ebay listings
---
I have been using WWW.Domain4MyStore for 4 or 5 years now and I have never been disappointed. If you ask a question you get an answer from John Wheeler the same day or sooner. John is like the tax man you use for your Business, when you finally find a good one you never want to change. If he ever decided to move on, it would break my heart. Dave BigDavesYardSale (Fire Equipment at Yard Sale Prices)
Created By: bigdavesyardsale
---
---
Great option and it's free.
I recommend this for sure. You certainly can't beat the price=free.
Created By: pearliebeskin_0
---
havent checked yet but ccan tell its some sort of 302 redirect. awesome job thanks man!
ill fill this out after i use it.
---
poor
Created By: arishop1-store
---
makes no sense what to do. do not go this. it is junk and is a hack.
Created By: catsarefluffy9
---
This app can only be paid with PayPal.
---
easy to use
Created By: bryannatmitchell-0723
---
---
Just like what it's said to do.
Created By: sell-it-now-industries
---
Easy to invite others to YOUR SALES ONLY
Great way to add your web address to vista print cards for passing out to new potential clients. Would like a little more interactivity, but for it's design and cost, total value!
---
after two weeks this site is not available any more
Created By: shopelectronicz
---
5 stars app. I've used it years before and as seller I can tell you that I love it!!
Created By: erikarubisjewelrycollection
---
Excuse my ignorance, I did not know this app existed
I am slowly building my eBay store and reviewed the apps section that helps with this effort. I was happy to find out that a domain could be created for the store! I am not really good with SEO, so if there is an app or service for that too, then someone please let me know. I will continue searching the app for this feature. Email marketing is fine, but it would be great to have a better ranking on Google, Bing, and Yahoo searched. Oh, I also forgot that I can submit the new web address to Google Webmaster Tools (or something like this). This is at least a start. Great app, so far, I am pleased with it.
Created By: check-this-out-1
---
Maybe author will eventually fix it. If so, I'll try this again. But at this point, it doesn't complete a search for domain name so it's useless to me. Too bad, cool idea.
Created By: offtheshelfsales
---
I dont know what to think of it
You don't get any help. There's no one to call. I'm still deciding whether I lil it or not. I wrote them and I have yet to hear back from anyone.
---
Great app. Easy to use and fast customer service!
---
great app get it
Created By: tw24hrshop2udrop
---
Waste of money and time. Not relevant to searches requested which can be done for free on any domain provider or just enter in url. Don't waste your money on this one it is a scam as far as I ma concerned.
---
Great price for great service... Thank you
---
---
Fantastic service, Excellent Price!
Very easy to use , excellent customer service! Definitely recommend!
---
Excellent domain for my store with increased sales.
Added sales to my store.
Created By: dougswarehouse2014
---
so far so good. very pleased with a kind and helpful email just to say thank you
The application is just what I need it to do!! Great
Created By: 2015cynthiatz
---
Everytime I have needed help they have been there and got the job done
Everytime I have needed help they have been there and got the job done
Created By: danobootsdanieltfrankinc
---
Steller App/Service and Great Value!
This app works 100%. I rate it above and beyond 100% because John is a true, genuine person focused to helping you build your business through this app. It works flawlessly to forward traffic to your store. Great for easy printing on Business cards to have customers remember your domain too! A+++++ FIVE Stars!! Rob
---
The service is what they say But they have sold my contact information to everyone
Relentless spam and phone calls since the day I signed up for this. Not Happy
Created By: buffalobillsphotos
---
Love this feature, allows my customers to find me.
Awesome
---
Isagenix Weight Loss 30 Day Cleansing and Fat Burning System
This product really works to help you lose weight. You can achieve your fitness goal in a short amount of time. If you are a competitive athlete and you're looking for that competitive edge. It's gives you the energy you need for the day naturally.
---
Excellent program to bring customers directly to your ebay store
Customer service is very professional and rapid response to questions ask.
Created By: mycoldfeet21096
---
Love the price of the domain.
I had been searching for a domain and did not realize that it was available thru something that was relatedf to ebay like this app. So glad that I found this app
Created By: snicholssherry
---
---
You said it is free and it is not!
You described as a free domain dut you charge! it is a scam
---
Genius and great communication
Starshinestarbright.com rates you one million stars! You really help my business and we SOoooo appreciate it! Great app!
Created By: sarahvandieselstudios
---
I am a mother of two teenagers, not working outside home, I was needing this type of PUSH to GO on for my Family. Thank You.
Created By: gretellgretell
---
This service is AWESOME! Signing up is super easy, and very affordable. Should you experience any issues their customer service is wonderful!
Created By: treasuretrovegiftsandcollectibles
---
Your own domain name that points to your eBay shop is far better than the www.ebay/mystore.com ANYDAY!!! You def appear more serious to your buyers! Love this app!
---
Just found out my domaine is gone and they do not respond to messages. I'm suing them soon
Created By: americansuits
---
It works as advertised, just pick a domain name, give it out and spread it around and it will take people directly to your eBay store.
---
Awesome customer service.
---
If you are looking for a domain name for your online e-bay store, this is the place to get it.
---
---
I love what this app does!
Directs traffic to my store through a customized we link that I was able to choose.
---
This is really great mostly because they do everything for you and you don't have to remember to update new listings. I think it gives buyers confidence to buy also.
Created By: ameliaariella
---
Just wonderful tool to shorten domain names for your customers to find you fast. Well worth the money. Very easy to use. I plan one buying more to point to other web sites I have.
---
I've been wanting a domain for my Ebay store for a long time but didn't know how to go about getting one. This was super fast and easy!
---
Easiest application to quickly get an active domain name! Would highly recommend
Quick, easy and pain-free!
---
They say FREE until you try to put a domain name in then they say it will be payed out of your Paypal account??? RIP OFF!!
---
Great to have a WWW address to point right to the eBay store! Was up and going in a couple hours.
Created By: toylinecollectibles
---
Very happy with this application Iam able to make business card and have more exposure to my ebay store. Excellent customer service and very easy to set up.
---
---
---
This is a NOTHING application
I fail to see the usefullness of it it is not even worth the one star you FORCED me to give it.
Created By: thegreencastleguys
---
Gives a basic seller a edge.
Great for a basic seller to have his/her own domain. Gives you a edge and creates a more professional image. Love it, Thanks guys. My best, Heinrich
---
Domain 4 My Store is a very useful marketing tool for many products.
This app is probably the most important if any a seller should have. Using this app allows you to make business cards as you have a real domain name. You couldn't put E-Bay's http:// address on a business card. I use it in every adverting campaign I do. From listings in Search engines to listings on directories. I have known John, the developer for many years. His response time to answering inquires is quick and if something needs to be corrected it is done immediately. I have never received in years an email from someone say that my domain is not coming up. Where can you get a critical advertising tool at this price. It comes to about 35 cents a week. Can't beat that!
---
I subscribed to this domain in 2011 with an on going subscribe my domain was resold without my knowledge and I have sent message to company without a respond. This must be a SCAM!!!! SORRY I HAD TO RATE THIS!!!
---
good deal
Created By: ondemandsalvage
---
Love this app, and the customer service is awesome!
---
hortible, over 600 subscribers, just found out, rewards not working anymore
THIS IS THE WORSE THING THAT CAN HAPPEN HERE, BEEN WITH REWARDS FOR YEARS, 100'S OF CUSTOMERS OPTED IN, AND PAID MY FEES ON TIME UP TO NOW, MY REWARDS PROGRAM NOT WORKING ANYMORE , SAYS UNAUTHORIZED ACCESS??????????????? I AM SUING
Created By: wholesale-fashionsla
---
Excellent app and I would recommend using it!
This is a great app and is super easy to use. I selected a domain name and it simply redirects people to my Ebay Store. Very easy to subscribe to and set-up.
---
Just as advertised. Great way to get on the web beyond Ebay.
Domain was established and working within minutes. Love it!
---
I had my domain up and running in minutes the fastest and easiest service I have ever used for domain names A+
Created By: nadiascouture
---
I have contacted support twice and no response from them.
I was sold a domain that was already taken .
Created By: southcarolinapickers
---
---
---
---
Very happy with the application
Very happy with the application
---
TOTAL KICK AZZ APPLICATION
THIS APP ROCKS.IF YOU DONT HAVE YOU NEED TO GET IT.
Created By: ibuyandselltools
---
Easy to use!
Created By: royalestatejewelry
---
Excellent for websites!!!!!!!!!!!!!
Thank you!!!!!!!!!!!!!!
Created By: resaledesigners
---
Can't beat this awesome app. What a great idea.
your domain name for under 20$ a year, that's great.
Created By: kryptoniancomics-cards
---
I just began and I`ve not explore the application just the domais and I think it`s a great Ideaa. Thanks
---
This Is Really Great! Your OWN Domain Name Points To Your Ebay Listings!
Whether you have an eBay store, or not, you can have your own domain name that points to your eBay listings, and it's less than $1.50 a month, for the whole year! Then you can write some articles, and post them on article marketing websites, pointing them to your domain name, just as I have done with my www.GoodLuckCharmsThatReallyWork.com which is bringing ME more business! I LOVE this feature from www domain 4 my store! You will LOVE it too! Only takes a few minutes to sign-up, and your new domain will probably be functional faster than you can believe it!
Created By: goodluckcharmsthatreallywork
---
Finally, an answer to ebays ridiculously long URL. Worked instantly, would recommend.
Worth the cost for a shorter web address.
---
---
This App will increase sales exponentially! The process is simple,Point potential buyers to my Ebay store.Thank you very much for such a great App.Larry A Amati
---
The Book Worm eStore Loves this Application Specializing in collectible, unique books
The Book Worm eStore Loves this Application Specializing in collectible, unique books
Created By: book.worm.estore
---
Very easy to sign-up, register and pay for domain name. Couple of clicks
Less than two hours after activating this app, I checked to see if it worked. As promised, I now have a domain address that points to my ebay seller's page that list all items that I'm selling. It was sooooo easy! Great asset for my small business. 5 Stars. SOUL FORCE KITES
Created By: soulforcekites
---
Easy to use. I'm happy I now have a www for my eBay store!
Created By: jonahlevine123
---
I was skeptical at first with using this application, however I have noticed that my sales have increased twice fold. I recommend this Service, it Pays in the long run.
Created By: jjdiecast2013
---
Outstanding App for ANY EBAY STORE OWNER
Not only is the $17.95 per YEAR a reasonable hosted domain price but when it includes the web pointing service that is included with this- it's a great buy. The web pointing service simply means you can tell people / customers to go to your web name to get to your store! The alternative is, as you know, telling people to go to ebay, then go to advanced search, them type in your store name...... Now I just say go to Southern Cross Treasures and that's it! It points customers right to my store! And it IS on google. What I can't understand is how this app got ANY poor reviews.
Created By: woodmetalglass05
---
didnt work
Created By: randomcasaaaa
---
Best $17.95 I have spent since selling on eBay for 12+ years
I signed up for this expecting it to be a drawn out process. Well within minutes I had a website. I did an internet search a few hours later on the web by typing in the name I chose and BANG!! Up popped my eBay store on the internet. Totally amazed. It is fabulous. Get it now if you have an eBay store. This is a no brainer to help direct business directly into your store for people doing web searches. So cool. You do not have to pay hundreds or thousands to have a store on the internet. It is sooooo easy and quick. I give it more than 5 stars. I give it 100 stars. LOVE IT. I feel like an "official retailer" now. Thank you
Created By: conniesresaleshop
---
Like most people, I really hate it when a supposed freebie is not. Then want $18 for what I usually get for $8 at GoDaddy. I suspect there are other hidden upsells too. No thank you!
Created By: willdmitchell
---
Excellent App! Super Fast Service! Thank You!
This app is a very useful tool when owning an eBay store. Set up was super fast and the site loads and works great! It's always important to be found on the internet and this app clearly provides that opportunity. The decision to use a .NET domain is just as important as using a .COM. Want a hassle free way to do this...choose this app fast! Thank you John!!
---
So Far So Good! :)
Created By: renteriafabrics
---
I am very happy with my store-website
---
I didn't realize getting a domain for my eBay store would be this easy, fast, and inexpensive! All I had to do was pay around $17 and next thing you know my eBay store could now be found by going to my jimjamgadgets.com address! It's easier for people to remember, and looks more professional. Thanks High Volume Seller!
Created By: jim_jam_gadgets_josh
---
Good for increasing visibility of sale items.
---
Very good and efficient application
Very good and efficient application to promote my eBay store
---
Customer Service quick and fast
Fast and easy service. Created Domain name quick and was notified within 24 hours of activation. I will keep all up-to-date as I proceed.
---
Cheapest way to get your own web address
This application has allowed my to have my own web address which has increased traffic to my site. Am able to put it on business cards and correspondence.
Created By: rookiesportsandmore
---
I found the Best and Smoothest way to Open a Store on E-bay!
Not, only is the outline already created, all I have to do is apply the the information pertaining to my Brand and the rest syncs up with my listings that already listed. Straight up, lucked out, and found storefront, because I didn't know what I was going to do about making a store of my own that I can be proud enough to list my items on. Do your self a favor and get what you need to succeed. That easy, plus its only .99 cents a month after free 7 day trial. Cant beat that...
---
Quick response time. I'm excited about the possibilities.
---
Looking forward to learning more..
A very pleasent experience!
Created By: adrianantiques
---
Hope it works like described, don't like the feedback left by others but have to give it a try. Beam me up Scotty!!!
---
Easy to set up, practical and useful to have, well priced, great customer service!
I'll be making posters with my new domain name! Very excited. Easy set up. You can easily change where to name points. My cache was messing this up at first so I wrote to customer service for assistance. They got back to me within 5 minutes with a solution. Very cool!
---
Minimal effort on the users part... a few emails, and a few days later, your domain is connected to your eBay store. It was completed within the time stated.
Created By: awesomeaccessory
---
quick reply to questions. Works right away.
---
Good for most without stores
I really like the concept of this app. But to date I don't have a clue how to find myself on eBay? I finally bought a store yesterday! Thankz you've got some fantastic apps!
Created By: spoiled*material*girlz*blingz
---
Left hanging more than once.
I signed up thinking this would be a great way to direct traffic to my store through direct website marketing. Worked fine for the first year. I set the app to auto renew, but it did not. I tried three times to pay for another year, but the payment never processed or went through. I sent several emails to contact support, but no responses, ever. What a waste of time. At least I was never re-charged. Good for one year or it would have gotten a zero star rating. You are better to host your own domain for ten bucks a year through some other site like godaddy and have your domain point to your store. Super easy to set up, and reliable. Very much unlike this app.
---
Excellent, now I can promote my ebay store with and easy to remember web address that takes everyone straight into my ebay store, excellent value. Thanks John.
Created By: sailinggemini804
---
Easy simple, worked instantly, at a good price.
Works like it said it would.
Created By: sellabrationliquidation
---
Love it! Works perfect and I keep my domain name in use!!
I was going to close my website and release the domain name until I discovered this application. Now I keep the name and it redirects directly to my ebay store. Works perfect...love it!
Created By: sassygurlzdecor
---
Okay so the app is free and finding a domain not easy. It forgets to say its $18 per month.
I got the app to expand my ebay business and low and behold you try your name up-teen times before you get a match and all of a sudden it's not so free. Beware trusting buyers of the word free!
---
Fantastic App with Excellent Support
The App itself is Awesome, great idea and works perfectly. The support team is super helpful and responds A.S.A.P. I was walked through 3 unique issues (all my fault) and given solutions with no problems. A pleasure to work with.
Created By: chelseas_couture_closet
---
I think everyone should do this Very easy quick and great for bussiness
Within 5 minutes I recieved the domain name and typed it in and there it was liked to my e-bay site!!! Awesome
---
This literally took me about 2 minutes to set up. I love it!!
---
stores are look nicer for guess to land on , more inviting to purchase.
I think in todays internet world as we are in, the personal touch of a store front, brings other ways to market and concepts, love it,. I will be doing one myself
---
I want to unsuscribe please
In cant get it to work.???
---
Our customers had instant access through Google. Awesome.
Really easy to follow directions
Created By: deploymentreadysurplus
---
Purchased domain, but doesn't work, contacted support they told me to contact paypal, contacted paypal, they have no record of transaction; but yet it still says I'm subscribed and the domain I requested is not available... Worst customer service ever. I didn't do anything wrong, I followed the prompts and instructions...
---
great
Created By: mygrannysparlor
---
For the cost of the domain it is definitely worth it and it is all set up for you.
---
OUTSTANDING APP FANTASTIC IN EVERY WAY!!
what a fantastic app to get a domain name pointed at your ebay store ..just 5 short clicks and your up and running ..just that easy ..IF YOU WANT OUTSTANDING AND EASY ..THIS IS FOR YOU ..give it a try you will love it ..and john is the man that makes it all possible ..and if you have any problems ..his customer service is the very best you will find ..BECAUSE HE CARES!!
Created By: steve19750_00_0
---
a bit of research provided a great domain name with plenty of searches and with a quick payment through PayPal...presto...more traffic to my eBay store! Marketing dollars well spent. Thanks. Try it for yourself www.sportscollectiblesstores.com
Created By: stevenarchard
---
Easy instructions on how to set up domain. Easy to use and gets you to your store with easy access.
---
Excellent!...Easy and fast
I got my Domain name easy and fast. Thank you.
---
Will bring more people to store.
---
Great price for .com domains
Great price for dot com domains
---
Very Poor And Terrible Service
I paid for the domain and can't get help on the service for transfer domain to Intuit Websites. Don't waste your money for this, and you won't get help with WWW Domain 4 My Store.
Created By: bigluckycharmed
---
works fine, no problems.
Created By: michelecollinsdesigns717
---
Makes it very easy for non ebayers to view my products. Keep up the good work!!!
Created By: thelegendsshop
---
---
love doing bussiness with you all
its was great experience
Created By: bluemaverick27
---
---
---
paid for the domain and cant access it and never responds for help on how to get my moneys worth,.
Created By: omgfabheeldeals
---
Great Experience and very quick responses!
Very easy, email rep was very quick to respond to my questions. Fast and easy!
---
I've been looking into purchasing a domain name. This looks very simple and absolutely no headache.
---
It now allows me to advertise my website, a great value.
I have noticed an uptick in inquiries and sales. Very pleased.
Created By: drlcommunications
---
This app worked great to get my new internet domain.it was only 17.95 a year! Can't be beat.Check it out yourself!
Created By: chuck1947chuck
---
Could not find a way to contact them.
There is no way to contact them. I couldn't find the phone number or website! I had to make a change and then filled out the contact us form. No reply.
---
GREAT! NOW I CAN REFER POTENTIAL CUSTOMERS DIRECTLY TO MY E-BAY SITE. THANKS!
EASY TO SETUP!
---
It works and is a great price!
It just works. Enough said.
Created By: themusicmasters
---
Got my domain name very quickly and I am happy to have used this service
Provided quick and ease of use service to help me with my domain name. Excellent work and very quick
---
high volume domain sales is catching
Created By: jomotacs201212
---
This app has been integral in my word-of-mouth marketing efforts. It is much easier to tell potential customers to go to www.storename.com instead of http://stores.ebay.com/storename. Not to mention, having your own domain portrays a certain level of professionalism.
Created By: cracktronics00
---
Don't lie to your customers... It's not free if it says "pay 17.95...
Created By: theflash82012
---
Your user id will take up the whole page so this is definately worth the money!!!!
Created By: dougsonestopshop2012
---
it started working in A FLASH
Now I can't wait to make me some business cards.
---
Very easy to use and to set up , thank you AAAAA Service to my needs
Ease to use and quick needs to attention for transfer to ebay store is nice and professional. Thank you
Created By: jacksbirdhouses
---
Very innovative and good customer service.
---
A Ebay website for my stuff! Awesome!
This is the domain where you can show all your stuff in one place and give someone an easy access to your stuff for sale. I use it on twitter and Facebook and makes it simple instead of a long web address.
---
Couldn't be much simpler. My domain name is cleaner and simpler now than with the ebay store URL. Will be great for business cards, flyers etc. also.
Created By: andnowforsomethingcompletelydifferent1
---
is a great option for vendendores Ebay. thanks
Created By: mauricioromy4554
---
I love my domain beststore4sure.com FANTASTIC EBAY
easy to purchase, no need to read extensively on how to work the domain name nothing but pay and that's it. You can tell your friends go to www.beststore4sure.com (and it points to all my ebay items!) Just that easy
---
Awesome app and easy to use
Great price!
---
Great Service! Very easy to work with A++++++++
No problems setting up website at all. Very Intuitive App! Love it!
---
Great service. Love having a simple web address to direct folks to my store!
Having a web address pointed to my Ebay store makes it so easy to direct shoppers there. Thanks for a great app and service!
---
great idea, wish it had a way to customize the home page, but i understand it's just an address that is easier for customers to type than blahblahblah ebaystore.com :D
Created By: geocachingkristylea
---
Hope this helps, excited about becoming a more serious seller!
---
Amazing! and well worth the money!
So cool to have my own site! My sales will surely go up!
Created By: pricedritegolf
---
Great way to stake claim to your name...
Created By: axisimports4782010
---
I use the domain option to advertise on Facebook which makes it easy for buyers to find my items. Like it!
---
This is a great tool to promote your business internationally...
---
Gives me a chance to tell people that I come in contact with where my store is.
Created By: poodlegirl205
---
THIS IS FANTASTIC GREAT SERVICE THANKS
THIS IS FANTASTIC GREAT SERVICE THANKS
---
Pay Pal will not allow me to log in from you site and I can not pay for my domain!??
Pay Pal will not allow me to log in from you site and I can not pay for my domain!??
Created By: pandorasboutique
---
The domain I selected was available, and the payment is reasonable
---
Excellent Program
Created By: mrdscreations
---
Helped my buisness alot!!
Created By: wvdistributors
---
The process was very easy.
---
ANOTHER WAY TO GIUD YOUR CUSTOMER RIGHT TO YOUR STORE
---
Great way to send a domain name easy to remember and have it directed towards your ebay store.
---
MAKES IT LOOK MORE PROFESSIONAL!
Easy to setup Thanks..
---
Works less than 24 hours.
Created By: ogoomartcenter
---
---
Not able to use my paypal existing account to pay for the transaction
Because I have a secure account on paypal the company will not allow me to complete the transaction
Created By: booksforjesusbookpantry
---
Very easy to use and it is exactly what they say. Thanks
excellent
---
This was the easiest process! I am not good with anything computer related but this was a breeze!!
Got my domain main name after only 2 trys and it was up and running in less than 24 hours! GREAT APP!!! Love it!
Created By: happybargains
---
I Love How Fast My Domain Is Up And Running.
It Was Awesome And Great.
---
Excellent Customer Service and Quick
Excellent Customer Service and Quick
---
This works perfect for what I'm trying to do. Thank's!
Set-up was fast, easy, all around great service.
---
Great company! Even better owner and operator! Thanks John
Had some difficulty at first but actually got in touch with the founder of the company and was blown away at his helpfulness and his eagerness to communicate with me.
Created By: affordabledeals12
---
well it was fast with no problems thanks..
---
Super Easy! You did all the work for me, it was well worth it!!!!
I should have done this a long time ago. Thanks for getting it done for me. It was sooooo easy!
Created By: cirklebleather4jc
---
thank you im still learing all this so hope it helps!
Created By: faithfullybe-dazzledjewelry01
---
Great app! Very user friendly! Excellent value! I have been wanting to get a ".com" for a while, but I thought it had to be a technical nightmare and very expensive. This app showed me how simple it can be to step boldly into the 21st century. Thank you soom much!
Created By: sunshine2day56
---
Great communication, easy to use
easy, fast, affordable, very kind to work with.
---
Great idea and very easy to do!! No problems!!
I signed up before bed and was able to access my store in the morning with new domain. Thank you for making this available.
---
Excellent app and good customer service,Thanks
Created By: grandkidsworld*varietyshop*outlet*
---
We added our domain name to our business cards at our retail location and as well to our packing slips for our online customer to share with friends and family. This has added many customers to our business over the last two years, finding us on eBay is as easy as typing in a www address. Thank You, Ralph eBay Sales
Created By: beddecorandmore
---
Easy to Download, Easy to Use
---
I transfered a existing domain. It was easy in just a couple of days it was up and running. Now my customers can find me fast. Thank You..
Created By: nancy850junkjewelrystore
---
Its easy to get lost in ebay. This will bring them in, before they get jacked.
---
Smart Idea for the Serious Ebay Seller!
I've known about e-commerce for a long time.This idea makes you say "Why didnt I think of that?" The only question I have is will your domain name get credit for the re-direct to ebay?Meaning How will it track traffic? Ebay traffic or your traffic? If its ebay, Then i expect to be on the front page of search results. But in reality, its good because you dont have to set up a store from scratch. Great job!
Created By: performancetireplus
---
this will helpe with store traffic
Created By: furniturem8kr
---
very simple ...a must have if your serious in makin money!
simple took only seconds to do great for any new ecommerce startup.
---
Program won't take PayPal Debit Cards or Paypal
The link only allows for CREDIT CARDS through PayPal. Frustrating to say the least.
---
i just tell people to go and type my url and presto there are all my listings. works even for dummies.
---
What an easy way for others to remember my store!
What an easy way for others to remember my store! Just downloaded app. Can't wait to add my new www. address to my VistaPrint business cards!
Created By: allisonsuniverse
---
Easy to use, I was finished in just a few minutes. Works as described. Very useful to redirect potental customers to my eBay store.
---
I didn't realize that I'd need programming experience to get this app to work..
I have to submit to all search engines(which I don't know how to do too well) I'm sure the domain is fine but I'm thinking the big boys have a huge advantage in seo.
Created By: lifeisagift2012
---
it sounds good just getting started so i will see
just getting started so i will see
---
I haven't seen my domain name yet but I am very hopefull that this will work and add more business to my store
Created By: danieles_designs
---
Very easy to use and get my .com website directed to my ebay store. I would have never figured out how to do it on my own.
---
Very Fast Service and Set-up was easy
---
Perfect! Just what I was looking for. It activated quickly, and now I have my own website address I can post to Facebook and put at the bottom of my e-mails! Love it
Created By: sparkletoeskelly
---
Have a Domain without a Website!
Having an Ebay store is great but it's hard to explain how to find it without a domain address. Now I have a domain web address that is easy to tell people and it takes them right to my Ebay store! www.aprincesshousehold.com
Created By: a_princesshousehold
---
Very disappointed that nothing in the details described prepared me for the fact that all this does is register a domain name for you and link it to eBay. You have to know how to do your own search engine marketing. Would never have wasted my money had I understood this.
---
I thought the application was easy to understand and easy to use and the cost was reasonable.
Created By: tinkysmamamary
---
This is exactly what I've been needing.
I've wasted a lot of money on other dot coms, but setting it all up became overwhelming. This will help so much in aiming people to my site with no slashes :)
Created By: leavesofsilver-2009
---
This service was extremely easy to set-up and use. It took just minutes to sign-up and order the domains. It took less than 24 hours until they became active. Overall I would have to rate this app 5 stars.
---
Very helpful tool for any store owner
Fast easy great
Created By: theallamericanmilitarystore
---
Fast Service- Excellent Customer Service
I signed up for this app this morning. I instantly had a rep working on the transfer at 6:25am. By 4pm, my site was up and running. I am very pleased with the efficiency and thoroughness of the rep that I spoke to. I recommend this app to everyone!
---
Haven't really used it yet...we'll see. Sounds like a great idea, though.
---
it was easy and pleasant experience
---
AWESOME FEELING TO HAVE YOUR OWN WEBSITE
IT'S A SPECIAL FEELING TO BE ABLE TO SAY YOU HAVE YOUR OWN WEB ADDRESS. NOW I HAVE SOMETHING TO PUT ON A BUSINESS CARD AND AN ADDRESS FOR PEOPLE TO FIND MY ITEMS. NICE!!!
---
I added this app to my eBay account just last night, with a few hiccups unrelated to the app. But I emailed, not knowing the reason for the problem I was having
---
anyone can pull up my ebay without logging or going to ebay
---
not free, but a good service
ok, but the only free part is to see if the domain names are open. then there is an annual fee. but a good deal! as long as you are aware of costs :)
Created By: rattlesnake_orchid
---
Could not have done it with out you. This has helped me drive business to my store.
---
helps u promote ur site great tool
---
Applying and registering was easy.
---
It was sooooooo easy and it works wonderfully!
Created By: amys.old.house.place
---
It was fast, easy
Created By: ladywoodspirit
---
Was very easy and has great customer support if you have any issues!
Was very easy and has great customer support if you have any issues!
---
Awesome Customer Service!
Spelled my domain incorrectly. Quick to help me resolve the problem!
Created By: shopattraysshop
---
This is what i was looking for.
Created By: mrutigliano2011
---
---
this is not a free offer!
You are required to pay 18.00
---
Easy fast and inexpensive.
It was easy to get the name I wanted. It came up right away and it does not cost much.
Created By: annatiques-2009
---
I think this is the greatest service!
I figured I would have to spend a lot of money, time and trouble setting up a website to sell my pet products after opening a store Ebay to grow my business because I wanted both. But with this service you can have your Ebay store and your .com website all in one! This is the best and I am telling you people if you want to save a lot of time, trouble and money you need to try this. No one can sell me anything and after taking a look at this service I was in right away. Try this people you will like it! Randy
---
Fast customer service and easy to use
This is just what I expected as it is a fast and easy way for people to find my store items. Some people where having issues looking for my items and now much faster for them. Had a question and got a call back in 3-5 minutes and was very helpful. Great job John and everyone else involved.
Created By: salempawnworld
---
What a feeling it is when your store name or a product is googled and your Domain pops up at #1. Brings new customers to my eBay store that were not looking on eBay for products. Increases sales and exposure
---
John GIVE GREAT SUPPORT!!!!!!!!!!!! A MUST HAVE FOR MY STORE!!!!
---
John fixed my problem!! PLEASE disregard the previous review!!! ALL IS WELL
The confusion was with "working on it". I thought that he meant in the future (months or in the planing stage), not hours to get it up and running. MY APOLOGIES to John and his SUPER PROGRAM!! IT WORKS
---
So easy to set up! I am so excited..I have thought about it for 2 years now. I did it!
I am not real savvy on the computer as a senior citizen but this sure made it easy to search for a name and to set up. Thanks so much.
Created By: lindasplace47
---
This is a great way to start off promoting ones business. It is great that they provide this service
It was a very easy process. The App Store made it very simple.
---
easy,quick process highly recomend...
THIS WAS ONE OF THE QUICKEST AND EASIEST THINGS I'VE DONE,NO PROBLEMS COOL.HIGHLY RECOMEND THIS PROCESS...
Created By: freedoms4ever
---
greaaaaaatttttt ne and up in comeing new BIZZZZZZZZ !!!!
I try to sell what people want and buy what I need !!!!!
---
I put the address in google yahoo etc... all variations...NOTHING not even my ebay page!
I've tried: gypsylondon.com www.gypsylondon.com http://www.gypsylondon.com does not direct me to ebay at all! :(
---
Haven't really used it yet, but John was most helpful when I had a few questions. Looking forward ..
n/a
Created By: redrockrider435
---
Having a Domain for my ebay store was a great idea but you can't customize it's keywords.
The only keywords you can use for people to find your items are inside of ebay making it nearly impossible to get your store out there on the web outside of ebay. Google adwords is too expensive to try to use so people can find your store. Still ok though.
---
Incredible way for getting recognition and professional satisfaction!
I actually own DomainWatchdogs.com and I thought I'd seen it all but tis is incredible to get people to visit you because you can SEO a domain, but not the URLK fr an eBay store. This is great and I recommend it. Call me any time or visit mine at www.GreenStarEnergySupply.com Thank you and I submit this respectfully and proudly! George J Malvar President/CEO, GreenStar!
---
Worked just like advertised!
Just check out www.deals-on-the-fly.com! Works like promised. Much easier to market with a regular domain! Highly recommend!
---
Does exactly what it should.
There's not a whole lot to say about the product...it is designed to redirect a .com to your Ebay Store, and it does just that - without fail.
Created By: curveballcards
---
Customer service handled misunderstanding very well by John
Will definitely return as a repeat customer. This app beats Go Daddy any day of the week hands down! Real time communication via email made this transaction a superb experience. Customer service was top notch, the best that one can expect. Thanks John for your patience and for all of your help and for answering all of my questions!
Created By: retreauxcollectr
---
Horrible customer service
My domain name no longer works and no one will even return my emails.
---
What a great and easier way to send someone to my eBay store!
Took a day to become active so don't worry when it is not active immediately.
---
Great Tool for Domain Integration!
Makes it easier for customers to find your selling products in one link.
---
---
awesome way to attract more visits
i love it signed up paid a low fee for the 1 year and it was ready in 5 minutes. i will renew again next year
Created By: vintageflutterbuys
---
---
Website Get Glowing Reviews from FB Friends
I feel this will help get my auction items out to a greater number of people
Created By: collectabelle
---
It was as simple as can get!
The creation of the domain name pointing at my ebay website was functional within a few minutes of signing up and activating it. I tested it and it is working just fine. Great application. This is as simple as it can get. Thank you.
Created By: clothingfashionsusa
---
ONE OF THE BEST APPS EVER !!!
This application is one of the best and WELL!!! worth the money for your own Domain, Once you get this app. there are no ads., links, cross promotions what-so-ever! I Simply Picked My www.domainName.com and it goes directly to my store, I couldn't believe it when all that I seen when I typed in my website was my website store. This is GREAT! Like I said there is no misdirection, or signing up for something in order to get your own website. I just cant stress enough how much this application (called www Domain 4MyStore) helps me in soooo many ways, rather than haven to have 50 characters with back slashes. Not Only do you get your own website for an unbelievable price(feels like its free practically) but your able to choose a dot com,.net,.org, and around 20 other different .com's. I'd Like to thank the owner or whoever it is ,who set this incredible feature app. up, It is an off the charts app, amazing and unreal, I might be going overboard, but man, i'm speaking the truth,Thank You.MM
---
Great and wonderful app for small, medium, and high volume sellers alike to have less direct competition on ebay. Just put your domain you create with this on your business card and you have much less competition than if they just searched for you on ebay! Wonderful app!!!!!!
Created By: bargaindealer803
---
The product is easy to use and works great.
---
Excellent solution! What we have all be looking for
Started a webstore somewhere else, but just didnt have time to maintain all that is needed. Would rather make and sell the product, vs. spending time updating sites. This worked out perfect!
Created By: deertrackdesigns
---
Nice app. Did just what it is supposed to do. Setup is a breize and it was active in less than 5 minutes. Love it.
---
Excellent easy to use app with a more professional url for store
Excellent easy to use app with a more professional url for store
Created By: annashairbows2011
---
Good help - John responded very quickly to help me.
My problem now is that I don't really know what to do with the domain that I've purchased. Clicking on help in the app gave me a blank screen.
Created By: armadelenterprisesinc
---
After getting an actual domain name
After getting an actual domain name, I immediately noticed an increase in traffic to my eBay store, and that was before I had even tried submitting it to any search engines. I Love this app and the developer is always available for any questions. I reccomend it to anyone wanting an increase in visiblity and sales! Five Stars ebayer - tmoo1741. www.dailyplanetactionfigures.com
---
Seems to be the BEST ... !!! Thank you
Easy to start ... domain to the store is a fantastic ideal ... Thank you for this great app!
---
Super fast way to register a domain name and connect it to your eBay Store.
Easy to use. Fast and it works!
---
Reasonable one time a year cost, Takes Minutes to Set Up!
What a great way to get an easy web address for business cards etc. Low Annual Fee and extremely easy to set up. Try it!
---
---
Fanctastic - Makes a big difference!
Wow, I can't believe what a difference using a domain name makes. Before using a domain name for my store, I would just tell people, "I sell on ebay, you can search for these type of items and my seller name is this" or I would have to email them a link with a long ebay name that is impossible to remember. Now, after having a domain name, I simply tell them to go to the url. They can remember it, they can tell their friends it when they are happy. Sales are much better! Thanks so much.
Created By: topqualityfromme2u
---
So far it is working great!
---
Just a few clicks and voila! He has done all of the work for us. Great app. Thanks.
---
this is excellent, I can put the shorter link in emails and on FB and twitter and know I have the correct link to my store. Thanks John.
---
Completely and 100% satisfied!
What a great way to drive more business to my eBay store and it literally costs pennies per day. Ebay is my place for selling even more so than having my own website. Then, on top of that, I had some minor technical issues on my end that John took care of with some of the most attentive and professional customer service I've ever experienced. I highly recommend this app and John's service. Great company. Great for business. Thanks so much! 5-Stars! *****
Created By: crown-tonerking
---
So easy! I typed in www.daintymiss1957.com in the address bar
I love it! It's really great to have my own .com name. It was also incredibly easy to get. No muss, no fuss. Completely worth it because all my products are right there for everyone to preview. This is really important to me because I sell hard to find and usually out of print fabrics. Seeing all my items at once will definitely create multiple sales for me. Kudos to you for providing something so usable and without all the complications that normally go along with technology. daintymiss1957.com!!!
Created By: daintymiss1957
---
The best customer service
Excellent App
Created By: grandkidsworld2000
---