Quantity Manager
By NullApps LLC
(released Aug 14, 2009)
Scarcity sells. Quantity Manager allows sellers to improve the apparent scarcity of their fixed price listings to encourage more buying activity.
If you are subscribed or want to subscribe to this application please
click here
for details.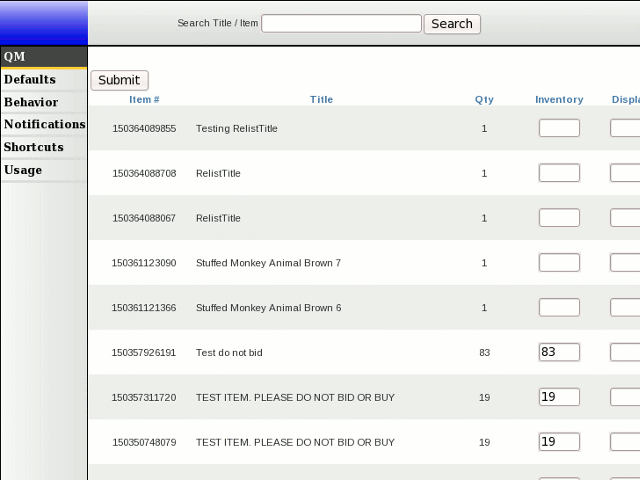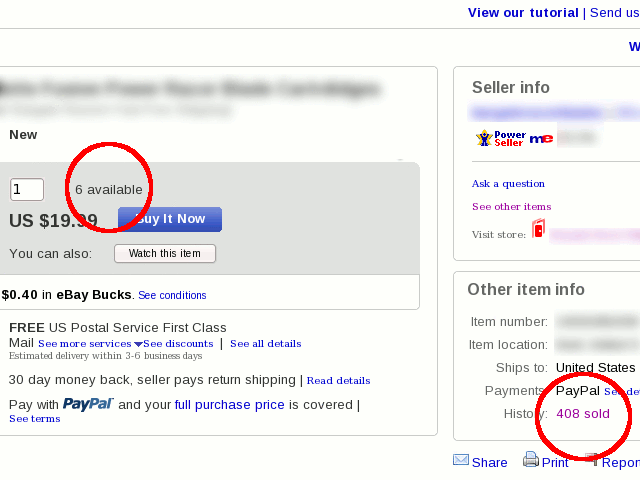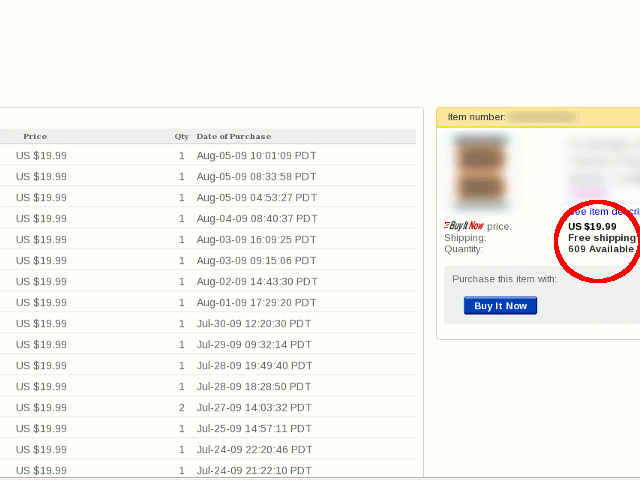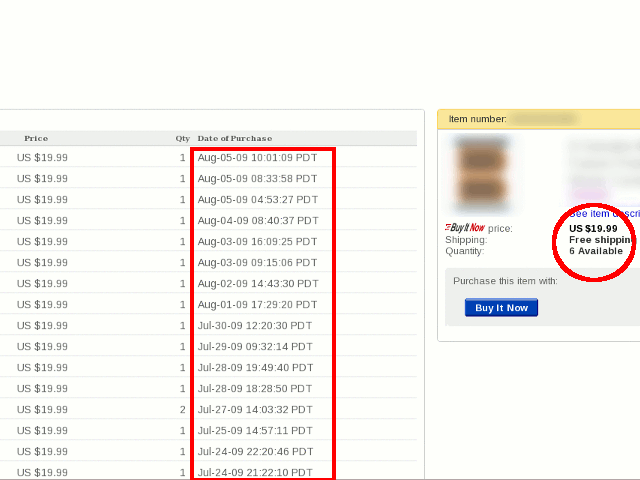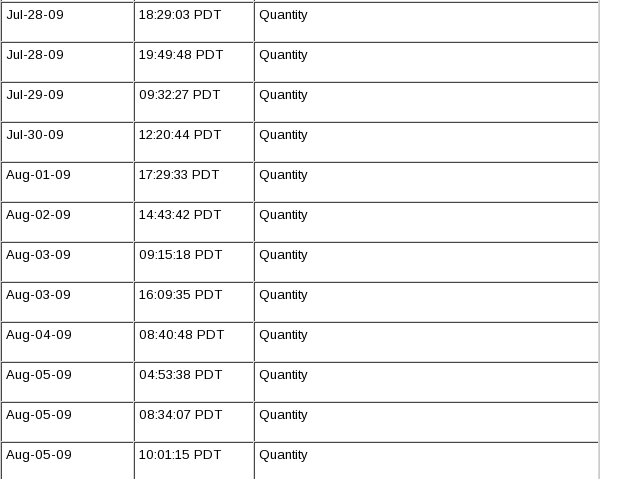 Key features
Automatically maintains low inventory levels across all listings.
Improves appearance of scarcity within the seller's listings leading to higher conversion rates.
Can relist automatically if a listing does end.
Smart Relist behavior to relist or sell-similar depending on current best match score.
Automatically keeps track of total inventory when refreshing to prevent overselling.
Ability to set the total inventory and available quantity of all listings at once or individually.
Ability to set default quantities and smart behavior leading to one time setup.
Email notification when inventory levels are low.
From sale to quantity refresh in as few as 6 seconds.
Support for multi-variation listings.
Technology has been active and tested since October 2008.
Description
Quantity Manager automatically handles the available quantity of fixed-price listings. This allows sellers to keep an artificially low quantity visible to buyers at all times without running the risk of the item ending. This helps improve the perceived scarcity of the listing and can lead to higher conversion rates.
Two criteria that determine placing in best match are "recent sales" and "listing performance." By using Quantity Manger to improve the likelihood of making a sale the seller can also increase their best match ranking leading to even more sales.
The seller simply tells Quantity Manager the quantity in stock (Inventory) and the fixed available quantity (Display) to maintain in their listings. Quantity Manager refreshes an item's available quantity each time a buyer makes a purchase until the seller runs out of that particular item. Sellers can even set default quantities and enable the built in "smart" behavior so they never have to setup another item ever again.
If a listing does end due to time running out or reaching a quantity available of 0, Quantity Manager can relist the item automatically. If enabled, the "Smart Relist" behavior will take into account your recent sales score and can relist or sell-similar depending on which is more beneficial to you. This allows for the retiring of poor performing listings replacing them with a fresh listing with a reset "best match" score.
Additional resources
Application requirements
Supported browsers:
FireFox 3.0, Internet Explorer 6, Internet Explorer 7, Internet Explorer 8, Chrome, Safari
Supported languages:
English
Supported eBay sites:
ebay.com
Required eBay subscriptions:
None
Application support
Support is handled through our Zendesk ticketing system at https://qtyman.zendesk.com .
We try to support all our users as quickly as possible with most issues being fixed within a matter of hours.
If you do not receive a reply within 12 hours please check your junk mail or check our Zendesk to see if we've already answered. If all else fails contact eBay user qtyman
.
NullApps LLC
NullApps is an award-winning eBay application developer. NullApps currently develops simple, but effective, apps that utilize the eBay API. NullApps was recognized by eBay in 2010 as the winner of the eBay Star Developer award in the category of early adopter. NullApps was founded by a long time powerseller with over 7 years of eBay selling experience.
Also from this developer:
By NullApps
(released Nov 23, 2009)
Stay one step ahead of the competition by automatically updating your listings' prices through the power of dynamic pricing.
Categories: Listing, Research & reporting
This app works intermittently and closes listings for no reason
---
Does what it's supposed to do.
This is a great app that helps to manage inventory quantities that are visible to customers on eBay.
---
---
app continues to charge me even though I never signed up for it
---
sadf
Created By: jessettinge-0
---
---
Been using this now for 3 years and it's worth every penny. It's saved me SO much time having to make sure all of the items I have are listed particularly when the CRAYON EATERS here at Ebay started putting dollar and quantity limits on seller inventory. What the 3333 is that all about anyway?
---
Wish I could leave a negative review...
They hacked my account, added their app, and set up auctions. Now, I am left owing money for the app. Ebay acknowledges my account was hacked but will do nothing. They do not answer the phone or respond to emails.It will be a cold day before I pay you!
Created By: terrieslifeisgood
---
I have been dealing with the same situation for more than 4 months. The customer services department helps me every month to cancel the account and every month they charge me again!!!! I do not useeee your services ! STOP !
---
Fraudulent charges. Won't answer phone or respond to emails.
---
I lost my number one listing with over 5,000 sales because it closed on me. I had it set to 15 qty and after a customer purchased 15 it closed. It was fine when customers purchased once or twice. Already called eBay and eBay mentions if an app is not compatible with eBay listings, it would cause the listing to get messed up and ended itself. It's very important if the app is compatible since eBay mentions that they are always running updates. It took my four years to get to this point and now I have nothing to show for it. The app should be constantly updated to match eBay's updates to ensure it's in working condition.
---
NO RESPONSE FROM CUSTOMER SUPPORT.
I HAVE CONTACTED CUSTOMER SUPPORT TWICE AND RECEIVED NO RESPONSE.
Created By: blueapplejewelry
---
Couldn't understand a thing in the app.
---
I HAVE NO IDEA WHAT THIS IS. I HAVE BEEN GETTING INVOICES TO PAY FOR SOMETHING THAT I NEVER USED OR SIGNED UP FOR, I HAVE MADE SEVERAL ATTEMPTS AT GETTING HELP TO RESOLVE THIS ISSUE. HORRIBLE COMMUNICATION! AND NOW YOU HAVE SUSPENDED MY ACCOUNT! REALLY! I HAVE WORKED VERY HARD TO KEEP MY EBAY ACCOUNT IN GOOD STANDING. YOU CAN SEE THIS BY MY FEEDBACK.... NOW I AM CLOSING ALL ACCOUNTS RELATED TO THIS. WHAT A SCAM.
---
Ripoff, never subscribed and now I owe $$?? Ebay should ban this
I never signed up for this bs app, where did it come from? I'm not paying for something I didn't order and as far as I know never did anything to help me sell any items or anything. I'll stop using ebay if this is how they do things now.
---
---
it is not working, it is not working, it is not working, plus no support.
There is no support
Created By: wonderland_village
---
Had change my mind about of this app, they really helpful if you explain your issue,
They are helpful. At the beginning had issue and left negative feedback back then they helped me whenever needed. Also, it is working really good and i have been using a more than 2-3 years
Created By: world_of_sound
---
Does exactly what I need it to!
Couldn't be happier with the performance of Quantity Manager. I set it to show a certain number available it keeps track of my actual inventory too! Perfect.
Created By: merchant-of-the-south
---
5 stars
Created By: topqualityitems
---
---
why would someone need a app to tell them when they are out of a item
this program sends me a email that arrives right after the normal email which states i am out of a item waste of a email and bandwidth in my opinion.
Created By: theelectriccontact
---
Liked it. I was setup for autopay but it cancelled
Sorry if this is an ebay issue and not related to the app but the app company should have sent an email with a warning or something before cancelling. It really messed up some of my longstanding ebay ID's that had good sales history and will take years to get back not to mention all the sales I lost. I noticed that it was overdue which was weird cause for years it was just taken out of my paypal so I added my paypal again and also manually paid for my outstanding balance so I assumed all was good. Guess not
---
A very handle tool to regulate quantities reported to eBay, but doesn't always work
You are able to control the quantities reported to both eBay and retail customers with this helpful program. Being at the mercy of eBay, there are periods where it is simply out of service, however.
Created By: valtermotousa
---
QUANTITY MANAGER IS A SCAM- TRIED TO STEAL FROM MY PAYPAL
My account was hacked and the hacker signed me up for quantity manager so they could commit more FRAUD on my account. I was told that I cannot cancel this, and that I would have to pay for the service, even though FRAUD was documented on my account. It was probably Quantity Manager who hacked me, so they could get their money. EBAY and QUANTITY MANAGER ACTIVELY PROMOTE FRAUD. I disconnected my paypal account and will most likely stop using ebay entirely due to their absolutely terrible customer support
---
Using it for years. One of the best..
Easily manage qtys. Keep Display at 1 or 2 and the rest hidden in the background to keep scarcity up
---
Not only doesn't work for nothing, but also invoiced twice! The second time was invoiced after cancelled the subscription. Piece of junk.
Created By: moreforless16
---
Amazing program specially for new business with a limited quantity selling.
I never have to worry about losing my ad and selling counts. it rarely happens.
---
Used QM for several years now and works to keep our displayed inventory to just a few. Shortcut option is handy for global inventory displays.
Created By: discoverhomestores
---
Saves Time and Produces more sales!!
Created By: familylifesaver
---
---
Works as described and that's a big complement nowadays.
---
Works better than anything I've seen. Flawless with no problems!!!
Created By: meandmylittleman2015
---
yearly subscribed. Told me have balance from past. Paid but still suspended
What kind of business you are doing.
---
Bad billing practices and deceptive cancellation process and missing key features
- Kept billing me months after cancellation - 'Contact Us' links in ebay don't work so you cant actually talk to anyone when you have a problem - Numerous 'down times' when the App didn't work - Keeps the quantity steady in your ebay add after purchase, unless someone buys all you have listed in the ad and then the ad will end, really want the app to keep your items in stock even if you have someone buy all the listed items.
Created By: silverhopswisc
---
BEST PROGRAM EVER! 5 STARS
Created By: bestpricebestproducts
---
These guys are awesome! Great working application. Perfect customer service. A+
Created By: bmsoutlet2013
---
this application is frea**** amazing!!!! finally i can relax and not worry about quantity!
thank you for the amazing application you get 5 stars! good luck
Created By: michaelstore2015
---
started up subscription without my consent. Fraud
Started up and charged me for services without my consent. Need a refund! This is fraud. Lisa Quinn
---
Absolutely LOVE this app!
Sales went up right away! Also saves a ton of time updating stock quantities, especially for items with multiple variations. The initial setup took some effort, but now it runs itself easily and accurately. Contacted support and received immediate very clear help. Could not be happier!
---
Easy to use. Time Saver! Can't input Zero Quantity
The only problem I've found is that you can't enter a quantity of Zero. (Which is something I have to do by hand for a large group of BIN listings periodically when I go on vacation). Other than that, it refreshes quickly and allows easy inventory control. Thank you!
---
Works like a charm would highly recommend to any seller who sells mass items, or always has stock!
Created By: appalachiandecals
---
Customer service is very quick to respond to requests. Used this product for almost 3 years, and it was a great experience.
Created By: outdoorsupplyinc
---
AMAZING CUSTOMER SERVICE 2ND TO NONE!
AWESOME SUPPORT, THANK YOU!!
Created By: setgroupusacom
---
Vert bad app, removes inventory you have. Had to input my entire inventory in manually.
Worst app I ever tried! Stay away! Cancelled and they are still charging my account!
Created By: work_boot_depot
---
Helps keep you out of trouble from selling stock that isn't there
Seems to be 98% accurate and helps a lot.
---
---
Boosted sales immediately, saved us a lot of time and effort
We were struggling with keeping up with our auctions' displayed vs. real quantities until we subscribed to this fantastic product. What a time saver! Very configurable. We don't have to worry about our auctions running out of items, and it keeps our total inventory on hand accurate and the displayed amounts constantly updated. We're still beginners, but it has saved us hours. Great product.
Created By: liquidatorguys
---
Very useful for continuous listing.
I use this application to set my available quantity instead of listing multiple similar items.
---
This service worked very well and we would recommend it!
We used for over three years and it was a successful product! thank you!
---
Solved all my relist problems!
If you are listing a large inventory this is the app to get to help you keep track of your quantities! Before this app I'd have to refund once a week on inventory sold that I didn't have. NOW with this app I NEVER WORRY ABOUT INVENTORY LEVELS EVER! Just put in the correct quantity the first time you list it and Quantity Manager handles the rest. I keep all my listings showing a quantity of 2, because if you are running a sale and it shows only a quantity of 1, the item will relist but that will end that item in the sale, so to keep it simple I just leave it at 2 showing and my sales run perfect now. Love Quantity Manager and it is well worth the price I pay for it so as not worry anymore about inventory levels!
Created By: cheryls_lil_bit_of_everything
---
Very happy with the application
Very happy with the application
---
inventory issues solved!!!
LOVE this! I had horrible issues with inventory. This app accurately tracks sales and when the item is relisted, it updates accurately number of items! Has saved me from gazillions of headaches!
---
Works Perfectly, Set it and Forget it!
Does exactly what it's supposed to do and fast. I have over 10,000 eBay listings. Almost everything is made to order, so basically I need an unlimited quantity. With Quantity manager I can just set it and forget it, it's really that simple. I have inventory on all items set to 1000 and quantity available set to 3. Just upgraded to yearly subscription, as this tool is a MUST for me.
Created By: vipseatcovers
---
---
Better than expected, great customer service!
This app was a real saver this season! In previous years, I manually changed quantities to keep the look of my inventory low. I bulked up on inventory this year compared to past and that combined with the QM app led to a 400% increase in Nov/Dec! Very easy to use and make changes. You receive email updates when an item is low or out of stock. After using for a couple weeks, I noticed the inventory alert emails gave the ebay item # but there was no info on the item but there was on the out of stock email. I contacted customer support and w/in 1 day I received a response. They updated the alert email! Now has the item description included in the email AND the variation if there is one. Easier b/c there are certain items I know I don't need to bother researching at a glance rather than investgating every email. The ebay item # also appears as link
---
Finally move up another step couldn't get pass limitations in first level.
Created By: cmolina44cmsales
---
This app is a must have for anyone looking to control their inventory with out having to waste hours revising each listing. The price is by far worth the service the app provides! This app allows you to control the demand of each item through scarcity. Also, if you just don't want to have to fool with always adjusting inventory levels. I highly recommed this app.
Created By: thebuyerspoint
---
listings end and do not show up in ended listings.
Used to work great but lately not working
Created By: vinestreetstuff
---
Does exactly what it says, top notch, extremely responsive support. Highly recommended!
Does exactly what it says, top notch, extremely responsive support. Highly recommended!
---
it is so confusing and it doesn't have a good tutorial. Try on your own risk
it is so confusing and it doesn't have a good tutorial. Try on your own risk
Created By: diy_home_supply
---
This is an excellent tool to manage Fixed Price invnentory
Easy to use, reasonable priced and works very well.
Created By: golfballsunlimited
---
I have been using this application for over a year now and it works great. It is simple to update and keeps control of your inventory.
Created By: olympicposter
---
I always used to keep my inventory low manually----usually around 7 or so items, and I'd have to manually fix my inventory every 12-48 hours, depending on sales. This was a problem for several reasons: First, it was time consuming. Second, there were a few times where my items sold out while I was sleeping (thus unable to increase the quantity remaining). This app solves all these issues, and for a very low cost. I highly recommend it.
---
Being a new seller on eBay, I am up against "selling limits". With as many items as we have listed, it is hard and time consuming to manage availability numbers since every item counts against us. This has been tricky to do and not have items end on us due to selling out. Enter QM...this app is easy to set up and works perfectly. No longer do I have to sit down and update quantities and check my dashboard to make sure I am not getting to close to the selling limits. I set a huge number globally for inventory, then set 3-5 on the display....then walk away! Well worth the money in time savings.
---
Super easy and never have to mess with quantities again
---
Easy to Set Up and Run - Intuitive and Logical User Interface
QM was easy to get up and running - it had clear step by step instructions presented in simple language that referenced specific entries on the screen. The User Interface is intuitive yet powerful. Tech support responded promptly to my one question. I gave up on a similar program offered by a different vendor because, unlike QM, it was difficult to set up and use - and lacked clear instructions. QM works exactly as advertised.
---
Amazing Application!! Works great and has saved me!! Highly reccomend to sellers with limited lstngs
The creator is a smart man and also down to earth. He has personally helped me in using this program!! 10 thumbs up!!
Created By: integrity-automotive
---
Actualized inventory without showing too much of a single product
Created By: justlovabledeals
---
Save me time and money! Great app!
Created By: littleredcart
---
very helpful, thank you
Created By: sunshinesmileservice
---
QM has made my life much easier
I like the QM as it has made the on hand count showing in ebay a lot easier then the way I was doing it. I have been using it for about 3 weeks. Checking each item sold after it happened was a pain and time consuming. I read your reviews before I signed up for it and learned what not to do by the reviews claiming your system did not work, they simply did not follow directions. I have over 1300 items listed now on ebay and Quantity Manager has made this part of the process automatic, I no longer have to monitor the quantites shown available for sale. If someone purchases all of the item QM immediately puts it back up on ebay so I don't miss any future sales. I highly recommend this application. Be sure to read and understand the instructions. Read the reviews of the people that were not happy and learn from their mistakes by reading the replies from the application tech guy. These are real helpful. I had this installed and running in less then 15 minutes.
---
I had an issue the first relist set, but they were very quick to correct the bug and restore my images? after midnight (my time) on a Sunday! You have to get out of the habit of changing inventory amounts via eBay, best to do that from QM. Is great for keeping inventory stock apparently low. I do not recommend that setting on items you could sell all of to one buyer. You know that though. :) Keeps perfect track of my inventory and relists as auto relist should -- with sold items deducted. LOVE! Absolute time saver! Wonderful!
---
works great took a min to figure it out then wham.
works great.
Created By: springfieldclock
---
---
Has Been A Great Help in Managing our Inventory
Before Quantity Manager we were constanlty having to relist stock items as they sold out. NO MORE - IT HAS BEEN A GREAT TOOL FOR MANAGING OUR INVENTORY - I HIGHLY RECOMMENDED TO ALL EBAY SELLLERS!!!!!!!!!!!!!!!
---
Way too confusing. I thought it would be simple. I listed an item with a quantity of 20. I told the app to say there was 2 left, like the app was designed to do. I sold 2 and the listing was ended. I had to list the item again. I thought maybe I made a mistake so I was careful to make sure I did it right the next time. I sold two more and the item ended again. I had to relist it AGAIN! As far as I'm concerned this app owes me $10. Why would I continue to give this app so much control over my listings? Not anymore!
---
Been using this for less than a day and it's the greatest ebay app I've used - yay for not overselling and easy relisting - best and simplest inventory management program I've ever seen!!
---
---
QM has been a huge help for my business inventory management
I have used the app for over 2 years. I love the feature that allows my store to show a small quantity available, even if I have more in inventory. The feature that emails me any sold out inventory is also very helpful as I use it to verify my inventory balances. Support has been 5 STARS. Cool app.
---
Best inventory management out there
Simple, EASY, fun and manageable. I recommend this to any ebay seller that needs to manage their inventory.
Created By: gadgets-lets-go
---
This is a great program. It simply works as they say. It took maybe sometimes to get used to. Thanks.
---
Great little application to may your items look scarce. Buyers buy because the apparent shortage of the items. Greatly recommended if you sell a lot through Buy Now buttons.
Created By: guaynaboprinting
---
Scarcity does drive sales
Works as advertised! I may have 100 units available but only list a quantity of 3 and sales have increased. When a buyer buys all 3 QM relists 3 again.
---
Easy to keep up with re-listings..and if there is an issue they respond QUICKLY!!
Created By: sunnyblue2008410
---
I love how this app works!
Trying to show scarcity when you have a warehouse full of merchandise has never been so easy. I have QM show a quantity of 7. It works great.
Created By: golden-rule-auctions
---
Can't sell as well without it!
I make handmade items and I find that using this app really helps move my inventory. I list each item with a high number to begin with and then set the default to 5. Works wonders!
Created By: niletreasures2010
---
This app is great for helping to keep your number of items listed below your limit while still listing all your merchandise.
Created By: legion_collectibles
---
This product is often not working.
Created By: roadie-wheeler
---
HORRIBLE, MESSED MY ENTIRE INVENTORY SYSTEM UP, HAD TO RECOUNT MY ENTIRE 50000 SQUARE FOOT WAREHOUSE
ALSO CAN'T CANCEL THE AP. IT'S BEEN PENDING CANCELATION FOR OVER A MONTH, AND WHILE PENDING THEY CHARGED ME 96.00
---
Excellent Application - Excellent Service
I couldn't be more happy with this app. I mainly use it to manage inventory counts. Due to a lack of storage space, my inventory levels can't be very deep, so I am constantly receiving more inventory. Using eBay's edit function to revise quantities was cumbersome. With Quantity Manager it is a matter of a couple clicks and I'm done. No more waiting for slow pages to load and it even handles variations. On some items I use it to display less than I actually had on hand to give the buyer a sense of urgency and that really worked for me. The customer service is outstanding. They promptly answer every question. It is the first company I have ever dealt with that listened to my suggestions and actually implemented some of them. The fact that QM doesn't work well in conjunction with other apps that revise inventory counts (Turbo Lister, Prostores) hasn't been a problem since I knew this in advance and it makes sense. For the seller that is using eBay to revise quantities, QM is the ticket.
---
Wonderful program! Ryan at QM has been an outstanding help to us!
Ryan has helped make QM work the way I needed it to. This program has been very helpful and has saved me tons of time and headaches!
---
QM requests that you edit quantity directly from their interface. You cannot add more quantity from like Turbor Lister, it has to be done from QM. For a small seller that's fine but when you have 200 listings, you don't want to go to another program just to change quantity. Overall, it's not worth it because it will throw your entire inventory off if you don't do it on QM.
---