Feedback Reminder
By 3DSellers
(released Feb 08, 2013)
Improve your eBay feedback score with eBay Feedback Reminder! Sign up today and receive a FREE subscription to our Thank You Emails app!
Categories: Customer support, Marketing & merchandising
If you are subscribed or want to subscribe to this application please
click here
for details.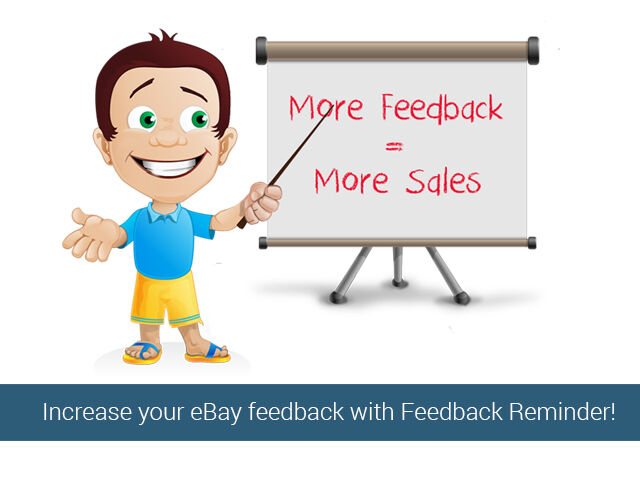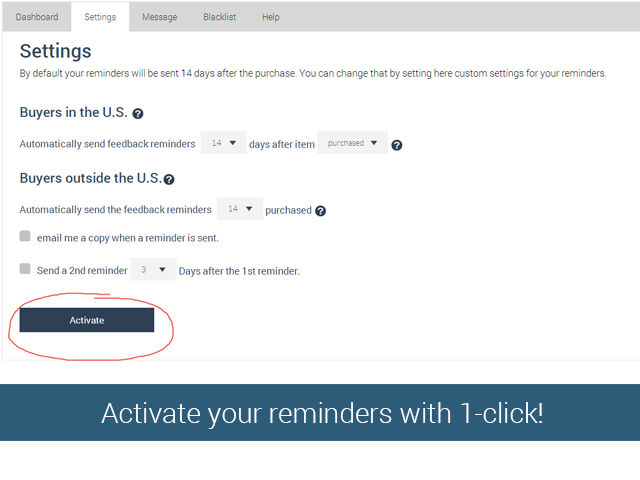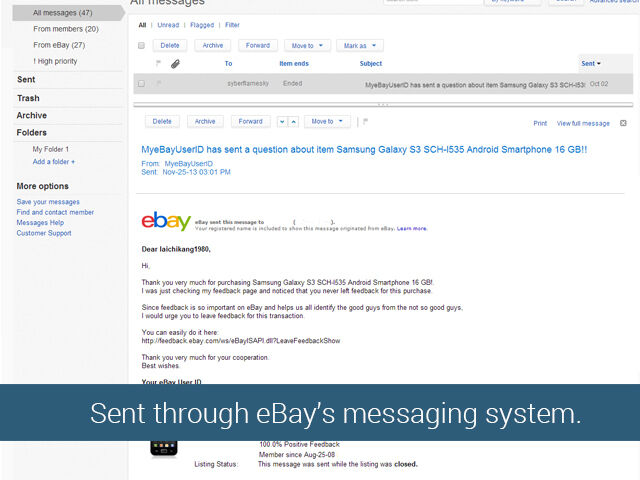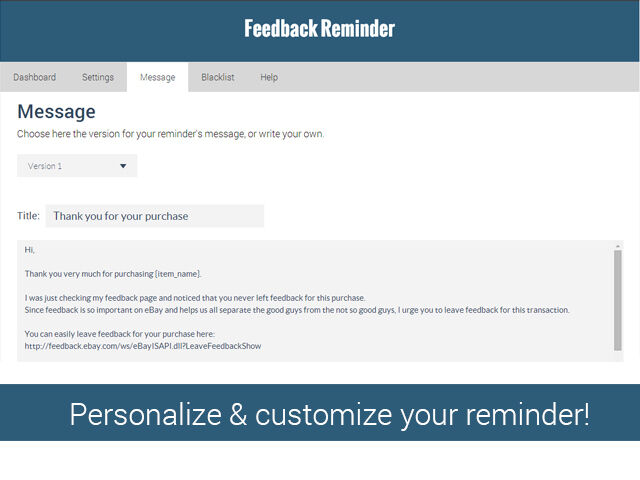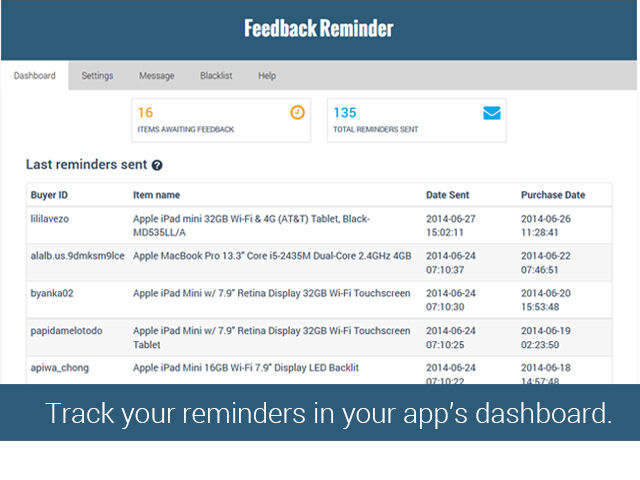 Key features
* Send automated reminders to your buyers.
* Reminders sent using eBay's messaging system.
* Schedule the reminder according to purchase date or shipping date.
* Customize the reminder & add your own personal message.
Description
Feedback Reminder is the perfect solution for all sellers sending a friendly reminder to all your buyers reminding them to leave feedback for their purchase.

Feedback Reminder has been proven to deliver immediate & dramatic results, helping sellers increase their positive feedback score within days! So Try it now for FREE with our 7-day trial

Additional resources
Application requirements
Supported browsers:
Any modern browser
Supported languages:
English
Supported eBay sites:
ebay.com
Required eBay subscriptions:
None
Application support
Need assistance? Have a question? contact us via our support center at http://support.3dsellers.com.
3DSellers
This application is brought to you by 3DSellers. 3DSellers is one of the leading eBay app developers in eBay's App center offering 12 different apps for eBay sellers. 3DSellers' main goal is to create a strong and stable connection between eBay and advanced technology. Thus, assisting eBay sellers in building a prominent presence on eBay, while simultaneously enhancing the eBay shopping experience.
Also from this developer:
By 3Dsellers
(released Dec 09, 2010)
"Share Your Items" is a complete social media toolkit for eBay sellers. Let your items be seen everywhere. "Share Your Items" is the only app that lets your buyers share eBay items with their friends. The app a...
Categories: Listing, Marketing & merchandising
By 3Dsellers
(released Jan 24, 2011)
Embedded in your listing pages, "Currency Converter" lets your buyers calculate item prices and shipping rates in their local currency or in any foreign currency they desire. The calculation is online, accurate...
Categories: Customer support, Shipping & payments
By 3Dsellers
(released May 31, 2011)
Create an amazing Facebook store displaying all of your eBay items, at the click of a button. Connect with 900 million potential Facebook customers! Sign up today and receive a FREE subscription to our Thank Y...
Categories: Listing, Marketing & merchandising
By 3Dsellers
(released Aug 02, 2011)
Create a catalog of your eBay items with this easy to use app. "PDF Catalog" embeds your eBay items in a designed pdf file, so you can present your store goods to potential and existing customers.
Categories: Inventory, Marketing & merchandising
By 3Dsellers
(released Dec 14, 2011)
The best cross-selling tool for eBay sellers. Smart and good looking! Sign up today and receive a FREE subscription to our Thank You Emails app!
Categories: Listing, Marketing & merchandising
By 3Dsellers
(released Jan 04, 2012)
Add a free translation widget to your listings
Categories: Listing, Marketing & merchandising
By 3DSellers
(released Nov 21, 2012)
Create a beautiful storefront for your eBay items with Webstore! Webstore helps you drive traffic to your listings from search engines AND links your eBay account with a professionally designed storefront. Sig...
Categories: Listing, Marketing & merchandising
By 3DSellers
(released Mar 08, 2013)
Design your eBay store with one of our ready-to-use design templates, customizable & 1-click setup! Sign up today and receive a FREE subscription to our Thank You Emails app!
Categories: Listing, Marketing & merchandising
By 3DSellers
(released Mar 14, 2014)
Easily increase repeat sales with Thank You Emails! Thank You Emails will automatically send a Thank You Email to each of your buyers recommending other items that you offer. This way you can build great custom...
Categories: Customer support, Marketing & merchandising
---
My total amount of feedbacks TRIPLED! It?s amazing and so easy to setup, everything works automatically ever since. There is also a very pleasant chart that shows the progress - the interface is very user friendly overall
Created By: capitalawesome
---
I?m very happy with the feedback reminder. It started showing results in the first hours of activation and my feedback score keeps growing! Thank you for this automation. The sending triggers are perfect and it?s even possible to choose a time of the day the reminder is received
---
My feedback score started growing as soon as I activated the reminders.THANK YOU, I?m very happy with this app! I recommend to all eBay sellers - you can see your progress, personalize messages and even setup automated feedback to buyers, which is a great time-saver!
---
Amazing! Great tool! Everything is automated and so easy to use my total feedback score increased right away. IT WORKS!
---
Feedback reminder process
This has been a HORRIBLE experience. Your system is sending automated emails 1-2 days after a buyer PURCHASES an item from me reminding them to leave feedback for the item. It makes sellers look like total idiots. Please disable this option on my account.
---
I have subscribed to this service for over 2 years! Recently 3D Sellers stopped sending my feedback reminders without notice. I was researching this and have found that IT IS REQUIRED to upgrade to their PRO PLAN in order co continue to send emails. This is such the scam. I do not want to subscribe to the PRO Plan for $15/month when all I need was the $3.99/monthly plan. Ebay should be ashamed of themselves for allowing this type of company to strong arm and scam the sellers. SELLER BEWARE!
Created By: hoosierdesignguy361
---
This is a great service! It will help you stay on top!
---
no customer service with this app. trying to get a hold of someone to cancel your account is nearly impossible, you will have better luck stumbling into gold in your back yard
Created By: ransthriftfinds
---
Feedback Reminders work Great!
I signed up to increase my review numbers and ratings. It helped a lot and made it so I didn't have to think about it. Love the automatic nature of this service! Worth the price!
---
The price is $3.99 / per month on eBay. I subscribed on eBay. The app sent me website the price changed to $9.99. It is not fair.
Created By: conquerorhome-garden
---
I can see a difference for sure
This seems to work quite well and i definitely saw a difference in the amount of feedback i was getting from my buyers, thanx.
Created By: unbeatable270.ml_2
---
Fantastic! Seriously works!!!
Set it and forget it. My feedback score grow overnight after getting this app! Love the new features as well.
Created By: dragonfly-jewelry
---
FEEDBACK REMINDER NOT RECOMMENDED
This application sends all customers automatic messages with the same name of the product. A buyer send me this message: nice try soliciting feedback but you got it all wrong, I never bought any WOMEN'S NIKE SHOX RUNNING SHOES US ! I see you're new to eBay selling so I can understand your careless mistake.... And many other messages I received for this bad application. I DO NOT RECOMMENDED . DO NOT WASTE YOUR MONEY.
---
This app is excellent and takes the work out of following up on feedback reminders! I highly recommend that every seller use this app.
Created By: mtmineralsandcrystals
---
Wasn't great before and now is even worse.
Before the app was ok but would send reminders too early which many customers complained about which is not good for business. Now they limit you to 5 reminders per day which is ridiculous and they expect me to pay $50 A MONTH! to get the limit removed. Let that sink in... $50 a month! Thats more than most of my subscriptions combined!
Created By: trendingboutique
---
Helps tremendously to help remind customers to leave feedback
Great took
Created By: downinthedsm515
---
I got feedback that i wasn't hoping i would.It really works fine
Created By: europeanwarfronthelmets
---
BEWARE YOU ARE LIMITED TO 5 FEEDBACK PER DAY
BEWARE YOU ARE LIMITED TO 5 FEEDBACK PER DAY. THEY WANT YOU TO UPGRADE TO A MORE EXPENSIVE PLAN AFTER YOU SIGN UP TO LIFT THE LIMIT.
Created By: techhalfprice
---
still sending reminders to our buyers, we cancelled your service
sending emails too early
---
---
I've been using this service for over a year and love it. I haven't been selling as much lately, so cutting back. But I need to get back to selling more on ebay! This is a great service you do not want to go without. My feedback was increase tremendously and I loved it. I will be back once I get more items on ebay to support the cost. Even though it's cheap, if you're not selling, no sense having it. Thank you for a great service.
---
The system fulfilled what it promises, I had several positive feedbacks.
Created By: maisqueoferta
---
The application is more than well done is perfect
The application is more than well done is perfect, but even so the buyers are very orgasan to leave their feedback.
Created By: virtualshop90
---
The customer service has improved and is very responsive. product is functioning well.
---
Quite useful and minimizes my work
Quite useful and minimizes my work
Created By: worldshopping90
---
---
I purchased this app 60 minutes ago and already have had 22 Feedbacks left
This is a very easy app to download nd the tutorial is great. It took less than seconds to complete the whole set-up. Well worth the small monthly fee
Created By: summercreek2345
---
simply doesn't work, never shows any items and i have tons of transactions. don't waste your time with this one and then have to deal with the hassle of canceling the subscription to avoid paying. heres a tip: go straight to your paypal profile- my money-preapproved payments and cancel this one
---
Now way to ge help except spend unless time asking question after question with just more questions.
Poor. Can't get help and can't find it on just asking question after questions only to get more questions. Want to have a way to find out what happened to my account.
---
---
Highly recommend =)
Created By: santanaspicknfinds
---
Best Feedback App out there
I have to tell you this is a great app that will get your feedback numbers climbing!. You can send a reminder after delivery its all automatic and nothing for you to worry about. Had a bad experience with a buyer ? No problem just block them from getting the reminder and your all set. The $3.99 a month is well worth it ! Curtis Has The Worms
Created By: fundailygifts15
---
Works wonderfully. Helps me to receive many feedbacks.
---
---
If you are looking to build your feedback this is the place to go. It is constructed in an extremely efficient way, linking the buyers to the correct place, so it is just easy for them as well. I got almost 30 feedbacks in 1 week that there was 0 chance I would be getting them. This application will stay with me for along time. Maybe one of the most important applications, especially if you do a good job and wish your work to be rewarded. Easy 5 Stars, I would have given 10 stars if were available. Most highly recommended!
Created By: memento-collectibles
---
good
Created By: glittermylife
---
Canceled after free trial because it didnt do anything for me and still charged for full month. Decided to give it another try. Out of ALL the emails they sent, I received two REPLIES and not actual feedback. Canceling subscription now, not even worth keeping although I was forced to pay for it.
---
Because of this app I received feedback that I might not have gotten. I loved the different designs and support and I will use this always
---
---
Great service at a great price
I have only been subscribed to this service for a few months. However, I am very satisfied with it. It is really convenient because feedback reminders are sent at regular intervals that I set up myself, but the application does all the work. It is helpful in that, leaving feedback is what helps me determine areas of strengths and weaknesses in terms of my offerings and services like timely shipping and communication. I welcome all feedback, bad and good, because both is constructive and necessary, and in business, you have to be able to receive both. Thus, I greatly appreciate a program like this that takes care of this very crucial step when I forget to, and is very economically priced in comparison to the level of service and support offered. I highly recommend it.
Created By: timelesssimplicities
---
. Increased my Feedback with very easy tools.
Created By: pinkypleasures
---
Excellent program and works well
Created By: oemwheelsdirect
---
I activated this app late last night. When I woke up this morning, I already had 4 more feedbacks from older purchases! I think I'll keep it!
---
Increased feedback tremendously
This App is well worth it. The settings are easy to manage to your liking.
Created By: thoughtfulgaloreandmore
---
easy to use and very complete in terms of features.
Created By: baylandimaging
---
Love this app. Works great! The options it gives are good too.
Created By: a1productsource-17
---
Very good app. Able to followup customers for feedback easily. !!!!!
---
---
Watch your Feedback Score
My feedback has started growing higher with no begging
Created By: wheelchair-plus
---
Cannot open the app for about 2 weeks now. Please help.
Created By: thestylelobby
---
The app is Pending for one day now! I can't even remove it!
The app is Pending for one day now! I can't even remove it!
Created By: partcollector_org
---
EASY TO SET UP AND IT DOES IT ALL ON ITS OWN.
Created By: wetzel1surplus
---
Wat a well thought out App I have been getting great reviews plus return customers with this Thanks
This App is well put together no doubt. With its ability to not only remind your buyers to leave good feedback but in fact also sends a thank you email after the review has been left, or a purchase has been completed which in turn ='s Greater numbers of returning happy customer. Thank you.
Created By: stanceriders_0
---
Just implemented and already got a few feedback in a few hours :)
Created By: jolinmarketplace
---
great really improved the feedback i receive at a small cost
great really improved the feedback i receive at a small cost
---
Fantastic Business Asset!!
My feedback percentage has greatly increased since signing up with Feedback Reminder. As a new dBay seller I wanted to start off running and that is just what Feedback Reminder helped me do. My feedback percentage today is 42% and rates at 100%! I give a lot of the credit to them.
---
---
---
excellent to boost your positive feedback
works so good, no problema at all!!
---
not getting a good response
---
don't use the standard feedback reminder given to you by the app CREATE YOUR OWN!
---
Not a single response... The only feedback I received was the one I had to beg for...
---
Must have app for high volume sellers!
Set it and forget it. Its that easy, my store grow overnight after getting this app!
Created By: newtechbargainprices
---
---
---
in pending status for over two weeks. contacted support twice within the last two weeks and have not received any kind of response. poor support.
Created By: megadiscounthouse
---
Absolutely must have for any serious seller
Just started it...got 25 feedbacks in a day.Highly recommend
Created By: sixtyninedailydeals
---
I noticed that people are more likely to respond to an automated reminder rather than a message from seller. Really worth it.
Created By: salamandre2120
---
Great App! In 48 hours I received my first 2 positive feedback from customers.
In 48 hours after installing this app - I received my first 2 positive feedback from customers.
Created By: paradigm_trading
---
Wow at first I discounted the automation
---
---
This works great! I started geting more feedbacks within 30 mins of subscribing !
A must have for every ebayer. I got 10 new feedbacks within 30 mins of subscribing! wow! 10 STARS!
---
it works. you get more feedbacks
Created By: hobbyandmore2010
---
ASKING FOR FEEDBACK BEFORE BUYERS ARE GETTING THEIR PACKAGES!
I DO NOT APPRECIATE HAVE MY BUYERS ASKING ME WHY THEY ARE BEING ASKED FOR FEEDBACK WHEN THEY HAVE NOT EVEN RECEIVED THEIR PACKAGE!
---
My feedbacks have gone up at least 50% since subscribing to Feedback reminder. They simply send a form letter that I have edited to each buyer and remind them to leave feedback. It really has worked! Not everyone will leave the fb but many of them have, definitely more than not receiving any email reminder at all.
---
I know have my feedback updated all the time
---
A must have for every seller!
Created By: stans-shopping-attic
---
---
horible experince, receive more feedback without it
Horrible experience, receive more feedback without it, I have canceled the service three months ago, and they are still charging me, I just opened my second Paypal dispute. Fix this issue stat!!!!!!!!!!!!
Created By: keepitmovin13
---
Must-have! Wonderful app!
I literally received about 25 positive feedbacks within one day! Sometimes buyers reply directly to the message instead of leaving feedback though.
---
provides instant feed back response. love automated systems.
Created By: bearcatsportz
---
Increased my feedback greatly! Great app for the cost!
Created By: 150maplestreet
---
worth every penny helped my Ebay business tremendously, thank you. .
the application worked very well.
---
By Far the Best FB Reminder App!
Amazing App! An absolute life saver that has lead to over 50% FB received rate, up from only about 10%. Thank you FB Reminder! The only thing I would like to see in the future is the ability to send a different message for the second reminder rather than sending the same exact message twice.
---
My Feedback Response increased a lot!!!
Was pleasantly surprised at how good this really did work.
Created By: girls-like-us
---
Feedback has gone up drastically since using this app
Within the First week we received alot of feedback. more than a 100% increase.
---
Can't cancel online and no one picks the phone up. Poor design on the app.
Created By: jaysoutletmall
---
While I like the idea and it has raised my feedback, I get 1-2 complaints a week from customers about this reminder.
---
It Works "NO If Ands or Buts about it"
Feedback Reminder does a great job of getting you feedback that you normally would not get. It saves you a lot of time in not having to contact buyers asking for feedback. It is all done for you. The feedback letters are very well written plus you can make your own if you don't like theirs. I will be canceling my subscription only because eBay has gotten so slow for me, the measly amount of 3.99 a month Feedback Reminder charges is more than I'm making on eBay. If eBay picks back up I will definitely re-subscribe to Feedback Remainder again. I give Feedback Reminder 5 Stars Plus. Thank you Feedback Remainder for the great job you have done for me over the past year.
---
very good make alot of money and good feedback
we rise feedback right away ...and a lot of come back customer
---
So far I see that the sending of the reminders was quick, with some answers I think is doing what it supposed to do. Thank you.
Created By: pepelucho2013
---
Now you can be sure you won't miss any feedback!
This App making sure you won't miss any feedback. Increased out rating in a short time.
---
Love this app. Has been a big help to me, letting my customers know I appreciate their business.
Created By: lovinglifeontheairfield2012
---
I am a small seller and this app boosted my feedback by a considerable margin.
---
DOUBLE BILLING............
I HAVE PAYED MORE THEN $27.00 FOR 4 MONTHS THAT SHOULD HAVE BEEN 3.99 ABOUT 15.00 AND AFTER TALKING TO THEM BY E-MAIL THEY STILL WANT MORE MONEY. IT'S A GOOD PROGRAM BUT THERE SUPPORT IS S--T. CAN NOT FIND A NUMBER TO CALL SUPPORT? AND TALKING TO THE E-MAIL GETS NO PLACE. BAD BUSINESS!
---
Great app. Saves a lot of time
It's a great application when it works.
Created By: autosquareparts
---
Save Me Lots Of troubles, Thank you
Created By: repairmanualmaster
---
Customize options help you remind buyer to leave good feed back.
---
Very good options to choose.
---
---
Excellent variety of "need to have" reminders and thank you emails
Created By: redriverranchnv
---
---
Boost your feedback fast and sell with confidence
Excellent
Created By: vivianshoe_store
---
Keep giving this a chance but it doesn't help me
I think this is my 3rd time trying it. Every 4-7 months I look to see what's here. I haven't gotten not 1 feedback from this. I'm not a high volume seller so I can't afford it anyway but the dsr's are killing me and I disclose everything but if they leave fb, my dsrs struggle. Any feedback will still help by telling me what they like or didnt. I give 5 stars across 4 boards all the time...unless it's really bad. I just write to the buyers..but first I check to see if they ever left feedback. Many dont. They'll have 656 stars but never left feedback to a seller. IM HAPPY FOR THOSE OF YOU THAT GET HELP FROM THIS? I'm just not 1.
Created By: 2live2day2love
---
Much more easly now to follow up for a feedback!
Feedback are increased for about 30% since subscribed to this app.
Created By: better-place-to-buy
---
Excellent app. Thanks you ebay.
---
Won't stop charging me! If I could give them a -10 I would!
Canceled this subscription due to lack of feedbacks. And they refuse to take our account off the records and every month send a new bill. This has been going on for several years the bill is not almost $500.00. I have emailed over 6 times had conversations with them and they still refuse to quit billing me for something I am not receiving. I really think this is a bad company!
Created By: vacuumpackers
---
Take money every month but never send any reminder to customer
After 7 month pass just check on the app now, been paid every month $3.99 but just know that in the past 7 month they never send even one remind out very bad app just want to take money, but never let custom or follow up custom need. Not recommend to everyone
Created By: divinitycruzing
---
seems to confuce customers
I keep getting feedback to my messages inbox not on where it belongs, they just reply to the message, need to work out that bug, lol
---
Had 20 plus people with whom I left feedback but they did not . So they are chipping away at them little by little.
---
excellent job this works very well thank you
This saves you from having to worry about it
Created By: bar19r.cst3naz
---
Very Very VERY easy to setup - great app for minimal cost - Works as promised
---
---
---
---
The best eBay feedback reminder app available for eBay!
This is a great eBay feedback reminder application for eBay. People who use this app are very able to have this app send automatic feedback reminders to eBay buyers whenever possible. It's one of the best $4 per month you'll ever spend if you sell numerous items on eBay per month.
---
Been a great application in helping with my feedback. Would not trade for any other application
Created By: secondhandconnection_2014
---
Your service has been very effective.
Your service has been very effective. Several of my buyers whom I have tried several times to get them to leave feedback and had no results have left feedback after receiving your emails. THANK YOU!
Created By: spotonscripts07
---
I received more feedbacks the first week then I had the previous 2 months. Highly recommended, especially for new sellers.
---
It was working for a first few days, after that it stopped working and support had to MANUALLY trigger something for it to work. After that manual trigger run it still doesn't work. Here is the email from support: "Sorry about that, our team are working on checking why this keeps happening so that we can fix the problem permanently. Meanwhile we sent the awaiting reminders." I don't see how you can possible have a PAID app that is supposed to send feedback reminder emails and it fails at the very thing it is designed to do.
---
Got over 10 new feedback right away
Responsible price and works!
---
Love this app, gets me so much more feedback. Customer support is great too.
---
Very useful, must have app
The day I installed this app, I got 11 positive feedbacks. Very good, very simple but useful app
---
Put in exclusions and it keeps hounding people! Junk
---
A++++ APP WOULD HIGHLY RECOMMEND!!
GET THIS APP AWESOME!!
---
---
It helps when people get so busy in their life that they forget to leave feedback.
Created By: mimiswonderfultreasures2010
---
Amazing, tasteful e-mail from E-Bay worked well. In two days over 12 positive glowing feedback's, and several apologetic e-mails. I have one complaint, we should not have to pay for this service, it should be free. This service benefits E-bay more than it does individual sellers, in so many ways, especially when we pay the price. I'm not going to pay $48 a year for something that I can do myself.
Created By: flybutterflygal
---
---
already have feedback pouring in, easy to set up and customize. - thecoindigger
Created By: thecoindiggernumismatics
---
Went from a feedback score of 735-771 in 4 days. More than half of them were received within the first 24 hours of my trial. If you don't sell large quantities it is probably good to get every couple of months.
---
MY SERVICE IS EXCELLENT AND NOBODY LEAVES A FEEDBACK
Created By: jmacimportandexport
---
Sends a very professional wordered feeback reminder to your customers. I had 25 transactions without feedback when I subscribed. Got that number down to about half
---
Has increased my feedback status tremendously which increases my sales and better standing seller account.
---
Awesome tool to help remind customers to leave feedback!
I recommend this tool.
Created By: solesuppliersllc2014
---
Awesome App, one of the better ones in fact. Its already a lot of work to run an online business and this app takes care of some of the work for me!
Created By: smit-svlv768h
---
After a brief start, it seems like this is not working and I have no one to call?
---
NEED HELP WHAT HAPPEN TO THE APPLICATION I PAID FOR?
Created By: productbuyingsolutions
---
Great tool, helps to improve my sales.
Created By: kitchendiscountusa
---
Promptly reminded buyers to leave feedback, although it does anger a few which leaves negative results.
Created By: southern_fashionista
---
Link on Ebay dosen't Work
Need to change time of emails but link doesn't work
---
A fantastic tool for sellers!
This is a fantastic tool for sellers. Since using Feedback Reminder my feedback has increased 60%. I do nothing and a feedback reminder email is sent to a buyer after 14 days of not getting feedback. Prior to using Feedback Reminder my follow up to buyers who didn't leave feedback was non existent, now every buyer who doesn't leave feedback get a reminder. App is recommended!!
---
It runs without authorization. There is no way to manage settings without running it. Terrible.
---
This Application Has Caused More Problems than Solutions.
I would like to write my own feedback reminder. The one that is provided has been sent before the item has been delivered and also to people who did not end up buying the items listed. This application has caused me a lot of time explaining this to Buyers and has caused me a lot of embaresmnet. I wish their was a solution. I am cancelling this application and want a refund as I paid for a year in advance.
Created By: cococlaymancook310
---
My feed back level has increased in a major way. Many of my buyers just forgot to send positive feed back. the reminder is awesome.
---
It just makes buyers angry
As usual, it just makes buyers angry
---
This is a excellent app and I have had nothing but great results from using it. I've seen my sales increase. I am now a powerseller and love the positive feedback I receive from satisfied customers.
---
Simple application that does the job well. I am satisfied and meets my expectations. It is only $3.99/month so not a bank breaker. Thank you.
Created By: online-store55
---
Thanks.....Makes my work much easier.
---
Works great! Helped to remind customers and increase feedback by at least 30%
Great service, worth every penny!
Created By: marley_sublime7
---
Yes it has downfalls, customers complaining about the email asking for feedbacks. Some cussing us out because we bothered them but mostly good
---
nothing I say will prompt any changes, you protect the buyer and even if the seller does everything they are suppose to the seller is always right...... which reflects on my seller dashboard for things out of my control.....
Created By: amysgoldandsilver
---
good for feedback improvement worth for the money they charge monthly i love the app
---
Feedback is so important to us ebay sellers! This app takes the fuss out of emailing people!
Created By: watrskiergurl
---
Great service. Helps buyers remember that feedbacks help.
Easy and fast. Service helps everyone find a great seller.
---
It's nice there is an application that can assist in taking this off your plate. You can customize it so it's truly something you would say to your customer. I really found this application to be helpful. Thanks
Created By: estatebuyersgm
---
Great! The best App on E-bay
I love this app sends reminders for feedback saves time and gets people to leave feed back 1 app for me
---
Customer service top-notch! For the money you can't go wrong to have your feedback score pasted for every potential customer to see, keep up the great work Josh!
Created By: keystoneequipmentcare
---
The app right away sent automated feedback reminders to my buyers and I immediately saw results! A must have app for any ebay seller!
Created By: mariothriftstore
---
It just didn't work for me and yet they billed me every month; I see no value with this app, my personal opinion: do what you want.
Created By: thelittlehummingbird
---
helps reminds users to provide feedback!
Created By: peacetelecom1
---
This app saved me a lot of time. Just what I needed!
Created By: usa-dealoftheday
---
Helped my feedback improve big time!
Love the blacklist and the summary of what you want to say to your customers.
Created By: motorcyclestuffandmore2014
---
Great App. Easy to use and efficient.
Great App, could use an option for sending additional feedback request until feedback is received. Two reminders is far to few to get back the results we are all looking for in the 80% plus range.
Created By: gamedaytickets
---
Within an hour I got 7 new feedbacks and within a day 16! I highly recommend this app!
Created By: thrilling_thea
---
The app helped to get more feedback but not very useful.
The app would send messages to all buyers even those that hadn't paid or had open unpaid item cases and when I tried to cancel no one was able to help and instead of a number I was given an email address and the run around. ebay customer support not really familiar with this app. not worth the hassle.
---
I am very happy with the results, I immediately got 10 feedbacks.
---
great app
Created By: mastertech2014
---
This app has been so helpful! Feedback has increased a great deal since installing this app!
---
Just sent out the first reminder and have already got 5 feed backs from it, Great product
Absolutely amazing, great idea!
Created By: officialravereview
---
love it it has increase my feedback
LOVE IT!!!!
---
A++++ Great App Everyone on eBay needs to purchase this app
Great also for small sellers As a small seller I was afraid to make this investment, but I was pleasantly surprised to find out that it?s really worth it. Gives us small sellers a chance in this highly competitive field of eBay.
Created By: lightware-usa
---
Made no difference at all
I got more from emailing each person direct. No change with this program at all. I even paid for a month past the free trial. Would not bother to use it again. It hardly ever sent reminders Not one person responded to any that were sent I had to email them to get any feedback done myself. Changed program settings a few times to really see if this program would work. I would not use this program again. It was a waste of money.
Created By: generationsofmemoriesgiftsandcollectibles2014
---
MUST HAVE IF YOU WANT INCREASED FEEDBACK!
Must have app for increasing feedback. This app easily increases your feedback by over 30% or 40% over what you usually get. Easy to use and edit settings. Block buyers from getting reminders that may leave a negative feedback. This is the 3rd feedback app I have tried and is by far the best. All I can say is AWESOME!
---
I found this app to be very helpful in receiving feedback from my buyers !!! A+
This app allowed me to set when i wanted to send feedback reminders.I never had to rememeber or worry if and when i needed to remind my buyers to rate my items and shipping. Great app !!!
Created By: teamsalablegoods
---
I can't see where the price is worth the app. I realize you can't force buyers to leave feedback but there should be a better way to insure buyers and sellers leave feedback, especially since this is a very important part of building your business.
---
Doesnt work
Created By: 720entertainment
---
This APP started working the first day and I know for sure it has helped collect more feedback
Simply works GREAT, for sure worth the cost!!!!
---
truly useful, a must have
---
Activated this app at 8:30 am, Had 12 positive feedback left for me by 9:30 am
Awesome app. Many buyers sent me a message saying "sorry, simply forgot to leave feedback" This app reminded them and made it easy for the buyer to leave feedback. Boosted my rating in less then an hour. Thank you
Created By: warehousedeal
---
I write about it later. We just signed up :-)
Created By: jewerlypopular
---
I have been using this app for a few months now and have to say it is very helpful in getting people to leave feedback who haven't. Most who receive the message will respond to it right away and leave feedback, many writing back that they forgot about it or intended to leave it. It will not work on those few buyers who really don't care, don't have the time, or are just plain lazy. Well worth the money spent if you do a good volume.
Created By: american-photography
---
awsome
Created By: quality_distributors_intl
---
LOVE it! Highly recommendes!
i started using this app less than 24 hours ago, and already received 5 feedbacks from my buyers. It definitely works!!!
Created By: bodegaexpress
---
Helps a lot in getting feedbacks without hte hassle of manual follow up Recommended and worth 3.99$
Created By: satelliteamericas
---
Great app - ridiculously fast customer service. Well worth it.
---
Fantastic App. - especially for small-fry sellers like myself, Toby.
Extremely easy to subscribe to,inexpensive also. For small-fry sellers like myself,it allows me to let buyers rate me in an honest way,
Created By: tobygross2012
---
It has worked very well for Team Compusellusaa
We have been using this app for a short period of time and already we have seen alot better turnaround time in feedbacks received from buyers.Keep up the great work and never stop improving!
Created By: compusellusaa
---
---
Love it works just as described and easy too follow instructions.
App works efficiently and well with ebay
---
I receive 50% more feedback 100% quicker.
I receive 50% more feedback 100% quicker.
Created By: greateyewearpro
---
I gained over 60 new positive feedback comments in a month. People actually apologized for not leaving feedback sooner. awesome!!!! wll worth it!!!!
---
great
Created By: ferrarabrothers
---
---
Great with helping customers to remember to leave feedback!
Created By: sunshinewareboutique
---
gets sent before customer ever has time to get the item
---
This is an awesome app that works tremendously
for only 3.99 a month you will see feed back ad up and up and up and up. I have had 100 feed back been added in the past 2 months since I have had the service. Very Happy with it
Created By: greatpersiandeals80
---
Definitely helps resolve and reach out to other eBayers on a more friendly way.
Definitely helps resolve and reach out to other eBayers on a more friendly way.
---
Tripled feedback from non-responders.
Definitely pleased - sent out e-mail to customers (international is a bit early and adjusted to 21 days past purchase) as a feedback reminder. Received 2 unsatisfied, 1 was able to resolve, and remainder was all pleased (just forgot or got too busy). Gives easy click link to post feedback. Very pleased.
---
Not a good tool for high volume sellers.
We used this tool for our 2 ebay stores. Previously we received 1175 positive 6 negative feedbacks last month. In 10 days this tool increased our positive to 1470 and negative to 15 which dramatically dropped our seller performance ratings. Some customers thought we were too desperate for feedback and and made unreasonable demands in exchange of positive feedback. This tool will motivate your customers to complain.
---
I've noticed a great increase in feedback since using this service!
I like this application. Feedback is important and these reminders, which can be customized to your liking are great.
Created By: jacentashianne
---
Totally worth the $3.99 a month! I couldn't believe that for an app of such a low cost I would get such great service! Awesome!!!
---
customers complaint of spam
customers complaint of spam
---
A really helpful app! This app really helped me get feedback from my buyers, and also it was soo easy to set up.
---
Got so many more feedback with this app, paving my way to becoming a powerseller!
Created By: robertomejiayahoo
---
I had an issue and the support manger Tzipi was very attentive and took care of it right away - thank you!
Created By: southernswapshop
---
This hasn't sent any reminders there is 189 awaiting
---
Flawed...feedback reminders sent too early.
I set the app to automatically send feedback reminders after 14 days of purchase, but the reminders are sent after only 3 days. This is too early, customers has not even received the item yet. I have gotten responses from customers that seem to be annoyed by this. I tried setting it to send reminders after a longer number of days, but no change.
---
The application worked the first day I got it. Feedback was requested; and numerous Buyers responded
The application was extremely easy to set-up. Within a very short time; letters were sent and responses were received immediately. Best investment in my Ebay experience so far. Thank you.
Created By: collectablesandthensome2012
---
Great tool - Letter customizable
Great utility to automatically contact those folks who "forget" to leave feedback! And the letter/email that is sent to them is entirely customizable - letting your personality come through. Great application.
Created By: palmexpressusa
---
I now receive feedback from over 30% of my customers!
Prior to using Feedback Reminder, I averaged just 10% of customers left feedback. Now, 3 or 4 months later, I'm getting over 30% of my buyers to leave feedback! Thanks Feedback Reminder!
---
Had been receiving feedback on only 10% of my sales. Within 48 hours of installing, my feedback score increased by 50 points.
---
Hands down the best Feedback Reminder App on the market
I've tried every feedback reminder on the eBay app marketplace (there are 3 at the time of this writing). This one is simply the best. Why? Plain and simple: Instead of sending emails to a customers PayPal address, they send the messages straight to the users eBay inbox. This is better because if the buyer wants to contact you or purchase another item from eBay, they're sure to notice it, whereas many people have so many email addresses they forget to check them all. It's also a lot easier for the dumber customers to realize what you're talking about (believe me, I've had some customers I emailed directly that had no idea what "feedback for eBay" was all about.) Simply put, this app is great. My feedback has increased about 30% since I started using it, and it's well worth the investment if you're a serious seller.
---
FLAWED, NOT WORTH MONEY.FOREIGN COUNTRY, CUSTOMERS DON'T LIKE LEAVING FB BEFORE GETTING ITEM SHIPPED
WOULD RATE THIS PROGRAM AWFUL IF THERE WAS AN OPTION!!!MOST FLAWED PROGRAM EVER.SENDS EMAILS TO PEOPLE THAT HAVEN'T RECEIVED ITEMS,HAVE NOT PAID FOR ITEMS, ETC. I CALLED CO.,WHICH IS NOT IN U.S.A., AND THEY LAUGHED AND SAID I COULDN'T CANCEL IT.I CANCELED THROUGH PAYPAL AND GOT MONEY BACK.THEY STILL SEND FEEDBACK MESSAGES TO MY CUSTOMERS THAT HAVEN'T RECEIVED THEIR ORDERS. I AM TIRED OF GETTING ALL THESE EMAILS FROM CUSTOMERS AND I AM GOING TO REPORT THIS SCAM, IF THEY REFUSE TO NOT CONTACT MY CUSTOMERS AND DELETE THIS PROGRAM.
Created By: adele-enterprise
---
now I'm getting more feedback... and that's what it's all about
---
I used it alot,and it worked out good for me....
works very well,note to self and others,let your customer recive their item fist before you ask for feed back.....
---
Virtually Instant Results
Seems no one ever gives feedback back, I religiously leave feedback as soon as a customer purchases thanking them for their fast payment an out of 178 transactions I had 111 that did not leave me any feedback, so within 15 minutes of running this app my feedback score went up 10 points.
Created By: countrystylez
---
When your first starting out feedback numbers are important. This app works much better then others getting people to respond. using the e-bay message center rather then just an e-mail makes people trust it and respond. Went from 62% feedback to almost 93%. Worth the small monthly fee.
---
I like this application. Feedback is important and these reminders, which can be customized to your liking are great. I've noticed a great increase in feedback since using this service. It is definitely work the $3.99 per month! I recommend it!
---
great app boosted my rating big time!
simple to use cost effective and just a great app in general i recommend..
---
Excellent Application. It boosts your sales and feedback score .
---
Unbelievable amount of Feedback!!
I can't believe it! The amount of feedback I have been getting is off the charts! I sue to send thank you emails to all of my customers, hoping this would encourage them to send me positive feedback. It certainly worked, but the amount of feedback I am getting now, with no extra work is great! Now I can see my kids grow up, rather than sending emails to customers all night long! Buy it now, it is worth the money!!
Created By: dollarstardeals
---
Nice app. Does what it do
Sends fb request via eBay as opposed to a separate email that comes out of 'nowhere' asking for feedback AND has link so custs can go directly to fb. But lazy custs who dont like to leave fb, wont. But its a nice reminder. Check it out for free first, than decide.
---
I saw immediate response when the App started sending reminders to buyers. My feedback rating jumped by 43 the first day and over 100 after a few days. I love that I can customize the reminder message and personalize the reminders. These reminders also allowed me to deal with some pending problems because it goes out through my Ebay message system. Buyers with problems will respond with a message back to you and allow you to deal with the problem and avoid negative feedback. Excellent!
---
This does just what they say with great support!
Created By: sell-it-now-industries
---
Great APP for more feedback.
Helps people leave feedback for you after being reminded about it. Some people will never leave you feedback but will take the time to email you instead about spamming them with this APP. They want the feedback but are too lazy to have the courtesy to leave any for you. Bad parenting I think. You will get 30 to 50% more feedback using this APP.
Created By: carpenterforeman
---
An Almost Instant Response From Buyers
Once activated, the Feedback Reminder sent 5 reminders from me (the Buyers who never left feedback). Within two or three hours of the reminders being sent, 4 out of 5 of those Buyers provided feedback - great tool with no effort on my part!
---
Has increased my feedback tremendously
---
Set it and forget it feedback reminder system!
Used to be that we could contact buyers and remind them they didn't give us feedback. Those days are gone, but wait.. here's Feedback Reminder to take on the task! It will send a note after X days if the buyer hasn't given feedback. The Note is fully customizable as well as the number of days to wait. Check it out.. a month's free trial, you can't go wrong!
---
easy to use, just click and forget and watch the magic!
---
love the app
Created By: laurelyurchick512
---
a+
Created By: onlinesellings
---