SocialStore
By 3Dsellers
(released May 31, 2011)
Create an amazing Facebook store displaying all of your eBay items, at the click of a button. Connect with 900 million potential Facebook customers! Sign up today and receive a FREE subscription to our Thank You Emails app!
Categories: Listing, Marketing & merchandising
If you are subscribed or want to subscribe to this application please
click here
for details.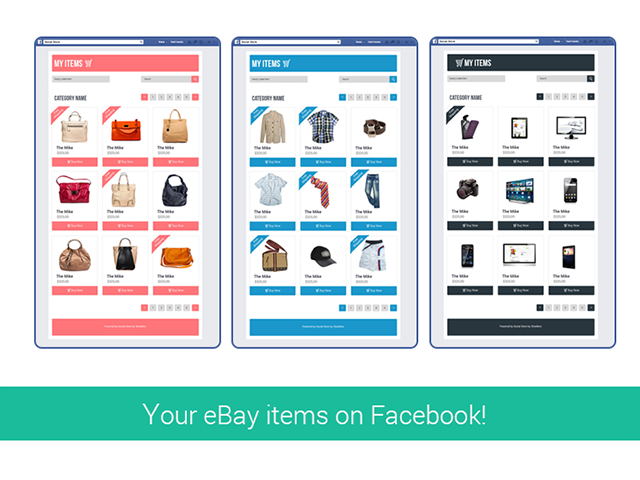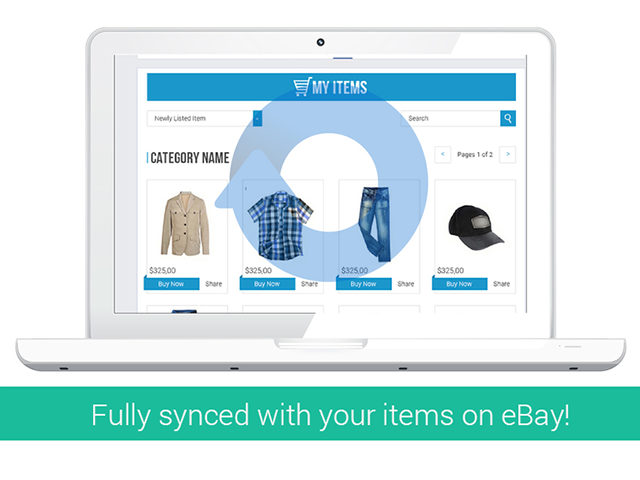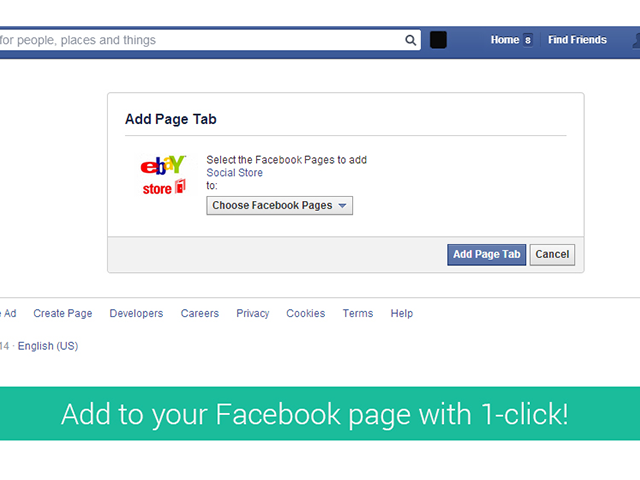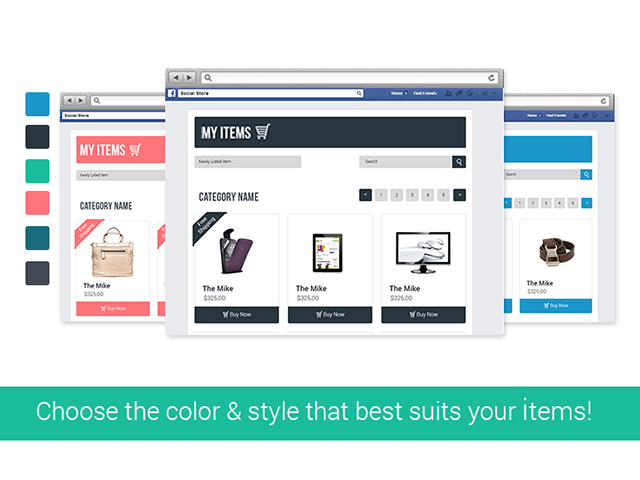 Key features
1) Display your eBay items on your Facebook page.
2) Drive traffic from Facebook to your eBay listings - viral promotion.
3) App keeps your eBay store and "Social Store" in sync and up to date.
4) Choose your color! 3 different templates available in a variety of colors.
Description
The only app that creates a direct and efficient link with Facebook, letting you display your eBay store on a customized Facebook page.
*eBay items are updated automatically, making your store relevant and up to date (twin stores).
Simple and productive.
*Works with your Facebook business/company or fan page.
Additional resources
Application requirements
Supported browsers:
any modern browser
Supported languages:
English
Supported eBay sites:
ebay.com
Required eBay subscriptions:
None
Application support
Need assistance? Have a question? contact us via our support center at http://support.3dsellers.com.
3Dsellers
This application is brought to you by 3DSellers. 3DSellers is one of the leading eBay app developers in eBay's App center offering 12 different apps for eBay sellers. 3DSellers' main goal is to create a strong and stable connection between eBay and advanced technology. Thus, assisting eBay sellers in building a prominent presence on eBay, while simultaneously enhancing the eBay shopping experience.
Also from this developer:
By 3Dsellers
(released Dec 09, 2010)
"Share Your Items" is a complete social media toolkit for eBay sellers. Let your items be seen everywhere. "Share Your Items" is the only app that lets your buyers share eBay items with their friends. The app a...
Categories: Listing, Marketing & merchandising
By 3Dsellers
(released Jan 24, 2011)
Embedded in your listing pages, "Currency Converter" lets your buyers calculate item prices and shipping rates in their local currency or in any foreign currency they desire. The calculation is online, accurate...
Categories: Customer support, Shipping & payments
By 3Dsellers
(released Aug 02, 2011)
Create a catalog of your eBay items with this easy to use app. "PDF Catalog" embeds your eBay items in a designed pdf file, so you can present your store goods to potential and existing customers.
Categories: Inventory, Marketing & merchandising
By 3Dsellers
(released Dec 14, 2011)
The best cross-selling tool for eBay sellers. Smart and good looking! Sign up today and receive a FREE subscription to our Thank You Emails app!
Categories: Listing, Marketing & merchandising
By 3Dsellers
(released Jan 04, 2012)
Add a free translation widget to your listings
Categories: Listing, Marketing & merchandising
By 3DSellers
(released Nov 21, 2012)
Create a beautiful storefront for your eBay items with Webstore! Webstore helps you drive traffic to your listings from search engines AND links your eBay account with a professionally designed storefront. Sig...
Categories: Listing, Marketing & merchandising
By 3DSellers
(released Mar 08, 2013)
Design your eBay store with one of our ready-to-use design templates, customizable & 1-click setup! Sign up today and receive a FREE subscription to our Thank You Emails app!
Categories: Listing, Marketing & merchandising
By 3DSellers
(released Feb 08, 2013)
Improve your eBay feedback score with eBay Feedback Reminder! Sign up today and receive a FREE subscription to our Thank You Emails app!
Categories: Customer support, Marketing & merchandising
By 3DSellers
(released Mar 14, 2014)
Easily increase repeat sales with Thank You Emails! Thank You Emails will automatically send a Thank You Email to each of your buyers recommending other items that you offer. This way you can build great custom...
Categories: Customer support, Marketing & merchandising
---
Love it that it syncs with eBay
It?s amazing that I don?t have to manage my Facebook Store at all! I just set it up and that?s it. It is always synced with my eBay listings. The support was also very pleasant, I spoke to Alex so was very attentive and integrated my store right away.
Created By: capitalawesome
---
So simple to setup and use. Anyone who wants a Facebook Shop that will still sell via eBay - USE THIS APP! It redirects to eBay listings so it?s a great way to bring traffic and attract new buyers.
---
I got my Facebook Store up and running as soon as I set it up! Overall it took less than a minute to create so I?m very happy. It?s fully synced with my eBay listings and looks great - thank you! Another thing that?s amazing about this tool is the fact that once clicked, my fb buyers get redirected to the appropriate eBay listing to complete the purchase there. TRULY RECOMMEND!
---
Makes it easier for my friends to check out my store.
---
very easy facebook shop
Created By: sanare.shopping-sanare.go
---
This is an eBay sellers must have application!
This Social Store app truly changed the way I market to buyers. I set up my own Facebook Page and Social Store made it so easy to automatically port over all my listings to Facebook so quick. More views = more sales
Created By: katiekatesstore
---
Love it. Created a Facebook store in less than 5 minutes (with a break)
This was a very easy application to set up and use. HIGHLY RECOMMENDED.
Created By: reelsticksystems
---
just needs a share button
Created By: kcelectronics_by_briancasey
---
So far so good
Created By: rubi_doobie21
---
facebook will not accept this app
have tried to use this with facebook to no avail
---
Have tried repeatedly to make this work. NOT HELPFUL!
Sent many previous messages.
Created By: sophies_corner
---
This is terrible so far. How can you expect anyone to visit when it takes forever to load?
---
to hard to understand
Created By: theeverythingjewelryoutlet
---
You need just to make an little effort, but work fine
You need just to make an little effort, but work fine
Created By: giftbeyondgift
---
App does NOT work if you have multiple Facebook pages. Only will let you add to the first page you created. ZERO support available. Deleting now.
Created By: shopclassicvinyl
---
Easy to change templates and to install it!
I do appreciate having my store on Facebook! Thank you!
Created By: comproubem2016
---
Watch the tutorial for best results
I went round and round before I realized I needed to create a business page associated with my personal FB profile to utilize this app. After that, if you don't see the social store tab pop up on your page, click "more" and reorder the tabs that appear to put your social store at the top. Watching the 3.5 min tutorial will make this a breeze.
---
---
not a single sale attributed to this gimmic
titile says it all
---
Great! Links my items to facebook.
Sale increase and visibilty increase of my items to facebook page!. Thank you!
Created By: 303electronics
---
Haven't sold anything yet with this app
while this sounds good I have not yet sold anything while using it, so not sure if it is worth spending money on
---
NO CUSTOMER SUPPORT, DOUBLE BILLED, APP IS EXTREMELY SOLW
---
Great addition to the ebay store.
Great addition to the ebay store. Great way to attract more buyers.
Created By: only_the_best_no.1
---
Will be pleased to see items listed on facebook also.
I'm looking forward to having the exposure of my items for sale on facebook, as well as eBay.
Created By: imladygreyhawk
---
AWESOME
Created By: frame-tech-systems
---
No categories, or subcategories
The app doesn't copy my ebay store categories which makes the page nonfunctional.
Created By: atheniangifts
---
To hard to understand,and does not seem to work!!
---
Goes thru the motions as promised, but...
Our FaceBook store opened without a hitch. Our listings are plain and clear, and error-free; they update almost immediately when edited (unlike some OTHER purveyors of "FB Storeyas"); etc-etc-etc. Mechanically, they appear almost perfect. What was promised has been delivered. Upnfortunately, it does not appear to have helped sales much; if at all. We have over 100 "likes", post things regularly
---
EXCELLENT WAY TO GET MY NAME AND MERCHANDISE OUT THERE!!
I'M REALLY NEW AT THIS BUT SO FAR IT HAS BEEN VERY USER FRIENDLY/
Created By: 2015preppygalamh
---
---
share your items with the friends you talk to about everyday anyhow....right?
---
It has helped me increase the amount of people veiwing my site
It has shown me how to promote my store
Created By: rmcollectables2015
---
When my items started showing up incorrectly I tried to contact support. Turns out you can't even contact them! All I got was one series of questions after another. Never any place to actually contact anyone. My auctions were showing as Buy It Now's and my Buy It Now's were showing as auctions! I had people contacting me mad because they thought they had made a purchase when in fact they had only bid. If they can't do any better than this why would trust anything they do? This was the worst mistake I've made since joining ebay several years ago, and I won't be in a hurry to try another stupid app!!!
Created By: aktreasures4u
---
I?m really happy with my Facebook store! This app will show all your eBay items in real-time on your Facebook business page, great for getting your fans to buy from your store!
---
3DSellers keeps charging my paypal over and over in one month. Save your money it's not worth it!!
I'm very unhappy that you are charging my paypal at lease 3 days in a row. What's up with that? I am having paypal investigate. I'm cancelling my account ASAP!!
---
socialstore.com hasn't paid there domain bill and is shut down
---
---
I have 2800 items and listed it with no issues.
---
It functions alright, hence the 2 star, but there is nearly zero ability to customize anything, it looks so simplistic and amateur its a bit embarrassing. This has a long ways to go.
Created By: tincanindustries
---
I love it
Created By: chrifrank78milcia
---
Outstanding Program and Customer Service
I had a minor problem and customer service was quick to respond. Very courteous and helpful. This program is very easy to set up and use. Love it.
---
Social store has so many great benefits such as the beautiful designs and that it?s by far the easiest eBay facebook app to use!
Created By: flyingmongoose64
---
TO HARD TO FIGURE OUT NOT HAPPY
CANT FIGURE THIS APP.OUT
---
So far awesome, easy to use and no problem to set up, a little more settings and options would be nice but for the price its great.
---
does what it says. Creates you an FB store
It was out first time on facebook and this syncs everything for you! very nice. My only suggestion is I wish my customers could purchase inside facebook. It's not a great user experience to bounce to a different platform
Created By: fathersonhardware
---
It is great to have everything automatically listing in this separate social store. However, I do not see a way to control it from the control panel. At least my listings are appearing again. I am grateful that I was not charged during the time this did not work. I wondered why it went away. I guess it was the change of passwords after the security bleach on Ebay. I did somehow fix my payment and password info.
---
no impact, poor customer service
If I provided service on the same level as this app does, I would be kicked off of ebay. Who comes up with a customer service email like this; QUOTE Your SocialStore fees of $7.98 for your user account are severely past due. Because you are delinquent in paying your fees, we have suspended your access to SocialStore. To prevent your SocialStore subscription from being cancelled in 30 days, click "Pay now" to pay your past due balance immediately. You will continue to be billed for this subscription until it is cancelled. If you do not have a valid PayPal agreement, you will need to sign a new payment agreement before making a one-time payment. If you've already paid your SocialStore fees, please disregard this message END OF QUOTE
---
The best among eBay 3rd Party apps.
A very helpful tool in promoting products... less expensive ads covering local and global markets. Useful marketing application... excellent customer service... can't ask for more at $3.99/mo. Highly recommended.
Created By: superseller630
---
I love the new design templates, it adds so much to my store on facebook and to my page! Thank you!
---
Extremely pleased with the app
I used other apps to link my facebook page with ebay but this is the first one that let me choose a design for my facebook store. Also thumbs up for making the set up so simple!
Created By: naturalhealthsource
---
Quick setup, easy implementation
This is definitely by far the best app available for creating an eBay facebook store. Setup is a piece of cake (once you created a facebook page), the store is right away synced with your eBay items and you have quite a selection of templates from which you can choose your store design. Great Job Social Store!
Created By: mariothriftstore
---
my store doesn't work and hasnt since I signed up for it
Created By: dpworldimportsonline
---
---
This is one great app. works well, no problems. Thanks!
---
OMG easy transition at a click of a button
The 45 Negative people should get a clue, This was the easiest app to install in the history of apps. Every item view-able in 20 seconds and all pages and items shown. Want pay Volusion $75 a month instead ??
Created By: ussignalsafety
---
I love my ebay facebook store!
It also makes my Facebook page look more professional and it also helps me introduce my Facebook fans to my items on eBay. Thank you social store!
Created By: thrilling_thea
---
Not at all what I expected, like instructions and why doesnt this work.
It was to much of a hassle and was unbelievable irritating, I finally found out that i cant link it to my facebook so there is no reason to have it.
Created By: abigailnanthony
---
Great for increasing traffic!
Great for increasing traffic. I used social store in conjunction with Facebook ads and it really helped me bring more buyers to eBay!
Created By: pro.audio.auctions
---
Great ebay app for any seller
The app will create a store on facebook with your ebay items, which is great if you are looking to bring more buyers from Facebook.
---
A++++ Great App Everyone on eBay needs to purchase this app for Facebook
Great ebay app for any seller The app will create a store on facebook with your ebay items, which is great if you're looking to bring more buyers from Facebook.
---
I've been trying to cancel my subscription for month's I got another charge again for the 3rd time don't get this services
Created By: 1800prepaidstore
---
pretty simple to set up still on free trial .. hope i love it
Created By: ethnicfashion2014
---
Tried several times to get it working.
---
---
All it does is make people mad.
---
Very happy with the application
Very happy with the application
---
I can no reccoment this product.
This is nothing but a link to your eBay store. It can not flow the store into an actual page. The customer support is very bad. It is email support. No telephone, no live chat. The try but they fail. Some of the features did not work properly like uploading logo and banner images. I had to do them 5, 6, 7 times to get the to work. I dumped it after sending hours and hours to try to get what I though I could get out of it. A simple telephone call could have told me that it was not what it is represented to be unless you are just looking for a glorified link. Then they try to sell you advertising programs to advertise to get "likes" on you new page. Likes DO NOT equal sales. You can do what they are doing yourself by just adding an eBay page to your Facebook page and uploading the images you want to sell or feature.
---
nice app. It allowed my facebook friends to view my items and purchase
The whole application is nice. It was fun setting it up. On occasion there was a problem posting to the facebook page, not sure if it was facebook or the app. All in all the app led my facebook friends to view and share my ebay experience!
---
Couldn't figure out how to link to my facebook
Couldn't figure out how to link to my facebook. If it isn't simple I don't have time for it!
---
Helped with sales. Certainly increased our market share.
Created By: goldenolgainc
---
The perfect solution for connecting my facebook fans with my ebay store!
---
I love my social store!!!
Created By: robertomejiayahoo
---
Great app for serious eBay sellers
if you want to really make a brand out of your eBay store, this can be a great app for you. It really helped me in branding my store on Facebook.
Created By: southernswapshop
---
SUCKS!!!! Took $3.99 out of acct for months
Application sucks and the thing did not even work yet they were charging my acct for months.
---
Keeps Charging Me After I Cancelled
Sometimes it works. sometimes it doesn't. sometimes they over charge you.. sometimes they don't. i had to cancel and got zero help. in fact the message i got was to reinstall the app to my facebook page. this was not only a billing issue, but this app does not really work or is it worth any monthly fee. i did not see any increase in sales from this app and i paid about 30.00 to them to be turned away when i needed help. bad app not recommended for a fee at all. should be free
Created By: readerssupermarket
---
I love this app and the fact that I can customize it on my Facebook page. I can use my own logo and photos and the app provides links to purchase my ebay listings. The only thing that would make this better is if the Social store listings did not show the Buy it Now price and instead showed the starting auction price if applicable. The Buy it Now price is at least a third higher and may deter some customers looking for a bargain! Thanks!
Created By: threepeasconsignments
---
I love how fast the posts show up on Facebook!
We can now connect out Facebook customer directly with our eBay listings.
---
It put a store on my facebook page, but it did not have subcategories. Experience with CS was bad
The app did not put subcategories into my store. Its like telling your customers to go to a box of similar items and to find the right one themselves. Tried this for the 7 day trial and was billed for a full month on the 7th day. I requested a refund since I had cancelled on the 7th day and they refused.
---
I believe everyone will love this app. Easy set up and looks great.
---
If you are in adult toys business this app is not worth it. Because once you link your store to facebook the pictures won't appear. I tried contacting customer service and their answer was ebay does not allow them to display pictures outside of ebay. They should specify this to people who sell adult toys.
Created By: mrclimax-toys
---
Within one day did exactly what it was to do--great communication too!!
I initially had some problems- wasnt on their end but they helped me get it all set up and right!! Thanks again
---
Easy to sign up/good support
Won't go with more than 4 stars right now because I just started using it; however, it is easy to make the Facebook connection. And if you need help, it's there for you.
Created By: dragonlover510
---
Great App. and Customer Service!!!
Works Great and brings in New Customers!
Created By: buydirect.inc
---
Did not bring people to my eBay store
Was useless...would only show my listings on the first page of the social store and when you would try to go to the next page it would show all other peoples listings, not mine...totally useless to sell my items...customers complained that they couldn't see all my listings on the page...
Created By: madjesterwoodworksinc
---
I absolutely love this app! Great customer service! Drives traffic from my Facebook Page to my eBay store. One of the best social media apps for eBay stores!!!
Created By: willowwitchspagansupplies2010
---
Very easy to use and customer service was extremely helpful!
I had a few problems and they were quick to respond
Created By: wholesaletansforu
---
Totally useless. A waste of money. There are many better FREE versions online.
Waste of money.
---
This applicaton has done nothing for my sales.
Perhaps I was not using it to it full limits however this application has done nothing for sales.
---
---
this app does and functions as advertised...it is great
---
I am happy to get my store in different venues to bring in business
this app is a great marketing tool
Created By: mygrannysparlor
---
Did absolutely nothing to promote my business
Did absolutely nothing for my business.
---
took 2 minutes to install once the customer support team helped me.
---
I have no idea how this got attached to my ebay account and when I tried to cancel it, I cannot get in touch with anyone to cancel. Be wary.
---
Great Store Loads of wonderful items
Check this out It will surprise you how many great items you can find here
---
great product and it really converts into sells!
everybody who is serious about selling online should subscribe to this
Created By: derbycitycomputers
---
It's very convenient!
Created By: gameon1latrichia
---
Looks great but no real value...
I wanted an app that would get my products more exposure on the web, and I thought this would do the trick. Unfortunately, your items are not Google-agle, though, and no one even sees your page unless they are trying to specifically go to it for whatever reason. Not very useful.
---
It's a very cool app to link with my eBay activity. As soon as my eBay account is updated with new listings, it is reflected onto my new Facebook storefront which is great! The customer service has been excellent and prompt. I tried it out then stopped using it, but found out I missed it - it's very helpful and will be useful - Thanks!
---
Not worth the effert
Created By: parties-n-holidays
---
Their customer support was very good.
Ditto
---
Don't see ANY effect on sales.
Facebook has not shown to be a point of sale site for sellers, in general. I tried this app to see if it could help generate sales, though. First of all, haven't seen ANY effect on sales. Secondly, don't know if you could track any sales to this app.
---
Works great, even customer support helped me asap and got it back up on my site!
Love the app, I ordered it, loaded it with ease, days later forgetting I changed my ebay user ID, of course the app couldn't find my merchandise, customer service was on it within an hour, and it was back up running in no time-wish everything in life worked this well!
---
I really like the additional exposure and not fighting w HTML rocks!
I paid, entered some information and BOOM it's all set up and I didn't haveto fight html or scripts, nada. Wonderfully easy and worth 4$ a month for me to not fight w a website. YEAH!
Created By: michellemilano
---
This app provider responds to questions quickly
I am inexperienced in "Social" media. Am hoping for improved results! Found store easy to use, as app says updates store daily to sync with my eBay store.
---
very simple to get started. wonderful customer service, as soon as you write them, they write back. store is in real time sync with your ebay store. great app for great price!
---
It only shows about 10 items per page. Categories do not work. Does not update as I had changed my store logo after signing up. Easier and free thing to do is just connect with facebook through eBay preferences.
---
Charged me twice in ten days. Boo
---
Easy to use and great searvice
We just set up this app and were happy at how easy it was to install. The folks in customer service were able to install a custom header for me and I appreciated that. Thumbs up!
Created By: euroluxantiques
---
I follow instructions. The app says it is in my facebook account...yet it is not. Too frustrating to work with. I cancelled after wasting 1/2 hour of my life trying to make it work. Good idea but poor execution. Don't waste your time on this thing.
Created By: denverdrummer
---
exposure is everything to an online business
exposure is everything to an online business. I have had a Art and Jewelry before and location was everything. Any way to advertise is one more step forward.
Created By: stylebydesign20122012
---
Fast response on questions. I will keep using it to see future growth. Thank you.
Created By: top_deal_mart
---
Super fast Installation and unparalleled support!
I only wish all selling tools were this easy to implement and all companies this fast to support. I am looking forward to building my business bigger with this great application. Michael Fallis homeprofitscenter
Created By: homeprofitscenter
---
Nice and usefull application.
Nice and usefull application. You could add a button on ebay beside the products so to transfer buyer on facebook page. Also you can add an application like live chat via facebook so buyer contact with seller for more informations.
Created By: iron-electronicss
---
Based on emails I got from them they did take care of my problem.
I would recomend everyone to take advantage of this free trial offer.
---
What a great program to have. Works great and easy to set up.
Just set up Social Store on our business fan page on facebook. Very very easy to do from start to finsh, which only took a few minutes to complete. What a great program. Sent out a message on facebook and people are checking it out. Thanks you guys.
Created By: arizonabikerleathers
---
The app is easy to set up, looks great, works and customer service has been great! Can't ask for much more than that!
---
So far so good I just signed up .
It went very well all questions answered quickly.
Created By: 833baybeautydivaonabudget
---
I wish to unsubscribe and I can't figure out how to do it. The application is only for businesses, which I don't have!
---
This is an amazing app! What a wonderful tool for your business!
The store looks fabulous on my Facebook account !!! You will not regret choosing SocialStore!
---
not only has the staff at 3Dsellers been fast to respond to my concerns but fixed a logo faster then i could find it. the store looks very nice even better then ebay and the staff at 3Dsellers Rock. could not ask for Better. i got it all.
Created By: actsthriftstore
---
Unable to Organize Products Into Categories
This application failed to suit my needs because it doesn't pull the categories from my eBay store and integrate them into the Facebook store. Therefore, the SocialStore is comprised of about 10 pages of products jumbled up together. My customers are not going to search through page after page after page for products their interested in.
Created By: cracktronics00
---
This program is valuable!!!
This works really good and you can gain customers through your social sites like Facebook,Twitter,etc.....
Created By: dougsonestopshop2012
---
Since facebook has a timeline instead of the old way the app didnt work at all. I could not make it the landing page
Created By: nurumassageoil
---
It's pretty good. I wish it had the ability to actually customize it. and I wish it was full size
Overall, it's what you get for the price. It's decent though.
Created By: autumn-blossom-designs
---
Still trying to get set up
I am haveing difficulty getting the page set up independantly and not interferring with my personal Facebook page.
---
Not up to date and hard to communicate with support staff
I was hounded for 0.95 every month with finding no way to pay it. The listings in my social store were always a day or two behind what was actually listed and I was unable to get a response from anyone at customer service; nor could I find any way to unsubscribe from this application. Total headache!
---
Good apparently. Lets people see your items.
---
---
I had trouble..and they were there to smooth the way...
Shiran my Ebay social store "smoother" follwed thru on all my questions..i still dont know till tomorrow if the photo will show up when i list on the link that goes to the facebook main page..we will see..but im happy!
---
The setup was pretty easy so far and the customer support has been great. I expect it to be a good app that will pay off.
Created By: truthntrendsllc
---
This is an amazing app! What a wonderful tool for your business!
I am pretty much computer impaired. I was having such difficulty the last couple of day trying to sign up and have my pictures downloaded. The technician has been helping me night and day with such grace and patience. The store looks fabulous on my FB account thanks to his work!!!! You will not regret choosing Social Store!
Created By: crnroylman60iv
---
There apps does not work - I tried to contact them live but they were off line. They advertise they are 24/7 support. Now I got chase them to disconnect so I do not get charged for their service they are to provide me.
---
great idea helpful for no programmers
hello, the div, id="main", has a width wider than the iframe that runs the app does creating scrollbars on an iframe that only resides in 1/3 of the useful page space of that ones parent container (IE9). very nice ability to parse the scraped ebay info and spit it out into facebook with single click style interface! are there any solutions that "look" like a store around? - I figured ... etc... But thank you very much!
Created By: stevencsmithsr
---
Very responsive customer service, great app, extremely pleased!
I received very prompt responses to my questions even after business hours and they walked me through the process. This is one of the better apps I have ever used!
---
impossible to communicate , no way to recover original sign on information
I want to move the app to another page and get some sort of logo on it, but am unable to communicate with the comapny .
Created By: mexican_textiles
---
Great App - Needs more features
Really like how this interacts with my Facebook page. I would like to see the ability to filter eBay postings via image/no image/ category/ etc. great work, keep it up.
Created By: nationwide_auto
---
never really improoved my sales one bit, waste of time and money.
i made more money on my facebook store page the ni have combined on ebay and my social store...bot hare a waste of time and money in my opinion..i will be closing this down and my store soon if this store of mine is not making me any money
Created By: imperialtoyz09
---
Great app...Must have for facebook selling.
This is a great app for selling on facebook. It allows your friends and followers the chance to see your products and not have to go to ebay unless they want to.
Created By: wantandbuy2012
---
taken money for nothing????????
Authorization for this app has been revoked Than why are you charging me and I'm paying for this
---
Customer service is great!
If there is a problem, they are right there to fix it. The pics are great
Created By: sharlynscountry
---
Would be nice if it worked
---
Another useful application
Another useful application for medium-to-high volume sellers
Created By: 2012survivalaids
---
Awesome productive PlugIn
Adding Social Store to my Facebook business presence is invaluable!
---
Loads slow, cannot choose what items to feature in page
I tried it on my facebook page, but it loads so slow, and the same item keeps showing up, it would be nice of we have the option which item we want to feature in the Social Store but of all the items i have in my listings, its showing the ones that i least prefer to be the featured items to show in my facebook page..
---
Social Store is GREAT!!!!
I love this app since I installed this app on my Facebook we have had more traffic and sales. Sure wish we would have had this earlier definitely worth the very small amount every month to have it on Facebook!!!!! Thanks eBay and 3D I can't say enough about this app!!!!
Created By: tooliegalandtoolieguy
---
have tutorials
Created By: retroindulgence
---
Talk about the Perfect APP!
When I stumbled on this app I was like no way, I signed up and installed it and within seconds I had a facebook fan page store. I love it and this is a keeper!
---
worst product ever complete waste of time no tech help whatsoever
signed up, then told me I have no facebook page to link with although I have six. Tech aid do this and that which I did and still nothing. get a notice from them telling me to finish installation. try that and was nothing but re-doing the sign up process which did not find any facebook pages to link with. This app sucks plain and simple A complete joke and waste of 95 cents per month
---
Very good app! i will check more your apps! many thanks
The first time to use your app! i am very glad that app connect to facebook
---
---
Oh my! Don't miss this one...
I just subscribed to Social Store. At first blush, it has everything I wanted for my new Facebook page. I can't wait to get feedback from my friends. If your sphere of influence (circle of friends) is large, and you are an eBay seller, it doesn't get any better than this for marketing your store. My friends will see everything I offer and can read my stories "Adventures in book hunting."
Created By: wildriverbooks
---
Both the app and support are exceptional - the setup was very simple
---
They answer questions very quickly. Looks nice on my FB page.
Created By: volunteerpharmacy
---
eBay Store added to my Fan Page THANKS
I actually just rated this but meant to post that to the Share your items app which I also love btw! Okay, this app ROCKS! I Have seen and used others on Facebook adding them to my fan page and this one is the best I've used. I've also had several nice comments about it and have made a few sales so THANK YOU for providing this awesome app!
---
Easy to use! Accurate and Automatic Synchronization! Customer Support is quick and cordial!
This is by far the most genius app on Facebook or eBay. It is one of the easiest to set up, and a great way to link to of the biggest online networks. Sales are for sure to increase and the word of your name will quickly be spread. Also, the customer support always reply within minutes to any questions or concerns. All around a great investment and experience!
Created By: starving-artist-guitars
---
One of the easiest and most simple ways to help get your products on facebook
After the first week I have seen a jump in activity not only on my facebook page but also my ebay auctions as well. This combination works perfectly for anyone who wants to showcase products or services in a social media store setting for under $1 per month.
Created By: palm-beach-collectibles-llc
---
A Must to Drive Traffic to Your eBay Store through Social Networking
This App is working seamlessly so far. If you have a business page on Facebook, this is a fantastic App. Set your Facebook landing page to SocialStore and all of your eBay store items appear to anyone who finds your Facebook business page.
Created By: old-cool-stuff
---
Increases sales dramatically.
The socialstore application converts your ebay store into a facebook store. you can easily share the social store link with friends and post it onto other facebook walls. This increases the traffic to your ebay store via facebook and I have seen at least 40% increase in sales since using this application. Recommended to all sellers !
Created By: *thesoftwarejunction*
---
excellent service and constant updates. very please for a new venue
works like a charm smiles jojokenv
---
Not only the app does what it says, but the customer service answers right after I send my question. Excellent!!
---
It doesn't help drive anyone to your site. You have to get people you know to come to your page and MAYBE their friends will stop in. There should be a marketing aspect to it as it made it sound like there was.
---
I really haven't seen a jump in my sales due to this app.
Created By: missinglink-books
---
all uploaded within no time to our new Deals R Us Fan Page on facebook. Helped to make the page that much more professional looking...Thanks
Created By: deals-r-us-4-u
---
worked at first , then they just dissapeared off my facebook, I was paying for nothing
worked at first , then they just dissapeared off my facebook, I was paying for nothing
Created By: firearmapparel
---
Ties it all together for great exposure...as for help EXCELLENT
Corrected and fixed some minor and major issues w/migration in one email. The service department did not stop until I was happy. I am happy. Very Happy... Thanks, Ron Clark The Outfittersoutlet
Created By: theoutfittersoutlet
---
Hopefully soon we can choose the products we want in the app...
Created By: freedom_tree_group
---
if program freezes and wont list
stop the program and restart it works like a charm for me
---
couldn't get it to work :(
---
No help from support whateve
I emailed several times for detailed advice as to how to set up syhstem. Never sent detailed info. I just asked how to cancel and was sent to Myy Ebay and apps. No help.
---
Excellent Service for almost no cost
This great app is worth 10,000 times its weight in gold. What a great app and so easy anybody can do it. Thank you.
---
can not get app to work!!!!!!!!!!!!!!! But they certainly charge me !!!!!!!!!!!
nothing more to say!
Created By: etchedcreations2004
---
An Excellent App To Help Expand Your Customer Base, and Exposure
This App Works Great. It is a great value, and it takes all of the work out of making a Facebook fan page, and I really Like it. I would recommend anyone to try the free trial, and I bet you that you will see that it is well worth every penny of 99 Cents per Month.
Created By: gmi.enterprises
---
Works great you can check it out at http://www.facebook.com/mammothtech
http://www.facebook.com/mammothtech?sk=app_139795282761083
Created By: mammothtechnologies
---
All my store listings disappeared and no help available.
I had to revoke permission for Social Store before I could get my listings back in my store. That also dropped my off eBay traffic to nothing while I figured out what happened. eBay customer service can't help you with this one. They knew nothing about Social Store, other than it exists. Social Store customer service was offline with no phone number listed to call for help. It was supposed to take 15 minutes to set up the account and I waited several hours before calling eBay. I had to figure out the solution on my own. As soon as I revoked position, my listings reappeared, instantaneously! It's a resounding "no" from me on this one.
---
do not use..a waste...
Created By: wmsholdingsllc2010
---
Wouldn't let me sync or contact support
I was really looking forward to trying this out but it would not let me sync to FB with the 'wizard' nor would it let me contact customer support to try and find out why it wouldn't sync.
---
What a Great app. Just a few clicks and all of your eBay items are connected to Facebook.
What a Great app. Just a few clicks and all of your eBay items are connected to Facebook. 5 Star customer service. I would definitely recommend this app and the company all around.
Created By: fantasy-forge-jewelry-estore
---
It worked, then it didn't BAD APP!
It was up then gone. I have tried several times to get it to work. I contacted them and gave them all my info and it still doesn't work. Not worth the time or trouble.
---
esay to work with great customer service
Really nothing for you to do but point and click. Very responsive customer service just a pleasure to work with
Created By: brickcitywholesalers11
---
Great App, Great Customer Service, Easy to Use, Can't beat the Price!
This is a great app to have for your eBay store. It was so easy to implement. Just read the instructions first. The customer service was terrific. Most times you don't get this type of customer service with products that cost hundreds of dollars, for only .95 cents a month your crazy to not sign up today! Kathie
Created By: sjb-associates
---
Awesome!! thats all i can say
Great service and drives extra traffic to your listing!!
Created By: alsoltanelectronics
---
this site does not work properly most of the time is down
this site does not work right most of the time when you log into Facebook and visit its totally blank nothing shows I had try to contact customer support few time in the last 2 month and is hard to get someone on the phone
Created By: virginiayanaky
---
Just one click and it setup for me a facebook store. Love it!
---
---
The store looks great on Facebook, and it is so easy to set-up!
Created By: onlinesellings
---