Currency Converter
By 3Dsellers
(released Jan 24, 2011)
Embedded in your listing pages, "Currency Converter" lets your buyers calculate item prices and shipping rates in their local currency or in any foreign currency they desire. The calculation is online, accurate and quick.
Categories: Shipping & payments, Customer support
If you are subscribed or want to subscribe to this application please
click here
for details.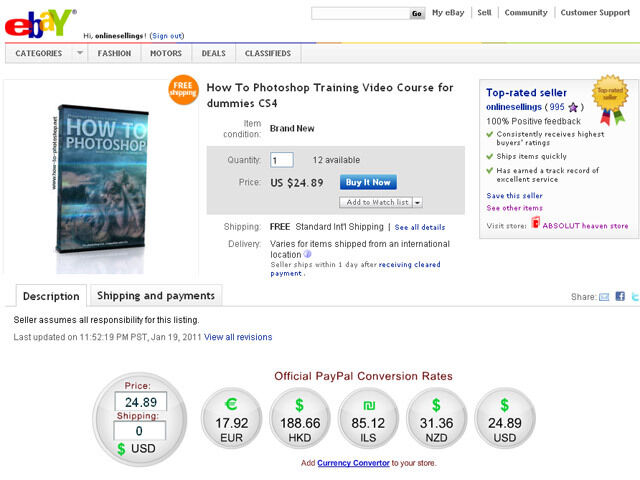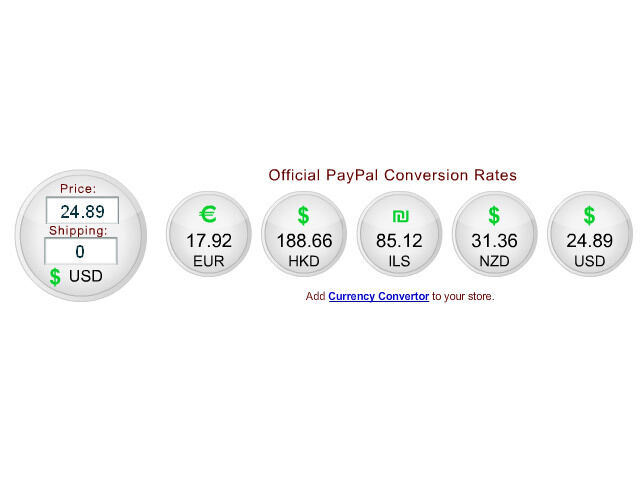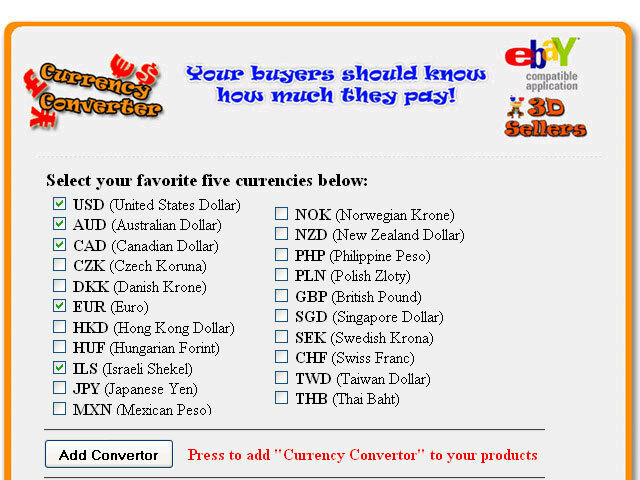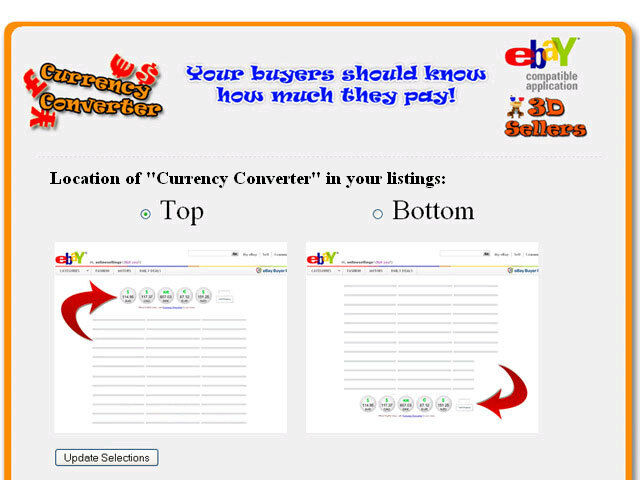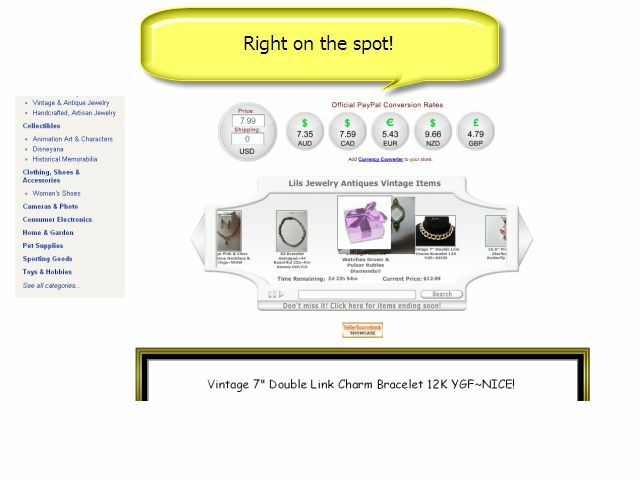 Key features
1. Integrates with
official PayPal conversion rates.
2. Calculate eBay item prices and shipping rates online, quickly and on the current eBay listing page you're visiting.
3. Accurate and up to date.
4. Intuitive, fun and easy to use!
5. Benefits sellers and buyers alike.
"Currency Converter" - right on the spot!
Description
Currency Converter lets your buyers calculate item prices and shipping rates in their local currency or in any foreign currency they desire.
Currency Converter calculates the price buyers will pay according to PayPal's official rates, so your curious international buyers will know how much they will pay.

Note for sellers: The final price your buyers will pay is the price stated at eBay's and PayPal's checkout and payment phase.
Additional resources
Application requirements
Supported browsers:
any modern browser
Supported languages:
English
Supported eBay sites:
ebay.com
Required eBay subscriptions:
None
Application support
Feel free to contact us 24\7 at email - support@3dsellers.com or via LIVE CHAT on our website.
3Dsellers
This application is brought to you by 3DSellers. 3DSellers is one of the leading eBay app developers in eBay's App center offering 12 different apps for eBay sellers. 3DSellers' main goal is to create a strong and stable connection between eBay and advanced technology. Thus, assisting eBay sellers in building a prominent presence on eBay, while simultaneously enhancing the eBay shopping experience.
Also from this developer:
By 3Dsellers
(released Dec 09, 2010)
"Share Your Items" is a complete social media toolkit for eBay sellers. Let your items be seen everywhere. "Share Your Items" is the only app that lets your buyers share eBay items with their friends. The app a...
Categories: Listing, Marketing & merchandising
By 3Dsellers
(released May 31, 2011)
Create an amazing Facebook store displaying all of your eBay items, at the click of a button. Connect with 900 million potential Facebook customers! Sign up today and receive a FREE subscription to our Thank Y...
Categories: Listing, Marketing & merchandising
By 3Dsellers
(released Aug 02, 2011)
Create a catalog of your eBay items with this easy to use app. "PDF Catalog" embeds your eBay items in a designed pdf file, so you can present your store goods to potential and existing customers.
Categories: Inventory, Marketing & merchandising
By 3Dsellers
(released Dec 14, 2011)
The best cross-selling tool for eBay sellers. Smart and good looking! Sign up today and receive a FREE subscription to our Thank You Emails app!
Categories: Listing, Marketing & merchandising
By 3Dsellers
(released Jan 04, 2012)
Add a free translation widget to your listings
Categories: Listing, Marketing & merchandising
By 3DSellers
(released Nov 21, 2012)
Create a beautiful storefront for your eBay items with Webstore! Webstore helps you drive traffic to your listings from search engines AND links your eBay account with a professionally designed storefront. Sig...
Categories: Listing, Marketing & merchandising
By 3DSellers
(released Mar 08, 2013)
Design your eBay store with one of our ready-to-use design templates, customizable & 1-click setup! Sign up today and receive a FREE subscription to our Thank You Emails app!
Categories: Listing, Marketing & merchandising
By 3DSellers
(released Feb 08, 2013)
Improve your eBay feedback score with eBay Feedback Reminder! Sign up today and receive a FREE subscription to our Thank You Emails app!
Categories: Customer support, Marketing & merchandising
By 3DSellers
(released Mar 14, 2014)
Easily increase repeat sales with Thank You Emails! Thank You Emails will automatically send a Thank You Email to each of your buyers recommending other items that you offer. This way you can build great custom...
Categories: Customer support, Marketing & merchandising
Great deal, this way I can look and see what price I will pay for an item.
App. was easy, thank you.
---
---
---
ive got 2 days left of the trial. there is alot here, but its a good thing. seems like what can be automated is... so its not a 5 day cram session to figure it out. am going to upgrade. having all my ebay ads (64 of them) up to display with a theme. (like the website i made at kuhnden.myshopify.com) only took me about 40 min and the follow up email templates took about a hour.
Created By: tcnkholdingsllc-9
---
Nice app I sell to other countrys so usefull
Good app
---
Excellent quality, 1st class service, thanks.
---
USER FRIENDLY!! NOW GLOBAL BUYERS CAN CONVERT CURRENCY EFFORTLESSLY!!
EASY TO USE...
---
very awesome, this app make my big selling!
---
I love it and buyers will love it too. Excellent app. Thanks.
---
This app has worked from day one! I have had no problems with this app. Highly recommend!
Created By: mtmineralsandcrystals
---
Good
Created By: susasvedjehe-0
---
Have had no problems with this app. always present when needed
Created By: desertmodestyandmore
---
---
---
eBay flagged most of my listings for having a non-compliant link and app didn't work!
The app didn't work and in order to remove the link, I had to edit 390 out of 508 listings to be in compliance with eBay's new policy of no outside links. Complete waste of time I really did't have time to spare!
---
Easy to use and tons of options for conversions!
---
1400 listings non-complaint thanks to their app
Do not install this on your ebay store. You will have all listings go non-complaint with javascript. I called help desk at ebay and they confirmed that it is this company's apps. Why ebay has not pulled their app is a problem too.
Created By: laserprinterkits
---
---
WORKS GREAT AND SAVES TIME!
Created By: detroit1370-8
---
---
KEEP ON YOUR IMPROVMENT
Created By: hayaalmajid003539
---
sad that i have to unsubscribe do to ebay not allowing active content.
---
Customers in other countries want to know the price of things in their currency, this is an easy way to find out.
---
Never located in the correct place
Every time I make a new listing this converter is located 2 on top of my description or 2 on the bottom of my description or not there at all. I have changed my settings for only the bottom and it still gets put everywhere but there. The pricing is correct, I hope, but not the position.
---
This is the ONLY conversion site I will use because it is very user friendly.
I tell everyone about this site.
---
---
the best
Created By: slavigigov-bg
---
We subscribed to this application. It was easily installed at our eBay account. It was very simple to setup. Now its active on our listings. It will help International Customer to see how much they have to pay for the item they will pay.
Created By: bargainseller2016
---
It states free yet charged me.
Created By: fashionsplusmorestuff
---
this app was good but lately has crashed my ads so I had to unsubscribe.. the bar is still at the bottom with a large play button over it... turned into a pain in the a$$
Created By: world_wide_united
---
---
good for international buyers
I'm getting into international selling and this help buyers abroad know what a product will cost them all in one place. NICE!
---
Very handy
Created By: blindjohn1933
---
Great tool for shipping and learning.
Created By: danieflahert_0
---
X-rates are not even close to accurate
Within a couple of days of installing your app, I had to "unsubscribe". The "official PayPal exchange rates" are so far from being accurate it's not even believable. Example: Today, one of my items with a British Pound x-rate (from USD) is £99.99, but the 'official PayPal exchange rate' shown to buyers is £81. A difference of over £18 is difference of over USD 24! (Your prices would bankrupt me.) And while the buyer would ultimately have to pay the actual exchange rate, they aren't very happy at seeing this actual price when it comes time to purchase, after seeing your app shows a much lower price. Irrespective of the rates shown being "official PayPal" rates, it's YOUR app, and it apparently doesn't work. What's really ridiculous is that Sterling hasn't traded at the displayed rate your app put on my site since Sept of 2014!
Created By: law_de_lauriston
---
I like that they convert the cost for buyer
Using the price converter my customers can see their actual cost.
---
Great option and it's free.
I recommend this for sure. You certainly can't beat the price=free.
Created By: pearliebeskin_0
---
I always get frustrated when I can't find a currency converter on others pages so now I am up to date
Created By: ghettofabulousfurnishings
---
The Currency Converter does what it is supposed to both quickly and accurately.What more can you ask for?Recommended to all sellers.
---
Helpful to my international customers
Great app. More international buyer are coming to my store. Thanks from http://stores.ebay.com/exclsv90210-Fashion
---
Super! Thank you!
Created By: hellomyfriends555
---
Amazing would recommend this to everyone
---
Great for all sellers
Created By: valuecity_electronics
---
This app make my description look professional
Created By: aundamunskyline
---
10+
Created By: libero.ninacem
---
GREAT APP for INTERNATIONAL BUSINESS
The Currency Converter app is a no brainer for those looking to expand their International business. Just pick 5 of the most popular currencies of your best customers and you are on your way. Less running for a calculator or wondering what the conversion rates are and more "POINTING, CLICKING and BIDDING/WINNING!" Thank you C/C software app developers and support staff!
Created By: theolddrumshop
---
Why is it unavailable? to me ?
Created By: adesignerrose
---
Inconsistently shows up on listings
The currency converter does not appear on all listings - this seems to be a random occurrence.
---
Makes persishing items from other places much easier. No more guessing.
I would highly recommand anyone who buys in different parts of the world to use this tool. It has been a life saver for me in time and money.
Created By: southernbelle1858
---
---
---
Worked for a while and now it's leaving broken code all over my listings. Not cool. Done.
Created By: hotdealsforyou-com
---
---
Does exactly what it says
it works fine.
Created By: billathomewilliam
---
I love it and it looks great on the page. very helpful to my international customer base.
---
Makes it easy for other countries to understand the total price in their currency.
Created By: littleonesunlimited
---
Worldwide sales may not be the mainstay of my business but every sale helps and people who use different currencies, even if they immigrated to America but are more familiar with the currency of their birth country must enjoy being able to see the conversion rates. I also find it interesting to see the differences and feel that catering to different groups of peoples is one of the foundations of a good business. Thanks for the app!
Created By: exquisitesportstreasuresllc
---
Very informative and a great aid for both seller and buyer
Assists the foreign buyer in determining his costs when purchasing an item.
Created By: h-mtechsvc3211
---
Love It !
Created By: kellertheseller
---
confusing and not working or hard to understand how it works
Created By: fromestates2u
---
worth getting
Created By: summitpointauto
---
initially attached to some listings but not all
Initially attached to some listings but not all and did not show up on new listings. It's apparent that over time it gets lost in the shuffle. Very unhappy.
---
doesn't activate - doesn't work
---
---
This application worked great and allowed me to create what I needed the first time.
---
Never installed this app to be used, but noticed that the converter was being added to my auctions without prior approval. I would try and remove the converter from my auctions, and the next day, it would automatically be included again. Completely SPAMMED the top of my listings with this converter!!!
Created By: virtual_odyssey
---
Really helps cut down on those emails asking for shipping fees before bidding! Thanks so much!
Created By: clcmasterworks
---
Let's you see currency for other countries
Created By: connoraubreeandryder*nana*
---
Love this tool...helped all my sellers!
---
Stands out on my listing page to assist potential buyers!
---
---
Love it! And so do my international customers.
I love that it makes it quick and easy for my international customers to decide if my item is in their budget.
Created By: gemsandtreasuresofgrace
---
I'm new to this business, everything is fine.
---
---
could use more currencies and the ability to show more currencies at once
Created By: rootes66hotwheels
---
---
I've seen times I was going over all the internet looking to convert prices. This is so handy to have on my computer.
---
More International Sales!
I have had many more international sales after installing this product. It is great to let international buyers know the price in their own currency, so they don't have to ask, because it is possible they do not speak English. I highly recommend adding this free program to all listings.
Created By: highstreet_boutique
---
I ship worldwide, its nice to have this currency converter available to help my International customers. I do wish there were more currencies available.
Created By: closeout_bliss
---
Great International marketing tool!
Use it to help your International customers convert to their currency.
Created By: jdsattictreasures
---
MORE CURRENCIES SHOULD BE ADDED
---
---
Great for my overseas customers. Thanks so much.
.
---
Gives area's out side of the US an idea of what they will be paying with #'s they understand!
Great Program!!!
Created By: allies_jewels
---
Great customer service, though it took me a while to figure out how to get this to work. You cancel and then reinstate and all works great. I think it stopped working as Good Til Canceled items ran out after the security bleach on Ebay and my password change. It seems like all started working like nothing ever happened now. I got fast responses to messages to the support staff.
---
Error message every time I select the currencies
I tried several times to put the currency tab at the top but each time after selecting my currencies I received the same error message to go back and restart the App. This is the second app that does not work with my iMac.
---
I Had Many international customers1
Works great many different currencies to choose from, best of all its free.
---
---
For me it really necessary application
Created By: stamps-haborcz
---
very good
Created By: retromania_hfpx
---
The code is stuck on my HTML making the page slow to load after I've cancelled the application - very annoying to go through every listing and erase.
Created By: recyclingethic
---
Great quick tool for buyers to see price they will pay in their own currency.
Great quick tool for buyers to see price they will pay in their own currency.
Created By: avalonian1976
---
Useful tool for international transactions.
Very useful application for international transactions. Sipmly choose five currencies and place them at the bottom of your listing. Customer can calculate quickly price in these five currencies so he/ she can deside to purchase without leaving page.
---
Does what it says, just wish it was a little better looking
---
Love it
Created By: bigcountrywill0909
---
---
Excellent tool for Ebay sellers!
The currency converter makes it so easy for foreign buyers to buy from you
---
Ice Cream Moci Jalan Mochammad Ramdhan no 11 Bandung
Created By: anakbandungasli
---
It is very helpful and useful to get the right price in the local currencies.
---
Innacurate rates, AVOID at any cost!
It will happen that your customer will see "the lower price" in the currency converter and keep asking you why they have to pay more. Very bad experience :(
---
great support applications
This application of the knowledge of the price that has been exchanged for currency in accordance with that in the select. . . thank you this app is good, why only 5 currencies?
---
---
very east to instal and very nice to have.
---
It has it's ups and downs but overall a good app
When I change the price on my item the currency converter does not convert it, I am not sure how to change it, or if I can change it. Other than that I love this app it works nicely.
---
If you do ANY international shipping this is a must have program. And if you only ship within the USA, this is a must have program so anyone can calculate payments into their known currency.
Created By: seanfoxbell51
---
help to bring more buyers.
---
---
I received this message when trying to start this app: "error has occure, please login again." No matter what I do I cannot get this to work for me.
---
Best App
Created By: collectibleandthings
---
Just set this one up and let it do all the work - very useful app.
---
WILL NOT WORK- GET NO HELP - EMAILED THE PEOPLE AT CURRENCY CONVERTER 4 TIMES AND ALL I GET FROM THEM IS MORE QUS-NO REAL HELP
Created By: disneyworldepcot
---
The currency converter is a sensational way to assist my overseas customers.PERFECT!
Created By: pantherestates
---
It's a great tool that gives confidence to international buyers showing their own currency
This is a great APP in many ways. Buyers and sellers have confidence and control over currencies and value on both ways about price. I go with fairness with price, and this tool helps to maintain a good level of value control to sell and buy as well. You see on the both sides. Excellent tool and handy. It's right there.
---
nice,,easy usefulll
Created By: lotfibenserrai2012
---
---
aun no lo uso ,en otro momento
---
Works great, amazing application
Works great, amazing application
---
Works just awesome so far
Works just awesome so far
---
the programming messed up my ads! can't re-list or revise
I like the app but when I go to re-list another auction, all the words in the description are all jumbled and I lose all saved information! That means I have to retype all saved info. in the description everytime I list a new ad on ebay, no thanks!
Created By: queenlacheapas
---
---
Good thing - shows almost correct currecies. Bad thing - causes lag. Somtimes has bugs and i need to unsubscribe and then subscribe again . all in all good app, good job Froo!
---
This works great for selling Internationally.
---
This app works until one wants to revise a listing. Once you revise the listing the currency converter shows up as garbage script in the detail section of a listing. I don't need or want that in my listings
---
SPELLING MISTAKES AND CLASHES WITH AUCTIVA
SPELLING MISTAKES AND CLASHES WITH AUCTIVA
Created By: bestbodyshaver
---
---
good program when it works....
often the currency converter doesn't show up on my listings
---
GREAT FOR INTERNATIONAL BUYERS!
---
Very happy with the application
Very happy with the application
---
Helpful for my international buyers
Helpful for my international buyers in receiving up-to date exchange rates!
---
Great for my international customers
Cool app that takes the guessing out of charges for my international customers.
---
---
Great app if you need it impossible to remove no customer support response
I cannot remove this app once started I have received no reply from cusromer service.
---
---
Makes buyers think you offer INTERNATIONAL shipping when you do not!
---
cant ever find it when I need it
never there
Created By: ronjaswishingwelltampa
---
The prices don't get updated when you change the price of the item you are selling on Ebay.
If you change the price of the item often, or you are using an app that change the price very often, this app is not for you. But it's a good app otherwise.
Created By: orient_express11
---
Excellent Tool for Making International Sales
Gives an up-to-date conversion for the most popular currencies used by eBay shoppers. Int'l Buyers less likely to leave listing to avoid doing the math.
Created By: goddess-of-luxury
---
A Must have for serious sellers
Why limit yourself to selling within the states. This tool is great for any serious eBay seller. I highly recommend it!
Created By: kbmenterprise
---
I dont want this and I cant remove it
You need to have a remove box and option to have it or not on each selling item
Created By: piscesmonkeygirl
---
---
I do wish the icons (the coins) were not QUITE so LARGE. If a seller works hard to create a visually attractive listing, those big fat coins at the bottom of the page spoil the effect. Maybe let users select a size/scale for the icons?
Created By: alltherightbooks
---
This app has brought more international attention to my store. Some people have even written to me to thank me for adding it.
---
Makes it easy to know the actual price of a item listed from other countries
great app really works
---
Allows international buyers to make a connection in an immediate purchase dicision.
I've even had to use the converter for international purchases, for myself.
Created By: createoriginals
---
Any widgit is Free is always a great widgit!!!!
---
ASOME EASY AND FAST RELIABLE
aWSOME! INTERNATIONAL CUSTOMERS LOVE IT. WE LOVE IT.
Created By: thebestprincesstoys
---
Great way to show your product prices in multiple currencies!
Easily integrates into all my listings providing pricing in multiple currencies that I chose.
Created By: b-s-tdeals2012
---
---
---
---
Perfect way to let people know exactly what the items will cost in their own currency. It is all automatic, once set up, and has worked great for me.
---
Perfect FREE app if you sell International :)
I luv this app! I have facebook
Created By: spoiled*material*girlz*blingz
---
AWESOME WAY TO LET WORLDWIDE BUYERS KNOW THAT BUYING IN TH USA IS EASY AND LOWER PRICES TO BOOT!!!!!!!!!!
Created By: jld.msr49562012
---
Works VERY Well but only 5 choices
I really like this app. It works great! BUT, it only converts up to 5 currencies at a time.
---
gives pricing for select countries
Gives international buyers their cost!
---
It needs to have Chilean pesos
Created By: mannaglutenfreeproducts
---
WHEN I GO TO MY LISTING I HAVE IT RIGHT ON TOP, GREAT SERVICE FOR SHOPPER
Created By: luckymisty222
---
---
Cooler than the Twinkie , and Fat Free , the Cutest Ever , Make My Page look like Math , Sheldon Cooper would be Proud , Happy Thanksgiving Ebay
---
---
Wonderful little app / widget
I have used this widget many times buying internationally. I have yet to use it for selling but it will be the same for my customers. It's easy, clean, and simple. The user simply has to input their selected shipping option and hit the button to see the completed OFFICIAL conversion. This pings PayPals currency server to get the rates, so there is no guesswork in this. You don't need to over calculate to 'pad' your purchases!
Created By: alin0steglinski0
---
You have to manually enter the shipping amount into each listing
Too much work to enter the shipping costs into each listing manually.
---
As a seller I like to see that Price is defined a buyer's home currency.
I have purchased many items outside the us where I had to do this calculation on my own. I have to over calculate to make sure I am accurate. This hassle and worry is gone with the Currency Converter*! Customers can easily look and see their currency translated right on MY Listing for them. Awesome! Thank YOU! ?
Created By: celestailpetals
---
Will only increase your sales!
Great! has already increased my international sales!
Created By: mightymouse4jc
---
********
Created By: exocticarpart
---
Does not update when you change the Selling price
It looks Good but the whole purpose of this Application goes to waste since it does not "Update" the conversion rate when you change the "Selling" Price. I changed the Price over 48 hours and it is still converting according to my "Previous" Pricing. If it can't Convert ONLY to my current "Selling" Price then it is going to hurt me more than providing any Benefits.
Created By: electrostation
---
Excellent
Created By: clubedasmoedas
---
this is an excellent application
i need always currency convertor. its great help
---
International Seller must have!
Great APP! Buyers can quickly determine prices and do currency conversions. Currency Converter can only help sellers and buyers alike on a variety of issues. Great to have and well placed in all your listings for instant use by customers. The increase in our international sales is directly linked to this one app. Thanks!
---
This app helps me attract international buyers. Excellent!
Created By: autographsfromhollywood
---
5Stars International customers Love it!!
5Stars International customers Love it!!
Created By: second_time_around1971
---
IT ALLOWS THE CUSTOMERS TO SEE THE PRICE IN DIFFERENT CURRENCIES
KEEP UP THE GOOD WORK.
Created By: trains4everyone
---
The App it self seems to work fine???
I found out today going through my taxes that Ebay is charging to use the app. The App is free but i have been being chaged for an operation usage looks like if someone clicks on it???
---
Multiples like rabbits, and can't get rid of it
On select listings, more than one converter appears, and when a bunch show up, download of listings takes longer. ... to unsubscribe, commands that are supposed to be available are not available.
Created By: handmade-rosaries
---
It must be working. I get a lot of international business .
Highly recommend for using.
Created By: collectableswithatwistcom
---
Great for international trade
Allows international buyers to get first-hand local equivalent of product value/cost.. Great and helpful application.
---
crashed every time I tried it
I had no luck with this application, although I see many good reviews so maybe your experience will be different.
Created By: commonwealthcurrency
---
Isn't showing up on page.
Created By: automatinteriors
---
---
Great and love it. am pleased to do business with currency converter on ebay thanks.
Need so tat will be easy to converter currencys to US dollar without doing math manuals.
---
This App is not managed well, barley works. No customer service when needed
I signed up for this app, was very excited for it to help my sales. After a few days, I noticed that some of my listings had the feature, and some did not. Unsure why, I tried to speak to someone about it. They have an option to chat with someone, but there has never been anyone ever manning the chat option. I sent emails, with no response. Sent 1 last email, with a more assertive tone and finally got a response, with a promise to have the issue fixed, but once again?they never did anything. I don?t recommend this app at all. Waste of time, and money.
Created By: dnrsupplements
---
Not dependable - Leaves blank space in your listing at times - Unconsistent
Not dependable - Leaves blank space in your listing at times - Unconsistent - When up sometimes it takes hours for the exchange rates to be updated.
Created By: righteousone2014
---
So Pleased With This App. Sales Overseas Have Increased!
Simple
---
Drives our International Business
Easy to Use with Ease
Created By: wholesalecarpartsoffresno559
---
This app is dificult to keep everytime I go to manage apps This happens with 95%
I have yet to receive the full benefits descibed in the app advertisment before They are shut off or I am charged due to mathmatical error
Created By: handkscreations1912
---
Great help for foreign buyers.
---
Garbage waste of time doesn't work
Don't waste your time using this lousy app. I downloaded it 3 times and it won't activate, keep getting error screen...Also too customer service SUCKS!!! Never got a reply back about error screen...DON'T WASTE YOUR TIME
---
I think that this app makes for very friendly International sales as people can immediately see what their costs will be in their own country's currency. It works well.
---
Very usefull app....great job...
---
Excellent tools for buyer
This tool helps buyer with immediate pricing in buyers currency
Created By: worldcurrencyandcoin
---
does what it says and tells buyers what it will cost in their currancy
---
This Hurt International Business
I tried it for a couple Months and International sales were very good I put this on my listing and International sales went to Nothing.Not a good Plan for me and wouldnt recommend this to anyone
---
Good app in appearance and function
Created By: hollywood_treasure_chest
---
Can't seem to get it on all listings and can't find way to change bottom to top, where would be better location
---
---
like it but should be smaller and not take up a large area. Want my other info listed
smaller better
---
this really helps drive international sales...
Let's face it, converting Euros to dollars or Australian pounds to dollars, etc. can hinder international sales because customers are hesitant to bid in a foreign currency. With the currency converter app sitting right on top of your auction description page, the guess work is removed for foreign bidders since they can follow the auction's price in real time in their own currency. I venture to say this has increased my international sales by 40% or more;substantial numbers by any count. And you have to do: NOTHING____they do it all.
---
just not selling enough to keep it.
good app,hope to sell alot soon so i can get it.
---
Should have added this long ago
Since I offer international shipping this tool is a great asset. Love it!!
Created By: momx2boyschristina
---
Love This App. IT is sooooooo Easy to Use.
---
I love this- easy to use
Created By: dominatrixgwen
---
most of the time don't work! leave your listing with with space...
most of the time don't work! leave your listing with with space...
Created By: rainbow_diamond
---
Wish you could pick more than 5 currencies. Otherwise great app!
Wish you could pick more than 5 different currencies. Otherwise great app! Easy, simple and free.
Created By: yourcellularconnection
---
the app dosn't work in my store
---
This has been a great tool for my international buyer's. Now they don't have to leave my page to find out what it will cost them in their currency, Fantastic, Love It!!!
---
well it isn't in my auction so I wil need to go ther and find it so i
I am hoping in all this I get some use for it I would hope that i would be putting it to use right away but I think it will take more time
---
---
Very good service for my buyers!
Very good service for my buyers!
---
I think this is a good app...
I recommend it, it loads fast, and lets folks know you ship int'l.
Created By: vintagepartsgirl
---
it helps others that don't know how to look up a converter,
Created By: ghosthunters33
---
Looks nice on the page and helps with our international sales as well.
Created By: brooklyns-best-bargains
---
---
Great tool for sellers. A++++
---
Very helpful and very easy to use the app was almost self explanatory. :)
Created By: livelifelavishly
---
Cool, no work involved to use it, everything is automatically done.
Cool....works well and will be an asset when I get all of my items listed for foreign sale.
Created By: uneedcarparts
---
I would like to use this Ap if it would stay active.
Created By: pentecostal.jerry1
---
I can only say this has been helpful and I do sell items over seas all the time. Wether this app has been a factor in that I don't know but it can't hurt.
---
Great app! Very handy for my customers.
---
Love this application! Great added tool to connect with our guests.
Seeing that 40% of our business is shipping International ... this is a must have application to provide for transactions.
---
---
Good for worldwide selling
Currency Converter is excellent if you are selling worldwide, with some exceptions. As an occasional seller I like to sell specific items in the USA only, and there is no simple way to turn off Currency Converter, contrary to their instructions... and their help system gave no response to my questions.
---
Great way for global customers using different currencies to calculate how much an auction is going to cost them. I've often wished I knew how much I was really bidding on an international auction.
---
This was fast and easy for a starter like me.
Created By: ausariwholesale
---
App works great. Choosing my own countries is a plus.
Created By: brianna_tyler
---
verry helpfull for my customer
---
This is a nice added extra for your listing, and it must be helpful for internatinal buyers ,which i find they are 18% of my sales or more and they seem to spend alot concidering shipping cost for express and priority,This will help ! The o ly thing i didnt like is that they only let you choose 5 currencys,whgich is fine but i dont get why not more.i sell to all over the wold. still must say grate app so far and only took 5 mins tops also y0ou can choose top or bottom for the placing for app on listings.:)
Created By: a_plus_apparels
---
Applications are nice and very helpful to determine the buying or selling, although I use a free program Success has always been and continues to advance, greetings from Indonesia
Created By: booster144mhz-topanbooster
---
it sometimes is on, sometimes off. today, dec1st, hour glass keeps going around
its not on all my listings.
---
fun, easy and useful!
Created By: 2blackchickens
---
I like the style of this simple and easy to use app. 3Dsellers has been very creative with their eBay apps and I greatly appreciate them and can highly recommend!
---
This Is A Good App. On eBay.
---
very good
Created By: vardan_vrdo72
---
IT TOOK THE GUESSING AWAY SINCE MY CELL PHONE KEEPS THE SAME CONVERSION AND DIDN'T CHANGE AS IT DOES IN REAL TIME SO THIS APP. MADE EVERYTHING RUN SMOOTHER.
Created By: takingarisk-co
---
Lets international buyers know that not only do I want their business, but that I care enough to show them the price in their currency. It has reduced the number of questions about price and increased my international sales approximately 10 - 15 percent.
Created By: bigdog_kahuna
---
great! This will be so nice to have.
---
Easy to install Very nice graphics Very useful application And Free
---
The converter is inserted automatically, but I put it in manually before listing an item by copy-paste from the HTML and it worked great. It didn't accidentally double insert the code.
---
I love that the cost of my items can be viewed in many different currencies.
Created By: lavendergirl777
---
This only makes good sense and on showing cents!
I hate buyers asking me how much it would coust for my item if I ship to their country, I do not keep the Pound, Euro or other currency exchange rates to mind. However, what I like about this program is not so much on my auction page, but I like it on other sellers page. I ofter buy from England or Canada and again, do not know the exchange rate, but with this program on their auciton page, I know what it is going to cost me before I buy... So if you want me to buy from you, get this FREE program. Lawrance
Created By: bearlythebear
---
Great app when it works. Needs to be more reliable.
Like it, but not consistent. Too many bugs. Works sometimes.
Created By: 15bflagstaffhill
---
This is a really great app
I luv the fact that this app is so helpful! I wish there were a lot more sellers using it that I've bought from and did not know the costs! No Charge too! Superb! Thank you!
Created By: spoiledmaterialgirlzblingz
---
Neat gadget for international sellers.
Easily shows currency conversions for the countries most attracted or the countries you select. Easy changes can be made. Shows both product and shipping prices converted.
Created By: johnjlonghair73
---
works great to have on each listing for the countries i sell to the most. i hate looking up a currency exchange
---
I want to see the same application for buyers, I hope for you:) It would be good to add more currencies:) Thank you for your work
---
with this i dont have to goto some other app in another programe to convert the money
Created By: narenee2007512
---
---
Works Well, Loads Fast. Great App!
I really like this app because it loads super fast and is reliable. It is also free which is cool. I recommend using it if you sell worldwide.
---
Does exactly what it says it will.
I love this app! No complaints here. You won't regret adding this one to your listings.
---
I have been using this for almost a year now. It's great and I find that my customers seem to use it quite often. Easy for them to use and it was easy for me to get started with it.
Created By: niletreasures2010
---
Amazing application! 4 star because I cant choose different theme :(
---
waist of time it doesnt work
doesnt work
---
Helpful for foreign currency sales
If you are listing items that are of interest to overseas buyers, this is a very helpful way for them to know what the cost will be in their own currency.
---
This is a great idea, but only being able to choose 5 countries to display is limiting. I sell worldwide, and buyers from other countries may take offense that their country isn't represented. It would be better to have an app with a drop-down box with all countries on it, and one display circle where the cost would come up. Also, having the shipping area read "0" is misleading. There should be instruction to enter the shipping cost for the country selected. Buyers may take the "0" to mean that there are no shipping costs.
---
The fact this is provided for free makes me very happy
---
Great for oversea sellers.
International buyer can really use this to calculate the cost both for their purchase and the shipping cost. It's only appear only on my first listing and not the second time?
---
Would highly recommend this app if you plan to sell to international areas. Takes the guess work out of what other countries have to pay. It'd be nice to have more than five available, but I understand that it'd be too crowded on the auction page if there were more. Go for it! Free, definately worth it.
---
Great add on i love it my customers love it
Love my customers love it because they don't have to email me and ask me for the conversion any more
---
I wish everyone used this FREE app! I shop in other countries and don't always know exactly how much something will be...if other seller's used this it would be so much easier for everyone!
---
Application helps to drive international sales
This application sets up a small HTML insert in each of your listings with the conversion rates for up to five currencies and the ability for the user to look at another. I really think this application helps with my international sales, they have gone up since I installed it. Comments: 1) More currencies. I would like to see 10. 2) User locale detection. If someone is logged on as from France, I want Euros up, from Canada, Canadian dollars, etc. This would remove the need for more currencies. 3) Location change. I would like to see this MUCH closer to the price, right now it shows up at the bottom of the listing. Thanks for the great app, I look forward to future releases.
---
---
Very useful and helpful!!! this is an excellent app!
Very useful and helpful!!! this is an excellent app!
---
Please add more notable currencies like TL Turkish Lira
Created By: auctionlover-2008
---
Very helpful to see what the cost is in different currencies for country's we ship to.
Pretty much nothing we have to do. It displays where we selected on setup and shows up in every listing we have! Haven't check to see if the exchange rate is accurate on a daily basis.
---
This product is easy, efficient, and quick to use.
---
Now my customers and I have access to actually know our costs for an international item.
Recently I bought some jewelry from Japan. I thought it cost $18.50. When I paid for item, it ended up costing me over $33.00. So now this saves me time and money. Thank you eBay.
---
Love it! Make life easier!! A+++
Love it
Created By: sunshiine9793
---
Swift, Efficient and Informative!
An interesting system that gives Ebay's currency exchange rates - a really good upgrade/accompaniement to this would be to also show (at the same time) the exchange rates from one of the many independent and impartial exchange rate agencies that are available on the web such as the service offered by Currency Converter. All in all buyers will find this a helpful and informative addition.
Created By: vonstreppledjinncorpamerica
---
I use it. Never had any complaints, never had any compliments. Overall, I kinda like it. I wish they had more currencies to support. You can only select 5. Also, if you copy and paste the code, it uses the same price in all the new places it's pasted and doesn't reflect the current price or sales. I don't like that, because I want to build it into a template rather than just being right there on my page prior to my template and out of context with it. But, still a 4/5 ain't bad.
---
Wonderful application! Couldn't ask for more from customer support!
Great application! Customer support is ON POINT! Very helpful and very quick TO help! =)
---
Very easy to add! AAAAA+++++
Great application to promote increased sales!
---
One of the easiest applications I have ever filled out!
Created By: heartstreasures2009
---
quick, easy, does what it says
The listing insert looks nice, it was easy to set up and it does exactly as it says ti will.
Created By: curmudgeons_deal
---
EXCELLENT!!! THIS REALLY HELPS MY BUSINESS...
I LOVE THIS APP....HAS BROUGHT MORE CUSTOMERS TO ME...AND THE WORD IS OUT THERE!!! THANK YOU SO MUCH!!!
---
Good concept but looks cluttered and unattractive on ad
Created By: stay-at-home-dad-and-son
---
Accurate and clever. Saves you time! Offers many different currencies, worldwide.
---
Efficient, accurate, slick and cool
Enhances a user's eBay shopping experience. Simple and productive.
Created By: onlinesellings
---