Attach Feedback
By PMIT Inc
(released Feb 18, 2014)
Show your past positive feedbacks on your listings and assure Buyers to buy with confidence.
Categories: Listing, Marketing & merchandising
If you are subscribed or want to subscribe to this application please
click here
for details.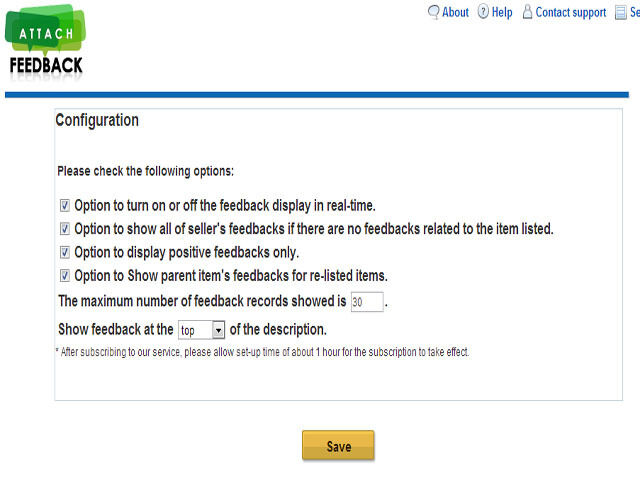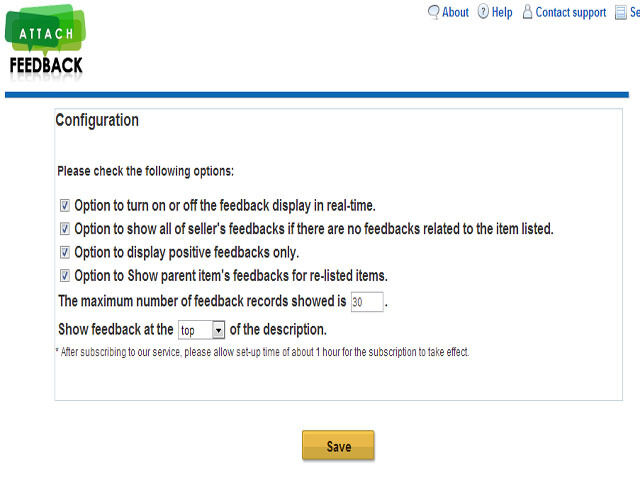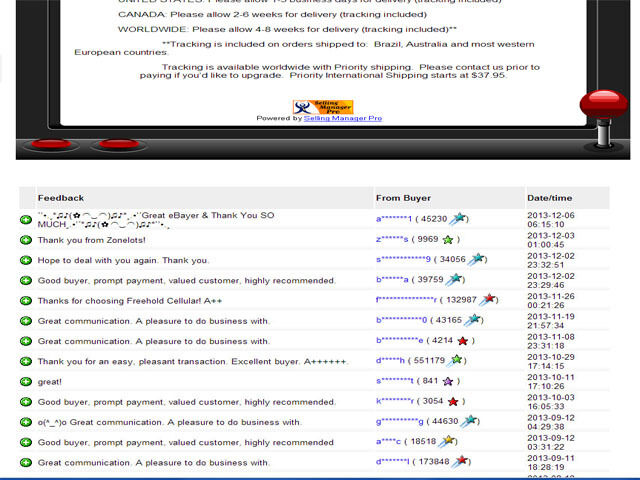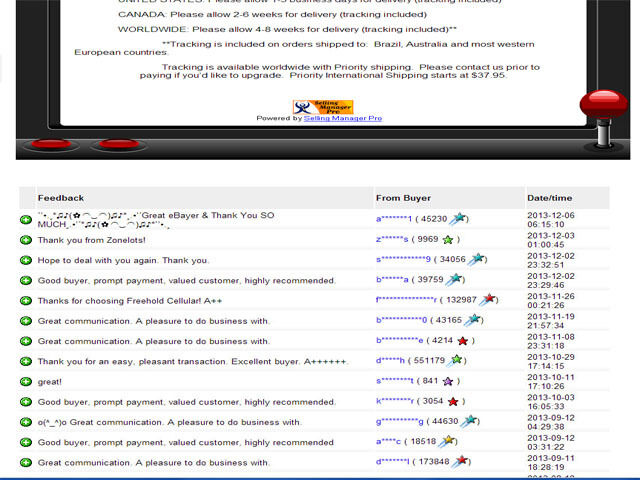 Key features
* It is compatible with eBay Active Content Update at June 2017.


There are several useful functions to use customize your listings with the subscription.

1) Option to turn on or off the feedback display in real-time

2) Option to display positive feedbacks only

3) Option to show all of seller's feedbacks if there are no feedbacks related to the item listed

4) Option to Show parent item's feedbacks for re-listed items

5) Option to show the feedbacks in certain section of the item description

6) Option to limit the number of feedbacks shown on the description to a certain number


Description
Show your past positive feedbacks on your listings and assure Buyers to buy with confidence.

eBay Seller's positive reputation is a big key in success of the business, as Buyers will be attracted to Sellers with positive feedbacks.

So display what your past satisfactory Buyers are saying about you, directly on the item listings. Buyers do not have to go through the hassle of clicking over to the ratings to look for what others are saying positive about you. Also itemize the feedbacks related to the item listed, so that Buyers know what the past Buyers of the same or similar items have experienced.

With this *** subscription, previous feedbacks for the Seller will be attached and displayed directly on the item descriptions section.

Additional resources
Application requirements
Supported browsers:
modern web browser
Supported languages:
English
Supported eBay sites:
ebay.com
Required eBay subscriptions:
None
Application support
Email : info@attachfeedback.com
PMIT Inc
The PMIT is a leader in ecommerce services. We are one of the leading independent PayPal management services , design templates for eBay , ecommerce and have been providing tools for eBay sellers since 2007.
Also from this developer:
By PMIT Inc
(released Dec 17, 2009)
Manage your PayPal transactions directly from my eBay. Automatically match eBay and PayPal transactions, compare paid amounts and postal codes from one place!
Categories: Finance & accounting, Shipping & payments
By PMIT Inc
(released Mar 22, 2010)
Apply animated professional design to your current eBay store. Only $3.95 per month.
Categories: Listing, Marketing & merchandising
By PMIT Inc
(released Sep 24, 2012)
Automatically apply professional looking listing themes to your current eBay listings.
Categories: Listing, Marketing & merchandising
By PMIT Inc
(released Jan 31, 2013)
This application will allow the sellers to monitor where their listing is on the Best Match search results and provide general recommendations on how to edit the listing to improve rankings on the Best Match se...
Categories: Listing, Research & reporting
Love it.Customers love to see what other buyers think.
Created By: everythinggirlswant
---
very good pplication i recommend it
---
This is an excellent app. Ebayers who sell, this is a must have app. Shows your reputation being an Ebay seller by giving the buyer a quick look at your recent feedback
Created By: show_place_store
---
Don't like the look and its overpriced! $30 2 WEEKS!
You should be able to choose which feedback you can display.. Just got a bill for $30 for using this for 2 weeks? That is more than ebay charges for my monthly store prescription.
---
its work with all my listing hope increase my sales
---
---
---
I .have long wished that ebay would do this. This should really help sales. Great job ebay, thanks
---
exelent program
Created By: maverickperu10
---
POOR COMPANY. DID NOT DO THEIR JOB, AND MADE LOOK BAD ON EBAY.
EBAY HAS BLOCKED ME FROM LISTINGS ITEMS ON EBAY...BECAUSE YOUR COMPANY PLACED FEEDBACK INTO MY DESCRIPTIONS ON MY LISTINGS. IT WAS NOT SUPPOSED TO BE DONE LIKE THIS. EBAY ACCUSED ME OF TRYING TO BRIBE MY CUSTOMERS INTO GIVING ME POSITIVE FEEDBACK. I KNOW FOR A FACT...THAT MY CUSTOMERS GIVE ME POSITIVE FEEDBACK ON THEIR OWN RECORD...AND FOR THE MERE REASON THAT THEY WERE TRULY SATISFIED WITH THEIR PURCHASE AND MY SERVICE. SO,YOU SEE,I DO NOT NEED YOUR HELP ANYWAY!!! IN THE LONG RUN,IT JUST HURTED ME...NOT HELP ME. SO...NO THANK YOU!!!
---
---
Most Beneficial Subscription to Have
Out of all the subscriptions that could boost your listings,sales, etc., this one that displays your Feedback on the bottom of your listing has been by far the most beneficial for my sales. This company makes it easy to sign up for and use. Thank you.
Created By: hotandtrendytech
---
Great app, I get compliments form my customers all the time.
They changed all of my listings so I could be compliant withthe new listing changes.
---
Made a Noticeable Difference!
Wonderful app that helped raise my sales when I used it during the trial period so I signed up for monthly service. Hopefully, I get the same results! Thanks!
---
Excellent tool, must have for everyone!
If you not my competitor on ebay - you must have this tool!))) Its making my listings more trusted to customers and cost only a few dollars! Also these guys made fix on my listings, that needed for new ebay rules! I didnt expected that, but they made my work more easy! Im really happy that subscribed on!
---
Still getting bills even though I cancelled in November It's January! App stopped working properly when ebay updated secure HTTPS requirements.
Created By: sellersavings
---
It does not support new https picture policy
It's a great app to have, but unfortunately it does not support the new https guideline from ebay. It force your listings to have "see full item description" button. Most terrible part is it wont remove feedback from listing automatically. It's broken now I have to go in and remove the feedback on each listing.
Created By: techinsiderdeals
---
Have yearly subscription, and it won't start up, says I must subscribe
Going to need my money refunded if after a week, my money goes into your account and my app stops working!
---
This application messed up all my 700+ listings!
I tried this app and all it did was mess up all my 700+ listings that took me months to update so my listings are 'Mobile Friendly'.
Created By: the*cosmetic*princess
---
Thank you for providing good app
Created By: lingeriestore.usa
---
excellent service!
Created By: binaroffmanjewelry
---
Great Application with world class customer service and support
The application has improved my sales. It helps me to stand out among the competition. I had accidentally paid twice, emailed customer service and received a response in about 5 minutes. That's something you rarely see these days. I highly recommend this application to anyone that is considering it. Thank you!
Created By: artificial373
---
Does not work!
Created By: oemwheelsdirect
---
Used to be great but.... NOW IT DOESN'T WORK AT ALL. Don't waste your time or $$$$
We have used this app for a few years and have always appreciated the results. However, a couple of months ago our new listings were not receiving the feedback attachment. After logging into the app center we tried and tried to activate the app but kept getting the same redundant message that cookies were not enabled in our browser. We allowed all cookies, no change, no app. Changed browsers, no change, no app. Changed computers and tried multiple browsers, no change, no app. Contacted the worthless customer service at attach feedback and were told that our account was working (not correct) and to unsubscribe and resubscribe to the app. We went ahead and unsubscribed and resubscribed only to continue to get the same crash when trying to activate the app. Again, tried multiple browsers and computers. Customer Service is absolutely terrible and uncaring. they only want your money and don't care about the product working properly. This app should be removed from eBay!!!!
---
Positive experience, great app
Useful app with great customer support
Created By: frankiebananas
---
It does what it's supposed to do. Customer support is responsive. All in all it's good.
Created By: a1productsource-17
---
It seemed good at first but feedback does not update...
Every review comes out new, it should be updated but it does not work that way. If it updates, I would buy this apps but...kind of disappointing.
---
This service unreliable at best
---
"Makes the add look 100% better...
---
I used Terapeak Advertise program and all I got only 3 clicks, no sale no nothing.
Created By: pamirrugs93940
---
I really really like this app; I think it has helped my sales and company credibility. It makes me keep my standards high because I get better reviews and then these get displayed and so it's a positive cycle.
Created By: arieslaser-com
---
posted feedback on top would not change to bottom.
Created By: qualityacoustics15
---
DON'T GET THIS APP.!! NO CUSTOMER SERVICE
I been trying to cancel it for 3 months. eBay tells you to go to the website. attachfeedback.com WELL GOOD LUCK !! Terriable Customer Service. THERE IS NONE!! No phone # to Call !!
Created By: rockermommy13
---
There is no way to control the app yourself.And after you cancel you still can't remove it.
I was asked to subscribe again to make any changes after realizing that the app was not under my control and what it is advertised as you being in control of was completely false.Terrible application that I can't remove unless I pay them more money.so I have wait an entire month for it to go away after unsubscribing.
---
I LOVE IT_!
Created By: gordonangelasuniques
---
I have heard about this application and right now I am interested to try it.
Created By: avatotalsupplies
---
So far it has been an ace in the hole. One thing a single business guy does not worry about. Hillbillycoins
---
great app and great costumer service!
---
Excellent , helpful for costumer.
excellent
---
Like having my feedback visible.
I have amazing feedback, and I am hoping having it so visible will boost my sales. Haven't noticed much difference so far.
Created By: blondiluvs2ride
---
A good idea. But..... NOT as functional as it should be
This app is a GREAT idea ! However, It constantly and consistently would display the HTML in my listings. I would have to manually remove that HTML text from my listings. Also, EVERY time I revised or changed ANYTHING in a listing this app would stop displaying my feedback. After 2 weeks of nothing but trouble with this I had to remove it and cancel it. If it worked as well as the idea behind it I would have kept it. I DO NOT RECOMMEND this app at this time. Raymond Sult Custom Antenna Mounts
---
Excellent App! Looks great on my e-bay page! A++++
Created By: jty-computers
---
Looks great, but feedback doesn't stay on listings
The feedback is always removed from the listings when they are relisted...very inconvenient to have to email the company every single time listings are relisted to have their app added back on.
Created By: clearancecastlellc
---
GAVE A BAD REVIEW BY MISTAKE
The bad review that I posted was in error It was destined for another APP vendor 'FEEDBACK PRO' My apologizes I have had GR8 experience with 'ATTACH FEEDBACK'services
Created By: chipcollectors
---
IDIOTS!!! Cancelled the service as of 5/16 but they're like the ENERGIZER BUNNY
THEY DON'T RESPOND
---
Sales increased after subscribing, thanks
Great tool, just add it at the top of your listing and enjoy.
---
It's nice that potential buyers can see the positive feedback that I have received on Ebay on each of my listings. I think it gives them a sense of security knowing that others have had positive buying experiences.
---
Attach Feedback support team are responding me very quickly.
---
Easy to understand and install
---
Every seller should have this. It makes buyers feel safe and confident to purchase from a good seller.
---
I love this app. It puts my most current positive feedback right in the listing. Many buyers do not take the time to go to the feedback page, or do not even know that there is a separate link for more detailed feedback. With this app, positive comments are put right in my listing for my buyers to see immediately.
Created By: telemann417.two
---
I used it on my listings and it did not post but on only one.
---
This application seems to me, great!
very good application!
---
This app pretty much allows you to display recent feedback in your listings. I had a slight problem but I emailed them at like midnight...... and to my surprise they emailed me back a hour later!!!!!! WONDERFUL support. Thank you once again guys :D
Created By: fittoperfection
---
They are charging me even though I canceled well before their trial period
Created By: seabootlegger
---
This ideal was over due. Great.
---
still on trial but not seeing feedback
I have noticed that some of my listings dont have the feedback listed I hope it gets better or I wont be staying. but I am patient
---
Keeps your customers updated on the shipment of their package providing for great customer service
---
DO NOT WORK AS ADVERTISE.
Only works the 2nd day and 3 days more on free trial period.
Created By: luisnavarro222
---
Fast technical support and customer service
Keep up the good work mate :D
---
Great application and customer service!
I just signed up for this application and I love it! I had a question regarding the options when I set it up and customer service took care of it for me super fast!
---
I like this app as it sutomates the process and improves my feedback response %
Created By: mr_bullterrier
---
You can literary see the buyer that when you click on their names. My customers privacy is everything to me.
Created By: healthbeautyandmore
---
Thank you Very Much !
Created By: repairmanualmaster
---
Fabulous APP - Provides Excellent Customer Reassurance BEFORE any purchases!!
Thoroughly appreciate the simplicity and usefulness of this APP=Attach Feedback. At the bottom of each of my listing appears as many as I would like, feedback responses for new potential customers who are just browsing to SEE QUICKLY one's recent feedback responses. Definitely have seen an increase in sales after having this APP "do it's thing" !! Highly recommend it and their PROMPT email reply to a recent inquiry of mine was a delight to QUICKLY receive.
Created By: kitewoodmanor
---
It was just ok. Not worth the cost. You can not make a change in a listing with out deleting the code.
---
It is working! Very good aplication, and communication.
It is working! Very good aplication, and communication.
---
App. creator is very fair.
Thank you for contacting me.
Created By: energyzone.27
---
---
---
---
Good.fast service sell confident with your feedback
good
Created By: vivianshoe_store
---
The application works. Since the first day it is effective, I can tell the sales pick up obviously. Their technical support reply fairly quick to solve the display problem due to UPC number. I would recommend this app to other sellers who provide good service but buyers don't see !
---
They charged me continuesly
When I went to click the start button on the application it says "Please subscribe the Attach Feedback application !!" I am already subscribed. I contacted customer service and they neglected to resolved the problem and continued charging me. Terrible experience and poor customer service.
Created By: adks_music_attraction_and_entertainment
---
Buyers reading your positive feedbacks gives them confidence to buy from your store. My sales increased dramatically up to 25%, I have sales every single day, before only 3x per week. And if you encounter technical problem, all you have to do is contact support and they'll fix it in 12 to 24 hrs. So if you are skeptical, don't think twice. Here is the proof. http://www.ebay.com/usr/decaldepot-n-shirts
Created By: decaldepot-n-shirts
---
Helps sales
Created By: honey13132013
---
this is an excellent product and it raise the sales cause customers see easily the reviews and know that you are a good seller this makes a difference to me
---
Terrible, very poor quality, difficult to communicate with, will keep billing after you cancel
This company keeps billing me after cancellation. They don't understand plain english. They take several days to respond and then make changes without your permission. My advice? Learn html and do it yourself than using these apps. It's worth the time to learn + you can make your listings POP!
Created By: morewaysthanone916
---
adds a nice touch, gives buyers assurance
The app seems to work well, it does a good job of filtering the positive feedback choosing the most relative feedback to the listing which is a nice feature. Well done. thanks
Created By: frogpondcookwood
---
All that positive feedback sure looks nice attached to each listing
I'm sure this app adds another layer of piece of mind to the average buyers confidence when ordering.
Created By: mrwhite655321
---
Been using now for several months. Price is good. Like seeing my feedback on each item. Just can't say it helps. At first it seems to help my sales were up but I had also lowered some prices. Sells have been down sense. Think I will cancel and see if there are any changes
---
No issues. Works as advertised.
Created By: primetimemerchants
---
The creators of this app do not seem to have grasped the essential basics of code writing.
This app only worked during the trial period. I have communicated with their help desk and followed their instructions, but when I look at one of my listings by using the search feature of ebay, there is never any feedback visible. Sorry folks, stay away from these guys.
---
I give ato star because the company does not give enough time to make payment before suspending your
based on my past experience I would not use or subscribe to this application again and I would also say to others as well do not use this app
Created By: americanseedexpress
---
Support quickly resolved my issue!
Created By: smartphonecoversltd
---
Worked only for a few minutes, then never.
Created By: grace2015sindi
---
Great App has increased our FEEDBACK GREATLY.
---
Customes feel safe and reliable due to feedback attach. It is good to let customer know how your shop or items doing..
---
Increase in sales in just 3 days. Showing just a few positive comments at the top of each item. Should have done this a long time ago.
---
Need improvement by let the people know the product the buyer bought.
I recommend to put on the feed backs the products they bought because if the buyer see is the same this will help to take the buying decision
---
Great for business! Allow people to see that other customers happy with a purchase! I highly recommend this app
---
Very Smart and Useful application for boosting Sales.
The concept is smart and if used right it can boost sales. The only reason I give 4 stars, is because it updates every other week. Support VERY responsive! Keep up the good work guys!!
Created By: handpickedbyhermes
---
I was having a problem with this app and sent a message to contact support. The problem was fixed immediately. Great app, thanks
---
User-friendly application. Sales are better.
---
Great seller app. to have. Thank you
---
A must have app for random selling !
A simple way to attract more customers!
---
So far it has worked as advertised.
Only complaint is that it doesn't show up in listing preview.
Created By: willyumthekyd
---
Good for showing feedback, but not available on mobile app and not happy with location of info.
Needs to be available on mobile app as well and location needs to be in a better spot.
Created By: frog_prince_acn
---
Useful app backed by great customer service
Does what it is supposed to. Backed up by responsive customer service which is refreshing. The jury is still out on if it helps increase sales but I imagine it does help instill confidence to your buyers. Definitely worth a try.
Created By: rosecitybricks503
---
its a great way to show off your details
sometimes a person gives a good rating and leaves negativity but over all its nice
---
Very affordable, very effective, works great!
We really feel this has attributed to a big jump in sales. People see your rating but don't necessarily take the time to read individual feedback. With this app. however, they are conveniently placed at the bottom of the listing, even if I haven't sold that item yet - definitely a confidence booster for the customer and very reasonably priced too - thank you!
Created By: dazzlebedding
---
I believe this has increased my sales!
I have been using this service for a couple of months now. It looks great to have 10 recent positive feedbacks attached right in the body of my ads! Thank-you!
---
Item is good to use on ebay!
Created By: wglobal_unlocks
---
Does What it should - just not on the app
When on my pc, I can see it but most people are on mobile devices and it does not come up... if I wasn't so mobile ebay, I would keep it but I think I'm gonna let it go.. I thought it was free for the first month too.... maybe I misread but I got 3 invoices as well within 2 days from here.. all different rates (???)
Created By: 2live2day2love
---
very nice program , a must have ! thanks guys
Created By: bestsellerdeals
---
Great customer service!!
Created By: tangocowhides
---
The feedback were not showing up in any of my listings. Contacted them, got a response within a few minutes and they resolved the error ASAP. Thanks guys
Created By: canasbeautystore
---
Not really working all the time .
Some times its show only few feed backs instead lets say of 15 or some times its not even shows up on some other Listings. I guess just wasted money for 3 month
Created By: somuchtocell2012
---
Instills confidence with potential buyers.
One of the first things a buyer will see is nothing but awesome positive feedback. A great way to instill confidence in potential buyers. Adds a professional look. I really like this app. THanks!
---
Support contactd within 1 day! Its good time! ALready all repaired - now working! its very fast resolving the problem! Thank you! Pleasant to work with same people!
---
Worth the money! Great application.
Great tool to add to your listings. Wonderful application.
Created By: cococlaymancook310
---
Didn't know I have to go through trouble of taking screenshots and submitting request to refund my first month, would be better if it was happening automatically. Other then that, nice app helps with sales.
Created By: bossettoaccordions
---
Helps to build customer confidence in doing business with you when they see positive "Feed Back" comments about the seller and products.
---
---
5 Stars! Great asset to my listings!
I believe having this on my listings has helped my sales and have been told that it makes the customer interested in what others have to say about things that they have purchased, and how they feel about me as a seller. This is one application that I will keep.
---
increase buyer confidence!
Quick reply and support from service provider, seller should take a look and give a try.
---
Downfall had tons of upset customers wanting to know why I was bothering them for feedback. I am owed over 600 feedbacks all excellent as they got their items in 2-3 days yet customers dont care. We need to be able to leave bad feedback on customers for false chargebacks etc
---
GREAT!!!!!!!!!!!!!!!!!!!!!
Always there to take care of Business! Thanks
---
if you will click on the users you can see there real users even if its with m***m if you will click it you can see the real user its bug :/
---
excellent add on to my ads
easy to add to my ads and makes a better ad
---
Works great! Love it! Very practical and convenient app to use!
---
Easy to use-builds trust for your future buyers!
This is just amazing! You go to look at a product...you see the most recent feedback (5 or more) that has been left on the same item. It makes it easier for the buyer to make a decision and super easy to use! Love it! sweetsouthernspecial custom korker dog bows
Created By: sweetsouthernspecial
---
Nice to tried nothing to loose..But is not for me..
---
Does exactly what it describes
Created By: allvolleyball
---
Great App and very useful for customers to see how great of a seller you are!
Application is easy to use and the FAQ's, if needed, are easy to understand and the app itself is easy to setup and maintain. Great app and highly recommend
Created By: thegreatshoppingplace
---
This app is a great deal and very useful for my business. A+
This app is a great deal and very useful for my business. A+
Created By: yzfashionbridal
---
They fixed my issues already. It is very good app.
This app is a great deal and very useful for my business. A+
Created By: yzfashionbridal2014
---
good, but wish it has the option to include product title
the reviews will look very general unless it shows the product title under each review.. sometimes people will say "great product!" but a user will not know the review is about the current listing.. please add this!
---
major issue if a positive feedback with negitive comment is left.
I was very upset to get this app and find out that the positive feedback has no checking of negative words i have 1,000s of listings which had to have the real time update turned off until i get 20 more. 20 is too many also should be only 5 or ten takes lots of room with 20. Why is there not an optional choice to not select a feedback to not show?
---
Good app to have... EXCELLENT AND OUTSTANDING CUSTOMER SERVICE!!!!!! A+++++++++++++++++
Created By: luxurywatchesrus*com
---
Gives buyers a chance to see what other buyers are saying about you
---
Wow, it's very good service. Sales increased 15%.
so easy_ very thanks_
---
Great app and customer support is top notch!!!
app is well worth it's wight. being able to see items and feed back all on the same page!!!
Created By: foxcreek_tactical
---
This app gives your buyers reassurance that dealing with you they will be treated as those before them. This application is very effective when that is the message you want to get across. I love this application and what it has done for my customers which is give them the confidence that I am a good seller and a seller that cares for my customers.
Created By: gamestoysgalore
---
in my experience did not work
did not work, showed the bar but never any feedback listings
---
Feedback put to good use!
Not everyone is going to look up your feedback before deciding to buy from you. With this app, they have no worries. All of your customers are already speaking to them from your item listing. I would like this app to be able to limit the number of feedbacks when it doesn't recognize others from the same type of sale categories. Having 20 or 30 and ones when you bought something is a little heavy handed, I think. But this app is certainly headed in the right direction!
---
this is what we need..great apps for business
---
Great app that implements a great idea!!
This app is excellent. It let's you boast your positive feedback comments right on the listing so the buyers have more confidence to buy.
---