Froo! Smart Social
By Frooition Inc.
(released Nov 17, 2010)
Intelligent social networking on twitter and facebook. Don't spam - send precise and targeted product posts to your social followers, build a fan base, get more traffic, sell more.
Categories: Listing, Marketing & merchandising
If you are subscribed or want to subscribe to this application please
click here
for details.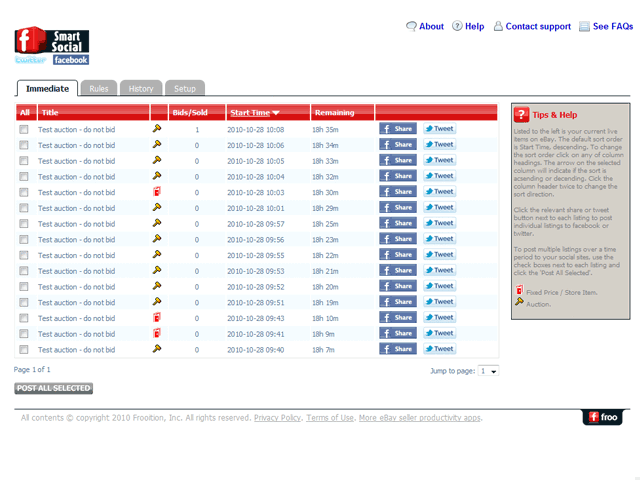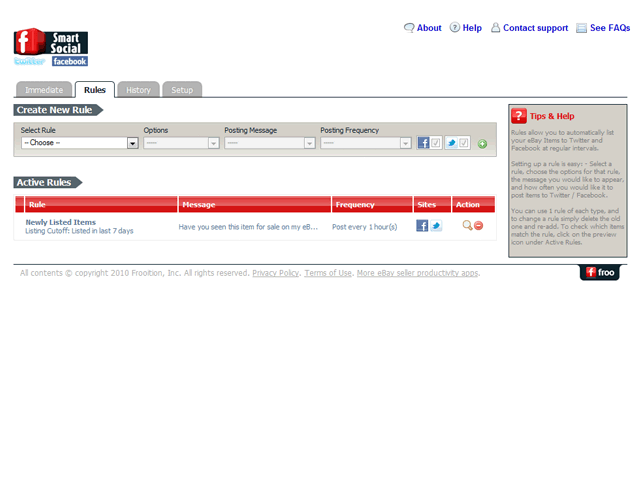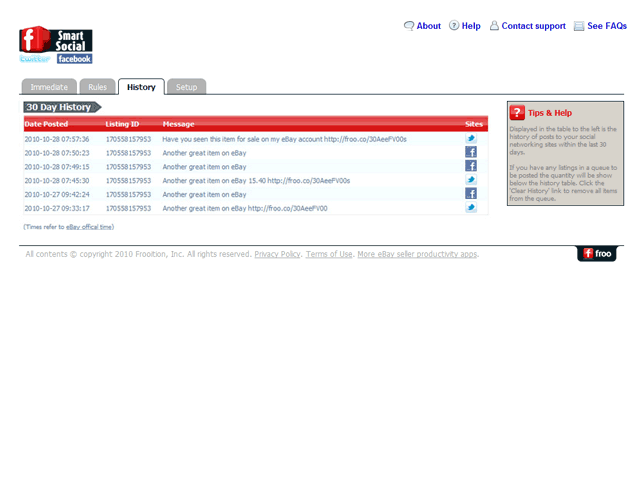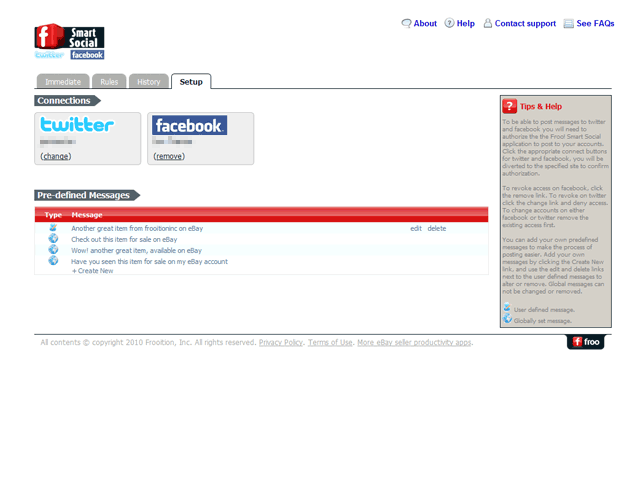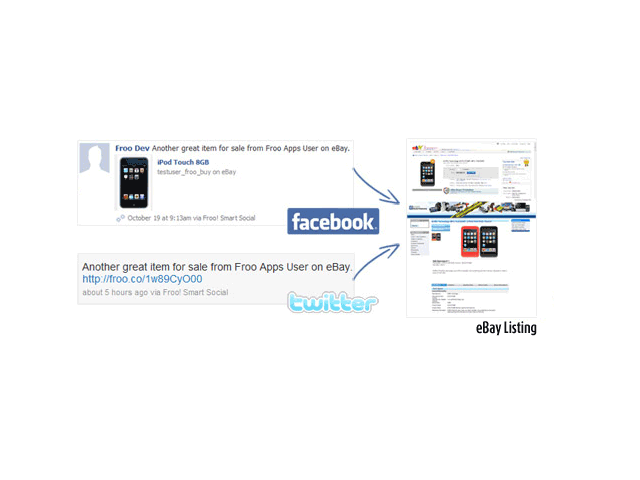 Key features
Post your items for sale on eBay to Twitter & Facebook
Increase the exposure of your items for sale to your social networks
Smart Technology allows you to automatically tweet & share items without spamming
Automatically add the gallery image for use on Facebook
Description
Froo! Smart Social enables you to utilize social networks to share your live eBay listings.

Send links to your live eBay items out to Twitter and Facebook, or get smart and use automation rules to automatically market your items based on a series of rules.

Froo! Smart Social uses the power of Twitter and Facebook to push your items out to millions more potential customers. Use intelligent social marketing to announce key listings without needing to sit in front of the computer for hours at a time!

You can choose to send your listings one at a time, select up to 25 and bulk send or create rules to automatically send your items.

Once you have set the rules up you can leave the application to continue tweeting your relevant items!

The automation rules allow you to sit back and relax knowing that Froo! Smart Social is looking after your social marketing.

The automation rules will not allow you to simply blanket spam your listings - as this will affect your following.

Instead you can determine certain rules, such as only sending popular items that have had more than 5 bids.
Additional resources
Application requirements
Supported browsers:
Internet Explorer 6 or later, Firefox 2 or later, Safari, Opera 8 or later
Supported languages:
English
Supported eBay sites:
ebay.com
Required eBay subscriptions:
None
Application support
Froo! support is available online, help and advice is available through our website at www.froo.com
Frooition Inc.
Frooition has been a leading provider of eBay store and listing designs for over 5 years. Frooition also specializes in providing design services for most other internet sales channels as well as web-site design. Frooition has been working with the eBay platform for over 5 years and is an eBay certified provider, and has thousands of clients in the USA, Canada and Europe.
Also from this developer:
By Frooition Inc.
(released Aug 14, 2009)
Customize your eBay listings with professionally produced themes. Select from a library of over 4000+ themes, quickly integrate an image zoom function and cross-promo features and further customize with your ow...
Categories: Listing, Marketing & merchandising
By Frooition Inc.
(released Feb 24, 2010)
Amend live listings in bulk. Save Time! Save Money! Try For Free!
By Frooition Inc.
(released May 13, 2010)
Free scrolling cross selling galleries for your eBay listings.
Categories: Listing, Marketing & merchandising
---
Works great with no problems I can see.
I like that you can set up frequency of posting and it seems to work seamlessly. Don't know what's going to happen when eBay closes down all apps next week.
Created By: grassshacktrading
---
---
Will not work. Wish it did. Maybe they will help me to get it to function. Help link broken, contact link broken.
Created By: wooden_kitchen
---
very good
Created By: frenchartdecofurnitureinc
---
YOU DON'T HAVE TO SPEND A PENNY ON MARKETING OR PROMOTION FOR YOUR EBAY LISTINGS, IS A GREAT TOOL.
Created By: pepeelboricua
---
awesome app, helped my listing be seen on fb
As soon as i posted my listing on this app, i started seeing traffic
Created By: flyingcarpets
---
great item to use when selling on eBay, I'm seeing the increase in sales
Created By: scottwise00113
---
Using this plugin got me kicked off of Facebook.
Half the time I could not get it to open in my eBay Applications. But biggest problem is now I can not use my Facebook account because Facebook locked my account for posting messages using this plugin.
Created By: gemmygems_com
---
does a great job of auto posting
---
Nothing but a blank page showing. Will not even process a request for assistance. A real Nothingburger. Don't waste your time!
Created By: vintageadstudio1
---
---
A Great Feature App Try It
This app is compatible with ones needs
---
---
Made my online posting easier on FB. Excellent App. Recommended for eBay online store sellers.
---
bueno para el buen proposito
mi experiencia es de hecho estoy conociendo esta aplicacion
---
works as described It is an excellent way to automate - just one less thing to do
---
It is an excellent way to automate - just one less thing to do.
---
I have alotta frejds on facebook that are missing out on my deals!
need more exposure without upgrading im not ready for professional! thank you
Created By: lr7li.us.k6jgk04w
---
Best ebay around.
Created By: vikkferguso-0
---
Another eBay bait "n" switch offer. Quite simply, there is NO way to cross sell between eBay and Facebook or other social media unless you do it listing by listing, which is expensive. Total waste of time.
Created By: ladyjanetreasures
---
TERRIBLE PAIN has been caused to all my listings
I took the app off after all the errors reported by eBay on 1000 listings...this app leaves you with 1000 listings that you will have to manually remove the Froo html ONE AT A TIME--took me 2 weeks to fix all my listings, while under threat of the listing being suspended...DO NOT USE! -this app should be illegal!!!
Created By: danelectroseller
---
---
---
This app is a handy tool...
---
Had everything set up and found a bug in the app. Reported it and they not only failed to fix it but they broke what was working. Now it doesn't even work! Uninstalling.
Created By: everythingaquatic
---
this application gave all our listings a security error, for 2 weeks our listings were gone because of this, after dumping this app all is normal
Created By: theglozone227
---
I f you opt into this app your listings will turn into http.
You will not be google https compliant if you opt in. Your listings will all be left with active content and no descriptions. There is no warning from ebay or froo about this so do not end up like us. What a let down to pay to damage our store. BEWARE
---
LOOKS GREAT ON PAPER
Created By: indiancreekautoparts
---
First Froo! loaded my listings with active content that I had to manually change. Now I have more that I have to manually remove HTML code because it contains links that have contact info in them. Stay away from them.
---
Always acting up, use to be a good tool for awhile not anymore...
Always acting up, use to be a good tool for awhile not anymore...
---
I tried to download this
Created By: victorianlady1951
---
i install it and it is not working
Created By: cell-phones-accessories-1-2-3-send
---
has been very easy to use as I post on public
The times I have used Facebook it worked well a lot of friends and others clicked on the share each time.
---
GREAT WAY TO SHOW YOUR LISTINGS
YOUR PRODUCTS GET OUT FOR MORE PEOPLE TO SEE!
Created By: detroit1370-8
---
Keeps submitting the same two items over and over. Even though I assigned more
Doesn't work properly
Created By: proshopperscloset
---
I granted access to both Facebook and Twitter. It posted 1 Item listing a day later. Nothing after that. When I clicked on it from my Seller Hub about a week later, it claims it doesn't "have access" to my Twitter and Facebook. Why have something that you have to "grant access" to every day or 2?? It should be able to keep/hold tracking and granting access!
Created By: saves-you-cash
---
Application process was simple. Communication was OK. Activation and execution was excellent! Thank you.
Created By: rockinretrorelics
---
Application ended message
Useless
Created By: meraki_collection
---
I love Facebook and Twitter, I couldn't ask for more significant help, A++!!!!!!!!!!
I just DLed the app, but I've heard about it, I've just been getting my inventory together, preparing to sell, buy, brand
---
A lot of technical issues, 1 day up next day down, the answer tech support gives never solves issues
The other drawback is that Facebook only allows 1 item post from the this app every 24 hours.
Created By: hotadulttoyz1
---
God product but needs more
Works great but wish you can have more choices in item choosing? like old items to push and maybe a every 12 hour submit. Also maybe a way to submit to more than one facebook page.
---
8265 redford way Sacramento ca, 95829 USA
Created By: emaemkn.sdxk21nmn
---
it really sucks, it never lets me use it
i have nothing more to say
---
Used to work quite some time ago, just realized it doesn't work any more. Tried troubleshooting as FAQ suggested with no luck.
Created By: sportscardsbuffet
---
This application does NOT work. Don't waste your time.
Created By: ptcruiser2006
---
I've uninstalled and reinstalled and it doesn't work. It tells me that it won't load.
Created By: dakotatreasurehunter
---
Didn't work properly...
Created By: fashionbuymeforless
---
Love this for instant posting but the rest of the app I have not been able to make work. It is suppose to run automatically but doesn't. I have to make an effort to use this every day to make sure a post is made.
Created By: magestreasurechest
---
everytime i start the app it doesnt work it says session ended
Created By: electronicsandmore2017
---
did absolutely nothing to help
also not user friendly
---
EXCELLENT resource when it is up and working, frustrating if I sometimes have difficulty accessing
EXCELLENT resource when it is up and working, frustrating if I sometimes have difficulty accessing
Created By: my*attic*treasures
---
The program will randomly stop coming up, resulting in having to unsubscribe and resubscribe as it seems to lose contact with the system.
Created By: unicorndreams7577
---
All it says is I have been inactive for too long and I have just clicked the button to start the opening of the app.
---
Doesn't work anymore no response from support.
I kept receiving error message that I reported to support and they never even bothered to respond. I realize this is a free app so I guess what I paid for. Used to work great for several year now nothing. I even unsubscribed and then set up new subscription several times but still same error message.
---
dont know yet // just started
---
---
---
Best app for Ebay selling
It's help lot for promote my items in Ebay.
Created By: ijonlinestore
---
easy to learn, very helpful to share on social media
Created By: ecotechwireless
---
just posts spammy links, no creativity, thought, customization personalization.
---
excellent quality arrived a day early
Created By: aquaticlife74
---
helps with my sales
Created By: mikesantiquestuff
---
it does exactly what it says! trustable! definitely recommend it!
Created By: dangeorgescu_123
---
I jumped on here when this was first introduced to ebay. Its O.k.
Its o.k. I've been on here since they started this FREE app. But, after reading other reviews I'm glad I'm not the only one who is experiencing issues? I realize its FREE. But, I've always had issues with it posting to my facebook and twitter account. It would only work for alittle while. Then, I would have to force it to manually to post, by clicking items and post it myself. Which kinda defeats the purpose of automating the process listing to my social media sites. Then it would only post one item at a time, which was useless, since I'm listing over 100+ items weekly. It o.k. I've tried, now I'm moving on. I'm just hoping that by unsubscribing, I don't find any mysterious charges on my account, as previous raters have complained about... As this is a FREE application after-all... Good luck to the individuals, who want to give it a shot...
---
This is so easy to do even I can do it.
---
stops working and will not restart
Created By: kingsthings-9
---
---
Good consept But it never worked!
Good consept but it never worked. It doesn't post on twitter..
Created By: trusted-products-eshop
---
only the first 2 days but now it wont work
---
goood app
Created By: electronicuniversaltech
---
I have been biled for an application that I no longer needed! I thought it had been canceled an I get that I made a mistake which I paid for. But today I recieved another bill and contacted eBay to see if it could get resolved. They could not on their end but gave me a phone number that was pretty much useless. Also, before these last two bills I did actually cancel this app. But today it was mysteriously canceled today after I was complaining and I DID NOT DO IT TODAY!!!! IT WAS DONE MONTHS AGO!!!! So unless you want to be billed in reacurring billing...DON'T GET THESE APPS!
Created By: laurasm1llions
---
Works great with individual listings, but bulk doesn't work for me
This is a good tool if you are introducing new products to your Facebook and / or Twitter followers. You link your accounts to the app, select your product and bingo! The product is posted to your page or tweet along with a link. The individual listing tool works without a hitch, but when I tried to do the "bulk" listing which was supposed to post 1 item every hour, it failed. No reason - no explanations. I'll just have to do the individual items on my own schedule.
---
Easy way to get your Items shown on your Facebook Page without having to share the store in general.
Can't say it truly boosted sales, but probably awareness. Honestly it is hard to say what it's effectiveness is because after a while most of your inventory has been shown and the same people have seen them all.
Created By: the_antique_archives
---
Love the app.
Created By: musthavejewelrystore
---
Smart Social helps me get my items viewed by many more people
Using Smart Social will bring me more sales helping my items be seen by contacts on social media. I really like this app and how it shares my items randomly without me doing it every time
Created By: trendyhometreasures13
---
Great Application. Works Well! Recommended.
---
.
Created By: silhouetteholsters
---
can't tell me why they cancelled my subscription
I have never seen a app offer you something then cancel it with out notifying you. just plan rude.
---
takes over your facebook page
cancelled app, but still taking over my facebook page.Tried to communicate problem, but won't accept my email.
---
Helps me reach more prospective buyers :)
Created By: wehcreations14
---
My postings going out thru twitter
With specific groups and public postings thru Facebook
---
WORKS GREAT
Created By: miamiwholesale2016
---
very quick and easy to use
I had forgot I ever=n signed up for this but once I started using it was great
---
I CANNT GET IT TO WORK...! IT SAID The application session has ended. Your session has ended because of a long period of inactivity or you are using the application on another computer. To restart the session, click the applications tab and select Froo! Smart Social. IT WAS ABOUT 1 MIN!!!
Created By: lov2shopbeauty
---
---
---
Great App!!
Created By: jamesfinds816
---
easily and automatically after doing a bit of effort to install it everything works correctly
---
I would like to be able to automatically post more often.
Only once a day is not enough. I would like more.
---
Really liked how this posted my goods in social media!
Created By: ezsmallengineparts
---
problematic and no easy resolution. Window wont even load for support.
shortly lived satisfaction.
---
I love it
Created By: tarhussa_8ywgx7
---
---
I have generated alot more customers since subscribing to your app. I am very happy with you.
One of the best choices I made is when I chose Smart Social by Frooition Inc. I noticed the difference in October that my sales had increased. If I remain consistent, I will remain pleased with this application. Thank you so much.
Created By: colus-wc9072o
---
Kept trying to "start" application and always received error message. Seeing other reviews, this app sucks.
---
Doesn't Do EXACTLY what I want it to do
I asked the developers to answer my question "What is the frequency of posting when you select "daily"" I did not get a straight answer. Instead I got a long winded, negative marketing jab and told I would be spamming my customers FOR SOMETHING I ALREADY DO MANUALLY!. Well...I don't have 7000+ followers from SPAMMING THEM! BUT THANKS FOR NOT DOING WHAT I WOULD LIKE IDEALLY!
Created By: jewelsbyjackiek
---
ug.o./yhio;uf.g/yuOPYHg.fyu.i v
---
Rules and scheduling don't work
I set up a rule for Twitter. No tweets for my auctions. I waited a day or two and tried to set up posts for Facebook. I understand that the app will only post to Facebook once a day, but it didn't even do that.I'll be deleting this app.
---
I really like how it works!
Stay with these guys,and you will get more attention! It's great!
---
Same error message, tech support is a joke.
Created By: tincanindustries
---
great condition! works fine for me!
Great@
Created By: upscalemegadealsbymicah2810
---
Very good
Created By: charismatic_rings
---
Brings more attention to my higher sought after items
Without me having to lift a finger, or even worry about it. Perfect for bringing in more potential buyers. Love it!
Created By: dreamersbinshop
---
nothnng better than automation
Created By: yahuish-networking
---
Face book app did nothing to increase sales. Just a waste of time
Created By: dougsstore401
---
Error when sending another help request
Very frustrating! :(
Created By: timesofplenty
---
Excellent app, doing a good job
Excellent app, doing a good job
---
Can not get it to work
Created By: white-house-gifts
---
---
I wish it was a little more user friendly as far as seeing what to post and I wish it was more cleat
...
Created By: brushesandcrushes
---
Easy to start with different options how to promote it out to other networking flat forms
I do not need to manual updating on Facebook or Twitter. This software does it automatically without spamming the viewers. I love it, but I thought it takes too long to go through a whole listing items
Created By: craftmentouch
---
Please delete my account.
Created By: mydogrusty-8020
---
I haven't been able to find a way to track this app. to know if it is increasing sells or not. I'm glad it is free.
---
This application has been great. Easy to use and a great way to market on social media sites.
---
App won't load, no matter what I do. No issues with others by this developer :(
Won't load - keep getting an error message. No issues with another App I'm using by this developer.
---
Great app to promote items on facebook!
Excellent app, super easy to use and promotes my items on facebook.
---
Editing and defining rules were easy. I will be using this app quite a bit!
Created By: scaledupapparel
---
bad queue, bad rules, bad support
Cannot see the queue. The rule and queue only post 1 in 24 hours. No support from cs
Created By: meowmeowcastle
---
Useful just wish could find a way to post more often than 1x a day.
Created By: abbeyandred2012
---
This app was very easy to use and was very cool. Im not really good with these kinds of things and it was supper easy. 5 stars
Created By: xxtoolluverxx24
---
You can't get anyone to help you get it working again. ???????????????
---
would love something that would sell on other places like amazon and others not just fb and twitter
---
Get the word out about your sales!
Get the word out about your sales! The best way to spread the word to folks who you know and those who follow you on Twitter and Facebook.
Created By: chipspeakinggoodiesllc
---
It is very consistent with being operable.
Even after posting 5 days ago, I now get notice that it's been too long,and my account is not operable (or similar message). I have contacted your "help" desk several times in past months after trying all the FAQ. It's very disconcerting when you can't get your products tot the public!
---
Ebay taking our listings are putting them on Twitter and Facebook for FREE. Thats Outstanding
---
---
I really want to bring more sale to my eBay store hope this work
---
Top Notch!
Created By: usedmotorcyclestore
---
ALL FROO APPS REJECT ME - WHY????
REJECT ME WITHOUT ANY EXPLANATION, I HAVE WROTE NUMEROUS LETTERS EVEN APOLOGIZING AND BEGGING FOR THEM TO LET ME USE THEIR APPS. I THINK THEY DENY ME CUZ I'M NOT VERY GOOD WITH COMPUTER...JUST WANT AN EXPLANATION/111
Created By: lillucylulus2
---
Doesn't pay claims unless buyer cooperates.
Buyer has to fill out paperwork, take photos and sign affidavit. I've used this service for several years and my first claim won't be paid because buyer won't cooperate, Ebay has already refunded her. Thanks for wasting my money Ship Saver, NEVER again. Left one star but more like NO stars deserved.
---
The "rules" for posting are FAR too limited to be useful
There are only a couple of pre-defined criteria for the rules which make the content posted pretty meaningless. We lost followers and likes from using this. BOOOOOO!!!!
Created By: shopspeedhouse
---
Wonderful complement to the Room. Large image created with pencil.
New York image. Original image created with pencil on the paper. Frame with antireflex glass. Created Vladimir Kristof. Eurepan champion in bodybuilding in year 2001 and 2nd place 2002.
---
This is wonderful to have on here. Anytime you can get free promotions to help you it great
I can not say if i get more sales from using this app. But i do know if has to help with getting your items out there for free.
Created By: shabbynanaheadbands
---
Great automatic Facebook sharing
Created By: connoraubreeandryder*nana*
---
---
thanks for helping me to improve my sales
---
Great application!
Created By: davidmiller61
---
Please note that you can't change your review after submitting.
Please note that you can't change your review after submitting.
---
Does not work
Created By: richardbluestratocaster
---
Attempting to use this app is an invitation to terminal frustration. It gets caught in a loop saying it isn't working and needs to be restarted, and the restart instructions bring me right back to the first message. Weird!!! Seems like it should be simple to do this, but clearly this app hasn't figured it out yet.
Created By: okranchlandandcattlecompany
---
I cannot get this to work. I had contacted support MULTIPLE times with no help.
I had to re-subscribe to it, I did that and it still does not work, need to be able to call someone for help but no one will give me a phone number, they just keeping sending e-mail with useless information.
Created By: ambermoonclothing
---
I'm new to this business, everything is fine.
---
Great app that allow cliebt to see other prodicts of interest
Perfect!
---
we'll see
Created By: sentimentalrose
---
great product, easy to use and very helpful
---
AWESOME! CUSTOMER SERVICE PLUS!
I love the app! It has taken what was a very complicated issue and made it simple!! ALSO, I had an issue with multiple Twitter accounts and sent a message to customer service. It was resolved within a few hours with a response directly from them. Just love this.
Created By: ameliaariella
---
there are clothes that we wear every day but there are also special those who have history and invok
vintage
---
It would be better if it allow picture posts.
Created By: pokeseller215
---
Helps me manage my posts and not spam my friends.
---
Like having this very much
I like having this very much and it is working but I do not really know how to control it as it does not seem to control from the control panel like the other Apps. Still it is wonderful to have a store of all my Ebay listings on Facebook that is separate from my personal page.
---
i have tried and tried and tried again but it just gives me error and tells me to click on start again.
Created By: southern_belle722
---
Tried several times to access the app and each time I received a message that my session has timed out and to go back to applications and click the Froo selection. After not having the ability to connect with the app I just gave up and deletion is next. So Good Luck I hope it works for you because it doesn't work on the latest iMac .
---
Very easy to use and looks great!
Very easy to use and looks great!
---
it was working fine but now it says I revoked access to twitter(twitter says I didn't).sent an email to cs about a month ago,still no reply.worthless
---
HOW MAKE MONEY ONLINE AND GET PAID
IT,S SIMPLE AND LETS CHECK IT OUT
---
I love this app, a big help!
The Froo helps me out so much with listing extra sale items, and even posting updates for me. I Definitely recommend this application.
Created By: jesses_girl_artisan_bnb
---
I just started this application so far so good doing everything I needed to do so far.
---
This is an awesome app!! Love that I don't have to manually do the work that this app does for me.
---
very happy with this app I recomended
This application provide more exposure to your ebay business is a plus, very good!
---
easy way to get out the sales
Created By: irisfitzgerald2012
---
Great App
Created By: jazzyraeshoesandmore
---
Very Poor App Doesn't Work Half The Time!!!!!
Besides the poor App NOT Working The Customer Service never responds and don't care about their customers just collecting their Monthly Fee!!!!
Created By: buydirect.inc
---
section expired
Created By: couture-decoration
---
Great way to move products to social media.
Thanks, great app that I use delay.
---
Makes listing in multiple places easier
I tried a different app but was not satisfied with its progress so I switched back to Froo smart social and am now satisfied thank you
---
Very and efficient to use
Easy to use and very convenient
---
Helps me list all my listings daily!
Created By: timetoshyne89
---
Greating promoting tool.
Created By: leshersdiecasts
---
my items never listed on face book
---
Been using it on two accounts, love it.
Been using it on two accounts, love it. Makes life easy and seen good resuls as of late.
Created By: allaboard_the_crazy_train
---
Social Advertising Made Simple
OK, you have an eBay store, you are listing like a mad scientist, and now you need to let your social groups know what is available, one by one telling everyone, I say nay, this hands down the easiest and fastest way to broadcast all of your items at one time. With scheduling features and history monitoring you will be able to keep track of your social broadcasts.
Created By: seanfoxbell51
---
If I want to post my items for sale to my own Facebook and Twitter, I can do that myself.
Created By: squidoolensmaster1
---
This app is very useful, and easy to use. Can't beat it for the price either!
Created By: pinnaclebns-us
---
a little hard to navigate, generic looking
Even though I cancelled my subscription, it has relisted items automatically, making the lising go on twice-against ebays policy. I paid for listings, just to cancel them....still happening
Created By: righteousvintageapparel
---
---
This is very excellent application to advertise your eBay product on Twitter and Facebook.
---
I like this app it is very usable
---
gdfgfc
Created By: googlemyspace
---
Awesome and very helpful to get more views and increased chance of sales. AAA +++
Created By: numiscoinsjake-357
---
great idea
Created By: borilisyelizabeth
---
nice app to have to get products out there
---
I had a uptick in sells in the past but ever since the app stopped working I'm losing a lot of money on eBay I'm thinking about polling my store off of eBay.
---
nice
Created By: eaglecopiersolutions
---
Great way to promote on facebook
Nice way to post on facebook- have sold because of this
---
this app is very easy to use and my stores items get put right into twitter and facebook. great increase in sales!!!
Created By: sonshinehighendjeans2013
---
This app doesn't really provide anything special that I can see. Maybe I'm missing something?
Created By: wrappedclothing
---
Great way to get more people to buy your stuff.
Its easy and free.
---
works well for a free app.
works well for a free app. could stand to have a little more flexibility and options.
---
The rules are not followed
I setup the rules to post in my facebook page once every 2 days, and after contacting the support twice, is still doing the same. You don't want to get annoying with your followers, is very easy for them to just unlike your page. That's all they need to do if you are too annoying and post twice in less than 10 minutes.
---
Seller easily answer your query thru text messages, gives you an option on your requirement
Created By: bangketa_sale
---
good
Created By: estatesalefraggle
---
The Book Worm eStore Loves this Application Specializing in collectible, unique books
The Book Worm eStore Loves this Application Specializing in collectible, unique books
Created By: book.worm.estore
---
very good and user friendly
---
Works perfect, as described
---
Stopped working suddenly for no reason. No response from customer support!
Completely useless. Can't even subscribe again, shows rejected with no reason.
Created By: darkartsdealer
---
I just wish my photo's would come up with the item on the front of facebook.
Created By: rememberwhen-2013
---
Great app, I only have to list on ebay and it post to my facebook without me having to do it twice!
Created By: sunshinewareboutique
---
Easy to setup and get going!
It only took a few minutes to get this set up. The app posts items to Facebook and Twitter at a frequency that I setup and when certain events happen (5 or more watching an item, etc.) Very cool app.
Created By: tollgateonline
---
---
Honest Fast Service w/ a Smile and Welcome Back
Guaranteed satisfaction on your coins at wmv2013 or Valentine's Lucky Coin Shop or your money back , Thanks: Lucky, " Owner "
---
This app is quick, painless and wide-reaching
We have used this application on our social network pages for several months now without a glitch. Once you tweak for your posting preferences, it is great!
Created By: machinetoolguy
---
Great app for integrating twitter and facebook and best of all its free!
Created By: highendthrift
---
I couldn't figure out how to tweet about all of my listings regularly over the course of several days. I also couldn't create a tweet that just stated the title of my item. Very limited application, but it seems like it could be fixed to be useful if the developers looked into it. Ah well. It is free, after all.
Created By: thesimplelittlewardrobe
---
I have the time to update my own status on social networks so its not as valuable to me but at least it does what it says it does unlike most of these other apps.
Created By: sandysjewelrybox
---
This is a great way for people to see my other items!
Created By: myhomemadegifts123
---
This is a great tool to promote your eBay items
Want to make everybody aware of what you're selling? There's no better way to do it than using this great app.
---
this is a wonderful tool to help promote you e-bay items. Get It!
---
Easy setup and once done it automatically posts your listings on facebook!
This app has been great for getting more exposure for my listings. Even people who are not regular e-bay users can see my listings and post their comments. I have been able to widen my client base and can easily interact with customers to answer their questions.
Created By: ravishingredsjewelryandgifts
---
Been working great on facebook posts for over a year now.
Been working great on facebook posts for over a year now.
---
says expired token???
Created By: skryzmoskisisters
---
Can't post on Facebook and support is not helping at all
I?ve been trying to post my items on Facebook for 3 days but the rules that I create don?t work and I can?t post one single item either. So far I managed to post one item in 3 days. I sent a message to support and they replied to me with a copy-paste message that didn?t answer my question. The message gave a link for further assistance so I used it and I ended up getting exactly the same copy-paste useless message. This app is supposed to make your work easy by posting your items on Facebook for you but to me it?s exactly the opposite as these last days I?ve been just wasting my time trying to make this app work out. I give it 2 stars just because it works very well with Twitter.
---
It's so useful. It has made everything so much easier to handle.
---
Easy to use and very effective.
---
GREAT WAY TO HELP MY BUSINESS
VERY EASY TO DO LOVE THAT!!!
Created By: mysticcreationsbylisa
---
excellent
Created By: aspenandescom
---
a plus
Created By: kikimodayfashion
---
---
I don't completely understand it.
I don't completely understand the app but I think its saving me money.
Created By: wiley64smilie*
---
---
Very limited in Options...
Very limited in Options and most of the time annoying posting to the social media, The 2 Stars is for the Free App.
---
Only caution I have set up the rules sparingly or you will get booted for spam. But the app itself is top rate. Judi Singleton Ringsonurfingersandbellsonurtoes.com
---
não estou interessado nele
---
I love this great idea! It saves a lot of time! Thank you for making it FREE! Thanks a lot eBay!
Created By: artisansoapinvegas
---
I love this app so much, it is amazing.
I love this app because you can send your adds to different social media outlets either one at a time, a bunch at a time or schedule them to posts every certain amount of hours and choose a message to go along with it.
Created By: thegreatshoppingplace
---
been using just about 6 weeks... wish it did more social venues .. bur really love the simplisity
Created By: outofthec10set
---
Very Cool App
Created By: miamiindustrialsewingmachine
---
Fairly easy to use, instantly increased my traffic
It's like free advertising
---
Let this app do the work for you.
---
Great way to promote without spamming.
I love this. I only wish it showed the photo of the item that I am trying to sell.
Created By: charliegirl01
---
Have not noticed any change in sales
I guess this app is working properly. I see where it is posting to FB and Twitter as instructed but it doesn't tell me how many people it has driven to my eBay store. That's about the most important thing I would add to the app.
---
This igreat app! Helps me to highlight store, when have time to include FB, pinterest
This app allows me to tweet
---
Works as described, but with no results
The app does exactly what is described. It emails buyers asking them to like, share, etc. It also adds icons to listings to make it easy for buyers. However, when its said and done this promotion didn't drive 1 single buyer to my pages. The market of Facebook and Twitter is so flooded that the icons don't drive people anymore because they are everywhere, and just like me, buyers ignore these email and icons as spam.
---
Perfect for people who don't like to keep up with marketing through social media.
I love working websites and eBay but hate the marketing side of it. This app takes care of that problem...they do it all for you! Highly recommend it!
Created By: sassygurlzdecor
---
Nice App but did nothing for my business
It looks pretty and interacts well, but if your facebook page is not 100% up and running then this is not the app for you. I have 500 people on my page and not one person looked at or used it. After 6 months I cancelled.
Created By: fgillette1964
---
Once I got it set up its an awesome app. Will recomend..
---
It has help me sale more items..
---
I love this app! User friendly. Easy to set up. I love the fact that I just pick my items that I want to show up on my Facebook timeline every 1 hour! Great!!!
Created By: willowwitchspagansupplies2010
---
---
I love that i can network out to my friends and friends of friends thru twitter and facebook. I think it's the awesomest tool eBay has.
Created By: scrappinmamannat
---
Great way to connect with the social media
We live in the times of a great boom of the social media from all the new companies that provide you the platform to promote the items you have for sale. Froo! Smart Social is promoting the items you have for sale on Facebook and Twitter, so the more followers or friends you have the greater chances you have to sell your items and needless to say to get so much more exposure which is what every seller wants for it's store. P.S. plus it's completely free(not just to try but to try and keep on using it)! Looking forward to many more applications from this great developer. Thank's Froo! Your friends and clients at rem4win.
---
They took time to show you how to work this
awesome
Created By: wesellconsignment
---
Have used the free version for a couple weeks. Has already increased my exposure and business has gotten a boost. Love it
---
---
Very Nice Sevices Through Froo:
I use this service often. However it can only post a max of 20 Items. Additionally with Facebook you only see a link with no photo. I have to pay HootSuite to tweet them and link the tweets to facebook
Created By: spoiled*material*girlz*blingz
---
Excellent tool I love it...!!!!!
Easy to use and great application to get your sales up and your name out there.
Created By: anthonysproject
---
Easy to use and works all the time
I love this app, it is so easy to use and it gets me tons of free traffic to my store and listings. Thank you!
---
Amazing -- I love getting exposure to my store through social media.
This app is extremely easy to use and set-up.
---
Works great for advertising my products on Facebook and Twitter accounts! Love it!
Created By: legendofadragonandadeer
---
No trouble shooting guide
Shows I changed my facebook passcode when I didn't and no giude to fix it.
---
thank you your business .
thank you your business .
---
Love this App! No need to send out my newsletters.
Created By: zirasboutique
---
ITS FASE TO GIVE INFO ON TWITTER AND FB FOLLOWERS TO SEE WHAT YOU HAVE INSTOCK. QICK AND EASY
Created By: keepyoudriving
---
Goog App
Created By: gruponkoeshop2012
---
Very nice app for the price. Does exactly what it says it will do and with ease.
---
Works well for me, I like it very much!
Created By: katsthriftytreasures
---
COOL APP HELPS WITH SALES
Created By: jld.msr49562012
---
I have had great response from this app!
---
Great way to reach friends and others on your page. Plain curiosity sometimes brings out the best response.
---
wooooooooooow they are good
---
I used this for my Ebay clients Twitter account,but it started feeding to my other clients Twitter account. I contact FROO twice and they could not help with the problem. My advice. Look out if you manage more than one Twitter account.
---
Love the views and conversations of our twitters and F/Friends...A very interesting way to advertise :)
---
I only had two tweets that worked. It was suppose to send one every hour. didnt do it.
---
just started with it but I am loving it.
Created By: christinawhisler2012
---
I hadn't had this app in the harness more than 30 min
---
Great app, but I wish I could list more items at once.
Created By: blueshark0309
---
love this application, makes my store look pro.
love it
---
Froo! Smart Social is a seamless avenue to cross promote your products across different social media platforms. I do have one recommendation: link it with Pinterest.
---
---
---
Looking forward for this app to better my sales
Created By: randyman.2012
---
could never start the app
- error mess liked to connection
Created By: inyotortoise51
---
great
Created By: darkprinceinc
---
Doesnt have bugs like so many other apps, pretty sure it will bring sales though...
Created By: new-age_remedy
---
Create more business by putting your listings on your social networks.
---
really got my items some veiwers and a sale
---
Hard to orginize what listings to post.. Not enough options really for any part of this app
Created By: cardboardphene
---
Great social app to advertise your products for Free!
---
I wish they would work on integration. A lot of my friends don't see the listings in their facebook.
Created By: treasuresatcheles
---
I have received a lot of positive feedback from other ebayers
I have received a lot of positive feedback from ebayers who used this app from my page. This app has drawn more attention to my ebay as well as subscribers.
---
I LOVE USING SMART SOCIAL MAKES IT EASYER TO REACH OUT TO PEOPLE FORM ALL THE SOCIAL NETWORKS YOU USE AND LOVE, I RECOMMENDED USING THE GAGET BECAUSE ITS ALL YOUR SOCIAL NETWORKS IN ONE.. HAVE FUN USING SMART SOCIAL PEOPLE
---
Good to get in touch quickly
i have still to work on it and get more experience. A far as it say it is safe...i recommend it.
---
It does what it says. Just installed it so I will play with it a little to see how well it works. so far, so good!
---
---
This app automatically sends to Facebook each item that I list on Ebay, I don't need to do anything. Excellent!!!
Created By: autographsfromhollywood
---
horrible cant even use it
constantly saying session has ended....
Created By: sdwliquidation
---
It won't allow HTML to be added to description. What I need to add has html in it. Therefore, I can't use it. If it allowed html, it would be really useful.
---
This is my who knows attempt to launch the app and it fails. Very frustrating...
Created By: soapsbymarina
---
It Brings Twiter and Facebook together
Created By: bethaplaceintime
---
Posts same item multiple times on Facebook - no help from customer support
This application is a great idea except for the fact that it posts items more than once on Facebook. Have tried to contact customer support, but have received no help.
---
All of my friends and family members are begging me to make it stop!
---
great
Created By: glory-to-glory
---
Connectivety without connecting?
I have not once been able to use this app. How can I be logged on to another computer when I have never logged on period?
---
ok
Created By: trueworshippers2011
---
Doesnt work waste of time
---
the items are saposed to be added to my fb page not my profile, they take up too much space , id like to cancell it
Created By: 2011suzanner123
---
was able to notice a bit of a difference on item views after this
Created By: turnerman13-us
---
Seemed good. Was awful.
Created By: automatinteriors
---
---
Bring positive change to my Web promotions and Easy communication.
Easy connect with friends, customers,and family . buyers and sellers.
---
Great app. It shares what item's I have on eBay at Facebook and Twitter.
---
super app !!! helps give your social community to see what you are selling.
helps give your social community to see what you are selling.
---
This Apps Got To Be One Of The Best Apps There Is.Always Putting Your Items Out There So Everyone See Them,And Helps Your Sells
Created By: 2011ddonlinesales
---
AWESOMe
Created By: alexalexharris7
---
---
Dressed in the finest fashions, entrancing "Gwyneth" is a charming addition to the Anastasia Collection. Certificate of authenticity included. Porcelain. 18" tall.
Created By: chris.lisa192012
---
This app does exactly what is says.
This application is wonderfully CLEVER! Also I love the feature that posts the listing over a period of time truly useful for multiple listings...saves me time and effort while still getting the exposure. I am grateful for this app!
---
needs more social networks.
works, but not that good. I could do better building my own poster. sorry.
---
Great tool for marketing
Created By: mimicdesignz08
---
We at GoldAtom.com LOVE froo! It's so EASY to market Sci-Fi
Great automation, easy to edit and set up campaigns that help you cross promote items, announce new stuff, shipping discounts and more, and you just "set it and forget it" and then you are literally marketing to your Facebook Fans and Twitter Tweeps on autopilot, while you sleep... set up for as little as you want, with hourly, daily, weekly settings. Very cool feature, and one of the MOST powerful tools available. Brings a flood of traffic to your ebay auctions if you do it right... we use it for all our GoldAtomComics store auctions and we love it!
Created By: goldatomcollectibles
---
For a free app, this works pretty well and I am pleased most of the time. On occasion, I cannot access the app and must delete and re-install.
---
Excelent, great customer support, super fast and helpful!!!
Created By: hollywoodmemorabiliastore
---
I LOVE Froo! Smart Social! It automatically shows my listings in Facebook so I don't have to!
It saves me time AND exposes my listings to more of the world!!! GREAT Product!
Created By: jordan_denise
---
GREAT HELP THRU SOCIAL MEDIA!!!
We have had alot of interest brought to us thru Twitter
Created By: tandhsportscards
---
pretty good app.
Created By: connorkitsunedesigns1
---
First said I posted too many thing so then I only posted 3. Still nothing is posted at all. Don
Created By: chardongentry
---
Good tool to promote your products sales
Easy to release news to your social media.
---
Easy to use and saves time.
---
great !!!!!!!
Created By: artgifts_decor
---
DO NOT WASTE YOUR TIME! SCHEDULED TWEETS WHICH WERE NEVER SENT TO TWITTER CONTACTED CUSTOMER SERVICE INSTEAD OF RESOLVING THE ISSUE THE COMPANY CANCELLED MY SUBSCRIPTION WITH NO WARNING! HORRIBLE ABSOLUTELY HORRIBLE - NO WORTH HEADACHE!
Created By: hautesalesgal
---
★ª"˜¨¨★ª"˜¨¨¯¯¨¨˜ª¤.¸`*•.¸*•¸★☆☆ FANTASTIC ☆☆★¸•*¸.•*´¸.¤ª˜¨¨¯¯¨¨˜"ª★¨¨˜"ª★
?ª"?¨¨?ª"?¨¨¯¯¨¨?ª¤.¸`*?.¸*?¸??? FANTASTIC ???¸?*¸.?*´¸.¤ª?¨¨¯¯¨¨?"ª?¨¨?"ª?
---
I recommend this to all sellers.
As my Facebook friends and their friends have seen my ad's some of them have contacted me and they tell their friends. It's a great way to get your products out to the masses......
---
helped my traffic increase in one day!
I don't even h
---
Get your listings out to your followers!
I love this app!Ease of use is important to me and this one is easy to use. Getting my listings out to my followers an Twitter and Facebook can only help my sales!USE THIS ONE!
---
I try to post on a regular basis and sometimes it doesn't show up
---
Good concept but posts too many tweets even when the option was set to 1 per every 24 hours. It would post 2-4.
Created By: bigearlsmarinerepair
---
Loses connection to Ebay, will not "see" active listings sometimes. Will fail to perform rule based posting when it happens.
---
Very good way to spread the word
A+++++++ application
---
great for displaying i love it
really helps people see my other listings all at once.
---
Its soooooo easy and effective its amazing
Created By: americantruckdismantling
---
looking forward to sell more
---
I think it sucks that you can't post the picture along with the title description.I am unsubscribing
I think it sucks that you can't post the picture along with the title description.I am unsubscribing
---
Never could get it to connect to FB page
Might work for you
Created By: mixed_sources
---
I didn't have enough listings to make it anything but annoying on facebook.
---
Good app, needs more rules
Great app, just wish I could make more rules so I wasnt posting non stop
Created By: nationwide_auto
---
my eBay store looks more profecional!!! Thanks!!
Created By: 7starsautoparts
---
Easy to set-up and effective!
This selling app was easy to set-up to facebook and twitter I believe it will help me get the word out on my auctions more bidders and more money!
---
Fantastic, Easy to Use and Download.
---
- simple and effective
Created By: dbcreationsnet
---
Post products on your wall of facebook.
You can post products on you wall of facebook or twitter anywhere from an hour to per day.
Created By: wantandbuy2012
---
Great time saver to post items to my Facebook fan page.
---
I love how easy it is to use this app!!!!!!
Created By: exclusiveconceptsinc
---
Does not even work after install
---
worthless..
Created By: zeroknightentertainment-us
---
no support, you can make your own page
unnecessary, save the 95 cents, no support, tried it for 3 months.
Created By: retroindulgence
---
not sure having seen any thing on my end
Created By: treasureislandtradingpost
---
This program worked for about 3 months, and then it stopped scheduling posts for me. After going around with customer support 3-4 times, they didn't even get back to me. The rules that are provided on this program are too limited, so if I couldn't schedule listings to post, then it was pretty much useless to me. Sorry! Too basic, and bad customer support.
---
Countryfinds Collectibles Antiques Maintained by: Member id countryfinds just AWSOME
---
this application is i need exactly. excellent for free :)
---
I've had it since September and I've had no problems whatsoever. It works really well, but I wish the tweeted links would lead the customers directly to eBay as opposed to a Froo landing page. I'd also like it much better if there were more automated options. But the manual input still qualifies it as a GOOD FREE product!
---
Horrible Customer Service, And Nevetr Could Get Connected
We have purchased several applications, and this one BY FAR was absolutely the worse. We could not get get connected to our Facebook, and the customer service at Froo should be fired. We wrote many emails asking them to help us with this problem, and they kept responding with the "same" message back which we told them that we had already done what they asked, and yet it still didn't work. I guess the job was just too hard to connect us, because THEY actually cancelled our "free" trial. UNBELIEVEABLE! What a waste of our time......
---
EXCELLENT way to get nore exposure
If you haven't tired this application then you should. It is a very good way to let other people know about and see your eBay listings.
Created By: bharrison.918
---
LET'S SEE HOW THIS WORKS! FIRST DAY USING IT
Created By: sunshine101368
---
GREAT APP TO USE FOR EXPOSURE ON YOUR SOCIAL SITES.
Created By: onlinegiftsandgadgetsgalorestore
---
Over Promises and Under Delivers
Found this application to be very glitchy - not posting as promised. Found customer service to be very, very lacking. Great idea, but between glitches and poor customer service, not worth it.
---
This is so easy and fun to do
this is the best way to get noticed free
Created By: sweetness2001
---
MArketing for your ebay buyers
This markets your items in the internet ,brings in buyers to you ...
Created By: girlsauction2
---
works very well with twitter.
Created By: jewelry-super-center
---
Excellent service
Created By: thesigncenter
---
I'm afraid this app has overpromised and underdelivered.
This app did not send updates as it was supposed to. The rules function did not consistently work, and even the instant update function did not work often enough to be worth having. I think this app is a great idea, and I like how it is set up, but it doesn't work. If the basics that are there now are corrected, I would use this app. I'd also like the functionality of being able to have multiple similar rules, i.e. more than one type of each rule.
---
wow
Created By: richyboy123456
---
very cool,one more easy way to expand your business.
Created By: the-inexpensive-general-page
---
Had some issues - got them resolved!
If you look at my previous review I would like to amend it. After speaking with ebay
Created By: junkyarddog0442
---
I have not used this service very long, but it posts to Facebook as described. Some other apps on eBay either don't work or are very glitchy. Hopefully, at the end of the month I will be able to calculate whether or not I have received any benefit.
---
This Is One Of The Best Things To Use On Facebook!
Created By: sellersxparadise
---
I am very happy with this feature
I am very happy with this feature
---
Listing not showing on face book all the time you have to force it when I try to set up auto listing the item was not showing.
Created By: wirelessplus1001
---
Won't let me subscribe
Created By: rlsdiscountstore
---
Great APP!!! automates marketing via social websites
one of the best apps for marketing on social websites.
Created By: unique_antique_gallery
---
---
A pain to use, and never really worked right.
---
SO FAR SO GOOD! I was worried they would automatically sending all my listing to both twitter and facebook ,and i didnt really want facebook which had close friends and family on it used for advertizing,but they let you activate one both its up to you, it is super easy to you can send all at once or pick which ones and send or send one at a time and add ther per typed titles or add new ones ! awsome much better then going on each listing as hitting tweet :)
Created By: a_plus_apparels
---
set it up and set back!!!!
---
awesome i have lots of connecitons on facebook.
great!!!
Created By: mnmlookifudare
---
Awesome...one of the best FREE app to use for ebay !!!
Got started in like 2 mins.
---
Phenomenal app! Saves a ton of time and seemlessly advertises for me using twitter and facebook.
Awesome app. No complaints. Very easy to use and helps to advertise items for sale within my eBay store and the searchable content on Twitter and Facebook via search engines like Google has helped to increase traffic and views. Very awesome!
Created By: vendition_llc
---
Nice to have the exposure of facebook and twitter.
---
Did not work with the rules I set up.
Only will work if you manually check and post one by one
Created By: blackleafshetlands
---
Great Way for Fast Free Marketing Thanks
Created By: bigskypickers
---
SELL MORE
Created By: vintagecycleparts58
---
I like how this app works.
---
love to connect to customers through FB! increases sales
Created By: drunkenmonkeyeatsaltoids
---
Good for automatically updating your site with your items.
Wish you could set different time variables and sayings.
Created By: ritchierichritter
---
this app wants to be able to POST WHATEVER IT WANTS to my status whenever it wants AND it can access ALL of my facebook pages?????? NO THANK YOU!!
---
When it runs, the app shows every item twice, together. Right now I have 13 items so when the scheduled run starts, my social network looks like an EBay listing with 2 of every item. I finally was able to change it to run every 12 hours instead of 6 and changed Newly listed from last 7 to last 2 days. I am hopiing the change will put out the double exposure as friends are getting unhappy about it
---
Now I can take advantage of facebook and the best of all, freeeee
---
Great way to get your product out socially.
I love this app and cant imagine not wanting to have this for there page.
---
It works when it wants to work....Great concept though!
I have tried to post my listings on Facebook about 50 times and it has worked about 50% of the time.
Created By: mooncraig1974
---
It's great to have an app to advertise on my social sites. It keeps me from over or under doing it.
I like it because it's so simple to get and set up.
---
i love it
Created By: worthyoflove88
---
from 5 to 100 views instantly! GET THIS NOW!!!!
I would recommend getting this, I was getting poor views for about 3 months now, only getting 5 to 10 max views per listing, but really most of all the listings only got 1 to 3 out of 500 listings I did? But Now eBay truly blessed us with this APP, I am pround to say that I am getting 70 to 130 page views per listing now, I AM JUST STARTING OUT? LOL! WOW! THANKSSSSS_____
---
Basic application with limited features, but works well. I've contact the customer service twice and both times they were very responsive. I would give 5 stars if there were an option for more functionality, such as being able to add multiple rules of similar types and be able to control how often a listing is repeated (we had one auction post twice in a 48-hour period). Would also like the option to pay in order to have link go directly to eBay auction page instead of Froo's gateway page.
---
Great application, easy to use, great way to advertise the eBay business and items being sold
Created By: amystreasure07
---
---
The Smart Social app is very easy to use and can be very effective. There are automated options and manual tools for the #savvy Twitter user.
---
I think it needs some updates to work with Firefox. I have had to keep re starting the app a lot. When it does work though, it is outstanding. I really love it and it has brought me new business. Just wish it would stay on.
---
easy to use, great help.
Created By: computerparts1
---
great way to set up rules to automatically remind people of new items/auctions, etc...
Created By: perfumegirlrebecca
---
It worked well intially. Now it constantly gives error messages.
Whenever I try to tweet, "Invalid Response Error" pops up. Also, none of the automatic/scheduled tweets have went out since the intial setup.
---
It helps me promote my products in an effective way...
Created By: freedom_tree_group
---
One day, on a whim, you think, "Hey, my friends would LOVE to know whenever I'm selling stuff on ebay. Because? WHO WOULDN'T? I have some pretty cool stuff! Amirite?" But you know what? Your friends DON'T CARE that you're selling that pair of Frye leather boots that you bought after you saw them on Miley Cyrus in the July 2008 issue of Lucky magazine and wore exactly ONE TIME because what Lucky failed to mention is HOW FREAKING MUCH THEY WILL PINCH YOUR TOES! But you know what? Too bad. Froo doesn't care. Froo doesn't have an "unsubscribe" button. So instead, every hour Froo will update your Twitter
---
dont ask them for anything! They will ban you!
i tried to give thesse guys pointers on how to make their product better and told they i would rank them higher and they said they would report me to ebay for threatening feedback and banned me from this sub par app LOL
Created By: natordask8or777
---
Everthing worked great for about a year, then.........
......when the app started having problems I asked for their help and they booted me and will not respond. Avoid these a-holes because they don't give a crap!
---
Everyone who sells on eBay that has a twitter or Facebook account needs this App!!!
---
Easily share your eBay items on your Facebook or Twitter page in moments. Simple, effective, and even better, free!
---
very easy to use:-) has really started helping my bottom line:-)
---
Does the work for us. We used to tweet every day and now this app does the work for us. Great job, sales and watches have gone up as well.
Created By: brooklyns-best-bargains
---
OK but a little cumbersome screen. Looks
Created By: righteousone2014
---
Seems interesting so far.
---
Goes directly to my wifes facebok etc...
If it works
---
works just as it says...FINALLYYYYY
THANKS FOR ACTUALY CREATING A PROGRAM THAT WORKS...AS MOST PROGRAMS I HAVE TRIED JUST DONT
---
Fast in answering any question love my job take a look on our inventory thanks :o)
Created By: momknowbetter
---
The app continued posting items that I had ended. . .up to 2 weeks later.
I liked the extra exposure that this app provided, but having to remove posts of items that I'd ended and items that had already sold caused problems with customers.
---
never thought it worked but it did :)!!great and wonderful app
Created By: datsillyolbear
---
it is a great idea but over all it is easier to just copy and paste a link. Had trouble with the links not working, couldn't check the box to turn off the help tips, automatic posting rarely posted like it should and then posted with a broken link. good idea just needs some work
Created By: eclecticcountryhome
---
---
Interesting, But don't really need it
This app is kinda cool, but I don't always need it. It's handy if you want to post alot on your facebook or whatever, but for someone who doesn't want to or doesn't care if they do or not, it's not really needed.
---
It help me to market my products
I can share with my social pages and still manage my ebay states
Created By: ksbasketskreations
---
Great app.but every link looks the same. It needs more detail or item title in link
great app but not enough info on link. wow another great item! gets alittle tedious on my social pages
---
Froo Applications are always Great
Hi, didn't get to try this application. Yet I'm giving you 5 stars based on my experience with Froo applications (templates) in the past. For some reason I' being rejected. I did have to cancel my paid Froo a while back due to my business partner not wishing to use the templates at that time. I found the templates and all Froo apps to be great. If you can help me, that would be great. Otherwise I do want to Thank you for your time. Thanks! Mathilde eBay id: josymaude
---
---
It never did any automatic tweets or status updates for my new listings. The Tweets are missing the Item Title. Unsubscribed.
---
This app doee exactly as it says in the details. Use it everyday
---
This app. makes it easy to market my products to my FB friends! The rules that are created allow me to control the frequency of posts.
---
I just don't know about this. It sends out some tweets and posts, but I just find that I get better response from doing it myself. Maybe, I just don't understand the program and what it is actually doing.
Created By: krazykatfiberhaus
---
Seems to work great on face book
Created By: gombitaenterprises
---
Super great idea!
Created By: raquel_chevallier_mga2005
---
easy does all the work by itself
---
I was rejected every time I tried to use this software.. It's a Poor application.
Created By: dncra84200910
---
Nice idea but it gets glitches and you can't fix them without unsubscribing.
---
Fantastic application for eBay sellers!
Great time saver for promoting store items within the social networks. I love that the app is so user friendly.
---
This app does what it says. I like that you can manually choose which item to post or have it do it automatically. Good stuff.
---
Love it! Just what I needed. It was an easy setup and the scheduling is so awesome.
---
Does What Its Supposed to Do - Saves Time Posting to Your Social Networks
I like this app. So far, it's doing what it says its supposed to do, which is save me time posting to my social networks. You can set your own rules. I have mine set to post new listings only every 48 hours, but you can set it to do it more often. The only caution I would give is to be sure to keep plenty of active listings. There was a point where I had only one listing because I was revamping my store and it just kept posting that same listing to Twitter and Facebook every 48 hours, which I'm sure drove my fans crazy! Overall, I think Froo! has done a great job with this app and I would highly recommend it.
---
It still post after cancellation and does not follow rules posts all really annoying
I have unscribed and it is still posting more than ever seems like all my listing are covering everyones pages on facebook..Needs lots of work..
---
More options would be better, as to not "spam" too much.
seems like a lot of individual listings look like spam. Should have option to "mass" list on one message, several listings.
---
after 20 tries to contact support they keep telling me I am entering the wrong security code
not all my listings are showing up in the list of them your application generates and you cannot contact support.
---
Needs more customization.
I want more control over how many times and when the application updates on facebook.
Created By: rummagetreasure
---
Does not follow rules you set up, post same listings at least twice.
annoys people more then anything. Might be nice for people who only use their facebook and twitter page as a business. App does not follow the rules you set-up. Post the same listings over andover on your social pages.
---
Looks good in description but poor in practice. Looks like very LITTLE testing, if any at all, was done on this. May be free but not worth the effort to try and ZERO support when you do have problems.
Created By: michaelcraig62
---
---
Works, but grossly inadequate!
"Don't show this message again" problem is one I assume will be fixed quickly. However the following MUST be addressed: Current setup is geared to promote those items which do NOT need it over those which do. Rules: needs multiple divisions for newly listed items by social site, by time listed, by time remaining, by current bid/price, by REVERSE popularity [fewer watchers/bids], by messages, by item-type, and more. More social sites needed. More choices needed for which item descriptions to include, not only item title. When these choices are made available, this app will get 5 *'s; until then, I am better off making my own copy and paste postings from a WP/web document, and can do so in very little time.
---
Love the increase in sales!
Using this application just a few short days and the amount of sales increased dramatically...Love it!..Very easy to use.
Created By: tanddgiftsandvideogamesgalore
---
---
Awsome App, Trully a benefit
Awsome all arround, this app is on autopilot and if you have a good Twitter and Facebook Account you can make a lot of extra money!
---
This app works just as stated
---
This used to be the best source
I used to love this app. But that was when they posted every hour.... now they post one per day... so if you have 24 auctions ending in one day that you want to post... you are OUT OF LUCK !!!
Created By: marylolagouge
---