Froo! Template Themes
By Frooition Inc.
(released Aug 14, 2009)
Customize your eBay listings with professionally produced themes. Select from a library of over 4000+ themes, quickly integrate an image zoom function and cross-promo features and further customize with your own logo.
Categories: Listing, Marketing & merchandising
If you are subscribed or want to subscribe to this application please
click here
for details.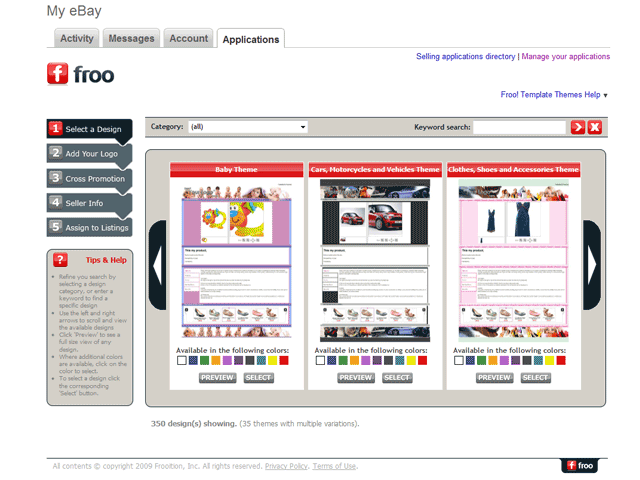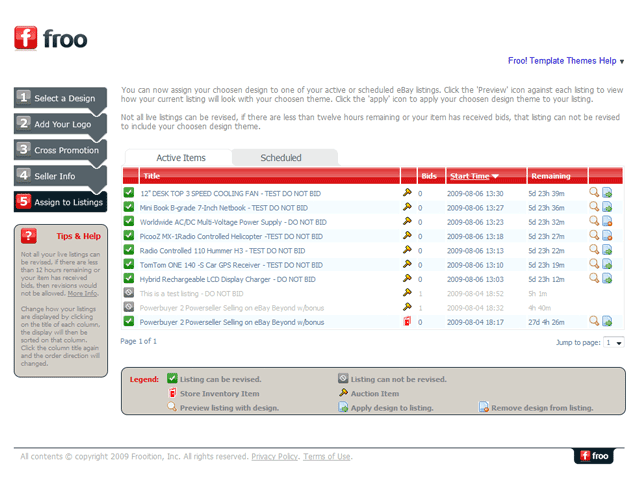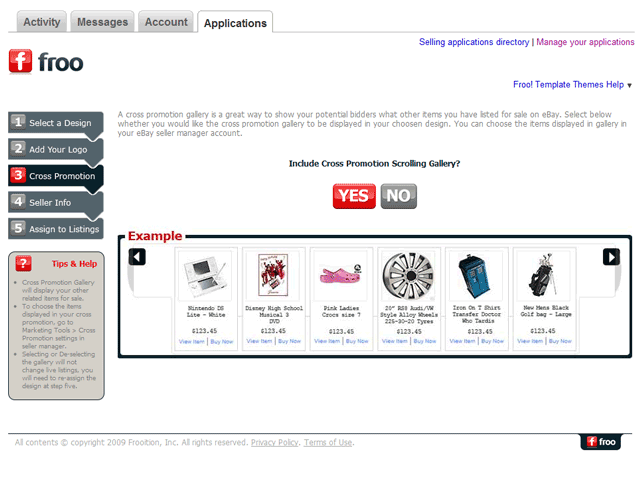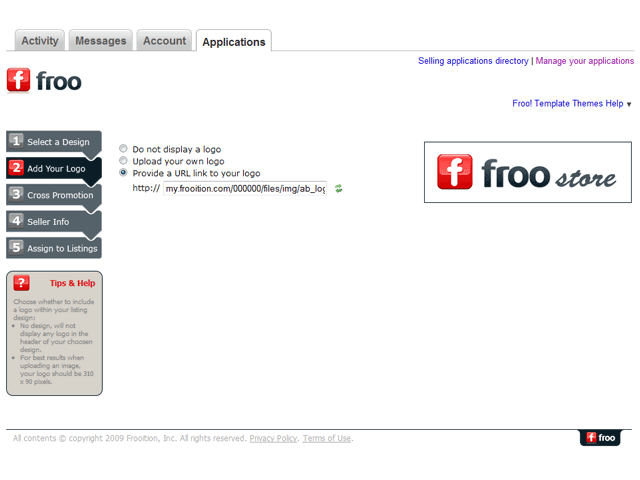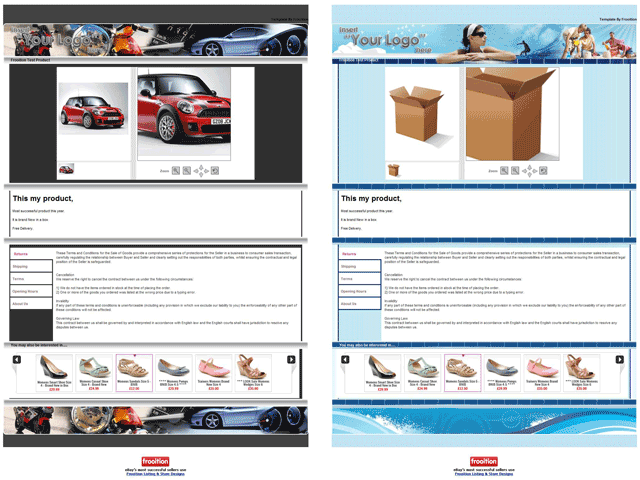 Key features
Apply professional produced listing themes to your current eBay listings.
Unlimited use for $3.95 per month *
Free unlimited use for the first 21 days **
4000+ Professional listing design themes to choose from
Image zoom function
Cross promo feature
Add your own logo
Easy to use software
Select from a library of over 4000 pre-designed template themes which are designed to suit most categories and items. Select one template for all your listings or different templates for each of your products or categories.
It's simple and easy to do and the results are amazing.
* subject to Terms and Conditions.
** Free trial only available for the first time you subscribe to the application.
Description
First Impressions count!
Buyers expect well presented & professional looking ad listings which clearly demonstrate that, as a seller, you are trustworthy and reliable. Professional sellers have been using unique customized listing templates for year – Now you can have all those benefits with Froo! Themplate Themes.
Created by world leading design house Frootion.com.
Froo! template themes give your product listings a professional look and feel generating more bids, more interest and ultimately more sales!
SELL MORE!
Additional resources
Application requirements
Supported browsers:
Internet Explorer 6 or later, Firefox 2 or later, Safari, Opera 8 or later
Supported languages:
English
Supported eBay sites:
ebay.com
Required eBay subscriptions:
None
Application support
Froo! support is available online, help and advice is available through our website at www.froo.com
Frooition Inc.
Frooition has been a leading provider of eBay store and listing designs for over 4 years. Frooition also specializes in providing design services for most other internet sales channels as well as web-site design. Frooition has been working with the eBay platform for over 4 years, and has thousands of clients in the USA, Canada and Europe.
Also from this developer:
By Frooition Inc.
(released Feb 24, 2010)
Amend live listings in bulk. Save Time! Save Money! Try For Free!
By Frooition Inc.
(released May 13, 2010)
Free scrolling cross selling galleries for your eBay listings.
Categories: Listing, Marketing & merchandising
By Frooition Inc.
(released Nov 17, 2010)
Intelligent social networking on twitter and facebook. Don't spam - send precise and targeted product posts to your social followers, build a fan base, get more traffic, sell more.
Categories: Listing, Marketing & merchandising
Once subscribed difficult to get out
Multiple attempts to unsubscribe have ended in further billings. Apparently, the my attempts were not recognized and I have to purchase a last year before the ap will be be removed from my account. No response from customer service regarding the problem.
---
difficult to contact
Created By: silvergoldbullion
---
It's automatically adds your new listings and is very attractive. Well done!
Created By: mtmineralsandcrystals
---
froo does not work properly and they do not refund 6 months of money.
Created By: philadelphiaeagles2017superbowllii
---
expensive and there are too many problems with the application. It is not user friendly.
---
Made my pages look so pretty my sale of bags increased
Created By: craftmentouchtreasurecollection
---
unsubscribed and they still charge me
unsubscribed and they still charge me.
---
App didn't work, I just signed up for a free app today. When it didn't work I discontinued, Only to get BILLED as severely late for $4! What a joke! NO one ever tried to contact me to see what's wrong. NO replies to needing help. They just take $
Created By: the_auction_trading_co
---
We noticed our listings started landing lower on eBay's first page.
We are now waiting for this team to remove the app as it has completely stopped working. Also, if you need to make a change or update to your listing, you will need to remove the template, then, re apply the template for the template to pull the changes from your listing. We do not recommend!
---
I used this app once and was not impressed. I then canceled my trial and revoked access. The app actually states that it is unavailable on my apps page... Yet, somehow they still managed to bill me!! I am not happy!! This app is a scam!!
Created By: beachybargains
---
---
---
TOTAL SCAM ONCE YOU SIGN UP YOU CANT GET OUT OF IT AND THEY KEEP CHARGING MONTHLY FEES!!! WOULD NEVER DO THIS AGAIN!!!
---
Froo keeps rejecting my subscription
Foo keeps rejecting my subscription and no matter how many times I try, I cant seem to resubscribe and no way to get in touch with Froo to fix what the problem may be! so frustrating!!
Created By: john-loveydovey1933
---
sent me a bill after i canceled 15 min after trying product which gives you a 21 day free trial, they need to fix this as im not paying because i cancelled 20 days before trial period ended, please fix your product...
Created By: ace_thrift_store
---
I have tried to cancel this app 3 times
Keep getting charged, even though after each charge I have cancelled. I feel ripped off.
---
horrible - awful - despicable!
See my review on their other apps! run!
---
Good quality helper for advertising
This app's a robust type of tool providing unique background's! Gaining better visibility for your ad's with this is so easy. Very simple to use just open it up pick your theme's and go. Ever since I've used this app my ad page's soar.
---
I love this app, but I had one custom built
---
I love it but as of today (7-31-16) I can't access it. What happened?
---
I will be keeping this app!
Easy fast and looks good!
Created By: grandmasterdyke
---
Lots of templates available and simple to use
---
i don't like it very poor app
Created By: wholesalefishingcenter
---
Terrible... Could not find out how to cancel
Froo has charged me for the past several months, and for the life of me, I have not been able to find any way to cancel it. Waste of time, waste of money, shady business.
---
---
Stay away from these people
All the listings I had on ebay got wiped out because of their messed up billing system. They were supposed to bill it to my paypal but didn't. When I tried to pay it didn't go through. They never returned my messages on how to fix this. They just canceled my subscription and half the information on my listings were gone costing me many sales. My advise find a reasonable listing template on ebay and stay away from these people. I was going to look into there design services but I will be going else where now.
---
Stay Away From This Garbage
There is no unsubscribe option and they will keep billing you !
Created By: thefatspanner
---
There are many templates to choose from although they are too comical and playful. Needs more serious, classic designs that look professional. Not worth paying for.
Created By: auroragemstonejewelryco
---
I cancelled cause I was not selling. They now have me passed due. No way to contact them
There is no available phone # or email by which to contact this company, I used ebay online via applications to cancel services back in April 2016 after I had paid them for a year. I noticed they had "pending cancellation" on it forever, never acknowledged my cancellation now they have 'collectors harassing me at all hours'. And threatened my ebay buying and selling. I contacted ebay 3 times and they were of no help, promised to contact me back with a valid contact for Froo, and never did.
---
Couldn't Unsubscribe and company kept billing.
Couldn't unsubscribe (no option available) and company kept billing even though we discontinued to use this app. Customer service must not exist. Don't waste your time or effort on this horrible company or app!
Created By: ready_set_collect
---
PLain.... Sorry no good customization
This template is great for beginners but if you are trying to customize it and be different from your competitors this is not the app for you. If you have a little knowledge of HTML the new ANITEMPLATES app is great you can upload and edit your own HTML Template. That app is for more advanced stores and better for your customer viewing you apart from competition.
Created By: onestopclassiccarparts
---
Being programmer myself I just wanted to try this app PLEASE DON'T DOWNLOAD it's GARBAGE!!!!!!!!!!!!
This will mess up all your ads eBay needs to remove this app I just did it for to see want it was made a mess..lol
---
---
This is a great app. Separates you from the crowd on ebay. Their theme choices cover the products and seller styles nicely. My theme is almost identical to our website which was a nice surprise.
---
---
rejected for no reason I'm a power seller
Created By: jsprestigeautoshinesupplies
---
I signed up when it was Free For Life
I am happy because for me it is Free For Life. Can't complain about that
---
I cancelled my subscription a long time ago and can't get them to stop charging me fees each month!
Great at the start, now I can't get them to stop stealing from me each month. I repeatedly tried to contact them with only "Error" as a reply.
Created By: thecapitalletterjpino
---
I have tried to cancel this for 2 months and still it continues to bill me.
I cancelled this 2 months ago and have tried to contact FROO but get no response. They continue to bill me but won't contact me about the cancel. Very frustrating...
Created By: digitalfinds2014
---
Did not work. Unable to contact support.
The templates would not go onto the listings. I even started new listings and tried it. No luck. Contact Support button did not work. Unable to get a refund.
---
Should buy it, works great!
Created By: usarmyman59edward
---
This application does not work
---
Liked using until eBay started charging for listings have to cut costs
Did like using the app. Till eBay started charging .30 on listings . Have to cut my costs to list now.. Sorry to see this go. It made listing easier. But I have to let you go, blame eBay?s new policy
---
BAD!.... FOO NOT WORKNG FOR YEARS!... TRIED TO CONTACT ALWAYS GET A ERROR, AFTER I TYPE WHATS WRONG!
SUX
Created By: greatstuffromus
---
I like it so far. Trying to figure out how to use it for multiple accounts.
I would like to be able to use it on multiple accounts. But I like it.
---
Customer service is non existant
Called support, emailed support, spoke to receptionist 3 x's still nothing
---
really good ... could be great with minor changes but for the most part it's good
Created By: thebonbonstore
---
Having problems for 2 months with app being unavailable, even though subsribed and being charged. *
8 messages to support group and never a single response.
---
The template hasn't worked for almost a year and have sent countless emails and tried to get ahold of someone. Never got a hold of anyone and had NO response. We have wasted money for the last year by not having any of our listing have the template.
Created By: jewelrygallery2000
---
I like the app but it needs to get more templates the one it haves seems outdated and I have not notice if there being new ones in the year I being a customer, also you cant use sell similar item because you have to go to the app and update your listing manually to get the right picture if not you get the ones from the previous one and is more work than it should be I have to do all my pages because I do not know which one is new because I have 20+ listings to create at a time. It also ends your sales on items when you add or remove a template or update it. Is ok but for what it does I would consider it would be cheaper like a dollar a month not 4 . Last time I checked theme does not work on mobile so if you want to subscribe test that before purchasing. Lastly I do not know if they work I have not receive a boost on sales since I have them, I used to sell more with my plain text description than this so try it to see if you like it.
---
---
Nice templates/ but lots of glitches
This is a nice Template app, however it has a lot of glitches, and needs MAJOR overhaul to work properly
Created By: pandorasbeadbox760
---
Love this APP, I have been using it for 3 years now,however, their customer service is horrible.
---
Got this application a few years ago. Had problems then and much like all the applications on Ebay it is never updated and remember now why I quit it. The zoom option doesn't display my pictures. Stupid things like not having a logo means having a empty box with an page icon just sitting there. Got this to look more professional but it makes all my pages look like an idiot runs this store. No sorry Ebay an idiot made this app years ago and is still cashing them checks while never updating or adding to the app. I'd give it one star except it's better than most of the apps Ebay offers.
---
It was not an easy application. My listing didn't look good.
I template cut off the photos. It did not work with the list already listed.
Created By: olympicposter
---
great listing theme templates
Only problem was listing photos appearing in template listing are too small. Love the variety of templates available and ability to customize.
---
---
poor quality, terrible service
I have cancelled this and they are still taking my money - the templates are rubbish
---
After using this i really love it
I did not want to leave a review till i had tried it for a while and now that i have, i love it. It is easy and works great for someone who is busy and on the go.
---
HOWEVER WE JUST WISH YOU WOULD CHANGE THEME TEMPLATES MORE OFTEN....SAME OLD BORING CHOICES AFTER AWHILE
Created By: pattylovesantiques
---
This is the most easy to use template I have ever come across!
Created By: countrysidepetsupply
---
This is a very easy app to use but saw no increase in sales over the past year of 2014
---
Tried it, loved it, keeping it, recommend it and its so easy too... Worth every penny and then some... A little more customization would make it FIRE!!!!!
Created By: juststuff4sale2011
---
great way to show case your items
---
Nice app, doesn't do justice with the pictures.
The templates are nice...but not of much use if you can't have larger pictures. Joe
---
Did not integrate well at all
I thought this layout would encompass my listing, but instead it was stuffed awkwardly at the end. The text overlapped some of the artwork, making the text impossible to read. It added nothing to the listing.
---
Nice templates but a bit redundant in that you have to complete your ebay auction then open this application to add window dressing? Also slow and unresponsive late night. Other such apps allow you to create the listing and select templates without exiting one app to use the other.
Created By: superstarcomic
---
Good, but could use some work.
I like the app, but if I have to revise something I have to remove the theme on all the listings and then reapply them to get it to revise.
---
WOW, super easy and professional
I am very happy with my Froo Themes!
Created By: autigermania2001
---
Great App, Easy To Use And Looks Awesome
I recommend This App To Anyone Looking To Make Their Listing Stand Out With Just A Few Clicks.
Created By: its.all.for.sale
---
i sell more, when i start use template themes 100% atractive customes
---
I liked it but impossible to cancel it
I used this app for about a year. Worked well enough but just not worth the cost. Have been trying to cancel it for 3 months. Keep getting billed for it even though I have contacted them twice.
Created By: conniesresaleshop
---
Application does not work properly even with cookies enabled
We have enabled all our cookies on browsers and this application will not work. I think that eBay should oversee these applications and apply quality control.
---
primitive patterns
Created By: best.of.baikal
---
Love the application. Easy to use. Fast customer service response.
Very professional looking templates. VERY easy to use. I would highly recommend!!!
---
wish it had more templates! But easy to use.
---
---
Boost Sales and exposure to viewers.
---
Would be 5 star except...
This program quickly sets my listings up with nice pre made templates. I notice if I need to change listings in bulk after they have the themes inserted, the coding goes kablewy sometimes and makes my listings look like garbage which means I have to go through each one separately to remove the template coding. I would also like to see more than 4 stationary adds in the cross sell platform.
---
Looks great. Really easy to set up. Which I could set the exact colors to match my logo and store color.
---
---
Changed all my fonts on my existing listings so small that you can barely read them. Doesn't save any time if I have to go over and do them again.
Created By: sassy_mahoney
---
Makes changing existing items very difficult
Initially I thought it was a good fit, however after all of my store items were using this application and I wanted to make any kind of change it made it more difficult to do. You actually have several additional steps to change something very simple without the program it is no problem. I have been on the bay for 17 years and do not recommend using this app.
---
---
Wonderful array of templates
Love the fact you can easily change templates to fit the style and the occasion you select it for.
Created By: sylviasbitsnpieces
---
IS A BASIC PROGRAM, UNATTRACTIVE, INFLUENCE WHEN NOT SAY LET THERE ARE MANY THEMES. NOT PRETTY.
---
Really makes your listings stand out and look professional
A+
---
Good app that needs more templates
I am cancelling this app because you have no templates for western items, wild animals such as black bears, farm animals such as cows, pigs, horses, roosters, etc. One general template for farm animals is not sufficient. I believe some templates need to be deleted and other ones need to be added.
---
Great app, needs more templates and REALLY needs a option for automatic addition like other template apps.
Created By: overboostedperformance
---
This application help me to have a better exposure to my future customers! Thanks, Carlos.B
---
Really like this app, but needs work!
Really like this app, just wish there were more templates. Wish some templates didn't have people in them. Some templates look sort of generic. For the most most part this app is nice.
---
Great way to promote all of your items!
Created By: buy-n-go-direct
---
limited designs and not easy to use
tried to use application and it had limited designs that I did not like. also application can be difficult to use. In my opinion not worth the time and trouble.
---
Love it. Super easy and looks great.
---
Most of the themes have odd, goofy looking images attached and bland colors. While the concept was a good idea, the execution is pretty cheesy.
---
Been looking for something like this for a long time with spending lots of money on a template
---
Perfect.. This one does it all Cross sell and a great Theme!!
Thank you!! It takes a while to Download all the listings but it is worth it!!
Created By: grudgetactical
---
Great app, highly recommended!!!! Makes listing look a lot more professional which in effect can potentially increase sells.
Created By: saferitesolutions
---
Works well, not very flexible
There is no way to customize the templates so you have to find something close to the look and feel you want then slap your logo on there and hope for the best. I wish there was a way to create templates from scratch because the stock ones are dated.
Created By: pricebeatmusic
---
Easy to use and professional look.
This is an easy to use template creation software that adds value to our listings. The huge selection of themes let us pick a theme that looks like an expensive tailored and professional created product.
Created By: a_and_c_gold_and_diamonds
---
LISTING DESIGNER FOR DUMMIES!
This app is a lifesaver! It gives me everything I need in order to make my listings look nice and more professional. I was at my wits end and I went to the community for help on how to add a picture inside the description box, and someone GOD bless them told me about FROO, thank you so much for making my life easier, only wish sometimes you had a few more options, for all categories otherwise AMAZING!
Created By: kemahsfashions
---
template cuality sucks need some improvement
Created By: joelsproyect47
---
when making a revision it would not look right so I canceled the app and some listings did not remove it. Hours of work for nothing
Created By: paradiseart123
---
thank you
Created By: theauctions2011
---
it is not working now for me
I always looking to list my item with my template.but now it is not working. it jus dont wand to come up.a error come up. but i still like to use it
Created By: georgejackiegiftshop
---
I liked the themes and would use again for special events
I wish that applying the themes to each listing were faster. But I understand that it is better to review the listing before accepting because some listings look better than others.
---
Meh... Pics too small and interface sketchy
First, the in ad pics are tiny and useless. Needs to be able to upload full size pics. Second, the user interface is sketchy. Things go off the main screen and waste tons of time.
---
Easy to apply.and use..templates are great add on's...just need more variety. in designs!
Just one complaint..you need new themes and varietys more often. Especially for dolls, barbie dolls, toys, antiques, etc....We would be happy if you changed up the template plate themes once in a while...the same templates get a little boring....otherwise this is a great add on at only $4.00 per month...
Created By: beautiful2day
---
Very easy to use and very conferrable.
---
Themes were lacking; not enough design choices. Designs that were available were disappointing.
---
so easy to use. you choose what you want to see and point and click to add to your listings on eBay .
---
very pleased with many compliments
I just added this app a couple of days ago and I have had a great response and many compliments on it. Thanks!
---
THIS IS AN AMAZING APPLICATION!!!! I LOVE IT!!!
---
NICE DESIGNS, EASY TO CHANGE GREAT FOR SEASONAL SELLRES
---
NICE professional look for your store.
This has worked well for a store enhanced look there are some limitations if you want to have different items and policies for different listings but works fine and faster than turbo lister
---
Not enough templates to choose
The template's photos are too small. And not enough templates to choose. But anyway it's a okay app.
---
This would be great for a store owner...I think I will be much happier just adding a 10 cent template when I do my auctions...We do not have a business logo
Created By: sandhillestate
---
this app makes your listings pop without a whole lot of effort
*****
Created By: barneys_of_brandon
---
cannot change template very easy. Ebay is difficult to work through Froo
just need to change template
---
Keep having error message
When I tried to apply to my listings, I kept having error message and didn't work for me. Waste of time.
Created By: top_deal_mart
---
Before I had my store heading I used this.I loved it.
Created By: dougsmixtapes34
---
Many times have had problems
Today, for instance, I can't get the templates to come up!
---
Once you sign up for this app it could take a great deal of effort to figure out how to unsubscribe. be sure it is what you want to do or you will get charged until you figure out how to unsubscribe.
Created By: farm.girl.at.heart
---
i havent been able to use it...NOT EVEN FOR 1 ITEM, I NEED MY REFUND PLEASE!!!!!!
I ASKED EBAY AND EVERYONE ELSE IN EBAY WHY I CANNOT CONNECT AND FROOTION KEEP PULLING THE YEARLY AMOUNT FROM MY PAYPAL!!!!! PLEASE I NEED AN ANSWER - STORE LITTLETHINGSBYTHESANFRANCISCOBAY
Created By: littlethingsbythesanfranciscobay
---
Once you sign the application you cant get out!
Created By: nativeimagesgifts
---
I can't see how this is a useful tool, they take 4 bucks a month regardless if you use it or not!
Created By: online_traders_post
---
I am not tech savy, but this makes it look like i am. Super easy to use and tons of options. Definitely worth the money, get it now! Ray
Created By: ray-explorers-cache
---
Awful. No good selection of templates. Cannot "customize" as desired. Terrible app.
Created By: autographsuit
---
---
I love it. Bring us more templates, please!
This application is awesome. It took about 30 minutes for a complete noob like me to learn how to use this. I would recommend clearing out the HTML on the saved template before listing, and then manually applying it through the application tab. If I didn't do this, it seemed to break the listing. Otherwise, it's amazing and simple and gives my store an extra POW. Bring us more templates, please!
Created By: persephonesmysteries
---
evrey seller need this app
a great app very easy to use
Created By: sharkli-sales
---
This is not a LISTING defualt Template. NO CUSTOM options
This is for rookies that do not know how to make their own skins for LISTING.
---
I have wasted hours and hours trying to revise entries with Froo templates. Communications terrible
It's already been said in regards to the problems revising listing. What is really the worst part is that no one at eBay has stepped up with communications about this topic in hopes of helping us minimize our wasted time. Actually, it's always hard to be able to communicate with eBay in regards to seller issues.
---
It works well at first, then once you relist items the border disappears and theres a bunch of funky code that shows up. Tried fixing and contacting customer support. Still doesnt work. Removing today, glad it was still on free trial.
Created By: weymouthbaytrading
---
Zoom for images is a disappointment because Froo doesn't have the same powerful zoom as eBay does. Also, the window that the zoom has for an item shows it off center and it hurts a listing instead of helping it.
---
Yep, I liked it, thank you
---
worst customer service i have ever seen
this app can lock you out of all apps and there is no way to resolve it, ebay cant do anything either!
---
cannot get it to work at all
Created By: retroindulgence
---
I JUST LOVE THIS PROGRAM! MAKES ITEMS COME TO LIFE:)
I TOTALLY LOVE THIS PROGRAM!
---
Layout is nice enough, but I didn't know the auction template only applies to the bottom half of the page. I also had problems with the graphic visually confusing the name of my company. Incredible they expect people to pay for that. I will be using another app soon.
Created By: neovintageorg
---
This is a good app. My only complaint is that they don't have a custom option. I would like to be able to build my own template.
---
This application is not what I was expecting.
You can only run this app on active bids and the pictures were posted just as I posted them on ebay except it repeated them in app window. Saved me no money there! Formatting is not available in the app window. If I wanted to write HTML code, why do I need this app.
---
SERVICE HAS BE DEPENDABLE TEMPLATES ARE PROFESSIONAL AND FUN GREAT CUSTOMER SERVICE.
Created By: onlinegiftsandgadgetsgalorestore
---
4 out of 5 stars I need more options for design
You have templates for everthing from music Cds to cupcakes and military Please add some Cultural
---
I like this Templet very much, Works Well with my Stores Inventory.
Easy to use, does exactly what its designed to do. Show cases my items very well. Smooth listing procedure easy, and precise.
---
This app has alot of flexiblity the best kind of thing can happen
When I first started using this app I enjoyed it. Now I use it more and more it becomes part of what I do and it's great. I enjoy a range of flexibility and ease of use with it. The templates are great there are many and changing them is a breeze. To put it in a way it's clearly understood the best kind of thing can happen. My for sale pages look terrific with as many templates as I can do anything with. The set up is easy and working with it is simple to. I wrote a bio and info also other helpful stuff. Then I went with the template I wanted and it was easy to set up every time. I would go with this app for ease of use and flexibility all the way around. It can help a page stand out and that's useful especially great when I can do it my way.
---
service sucks, charge for free account and cannot unsubscribe......
---
Can not use
Created By: produceman1959
---
Works well for our business
Froo Template Themes helps spruce up our PosterEnvy listings and gives a nice zoom tool to help our customers see our items close-up. Easy to use - I only wish that we could update ALL of our listings at once.
---
Excellent software... did just what I needed and more.
Created By: mypcdepot2011
---
no one shows you anything
and i am still in pending after the charge me last me i through i still had an account
---
HOW DO I DOWNLOAD MY PICTURES
YOU DONT SAY HOW TO DOWNLOAD MY PICTURES TO YOUR SITE IF YOU CAN T DOWNLOAD PICTURES THEN I DON T NEED THIS SERVICE
Created By: 2010lovestoshop
---
This program corrupts your listing and it sucks
The item description just disappears, and is not fixable. You end up having to relist your item.
---
You are great!!!!!!!!!!!!!!
---
I love the templates! i'd just like a tiny bit more color choices
extremely easy to use and catches the buyers eye! I've been more of a successful seller
---
Couldnt ask for a better product for my ebay listings.
Created By: truckoutfitters1
---
waste of money!!! Do the free 21 day trail.
This program is worth about a 1.50 a month. First you still have to do your listing on ebay. Then you add foo to your listings. It's not time saving. I thought there would be an image up loader kinda like auctiva, not what I expected at all. If you ask me the templates are just as good on ebay than foo. This program is Fubar!!!!!!!
Created By: carpenter_comic_books
---
Too much time and trouble for anything less than items selling for $100-200
Ploddingly slow and cumbersome to use. Poor error handling. The same actions need to be repeated again and again. Probably the worst 'feature' is that it cuts off, or is cutoff on the main product display screen. The buyer then needs to manually scroll down to see the whole thing. Changing themes is a hassle. Variety is lacking. They consider a new background color as a 'new, theme. Not ready for prime time.
---
Easy, fast, over all great! Love it!
This makes posting so fast and easy. I love it!
---
Easiest way to making your page look professional.
---
IF you need a easy template theme use FROO f Template Themes
I started selling on EBAY, I needed Templates now,fast, so i saw this FROO templates so I decided to try Froo for my pictures and I am happy with Froo because it adds interest,it adds pretty pictures with lots of color and FROO has so many templates to offer.Its fun to useand it only cost a little.ITS worth trying if fou need a template or seversl:)
---
Just love the templates! Thanks!
---
Beautiful applications great for buyers to see close up A++++++++
This template application is truly an asset to me as a seller I believe it helps my customers to see even more detail than just a pic I am so very pleased to use this on all my auctions and I enjoy all the different templates they are all very beautiful and useful.
Created By: highcountryfinds
---
I have been using the Froo Templates for a while now, and im pretty impressed by the designs they are constantly coming up with. Froo is very easy to use and really enhances a listings look and feel. I would only suggest that there should be an ability to have a large image in the template in addition to the zoom option.
---
Froo is easy to navigate and apply. Very good deal and great way to enhance Ebay listings
Froo is proof there are still good deals available and some innovative,bright people are helping to make the Ebay experience easier,fun and more professional.Thank you Froo!
Created By: vintagehighway101
---
Sweet program!
Created By: performancedetonation
---
Lots of template selection but adding templates after the listing starts is clumsy
I found the templates available to be adequate but having to add the templates to the listing after listing the item was too clumsy and aggravating to be worth even the modest amount they want per month.
Created By: lochnessmonsta350
---
No help in using application.
No help in using this application. Wasted my money.
Created By: e-furnitureliquidators
---
I simply was trying to change my template theme and I can't access my FROO account for this. Customer support is of no USE. Have emailed them with responses to their emails 6 times and still the issue isn't resolved. Tired of being treated like I am some imbecile and even more so of paying for something that I can't use and won't work. This is ultimately ridiculous and extremely poor and shoddy customer service.
---
wish i never would have tried it!
---
Great support and extremely professional store.
Created By: disneypenny0104
---
This is ok, but I have used other templates that offer better variety. if you revise a listing you have to go in and delete and re-add the template you requested. I dont like the cross-ad because it doesnt show all the items you have it shows 4 only and that does not change if you sell one of the items
Created By: smartandreliable4u
---
I just love this application and recommend it to anyone who will listen. I subscribed to the Billboards app also but it does not let you pick and choose which listings you want to apply your design to, it is all of them or none. You want certain themes for different listings which froo accommodates. What I especially love is the magnifier for the pictures. That is awesome. Thank you so much for such a great product. 111Pennylane
---
I love the look, the format, the "instant" capacity to display my new store so well!!! Thank you!!
This application has already caused me to think "bigger" and with more focus on how to best manage and market this new venture! I am a customer who has found this to be easy to use, easy to modify, wonderful for allowing me and future customers a chance to see what I have! Thank you again!
Created By: sincerelyyours1220
---
made my listings look professional
cant beat it for the price, i will check out their other products
---
This is a great template application and very easy to use! A++
Created By: activetraveler
---
Hello, I enjoy using the froo templates, but in one of my catagories Pet Supplies, the template selection is very limited, also i would like to see more holiday, Halloween and Christmas templates, Hope this helps you Brenda
Created By: wolfmoondesigns
---
Good Application but has few issues : 1 - cant edit all listing, only 1 page at a time 2 - Can't search for listings only sort 3 - cant add my own design
---
Upgraded as they requested, it worked okay for a while and then just disappeared Customer support send the same email telling me to click here or there but when I do it's the same old site and not the upgrade I unsubscribed, started a new subscription but it still takes me to the old page and not the upgrade No response for 6 days from support to my last email telling them what the situation is I cannot change listings or add new listings so it is costing me money and extremely frustrating
Created By: eternal-crest-store
---
I like Froo, easy to use, very powerful pages, increases your sales.
I use froo templates almost on all my listings - highly recommended and cheap.
---
dont sign up!! they list it as free and if you dont pay attention you end up PAYING BIG TIME!!!!!!
GOT ROBBED
Created By: hindssiteis20-20
---
i cant accress now and i cant get help
---
Slow upload template speed makes this app pointless
listings literally take 2_3 seconds to be uploaded everytime. this app will be nice for low volume and beginning sellers who wants their listings to look more professional but it's definately not for professionals. you will make all of your multiple item buyers run away from your store.
Created By: tinaskincareusa
---
I was impressed with this application. It is very easy to use and not time consuming like auctivia.
Created By: platinumdiva07
---
Does not work terrible support
I have tried applying the templates to my listing but it keeps telling me the item number is wrong. What??? it pulls up the listing just fine. I can pull it up with the number as well. Contacted support and they keep saying its ebays fault. really, really. no solution on how to fix it just sorry ebays fault let me charge you for something that does not work. Horrible.
Created By: themanicgamer
---
Nice templates, however when sync to my ebay auction, it scatters format, changes font type, causing more work to re-edit auction. Additionaly, the gallery did not work. When customer service was contacted, they never responded. I paid the annual fee and come out with a loss on this. disappointed. Would not recomend.
Created By: seagememporium
---
Didn't like it. Way over priced. Never used it.
See above.
---
Great Ap to make listings look more professional at a great price!
I really enjoy Froo I replaced a higher web site that was messing up my listings with this ap at 1/3 the price quick easy and even a Granny can do it. LOL
---
been chasing customer service for more than an hour, your web site wont let my email through ,ebay of course dont have a clue,3/4 of my listings are pulling an error..W T....come on get it together , keep this up and you'll pass up ole ah text over there ...geeez
---
Look elsewhere for this service.
The themes are very limited. They advertise 4000+ but the truth is thay they count each color variation of the main themes in that number. The main themes are so very specialized/crudely designed that it is hard to find one that works. The program(in general)is poorly constructed. Awesome idea for an app, terrible execution.
---
Sorry I had to cancel, but I had to close the store
---
---
You can't change easily. Therefore there is no reason for so many options. I prefer to select my templates to reflect the item I'm showcasing. Plus the cross sell is not as good as the scrolling gallery. Great for the price.
Created By: spoiledmaterialgirlzblingz
---
cannot make a payment to froo due to froo software glitch
this software does not connect to ebay very well. If you have problems do not expect ebay or froo to help you as you will be on your own
Created By: indyautomation
---
It was a great program for different merchandise
I enjoyed going through it, although there was a bug when i tried to insert one of my listing, the description wasn't accurate, But it is alright thank you for the experience i still give it a 6 .
Created By: neatandquick818
---
This application would not work with my store, and was a waste of my valuable time. They need to work out some kinks in their user friendliness, and can certainly use better designs.
---
I like the cross promotion feature, but other than that it's just a simple store template design service, which you can get from ebay store anyway. The biggest issue is that once you apply the design to the listings, it's difficult to remove them. I tried remove the designs but they still appear in the listings for some weird reason, definately a program issue.
---
easy to use but kept finding my listings were missing the theme and zoom options.
Some templates would be right and others would not display the theme or zoom options.Felt it affected my listings being bid on due to the poor qualtity . Will cancel
---
Having no idea how to use a template or what to put in one, I appreciated how this was laid out for me. Wish there were other options for templates, but the ones they have are very applicable.
---
Marvelous and Fantastic Sales App!!!
I have been using this app for almost a year and I love it! I almost immediate saw an increase in my sales. I really like the versaltility and choice of the templtes. The new ones that are added are fantastic but I have old faves too! Great job keep up the fantstic ceative work! I will continue to use this app.
---
forget it on weekends it does not work, takes forever to come up.
---
Nice But limited! Exellent Price!!
I've listed with these and I prefer Auctiva, Vendi and inkfrog myself!! I love the bling they offer! Unlike double the cost at SSB! However the free trial and the low monthly cost is unbeatable!! The others give a free trial
Created By: spoiledmaterialgirl2011
---
Subjects on the Menu Tabs is hard to see and needs to be bold.
Subjects on the Menu Tabs is hard to see and needs to be bold.
---
SLOW and its not my browser
Why its not faster is their technology. The ability to change templates at more than 40 at a time is proof integration upgrades is needed. The Templates are very professional and always welcome new updates. Would like the ability to upload my own photos to use as the background themes. More OUTDOOR templates re:Nature would be nice. Overall a good honest Company that exceeds against earlier pioneers of template offerings
Created By: theoutfittersoutlet
---
This is a fabulous application that makes listing items easier!
I looked at similar applications for template themes and most were kind of difficult to navigate. I've been using Froo Template Themes for over 1 year and it's so easy to use.
---
Using templates and editing auctions after the fact causes problems. Not a very well written app. Would not recommend
---
Difficult to work with.....
Sometimes the description is too large for space. Sometimes it is right. Other times the description space appears but not written information. I was constantly changing templates to accomodate complaing customers who had difficulty reading my descriptions when they were too large for space or when the color of the description was not in black. I just gave up....needs some work to make it right before I would return. I liked the photo area that was fine. but I would check and find my description was missing. Another big problem was when using template for another item then I would have to remove the froo template then add my new item or it would spread across the page and be a mess. Sorry to be so complaining but this template cost me too much time to correct all the problems...now using listing templates.
---
Great App!!!
Created By: spadesmagictricks
---
This app is surprisingly easy to navigate, as well as to use! I was surprised to find just the template I wanted, and was able to implement my new template into about 30 auctions I already had posted! The whole process only took a few moments! I would recommend this app to anyone who wants to spruce up their auctions for next to no money!
Created By: bluelinesportsshop
---
Good, but not what I need.
If all you do is list with eBay's catalogue, and all your information is the same in every listing, this thing is great. You can select stuff, and you can customise what you want. The problem is, editing is a pain. You can't just edit in the listing, you have to edit one of your saved templates, which changes all of the listings that uses that template. If you want each listing to have custom text, well, it's just a huge headache. The support is friendly though, and quick and helpful. I like Froo!s other products, but for me, this isn't worth $5 a year. I'm sure the actual cost is much higher than that, but I wouldn't pay more than that, if even anything, because it's just not friendly to editing or to a large variety of information in various listings.
---
apps are bad listing gets messed up if reviesed
NOT RECOMMENDED
Created By: backriverbargains00
---
uploading pics should happen automatically. Listings are really screwed up pics don't match!!
It is not user friendly. I like to do new listings by using Ebays list a similar item link because it saves me work. When I do this app does not update the pictures within the description unless I manage my app. This drives me crazy because many of my listings now have mix match pics. Very frustrating and time consuming.I will likely discontinue soon!!!
---
Fast upload...easy to use..You will Love it!
the upload time is super..easy to use and great sized pictures!!
---
Easy to use and makes an average persons auction listing look professional
Attract more buyers and let people take you more seriously with this app. People will spend more money on your item if they think you are a professional person.
Created By: sportcards916
---
A nice way to sharpen up your listing.
I like that you can have a more presentable listing for not that much work. There is a nice choice of templates you can choose from but in my case I list products for 4x4 vehicles and there is nothing really in that category. If there was I would give it a higher rating. Overall it really does make a more professional listing, so anything to help you sell is a good thing!
---
very economical way to make listing look cool.
---
It's crappy!! You keep taking my money but I can't get in!!
Just shoot me!!!UGH
---
EASY TO USE AND WILL SAVE YOU ALOT OF MONEY!
ADDS LOOK GREAT AND PROFESSIONAL, ALSO YOU WILL NOTICE A BIG DIFFERENCE IN THE USE OF AN EBAY STORE. OUR SALES INCREASED 32% IN OUR FIRST MONTH OF USE IN EXTRA SALES! THANK YOU, Froo Template Themes, Pay N Less
---
not happy not state of the art stuff
not user friendly
Created By: carguyzdealersupplycompany
---
Terrible setup. No ability to create proper custom ads. Very misleading, do not waste your time!
Assign "themes" to your ads once built. Totaly crap, this looks and feels like technology from 15 years ago. The ad templates are misleading, save time, money and frustration and dont bother downloading.
Created By: tincanimaging
---
ALL PARROT AND JABRA 50% OFF THE BEST ON EBAY
---
A very USEFUL application.
There are a few flaws in this application. For example, why do I have to check every single listing to add the template? Why can't it just automatically add it to everything without me having to check every single listing. Another example is if you update the template you have to remove it from all the listings and then add the template again. There may be a simpler way of doing it and if there is then it is not clear at all. Overall, I found this to be a very inexpensive and cost-efficient application to use. For only four bucks a month it gets the job done. I noticed an increase in my sales when I started using it. The increase was slight but enough to make me want to pay for renting the template monthly. If you are a serious seller then you may want to consider this application.
Created By: staticstorktemp
---
if you revise your listing you have to go in and remove froo from the listing and then readd it. It does not consistanly put the correct cross promotional items from your categories in the cross promotional box at the bottom of theme page.. Not worth it.
---