Display Feedback
By L and J, LLC
(released Jan 28, 2013)
Display your positive feedback reviews directly on your item pages! Updated 4-20-2017! Complies with eBay Active Content policy! Mobile ready, show related feedback, download your feedback to your computer, and even hide certain feedback! Get a step-up on your competition by gaining buyer trust as soon as they see the item description!
Categories: Listing, Marketing & merchandising
If you are subscribed or want to subscribe to this application please
click here
for details.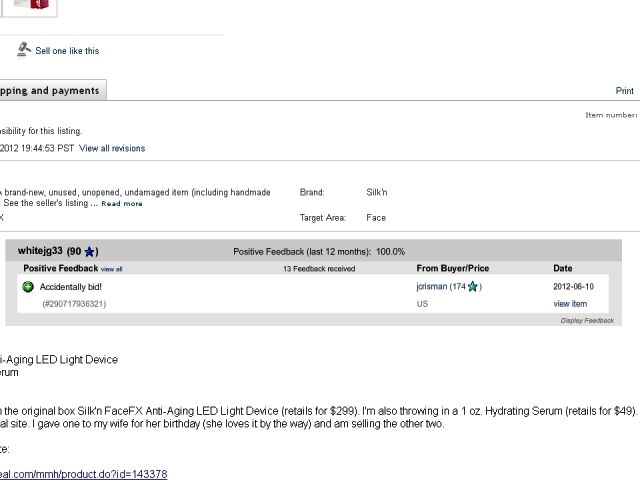 Key features
Updated 4-20-2017!

- Complies with eBay Active Content policy!
- Show feedback related to the item. Great way to show reviews of the item they are looking at.
- Mobile friendly.
- Hide feedback you don't want to show. Sometimes even a positive review should be hidden.
- Download your feedback in CSV format to your computer.

- Gain an advantage over your competitors by displaying positive feedback reviews directly in your ebay item description.
- Display all of your recent positive feedback or only feedback related to the current item directly on your item detail pages.
- Feedback Display Window is customizable with different colors, and listing all at once or one at a time.
- Set the app to auto add the Feedback Window to all new and relisted items, grab the code and insert it into your auction template, or pick and choose which items to display it on!
Description
Gain buyer trust, sell more items, and get a step up on your competition by displaying recent positive feedback directly in the item description. Buyers will appreciate being able to see positive feedback without having to click through to your feedback page.

Why subscribe to one of our apps?

- Fanatic customer support. Have a problem or question? Just let us know; we answer support requests fast.
- Forgot to cancel before your trial was up? No problem we'll refund you.
- Want a new feature? Just let us know, we're always looking for ways to improve our applications.
Additional resources
Application requirements
Supported browsers:
all modern browsers
Supported languages:
English
Supported eBay sites:
ebay.com
Required eBay subscriptions:
None
Application support
- Email using the Contact Us link above.