eTextAlert
By L and J, LLC - Web Services
(released Aug 04, 2010)
Visitors to your auctions can get last minute text or email reminders so they don't forget about you. Also allows you to sign-up for watchlist alerts (free!) and seller alerts (feedback left, item sold, etc...)! Seller and watch list alerts can even be sent via gtalk or jabber instant message!
Categories: Listing, Marketing & merchandising
If you are subscribed or want to subscribe to this application please
click here
for details.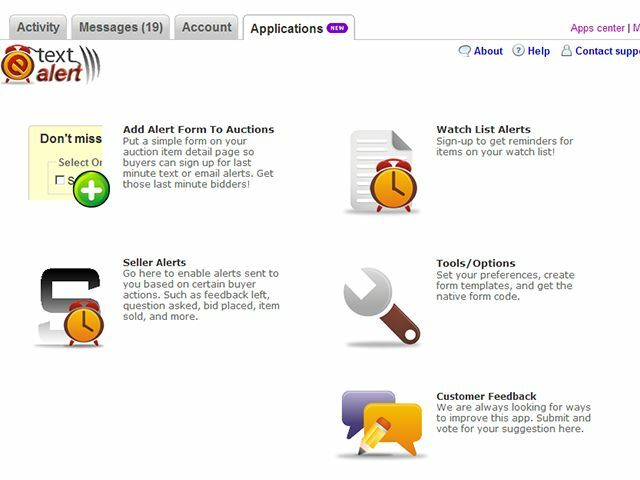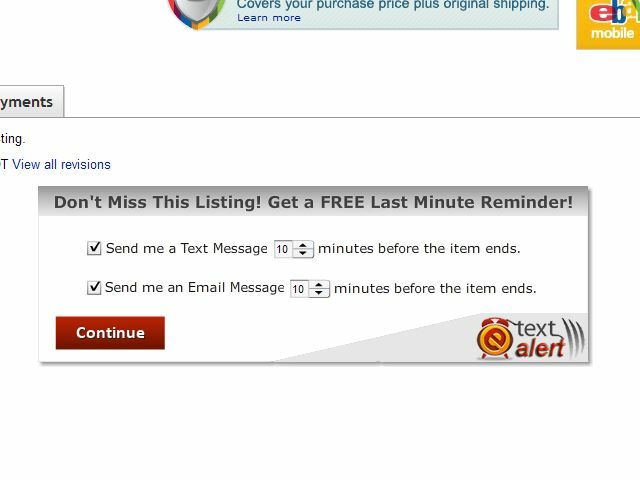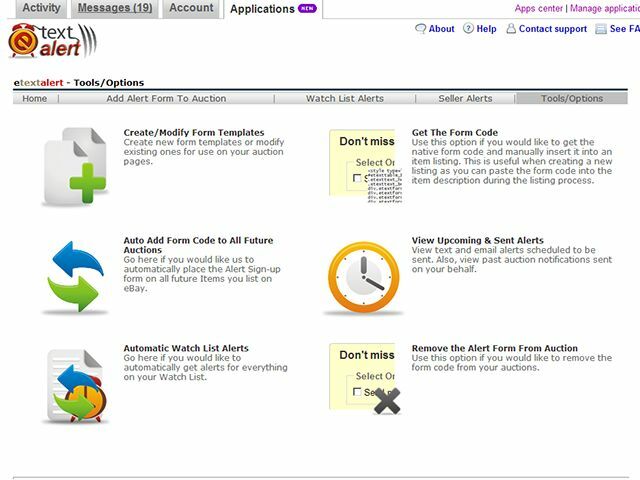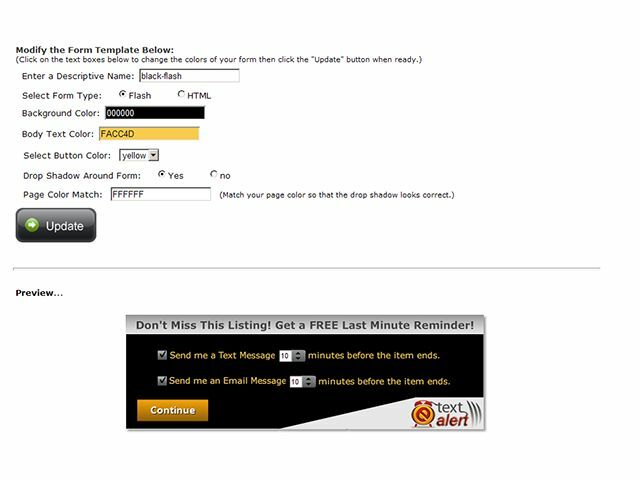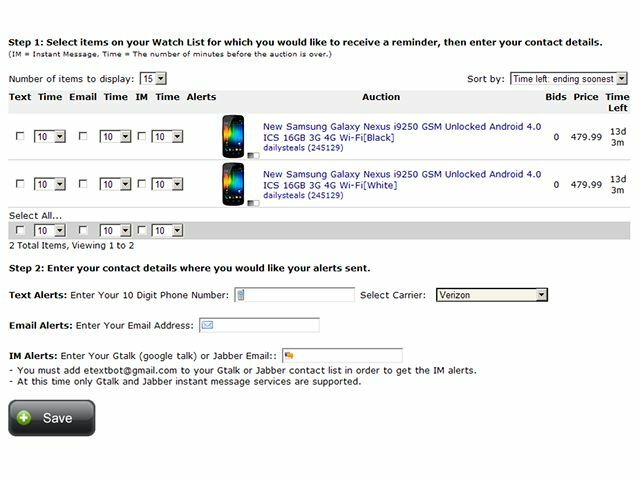 Key features
Provide auction ending reminders to interested buyers via text and email.
Send yourself last minute email, text, and/or IM reminders for your Watch List items.
Get seller alerts for just about all buyer actions.
Quick and easy to use.
Maximize the number of last minute bidders.
Customizable
We're always looking for ways to improve this app, so if you've got an idea send it to us and more than likely we'll add it at no charge.
Description
What Exactly Is eTextAlert?
There are three main features to eTextAlert. The first gives you the ability to send auction reminders to potential buyers. They simply sign-up for a reminder on your auction item page. The second allows you to send yourself last minute reminders for items you're watching. The third allows you to get text or email alerts for certain buyer actions such as when they ask you a question or purchase one of your items.
Feature 1, Auction Visitor Alerts
Simply put eTextAlert will allow you to place a form on your auction item page that will allow visitors to sign-up for a last minute reminder sent via text or email. They get to choose when it gets sent and whether they want a sms text or email or both. For instance they can choose to receive an email 30 minutes before your auction ends and a sms text message 15 minutes before it ends.
Let's face it, the average ebay shopper does not bid on an item right when they find it. They add it to their watch list along with several other similar items and wait till they get close to ending. The problem is a lot of potential buyers will simply forget to log back into ebay and miss your auction.
Why You Should Use eTextAlert On All Your Auctions?
Most importantly it increases the number of last minute bidders
Visitors to your auction will love it and more importantly use it
The form can be customized to match your auction templates
Feature 2, Watch List Alerts
This gives you the ability to set yourself reminders sent via text, email, and/or IM (instant message) for all auctions on your Watch List. Say goodbye to sticky notes. Why not send yourself a text reminder instead?
Top Reasons to use Watch List Alerts?
It's the easiest way to remind yourself of an auction.
You can pick and choose which auctions to get alerts for and when to send them.
You can set it to automatically send you alerts of all items you're watching.
Get alerts sent by email, text, and IM. Pick one or all three!
Feature 3, Seller Alerts
This gives you the ability to send yourself text, email, and/or IM alerts based on certain buyer actions. Get an alert when someone asks you question, when someone bids on one of your items, when someone buys a fixed priced item or wins an auction, when someone actually pays you, and when someone leaves you feedback. We also give you the ability to filter the alerts to specific items and times. So if you only want to be notified when a certain item sells you can do that. This can really help if you sell drop ship items along with items you stock and need to know right away when the drop ship item sells so you can start the shipping process. You can also filter the alerts so they only get sent during certain times of the day, and you can even filter the feedback alerts by type (positive, neutral, negative).
Summary
Alerts can be sent via text message or email or IM or all three.
It's very easy to use for both sellers and buyers
Very Affordable
Text Message or Email or Both
We send reminders via text message and email. We can even send seller alerts and watch list alerts via google talk or jabber instant message!
Easy to Use
We've made everything from the alert sign-up form to the reporting to the watch list alerts easy to use.
Very Affordable
First of all, take advantage of the free trial. Completely risk free. After that, it's a flat fee of $3.95 per month. This includes an unlimited number of auctions and alerts.
Why subscribe to one of our apps?
.
.
- Fanatic customer support. Have a problem or question? Just let me know; I answer support requests fast. .
- Forgot to cancel before your trial was up? No problem I'll refund you. .
- Want a new feature? Just let me know, I'm always looking for ways to improve my applications..
Josh W.
L&J, LLC
Additional resources
Application requirements
Supported browsers:
any modern browser
Supported languages:
English
Supported eBay sites:
ebay.com
Required eBay subscriptions:
None
Application support
Email me at support@etextalert.com
Contact me online at http://www.etextalert.com/contact.html