Ki Markdown
By KiOui llc
(released Aug 30, 2012)
Automate your Markdowns with extra features Markdown Manager does not offer.
Categories: Listing, Marketing & merchandising
If you are subscribed or want to subscribe to this application please
click here
for details.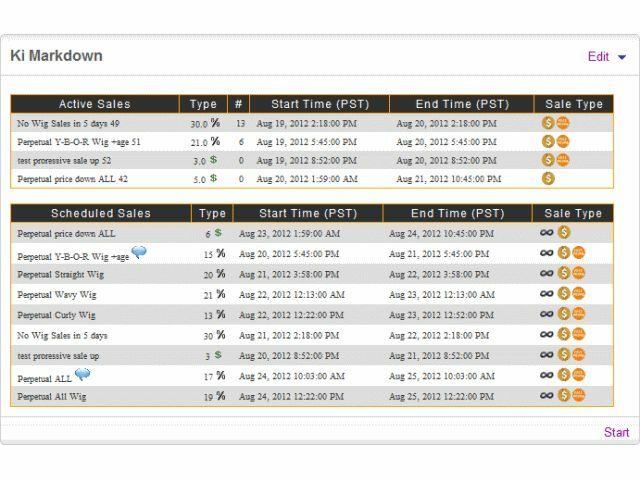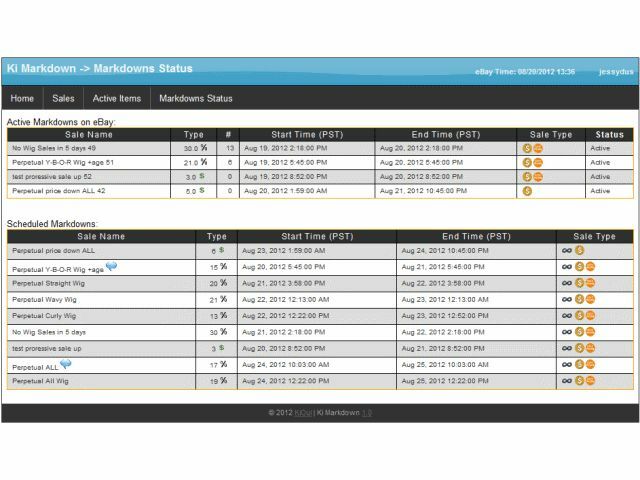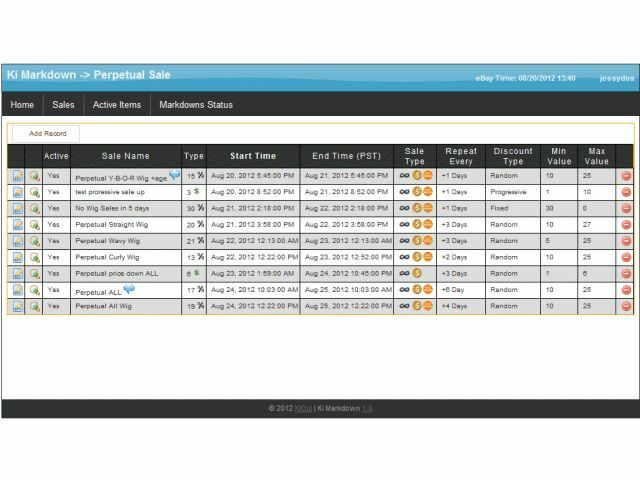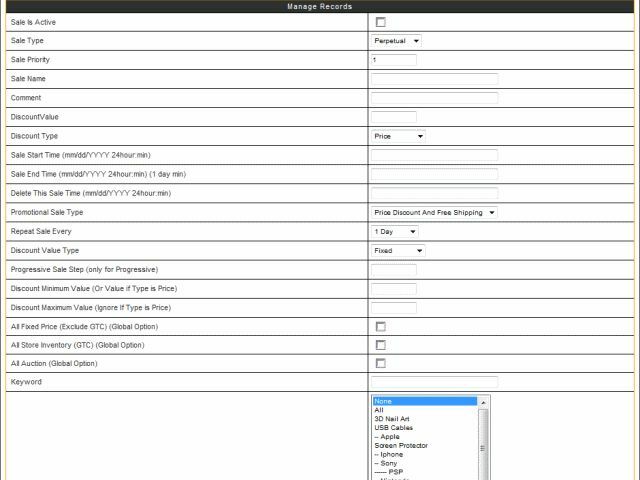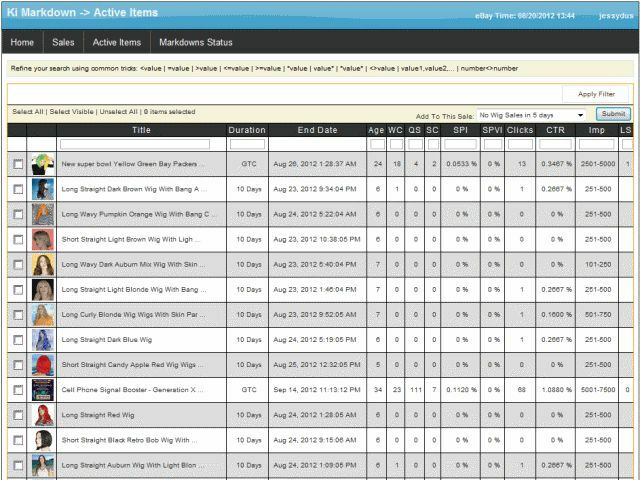 Key features
Perpetual sales that repeat themselves daily or weekly or when ever you want.
Random amount sale where you set a min and a max.
Easily filter items that you want added to the sale based on store categories, keywords, age of the item, the number of sales within a number of days.
Items are added to the sale every hour as they match the criteria.
Progressive sales where the amount of the discount increases over time.
Put your whole store on sale or just items that matches certain keywords.
Put your older non performing items on sale automatically.
Selling Manager Widget/Gadget.
Try it free for 7 days!
Description
Ki Markdown is the ultimate application to manage your store Markdowns. You are losing opportunities to move your inventory because Markdowns are just not very flexible and very manual on eBay.

With Ki Markdown the Sales or Markdown can be scheduled far ahead but the items are only added when the sale runs.

You can easily have your whole store on sale every single day or maybe schedule a sale to run every Sunday for items that have not had a sale in the last 10 days.

You can isolate and Markdown items that have a quantity of 1 and are older than 90 days to try to move these old GTC out of your inventory.
Additional resources
Application requirements
Supported browsers:
any modern web browser
Supported languages:
English
Supported eBay sites:
ebay.com
Required eBay subscriptions:
None
Application support
For application tips and tricks, check out our YouTube Channel: http://youtube.kioui-apps.com.
We manage our support via a ticketing system. Simply e-mail support@kioui-apps.com.
Please Include:
Your eBay User Id
Which application you are subscribed to
Any Item ID numbers that pertain to concern
Any screenshots
Steps to replicate your concern
Our support hours are between 9:00 a.m. and 5:00 p.m. Central Time.
We take your support concerns seriously and any information that can help us improve our applications is much appreciated. Or send us an e-mail just to say how much you like our applications!
To get updates about our company you can visit our website: http://www.kioui-apps.com. Follow us on http://facebook.kioui-apps.com, http://twitter.kioui-apps.com, or http://pinterest.kioui-apps.com.
KiOui llc
At KiOui our goal is to save you time as well as helping sellers automate daily tasks. Freeing you from the daily manual process will help you keep your sanity but will also help you grow your business. With our apps, you will be able to run your business more efficiently, faster and you will have more time to source and list new items. Wether you are a new online seller or a seasoned seller, we are here to make your life easier.
Also from this developer:
By KiOui llc
(released May 22, 2012)
The Best eBay to Facebook App you will ever need. Only $3.99 per month
Categories: Listing, Marketing & merchandising
By KiOui llc
(released May 22, 2012)
Increase your feedback and worry about it no more.
Categories: Customer support, Marketing & merchandising
By KiOui llc
(released May 22, 2012)
A Gadget/Widget for Selling Manager that displays informations on the state of your sales.
Categories: Research & reporting, Shipping & payments
By KiOui llc
(released Jun 11, 2012)
Track your packages in one quick easy view, communicate with your customers easily about their packages.
Categories: Marketing & merchandising, Shipping & payments
By KiOui llc
(released Oct 04, 2012)
Track your Items with Google Analytics.
Categories: Listing, Research & reporting
By KiOui llc
(released Nov 19, 2012)
Get a unique view on your transactions. Learn where your buyers come from.
Categories: Finance & accounting, Research & reporting
By KiOui llc
(released Dec 11, 2012)
Make your own rules to manage quantity the buyer sees of your items.
Categories: Inventory, Listing
By KiOui llc
(released Dec 26, 2012)
Best ender/ re-lister, duplicate finder, and bad image finder!
Categories: Inventory, Listing
By KiOui llc
(released Jan 28, 2013)
Raise and Lower your prices based on sales and maximize profits!
Categories: Listing, Research & reporting
By KiOui llc
(released Jul 31, 2013)
Add an icon to your Facebook Fan Page to link to where ever you want.
Categories: Listing, Marketing & merchandising
By KiOui llc
(released Jul 25, 2013)
Create customized HTML webpages to link to your Facebook Fan Page.
Categories: Listing, Marketing & merchandising
By KiOui llc
(released Feb 21, 2014)
"Out of Stock" control for your items, save important sales history and don't let your item ends!
Categories: Inventory, Listing
By KiOui llc
(released Jun 17, 2014)
The Danni App Profit Predictor was built to help you compare all the value you bring to an item
Categories: Research & reporting, Sourcing
This app is a waste of time and money. It worked the first 3 days, then the markdowns stopped working. Try to reconfigure them and it has been a real headache. THE APP DOES NOT WORK! The customer service is terrible, they respond badly or do not respond at all. Conclusion, DO NOT USE THIS APP.
Created By: homedecor*bestdeals
---
DOESNT WORK NO SUPPORT REPLY
DOESNT WORK NO SUPPORT REPLY
---
Paid for it, its been 2 days now. its still pending. waste of money
complete waste of money, I subscribed and paid for it 2 days ago and its still pending.. horrible idea to pay for this app guys
Created By: happytrendysales
---
Submitted auto pay a few weeks ago, still got Suspended!
Submitted auto pay a few weeks ago, still got Suspended! Never want to use it again!
Created By: appletreegems
---
I really wanted this application to work and would have GLADLY paid for it for the simple ability to run sales based on age of product. It's built in with the app and they have videos telling you how. Just one problem: it doesn't work. 3 days in and I've only been able to setup sales with same abilities built in to the promotions manager like by title or store category. I spent an hour setting up sales 0-30 days, 30- 60 and so on but they when they started they had no attached listings. I emailed support and they were completely unresponsive. This is all after the first 1.5 days nothing working because it wouldn't show my listings. I figure if i need a support ticket the first two times i try to use the app - while following instructions mind you...it's a bad thing. Hopefully, they will fix it because paying for same functionality eBay includes for free is ridiculous.
Created By: soles-and-stuff
---
It starts a markdown in ebay and even sets the percentage but it doesnt actually add it to any items. I could do this with just the ebay markdown manager with no app
Created By: freeshipsportscards
---
Horrible app - has tons of bugs and doesn't work most of the time
JUST USE EBAY'S MARKDOWN MANAGER - it's easier, free, and works much better. This app is complicated to use, has a ton of bugs, and support is very slow to respond. I tried to create markdowns on 3 separate occasions and I was only successful once. Most of the time you will not be able to create a markdown (or edit one) unless you complete fields that are not relevant or wanted for your markdown. The markdowns must be created at least 1 hour in advance, and if you delete one you must also go to ebay's makrdown manager and delete it there as well. There are too many bugs and problems to list in a single review. This app is simply a money grab. Don't waste your time.
Created By: av_system_supply_store
---
Serious Flaw in Selecting Items With Watchers
There are things I like about this app but it has one serious flaw. I cannot run sales on items that have watchers unless I also run a sale on items which do not have watchers. I have no interest in running a sale on an item no one has a interest in. Ebay will do the marketing for me if I run a sale on a item someone is watching.
---
Brilliant app.....excellent customer service!
You will have to spend a little time learning how to use this app but 100% worth the time invest - saves a ton of time in the long run! Also excellent customer service - always quickly responds to emails.
Created By: foxboxfashions
---
I really like this app-it saves untold hours of putting things on sale and I have def seen more sales since using it!
---
Huge time saver for users that run a lot of sales
This app completely removes the tedious process of ebay's markdown manager. You can set up the sale once and the app will automatically find all new and current listings that meet your requirements and apply the sale.
Created By: buybargainbrandwarehouse
---
The app does not work. I set it up with just one item to see how it worked. after 3 hours it still had not marked down the item.
Created By: sellmesomething74
---
This app is saving my business!
I used to run sales by hand, it took me hours! Now I just set the app to run sales on items that have been in my store too long and get my stale inventory out the door automatically! Every few months something goes wrong, because eBay's markdown setup is full of bugs, but the Ki-Oui folks fix it quickly. You've got to try this app if you have an ebay store and want to keep sales moving!
---
Excellent software the makes the job of marking down much easier and far more flexable.
This software has excellent capabilities that are far beyond what eBay offers. Its flexibility is something we are going to have to explore when we have more time, but it appears very rich and useful for boosting sales.
---
I set up my store to have continually rotating sales with this app, and forget it. Auto sales.
Time is money. Quit spending time putting things on sale. Set it up once and forget it. Add more as you think of them.
---
Overall a Great Product! It seems to be running well now that I have it set up.
It took a little time to do the initial setup but once it is set you walk away and it does the rest. I've been using it for around a month now with great results.
---
This automates one of my least favorite things that works best for my eBay Biz
I love running sales on eBay, but doing so can be cumbersome with eBay's built-in app. This app allows you to set up a sale and continually run it with intervals as little as 24 hours. Sales are a great way to spark interest in buyers and this app is a great way to automate the mundane task of running them.
---
Great app ..Every eBay seller should use it.. Best customer service...Quick and fast response.
Great app ..Every eBay seller should use it.. Best customer service...Quick and fast response for every problem... I also subscribe to there ki feedback app..also a very good tool for every eBay seller...
Created By: sales_warehouse
---
It NEVER does what I specify it to.
I am constantly seeing things that aren't marked down that should be, I'm always needing help with this app, and a contact number to call would be EXCELLENT. SOOO frustrated with this app. I LOVE what it offers, but... if it only worked. Maybe it's just me as nothing ever works right for me. :-/
---
This makes my markdowns so much easier.
Now my markdowns are all scheduled and it all goes by itself.
---
App Works Flawlessly!!! A+++++ Perfect for Personal
Their support team is outstanding, hands down. If you ask a question or need assistance with anything they answer you in a fast but efficient manner. I will be a live long user. I hope my opinion has offered you some insight on the company and its many applications that they offer. You can sign up like I did for free, and they only change .99 a month and offer yearly programs as well. Thank You Kioui-Apps.com, keep up the good work :)
---
Best Markdown app I've tried!
Tried em all, this is the best.
---
Ki Markdown was a little hard to figure out at first, but once I figured out how to do a progressive sale, I love it. Saves me allot of time manually putting items on sale through Ebay.
Created By: pottery_and_glassware_plus
---
---
This app is awesome! You can set all your items, one item, or different settings for every single listing you have. By having a range of percentages of discounts, the customers see today's price (we can see tomorrow's), but they don't know what it will be tomorrow, so it's a gamble; buy today and you'll be glad you did tomorrow when the price is lower, or tomorrow if it's lower, buy more! There is a notable increase in sales since using this app!
Created By: diversifiedcompany
---
Ki Markdown saves me a lot of time by automatically scheduling sales!
The program took a little trial and error, but once I understood how the program works it has become very easy to use. Ki Markdown saves me hours of work every month compared to the standard Markdown Manager program and process provided by eBay.
Created By: newenglandathleticshoes
---
Excellent Program - Actual Customer Service is slow, lots of options little direct support.
Tried emailing customer service, tough to find that option. Finally did and haven't received anything back. My Ki Markdown won't work at all, hoping after the free trial it will correct itself.
Created By: thebackyardpetstore
---
it reduces from the last reduction instead of the original price. 10% of $10 is $1=$9 sale. 20% of $10 is $2=$8 sale. But it takes 10% of the $9
---
Catagory selection needs improvement
Too hard to select categories to put on sale. Have to hold control key down and if I accidentally click without control key after making hundreds of selections I lose everything! Check boxes in front of categories would be much better. Also I would like to be able to select "everything that is not already on sale" to be included in a sale.
Created By: thejeanpool-usa
---
It should have a discount trigger based on numbers of watchers... Or length of time of item being watched.
---
Just what I needed, works great!
This app is a great time saver. It does exactly as it says it does, effortlessly once setup. I am running recurring auctions for the past few months and its a great time saver as I don't have to manually setup each sale through eBay. I've been clearing out old inventory like never before! Just watch the youtube videos to help you set it up.
Created By: us-accelerator
---
since I set up my listings to automatically markdown after not selling in 90 days, I have had SO many sales! and they just keep coming because the markdown items have been given more exposure.
---
Very powerful and flexible. Fantastic support.
---
Automation for Markdown Manager!
Ki Markdown automates the task of putting items on sale in my eBay store. I like to run weekly sales based on certain criteria and Ki Markdown app makes this possible. I would not realistically be able to manage my sales manually like Ki Markdown does. Great app, it is a core part of my eBay business. I have been using it for over a year now.
Created By: legion_collectibles
---
Just more than I need. I do not have that many products in my store at the present.
---
This app continually marked things down every 30 minutes. Every time I would mark a new item back up that I didn't want on sale it would mark it down again. No way to it it off! Cost me big. Never again!
---
NOT WORKING FOR ME BUT GOOD CUSTOMER SERVICE
NOT WORKING FOR ME BUT GOOD CUSTOMER SERVICE
Created By: eastcoastcell
---
create as many or as little as you want. I'm never putting items accidentally on sale. great, thanks guys
Created By: unclebucksgarage
---
Been using Ki Markdown for a little while now and I must say, this is a GREAT APP! I don't know why someone didn't think of it sooner. Gives you MUCH more flexibility than the regular Markdown Manager.
---
Unbelievable program-works like a charm
Customer support is fantastic
Created By: mistyelectronics
---
Wow! This tool is great. It offers SO MUCH flexibility in offering markdowns on your products. The possibilities are endless. I just hope my competitors don't find this app.
Created By: golden-rule-auctions
---
Sales have never been easier.
I think that this is what I've been missing.
---
OMG where have you been all my life? I love you !
this is a MUST have for store owners !
Created By: partywigs4all
---
I love this application because I can make sales for anything! Unlimited. Great app kioui!
---
Best improvement to the store markdown since it was created
I can't believe eBay never thought of doing that and these guys can do it for 99 cents a month. Support is great. Videos to show you how to set it up. Bless you guys !
---
They we very helpful with setup and am excited about increasing sales with this affordable application !
---
Great Support
Created By: cosplaywigs4all
---
finaly a Markdown for store that is all automated
very nice application that enhance the ebay markdown manager for ebay store. It finds old items by itself once setup and put old items on sale. I can also put my whole store on sale every day automaticaly.
---
AMEN TO THIS APP! At last a new way to use MarkDown
I love eBay stores and there is no doubt that the way they are set up provides a means to build a stable income. However, lets face it the backend software predates the Apple IIE and little has ever changed, especially with the tools to create focused sales and get that old stock moving. This app is BRILLIANT...
---