Ki Feedback
By KiOui llc
(released May 22, 2012)
Increase your feedback and worry about it no more.
Categories: Customer support, Marketing & merchandising
If you are subscribed or want to subscribe to this application please
click here
for details.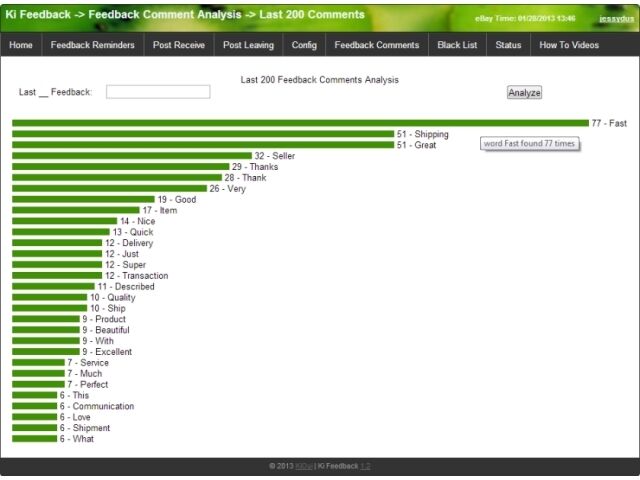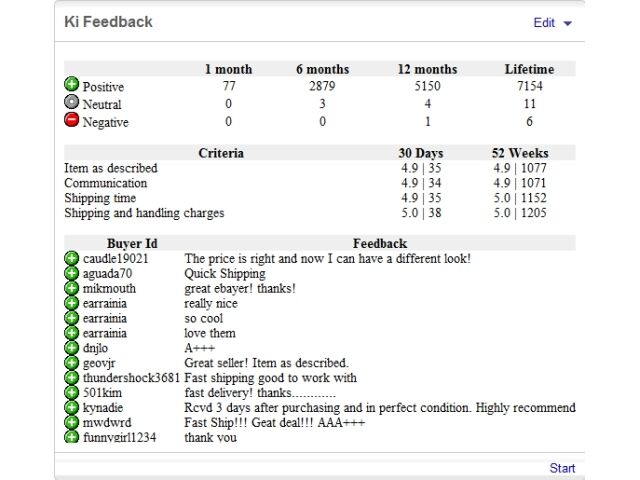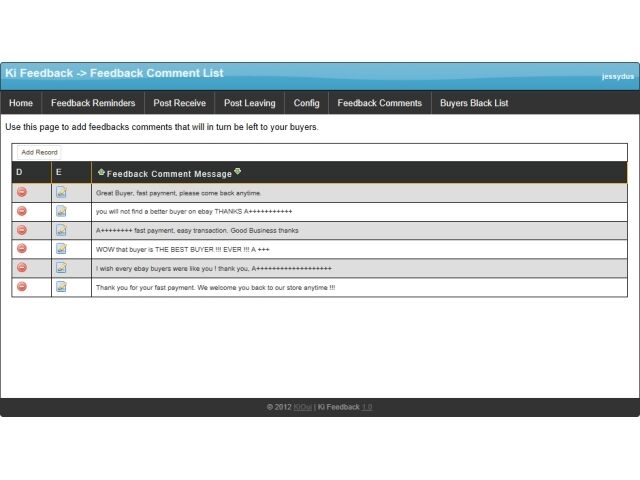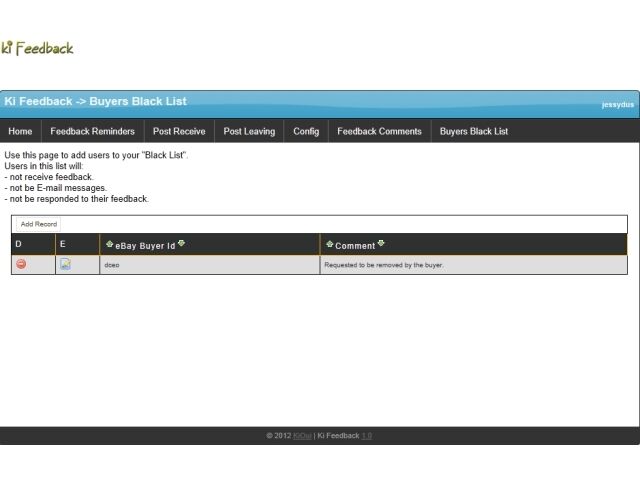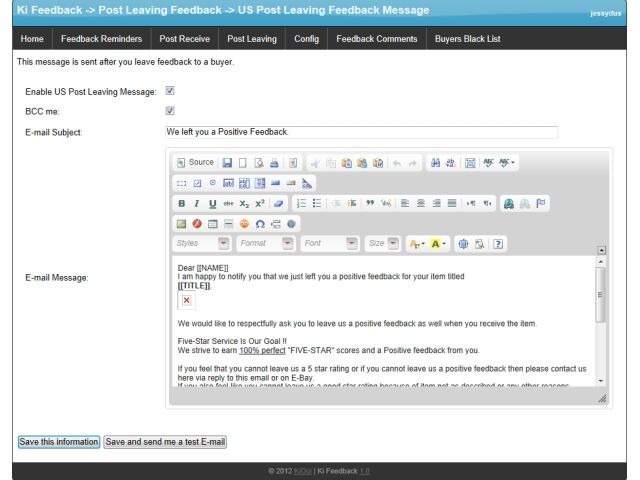 Key features
Fully automated feedback.
Setup Wizard.
100% HTML messages.
Variable available in the HTML messages to customize the messages (name, title, image, ....).
Black list management.
100% customizable.
Automated Reminders messages.
Automated Follow-up messages.
Automated Thank You messages.
Feedback Comment Ki-Words Analysis.
Selling Manager Widget/Gadget.
Try it free for 7 days!
Description
Ki Feedback is the App every serious eBay seller needs! With Ki Feedback you will be able to automate not only all feedback actions but you will also be able to email your customers custom HTML messages to remind, inform and notify them. You can use these custom messages to market your Facebook page or other social venues. With Ki Feedback you will increase customer satisfaction. Your feedback rating will turn sales and TRS status.
Additional resources
Application requirements
Supported browsers:
any modern web-browser
Supported languages:
English
Supported eBay sites:
ebay.com
Required eBay subscriptions:
None
Application support
For application tips and tricks, check out our YouTube Channel: http://youtube.kioui-apps.com.
We manage our support via a ticketing system. Simply e-mail support@kioui-apps.com.
Please Include:
Your eBay User Id
Which application you are subscribed to
Any Item ID numbers that pertain to concern
Any screenshots
Steps to replicate your concern
Our support hours are between 9:00 a.m. and 5:00 p.m. Central Time.
We take your support concerns seriously and any information that can help us improve our applications is much appreciated. Or send us an e-mail just to say how much you like our applications!
To get updates about our company you can visit our website: http://www.kioui-apps.com. Follow us on http://facebook.kioui-apps.com, http://twitter.kioui-apps.com, or http://pinterest.kioui-apps.com.
KiOui llc
At KiOui our goal is to save you time as well as helping sellers automate daily tasks. Freeing you from the daily manual process will help you keep your sanity but will also help you grow your business. With our apps, you will be able to run your business more efficiently, faster and you will have more time to source and list new items. Wether you are a new online seller or a seasoned seller, we are here to make your life easier.
Also from this developer:
By KiOui llc
(released May 22, 2012)
The Best eBay to Facebook App you will ever need. Only $3.99 per month
Categories: Listing, Marketing & merchandising
By KiOui llc
(released May 22, 2012)
A Gadget/Widget for Selling Manager that displays informations on the state of your sales.
Categories: Research & reporting, Shipping & payments
By KiOui llc
(released Jun 11, 2012)
Track your packages in one quick easy view, communicate with your customers easily about their packages.
Categories: Marketing & merchandising, Shipping & payments
By KiOui llc
(released Aug 30, 2012)
Automate your Markdowns with extra features Markdown Manager does not offer.
Categories: Listing, Marketing & merchandising
By KiOui llc
(released Oct 04, 2012)
Track your Items with Google Analytics.
Categories: Listing, Research & reporting
By KiOui llc
(released Nov 19, 2012)
Get a unique view on your transactions. Learn where your buyers come from.
Categories: Finance & accounting, Research & reporting
By KiOui llc
(released Dec 11, 2012)
Make your own rules to manage quantity the buyer sees of your items.
Categories: Inventory, Listing
By KiOui llc
(released Dec 26, 2012)
Best ender/ re-lister, duplicate finder, and bad image finder!
Categories: Inventory, Listing
By KiOui llc
(released Jan 28, 2013)
Raise and Lower your prices based on sales and maximize profits!
Categories: Listing, Research & reporting
By KiOui llc
(released Jul 31, 2013)
Add an icon to your Facebook Fan Page to link to where ever you want.
Categories: Listing, Marketing & merchandising
By KiOui llc
(released Jul 25, 2013)
Create customized HTML webpages to link to your Facebook Fan Page.
Categories: Listing, Marketing & merchandising
By KiOui llc
(released Feb 21, 2014)
"Out of Stock" control for your items, save important sales history and don't let your item ends!
Categories: Inventory, Listing
By KiOui llc
(released Jun 17, 2014)
The Danni App Profit Predictor was built to help you compare all the value you bring to an item
Categories: Research & reporting, Sourcing
Love it, easy to design and apply.
a professional look, and easy to design.
Created By: beauty_online_inc
---
Best App. for Feedbacks!!!!
Best App. for Feedbacks!!!!
---
Confuses buyers, they reply to email instead of leaving feedback
Confuses buyers, they reply to email instead of leaving feedback. Useless
Created By: martyn_auto_electronics
---
---
prompt and accurate
Created By: convair440photo
---
TRASH!!!!!!! problems since the beginning , NO leave to my costumers.
---
Never can cantact you,send the email,but nobody answered,very sad!
We paid for this kifeedback,but can not use it.We try to cantact you,send the email,but nobody answered,very sad!
Created By: yourledworld2014
---
very helpful
Created By: essencegiftshop
---
FIGURE OUT YOUR BILLING PLEASE
Was a good app at first, now I just get messages every other day that my account is past due for the app because they cannot figure out how to charge my papal payment. Super annoying. Ebay is no help.
Created By: stylnindustriescom
---
Have used application for years with no problem. Suddenly my automatic payment never goes thru to them. Tech support has been zero help, getting ready to just dump it.
---
---
BAD VERY BAD
Created By: wholesale2customers
---
Terrible Service - Avoid by All Means
This company never provided services and keep charging monthly Fees for almost 6 month already. Practically impossible to cancel them out. Stay away and Avoid them! Horrible horrible .....sorry there is nothing positive but frustration and aggravation.
---
Thanks alot for your purchase
Dear customer, It is my pleasure to do something for you. I hope you will get your item soon. And if you have any further questions, please just feel free to contact me, I will try my best to solve the problems for you. And Please Don't Forget To Leave a Positive Feedback, Thanks Have a good day! Mohamad
---
THE WORSE BOOKKEEPING I HAVE EVER SEEN.
I PAID FOR A YEAR OF SERVICE AND NOW YOU WANT $10.00 FROM ME FOR YOU SERVICES, THAT MOST OF THE TIME I HAVE TO DO THE FEEDBACK MY SELF. WHEN I DID GET SOMEONE TO HELP THEY SAID I WAS ON THE FREE PLAN? IF YOU EVER FIG OUT WHAT IS GOING ON JUST SEND MY MONEY BACK TO MY PAYPAL ACCOUNT. I HAVE CLOSED OFF PAYMENT TO YOUR OUTFIT THROUGH PAYPAL BECAUSE YOUR BOOKKEEPING IS SO BAD. DREAMLAND COINS, LLOYD.
---
You can't go wrong with this app.
---
Ki Feedback makes leaving feedback a breeze! What used to take me several hours a month, now takes no-time at all!
---
What a time saver. This app automatically leaves my feed back for buys. Saving me hours over the month. Great and inexpensive too.
Created By: your_scrap_happy_fabrics
---
regarding canceling my service with kifeedback
I have canceled my service with kifeedback this morning but I still receive feedbacks. Please help me Sincerely isidoregottlieb@gmail.com
Created By: baxterclothing
---
i love Ki feedback peace mind very cheap and work good.i have more feedback
Created By: elinesalguer_0
---
Keep charging after cancellation AVOID!!!!!!!!!!!!!!!!!!!!!!!!!!!!!!!!!!!!!!!!!!!!!!!!!!!!!!
Cancelled and continued to try to charge my Paypal. Ebay customer service was useless like usual.
Created By: eshopperhouse
---
Easy to use and very handy
Created By: photovideoprofessional
---
Without question, Ki Feedback has perfected the business art of managing feedback for me. Bravo team Ki!!!!
---
A most have app!
Created By: kidscrochetandmore
---
So easy to use. Saves me so much time!
---
Safe me lots of time!
Created By: brightstar0109
---
Our feedback has increased exponentially since we began using Ki Feedback! We love that it is easily customized and really appreciate that feedback can now be left automatically for our customers.
Created By: kayjaysauctions
---
I am loving KI. This program is fun, easy to use, and helps your productivity so much!!! It has changed the way I work on eBay and I am so glad I got it. Everyone should try it!!!! A+++
Created By: sellerking1230
---
A must have application for your eBay store
This app can safe my time and can manage the feedback of my store very well. The chance to get the negative and neutral feedbacks decrease while I receive more positive feedback during this first month. With this app I can feel the big different in my store.
Created By: aundamunskyline
---
Great way to receive feedback!
Amazing.
Created By: dealzforyou16
---
I don't have to worry about sending feedback when a sale is made. Worth every penny.
---
It is very easy, simple and convenient. I'm saving time and time is money.
---
---
Without this program I would be begging customer for feedback and wasting time in the day to email each customer, also leave each customer their feedback. 3.99 so worth it!!!
Created By: wilcarcompany2015
---
Seems to be helping so far
I've had the yearly plan for about a month now as I knew my feedback was one of my most important things to take care of it and I had a long way to go. Seems to be helping so far from about 10 to almost 40 in approx. month all positive!
Created By: abbeyandred2012
---
using this app on my 2nd year
has reduced complaints and increased customer satisfaction. love this app
---
Great Service and Helpful app!
Great
---
Everything is automated after setup, and works great would recommend!
Created By: appalachiandecals
---
I've been using this app for over a year this is by far the best app set it and forget. Leaves feedback automatically and sends reminders out at 10-20 days. Problems are fixed fast. I recomend this app also check out Ki DyanPrice. Eric
---
Great Customer Service, Great Price
They offer great customer service, emailed them for help on the app and they answered almost instantly and did follow ups on the problem. The price is great as well. Highly recommend it as a seller this app really is perfect and helpful.
---
Quick and efficient. Nice app
---
this is the most essential App for eBay - it just works all the time, perfectly
Thank you for running the best App ever - why is it good, because I don't have to do anything. Fantastic.
---
This is a great feedback app...saves time.
Created By: a1varietyshipper4u
---
Great app! It saves time plus you can personalize a variety of feedback messages!
Created By: ihaveyourdress
---
Very effective. I love it.
This application allows me to setup the Feedback that I will leave to buyers. What I like the most, is the ability set when (After payment, after shipping, etc.) the my feedback will be sent out to my buyer.
Created By: nationalwarehouse2015
---
Having your reviews fly by potential buyers sticky eyes is a 100% winner.
Created By: vintagemusictoday
---
automates markdowns in a much more effective way
Sales dropped 60% without this app due to a recent issue with the app and eBay. Customer support very slow to respond to such a large loss. Would gladly pay more for this app as it is well worth it when it is working correctly. Unknown issue. Thank you for making it, now please help me fix it!
Created By: bikestripper1
---
We sell live plants. Sometimes they don't arrive in the best condition or the color is slightly different. KiFeedback encourages those who had a positive experience with our cactusbylin store to leave a feedback, thereby offsetting the negatives that are inevitable.
Created By: cactusbylin_dot_com
---
yes
Created By: southyubaproducts
---
Excellent app. Convenient and efficient! 5 stars!
An excellent app. Easy and save you time. Does the job perfectly! Customer service is also excellent. Highly recommend!
---
Excellent!!! Really saves time and effort.
Really Saves Time And Effort!!
Created By: selfsufficient22
---
Good application to use for eBay.
It showed my feedback for my customers to know of of me when they're buying things from me. It's proven really useful.
Created By: samuelharris1990
---
Huge change on good feedback given once staring the app
Started receiving 4 times as many feedback per month once started the app. Also the feedbacks were better, not just more.
---
It will most certianly save me time .
---
it is a Perfect solution, No more need to leave feedback Everything is done automatically works without any problems!!!
---
Just set it up and let it ride.
It a auto pilot operation.
---
This app has helped me get great feedback. It's low cost and gives great value. I'm glad I have it to help me build my biz.
Created By: eagle-eye-deals
---
Effectively creates a communication stream with your customers !!
This app is highly effective at post sale communications. Contacting your customer after the sale is the best solution for keeping them happy and avoiding a bad rating. The Developer is quick to address any problems you might have implementing or launching your app and in my case responded with a few hours. Thanks for your work, and helping Clips-n-Cases with it's feedback rating.
Created By: clips-n-cases
---
This app really is a cost effective!!
And now, you can send your customers an email with personal approach, using ONLY first name! Well done!
---
---
Love it, does all the work for me.
Highly recommended.
---
---
Great App....must have for ebay sellers.
Created By: giftsfromnepal
---
Works Great just set it and forget it.
Getting a little response but not what I was expecting yet, will give it some more time.
Created By: possibleproducts
---
---
Super nice application...
---
---
This is one of the tools that I subscribe to to help me automate my business!
---
Great application, works great
I love this application, works perfectly and customers love being contacted to make sure they are happy before they leave feedback, it gives you a chance to fix any problems before they leave a review. I have over 1500 feedback and 100% positive. Use this application!!
Created By: eyebuyexpressreadingglasses
---
Ive had a pansy complain that I was begging for feedback when using this app, but all I had to do was change the preprogrammed email. The included email does sound like it is begging for positive feedback but this app does let you customize pretty much every aspect about it. I highly recommend this app because it reminds people to leave feedback. For some reason, it is so much easier for people to complain that to leave a positive remark. This app thanks the buyers who leave positive feedback and emails the buyers who leave neutral or negative feedback so you can fix the issue. A must have app!
Created By: texastoolstore
---
Great product, great service, great company
You can't go wrong with choosing Ki products. Prompt service, listens to customers, and always improving the product based on feedback.
Created By: anythingindianbiz
---
Also love the reminder for folks to leave feedback for me as a seller
---
This app saves me so much time and energy!!!! One of the best apps around!!!!!!!!!
Created By: the_quartz_cafe
---
NOT AS EFFECTIVE AS I HAD HOPED
THE FACT THAT THIS SAVES ME TIME FROM LEAVING FEEDBACK IS A PLUS. BUT, THE EMAILS IT SENDS TO MY CUSTOMERS HAS THEM RESPONDING VIA EMAIL TO ME INSTEAD OF POSTING FEEDBACK ON MY SITE. SO THE END RESULT IS THAT I STILL GET ONLY ABOUT 45% FEEDBACK FROM MY CUSTOMERS. THERE SHOULD BE A LINK THAT THAKES THEM DIRECTLY TO THE FEEDBACK AREA TO POST FEEDBACK.
---
AAAAAAAAAAAAAAAAAA++++++++++++++++++
---
Very affordable + Great product
This is a great tool to have
---
It has a ton of features I did not expect and handles alot. Thank You :)
---
Cannot sell without you guys....Thank You. Midge Boyd, BearZBears
---
---
I recommend this app to everyone! Very, very useful. Before I wasn't getting more feedback because I do not follow-up for lack of time. But now, Ki Feedback does the job and yes I am getting more feedback. I just wished I had known about this app 2 years ago! This is a MUST!
---
This is a great app to increase your feedback
This is an app that is very inexpensive and well woth every penny spent on it.
---
Great rate and service!!
Created By: hawkeye419vintageandcollectibles
---
Great App I have use it for over a year
I love this app and is only .99 , I highly recommend it...
Created By: ilovesavingmoney2
---
This service has helped me in more ways than one. Before, I would either have to spend much time in leaving feedback or I was paying someone by the hour to leave feedback for me. This service has not only eliminated those two issues. My feedback has increased in number and in quality
---
I love this app! It helps with increasing feedback left by buyers. Thanks!
---
It is so easy!
Created By: 5606cloverlane
---
I had just signed up and I went to leave feedback and to my surprise, It was already done!! Thank you
---
You set it and forget it!
I wanted to leave my customers feedbacks in a timely manner but I found that this took up so much time that I had less time for listing and my family. You literally set up the parameters and forget it, it does all the work for you! I know exactly what the feedback will be for each type of situation it is effortless! I highly recommend!
Created By: collegekid2017
---
No Longer have to worry about leaving Feedback SAVES soo much TIME!!!
This app is GREAT I don't have to add feedback to every single item I sale. I check behind it at first to make sure It works like clock work! It also sends reminders to buyers to let them know I left positive and We would like for them to do the same! I tells them when the item is shipped It really has saved me time to be able to focus my attention in other places that's needed. I usually do not post reviews but I had to tell the workd about this one! A
Created By: sierraenterprise
---
Works exactly as described.
I dont have to worry about ever leaving feedback for purchasing customers. It is very easy to customize.
Created By: atlantabraves132009
---
Was working fine when I first started using the application and then it started to get sluggish about feedback when items were delivered. I didn't contact them about the application, I'm sure it could have been corrected, but felt I was better off leaving my own feedback.
Created By: simplepleasantthingsantiqueshoppe
---
While I like this app, I'm not entirely sure it is leaving feedback for all of my buyers, as I have it configured.
---
Don't like email. Need ebay message style emails
Pl
---
Not having to manually leave feedback to customers that buy from me is worth every penny of 99 cents a month!
Created By: marchantbrian
---
Definite increase in number of reviews and I would say they tend to be happier switch my service bc of the proactive nature do this app
---
Best product for the price!
Makes life easier not to have to manually remind people to leave feedback.
---
Leaves feedback for a few days... then fails for a few days. Didn't quite measure up, there are better auto feedback solutions.
Created By: itmightgetlouder
---
Best feedback reminder app on eBay!
This is the 3rd feedback reminder app I have tried. I like this one because it uses email instead of the eBay message system and they do not stick advertising in the messages like Feedback Pro does. Good stuff!
Created By: legion_collectibles
---
Ive gotten more feedback since getting this app. I also get more questions for customers through it which is good because some times they help people that get missed. A happy customer is a possible repeat customer and thats what we want!
Created By: plants_and_stuff_dot_com
---
Saves me a lot of time. Works great all the time. Has more features than I expected.
---
Not what i was hoping for.
I'm not seeing any better return on feedback than before I had the feedback app.
---
why can't you automatically deduct .99 from my paypal account each month, instead of sending nasty emails, bothering me and wasting more time than .99 is worth ?
---
doesn't work!!!
Created By: oilscenter2012
---
Very handy and easy app to use.
Created By: chevyhorsegal
---
Great price and customer service!
So far so good best feedback app on Ebay to date.
Created By: keystonespecialties
---
I have gained 35+ stars in 6 weeks!
I used to have problems getting buyers to provide feedback and my number of feedback transactions moved very slowly. Since I subscribed to Ki Feedback almost every customer has left feedback and my number grew about 35-40 points in about a month and half. I am a power seller finally. Thanks and the price is right too. It's the best .99 cents I've spent on Ebay in 12+ years!
---
Fantastic lightweight feedback solution
I've been using Ki Feedback for a few weeks now, and I really like it. It works just like it should. Takes a little time to get it set up, but once you do that, you're ready to roll. I have mine set to leave positive feedback for buyers once they've left me positive feedback, and to email a reminder to buyers who haven't left me feedback after a while. Haven't had any problems!
Created By: gomojocollectibles
---
Great tool to collect feedback. highly effective way to avoid wasting time, but it's expensive. :)
---
---
contacts and handles all Feedback needs in
---
After having the app for a month i had to manually send emails for feedback reminders. This app only tells you when you received a feedback that's all. Support is not really helpful at all.
---
Sorry for the previous comment, it was a mistake on my part, since I had no active application and thought it did not work. This application is very useful.
---
Keeps trying to charge you after cancellation
app worked fine but it became a problem after cancellation, it still trying to charge a fee
---
Feedback not working properly
I have over 128 items that did not leave feedback from this ap
Created By: rosemarie9391
---
to difficult to get support
wanted to know more about feed back given before shipping if that could be changed . no help what so ever
---
A MUST HAVE FOR EBAY!!!
Created By: lillucylulus2
---
Great potential, but too many flaws, not enough communication.
Excellent potential here; however, I encountered too many problems with it. The Ki Feedback configuration has setting that allow choice of when to have notifications sent: after payment or after shipping. I wanted them sent when the item shipped and the program wouldn't do that correctly, no matter how I had it marked. After lengthy attempts to get a response to my email question, I was told I'd have to purchase an additional Ki program to do that. Communication was sketchy at best. The last straw was a notice that my payment was "severely past due." (I have automatic payments set up). I would certainly re-install if these folks could get their app together.
Created By: luckymrs.ticklefeather
---
Great app worth the money
The interface is a bit clunky (but has gotten much better!) but this does exactly what it says and excellently. Note if you use your own SMTP server and use gmail, google may warn you of "unauthorized access" to your account from a strange IP address. This is normal because they're sending mail from your account so don't worry. Excellent app even for a small ebay seller!
---
Saves me a lot of time. Love it!
Created By: alamoorganics
---
NOT SEEING AN IMPROVEMENT
i'm not seeing an improvement in feedback. I think it's because of all of the newbies that don't understand that it is important. We need an education App for newbies.
Created By: hollywoodtrash2
---
Feedback has never been easier.
I love this program, it gets feedback sent and requested. I never much have to think about it. It's easy and affordable. I highly recommend using this product.
Created By: all_thats_wanted
---
Great App for my business!
I was skeptical at first but was willing to try anything to encourage my buyers to start leaving feedback, positive of course. This app has worked great. I have seen a definite increase and even some of my "older" transactions are now responding. Highly recommend!
Created By: breezeebonusbuys
---
Great app and always gets a good percentage of customers to leave feedback. This and notes inside packages is the best way possible.
Created By: looking4thedealz
---
Best .99 Cents I've Ever Spent!
I no longer have to "calender" time to email FB reminders or hunt down buyers time after time to leave FB. Have used other services..
---
Save me a lot of time and effort
Great APP at an even more GREAT price. Fully automates my feedback process so it remembers even when I would have forgotten
---
Great, indispensable eBay app!
I never thought I would need an app to manage feedback for me. But when I started selling more, and not receiving feedback in return, I decided to try Ki Feedback. After using it for a couple of months, I got more feedback than I ever got before KI Feedback. Also I'm always notifying the buyer that I left him good feedback; great for customer support. Now I can't live without Ki Feedback. I'm just learning now how to make my emails more personal. What an app and developer!! A++++++
---
Has some glitches that need to be worked out. I like to leave feedback immediately after confirming payment is in my paypal account. I set it up to leave it upon shipping the item, since I confirm it and print the labels at the same time. I found several that the feedback was not left, so I had to go back in and manually do it.
Created By: awesomeaccessory
---
works perfect, great value
great program great price, works perfectly
Created By: bostonwholesalers
---
great ! boosted my feedback rate
great boosted my feedback rate
Created By: leadingedgecodes
---
Fonctionne Bien - Facturation Confondre
Alors que nous aimons cette demande beaucoup et il nous a vraiment aidés gérer nos commentaires, nous trouvons la facturation à être un peu déroutant.
Created By: dave-and-asher
---
Automates the drudgery! Keep customers informed and helps collect all those missing feedbacks!
When we first started our account I would message each person individually and ask for feedback once I built a hundred or so feedback's I quit trying so hard. But with this I can do the same thing with no additional effort and hopefully avoid anyone leaving negative feedback without first contacting me. Good stuff!
---
I never did get this app to work correctly, I never did have it answer a feedback for me. I wanted to get rid of it and couldn't figure out how. A big rip off!!!! JO K
---
Does not work for international feedbacks
It worked ok for few days then stop leaving feedbacks
---
Easy to use, set-up, and manage. Well worth the cost.
---
This app allowed me to get caught up on my feedback. It automatically left 400 feedbacks in a few minutes, a process that would take me an hour or so. It also sends feedback reminders to buyers and does much more. Well worth $12 a year for this app.
---
Terrific app, what a great idea. Takes the hassle out of leaving feedback for buyers, and the customer service for any unhappy ones. Terrific and worth every penny.
---
99 cents save a lot of time
For 99 cents it give every1 a good feedback, no more customers asking for feedback and no more time waist. Good stuff !!!
Created By: pro_us_seller
---
Savings of time
Created By: trader_michael
---
Once you take the time to watch the how to videos, you can set up professional templates for your customers. I would like to see default templates with feedback links though. Most people don't want to or have the time to go watch how to videos to save a few bucks over the next feedback tool. Customer support was great at informing me on where to find the videos so I could teach myself how to insert the links.
---
What a super easy widget. Works great and is easy to modify your standard feedback phrases as often as you wish. Very reasonably priced and makes my life a whole lot easier!
Created By: livinintheboonies
---
Great boost to my total feedback!
I love this app. After spending some time setting it up it has given me more time to concentrate on my listings/shipping, etc. I get more feedback now than ever before and as soon as I receive positive feedback the app sends feedback to my buyers. I have nothing negative to say, well worth less than a buck a month!
---
they always send payment failure notice
I am a ebay member since 2004 and i start using this app last couple of years and even though i have automated payment for this app i always receive payment failure notice constantly. It is annoying...
---
Takes care of everything related to feedbacks, so you can concentrate more on selling. Great App!
Created By: mediaoneusa5500
---
THIS APP HELPS FREE UP MY TIME I USE TO TAKE PICS AND LIST, SO IT BASICALLY CAN HELP TO MAKE MORE MONEY.
Created By: mondaybettyjewelry2013
---
I love that I don't have to leave feedback for anyone any more. This is a true time saver.
Created By: superduperseller1
---
Very time saver app and I just love it. Since I subscribed, I dont miss any of my customer without leaving positive feedback.
Created By: electron-deals
---
Great program and support !
Created By: dadons_rare_laserdiscs
---
This is just as good as the rest but for less. Love it!
---
This product has increased my feedback efficiency by 200 percent!
---
Doesn't seem to be as great as everyone says it is...
I have checked, double checked, and triple checked to see if this application was making any positive difference in my feedback numbers. None, if any. In fact, the only one I know of for sure is somebody who left us a neutral. This is just my experience, though.
---
Saves time also money! Helps a lot, especially like the very friendly feedback reminder if somebody forgot to left you a feedback! Great application for a very reasonable price! Recommended to anybody!
Created By: all-ancient-treasures
---
This is a tremendous value at just 99 cents a month.. and the time it has saved me is more than worth it!
Created By: thepremiumtradingpost
---
Ranks in my top 3 must have apps. Customizable and very effective. Saves me so much time and doesn't forget. Love it! Thank You.
---
works very well from day one
We have been receiving much more incoming feedback has helped us greatly.
Created By: factorywheelwarehouse
---
The developer of these Ki applications is fabulous! On the spot support when I had a problem!!! Excellent communication!!!!!!!!!!!!!! I highly recommend these apps!!!!!!
Created By: lovetoshop570_3
---
I did the download I signed in paypal account and I cannot start the APP
I do not know why I did sign I went to my paypal account and KI feedback is listed and I cannot start, comes a message asking me to try once again and the nest is to pay once again!!!!! maramiamm ebay member
---
Great for tracking repeat buyers as well as fees (both eBay and Paypal). Love the automatic feedback. Lots of customizeable options and super easy to use. Well worth the .99!
Created By: evergreener42
---
Love it, does everything I need!
I used Feedback Pro and I think this is better for 1/7th the price. Support forums are awesome, questions answered in minutes. Thanks Ki!
Created By: vintagetoysntreasures
---
good apps
Created By: geraldinefragance
---
Photos says 1$ a month but they charge you much more. No service they ignore you.
Photos says 1$ a month but they charge you much more. No service they ignore you.
---
best 99 cents per month i ever spent
my feedback has gone through the roof since employing this app.
---
Takes a bit to setup but smooth sailing afterwards...
---
A+++++++++++ work gr8
Created By: mikegooddeals
---
Awesome app!!!!! I dont have to spend time leaving feedback anymore :)
Saves me time. Everyone needs this app! It is so useful and saves me so much time.
Created By: highvaluetactical
---
AWESOME APP - will save you a lot of time- GREAT FAST
I am very happy with this app. It has saved me a lot of time sending emails to past buyers. Worth more than they charge. Thanks.
---
So easy to use!
Created By: lampworkbeadmaker
---
Your app has helped me increase the amount of feedback I get tremendously. And best of all, I don't have to do it! Thank you.
---
i would give it not a 5 star but a 500 star review!
great service...quality apps all around and great support! Programmer is awesome!
---
Really aMASing results,Boosted my feedback by 20X
Before I used this little gem of a product I was constantly having to hound people for positive feedback.. Not anymore.. I t is not unusual to get 95% response now, Plus I can pitch items coming up for sale.. Buy it..
---
This save time that we all can use
Created By: mygrannysparlor
---
great help with problems
Created By: waldenbaittackleco
---
So far so good...Use Paypal to cancel
Not sure why eBay ever took this ability away but this works well.....you must set it up and in doing so the test emails are slow but the system appears to work. FYI-all you that complain you can not cancel it-you have the ability to do it yourself from Paypal-you dont email the company, turn off the subscription from within your Paypal account (profile section)!
---
I have seen a great increase in the feedback left by the buyers since using Ki feedback
I had more buyers not leaving feedback before I started using Ki feedback. Now I see about 70% of the buyers leaving feedback.
---
Talk about a time saver. I researched all the apps looking for one that would leave feedback automatically, so I wouldn't have to spend hours doing it myself (exaggerating a little). After doing research, I found Ki Feedback. What I really liked about this particular app is that you can customize the templates for the different functions. If you aren't familiar with HTML and CSS, I wouldn't suggest trying to customize anything, but if you know what you're doing, the customization is limitless. It does take some time to set everything up. But you only have to do it ONCE, instead of over and over and over again, like you would leaving feedback manually. Overall this is an excellent app if you're looking for automatic feedback!
Created By: theneonfactory
---
Simple to set up, Simple to use. The biggest time saver App on the market! The BEST .99 you can spend!
---
Plain and simple - it works!!!
Works great! I immediately saw a marked increase in the amount of my feedback and also the quality - folks really just need a suggestion to leave all 5 stars and they seem to do it. This app is very inexpensive and works great. Very easy to use and customize the messages as well. Love it!
Created By: techstar_international
---
I have all the Ki products, they are cheap and work well for only a buck you cant beat it and i will keep using them
---
---
Automatically reminds buyers to leave feedback by sending them a personal e-mail, and you can change the settings to send one e-mail or more.
Created By: sydneysydco515
---
its an amazing app and they use to provide great support by the owner but once they get big i almost get no response to any issues or emails i need to email multiple times and to different emails they have registered in order to get a response
---
thank U
Created By: judaicakingdom-com
---
Excellent way to communicating with large amount of customers.
This has saved me a ton of time and increase my customer feedback by 300%
---
After setting it up in about ten minutes I was on my way. Saves me hours of time. Time I use to make my listings better. Thanks, Also, lower price than another app I used before.
---
it leave feedback on your buyers auto you don,t have do much to setup it is very nice best app
---
Great App for assisting with Feedback
Easy to set up with the mail program STMP with the examples and the automate set up. If you know anything about email it is really simple. The emails are htmp so you can add images and write the email to suit your needs. This is a must have with feedback and especially making sure you do not receive low feedback. Some customers just do not attempt to contact the buyer before posting low feedback but if they receive an email reminding them about the refund policy sure save you some troubles.
---
My Ki Feedback Experience To Date (take 2):
I have a little store on eBay that keeps me pretty busy at times. I was having a hard time getting my customers to leave me feedback. After I started using Ki Feedback my customers start responding right away. I think this app. is a lifesaver. It saves me a great deal of time. Thank You, Dave bigdavesyardsale
Created By: bigdavesyardsale
---
Love it! Best 99 cents ever for my eBay store.
I had to work with it a bit and there is a learning curve, but once I got over it, wow! My feedback immediately stepped up to a new level.
---
Worth every one of it's 99 pennies!!!!!!!
This is by far the best feedback app I have used!! Saves tons of time from hounding customers for feedback. I was lucky to get feedback from 1 person out of 12 the old fashioned way. Now I get it from 1 out of 4!!!!! They could add another 9 to the price and it would still be worth it!
---
Frees up a couple hours a month for me!! Great Value!
Frees up a couple hours a month for me!! Great Value!
---
This app is well worth the .99 cents they charge. Don't have to worry about that extra time it takes to leave or respond to feedback. Great app recommend to everyone. Tom atozgoods508
---
This app is great. It saves a lot of time and is well worth the cost. Highly recommend it!
Created By: modernexchange508
---
Worth the $0.99 a month. Decreases negative feedback by encouraging customers to contact you first with any issues. Simple
---
Only 99 cents a month and does everything it should, before this app I had to leave feedback every few days and it didn't take much time but it got extremely annoying after awhile. Thanks so much A+++ app
---
---
YOu do not have access, try reloading your application!!
keep getting this error eventhough trying to contact support for helps.. "YOu do not have access, try reloading your application!!" What a waste of time!!
Created By: beingjoli-shipfreestore
---
Great cost effective time saver every seller should use!
I figured I'd give it a shot, it wasn't much to invest in an app that could potentially save me a ton of time and I wasn't disappointed! It is super customizable and efficient. I never have to worry if I left feedback and automatically posting feedback after the buyer has left feedback encourages my buyers to leave feedback. If you have questions, the owner is quick to answer them and resolve any technical issues you may have. I would recommend this app to anyone who sells on eBay, you won't be disappointed either!
Created By: geekery_fashions
---
My feedback score has increased thanks to this app. I've come to realize that although my customers like the product purchased from my store, they sometimes forget to submit their feedback. I've noticed many of my customers submitting feedback right after this app reminds them. This is such a great help!! Not to mention, I've saved soooo much time now that I don't have to submit feedback manually.
Created By: cracktronics00
---
Perfect Support and reasonable Price
I like it so much I am going to subscribe to another one of their apps.... thanks
---
This app gets things done!
I am a newer seller and I was having difficulties getting buyers to leave FB after transactions. I only had 2 of over 10 buyers leave me FB before I found this great app! After subscribing I immediately started receiving FB from transactions that happened months ago! My free trial is up tomorrow but I am definitely keeping it! For 99 cents a month you almost can't afford NOT to!
---
Love the app. Dont have to worry about feedback they do all the work. at only 99 cents a month well worth it! Thanks!
Created By: scooterelements
---
Very Simple and Affordable even for small businesses!
Over all it is a good app but I dont like that the monthly cost can not be added to the ebay fee balance or that it can be automated for self payment.
---
invaluable tool! a must have app
this app does what it says, it brought my feedback up to par increase of 40 positive feedback generated in one week due to this app reminding the customer. thank you!
---
This is an incredible app?so why am i angry? I am angry because for the past year I was spending $6.99 on the other feedback app that eBay offers, compared with 99 cents a month for this one. This one is so much better than the more expensive one, and will save me about $72 a year. This is a no brainer.
---
Very satisfied, Well worth the price!
I love these Ki apps. They are the best, and they are cheap to boot. Ki Feedback makes my feedback worry-free, and I get to control how it works. Thanks for this app!
---
made less work for me and more time to list products
Created By: barneys_of_brandon
---
Great way to improve communication with your customers.
When we started the trial, we did not expect a lot. The price was really low and the setup so simple ... Well, prepare to be amazed. Our main goal was to improve the communication with our customers. Getting feedback was a plus. The email to the customers asking for comments had a very positive effect. We started receiving positive comments and very valuable suggestions in how to improve our service. And, yes, we also got positive feedback. Saying it is worth every penny may not apply, as you get much more than what you are paying for.
---
It works when it wants to... In other words, it helps leave feedback for me for about 20% of the transactions that I need it to.. The other 80%, I have to manually leave feedback. It's a great feature and great idea, it would be better if it worked like it says it does.. If it worked all the time, I wouldn't mind paying for this.... Fix the issues!!
---
Love that I can customize my own e-mails for my customers.
Created By: partywigs4all
---
Raising Price 300% is ridiculous
They just announced their price increase from .99 per month to 3.99 per month. Not worth it.
---
Once set up, this handy little app will take care of business like clockwork. A must have!!
---
Does what it says.
Created By: sell-it-now-industries
---
Great app for managing your customer relations.
This is an awesome app. We use it to follow up with our customers after they have left us feedback by sending them a thank you email. KiOui's forum is awesome. The designer of the app is the moderator and he replies to your questions, concerns and input within a day...most times within a few hours.
---
An easy way to get in touch and be feedback!
I hope this application take charge of my feedback as a seller. Many buyers forget to feedback me after an excellent transaction, fast shipping and service. The price is affordable compare with others. I reccommend it!
Created By: healthandwellness253
---
I wasn't getting a lot of feedback left, within minutes of installing it, I had 5 new feedback. I think it will help long term. thanks for such a great app and the great service!!
---
Ki Feedback is a well designed and easy to use app!
This app is a nice way of saying Thank You to your customers. Definitely worth the 99 cents a month!
---
I like little apps like that.
---
OMG, where have you been all my life?
We do indeed all need this !
---
Love the email going out to the buyer to remind them of feedback.
Easy to use. An inexpensive secretary!! :)
Created By: kimsclosetandcollectibles
---
Feedback is obsolete! I don't even worry about it anymore.
---
---
I just wanted to leave auto feedback. this app is a mess!
---
Hands down, THE best best on eBay
Flexible parameters, responsive developer with awesome communication. Can't wait to see whats next
Created By: glovebox_shop
---
Feedback used to be such a big time consumer, now i am getting more feedback, and don't have to leave it for any of my customers. Love it!
---
You can configure just about anything. From HTML emails, when, what, .... this is the most flexible feedback management I have used so far !
---
Now that's a practical feedback application ! All automated. I can use my own smtp and the emails are sent as my self. This is great.
Created By: cosplaywigs4all
---
This is the application that you all need to get. Once setup, forget about feedback, this application is going to do it all for you. You can even do full HTML emails to your customers. A must have peoples !
Created By: unclebucksgarage
---
A+++++++++++++++++++++++++++++++++++
A++++++++++++++++++ + +
---