Ki Tracking
By KiOui llc
(released Jun 11, 2012)
Track your packages in one quick easy view, communicate with your customers easily about their packages.
Categories: Marketing & merchandising, Shipping & payments
If you are subscribed or want to subscribe to this application please
click here
for details.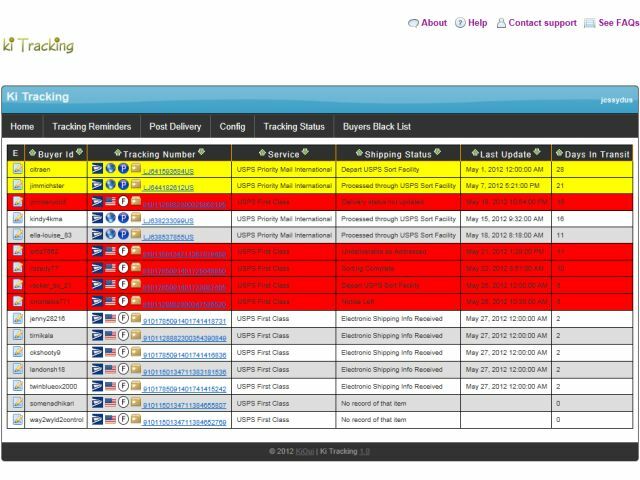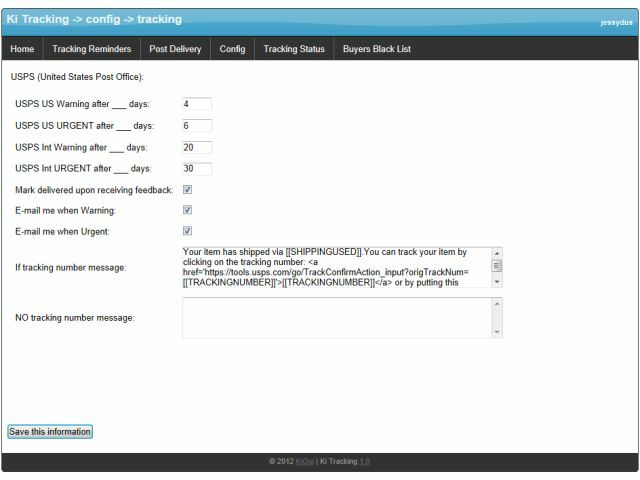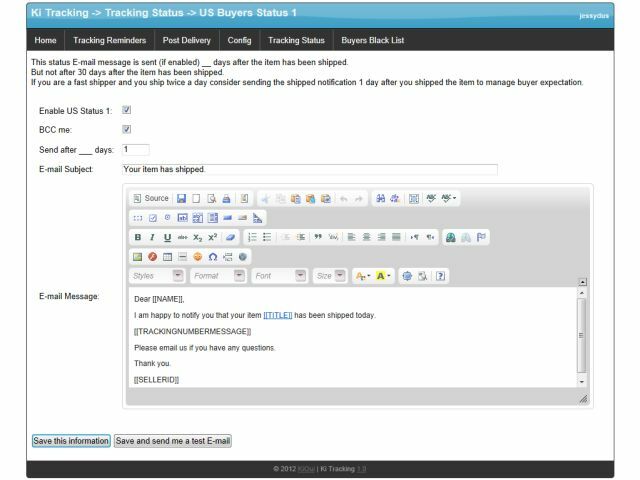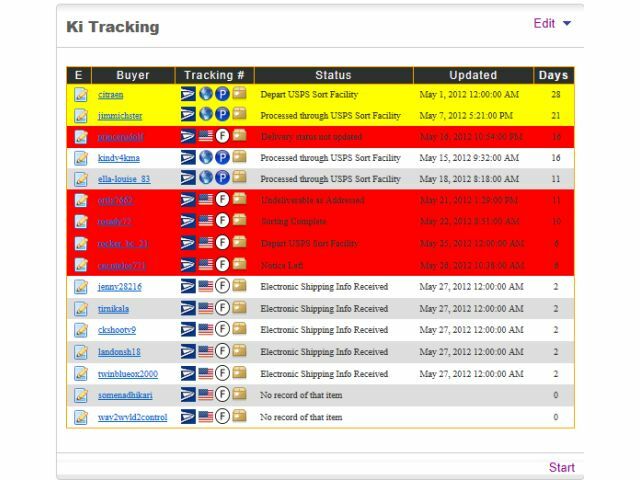 Key features
Fully automated tracking of your packages.
100% HTML messages.
Variable available in the HTML messages to customize the messages (name, title, image, ....).
Black list management.
100% customizable.
Automatic Shipping Status messages.
Automatic Delivery messages.
Use our or your SMTP to send the messages.
Selling Manager Widget/Gadget.
Try it free for 7 days!
Description
With Ki Tracking you will be able to automate communication with your Buyers and update them as to the status of their packages. You will even be able to do so in full HTML as you can use these custom messages to market your Facebook page or other social venues. With Ki Tracking you will be able to know when a package has an issue before anyone else and be able to take care of the problem proactively.
An up to date widget displays on your seller dashboard so you can view where your packages are at a glance.
Additional resources
Application requirements
Supported browsers:
any modern web browser
Supported languages:
English
Supported eBay sites:
ebay.com
Required eBay subscriptions:
None
Application support
For application tips and tricks, check out our YouTube Channel: http://youtube.kioui-apps.com.
We manage our support via a ticketing system. Simply e-mail support@kioui-apps.com.
Please Include:
Your eBay User Id
Which application you are subscribed to
Any Item ID numbers that pertain to concern
Any screenshots
Steps to replicate your concern
Our support hours are between 9:00 a.m. and 5:00 p.m. Central Time.
We take your support concerns seriously and any information that can help us improve our applications is much appreciated. Or send us an e-mail just to say how much you like our applications!
To get updates about our company you can visit our website: http://www.kioui-apps.com. Follow us on http://facebook.kioui-apps.com, http://twitter.kioui-apps.com, or http://pinterest.kioui-apps.com.
KiOui llc
At KiOui our goal is to save you time as well as helping sellers automate daily tasks. Freeing you from the daily manual process will help you keep your sanity but will also help you grow your business. With our apps, you will be able to run your business more efficiently, faster and you will have more time to source and list new items. Wether you are a new online seller or a seasoned seller, we are here to make your life easier.
Also from this developer:
By KiOui llc
(released May 22, 2012)
The Best eBay to Facebook App you will ever need. Only $3.99 per month
Categories: Listing, Marketing & merchandising
By KiOui llc
(released May 22, 2012)
Increase your feedback and worry about it no more.
Categories: Customer support, Marketing & merchandising
By KiOui llc
(released May 22, 2012)
A Gadget/Widget for Selling Manager that displays informations on the state of your sales.
Categories: Research & reporting, Shipping & payments
By KiOui llc
(released Aug 30, 2012)
Automate your Markdowns with extra features Markdown Manager does not offer.
Categories: Listing, Marketing & merchandising
By KiOui llc
(released Oct 04, 2012)
Track your Items with Google Analytics.
Categories: Listing, Research & reporting
By KiOui llc
(released Nov 19, 2012)
Get a unique view on your transactions. Learn where your buyers come from.
Categories: Finance & accounting, Research & reporting
By KiOui llc
(released Dec 11, 2012)
Make your own rules to manage quantity the buyer sees of your items.
Categories: Inventory, Listing
By KiOui llc
(released Dec 26, 2012)
Best ender/ re-lister, duplicate finder, and bad image finder!
Categories: Inventory, Listing
By KiOui llc
(released Jan 28, 2013)
Raise and Lower your prices based on sales and maximize profits!
Categories: Listing, Research & reporting
By KiOui llc
(released Jul 31, 2013)
Add an icon to your Facebook Fan Page to link to where ever you want.
Categories: Listing, Marketing & merchandising
By KiOui llc
(released Jul 25, 2013)
Create customized HTML webpages to link to your Facebook Fan Page.
Categories: Listing, Marketing & merchandising
By KiOui llc
(released Feb 21, 2014)
"Out of Stock" control for your items, save important sales history and don't let your item ends!
Categories: Inventory, Listing
By KiOui llc
(released Jun 17, 2014)
The Danni App Profit Predictor was built to help you compare all the value you bring to an item
Categories: Research & reporting, Sourcing
Excellent
Created By: storehotsalesfree
---
Good to remind me about the delivery delay. This Apps save me several times.
---
This little widget has saved me many times. I'm able to spot a package that isn't arriving at my buyer and troubleshoot the shipping BEFORE an angry customer contacts me. I love it!
Created By: livinintheboonies
---
Helps me stay on top of deliveries to avoid disappointing customers.
Created By: sheepishlyhonest
---
This program does a fantastic job of keeping your customers informed and a visual for you to follow.
Who hasn't had a package shipped and you never hear from it again until EBAY says the buyer did not get their order. This tool makes it easy to see what is delayed and lets you know there might be a problem.. Helps your feedback by keeping your buyer informed on the progress of their order in the shipping process.
Created By: kansascityliquidators
---
---
Helpful and a great time-saver
I love having the Ki-Tracking app on my Summary page. At a glance I can see which of my shipments are still in the works and one click shows me the details of the shipment, another click shows the tracking details. I also set it up to send an email to the buyer when it is marked delivered as a heads-up that I know they got it and hope they will leave feedback without actually asking for feedback.
---
Love this service -- solves a recurring problem.
Before I signed up for this app, I'd been getting a number of buyers contacting me a week or two after their package had been delivered and saying they hadn't gotten it. It's a lot harder to track it down that much later. I don't have time to do this manually, but this automated system sending buyers an e-mail when their package is delivered is perfect !! This will reduce time spent on customer service and reduce complaints.
Created By: aintshesweet!
---
this product not only tracks when it is shipped and delivered but you can included message to your customer with it to. terrific program
---
Improves customer satisfaction
I love this app. It lets customers know you are concerned about when and in what condition they receive their package. It keeps me from wondering if my packages have arrived. I don't have to look up the tracking on each individual item. It is faster than the update on the shipping label page. It also lets you customize the customer message which is awesome. GREAT VALUE.
---
Does just what it says it does-easy set up, works great!
---
Very, very helpful! I can track all my shipments in one place.
---
Glitchy but hidden savings treasure
This app PAYS FOR ITSELF by showing me items that USPS forgot to scan at delivery that I can file an insurance claim for. $295 and counting.
---
SO GLITCHY, COST ME SALES!!!!
I've been using Ki apps for over a year, so after all this time, I finally give up. Apps are extremely glitchy. I just give up!
Created By: the_factory_shopping_mall
---
Very Usefull and helps to keep on top of shipments
This tool rocks. I can see all my tracking info in one place and know when something needs to be looked at. My customers love getting the your item has shipped and post delivery emails.
---
Useful tool for us and our customers!
Without overkill, this app keeps us and our customers in the loop on what's going on. On our end, we also receive alerts when something should have been delivered, but hasn't arrived. Gives us a chance to double check things or see what the USPS failed to do. Highly recommended.
Created By: diversifiedcompany
---
send a wrong message to the buyer I receive a negative feedback
the message is not right and the buyer give a negative feedback poor service
---
Had a few bobbles with emailing very old customers and causing us to have to explain when we first turned it on. Otherwise it seems to do what it is said to do with no issues so far.
---
I love this app. It takes care of asking for a feed back for me. Never forget
I receive most all feedbacks I believe because of this little program. Thanks to it a have a greater number of feedback with out any effort.
Created By: bel0ngs2sherry
---
W
Created By: bradrecon3043
---
I have seen an increase in feedback however I find the application difficult to navigate.
I would like questions answered on how to proceed with international shipments that are highlighted in red. Where does all the information go once delivered, it just falls off before I get a chance to check status and how many days it took to deliver? I love the feature of sending an email once the item has been shipped but I am beginning to think this is all KI tracking can do.
---
I luv this app but it has not been timely on important occasions. That is why I did not rate it higher. I really Luv it it is so much better than having the postal carriers send me the data. I like the way I get to modify my color schemes and use emoticons. I highly recommend this app to anyone who needs their updates especially via their smartphone!
Created By: spoiled*material*girlz*blingz
---
Great idea but I don't like people that bought something 2 months ago just now getting notification.
Am not able to contact customer support. This is embarrassing for you to be sending emails to people that bought things weeks ago and they were delivered ago. Hope this doesn't happen again. I got lots of emails at once from you so I am assuming there was a problem.
---
Makes your buyers even more appreciative.
Firstly, all ki oui apps are well worth the price. This is no exception. I really only got this one because I value the others so much, but I didn't really see the need for this initially. Shortly after beginning my trial, and long before the free period ended I saw the value. Customers love the "I've been notified you received your item, just want to make sure everything cool email." I have received maybe 15 positive responses in the two weeks I've no had it running. Great app the value of which I initially missed.
---
Wonderful customer service
The developer of these Ki applications is fabulous! On the stop support when I had a problem!!! I highly recommend these apps!!!!!!
Created By: lovetoshop570_3
---
here is a feedback: Great app and great customer service All these guys applications are great and helped me save a lot of time and to make my business more efficient. Great job !
---
This application lets me know where my items are through the Post office, and automatic e-mails to my customers lets them know when their package has arrived even if they are away from home.
Created By: sydneysydco515
---
Enjoy the automated reply and response.
Created By: save-on-designer
---
Couple of minor problems but they have been repaired. I suggest this program to all.
---
Simple package tracking app
Tracks USPS packages by tracking number and shows how many days in transit. Also can send the buyer and email when the package has been delivered to confirm and to follow up (also to remind them to leave feedback). Many customers seem pleasantly surprised at the proactive customer service approach. This also helps me catch any problems with the item quickly before the customer has had time to be too angry about it. I'm almost positive this app has saved me from a few negative feedback by simply allowing me to be pro active in my customer service. Long time user, will continue to use it.
Created By: legion_collectibles
---
This my favorite of all Ki Applications ever (at least to date)
I get many many nice notes from happy sellers who always thank me for following up. Also since starting to use this application I have not had one single inquiry for item not received...Keep up the great work! Always look forward to seeing new Ki Apps.
---
Not worth the time. Must be a better way to track information.
I cannot get rid of correspondence after removing the Ki application. I have received 2 emails from tracking for another Ebayer's account. This seems to be a violation of privacy...beware. Once you install this application, if you are not happy with it, it will haunt you...
---
Tracking is put in an easy to read data grid, I immediately know when an item has not been delivered.
---
Great App. Developer very helpful.
I had a few questions about the functionality of the app and the developer actually added some code to the app to give me the functionality that I wanted.
Created By: licensetagsandframes
---
I love this app! Ki Tracking gives me a much more comprehensive summary of what's going on with my listings than Ebay's default Alerts and To Do list. I especially like that I can customize it to display in wide column format at the top of my summary page. Now, I don't have to scroll through Selling Manager to see what's going on and what actions I need to do. I highly recommend all KiOui's Ebay apps. KiOui apps are some of few on here that ALWAYS work.
---
This powerful app does everything that is says it'll do and more!
This powerful app does everything that is says it'll do and more! It even has a widget to ad the tracking details to your My eBay page. Key info right where it's needed most. We are now able to able to check the status of our shipping in a glance. Then follow up with our customers as needed. Their forum is awesome...the designer of the app is the moderator and he replies to your questions, concerns and input within a day...most times within a few hours. Give it a test run - I think you'll like it.
---
Tracking Packages has never been easier.
customers really appreciate that I am on top of shipping.
---
This app works flawlessly. This app automatically updates my customers with their USPS tracking number.
Created By: cracktronics00
---
Maybe it helps me, or maybe it makes me a better procrastinator. But I always ship on time now.
Created By: unclebucksgarage
---
Tracking is no longer an issue!
Love that it e-mails the buyer when the package has arrived.
---
Tracking numbers all in one place
It's nice to have all your tracking numbers in one place. You can have your customers emailed automaticaly when they received the item and the email can include HTML so I am able to promote my facebook page at the same time. And you can't beat the 99 cents per month price. It's like free.
Created By: cosplaywigs4all
---
Incredible Application with great support
I have been tracking my sales one by one and following up after delivery to make sure the buyer was happy with their purchase. This app does all that and more. You can quickly see if there are any issues with items you have shipped as well as follow up. Saves me a bunch of time. Was easy to set up and the few questions I had were answered quickly in the support forum. This is a must have!!!!
---
every tracking numbers in one place. Awesome !
so you can let your buyers know that your package is on the way, when they receive it and even let you know when there is a problem A++++++++++++++++
---
This is an absolute necessarily for all volume sellers. It comes up right on the summary screen and it has point
---
whit this application you can keep track of your tracking numbers all in one place and even email buyers when the item is delivered.
Created By: partywigs4all
---
This is a tool that is great for the casual and especially professional seller! This definitely helps with improving DSRs! Great support as well. Five Stars!
Created By: sell-it-now-industries
---
not only does this app lets you see where your packages are at but it manages communication with buyers and even notifies them when it has been delivered.
---
NOT WORKING AND CANT CONTACT
NOT UPDATING AND CANNOT CONTACT CUSTOMER SERVICE CAN YOU PLEASE DELETE MY ACCOUNT
Created By: eastcoastcell
---
Ki Ouiiiiiiiiiiiiiiiiiiiiiiiiiiiiiiiiiiiiiiiiii !
check the facebook page as well: http://facebook.kioui-apps.com
---